eBike Report from The Cycle Show In Birmingham, UK
The UK's oldest cycle show with a strong e-bike presence – Richard Peace reviews it.
eMTBs Powering Away
Although not exhibiting any e-bikes at the show, road bike specialists Pinarello confirmed to EBR recent teaser info about an e-MTB means the bike will be coming to the UK in 2018 and they also hinted that an e-road bike was in the works.
With the likes of Bianchi and Rocky Mountain using the Birmingham show to introduce their e-MTBs to the UK market it's clear that this is considered a growing area in the UK. Although Bosch established a clear lead in the e-MTB market its clear others are making big inroads too.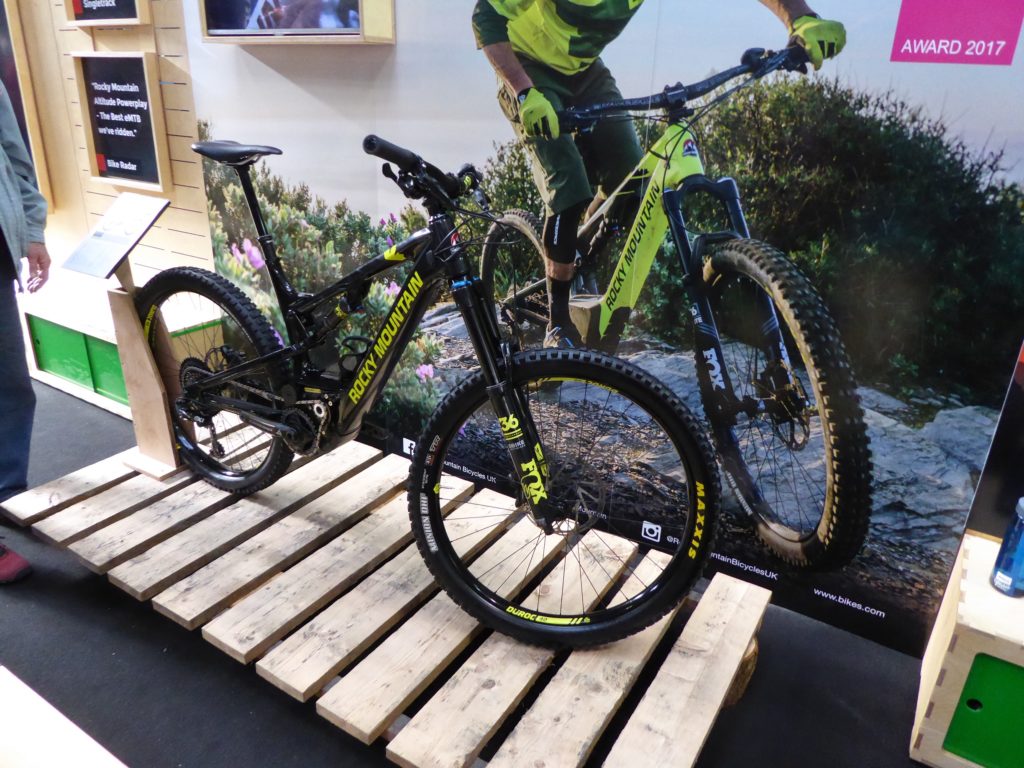 However, very few bike manufacturers have gone to the lengths that Canada's Rocky Mountain have. The MTB specialists have designed their own motor around their existing bikes so they can keep the geometry the same and told me that they have sold out of the first two drops of their Altitude Powerplay model; it's certainly not cheap but has gained some impressive reviews like this Bikeradar one.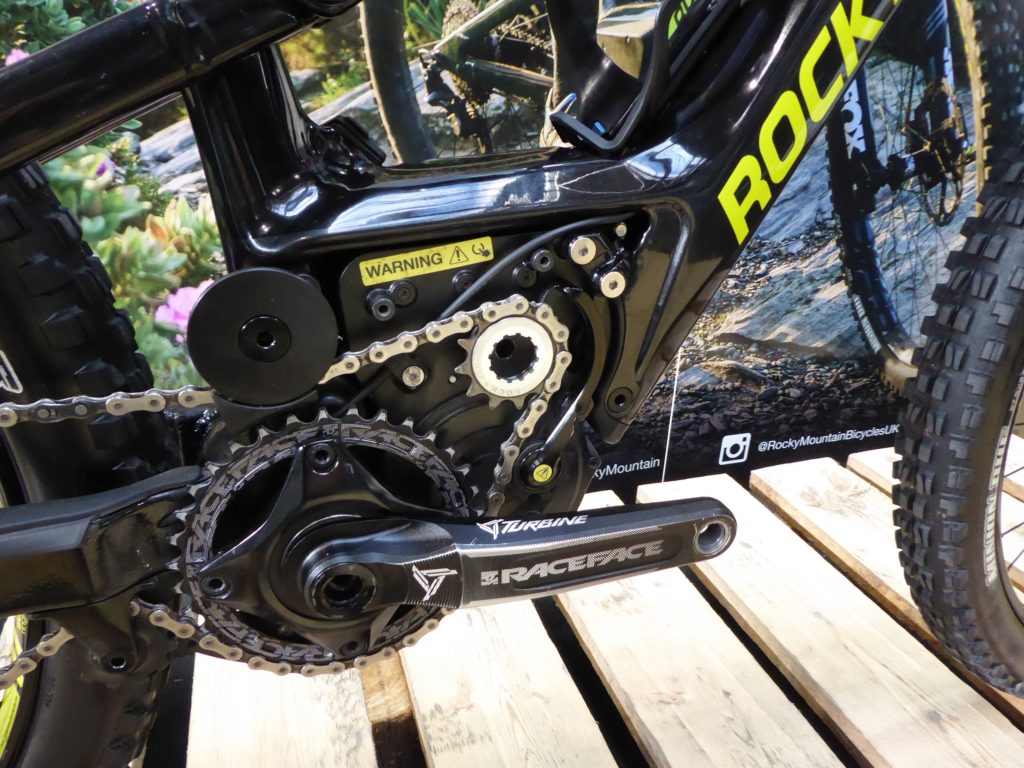 The UK's Rocky Mountain rep was keenly proud to point out their own design of torque sensing mechanism which acts via a jockey wheel mechanism on the chain to sense changes in chain tension in order to regulate power delivery.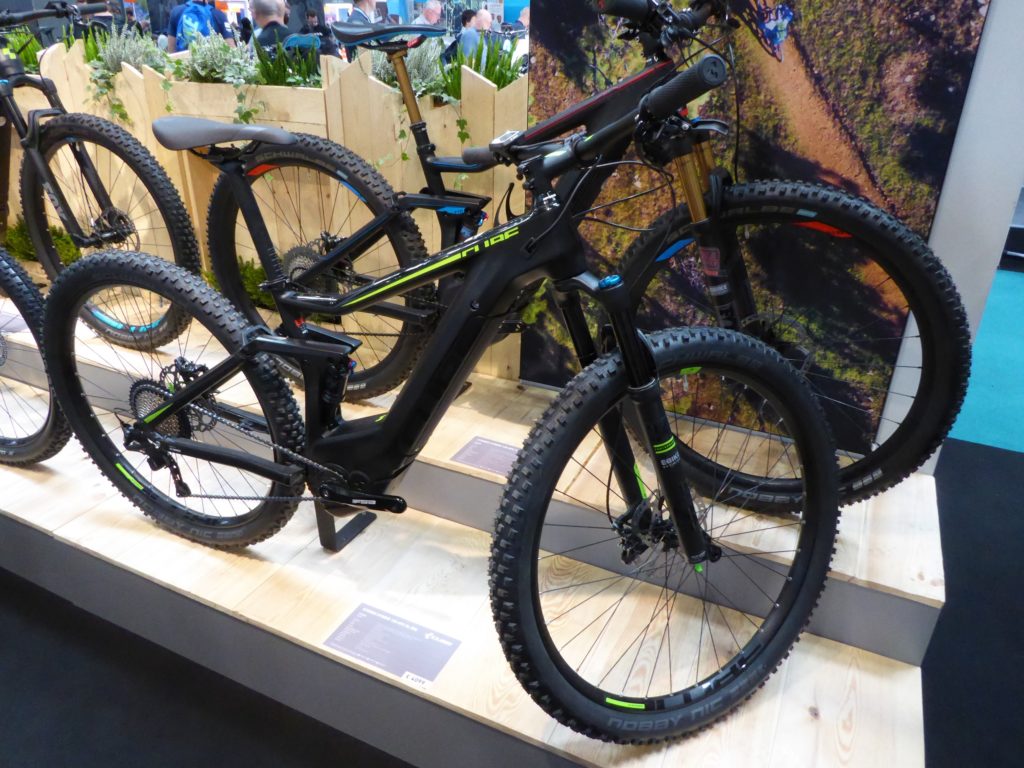 Over at the Cube stand there were massed ranks of e-MTBs on display and many of the 2018 models were looking more integrated than ever, especially when using the Bosch Powertube 500 frame integrated battery. It was launched this year and Cube are one of the first e-MTB manufacturers to bring it to the UK.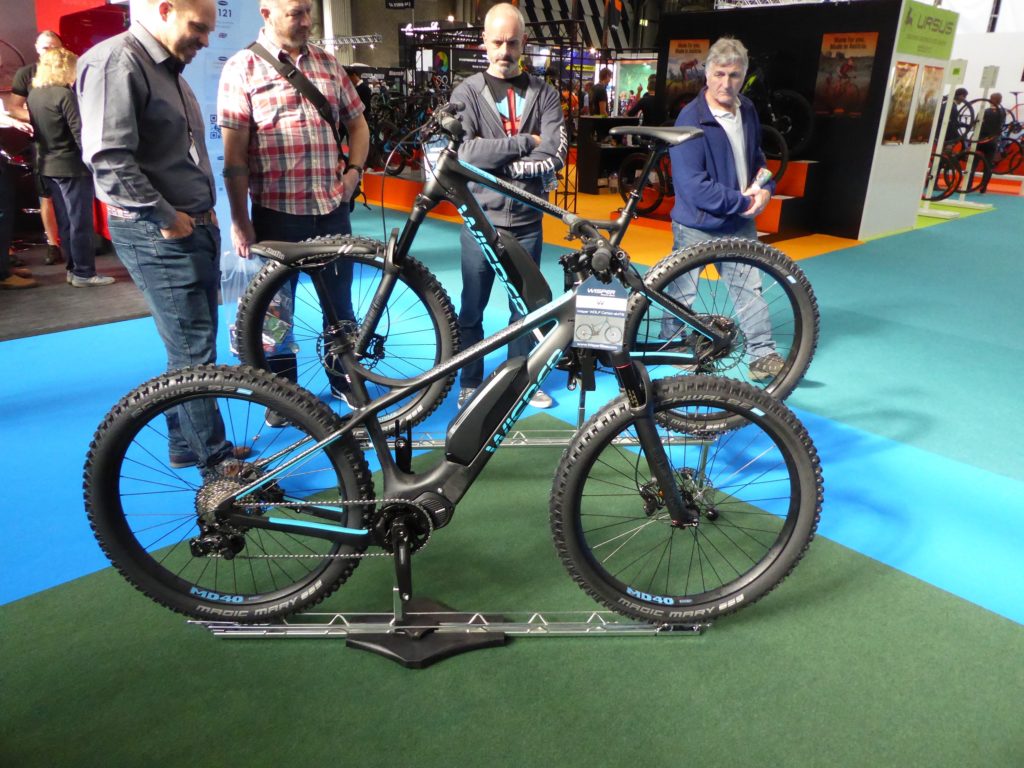 Shimano-powered e-MTBs were there in numbers and one of the most interesting was from a smaller UK firm, Wisper, which has spent most of its previous history concentrating on commuting and leisure e-bikes. Their new Wolf hardtail and Wildcat full-sus models come in aluminum and carbon fibre frames and range from £3199 to £5599. I particularly liked the fact they had spec'ed oversize tyres on all models – if you have the power why not fit bigger tyres and go for extra grip?
Mondraker, Ridley, Orange, Cannondale also all featured new e-mtbs for the UK with the Shimano e-MTB specific E8000 drive system.
Mondraker featured a frame integrated battery too.
Road eBikes from Bianchi, Cube & KTM
There was plenty of interest at the Bianchi stand – this is an Italian firm with impeccable road race bike credentials who are now selling a wide range of e-bikes, showing any concern about e-bikes affecting their sporty image have long since been banished. Their Road Impulso range signals the emergence of a new class of e-bikes, e-road bikes.
Cube were also promoting the e-road concept with their Agree Hybrid C:62 range (covered in a recent news post).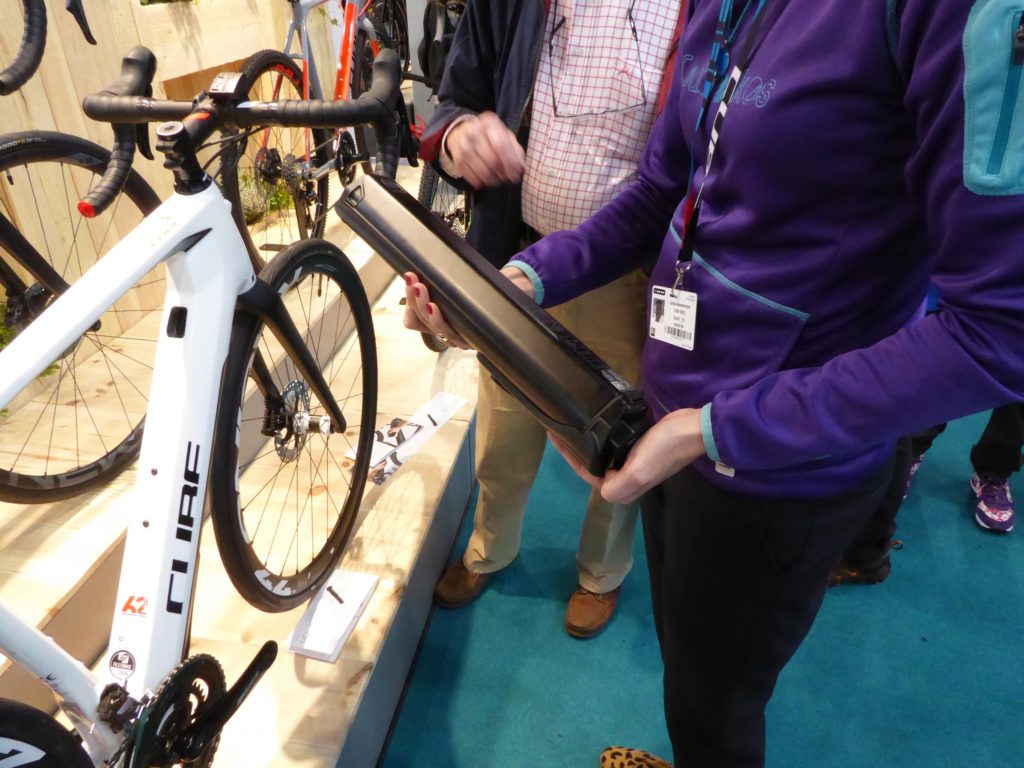 We were given a first hand demo of the removability of the battery and motor – so you get two bikes in one with this Fazua motor system, a lightweight e-bike and an even lighter weight regular bike (once the frame integrated power pack and motor are removed – which can be done at the push of a button).
Cube's Carola Noordemeer was keen to point out that the Agree Hybrid had been chosen not just for its light weight and removability but for rideability – once the UK legal cut-off assisted speed of 15.5mph has been exceeded it remains rideable and fast without the resistance you get from the motor that is experienced with some of the traditional crank drives said Noordemeer. No Fazua- equipped bikes were available on the test track so we can't report on how they rode unfortunately…
Cube were also promoting the arrival of their all new Touring Hybrid range using the apparently much quieter Bosch Active Line Plus motor – ideal for long rides were you want steady and quiet assistance to enjoy the rural calm of your surroundings.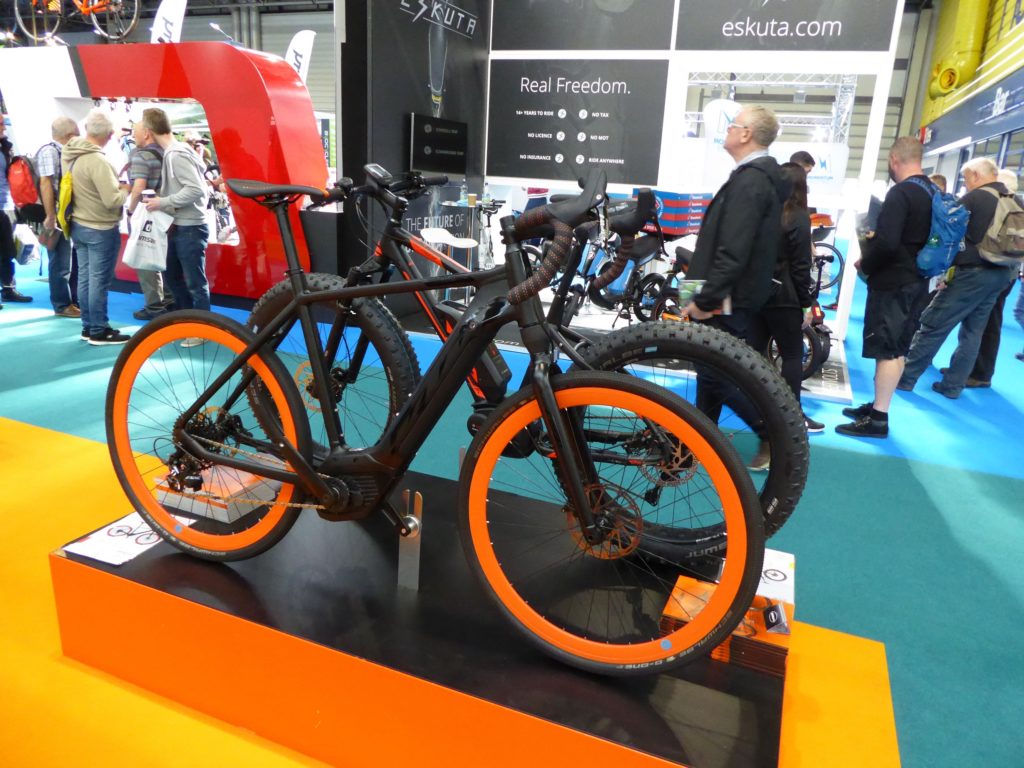 Continuing the e-road bike theme was the Macina Flite over at the KTM stand – a very striking looking e-road bike actually seemingly aimed at commuters and using the well-known and ultra reliable Bosch system.
If these new bikes can get previously e-bike sceptical road riders interested in e-bikes it can only be a good thing but, perhaps more significantly, lighter motors like the Fazua and the Polini EP3, used on Bianchi's E-road range, might also spread to other genres of e-bike and help popularise e-bikes even more; e-bike's relative heaviness is perhaps one factor preventing people using them.
More Big Boys & More Variety than Ever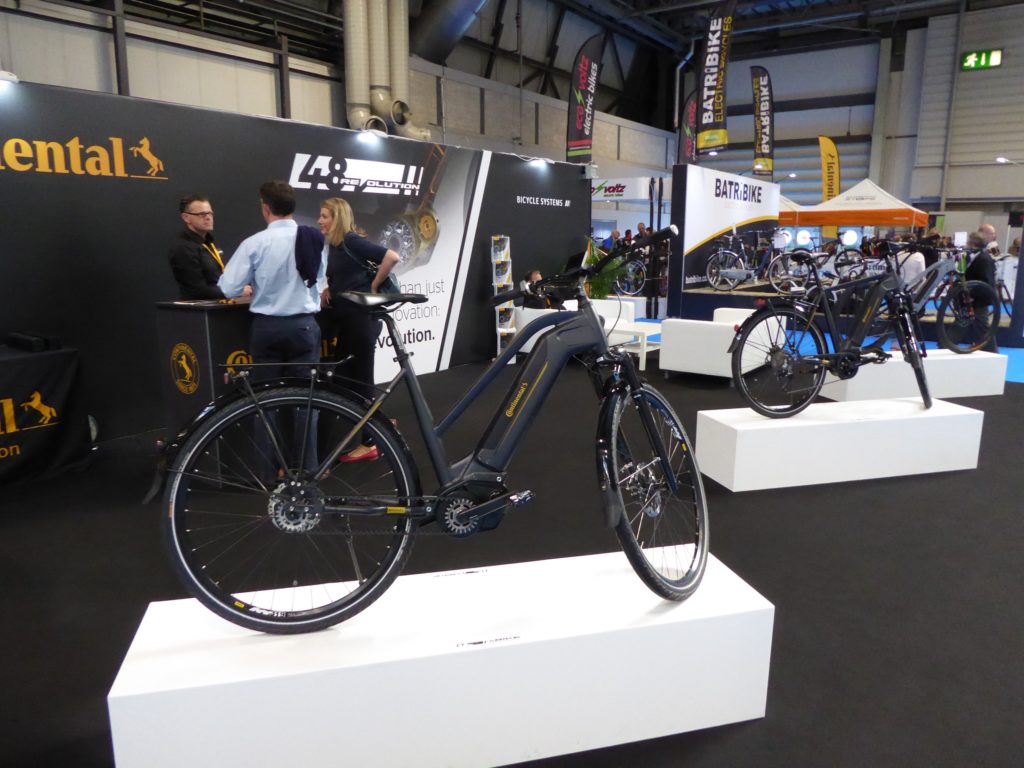 It's now an encouraging feature that the likes of Shimano and Bosch have their own e-bike stands at Birmingham on a regular basis but this year they were joined by another big player, Continental, who were introducing their Revolution 48 combined motor and CVT gearbox unit. They had their test bikes there, but so popular were they on the test track that I couldn't lay my hands on one.
But equally encouraging was the presence of many smaller specialist companies each with their own take on e-bikes.
EBR readers often request more information on e-recumbents so the good news is not only that UK recumbent specialists ICE were at Birmingham but that Shimano Steps motor power is available on ALL their trike models.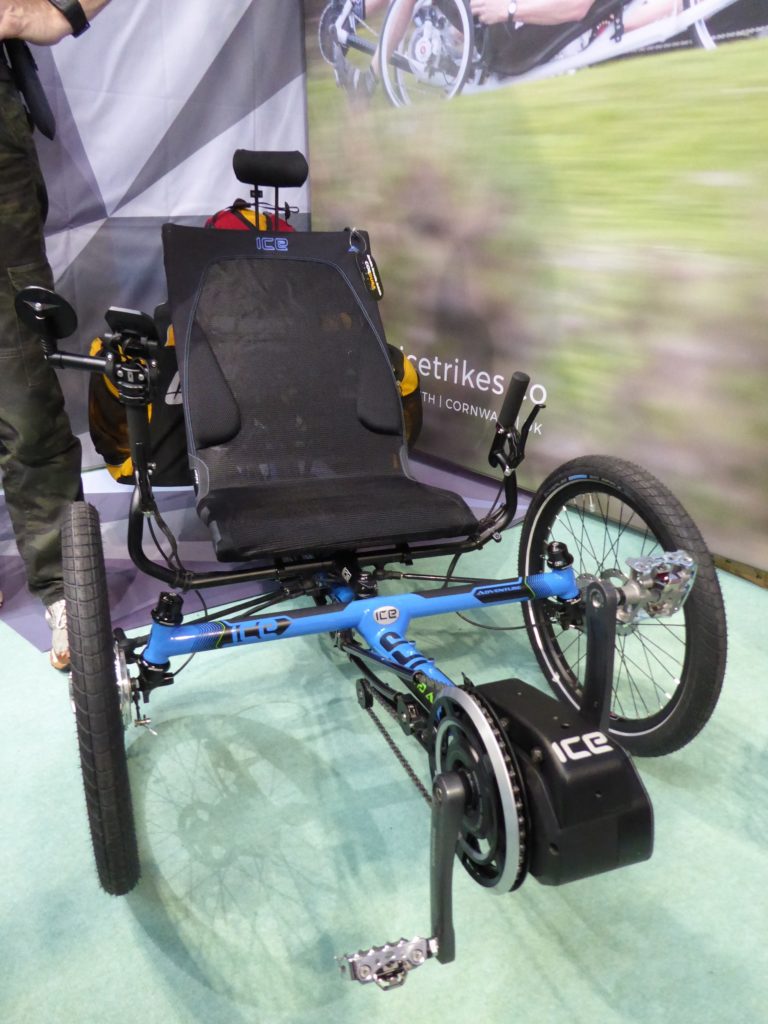 This includes their folding adventure model, their Full Fat fat-tyred model and several extremely slick and sporty tadpole trikes. Apparently ICE have a strong presence in the US so why not get down to a local dealer and check them out.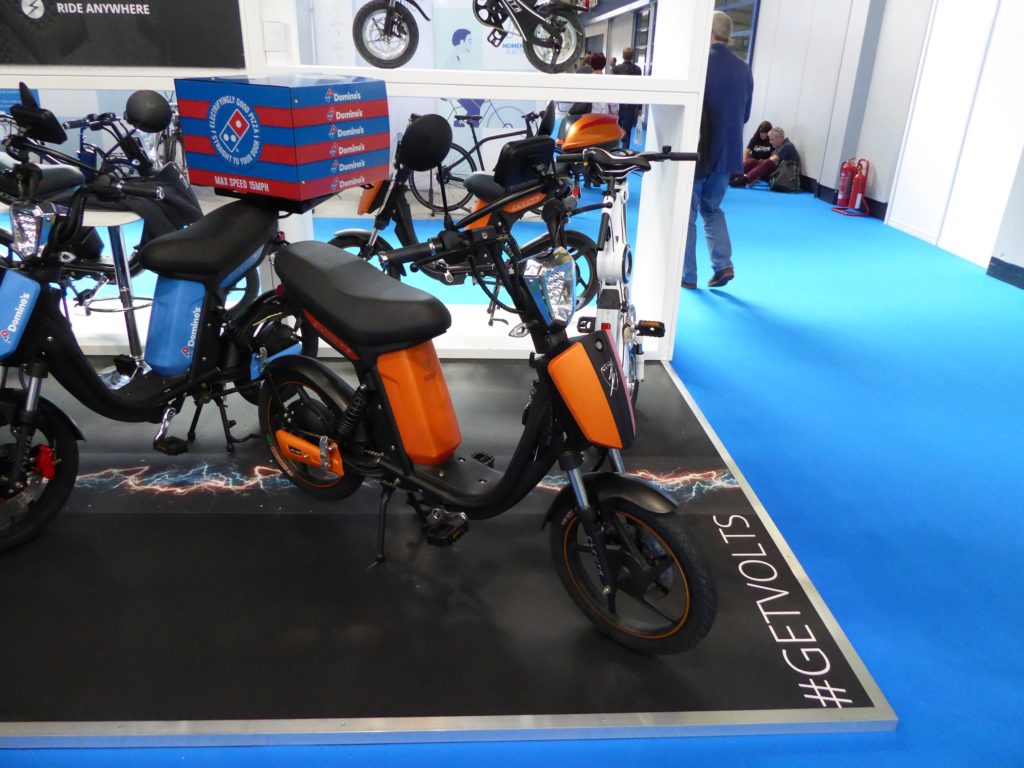 It was also interesting to see Eskuta there – EBR had featured them in recent news as they contracted with Dominos pizza delivery firm to supply these pedelec legal moped style e-bikes as delivery vehicles. Eskuta also said they were looking to target the student market.
We recently featured Mellow Boards from the US so it was less of a surprise to see Slick Revolution adding power to skateboards which this year at least seem to have take the place of powered kickscooters at the show. What will they think to add a motor to next year?
Speed Pedelecs Coming to the UK?
Riese & Muller made a splash and look to be targeting the UK with their specialities – e-cargo bikes and speed pedelecs. This is despite the fact that speed pedelecs don't have their own legal category in the UK (as they do, for example, in Germany and the Netherlands) and are classed as mopeds – requiring moped level taxing, insurance and helmet wearing.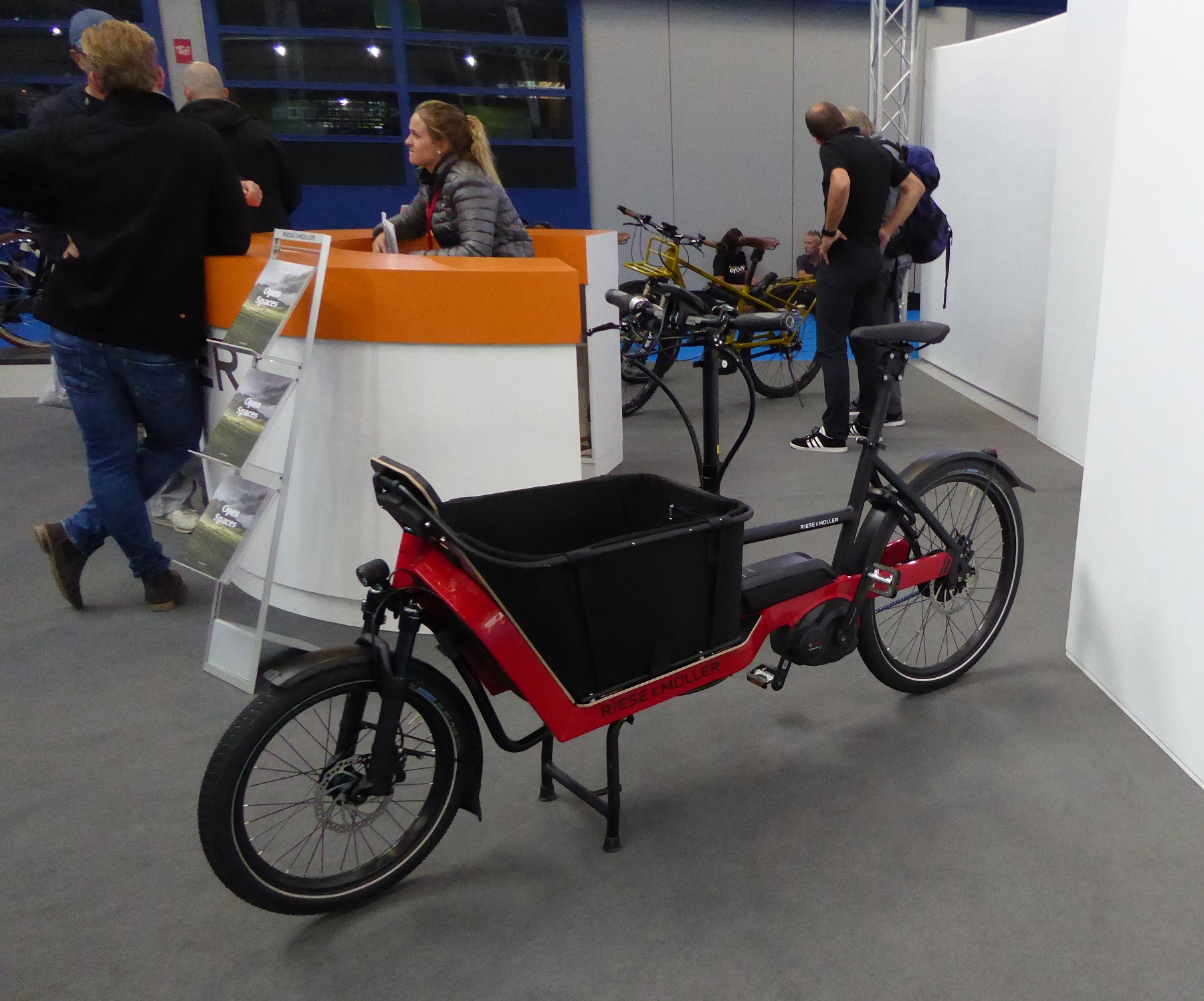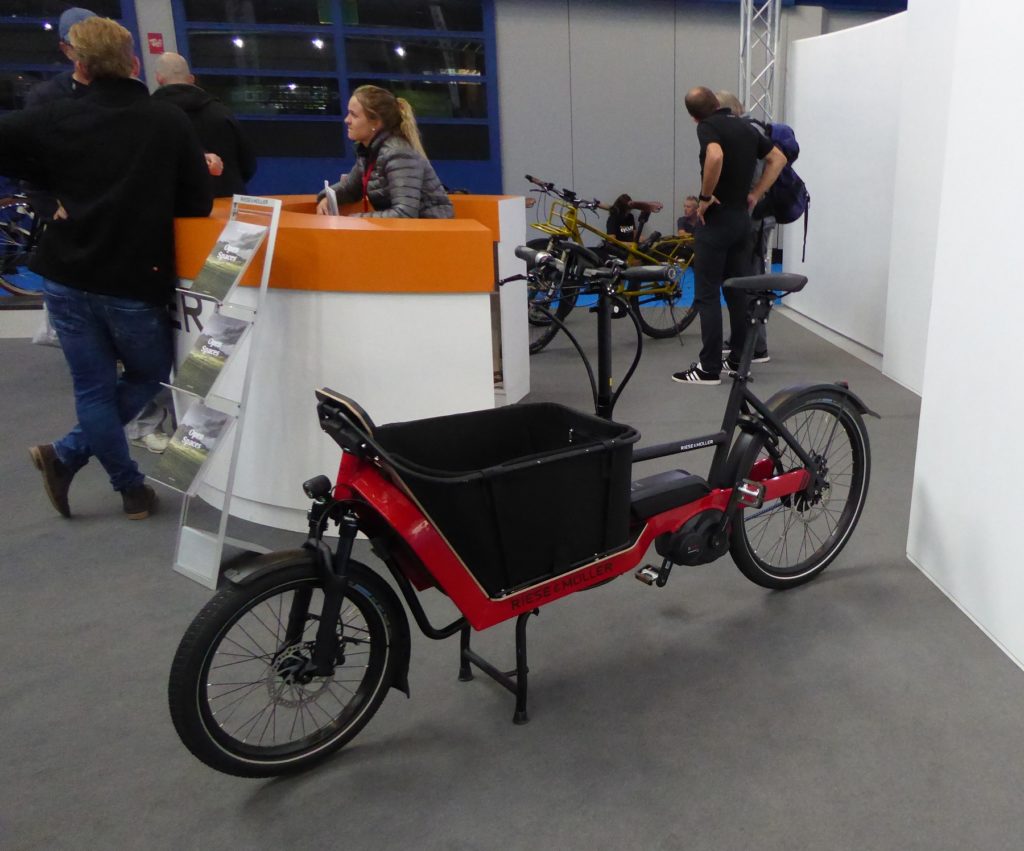 Despite this R&M UK Sales Manager Daniel Jones was keen to stress that they can in theory be so registered and ridden on UK and they are not 'illegal' as often described in the media. Jones said he was working with the DVLA (UK's vehicle licensing authority) to streamline the requirements for speed pedelec registration and to produce a factsheet on the subject for consumers and dealers. Indeed, R&M have wasted no time in recruiting dealers as some of their s-pedelec models already appear on dealer 50 Cycles website.
Kits Re-Emerge
Perhaps spurred in part by the publicity fallout from Brompton's recent e-bike announcement, there were a sprinkling of firms offering e-conversions. We have already reported and tested ARCC's very high-tech kit which targets retrofitting to Brompton's and Moultons in particular.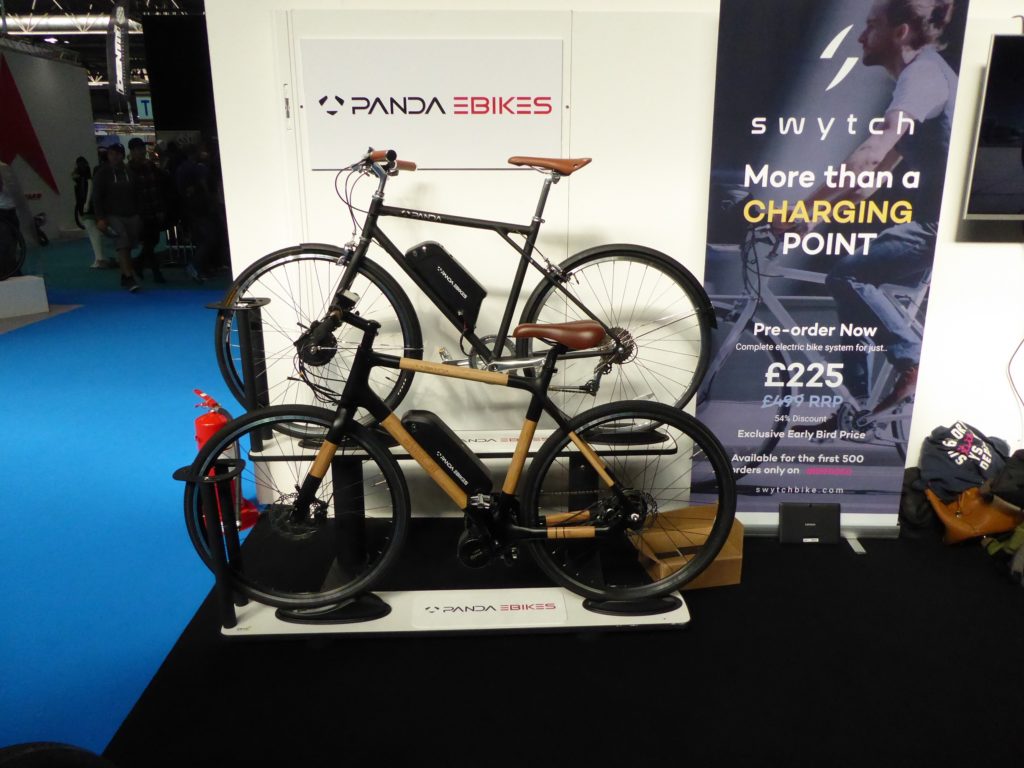 Also present were Panda e-bikes from London with a dazzling display of conversions, from a bamboo and carbon fibre model to a Penny Farthing!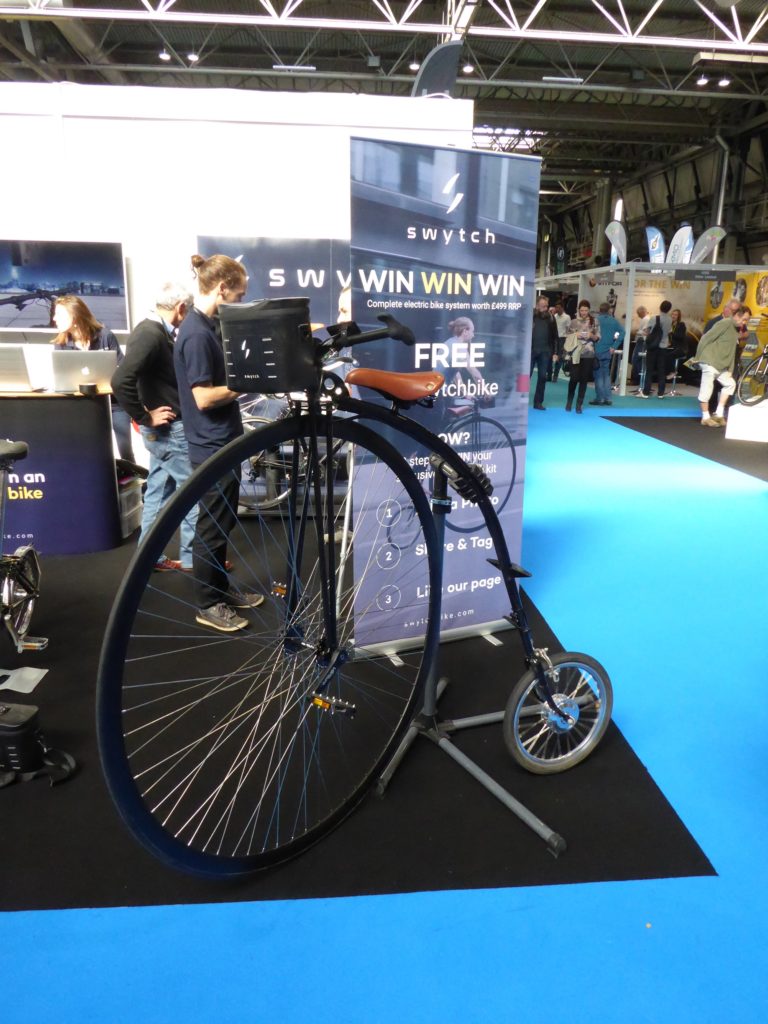 Stay tuned for more e-bike news & reviews and thanks for reading!
-Richard
P.S. Don't forget to join the Electric Bike Report community for updates from the electric bike world, plus ebike riding and maintenance tips.
Reader Interactions