eBike News; WHO Endorses Biking, eCargo Deliveries During Pandemic, Van Moof & Mastretta eBikes, Flying eCars & Much More! [VIDEOS]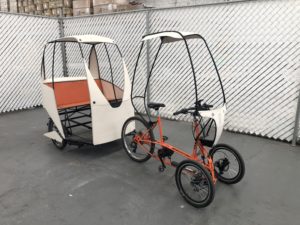 In this week's news:
Coronavirus Update
WHO Endorses Biking
Cycling UK Appeal
Deliveries by eBike During Pandemic
eBiking vs. Driving Stats
New Van Moof and Mastretta eBikes
Chrome Barrage eBike Pannier
Flying eCars
And Much More!
Coronavirus Update
WHO Endorse Cycling as Transport During Pandemic
Bikebiz report 'The World Health Organization (WHO) is encouraging those still needing to travel to ride bicycles and walk during the COVID-19 crisis.'
'While cities around the world are introducing a broad range of measures to limit physical contacts to prevent and slow down the COVID-19 pandemic, many people might still have a need to move around cities to reach their workplaces when possible, meet essential daily needs or provide assistance to vulnerable people," read the WHO statement.
''Whenever feasible, consider riding bicycles or walking: this provides physical distancing while helping to meet the minimum requirement for daily physical activity, which may be more difficult due to increased teleworking, and limited access to sport and other recreational activities.'
E-biking should also be on that list!
Cycling UK Appeal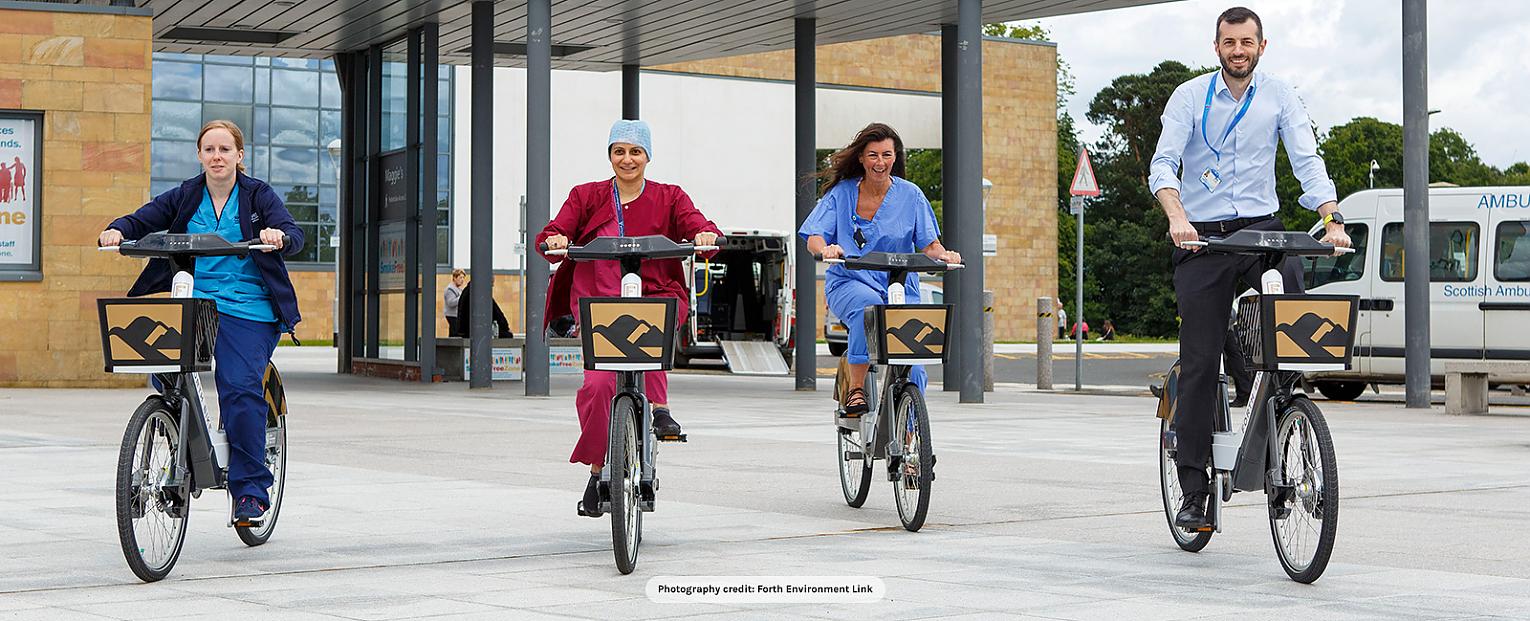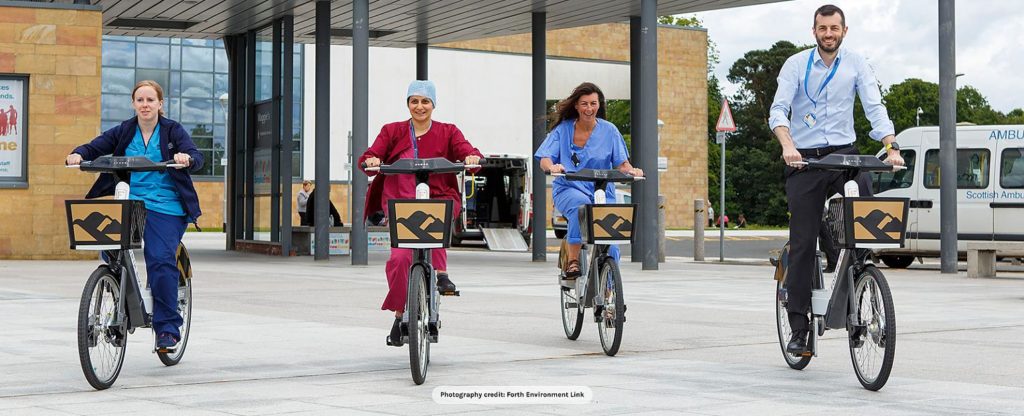 Cycling UK are a popular UK membership organisation and produce lots of helpful info about biking and e-biking.
They are doing their bit to help NHS staff during Coronavirus and say 'We've been inundated with requests for our free three-month membership, over 1,000 NHS staff have already signed up. So we have just decided to expand this to cover all health and social care workers, ensuring dedicated staff working in care homes are now also included, which is why we urgently need your help!'
Read more about how you can help here.
eBike Deliveries During the Pandemic
As Clean Technica notes, and as you may well have noticed wherever you live in the world, 'The social distancing and the need to ensure contactless interactions during this pandemic has resulted in a surge in demand for online shopping and delivery services as people avoid crowded places.'
This has been a silver lining in the very big cloud of the pandemic and those e-cargo companies that have adapted to the current situation appear to be doing well and Clean Technica gives several interesting examples.
EBR has previously featured London's PedalMe because of its pioneering work running an e-bike taxi service. They have now launched a home delivery service.
Some of the partners already using Pedal Me for home deliveries include Coleman Coffee, Dunns Bakery, Furanxo (wine and food shop), The Butchery Ltd, East London Liquor Company, and Feedr for Fresh food hampers plus pre-prepped meals.
And if you need beans then they have them aplenty and one heck of a trailer…
And there's more detail in this ebiketips article about Pedal Me. The company was apparently 'losing all their taxi trade and many delivery jobs overnight… but they've revealed that they've managed to turn the tide – and are now actually recruiting again to keep up with demand – after picking up numerous delivery jobs that have come about through the need to keep goods moving through the pandemic. '
The article also reveals that 'Pedal Me are not only ferrying grocery deliveries from businesses that are no longer able to do a physical trade, but……They've began working with Batch.works to deliver their 3D Printed PPE equipment to NHS hospitals, using highly sophisticated electric cargo bikes to get large volumes of Batch.works facemasks to hospital staff on the front line…
Clean Technica also details how Namibian e-bike startup ebikes4africa had it's tourist based business decimated by the virus but has been able to to turn things around to some degree.
In particular 'In rural areas, the e-bikes have found applications in ferrying essential goods such as water, ferrying people as part of rural taxi services, being utilized as ambulance services taking people to rural hospitals, and being used in general last-mile transportation services in areas not easily accessible by larger vehicles.'
The business also sounds extremely sustainable, as sun-drenched Namibia means the large 624 Wh batteries can be comfortably charged using small PV systems in 4 to 6 hours.
eBikes to the Rescue Finnish Style
The New York Times reports 'The second violinist of the Helsinki Philharmonic Orchestra has been redeployed to help fight the coronavirus crisis – he's using an electric bike to deliver food to the Finnish capital's elderly residents.
With old people ordered to self-isolate, city employees have contacted 27,000 citizens aged over 80 to offer help by delivering groceries and medicines.
"It's a big thing for them and therefore it becomes a big thing for me as well," he added as he delivered groceries to pensioner Marja-Terttu Lundgren.
"It feels very good that something like this has been organised for us. Every day food, bread and even pizza," Lundgren said.
UK Government Relaxes Road Closure Rules
Forbes reports 'The U.K.'s Department for Transport (DfT) has loosened its rules to enable roads to be closed to motor traffic and given over to pedestrians and cyclists during the duration of the coronavirus lockdown.
Extra space for people enables key workers and others to maintain two meters of physical distance when walking or cycling.
Typically, any change of use for roads in England has to be enabled by local authorities issuing "Traffic Regulation Orders"—these usually take time to implement, have to be publicized through paid-for advertisements in local newspapers and by on-site notices. They can be stymied by objections.
The looser rules—announced on April 16—will be "withdrawn once conditions allow," states the DfT.
UK Evans Start Cautious Reopening
Bikebiz reports that UK high street bike and e-bike chain Evans 'will reopen a further nine stores to help keep key workers and provide assistance to the increasing number of people travelling by bike for essential journeys and daily exercise.
Since initially reopening 11 stores last month, the retailer has provided hundreds of free bike MOTs to key workers and will now be able to offer the service across all open stores.
As a transport provider, bicycle shops are listed as essential retailers on the Government's official guidance. Strict safety measures have been introduced to the reopened stores, including limiting how many customers can enter at any given time, marking out 'two-metre zones' throughout the shop floor and eradicating touchpoints within the payment process.
Meanwhile Bike Europe reports that 'The re-opening of bicycle shops in Germany as announced last night by the federal and state government comes as a big relief for the bicycle industry. As Europe's largest e-bike and bicycle market the restart of retail will be an important indication on how sales will develop when shops will be allowed to open after the Corona crisis in other European countries.
The re-opening of bicycle shops in Germany is part of a larger scheme to lift bans for retail businesses which were set at the outbreak of the Corona crisis. For now a limited number of retail categories are allowed to open their business again, including bicycle shops.'
New eBikes and eBike Systems
Van Moof's Smart New eBikes
Dutch bike maker Vanmoof has just launched its next generation ebikes, the S3 and the X3.
Van Moof say the new ebikes come with a redesigned power system, automatic gear shifter, a rear wheel-blocking kick lock, smart tech and an upgraded app.
They add that the S3 and X3 are some 60 percent of the cost of their predecessors.
The S3 has built-in front and rear 40-lux lights, and an LED display in front of the handlebars that shows ride info like speed, power assist level and more.
A removable smart cartridge caters for over-the-air system updates, enables remote servicing and includes and integrated speaker.
There is a choice of 250-W (EU) or 350-W (US) front hub motor that provides four levels of pedal assist as well as instant push button boost power.
The ebike features automatic four-speed electronic gear shifting. The drivetrain is fully enclosed and the chain is tensioned automatically. It rides on 28-inch anodized aluminum rims wrapped in Schwalbe tires, and stopping power comes courtesy of hydraulic disc brakes front and rear.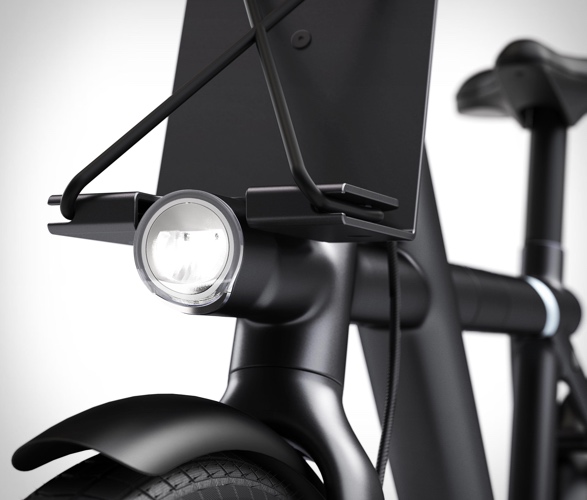 The X3 also packs similar unique technology but also has the option of bespoke front and rear carrying racks.
Mastretta's eTaxibike Prototype
Mastretta Bikes are a Mexican firm specialising in very novel three-wheeled e-bikes that can be put to a variety of uses. They recently got in touch with EBR to say that, although they have had to close their factory until at least May 15th, they hope to have their new Taxibike prototype ready once the factory reopens.
The bike has a 90Nm rated mid-motor, 17 Ah battery and Nuvinci continuously . The trailer has suspension, disc brakes and also work as CARGO trailer for 450 pounds capacity.
New Cycle Accessories
New Chrome Barrage Pannier
This new pannier from Chrome fits most e-bike and bike racks and according to Chrome is 100% welded waterproof and has the following features:
-Laptop sleeve fits 13″ Macbook Pro
-16L rolltop, expands to 21L
-Expandable cargo net for helmet, shoes, etc.
-Locking three-point system fits most bike racks
-Welded waterproof liner with durable nylon shell
-Carry handle
-Detachable shoulder strap
-MSRP $180
Stay tuned for a review of the Chrome Barrage.
Get Inspired
Rad Power Bikes makes a wide range of e-bikes and have published this inspiring list of how you can contribute to a cleaner planet by swapping car trips for e-bike trips. Interesting facts include:
– Most Americans will drive roughly four miles to reach the supermarket. That adds up to about 3,232 grams of CO2 every time you decide to stock up on groceries.
-For years, the average commute has hovered around 15 miles. If you rely on a car, that adds up to about 6,060 grams of CO2 emissions every trip.
-You can save 2,908 grams of CO2 by using an ebike for your average pick-up and drop-off trip on the school run.
eTech Watch
When Cars Might Fly
Clean Technica again, this time looking rather more to the future with news of a real world test of a flying car.
Already eight years in the making, this reported test ride involved a small amount of low level hovering.
The article tells us that 'The SkyDrive eVTOL is part of Toyota's Cartivator project, and was started as a side project by a group of Toyota employees with a budget of "just" 40 million yen (about $370,000 as I type this).
After showing an NEC-branded AirTaxi prototype last year, though, they've been able to raise at least $14 million more…..watch this space!
eBike Biz
UK's Cycle Republic Becomes Pure Electric
The UK's biggest cycle retailer (and a major e-bike retailer too), Halfords recently announced that it was closing all of its Cycle Republic branded high street stores – nothing to do with the coronavirus but part of a long term review that sees them placing more emphasis on their online outlets like Tredz. The story has been detailed by BikeBiz.
However a new brand, Pure Electric, specialising in e-kickscooters and e-bikes have taken over ownership of 11 of the 22 stores with rest earmarked for closure.
Electric scooters are becoming an increasingly common site on public roads and cycle lanes in the UK, despite their use being illegal (there has been at least one police crackdown in London).
However, last month, the Department for Transport (DfT) launched an open consultation and entitled "Future of transport regulatory review" which calls for evidence on whether e-scooters and other micromobility vehicles should be permitted.
The DfT stated that micromobility could "help us decarbonise transport and tackle congestion and air pollution, make travel more affordable and convenient". eKickscooter trails were announced for several UK cities.
However a petition on the Pure Electric website states 'At Pure Electric we're of the belief that these trials are not expansive enough and the whole process of getting e-scooters legal for everyone is going to take far too long. With both the current health and environmental crises we need eco- & hygiene-friendly transport alternatives right now. If you want to accelerate the legalisation process for electric scooters, please sign our petition today.'
Stay tuned for more e-bike news and reviews and thanks for reading!
-Rich
P.S. Don't forget to join the Electric Bike Report community for updates from the electric bike world, plus ebike riding and maintenance tips!
Reader Interactions