eBike News: eMobility & Coronavirus, Lightweight Specialized, Yuba Spicy Curry, Firefighters eBiking, Accessories & More! [VIDEOS]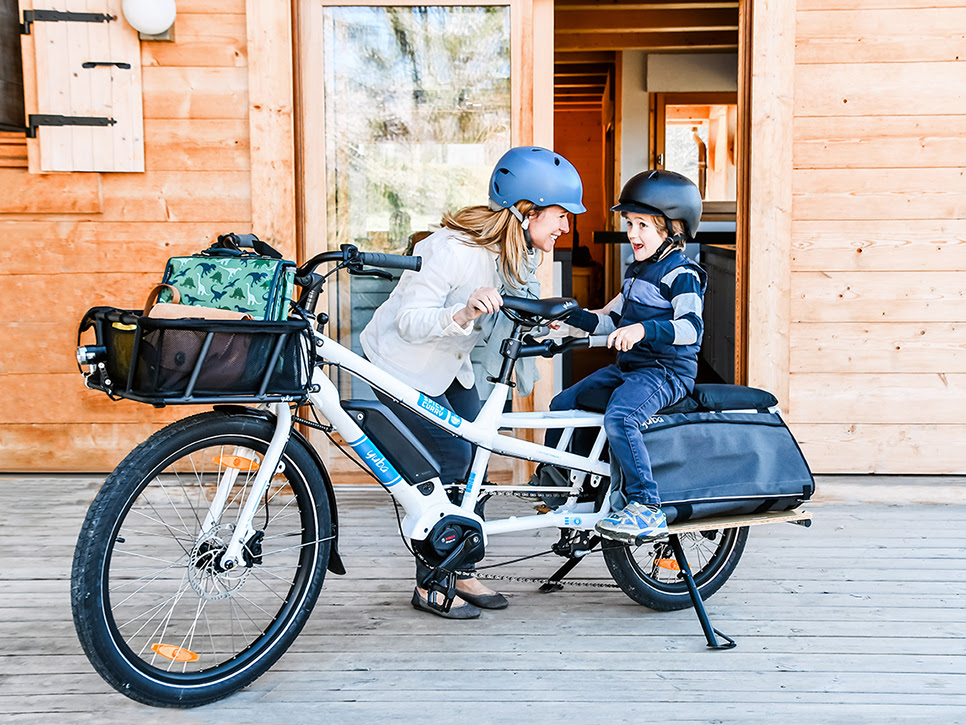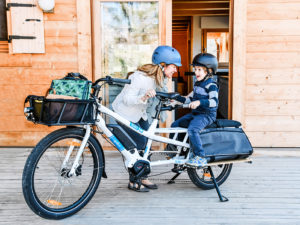 In this week's eBike news:
eBiking During Coronavirus
Specialized's New Lightweight Vado SL
Yuba Spicy Curry eCargo Update
Seattle Firefighters eBiking
Giant's Pizza Delivery eBike
Electric Bike Company's New Showroom
Accessories from ABUS, DZR, Hiplok, EBC, Tubus
Legal Updates from Northern Ireland
And Much More!
Coronavirus Update
Seattle Street Closures to be Permanent
CNN reports that:
'Seattle residents will have more space to exercise and bike on as the city plans to permanently close 20 miles of streets to most vehicular traffic, the mayor announced Thursday.
The Stay Healthy Streets initiative started in April to temporarily provide more space for residents to get out of the house and exercise while maintaining social distancing during the pandemic. Seattle Mayor Jenny A. Durkan said Thursday that the closures will be permanent.
The streets were selected to promote outdoor exercise opportunities in areas with limited open space options, low car ownership and routes that connect people to essential services and food take out….
"We've witnessed a 57% drop in vehicle traffic volumes accessing downtown Seattle during Governor Inslee's Stay Healthy, Stay Home order," Seattle Dept of Transport said in a news release.
The city also announced it will accelerate construction of bike infrastructure to provide more mobility options for residents as Seattle begins the process on reopening.'
BULLS Discounts for Critical Workers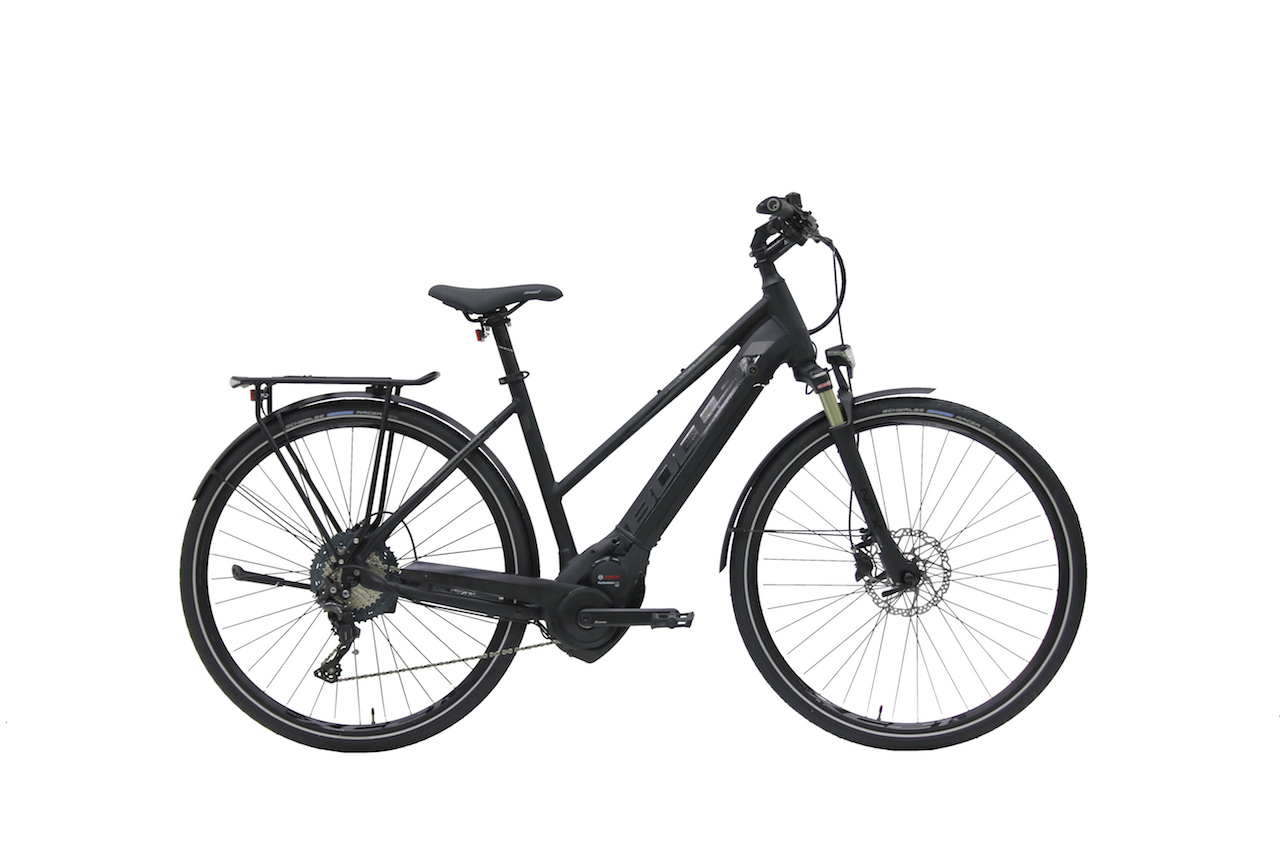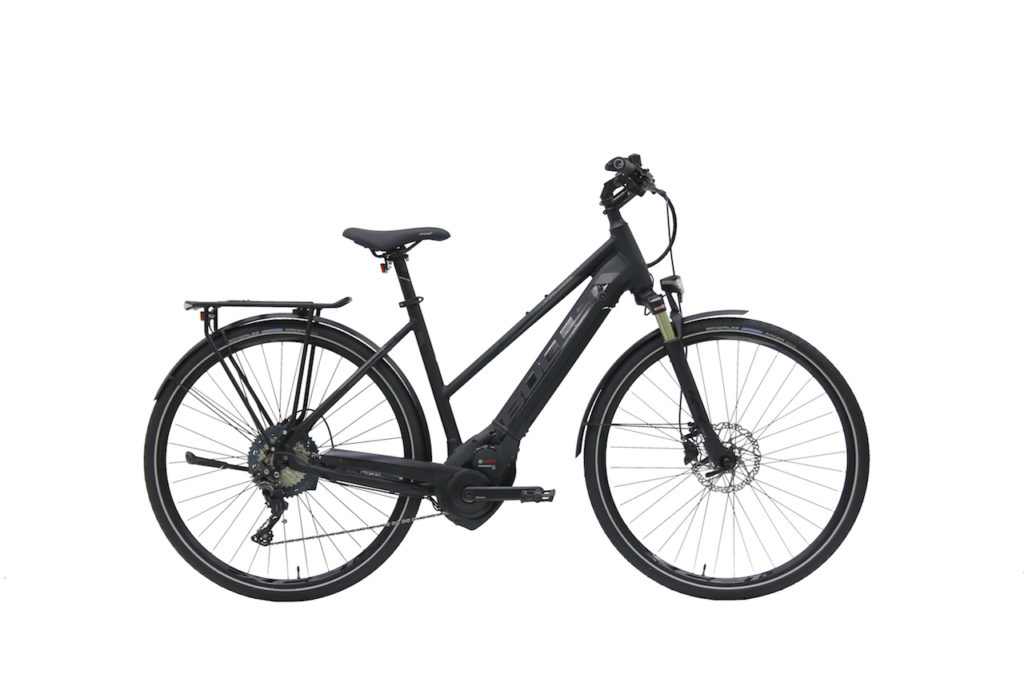 BULLS Bikes USA recently announced the launch of a discount program for healthcare professionals, law enforcement, fire fighters and EMTs. BULLS say the discount 'is being initiated to help alleviate stress and decrease contact with others on public transportation.'
BULLS has selected five eBike models to be available for eligible riders. All of these models are Class 3 (28mph), have an optimal range of up to 132 miles and are equipped with either Bosch or Brose motors. To take advantage of the program, riders will fill out a brief online form.
Upon approval, BULLS will issue a one-time use promo code for 15% off, redeemable at bullsbikesusa.com.
Bikes will be shipped to the closest BULLS dealer, where the rider will pick up the bike after it has been assembled and calibrated to rider specifications.
Will New Travel Measures Save the E-kickscooter Industry?
Undoubtedly the current lockdown measures have meant a tough time for micromobility share systems based on the communal use of e-bikes, bikes and e-kickscooters.
E-kickscooter share companies Lime and Bird suspended their services in many of cities worldwide at near the start of the outbreak and Lime has removed many kickscooters and bikes from many US and Canadian cities as demand for shared micromobility has plummeted.
Attempts by the e-kickscooter industry to counter problems such as the short life of the early models by introducing more robust ones or the introduction of geofencing to control errant riders may have come too late for many companies in what is still an expensive business to run and maintain.
However there may be a boom in personal e-kickscooter use around the corner as 'pop-up' bike lanes appear in cities around the world, as EBR has previously reported.
Newly announced from the UK government is an emergency active travel fund which, according to Bikebiz, will involve 'Pop-up bike lanes with protected space for cycling, wider pavements, safer junctions, and cycle and bus-only corridors will be created in England within weeks as part of a £250 million emergency active travel fund – the first stage of a £2 billion investment, as part of the £5 billion in new funding announced for cycling and buses in February.'
Encouragingly for the e-kickscooter industry the article adds:
'E-scooter trials will also be brought forward from next year to next month to help encourage more people off public transport and onto greener alternatives. Originally set to take place in four Future Transport Zones, the trials of rental e-scooters – which will now be offered to all local areas across the country – will allow Government to assess the benefits of e-scooters as well as their impact on public space, with the potential to see rental vehicles on UK roads as early as June.'
Ollie Chadwick is MD of the UK's Electrazoom Scooters and believes legalising e-kickscooters could play a major part in easing the lockdown:
'We now have an opportunity to make many positive changes especially with regard to the way in which we travel, and particularly how we travel in urban areas. Clean, low cost, sustainable options such as cycling, walking and scootering offer a wealth of benefits. Without clear guidance and incentives, quite the opposite could happen. More people could defer to cars believing this provides the isolation and security they need, which would be a major environmental setback. Bikes and eBikes are gaining renewed popularity, but many cyclists still fear the return of high volumes of motor vehicle traffic. eScooters are already in widespread use, but are still not formally legalised, and many potential users are eagerly awaiting this clarification. The recent OECD Report concluded that eScooters would be safe and provide many benefits, and the Government are reported to be reviewing the legislation with a change in the law expected in the imminent future.'
There are also signs the larger micromobility specialists are undergoing some consolidation and so may be in a position to come back more strongly post-lockdown.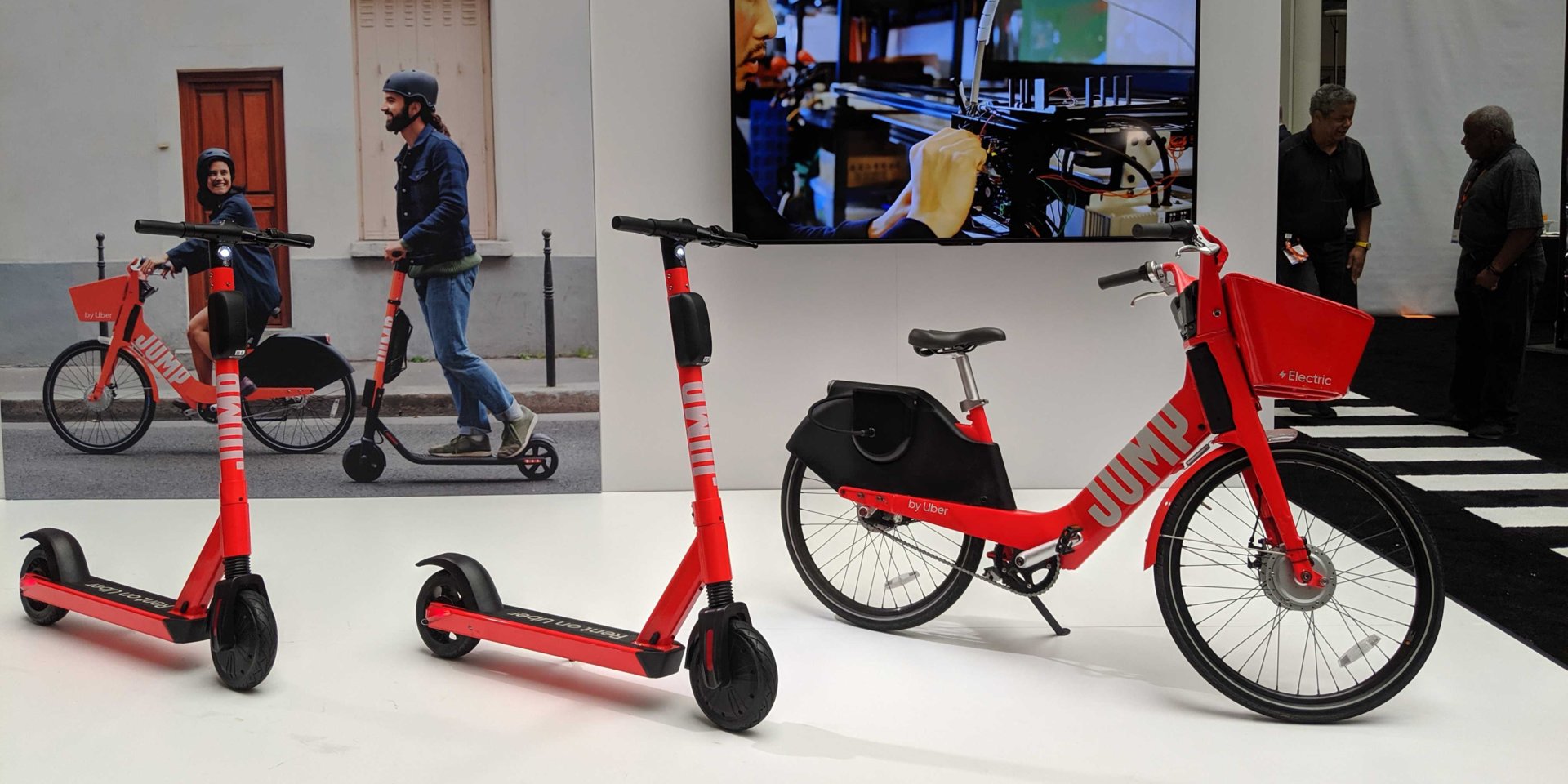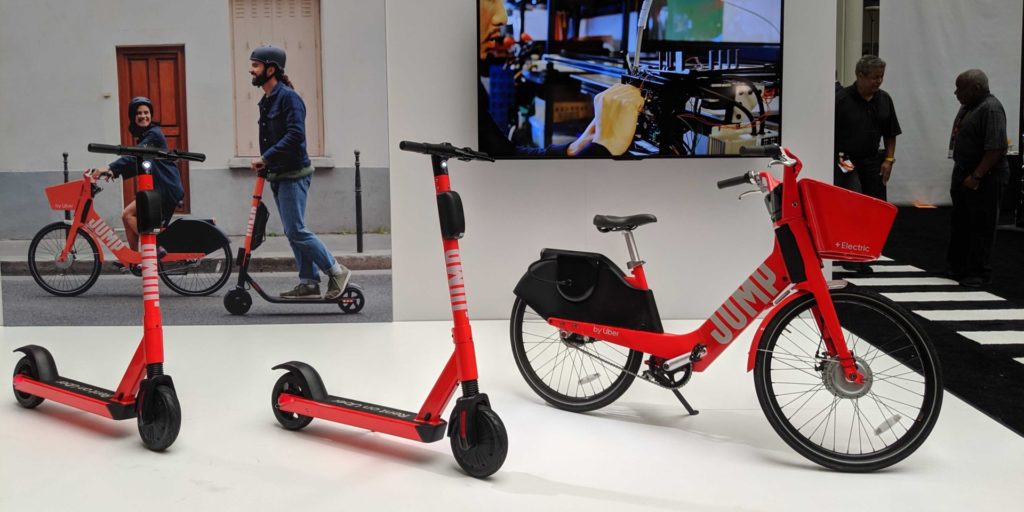 Once upon a time e-bike and e-kickscooter share specialists Lime and Jump were rivals but Uber have been closing in on Lime for some time. TechCrunch now reports:
'Lime has announced that it has raised a $170 million funding round. Uber is the leading investor with existing investors Alphabet, Bain Capital Ventures, GV and others also participating.
As part of the deal, Lime is also acquiring Uber's micromobility subsidiary Jump. There will be more integrations between Uber and Jump in the future, but both apps will remain active for now….'
As the article says, 'Uber is trying to cut costs as usage has been plummeting due to the COVID-19 pandemic and lockdowns around the world. With today's deal, the company is also going to save on operating costs as Jump employees transition from Uber to Lime.'
New ebikes & eBike Systems
Lightweight Specialized Vado SL
Specialized have launched the all new Vado SL fast hybrid style range with a headline grabbing weight 33 pounds/14.9kg for the lightest model and their own lightweight mid-motor.
Older Vado versions have used heavier mid motors but now the SL 1.1 motor used on previously on the much pricier Creo (e-road bike) and Levo (e-mtb) models comes to the commuting and leisure orientated Vado.
Clearly Specialized have announced themselves as true lightweight e-bike contenders alongside the likes of Fazua and ebikemotion.
The motor has been developed by Specialized themselves and is claimed to weigh 4.3 pounds/1.95kg – very light for a mid motor – and delivers 240 watts constant power.
There is a 320Wh frame integrated battery and a range extender in the form of a bottle battery can be purchased as an aftermarket option.
The Future Shock 1.5 micro suspension system is a mini suspension unit placed between the handlebars and the headtube and along with the wide but fast looking tyres aims to give a blend of comfort and speed.
Here's a useful video comparing the heavier more powerful Vado with the new SL.
From $3,350 for the Vado SL 4.0 to $4,350 for the Vado SL 5.0
Yuba Spicy Curry Update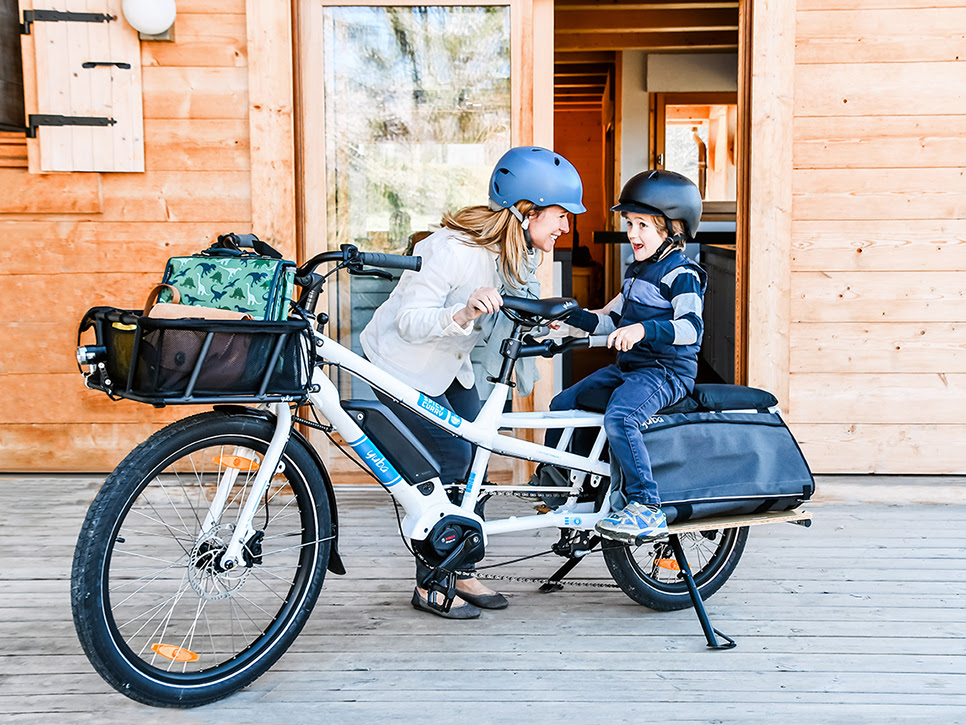 The Yuba Spicy Curry is one of the original electric cargo bikes and Yuba just rolled out the updated version with the new Bosch Cargo Line motor, 500 Wh battery, and Kiox color display.
Other updates include Magura hydraulic disc brakes, Schwalbe Super Moto X 2.4 tires, increased clearance for larger tires, and thru axles front and rear.
Like the original Spicy Curry, the update can carry 3 passengers, up to 440 pounds of total payload, and it can be customized with a bunch of accessory options. The Spicy Curry is priced at $4,750.
"I'm really proud of our team, the impact our bikes have on helping to lower the global carbon footprint. Our products play a part in leaving the environment a better place for the next generation," said Ben Sarrazin, CEO of Yuba Bicycles.
"The evolution of the Spicy Curry has been phenomenal – from winning the 2015 Eurobike Product Innovation Gold Award to the amazing sales and support of our dealer network to where we are today with our latest version – we're excited about this bike and all of the improvements that come with it."
Giant Pizza Anyone?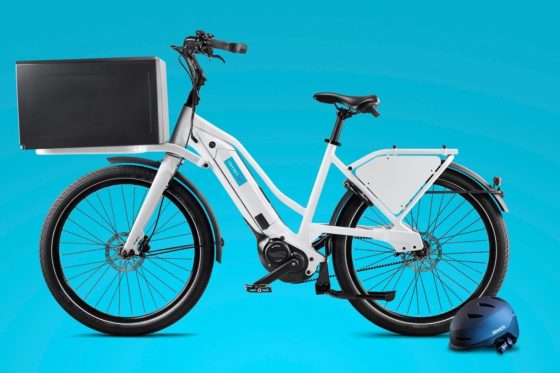 Bike Europe report 'In a joint project, Giant and ConnectBike developed a new e-bike for the food delivery market. The world's largest food delivery chain Domino's Pizza also partnered in the project. The Deliver-E+ is a heavy duty e-bike suitable for very frequent use at low maintenance costs and value depreciation. '
Get Inspired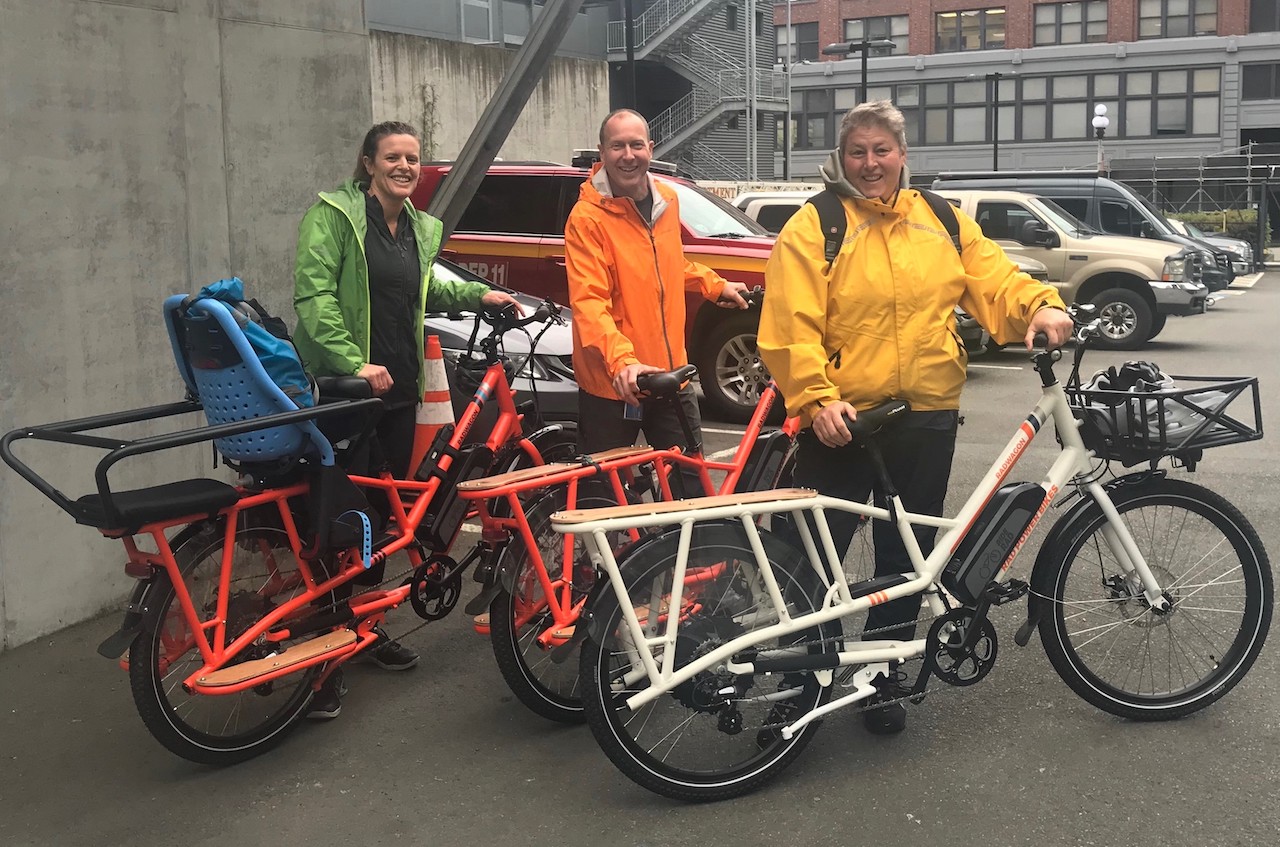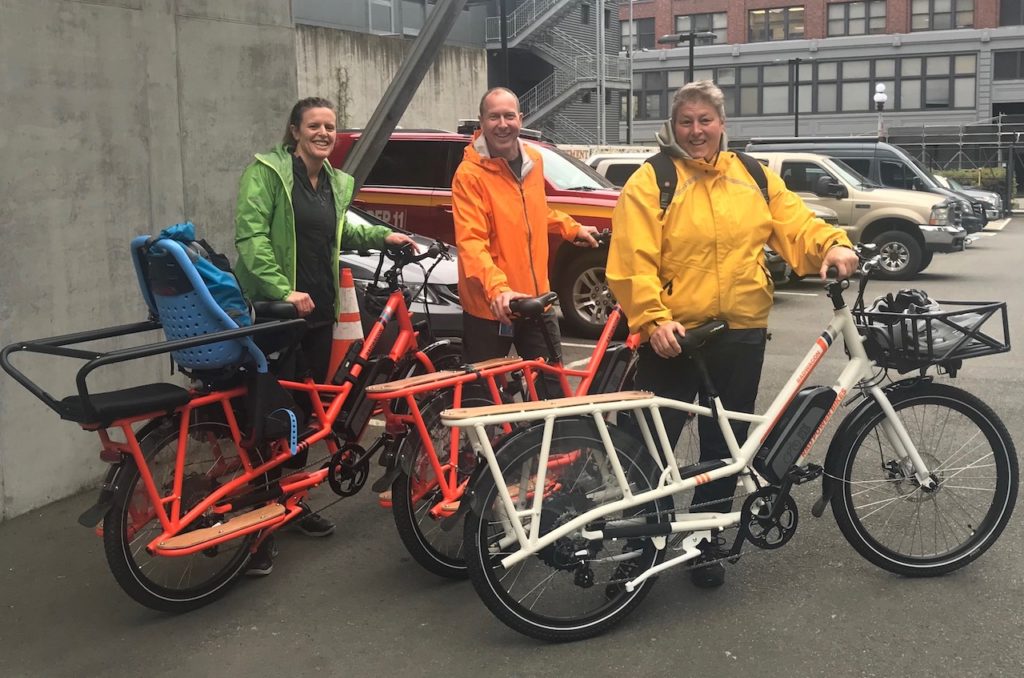 Seattle firefighter and paramedic Kelly Brusa (pictured above in yellow) is among the growing number of West Seattle residents, and Seattle Fire Department employees, who are rushing to buy electric bikes to commute downtown for essential work.
"I need to rotate between different fire stations in the city and carry lots of heavy gear," says Brusa, who bought an electric cargo bike from Rad Power Bikes, a Seattle-based e-bike manufacturer. "This gives me the ability to carry all of my gear."
The reason for the surge in e-bike sales? The emergency closure of the West Seattle Bridge, the primary automobile route connecting the West Seattle peninsula with downtown Seattle and beyond.
Read more about this story from Paul Tolme at Cascade Bicycle Club.
New Cycle Accessories
DZR Shoes, Hiplok, ABUS Helmet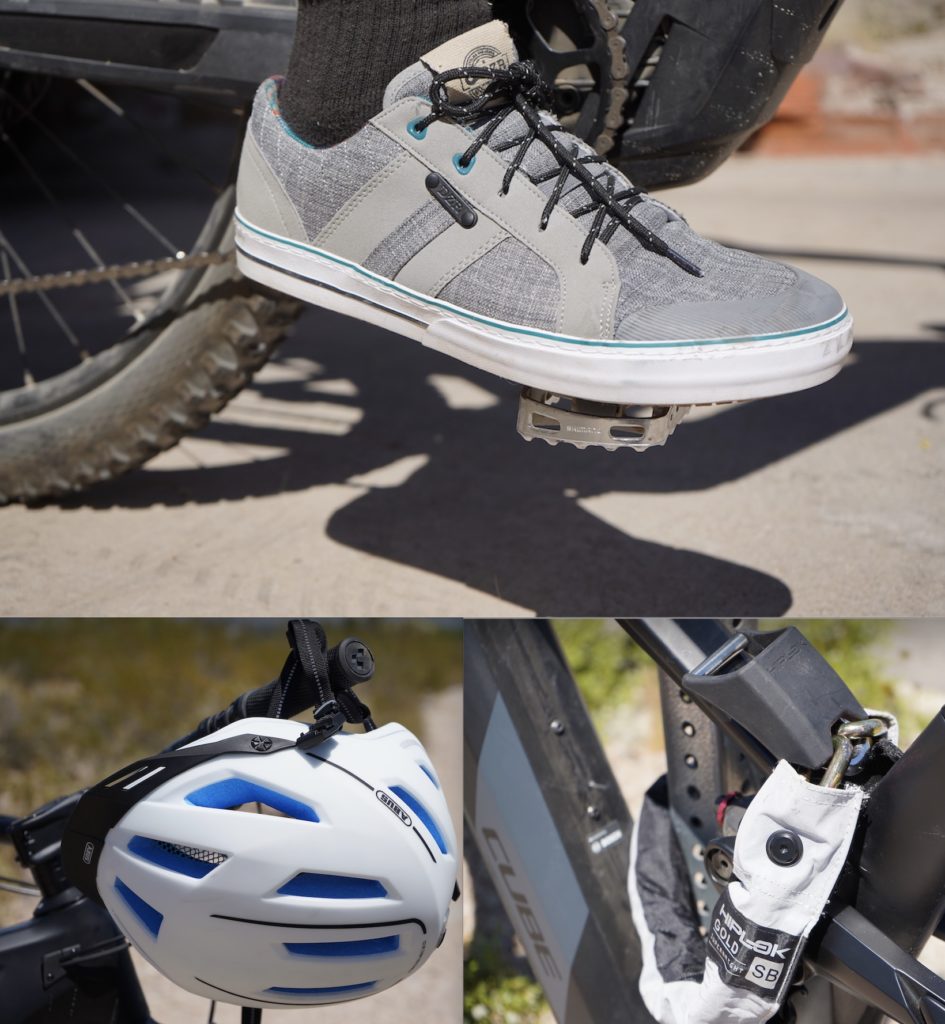 Here we review DZR Cove Cypress shoes ($99) stylish and comfortable for regular wear but also featuring SPD cleats for clipless pedals.
There is the Hiplok Gold Superbright that is a supertough lock worn around your waist and finally the feature-packed ABUS ABUS Pedelec 2.0 helmet.
Multi Function Phone Holder
Electric Bike Company is launching a new phone holder that has wireless charging, a built in battery (5,000mah), and an LED headlight. You can learn more about it here.
Integrated Lights in Racks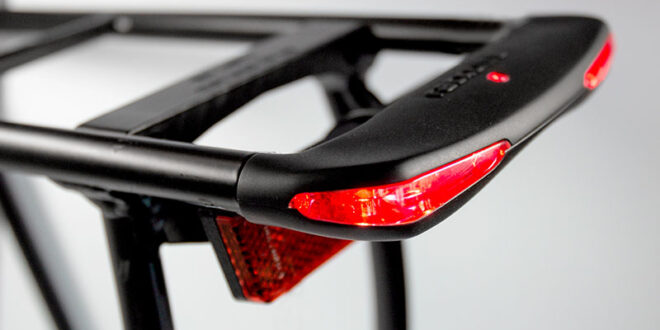 BikeBiz reports 'Trelock and tubus carrier systems have joined forces to create a new type of carrier system featuring integrated lighting. The new rear bike light, which will primarily appeal to original equipment manufacturers, will also be offered as an after-market variant in the racktime brand in the autumn. The new carrier will then be available in both a classic and a touring version, and IMM (integrated mudguard mounting) will be possible too.'
ebike Biz
New Showroom for EBC
July 1st will see the grand opening of Electric Bike Company's show room and design studio in Huntington Beach, California.
EBC allow customers to 100% customize their builds and say the new show room is 'an ideal opportunity for our customers to get "ownership" of their bike before it even arrives. After the design is done in the shop, they get a high gloss image of their design and customized beauty.'
A bike builder will be assembling bikes and offering repair services. There will be demo and rental bikes available for test rides along the scenic routes nearby.
Assembly of most of the bikes will still happen at their Newport Beach facility.
€12.5 million for VanMoof
VanMoof has announced a total €12.5 million (£11 million) investment from venture capital firm Balderton Capital and assembly partner SINBON Electronics says Bikebiz.
The funds will support the brand's international expansion as it scales up to meet increased demand. The investment follows the launch of the new electric VanMoof S3 and X3 bikes which EBR has already reported on.
eBike Law
Northern Ireland eBike Law Now In Line with Rest of UK
Bikebiz reports:
'Cycling UK has welcomed the Northern Ireland Assembly's decision yesterday, 12th May, to relax regulations on the use of e-bikes (electrically assisted pedal cycles or EAPCs).
The move comes into force today and brings Northern Ireland into line with the rest of the UK, where e-bikes are exempt from the restrictions covering motorcycles as long as they comply with certain requirements restricting their power and speed. This means they can be ridden by anyone aged 14 years or over, anywhere that ordinary bicycles are allowed. This exemption had not been implemented in Northern Ireland before the Assembly was suspended in 2017, so anyone riding an e-bike was legally required to hold a moped licence, register and insure the bike and wear a crash helmet. Failure to comply with these rules left riders liable to a fine of up to £1,000.'
'Blanket' EU Regulation 'Choking' Light Electric Vehicle Sector
Leading European Union trade association the Light Electric Vehicle Association (LEVA-EU) is calling for an urgent change in EU regulations it says are seriously hindering manufacturers.
LEVA-EU said the issue has been brought into sharp focus as a result of the coronavirus pandemic with cities across Europe encouraging use of more light, electric vehicles (LEV) such as E-Bikes as an alternative form of transport.
Their main concern according to Annick Roetynck, LEVA-EU manager
"…centres on Regulation 168/2013 which establishes the technical legislation for L-category vehicles, in other words mopeds and motorcycles. At the request of the Commission, the European Council and Parliament decided in 2013 to only exclude electric bicycles with pedal assistance up to 25 km/h and 250 W from this L-category. So, all other electric bicycles are included in technical legislation, which has originally been written for internal combustion engine mopeds and motorcycles."
"The legislation has 1,036 pages of text, to a large extent dedicated to emissions, noise and other technical aspects which are totally irrelevant for electric bicycles. Manufacturers have to figure out which of these 1,036 pages are applicable to, for instance, their speed pedelecs or their E-cargo bikes with more than 250W. And if they manage that all, they have to go through a totally inaccurate type-approval procedure, which costs at least four times more than what the Commission predicted in their impact assessment before drafting Regulation 168/2013."
"This regulation is a significant barrier to SMEs and choking growth at a key time when the popularity and profile of LEVs as a sustainable form of transport, especially in these testing COVID-19 times, is set to soar. We must not hold back innovation and growth in this sector."
LEVA-EU is the only trade association in Europe that works exclusively to represent LEV businesses, and has presented proposals to the European Commission to revise rules it believes are inaccurate and can put users in danger.
The advocacy group, whose work concerns a wide range of one, two, three and four wheel LEVs including E-bikes, speed pedelecs (E-bikes that can achieve speeds of up to 45km/h), E-cargo bikes and E-scooters, says the central issue is that the regulations class LEVs in the same category as mopeds and motorbikes and as a result are very seriously hampering the industry at 'absolutely the wrong time'.
Stay tuned for more e-bike news and reviews and thanks for reading!
-Rich
P.S. Don't forget to join the Electric Bike Report community for updates from the electric bike world, plus ebike riding and maintenance tips!
Reader Interactions