eBike News: Specialized Vado, Solar eBike Tour, Rider Visibility Tech, Smartbars, & More! [VIDEOS]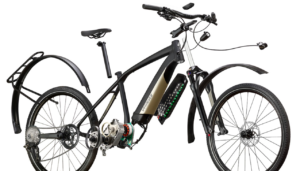 In this week's e-bike news roundup:
New Specialized Turbo Vado
Solar E-bike Trip
Rider Safety Visibility (RSV) technology
Smartbars
Looking into the eBike Future
Bike Commuting Booming in the US
And much more!
New Products
Turbo Vado Press Tested
The bike press recently got a sneak preview of the Specialized Vado, due out August 2017.
Bike Europe stressed how it was taking Specialized in a new direction, 'Known for their MTBs and E-MTBs Specialized announced an early Auguslaunch for this e-bike with an upright seating position which will be fully dedicated to use in the city.'
The Vado is powered by a Brose motor but the s-pedelec versions will also pack the new larger capacity 21700 lithium ion battery cells for extra power density and range without any added weight – great news for the industry as a whole as these cells will now appear on more and more e-bikes.
The prices range between $3,200 – $4,600.
Check out Specialized's own Vardo video too:
The Vado also features the Specialized Mission Control smartphone app integration:
Here is more info on the new Vado.
Accessories
Rider Safety Visibility Technology
San Diego Community & Civic Leaders, San Diego Climate Action Campaign and Bicycle Advocates Joined to Ride State-of-the-Art Electric Bikes, Outfitted with Latest in Technology Designed to Keep Riders Safe and Visible.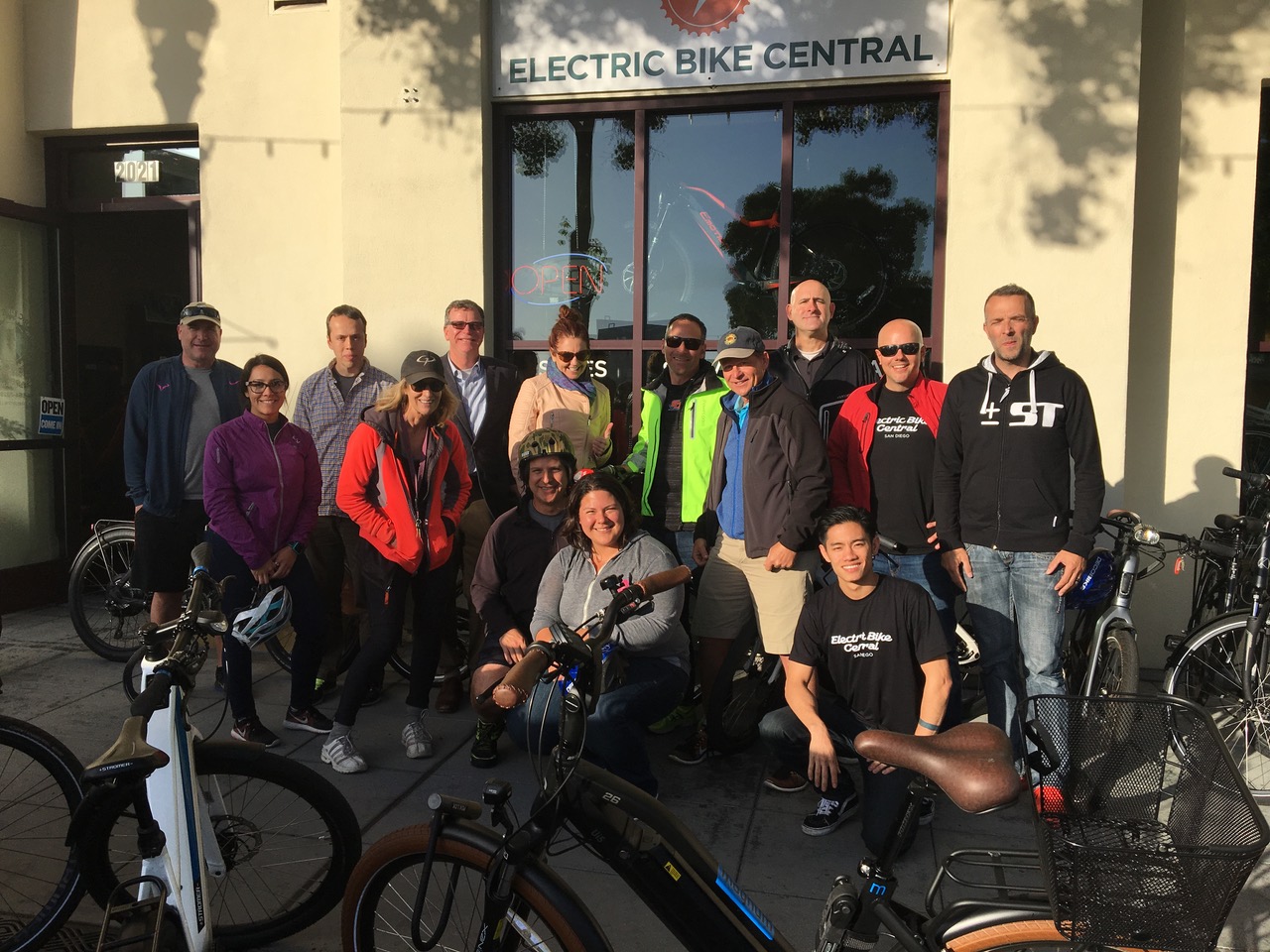 On May 16, San Diego Civic and Community Leaders joined bicycle and environmental advocates in a special event designed to showcase the latest in Rider Safety Visibility (RSV) technology.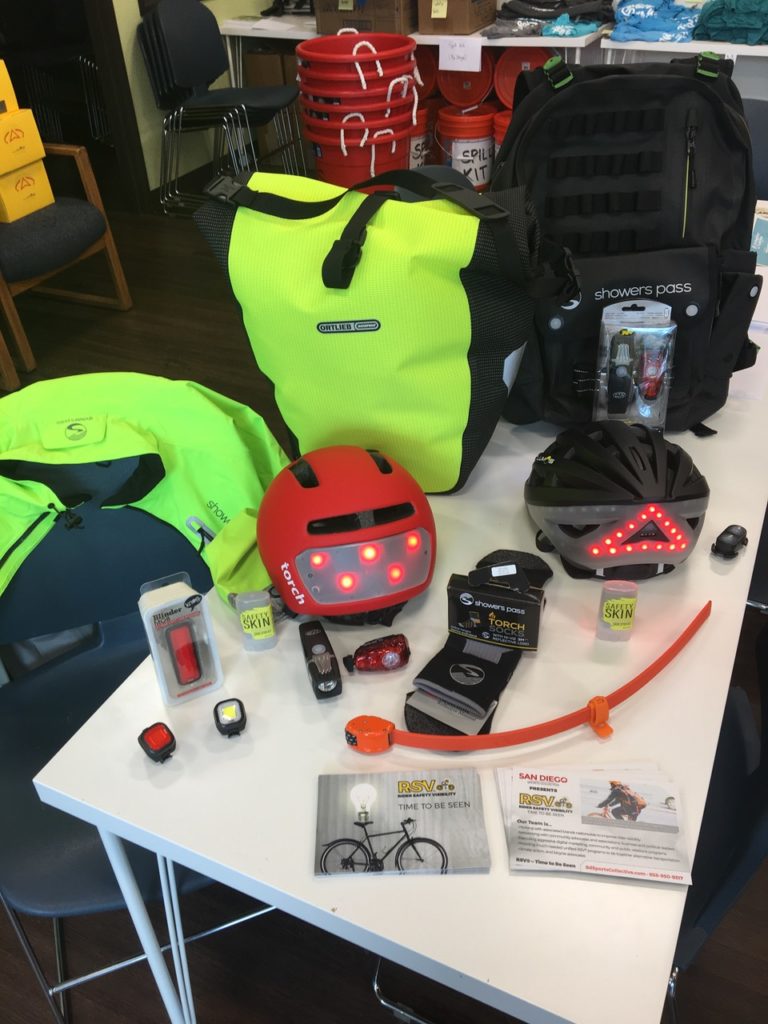 Officials transported on state-of-the-art electric bicycles with integrated front and rear lights, outfitted with the latest in new rider safety visibility technology, including LED helmets with integrated brake and turn signals; day and night time running lights; high visibility clothing and commuter bags; and other RSV technologies that are effective at ensuring that cyclists increase visibility in an increasing era of distracted driving.
The event was supported by a number of electric bike brands, including Stromer, e-JOE Bike, BULLS Bikes and Kalkhoff Bikes; as well as visibility and safety products from Knog Lights, Ortlieb Bags, Shower's Pass, Safety Skin, OTTOLOCK, NiteRider and Deco Bike.
The riders included representatives of from U.S. Congressman Scott Peters office, City and County representatives, San Diego Climate Action Campaign, as well as bicycling and environmental advocates, and the general public.
"National Bike Month is an opportunity to show the benefits of incorporating bicycling into San Diego's transportation portfolio. As we strategize the best way to do this, events like the Rider Safety Visibility initiative help us prioritize rider safety through innovative technology made right here in San Diego," said U.S. Congressman Scott Peters (CA-52).
"The event showcased pedal assist electric bicycles and their unique ability to conquer our geography with little effort and no sweat providing a viable option for San Diego commuters, recreation cyclists and those interested in reducing car trips, traffic and congestion. At the same time, riders interacting with traffic in an era of increasingly distracted drivers remain a huge concern for us all. We'll present some highly effective and visible options for riders to stack the deck in their favor in terms of being better seen during the day and night," said Ed Clancy of the San Diego Sports Collective, the event sponsor.
This event is produced by the San Diego Sports Collective. The Rider Safety Visibility (RSV) initiative was created to improve rider safety through better visibility by creating programs that tie together companies, bicycle advocates, alternative transportation, climate action, and business and community leaders. For more information, www.sdsportscollective.com
Winkbar Crowdfunds
There's more on the rise of 'digital bikes' later but take a look at the Winkbar, 'a connected handlebar that you can control through your smartphone' says the IndieGoGo launch. Just swap out your existing bars and hey presto you have GPS navigation, fitness tracker and smart lighting say the company behind the product Velco. Early bird offers from USD$149.
See the Winkbar video:
https://www.youtube.com/watch?v=XdjqnRlvoPQ
Get Inspired
Solar Powered E-Rider Takes on France
Electric Bike Report has already featured the amazing efforts of solar e-biker and engineer Sushil Reddy from India.
After taking his technology on show around the US Sushil is now tackling France according to Freewheelingfrance. Solar-powered e-bike trips are becoming increasingly popular challenges though they are still a specialist area and the technology has not yet spilt over into consumer products.
Reddy will also take part in this summer's solar powered Sun Trip around western Europe:
Bike Commuting Booming in the US
According to Forbes bike commuting in America is undergoing a true renaissance and companies have caught onto the trend. With nearly 1 million Americans commuting to work on bikes and bicycle commuting rates in bike-friendly communities having increased 105% from 2000 to 2013.
Electra is singled out as one company making the most of the bike commuting boom and their Bosch-powered Townie Go range is plugged.
Prescott, AZ Considering eBikes on City Trails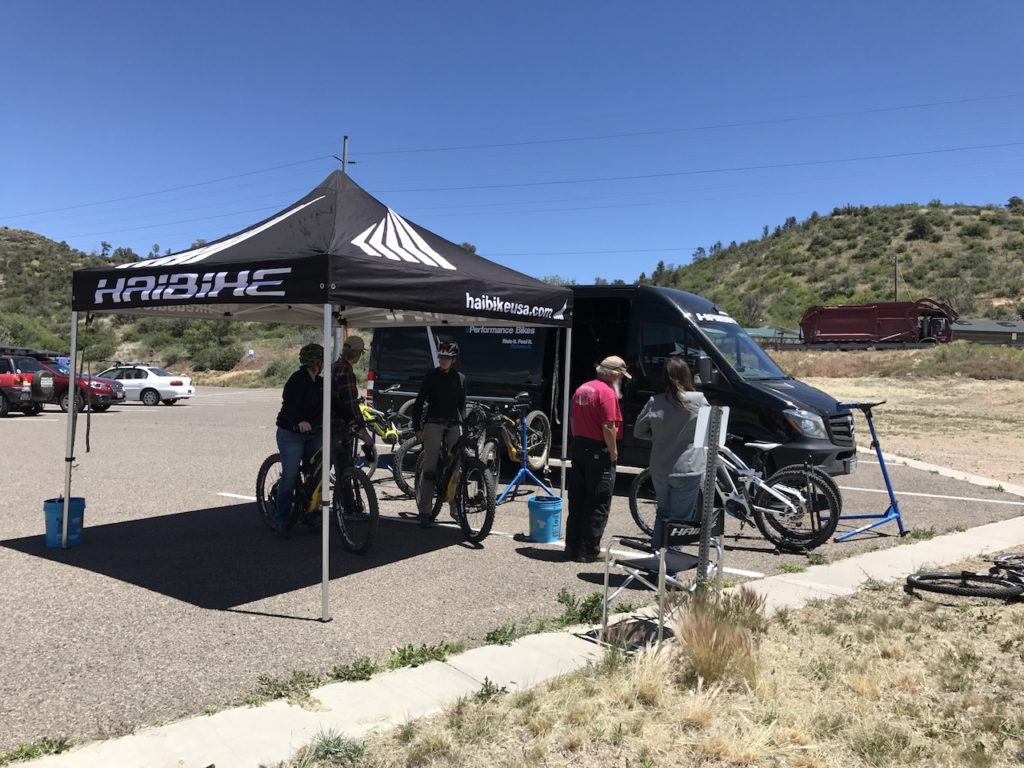 The City of Prescott Arizona is working on eBike access for the City's trail system that currently includes over 80 miles of trails with more to be added soon. Haibike was recently in Prescott providing test rides to City employees so that they can experience the eBike smile!
Petrol to Extinct Within Eight Years…Says Silicon Valley Insider
If you are into predicting the future then this article will be right up your street. It predicts a world where electricity is king and oil is largely obsolete. Great news for electric bikes surely if it happens, though San Francisco-based think tank RethinkX are more excited about driverless electric cars…
Wauwatosa Police on E-bikes
This news report outlines how Milwaukee County police have added four new e-bikes to their fleet of vehicles and what they see as the advantages.
'A lot of times officers in cars with the windows up and the radio on. They don't interact with people on the sidewalk. They don't get to stop and talk to kids. Hopefully, they'll get to interact with people in the community. It creates more community engagement. I feel that I'm more approachable on a bike,' said Sgt. Beckman.
The police dept say they are the only one in the mid-west using electric bikes.
E-Bike Future Tech
Digital E-Bikes of the Future to Premiere at Eurobike?
For the past few years the designs at Europe's major trade show have been exciting but in a predictable kind of way – more powerful motors and bigger batteries. But for 2017 a Eurobike press release seems to be promising something different:
'More and more providers are realizing that an e-bike can be visually more than a bike with a rechargeable battery and motor added on. The upcoming Eurobike will feature unusual designs that are only vaguely reminiscent of the classic bicycle. System integration is the catchphrase here – and we are not just talking about looks: All of the electrical features of the bicycle can be controlled using a control unit. This is not only technically possible but already being implemented' it says tantalisingly.

Whilst specifics are thin on the ground it seems digital tech firms such as COBI and Bloks will be major new players in this world of digital bikes.
Eurobike runs from August 30 to September 2 in Friedrichshafen, Germany.
E-Bike Biz
Chinese E-bike Exports Surge
Although premium-priced e-bikes from European manufacturers make many of the e-bike headlines this piece in Cycling Industry News highlights the fact China is still a mighty e-bike manufacturer reinforced by a 20% jump in e-bike exports to top 1.3 million in 2016.
The figures tell the story of their popularity 'Made-in-China electric bicycles sell at an average of US$400 each, comparing with over US$2,000 in the Western market' China's Electric Vehicle Association director Ma Zhongchao commented.
Their own domestic e-bike market is in decline though, with a saturated marketplace and a the rise in bike sharing programs cited as reasons for the decline.
'Legal Void' Highlighted In UK-Europe Argument
At one level this looks like an argument about the meaning of words but in fact it boils down to whether speed pedelecs (capable of electrically-assisted speeds of 45kmh or 28mph) can be legally sold in the UK. Yes they can say Bike Europe, backed up by a letter from LEVA-EU.
The argument hinges on Type Approval – generally this is required before a product is allowed to be sold in a particular country and covers not just speed pedelecs but everything from cars to mobile phones.
The UK's Bicycle Association of Great Britain and its Motorcycle Industry Association say that, under current European law, speed pedelecs must have Type Approval even if they are sold explicitly for 'off-road' use, whilst the Bike Europe / LEVA-EU position is that they may be sold without type approval according to the letter of the law if they are intended for use 'primarily' off-road.
Unfortunately the law has created confusion for both dealers and customers when it comes to speed pedelecs in the UK.
Italian E-bike Sales Double
Bike Europe reports that e-bike sales doubled in Italy in 2016. Sales rose from 56,200 to a staggering 124,400 and signs are, apparently, encouraging for 2017 too.
Stay tuned for more eBike news & reviews and thanks for reading!
-Rich
P.S. Don't forget to join the Electric Bike Report community for updates from the electric bike world, plus ebike riding and maintenance tips.
Reader Interactions