eBike News: RadRunner eUtility, Future Velo, Off-Road eWheelchair, Cairo to Capetown, & More! [VIDEOS]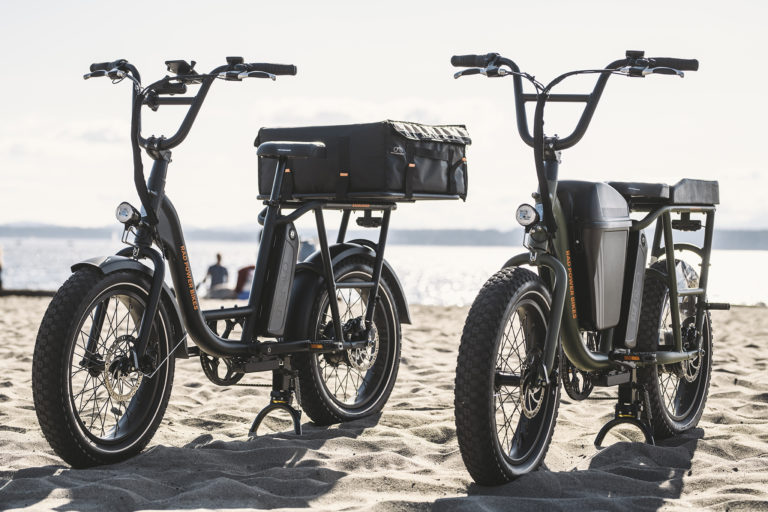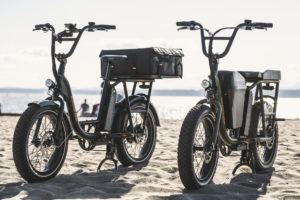 In this week's eBike news roundup:
New Rad Power Bikes RadRunner eUtility
Future Velo Performance eBikes
Canyon Roadlite:ON eRoad Bike
Mountain Trike Off-Road eWheelchair
Updates from Harley Davidson and Heinzmann
High-tech eBike Monitoring from Skillion
Box eBike Drivetrains
Dainese eMTB Gear
eBiking Cairo to Capetown and Across Maine
And Much More!
New eBikes & eBike Systems
Rad Power Bikes RadRunner Utility eBike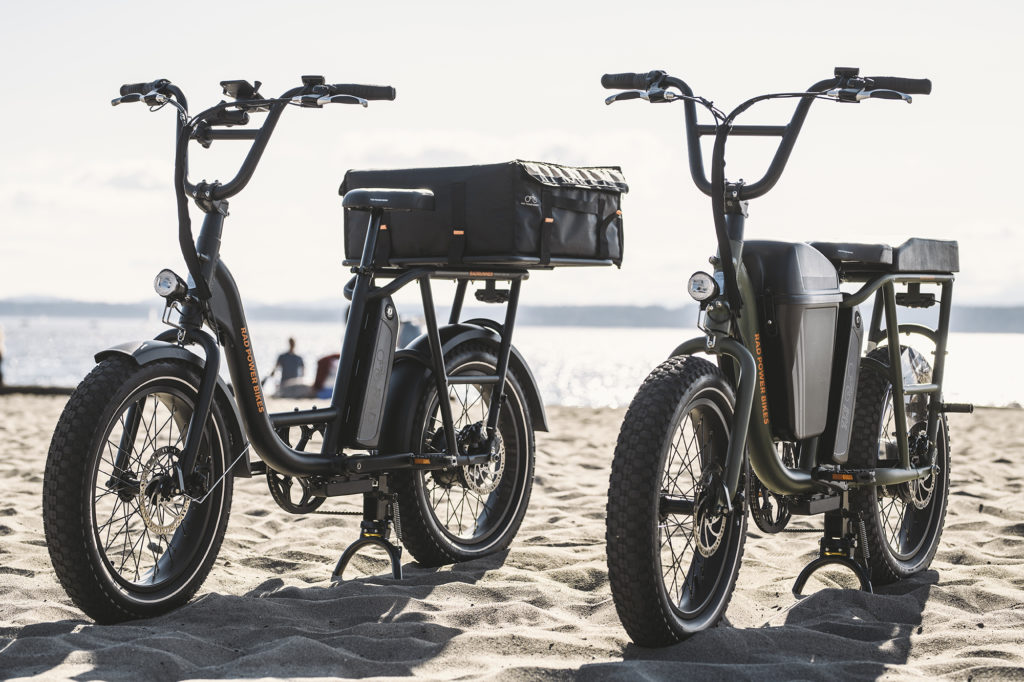 Rad Power Bikes have introduced their lowest priced model yet – the RadRunner electric utility bike.
It certainly looks a practical design, being described as 'part two-seater moped, part electric cargo bike all for $1,299.'
Rad Power Bikes also say it has a load capacity of 300 lbs (135kg) including an impressive 120 lbs (54kg) on the extended rear deck.
The deck can carry cargo accessories, or convert into scooter-style seating with a driver seat and a 'Passenger Package' including elevated rear seat (for good passenger views), retractable foot pegs, and protective wheelskirt.
Exclusive 20-inch by 3.3-inch wide multi-terrain tires provide urban comfort and off-road stability.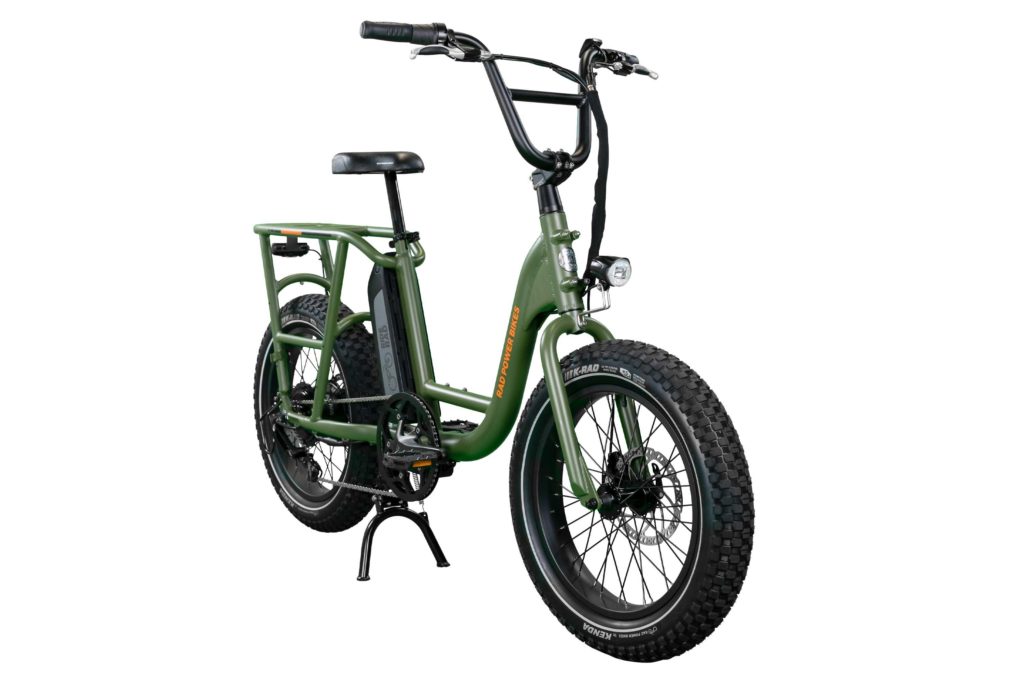 Rad Power Bikes say 'The semi-fat tires are custom-made by the worldwide leader of bike tires, Kenda, in their first one-off creation for a single brand' and include an extra ply of material to cope with the higher load rating.
To keep things simple there is a single-speed drivetrain which is allied with a geared hub motor, twist-grip, on-demand power, and four levels of pedal assistance plus a sizeable 672Wh battery.
Other features include upright handlebars, dual-leg kickstand, rigid fork, and LED control readout.
The utility e-bike is compatible with the brand's collection of universal accessories, as well as a new Center Console accessory that adds storage space, phone mount, and cup holder in a central location.
The RadRunner will be available in the U.S. for $1,299 USD on September 10, and in Canada and Europe for $1,799 CAD and €1.199 EUR in late-September.
Its Passenger Package and Center Console accessories are sold separately for $99 USD each.
Future Velo Performance eBikes
Future Velo is a new electric bike company launching a line of performance eBikes for sport and racing at the upcoming UCI World Championships that includes the inaugural eMTB World Championship race.
The launch event will happen on August 26, 2019 at the Mont-Sainte-Anne, Canada location.
Future Velo eBikes will include premium performance eMTBs, eRoad, & eGravel bikes.
In addition the company will be 'promoting unique travel experiences with former professional, World and Olympic Cycling Champions.'
To underscore the focus on racing performance, Future Velo is launching with Olympic Gold Medalist & five-time World Champion Miguel Martinez and Olympic Silver Medalist Nelson Vails as brand ambassadors.
"Both Miguel and Nelson embody the values and spirit we will strive to instill in our brand" said David Cabanban, Future Velo's President and Co-founder.
"As electric bicycles grow at a rapid pace around the world, it was inevitable that the UCI and cyclists in general would embrace eBike technology and the potential it brings to the sport of cycling across all disciplines," continued Cabanban. "We are a group of athletes and experienced bicycle industry specialists with a similar vision and passion. The Future Velo brand is inspired by World and Olympic Champions and their relentless pursuit to be the absolute best. We are very excited to partner with many of these athletes to design and market our electric bicycles, and we look forward to what they will bring to our premium cycling travel adventures."
David Cabanban is an accomplished bike racer who was in the running for a spot on the 1984 Olympic Games cycling team.
He also has worked in the bicycle industry (Easton, Look, Colnago, Sidi) and eBike industry (The Accell Group, Sanyo, Panasonic, Currie Technologies and Bosch) for many years.
He is bringing his passion for performance riding and industry experience to create Future Velo.
"Future Velo understands how the addition of an electric drive system can positively transform the ride experience for any athlete: when they're young, as they age, overcome injury or physical challenges, or even as they train for the Tour De France or World Championships," Cabanban said. "It is the company's objective to take our years of racing history (as well as our experience with leading bicycle, eBike and drive systems manufacturers), to build the absolute best electric bicycles at a competitive price."
Stay tuned for the launch of the Future Velo eBike line and the latest from Future Velo racing!
Canyon Roadlite:ON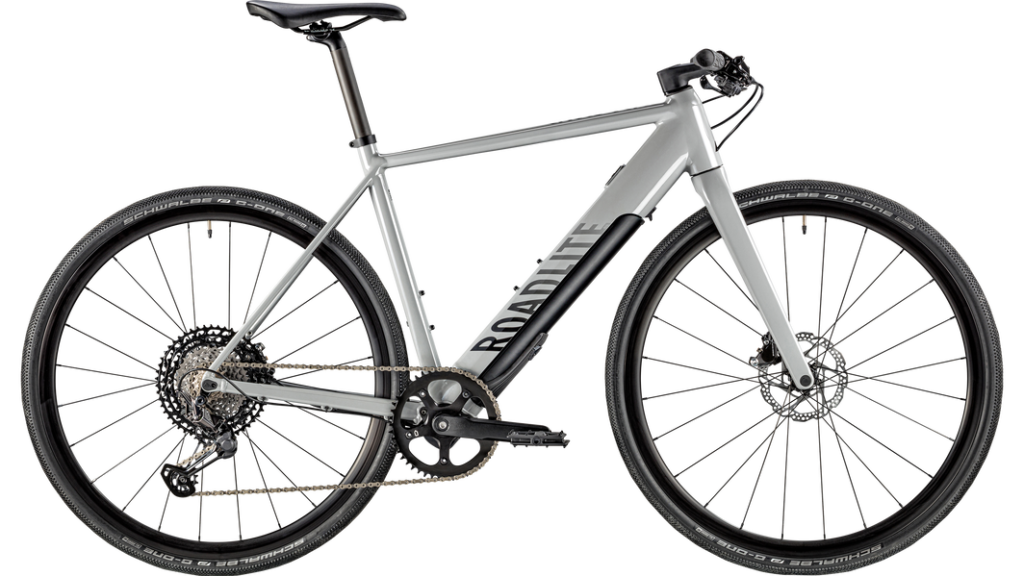 Canyon say their new Roadlite:ON is one of the lightest bikes in its class, tipping the scales at only 33 pounds (15 kg).
It's most notable for it's use of the Fazua mid drive; not as powerful as motors from the likes of Bosch, Brose, Yamaha and Shimano but much lighter and removable, bridging the gap between non-powered bikes and more powerful e-bikes, for sportier riders who want some assistance, sometimes.
To quote from the Canyon website 'You can also ride the Roadlite:ON without the drive system. Just remove the motor and battery, and fit the Fazua down tube cover (available separately). You save 2.9 kg, and you can store tools and food inside the cover. Without the battery, the motor disengages entirely, so there's no extra resistance when you pedal.'
There are three models priced between £2499 and £3449.
Mountain Trike Pushes the Outdoor Limits
A recent Trans Pennine Trail newsletter featured Mountain Trike who say 'The Mountain Trike range have been designed as all terrain outdoor wheelchairs with rugged good looks, lightweight aluminium frames, high end mountain bike technology and all fully tested for your ultimate comfort and safety'. As you can see, there is an electric version and a retrofit kit.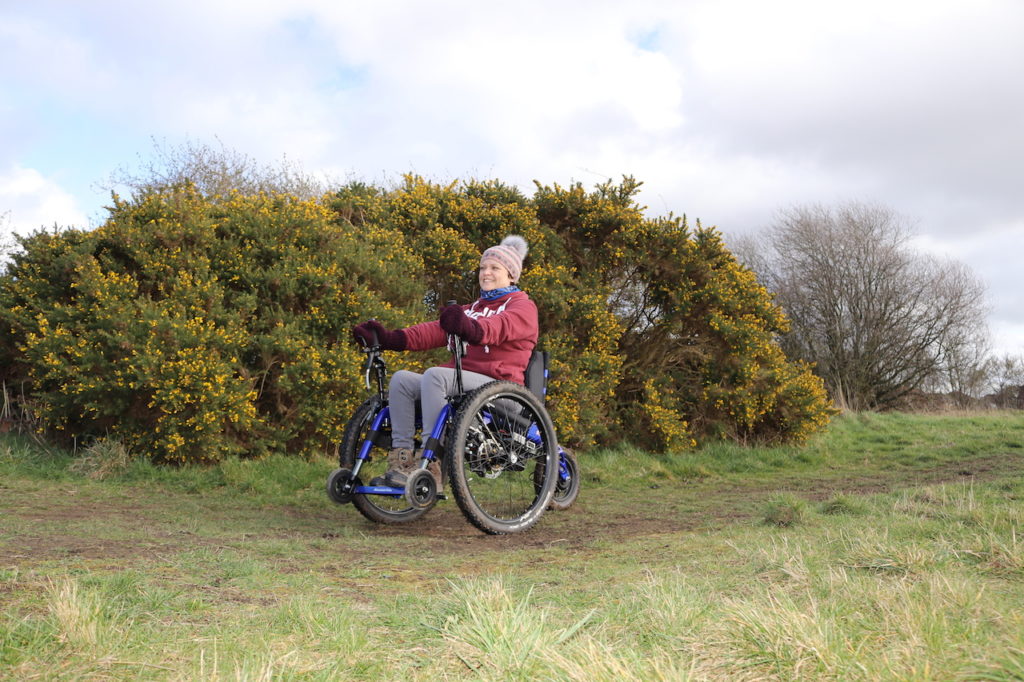 It's great to see e-bike tech being put to new and innovative uses and enabling people who might not otherwise be able to, to enjoy the great outdoors.
Harley Davidson E-bike Prototypes Revealed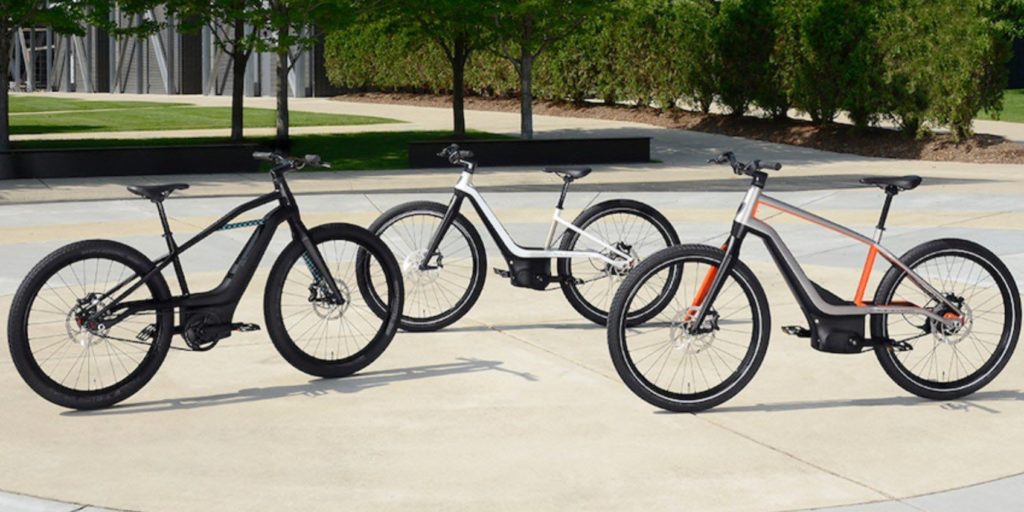 Elektrek has news on the long-awaited Harley-Davidson e-bikes; 'The company has just officially unveiled its upcoming line of Harley-Davidson electric bicycles at its Annual Dealer's Meeting' the article tells us.
However, as you can tell from the rest of the article any detailed spec, pricing and launch date are still firmly under wraps.
Heinzmann E-cargo Motor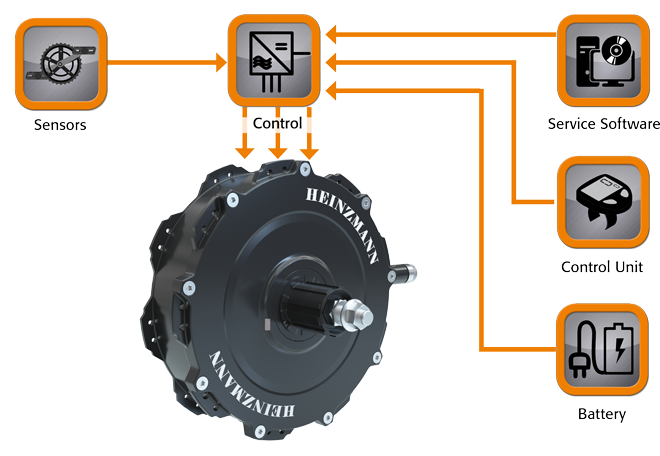 With strong growth in the e-cargo sector, witnessed by the likes of Bosch launching a new 2020 model year e-cargo specific mid-drive, it was interesting to see these details from renowned German hub motor manufacturer outlining their Cargopower hub motor system.
It boasts axle loads up to 330 pounds 150kg, high torque at low speed with oil cooling and hardened steel gears.
I've been using a 'regular' Heinzmann DirectPower drive for a number years now, in all weathers, on our urban test bike (used to test things like Gecko cellular tyres) and found it extremely reliable. I've also had great service in the UK when occasional spare parts have been needed, via EV Solutions.
Skillion Remote Monitoring and Alarm System
Website details are brief but intriguing; 'The Skillion Ride System is an IoT device for ebikes. Owners, Riders, Bike Shops, Bike Sharing companies, Ebike Manufacturers and Battery Suppliers are now connected to their rides, worldwide!'
The accompanying video gives us more of an idea, with video monitoring and alarm activation via a smartphone app.
There are also apparently fleet e-bike tracking functions and 'The SRS video-based object detection algorithm and sensors deliver an onboard audible and visual collision warning system while also automatically recording incidences stored on board and in the cloud. Fleet and ride sharing scenarios can include an emergency call-for-help system for riders in trouble.'
Elsewhere on EBR
EVELO Aries Mid-Drive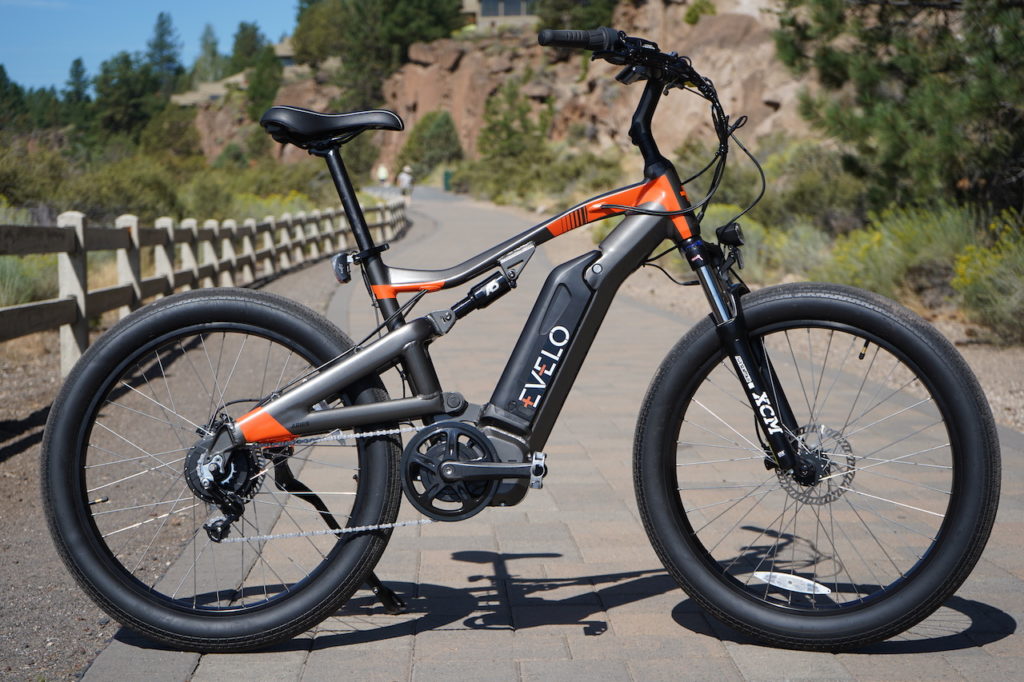 Check out part one of the all new 750 watt EVELO Aries Mid-Drive full-suspension review. It is described as a 'powerful full suspension eBike (that) features 3″ wide balloon style tires for a fast, comfortable, and stable ride.'
Get Inspired
Cairo to the Cape by E-bike
50-year old Michael Rea hopes to spend 38 days e-biking almost 10,500km (6,500 miles) from Cairo, Egypt, to Cape Town, South Africa on an e-bike and bag a Guinness World Record in the process.
But, says this article, '…most importantly, he wants to raise awareness about climate change and money for a KwaZulu-Natal charity he is associated with' by completing the ride.
Rea will set off from the pyramids on August 30 and is expected to arrive in Cape Town on October 10. EBR will keep you posted on his journey.
Trek Across Maine by E-bike
This is a nice account of how how Jennifer Finney Boylan accidentally joins the Trek Across Maine on her e-bike and has great fun in the process, meeting wounded veterans on e-bikes along the way. She sums up how e-bikes have changed her life:
'Cycling, like everything else, has gotten harder as I've grown older. For much of the year, I live on a dirt road at the bottom of a mile-long hill, and some days I just don't have the energy to make the ascent. Last summer, I was on my bike a total of five times.
Since I got the e-bike, though, I've been riding 15 and 20 miles a day, four or five days a week. It's been life altering, not just making me fitter, but also raising my spirits, getting me out of the house and back into the mountains.'
eBike Accessories
Box eBike Drivetrains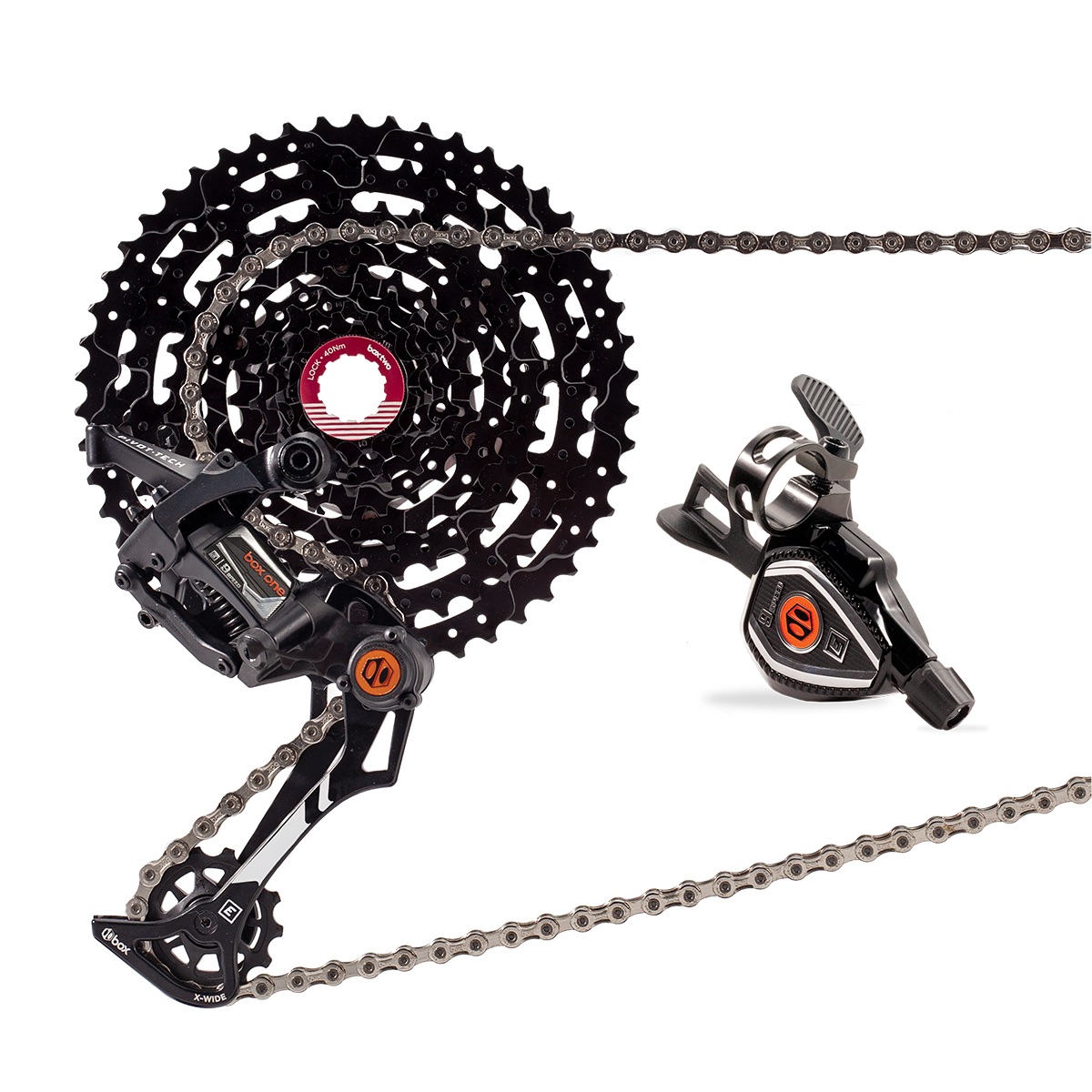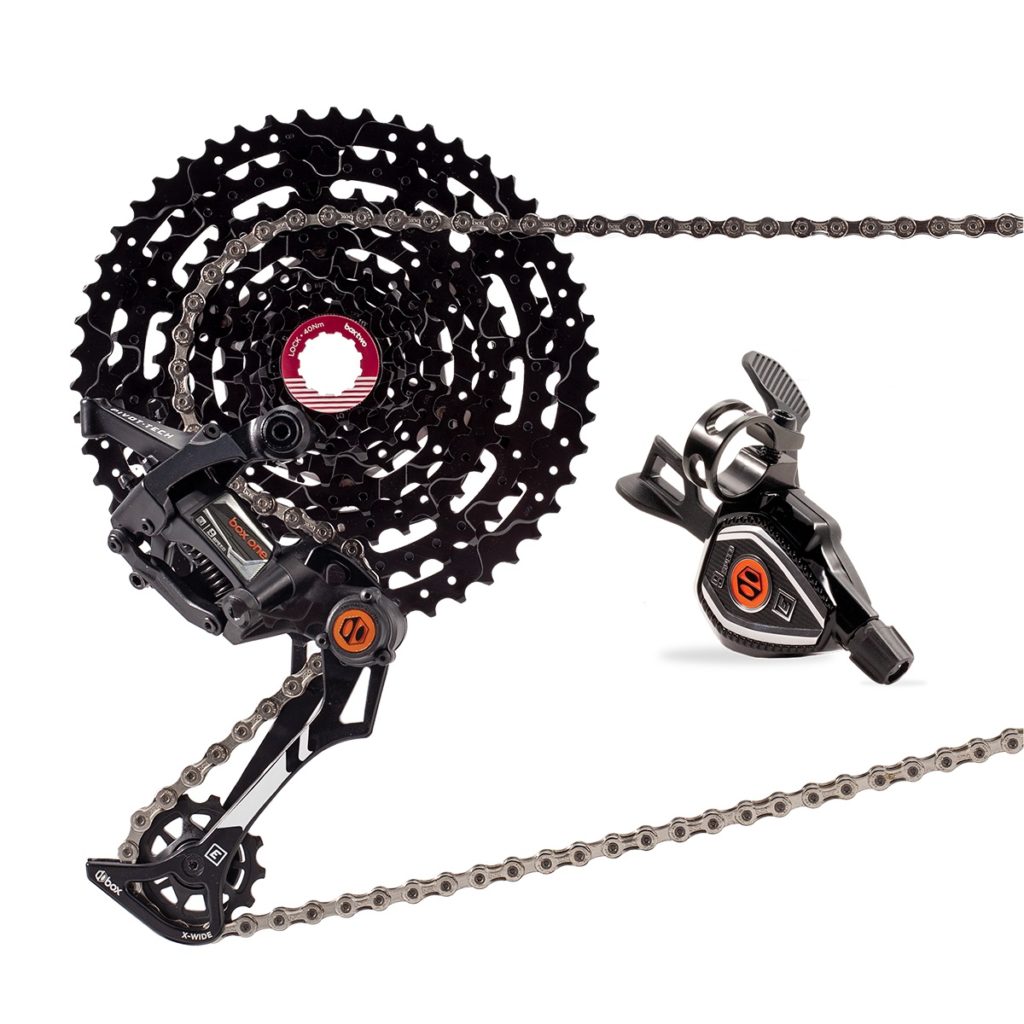 Box Components let us know they have released electric bike specific drivetrains with shifter, derailleur and cogset.
'We developed the Box One-E system as an e-bike specific drivetrain to offer a better riding experience. 9 speeds and wide range gearing means less shifting action and more efficiency for the motor. With the 42 and 50 tooth low gears, it's possible to maintain optimum pedaling cadence while climbing steep hills. By enabling riders a higher pedaling cadence, the electric assist feature can be fully realized.'
They offer the premium Box One-E 9S for $379.99 and the Box Two-E 9S for $279.99.
Preorders will be available soon and Box Components are also looking at an OEM version for 2021 e-bikes.
Dainese Launch New Protective Gear
Dainese say they are launching new 'protective pieces with brand-new technologies, innovative technical garments designed and constructed with high-performance materials' as well as extending their range to female riders.
The Trail Skins Pro knee guard is the latest evolution in Dainese's family of lightweight protectors. The core of the knee guard is the Pro Shape 2.0 protector, an evolved version of Pro Shape which is able to transform impact energy into heat and distribute it across the entire surface of the knee guard.
The Rival Pro Vest is a protective and breathable garment with an exclusive, patented hydration system consisting of a 700 ml hydration bag integrated into the back protector, allowing a rider to carry the right quantity of water with minimal bulk, ensuring the perfect balance of the back protector and supplying additional protection in case of a crash.
The HG – High Gravity softgoods collection is fully updated and now includes a women's line for the first time. The women's line shares the same key pieces and technologies as the men's line, including a new three-layer shell, a new mid-layer, shirts, shorts, and gloves with new technologies, new colors, and modern graphics. Dainese also extends its AWA Black line dedicated to urban commuting, with specific pieces for women.
eCargo Watch
DPD Pilot Scheme in London with 'Cute' eCargo Bike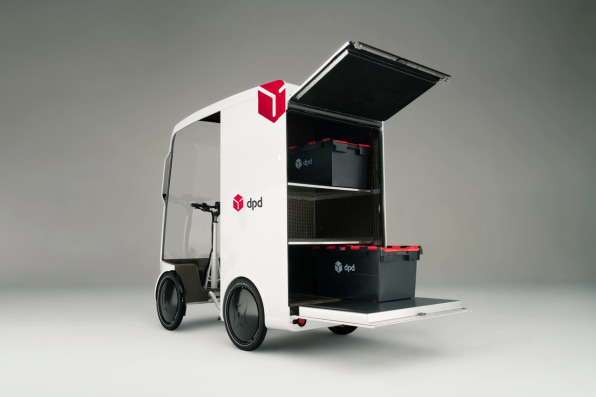 Fast Company tell us that 'DPD is rolling out a pilot program that uses cargo e-bikes that don't resemble traditional bikes at all. Instead, DPD's bike looks like a mini truck, but it's small enough to fit inside the bike lane in London, where it's starting to make deliveries in the city's ultra low-emissions zone, where vehicles that don't meet very strict emissions regulations have to pay a toll. Part of DPD's aim with the project is to reduce its emissions to comply with regulations, while also making the city a more pleasant place for pedestrians.'
The 'mini e-truck' was developed by a startup called Eav and designed by the transportation design studio New Territory. The e-bike can carry up to 330lbs / 150kg and goes up to 15 miles per hour and is designed so it can use London's new 'cycling superhighways'.
E-micromobility
BBC Looks at E-scooter Legality in UK and France
With the recent surge in the popularity of e-scooters the BBC has taken a look at the legal situations in the UK and France in its weekly tech programme Click.
Apparently, many in the UK are surprised to find they are not legal to use on public roads and the programme follows a police 'education' session in London where there are many scooter riders.
Ultimately e-scooter riders on roads or pavements in the UK can be sanctioned with 6 penalty points on your licence or a £300 fine – but they can be used on private land like at the Queen Elizabeth Olympic Park.
In Paris there will very shortly be a 12mph speed limit, a 135 euro fine for pavement riding (where they are not allowed) and even a 35 euro sanction for illegal parking of an e-scooter.
E-bike Biz
Greenstorm E-bike Hire Goes Hourly
Electrive details how 'the Austrian eMobility service provider Greenstorm, which has made a name for itself with an exchange concept for the hotel industry, is expanding its business field. Its subsidiary Green4rent makes it possible to rent e-bikes from partners such as fitness centres or campsites.
The company's speciality is to make the electric bikes available in exchange for stationing them at partners. Green4rent currently offers around 600 rental bikes at about 100 locations in Austria and Germany. By the end of the season, there will be a total of 300 partners, and the number of available pedelecs will grow to 1,200. The new partner companies now include sports retailers, camping sites and fitness centres.
When registering, a credit card must be used for a deposit for later billing. Depending on the e-bike model selected, a trip costs between three and eight euros per hour, the price for 24 hours is between 24 and 39 euros….The range includes mountain and trekking bikes as well as city bikes.'
'Damage Limitation' for Accell in the US
This Bike Europe article tells us that 'The latest news about Accell Group suggest that the company is doing everything it can to limit the damage that the recent sale of the heavily loss-making US operations has caused. The Dutch holding of numerous European bike companies has sold its Protanium company that markets (among other activities) Diavelo e-bikes.' The article also states that Accell sold its rights to the Fongers brand, especially well-known in the Benelux countries.
The article adds 'With the sale of the Protanium company with its Diavelo brand as well as the Fongers brand and with the earlier sale of Accell's Canadian brand registrations of Raleigh, Diamondback, Redline and IZIP to the Canadian Tire Corporation for USD 16 million, the Dutch bike holding looks to be on a trajectory of damage control due to the August 6 costly divestment involving Accell North America. As it looks now, this deal wipes out much of the company's 2019 gross profit.'
Stay tuned for more e-bike news and reviews and thanks for reading!
-Richard
P.S. Don't forget to join the Electric Bike Report community for updates from the electric bike world, plus ebike riding and maintenance tips!
Reader Interactions