eBike News: Orbea Light eMTB, Gazelle Low Maintenance, Delfast Cargo, World's Thinnest Helmet, Winter eBiking & Much More! [VIDEOS]
In this week's news:
New eBikes from Gazelle, BULLS, Gocycle and Vintage
Newton-Rider, the World's Smallest Helmet
Lightweight New Bike Frame Tech
The Real Cost of Motor Congestion
Winter eBiking Becoming More Popular
eCargo Bikes Hit Barnes, London
eBikes Ahead of Other EV Sales
Copenhagen eKickscooter Ban
All the Latest Ebike Business News
New eBikes & eBike Systems
Orbea Rise eMTB Just 18.8kg
After recently writing that eMTBs under the 20kg mark are extremely rare along comes the Orbea's new Rise model at 18.8kg (though note that weight is for the battery lite version without the extra range extender). It packs Shimano's EP8 mid-drive that looks great on paper and also an in-frame 360 Wh battery, integrated in the slim down tube. With an additional (and optional) battery in the bottle cage, the Rise reaches a total capacity of 612 Wh.

The most interesting aspect is perhaps the 'RS' software adaption to the mid-drive, explained in this E-Mountainbike article:
'The big difference with other current light eMTBs is the built-in Shimano EP8 RS motor. According to Shimano, the motor of the Orbea Rise shares the same hardware as the conventional EP8 motor – everything except the "RS" sticker. Just by tweaking the software of the motor, Orbea managed to reduce the maximum torque from 85 Nm to 60 Nm and adapt the characteristics of the motor to deliver a more natural and sportier riding experience. Despite the reduced torque, the EP8-RS delivers enough power to keep up with the "standard" Shimano or latest Bosch drives – and easily outperform a Specialized SL 1.1 motor uphill. Because at cadences between 80 and 90 rpm, neither the Performance Line CX nor the EP8 use their full torque at maximum power. The difference in torque becomes evident particularly when setting off, accelerating and negotiating steep technical climbs: here the EP8-RS requires more input from the rider and thus makes for a very natural, sporty ride feeling and reduced battery consumption.'
Click the following link for all of Electric Bike Report's thoughts and impressions on the Orbea Rise's reveal.
Gazelle New US Models Feature Belt Drives and CVT Technology
Gazelle will be releasing two new models this fall, the Ultimate C380 and the Ultimate C8, and a new high-step frame option for the Ultimate T10. Both the C8 and the C380 feature low maintenance belt drives whilst the latter features the remarkable  stepless shifting of the Enviolo 380 internal trekking hub – just rotate the twist grip to change how hard or easy you want pedalling to be but you will always be in gear, so it's impossible to miss a gear or for the gears to get out of synch with the changer.
The C8 and C380 are both class 1 pedelecs with a max assisted speed of 20mph. The C8 features a Bosch Active Line Plus motor and the C380 a more powerful Performance Line mid-drive. Prices are US$3499 and US$4499 respectively.
Delfast Reveals Highly Capable eCargo Trike
Ukranian-based Delfast have just revealed details of their new e-cargo trike. Designed from scratch, the spec certainly looks to be aimed at business users as Delfast say it is, with a 400kg gross payload (including the rider) and a huge 2.2 kWh battery. They claim its capacity will only decrease by 20% after 1,500 charges (65,250 miles). A rear 750W hub motor gives assistance up to 21mph. RRP is US$3799.
Redesigned BULLS Class 3 'Speed Pedelec'
BULLS Bikes USA recently announced the release of the redesigned Urban EVO 10, a sporty yet comfortable class 3 (assist up to 28mph) electric city bike. The Urban EVO 10 is equipped with the new Bosch Gen4 Speed motor and 625Wh Powertube.
The bike also features a lightweight rigid front fork, Shimano Deore hydraulic disc brakes, 10-speed Shimano Deore groupset, aluminum fenders and Supernova headlight & taillight with built-in brake light sensor. New style specs include a brown suede saddle, matching brown leather ergonomic grips and tan sidewall tires.
The Urban EVO 10 is available now in step-thru and diamond frames at certified BULLS Dealers throughout the U.S. and at bullsbikesusa.com. Retail price is $3999.
Gocycle Unveils Limited Edition G3+
The UK's Gocycle have been in touch to tell us about new limited edition model, the G3+ – which combines the iconic Gocycle stowable magnesium frame, tech-laden fast-folding handlebar and ultra-lightweight carbon PitstopWheels to create a truly high-performance, versatile, urban e-bike. Just 300 will be available worldwide.
It will be available in six colors including bespoke Red, Green and Yellow. It features a 375 Wh battery, patented automotive-inspired Daytime Running Light, LED cockpit and electronic predictive shifting.
The Limited Edition G3+ available to order now, priced from £3,999; €4,499; $4,999 MSRP with first deliveries scheduled for December
eBiking Vintage Style
Vintage are known for making incredible retro style e-bikes based on the looks of early 20th century motorcycles.
They have just announced the 2020 Tracker Classic, an update of an original design, which now features retro-styled cruiser handlebars 'to allow riders a more comfortable, upright experience at high speeds'. Vintage also exchanged the original rear Tracker fenders for full-length fenders.
Original features that remain include the 36mph race mode option, pedal-assist capabilities, and a 720-watt hour battery.
New Cycling Accessories
Ultra Compact Newton Rider Helmet Breaks New Ground
The newly launched
Newton-Rider
bike helmet claims to be the world's thinnest helmet complying to safety standards at only 16mm thin. It's also semi-soft, foldable and has a built in chip for 'incentivised riding'.
Newton-Rider say their helmet is 'made with sophisticated calculated compounds of Visco-Elastic and Non-Newtonian materials, the clever engineering and innovative design that makes the helmet not only comply to EN 1078 and CPSC safety standards when only 16 mm thin, but renders the helmet as a never yet seen, semi-soft and flexible helmet for comfort and style.'
[vimeo 458547577 w=640 h=360]
Get Inspired
What's Burbing?
During the recent lockdown in Melbourne cyclist Ben Loake rode 852 miles……but was never more than a few miles from home. Melburbians had to stay within a 5km radius of their home. Enter the new pastime of 'burbing' – to cycle every road in a suburb….
New Bike Tech
Whilst the project known as Limburg Bike, described here by Bike EU, is for a 'regular' bike and not an electric one it perhaps does point the way to future e-bikes as the high-tech, lightweight approach may one day 'trickle down' to mass-market e-bikes. Of special interest to e-bike manufacturers may be the bike's claim to be 'ultralightweight yet virtually unbreakable' – the extra powerful motors on today's most powerful e-bikes have also meant very heavily engineered frames for obvious safety reasons. Could this bike point the way to a new breed of powerful and lightweight e-bikes?
The lightweight bike is said to use innovative technology such as interwoven carbon, super-strong Dyneema fibres and 3D-printed magnesium and titanium components and full production is slated for summer 2021.
Infrastructure
The Real Cost of Congestion – and How Cycle Lanes Can Help Solve the Problem
This interesting piece in Cycling Industry News details the results of The United Nations Economic Commissions for Europe's guide for nations plotting how to emerge from the Covid-19 pandemic. According to the article 'a strong call is issued against untamed congestion and urban sprawl, while sustainable mobility forms that offer convenience, eco and health credentials are to suggested be given priority.'
It highlight's the guide's finding that 'the annual economic damage associated with congestion in passenger transport and cargo due to traffic in Europe is estimated at around €100 billion, or more than 1% of GDP of the EU' adding 'On the flip side of the coin, cycling has been shown to have a net return on investment.'
According to the article, 'a nod is given towards the establishment of "pop-up" cycle lanes giving a boost to cities through lockdown periods. Citing Copenhagen's progress to alter its modal share, the report highlights that the cost of one kilometer of a cycling path is recovered after five years thanks to the improved health of those who regularly use it and lowered burden on health services.'
Montreal Shows the Way to Continuing to Cycle in Winter
World Highways reports on how North America is beginning to turn away from 'vehicular cycling' – where bikes and e-bikes mix with larger motor traffic, described as being for the 'strong and fearless' – and towards sustainable cycling where 'The not-so-fearless want a higher level of personal security which means separated cycle lanes designed with safety in mind from the start.'
There is some interesting detail in particular on Montreal the first North American city to take up the challenge of creating a more European-style cycle lane network. Indeed, 'Velo Quebec's design guide is used as a reference by many North American cities as an example of what can be done to encourage cycling on the continent, especially in more northerly urban areas.'
The fact that Montreal's cycle lanes have been designed to be easily cleared of winter snow and ice sets the city apart in cycling terms and, allied with the advent of fat bike tyres and studded tires, means many bikers and e-bikers continue riding through the North American winter.
Even in cities not perhaps as forward-looking as Montreal, there are still winter cyclists;  for example 'Calgary reports that about 30% of summer riders continue riding in winter and in Edmonton it's about 17%. This is pretty remarkable given that some of each city's cycling network is not as connected up as it will be and that snow and ice clearing practices are still evolving. It is even more remarkable that winter temperatures can hover around -20oC for days on end and then plummet to -35°C for several days.'
eCargobikes
eCargo Bikes Tackling the Last Mile in Barnes, London
Barnes is in villagey south-west London and is the location for the promotion of the greater use of electric cargo bikes to boost the British high street. Check out this video from the UK's Fully Charged.
eBike Trends
eBikes Out in Front of Other EVs as European Bike Industry Unites to Protect Their Status
EBR recently received promotional material for an IDTechEx report that included just about all electric vehicles except e-bikes. The teaser info included the interesting graph below: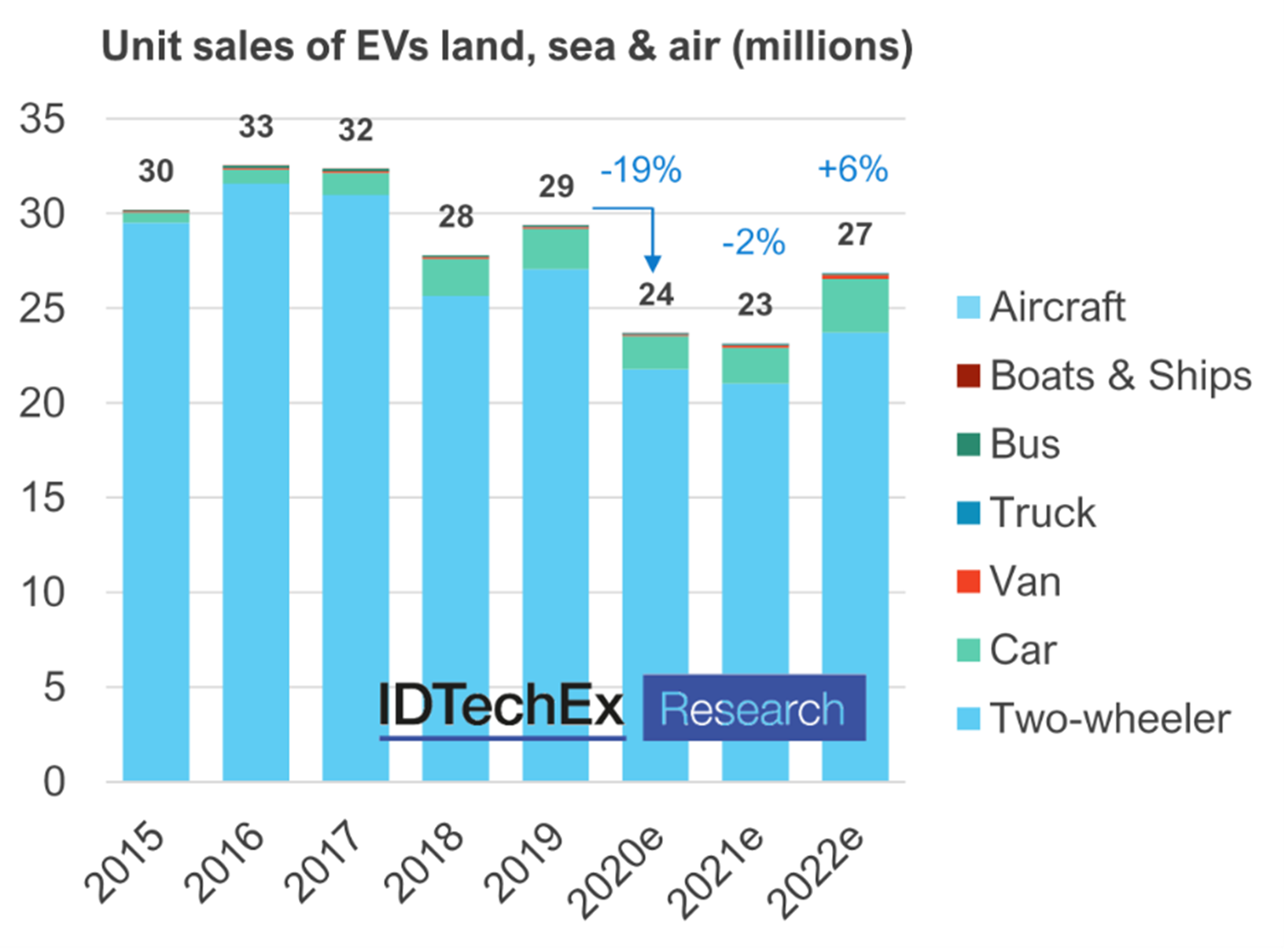 The bulk of the sales appear to be two-wheelers which the report defines as 'scooters, mopeds and motorcycles' – but clearly not electric bikes. The grand totals of tens of millions might look impressive but electric vehicle growth has clearly been sluggish at best, even declining over some recent years.
The report only really serves to highlight the stunning global success of e-bikes as detailed in this report from The Verge. The Verge tells us that a report by Deloitte says it expects 130 million e-bikes to be sold globally between 2020 and 2023. It also noted that "the number of e-bikes on the roads will easily outpace other e-vehicles by the end of next year."
The US has been behind major e-bike areas for some years but US growth rates for e-bikes as reported by the Verge are now also extremely impressive, although they started at an admittedly very low base:
'E-bike sales have been growing steadily over the years, but they still only represent a small portion of the overall bike market in the US. E-bike sales jumped by an incredible 91 percent from 2016 to 2017 and then another 72 percent from 2017 to 2018 to reach an impressive $143.4 million, according to the market research firm NPD Group. Sales of electric bikes in the US have grown more than eightfold since 2014.'
Over in Europe the e-bike industry is clearly making a huge effort to protect the largely unregulated status of e-bikes which have seen phenomenal sales growth in recent years. There the European Commission's announcement to review Directive 168/2013 which classifies e-bikes as 'regulation-free' in the same way as regular bikes has united EU cycling advocacy associations. CONEBI, CIE, European Cyclists' Federation (ECF), the European Cycle Logistics Federation (ECLF) and the International Mountain Bike Association Europe (IMBA EU) are all lobbying hard to protext the e-bikes special status reports Bike EU.
"We are combining our efforts to make sure the protection of the booming EU e-bike market and user safety are taken into account in the review," the organizations write…in a joint statement. The investigation by the European Commission on the safety risks is related to L-category vehicles and new Personal Mobility Devices (PMDs).
eMicromobility
Copenhagen Banning Freefloating e-Kickscooters
Electrive reports that 'The Danish capital Copenhagen wants to ban the rental of electric scooters from 1 January 2021 across the city centre. They say the measure is primarily out of consideration for senior citizens because riders….scatter the light EVs in public spaces.'
eBike Biz
PeopleForBikes Saves the Bike Industry US$130 million+ in Section 301 Tariffs
PeopleForBikes recently revealed that 'with the assistance of our nearly 300 member companies' they 'saved the bike industry more than $130 million in Section 301 tariffs since September 2018. Section 301 tariffs represent additional duties paid on nearly all imported goods from China.'
The United States Trade Representative (USTR) increased these duties over the last two and a half years, meaning extra costs for the bike and e-bike industries with additional duties of up to 25%, in some cases.
PfB's work has been on two main fronts.
When the USTR created an exclusion process that companies and trade associations could use to request the removal of certain goods from the list of products subject to these increased tariffs,PeopleForBikes and our members sought relief for dozens of products, including electric bicycles, many complete bikes and most components, as well as helmets, lights and other bicycle-related products and accessories. Recently faced with rapidly approaching expiration dates, PeopleForBikes filed dozens of more requests asking that the exclusions granted be extended for an additional year. While some were denied, many of the extensions were approved, again saving the bike industry valuable operating capital.
Finally, a series of lawsuits was filed at the Court of International Trade to challenge the legality of the Section 301 tariffs for products included on List 3 and List 4a. These lawsuits argue that the Section 301 tariffs were issued in violation of the Trade Act of 1974 and the Administrative Procedure Act, and request that theList3 and List 4a tariffs be vacated and repaid with interest. If successful, these cases could provide the opportunity for the bicycle industry to obtain substantial relief from the Section 301 duties. PeopleForBikes briefed our members on this potential remedy and ensured that our members had important timely information before the window to file these claims closed. PeopleForBikes did not file a lawsuit but is monitoring the ongoing situation.
There's more detail at PfB's exclusions page.
Eurobike's November Show Cancelled
Cycling Industry News reports that 'Eurobike has announced the cancellation of its special edition event set for November in the face of restrictive Coronavirus measures landing across Europe. In early May, Messe Friedrichshafen decided to move Eurobike 2020 from September to November, the latest possible date.'
Stay tuned for more e-bike news and reviews and thanks for reading!
-Rich
Reader Interactions