Orbea Rise – Is This Lightweight Electric Mountain Bike a Game Changer?

Today, Spain-based bike manufacturer Orbea released their latest electric bike in their lineup, the Orbea Rise. The Rise is an all-mountain/trail ebike that is targeted towards sporty mountain bikers who are looking for a more natural mountain biking experience with an EMTB.
Our first take on the Orbea Rise:
This is an obvious shot across the bow to the Specialized Turbo Levo SL, which is Specialized's light-weight EMTB. Coming in just above 35 lbs for the highest/most expensive version of the bike, the Orbea Rise is lighter than the Specialized Turbo Levo SL but has more torque (60 Nm vs 35 Nm). This will be very interesting to test out, especially on uphill climbs and through technical sections. The SL has been a fantastic emtb (one of our favorites) because it feels much more like a normal mountain bike. The Orbea Rise has the potential to do that while possibly providing even more power.
We're excited by the announcement of the Orbea Rise and we look forward to fully reviewing it soon. We put our order in for the bike through our local shop a few days ago, and should have the bike here (fingers crossed) in November. The main questions we want to answer are:
How does the Orbea Rise compare vs the Specialized Turbo Levo SL?
How will the Orbea Rise handle and feel in various mtb situations (techy climbs, challenging downhill sections, jumps and drops, etc.)?
Can the Rise really last over 8 hrs and 4,000 KM of climbing?
Are some of the weight-saving components (tires, seat post dropper, handlebars, 140MM Fox 34 fork) sufficient for this bike, or am I going to want to upgrade those ASAP?
Anyways, until we get this latest emtb, we want to share a few of the key features and highlights that make it worth checking out.
Custom Tuned Shimano EP8-RS Motor: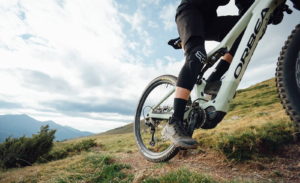 The Orbea Rise takes advantage of the new Shimano EP8 motor, but it receives a special RS designation due to the heavy software tweaking Orbea has done to increase total motor efficiency. On the Orbea Rise, the EP8-RS Motor has a maximum torque of 60 Nm instead of 85 Nm that the Shimano EP8 is capable of producing. The reduced torque power is still enough to get up hills, while the 60 Nm reduces overall battery consumption and makes pedaling feel natural, sporty, and more akin to a traditional bicycle. The end result is that the EP8-RS motor claims to be able to keep up with standard Shimano and Bosch motors, while in theory staying quieter than other Shimano EP8 motors AND helping you pedal longer on a single battery charge.
I haven't seen them talking too much about how this will compare against other lightweight motors like the Specialized SL 1.1, so were very anxious to test this out and see how it performs, and if the custom tweaking to the Shimano software really makes that big of a difference.
Modular Battery System that Balances Weight and Range:

The internal, fully integrated 360 Wh battery is built into the slim down tube, and is so designed that you would never be able to tell it hosted the battery just by looking at it. This integrated design helps the Orbea Rise maintain a great standard mountain bike look, while further protecting the battery and cutting down on its overall weight considerably. If you want to extend the overall range of your eBike, you also have the option of attaching a 252 Wh range extender for a 612 Wh total battery range. The range extender fits the bottle holder well, and it is easy to install as it plugs into the same port you use for charging.
Built for Racing on Trails and Tackling Tough Challenges Alike:
It's tough to classify the exact type of cyclist the Orbea Rise is built for, because the truth is that it's designed to offer something to everyone. The EP8 RS motor and carbon frame are lightweight for an eBike, helping you build speed quickly as you zoom along trails. However, the sturdy carbon-boile design, along with the 29'' wheels and 150 mm fork/140 mm rear shock was designed to help you navigate tougher trails, especially given the stiff yet cushy suspension.
From what we can tell, the Orbea Rise is essentially an Occam with a potentially game changing motor/battery pack.
Obrea's Personalized Rise Customization:
Different riders need different eBikes for different purposes, and by ordering the Rise through Orbea you're given a number of customization options in designing your Rise. The most noticeable customization options are the aesthetic ones, where you can pick your favorite color or develop your own custom paint job as you detail the entire Rise frame. You can also swap out and select from several different components for a more personalized feel, including the saddle, handlebar width, stem length, crank length, tires size, fork size, rotor size, and more. Orbea is even planning to add more component and customization options for the Rise in the coming months and throughout 2021 as well!
Shimano E-Tube Customization and Control:
Different bicyclists have different needs, and different levels of experience will change how much total control you want over your eBike motor. There are two preset RS power profiles that aim to maintain a quiet, natural, yet responsive ride as you pedal the Obrea Rise over any terrain.
For more experienced riders who know the ins and outs of bicycles, the Shimano E-Tube smart phone application provides extensive customization options and multiple riding profiles as well. Prioritize battery life, get a stronger, quicker battery boost, or alter a number of other characteristics that will let you fine tune your Orbea Rise motor in seconds.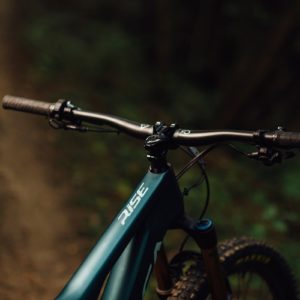 One element of the RS interface is how slimmed down it is. Orbea's goal is a more traditional MTB look and feel, without all the additional screens you find on most ebikes. Their simplest configuration is basically just a switch on the left handle bar that lets you change assist levels, with a small, inline junction box that has 2 LEDs that broadcast data wirelessly. It will also be interesting to see how well this system pairs with a Garmin smartwatch, as there is a tool Orbea developed that allows you to adapt the Garmin IQ eco system to their RS platform.
Spec Summary:
For all specs, we'd recommend going directly to Orbea's website, where you can see all the different build options, including the option to fully customize the Rise through their MYO program.
You'll notice that Orbea is offering 4 different build options:
Rise M20 ($6,499)
Rise M10 ($7,999)
Rise M-Team ($9,499)
Rise M-LTD ($10,499)
Thank you for reading our first impressions of the Orbea Rise EMTB! Be sure to visit us again in the future for our full review of the bike, and we'll also be doing a comparison review of the Orbea Rise vs Specialized Turbo Levo SL soon!
Reader Interactions