eBike News: New Stromer, Lightweight Volta, New eBike Reports, Innovative Locks, & More! [VIDEOS]
In this week's eBike news roundup:
New Stromer ST1 X with some ST2 features for less $
Pure Cycles lightweight Volta eBike
Hercules folding eBike with Bosch system
Report: eBikes getting more people riding in the US
Report: eMobility for all. Financial Incentives for e-Cycling
Cinch strap Ottolock
Hexlox anti-theft for seat, wheels, handlebars, etc.
And much more!
Stromer's ST1 X Aims for the Young
Well-known premium brand Stromer has just launched the ST1 X, its newest e-bike aimed at young commuters – say Stromer.
It claims a range of 'up to 70 miles' and top speed 'up to 28 mph', The ST1 X blends Stromer's classic ST1 sleek design, and its ST2's digital connectivity (Omni portal).
The ST1 X boasts digital connectivity through Stromer's Omni portal and the Stromer smartphone app. Activated through the Stromer app, the ST1 X has integrated theft protection with an alarm, and an intelligent GPS system to locate a stolen bike.
The ST1 X starts at $4,999 with a range of colours and frame sizes available.
California's Pure Cycles now Crowdfunding First E-bike
Perhaps surprisingly for a company known for its large range of non-assisted fixie and track bikes, California's Pure Cycles has announced a city compact design as its first e-bike, the Volta. And the bike has immediately sailed past its funding target on Kickstarter.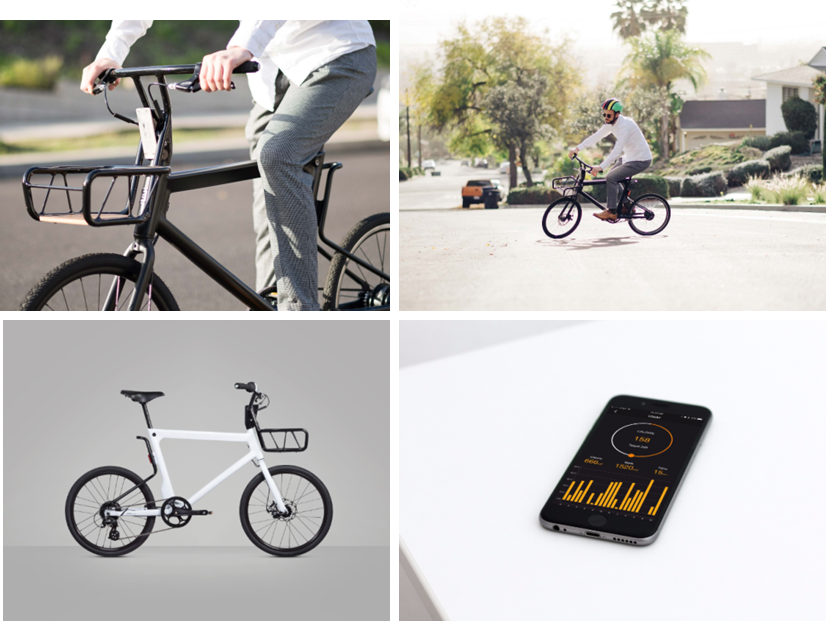 It certainly looks a light, sleek, clean design, claiming a sub-35 pound (16kg) weight and featuring belt drive option to a rear hub motor, frame-integrated battery, auto lights and brake lights, eight derailleur gears and anti-theft GPS tracking.
Early bird offers start at US $1399 (limited number – super early bird offers at US$1299 are sold out) and the offer is worldwide. The final production model is slated for August 2017 with an 'beta' option available in the US only in May.
Hercules Rob Comes to the UK
EBR has recently featured launches for a new breed of folding electric bikes with powerful crank motors. First came the Tern Vektron, then Volt's AXIS and finally a couple of folding crank drives from Gepida.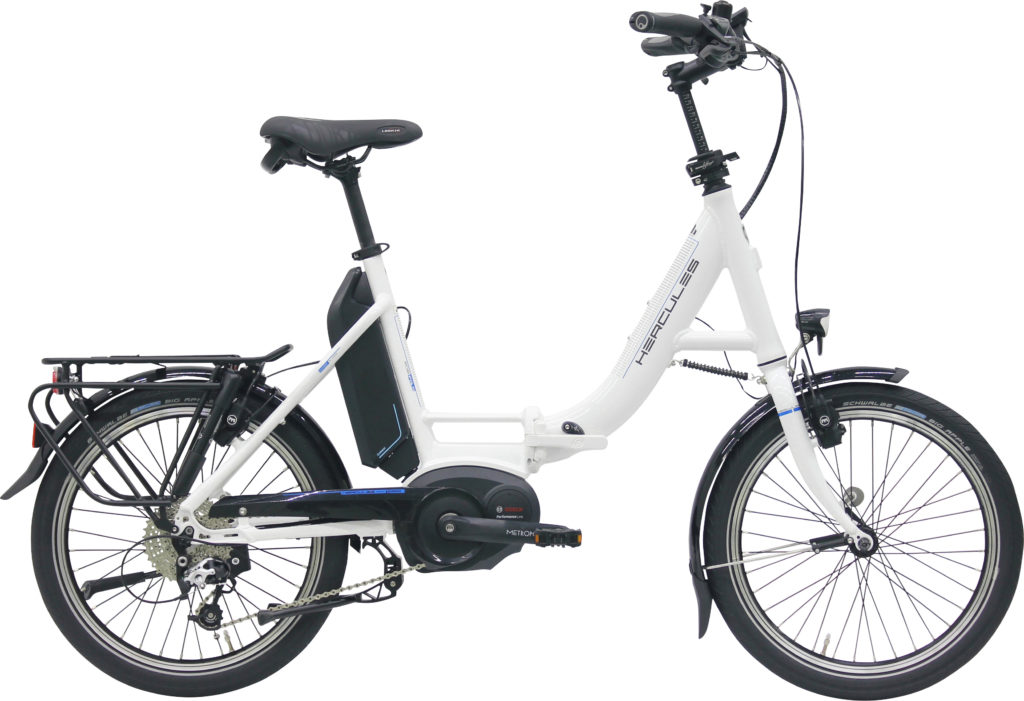 Now Hercules is rolling out its Rob Fold F8 in 2017, with several UK retailers already offering it.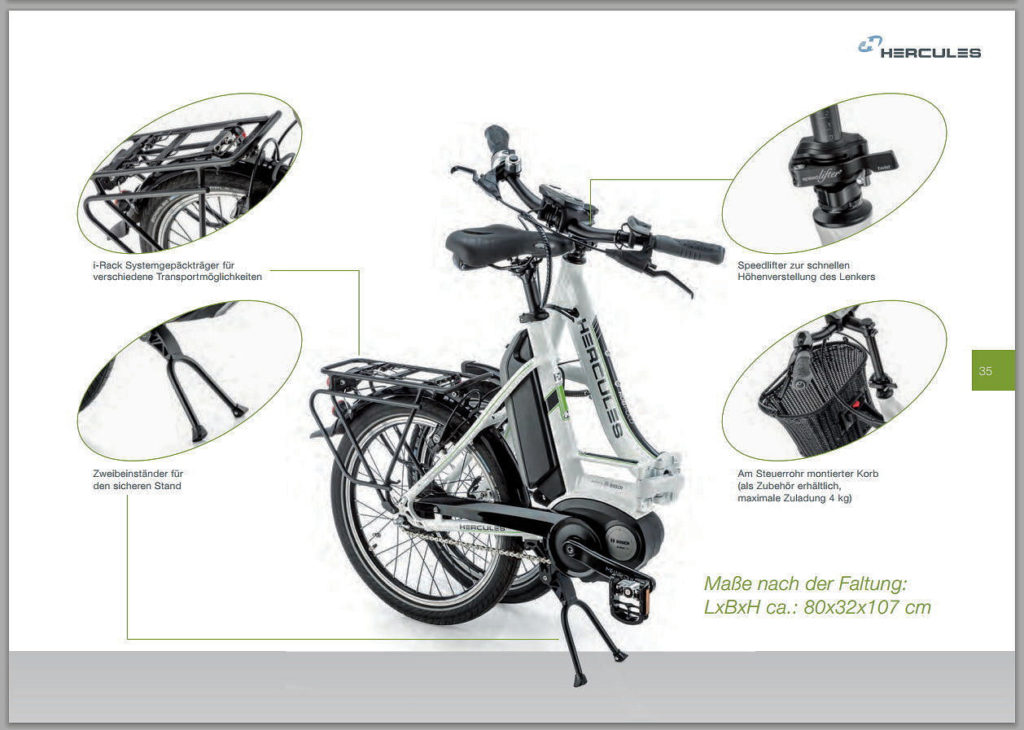 It is a fully equipped fold-in-half bike (bars and stem don't fold down) powered by a bosch Active line motor. For more English-language details see 50 Cycles.
UK's Bartibike 2017 Models now In Stock
UK own-brand retailer Batribike say they are now stocking their new range of 2017 bikes, some with a more integrated, minimalist look and all now made within Europe. The range also seems to show that some of the trends on higher priced bikes are trickling down to those in the mid-price range.
We singled out the hardtail e-MTB Delta and the step-thru Perdu and Qunitessential models as the most interesting designs.
The Delta has a frame-integrated but removable battery, Schwalbe tyres, hydraulic suspension and hydraulic disk brakes.
The Perdu has an unusual chaincase enclosed battery whilst the Quintessential hides it in a saddlebag. Both these city styled models feature rear hub gears with roller brake.
All the bikes in the 2017 range feature rotation sensors rather than torque sensors and range from £1349 to £1699.
Get Inspired
E-bikes may be the key to increasing cycling in America
A new report from John MacArthur at Transportation Insight for Vibrant Communities (TREC) in Portland, OR.
"MacArthur and co-investigator Jennifer Dill teamed up with Drive Oregon, Metro and Kaiser Permanente Northwest to provide Kaiser employees with electric-assist bicycles (e-bikes) to use for a trial period of ten weeks. The goal was to see if e-bikes might help overcome some commonly cited barriers to cycling.
The study, Evaluation of Electric Bike Use at Three Kaiser Permanente NW Employment Centers in Portland Metro Region, took place in Portland, Oregon from April 2014 to September 2015. A total of 150 Kaiser employees participated in the study. Fewer than 10 percent of them had ever ridden an e-bike as an adult, and 50 percent of them said that they normally never rode a bike at all."
Learn more about the study and new report.
Financial Incentives for eBikes
The European Cyclists' Federation (ECF) has created a report called "Electromobility for All, Financial Incentive for E-Cycling"
"With this report, ECF presents the first overview of financial incentives for e-cycling in Europe. It shows that numerous countries, regions and local authorities in Europe have already realised that promoting electric bikes through grants is a very cost-effective way to achieve the decarbonisation of the transport system: E-bikes open up cycling to new groups of the population and have a high potential to replace car trips. They also come with a small price tag: On average, they cost less than 8% of the price of an electric car.
Therefore, ECF calls for a comprehensive and balanced electromobility policy that takes into account all modes of transport and is not only focused on improving emission values of one mode, without taking into account problems like congestion or the use of public space in our city. We are convinced that this approach will help us to make the mobility system as a whole more sustainable and to make our cities and regions more livable."
New Accessories
Lightweight & Compact Ottolock
The Ottolock is a new cinch lock constructed of multi-layer steel band and Kevlar-reinforced design.
From Ottolock "Our vision is that this will replace the cable lock as a newer, much stronger, lightweight and easy to use "casual" lock for bikers. But it is versatile enough to be used for things locking gates, bike racks, ski/snow sports, camping/festivals, coolers etc."
Hexlox Anti-Theft for Seat, Wheels, Handlebars, etc.
Hexlox have come up with what looks like a great idea – a miniature security bolt that fits inside existing hex bolts on your bike. Available as sets for common sizes and combinations or as individual bolts. The video explains all quite simply:
Cycle Infrastructure
Wider Lanes for Copenhagen
Bikebiz reports that Copenhagen's bike lanes may be widened following a public consultation with 600,000 citizens in which 62% said they felt cycleways were not wide enough. The article makes a forceful case for even more bike provision in a city where cycling is hugely popular; 'The city's cycleways take up just 7 percent of the road surface yet cycling accounts for more than 50 percent of how residents get around (54 percent of Copenhagen's roadspace is devoted to motorists, and a further 12 percent is accounted for by car-parking spaces.)
Best Practice Cities Worldwide
Cycling Industry News has come up with an admirably detailed piece on 27 cities from around the globe where cycling is growing. There are some novel ideas here too; Randers, Denmark's sixth largest city, has trialled a project where residents are given free access to a fleet of electric bikes, with the result that 21% of participants bought their own electric bike and cycling in general saw an increase. There are millions of euros heading cycling's way in the Dutch cities of Groningen and Utrecht and New York's Department of Transportation reports cycling levels in the city have jumped 80% in five years, with around 75% more cycling lanes provision added since 2005.
But Norway's Oslo and indeed the whole of the country look to have the most ambitious plans, with a planned spend of $923 million on fresh cycling infrastructure, equating to around $184 per head of the five million strong population. The National Transport Plan proposal is to create ten two lane cross country bike tracks in and around Norway's nine largest cities.
E-bike Biz
BPSA eBike Dealer Training Videos
The Bicycle Product Suppliers Association (BPSA) has created a number of training videos for bicycle dealers to help them become familiar with and sell eBikes. Here is the intro video:
And here is more information on the video series.
Work at Xtracycle
Xtracycle is looking for a project manager to work at their HQ in Oakland. Work in the industry!
Pedego's Inc Mag Feature – Baby Boomer Success Story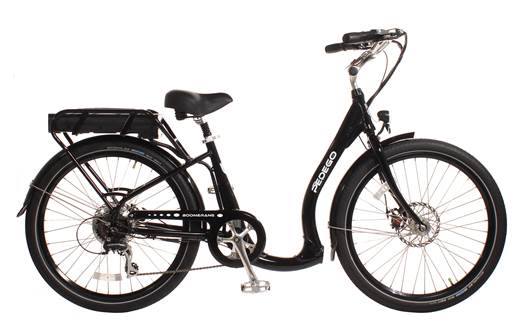 US e-bike firm Pedego has been the subject of an extensive article in Inc. magazine which highlights 18 of Pedego's store owners who are in their second careers.
From retired writers and locksmiths to cops and aerospace engineers; Pedego has been a chance for them all to start a second career. Amidst the human interest there is also some interesting business analysis of the burgeoning baby boomer market in the US; 'There will be 119 million Americans over 50 by 2020, according to the American Association of Retired Pensioners, one-third of the total population. Spending by that age group will increase 58 percent over the next 20 years…'
Pod Bikes Heading to the UK?
Cambridge News reports that Sweden's PodRide, a fully enclosed e-quad already featured on EBR, may be coming to the UK city of Cambridge. PodRide reports that a three wheel version is also in the works.
Kross to Start Multicycle E-bike Production
Polish firm Kross are now the owners of previously bankrupt Dutch cycle manufacturer Multicycle and plan to start production of e-bikes in the Netherlands reports Bike Europe.
Stay tuned for more e-bike news & reviews and thanks for reading!
-Richard
P.S. Don't forget to join the Electric Bike Report community for updates from the electric bike world, plus ebike riding and maintenance tips!
Reader Interactions