eBike News: Hydrogen eBike, Vintage Off-Road, Ride Ideas, eCargo Beats Vans, Win a Bike Vacation, & More! [VIDEOS]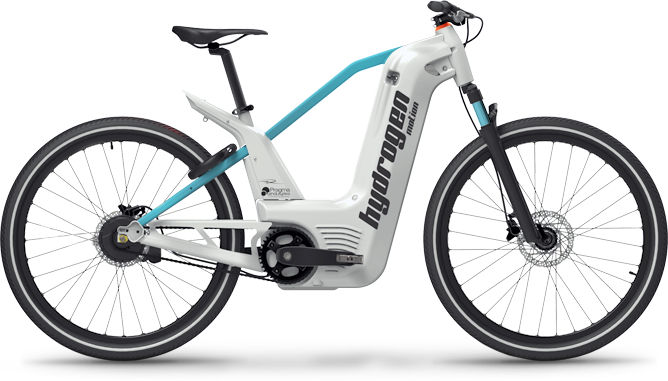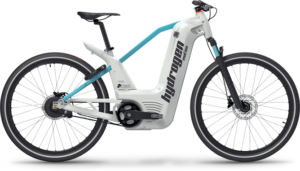 In this week's eBike news:
Hydrogen-Powered Pedelecs
Vintage Electric Goes Off-Road
General Motors eBikes in Europe
Epic Summer Ride Ideas
Bird's New Scooter/eBike
eCargo Bikes Beat Delivery Vans in London
Bosch eBike Celebrates 10 Years
Win a Tern Trip to CicLAvia Hollywood
Heavy Duty eBike Lift
China Could Restrict Magnet Supply
And Much More!
New eBikes & eBike Systems
Alpha Hydrogen Pedelec Targets Rental Market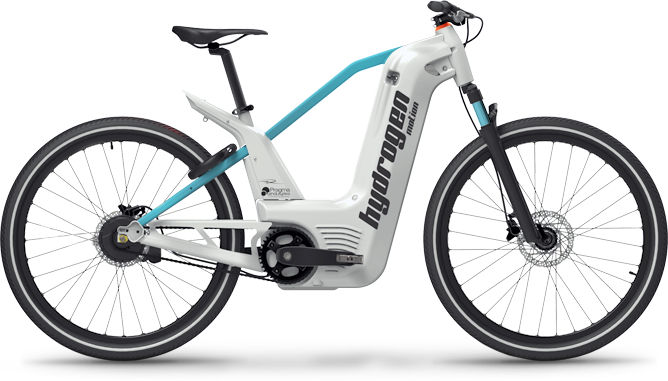 Pragma Industries says it is now offering 'the first commercially available fuel cell electric bike', the Alpha hydrogen pedelec.
Working with charging station provider Atawey, the pedelecs are powered by a fuel cell (or 'stack' of cells to be more accurate) that produces electric power by combining hydrogen with oxygen.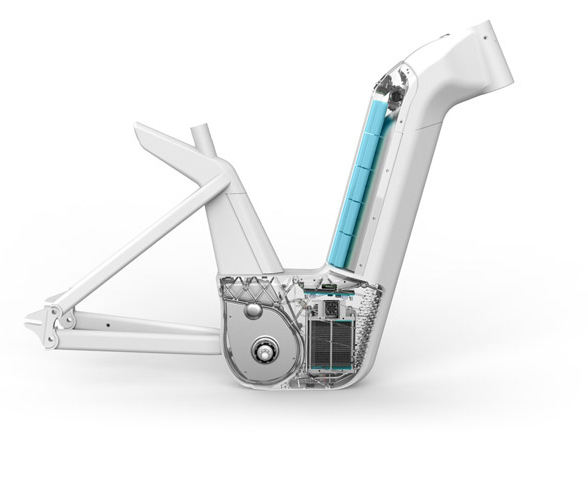 The actual riding experience shouldn't be too different to a regular battery-powered pedelec as the pedelecs are powered by the well-known Brose mid-drive.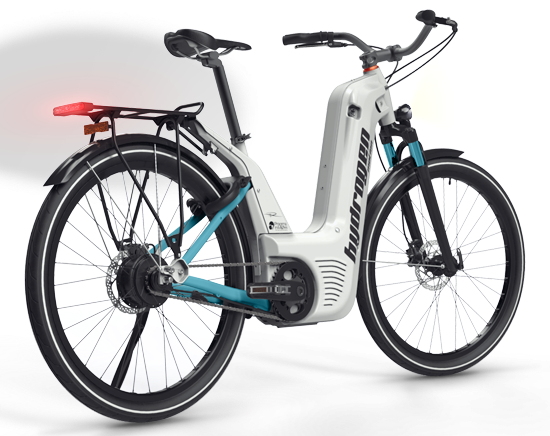 Pragma sum up their pedelec's advantages; 'Perfect for captive fleets, the Alpha hydrogen pedelec is always ready to go thanks to an ultra-short charging time. Its impressive range (exceeding 100 kilometers / 62 miles) and the amazingly accurate fuel gauge make fleet management a breeze, as the hassle of battery charging and handling turns into an old memory.'
Vintage Electric Go Off-road
I thought I'd seen just about every variation of e-bike genre but California-based designers of retro-styled e-bikes, Vintage Electric, have come up with one I haven't seen before.
Their retro-cruiser Rally model has off-road knobblies and front suspension and it's a 28mph assisted 'speed pedelec'.
Priced at $4,995.
General Motors eBikes in Europe Soon
Bike Europe has reported that the newly developed e-bikes from General Motors 'the ARĪV Meld and the ARĪV Merge…..will arrive in the Netherlands on 21 June.'
The two models are the end product of GM's own design from the ground up, including their own patented motor system.
Retail prices in Netherlands and Belgium are € 2,800 and € 2,750 for the ARĪV Meld and € 3,400 for the ARĪV Merge – the latter will also sell in Germany for € 3,350.
GoCycle GX Fast Folder Wins Award
Gocycle GX – it has been crowned 'Best Electric Bike' by T3 Magazine at their 2019 Technology Awards just months after its launch.
Nominees for the award included the: Brompton Electric, Gtech City, Specialized Turbo Levo Comp, VanMoof Electrified S2 and Volt Pulse.
Get Inspired
eCargo Bikes Beat Delivery Vans in London
This interesting Forbes article details how one London courier company is using e-cargo bikes to replace van deliveries in a sustainable and more economic way, apparently able to achieve 30 daily drops with an e-bike as against 12 by small van.
Win a Tern Trip to CicLAvia Hollywood
Tern is awarding one lucky winner and their +1 a trip to CicLAvia in Hollywood, California on Sunday August 18!
This is a fun event where the roads are closed to automobiles and open only to walkers, bikers, skaters, etc. It's a great way to connect with people in the community and see what the city can be like without autos.
Tern just announced the getaway sweepstakes and one winner will be selected on June 24th in a random drawing and will receive the below getaway package:
Airfare for two to Los Angeles
Two nights in a hotel located in Hollywood
Two Tern loaner bicycles to explore LA and enjoy CicLAvia
Access for two to the VIP reception during CicLAvia
Enter to win at the Tern sweepstakes page.
E-bike Through the Idaho Mountains
The Schweitzer Mountain Resort in Northern Idaho is now offering e-bike tours on Rad Power Bikes.
The 2-hour hosted e-bike tours depart 10am and 2pm most days of the season to explore a 10-12 mile cross-country mountain bike loop while learning all about the flora and fauna of the region.
Fancy An Epic Ride this Summer?
With long summer days and long vacations ahead, many e-bikers will be turning their thoughts to taking on that epic long distance e-bike ride. The Manual website have helpfully outlined four possibilities:
The Great Divide Mountain Bike Route claims to be the world's longest off-road bike route, stretching from Banff, Alberta in Canada to the U.S.-Mexico border in Antelope Wells, New Mexico, some 2,700-miles along the Continental Divide.
The Florida Connector runs from historic St. Augustine to Fort Lauderdale. The more than 500-mile coast-to-coast-to-coast route includes a combination of sidewalks, bike paths, and bike lanes along shared roads.
The Underground Railroad Bike Route (UGRR) pays homage to the enslaved freedom seekers looking to escape the oppression of pre-Civil War America. The route begins in Mobile, Alabama and runs more than 2,000 miles north to Owen Sound, Ontario.
I've mentioned the Great American Rail-Trail before. Once completed it will traverse 12 states and stretch more than 3,700 miles, connecting Washington, D.C. to Washington State.
The Manual tells us 'This multi-use trail will link 125 existing trails across its route, but there are about 90 trail gaps that still need to be developed. While the trail may be years from completion, the foundation has been laid and the project is already over 50% completed with large existing sections providing stand-alone rides. The trail will also be readily accessible to almost 20% of the U.S. population that live within 50 miles of the route.'
10 Epic Bike Routes Along Europe's Rivers
River routes make for easy cycling with often spectacular scenery and Europe simply has some of the best river cycle routes in the world.
This guide to the routes and eBike rentals/hire will help with planning an eBike holiday and it is also a good way to test a few eBikes before purchasing your own.
E-micromobility
Bird Cruiser Blurs the Line Between E-kickscooter and E-bike
Elektrek reports on The Bird Cruiser – 'a moped-style electric bicycle that could change the electric scooter industry as we know it'.
Clearly the Cruiser has much larger wheels than conventional electric kickscooters, a seated riding position, and options for either foot pegs or pedals.
With footpegs the Cruiser is a large-wheeled electric scooter but with pedals it becomes an e-bike.
And the bench-style padded seat is designed to fit up to two people. It has rear-only suspension.
This is all based on CAD drawings – we await pics of the final design and more detail on the drive system.
Whilst it does look an exciting development – if e-kickscooter designs evolve they may become even more popular – it may also pose more legal headaches for local transport departments who set local rules by which kickscooters operate, as the kickscooters could become potentially heavier and have the ability to carry a passenger.
As this Forbes article points out, the more e-assist technology and design push to the boundaries of what is possible, the more tricky questions there will be for lawmakers.
Bike Accessories
Heavy E-bikes to Repair? No Problem with the Lou-E Lift
The motorized Lou-E lift looks like one of the most heavy duty and effective workstands I've seen.
It's described as 'for lifting the heaviest, most awkward shaped bikes on the market. Rated at 140 pounds (63.5kg) lifting capacity with ease.' Retail price is US $2,100.
E-bike Biz
Bosch eBike Systems Celebrates 10 Years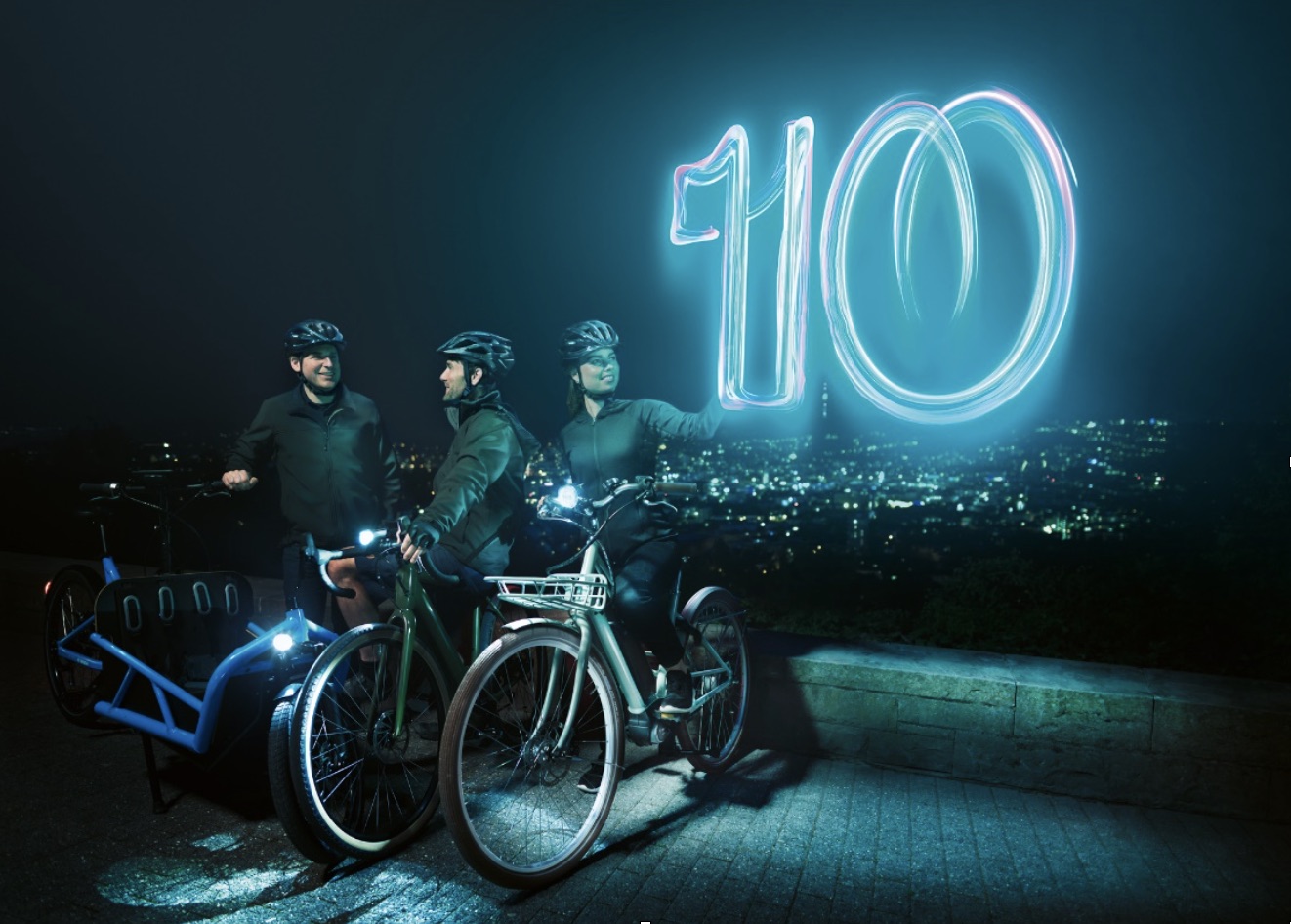 Back in 2009 Bosch eBike Systems was a new start up business within the larger Bosch Automotive Electronics division and now 10 years later it has been so successful that it is becoming its own division in 2020 within Bosch.
"10 years ago, we started out with a handful of employees who believed in the pedal-assist electric bike, demonstrating excitement and a lot of personal commitment," says Claus Fleischer, CEO of Bosch eBike Systems. "Nevertheless, none of us would have expected what success story would develop from these beginnings."
"Our goal for the future is to remain one of the market's main movers and shakers by developing innovative solutions for bicycle mobility and by inspiring people," says Claus Fleischer. "We are confident that the eBike is a significant response to megatrends such as urbanization, connectivity, mobility and climate protection. To this end, we aim to continue to make a contribution with pioneering products and services relating to the topic of Connected Biking."
Former Bosch Executive Jonathan Weinert Joins Gates Marketing Team
Manufacturers of low-maintenance, long-lasting carbon belt drives, Gates, has hired veteran marketing and electric mobility strategist Jonathan Weinert, PhD, 'to oversee marketing of its Gates Carbon Drive bicycle and e-bike systems and the company's growing portfolio of carbon belt drive technologies for scooters, motorcycles and emerging forms of personal electric mobility.'
Weinert, who previously worked for five years as sales and marketing manager for Bosch eBike Systems at Bosch USA, assumes the newly created Gates position of Director of Strategic Marketing for Global Mobility. He joins Gates at its global headquarters in Denver.
Magnet Export Restrictions on the Horizon?
Bicycle Retailer and Industry News reports that 'China is considering restricting the export of rare-earth magnets in response to the trade war with the U.S. A restriction that could throw a big wrench into the e-bike market, because the magnets are a critical part of all e-bike motors and China controls much of the world's supply.'
As the article points out, a significant reduction in rare-earth magnet supply to the e-bike industry could result in skyrocketing prices, no matter where the motors are made.
BRAIN also points out 'Permanent magnets made from the rare-earth mineral neodymium are critical elements of the DC motors. Rare-earth magnets also are a critical element in automobiles, generators and electronics, including headphones and hard drives' adding 'Last year 80% of the rare earths mined worldwide came from China. China also has 36% of the world's reserves of the minerals, according to the U.S. Geological Survey. The U.S. has about 1.2% of the world's reserves.'
Stay tuned for more e-bike news and reviews and thanks for reading!
-Richard
P.S. Don't forget to join the Electric Bike Report community for updates from the electric bike world, plus ebike riding and maintenance tips!
Reader Interactions