eBike News: eBike-Share Systems, Bigger Batteries, 80 Mile Commute, New Mid Drive, & More! [VIDEO]
By Richard Peace
UK's Exeter rolls out e-bike hire from just 75p (around US$1)
The docking stations are being installed for what looks like it could be a groundbreaking e-bike hire scheme in Exeter in the south-west of the UK.
Local media reports say they are currently being tested and that 'In the first phase of the scheme, 23 bikes will be available to rent for periods of between 30 minutes and 24 hours, with more due to be added as the scheme grows.'
There will be both membership and 'turn up and go' options and the Co Bikes website says rental fees will start at a remarkably low 75p a hire.
Seattle to Replace Hire Bikes with Hire E-Bikes?
Seattle looks like it will award the contract to expand the city's bike-share system to a Quebec-based company that wants to install an all-electric fleet. The Seattle Times reports that Canada's Bewegen is in official negotiations with the city authorities as the leading bidder.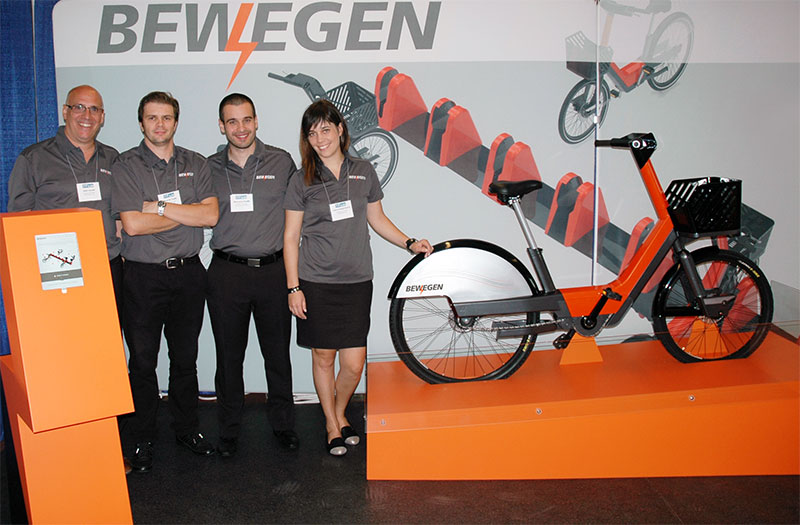 The City bought out the bike share in March from its not-for-profit owners. It's hoped that the new scheme will be less controversial than the original not-for-profit scheme which has been dogged by controversy.
Bewegen say they have 'field-tested cutting-edge pedelec bikes, scalable docking stations, IT solution and mobile app combinations' . Their rental system is spec'ed as having a 1 hour battery charge,  7 gears, luggage carrying capacity, lighting and GPS tracking.
Whilst 2015 reports suggested that Bewegen was about to launch an electric system in Birmingham, Alabama, the final Zyp bike hire scheme was in fact non-powered, though it appears to be popular with users. 
Industry News
Will E-bikes Come to the Rescue of the US Bike Market?
Bike Europe reports that whilst the US bike market is facing 'challenges' according to Pat Hus, Vice President of Interbike), 'it is also important to note that the number of exhibitors at our e-bike test track has nearly doubled in size.
Interbike runs Sept 19-20 at the Mandalay Bay Convention Center in Boulder City, Nevada.
In the Media
Bicycling Promoted E-bike Benefits
Bicycling magazine is a well-known print and web publication that covers cycling across the board but with a strong fitness perspective. It recently published a glowing summary of the benefits of e-bikes including the fact you DO get exercise on an e-bike. Load carrying and saving on gas bills were just two other of the 13 benefits covered.
There was also a particularly useful legal summary covering legal regs in the various states and provinces of the U.S. and Canada and useful link to more detail at People for Bikes.
Going the Distance by E-bike
80 miles a day commuting by e-bike? No problem – well, no problem on a speed pedelec and using Dutch cycling infrastructure that is. Dutchman Marc Dekker details just such a feat in the UK's Guardian. His 28 mph speed pedelec he says has saved him from the hell of traffic jams and stress.
The article also mentions interesting research by Dutch cycling organisation Fietsberaad whose 2012 survey suggested electric bikes could grow the level of cycle commuting between 4% and 9% across the Netherlands.
From January 2017 new Dutch legislation will mean speed pedelecs are not allowed on many cycle lanes. The impact, if any, on the rapidly growing market for speed pedelecs will be interesting to see.
New Products
A Carbon Frame for e-bikes Every Seven Minutes
Rehau is billed as an 'E-Bike body', from the German automotive supplier of the same name. Apparently Rehau plan to build a production facility in Germany that will produce a composite e-bike 'body' every seven minutes.
Storck featured a prototype at their Eurobike 2016 booth and Storck CEO Markus Storck said his company plan to release the 24 inch wheeled bikes in 2017. Check out the video here showing the bike at the concept stage.
Italian Motor Manufacturer gets E-bike Cranking
Polini is an Italian manufacturer best known for making motorcycle and moped parts but web info shows they have developed an interesting looking narrow crank motor that looks to be targeted in particular at standard racing bike frame geometry.
Check out the video:
Big battery claims
Bold claims were made at Eurobike by leading battery suppliers Panasonic and BMZ. Both companies say they have found a way to enlarge the lithium-ion cells that make up battery packs by a few mm, whilst increasing battery capacity by 'up to 60%' (according to BMZ).
The BMZ 3Tron system also better materials, discharge rates and greater longevity as advantages over their current cells. Certainly any increase in battery capacity has to be good news; larger batteries tend to get recharged less often and so will go through more charge cycles in the course of their life.
New E-wheel on Show at Interbike
Hycore from Korea is the latest e-bike design to put all the e-bike components in a single bike wheel. Where it differs from all others we have seen is that is uses two 180W motors which Hycores's website says 'improves …speed-torque performance'. It also has bluetooth-enabled smartphone user-programming and a removable battery.
Cube Ramps up UK Offering
Cube will have a major e-bike presence at next weeks Birmingham Cycle Show in the UK. Of their 100 plus model range nearly 60% are from the electric 'Hyrid' range.
UK's trade site Bikebiz quoted Cube sales manager Bart van den Biggelaar effusiveness towards the UK market, "Special attention goes out to our e-bikes this year as they show unlimited potential. We've only just started the season, but sales numbers of our e-bikes – MTB, commuter bikes and heavy duty travel models – have skyrocketed. Media attention has also been overwhelming."
Unusually Cube also feature a number of female-specific electric bikes, including e-MTB models.
Made to E-fit
You may have heard of bike fitting – which can involve everything from having bespoke shoe insoles made to measuring your power output in different b positions on a bike – but how about e-bike fitting.
The UK's e-bike specialists 50 Cycles are offering a basic body data capture service for free if you buy a bike from them, or have bought one in the last month.
That's it for now. Stay tuned for more e-bike news.
P.S. Don't forget to join the Electric Bike Report community for updates from the electric bike world, plus ebike riding and maintenance tips!
Reader Interactions