eBike News: Ducati eWheel, eChopper, Enclosed eTrike, Recalls, & More! [VIDEOS]
In this week's eBike news roundup:
Ruffian eChopper with Bosch available in N.A.
New Ducati all-in-one eWheel
New eBikes from Kalkhoff & Winora
New Sinclair enclosed trike
Vintage showroom grand opening
New Xtracycle cargo conversion kit
Haibike recalls
And much more!
Ruffian Chopper comes to the US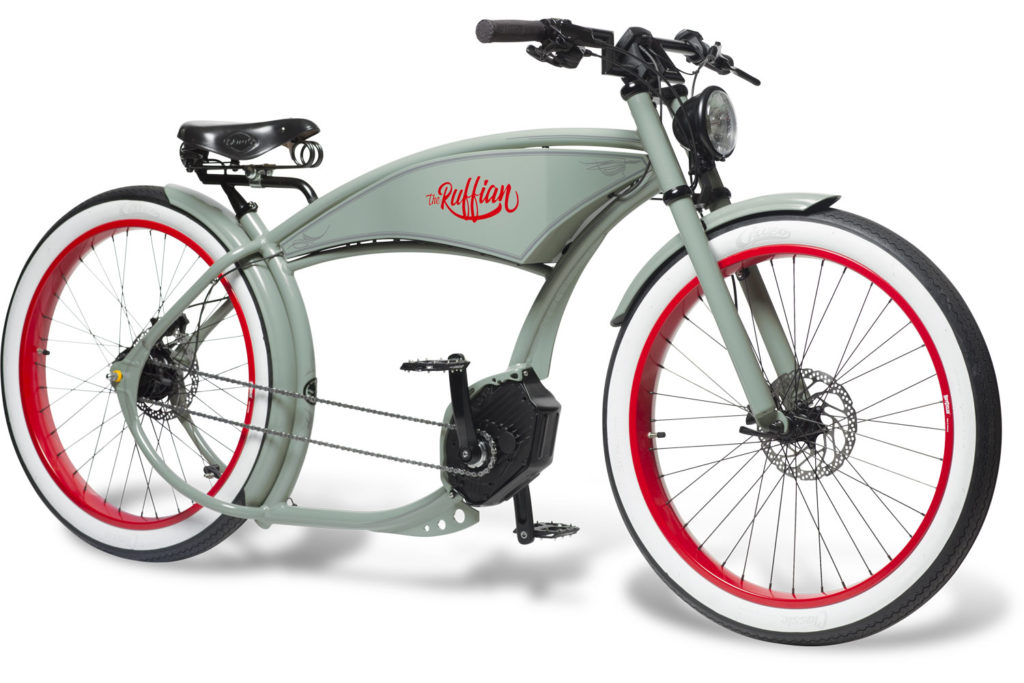 EBR has already featured the distinctive retro look of the Bosch-powered Ruffian back in January, and now the company has announced the machine, originating from Ruff Cycles in Germany, is coming to the US and Canada (offices due to open in Cleveland, Ohio and Montreal, Quebec).
Check out the video below:
Ducati Launchs Freeduck eWheel
Italian company Ducati, best known for their motorbikes, has launched the FreeDuck e-assist all-in-one wheel in Milan according to Italian language sources.
The motorised rear wheel has an integrated torque sensor so it activates the power on pedalling and contains a 416 Wh battery, with bluetooth connectivity and GPS functionality.
Like GeoOrbital, Flykly and others before them, Ducatic is hoping the retrofit, all-in-one solution will appeal to those wanting to quickly adapt an existing non-powered bike to electric power.
There are also off-the peg bikes fitted with the system which you can check out here.
2017 Kalkhoff Tasman Upgrade and Winora Yakun Hit the UK
High quality German manufacturer Kalkhoff have upgraded the spec of their Tasman model to use their latest generation motor system, the Impulse EVO Next – meaning Bluetooth connectivity and smart navigation as well as a more powerful, responsive motor and a large 630Wh battery.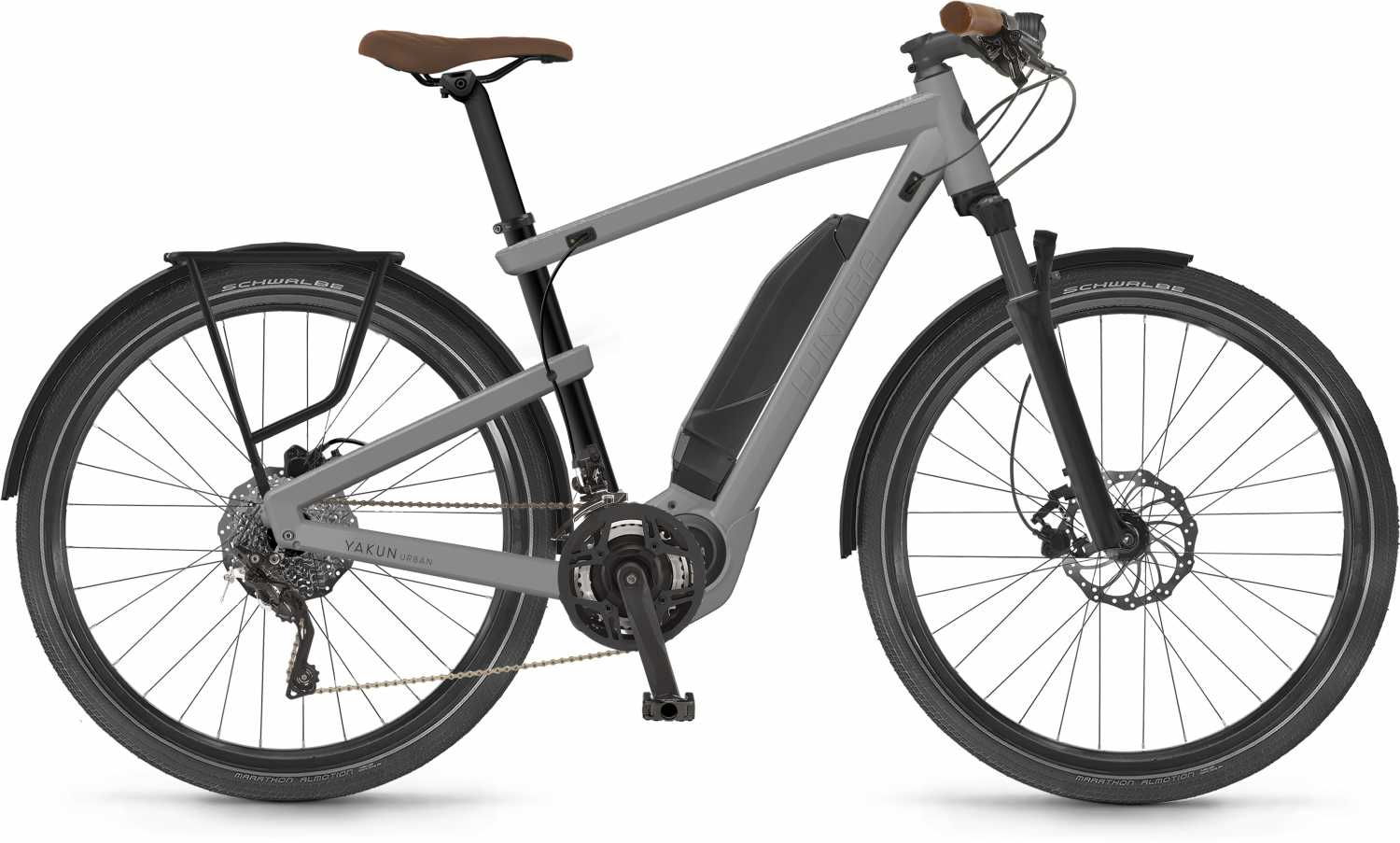 They will also be selling the 2017 version of the Winora Yakun, notable as its an urban styled bike powered by Yamaha's PW-X system most usually found on e-MTBs. The Yakun Tour model is also notable as it features a sturdy looking frame-integral trailer hitch.
New Sinclair eTrike
Xtracycle LEAP Cargo Conversion Kit
Xtracycle has launched their new LEAP cargo conversion kit that is an update to their original Free Radical kit. The LEAP has a cleaner look and it has been "optimized for electric conversion"!
New ABUS Security Products
The new ABUS Nutfix component security system features lockable wheel skewers and seatpost clamp to stop theft of parts from bikes and e-bikes.
https://www.youtube.com/watch?v=30CK0ud-Ikg
Haibike Recalls
Haibike is recalling XDURO Race, Superrace, and Urban Models because of concern of manufacturing issues with the rigid forks they are equipped with.
From Haibike "The safety of our eBikes and their riders has highest priority for us. Thus, we perform extensive endurance tests at external testing institutes. Some of our testing criteria are significantly above the standards set by DIN, ISO or EN norm.
Furthermore, frequent tests are carried out with our eBike models. Our comprehensive actions provide high quality for our eBikes . Thus we can react quickly in case of defects.
During our regular quality controls, we have discovered that the fork of Haibike Race, Superrace and Urban models show premature breaking when being exposed to above-standard endurance tests. Therefore, the fork may suffer from rupture or a break. This poses an enormous safety and injury risk for every user. The vehicle must not be used any longer Due to safety reasons, the above mentioned bikes must be taken out of order immediately."
The following models have been recalled:
Haibike XDURO Urban (model years 2014, 2015)
Haibike XDURO Urban RC (model year 2016)
Haibike XDURO Race (model years 2014, 2015)
Haibike XDURO Superrace (model years 2014, 2015)
Haibike XDURO Race S RX (model year 2016)
Haibike XDURO Race S PRO (model year 2016)
Haibike XDURO Urban S RX (model year 2016)
Haibike XDURO Urban S PRO (model year 2016)
Please go to their webpage for more information on this recall.
Get Inspired
Vintage Showroom Grand Opening
Vintage Electric Bikes is inviting everyone to the grand opening of their new showroom in Santa Clara, CA on February 26th.
Eddie Johnson from Vintage said "We will have food, music, and we will be offering test rides and tours of our facility." Here is a video with a look at their new showroom:
And the details:
Sunday February 26: 10am-5pm
1725 De La Cruz Blvd
Santa Clara CA
Facebook event info
World's Biggest Electric Vehicle Rally Appeals to E-bikers
The WAVE Trophy is the world's biggest electric vehicle (EV) Rally and is calling on anyone from the world of e-bikes to join it on the Grand Tour of Switzerland through the Alps in 2017.
Their recent press release stated ' We have reached the maximum number of four wheel EV teams, over 100, registered to take part this year. We are now interested in more ebike riders from any part of the world to come and join the WAVE.'
Ebikes will be available for hire and trophy participants will travel around 1,600 kilometres on a trip billed as including 'palm-lined lake shores to sparkling glaciers, ….medieval villages to buzzing cities' and it will also visit interesting green companies, farms and schools. From 9th to the 17th of June.
Outside Online Gets Behind e-MTBs
Travel writer Aaron Gulley sounds like a real MTB afficionado, so its great to see that he has picked up on the fun element of e-MTBs in his article for Outside Online.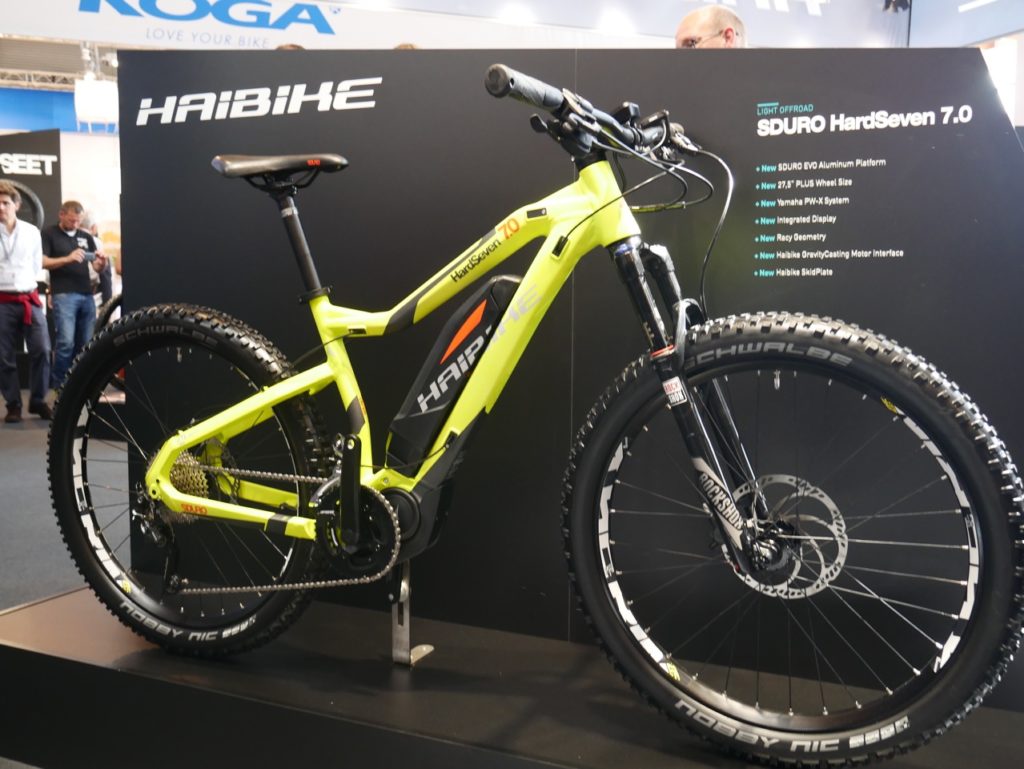 e-MTBs from Haibike, Trek and Specialized are put through their paces and there are interesting comments about e-MTB detractors who get confused between motorbikes and electric bikes and also a plea to sort out the mish-mash of rules on trail access for electric bikes, which varies across states and organisations in the U.S.
Infrastructure
London Quietways Event Promotes E-bikes
'The City of London Corporation is to host a series of events in conjunction with the Green Commute Initiative to promote the launch of quietways to commuters within the City. For each event the participant is provided with an e-bike and gets a guided tour of the quiet ways and particular points of interest within the City' reports.' reports Cycling Industry News.
Quietways are a developing network of routes that use low-traffic roads.
Don't Blame Cycle Lanes for Congestion
This article in the UK's Guardian answers the criticism that the increasing number of high quality cycles lanes in the UK are to blame for traffic congestion.
Quoting Cycling UK's head Paul Tuohy seems the best answer to the critics of safe cycling provision:
'To blame congestion problems on cycling is clearly a nonsense. Just do the math: one lane of a typical road can carry 2,000 cars per hour, or 14,000 cycles. By enabling more people to cycle safely, cycle tracks make highly efficient use of scarce road space. '
Inventor Aims to De-Ice Cycle Lanes
With the rise of segregated cycle lanes comes the problem of how to keep them ice-free. Here's one rather tongue in cheek solution from the UK's Yannick Read!
E-bike Biz
Taipei Cycle Show March 22-25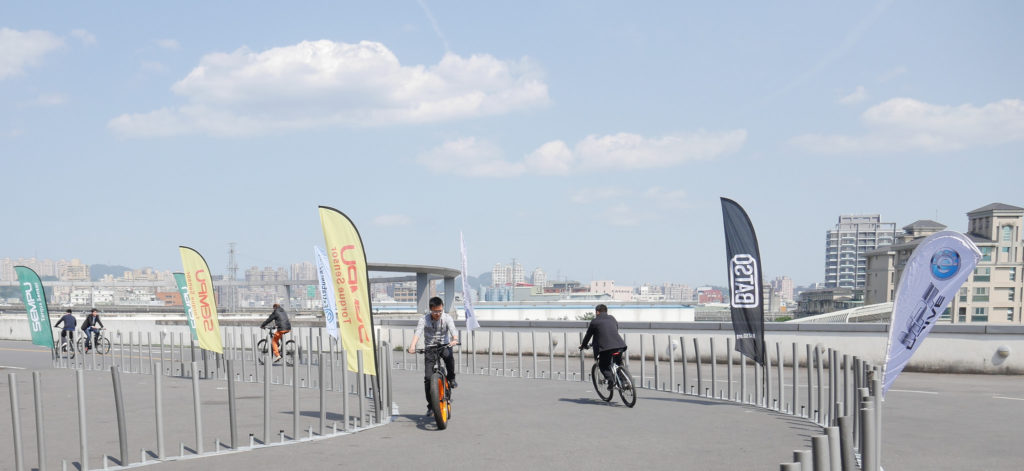 ExtraEnergy will be running their eBike test track that includes a 10 % slope at the Taipei Cycle Show again this year.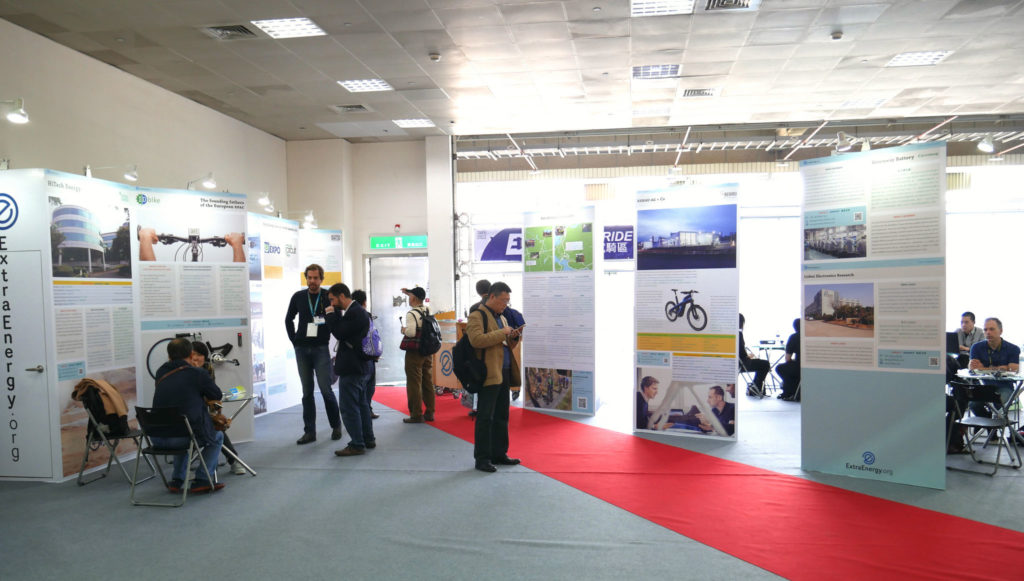 ExtraEnergy will also have their The Special Exhibition that is dedicated to the worldwide presentation of technologies and products in the field of LEV (Light Electric Vehicle) components.
In addition they will be holding The Pedelec Award Ceremony of various pedelec categories.
Contact ExtraEnergy for more information.
Mike Fritz Joins Pedego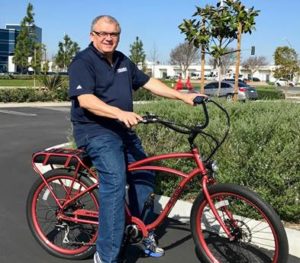 Michael A. Fritz has joined Pedego as director of Engineering and he will oversee engineering, technology and product development as well as consumer support.
Fritz brings more than 40 years of experience in engineering, engineering management and product development, including extensive experience in project management, organizational development and sourcing in the light electric vehicle (LEV) industry.
He has held engineering and engineering management positions at several bike companies including Schwinn, Huffy, Brunswick Bicycles and Pacific Cycles. In 1997, he was recruited by Lee Iacocca to join EV Global Motors as VP Product Development. For the past few years, Fritz ran a technical consulting firm advising numerous foreign and domestic companies in the LEV industry, including Pedego, on ebike technologies.
UK Bikeshops Boosting UK Sales Says Wisper Boss
David Miall of the UK's AMPS bikes has spoken to EBR about the UK market and says they have doubled their production of their own-brand Wisper bikes for 2017 – partly as a consequence of UK bikeshops getting right behind electric bikes.
Whereas in the past Miall says that bikeshops may have taken some convincing about the merits of electric bikes it seems the battle of the ideas and arguments has now been won and bikes will stock and can readily sell e-bikes.
Lightweight Specialist COBOC Expanding
German firm COBOC has recently expanded its premises and the size of its sales division.
The company makes a range of lightweight single speed models.
Insurance for Electric Bike Retail Shops
MMA (Marsh & McLennan Agency LLC) is now offering the same coverage and its partner carriers are now using the same underwriting guidelines for e-bike retail shops as for traditional bike shops.
Stay tuned for more e-bike news & reviews and thanks for reading!
-Richard
P.S. Don't forget to join the Electric Bike Report community for updates from the electric bike world, plus ebike riding and maintenance tips!
Reader Interactions