eBike News: 2018 Trek & Specialized eMTBs, Avionics & Ruffian Super eCruisers, Alaska eMTB, & More! [VIDEOS]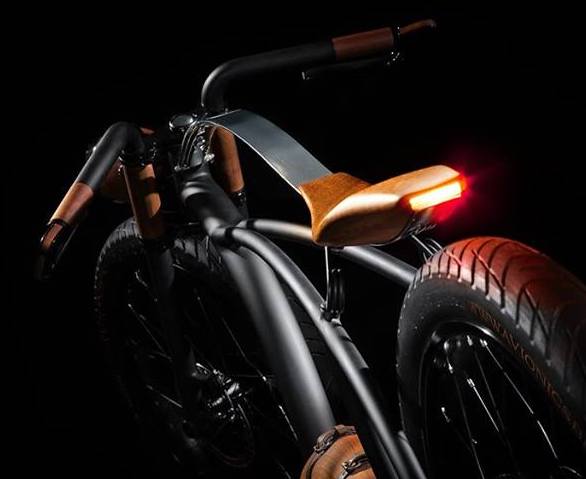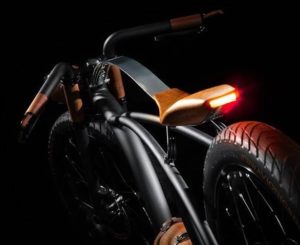 In this week's eBike news roundup:
2018 Trek Powerfly eMTBs
2018 Specialized Levo FSR Carbon
Avionics & Ruffian Super eCruisers
Tern Teases Versatile eBike
Adaptive Athlete Rides Haibike eMTB
Make Money Riding Your eBike
Park City All Electric Bike Share
And more!
New eBikes
2018 Trek Powerfly eMTBs
Trek has launched their new 2018 Powerfly eMTBs that have nice integration of the Bosch battery into the downtube of the frame. They definitely had some fun putting this Powerfly video together!
Here is a look at the new 2018 Powerfly models: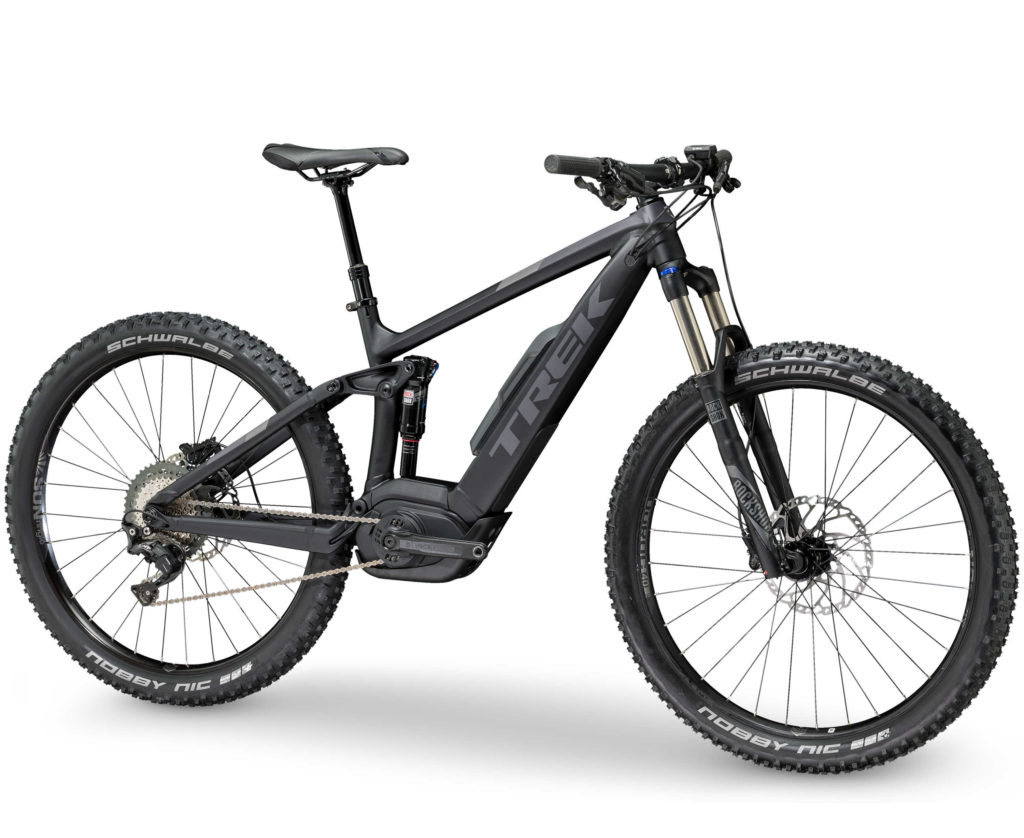 The 2018 Powerfly 7 FS Plus is priced at $4,999 USD. Some of the specs include Bosch CX with Powerpack 500 and Purion display, Rock Shox fork & shock, Shimano XT/SLX components, Schwalbe 27.5″ x 2.8″ plus size tires, Bontrager dropper post, and more.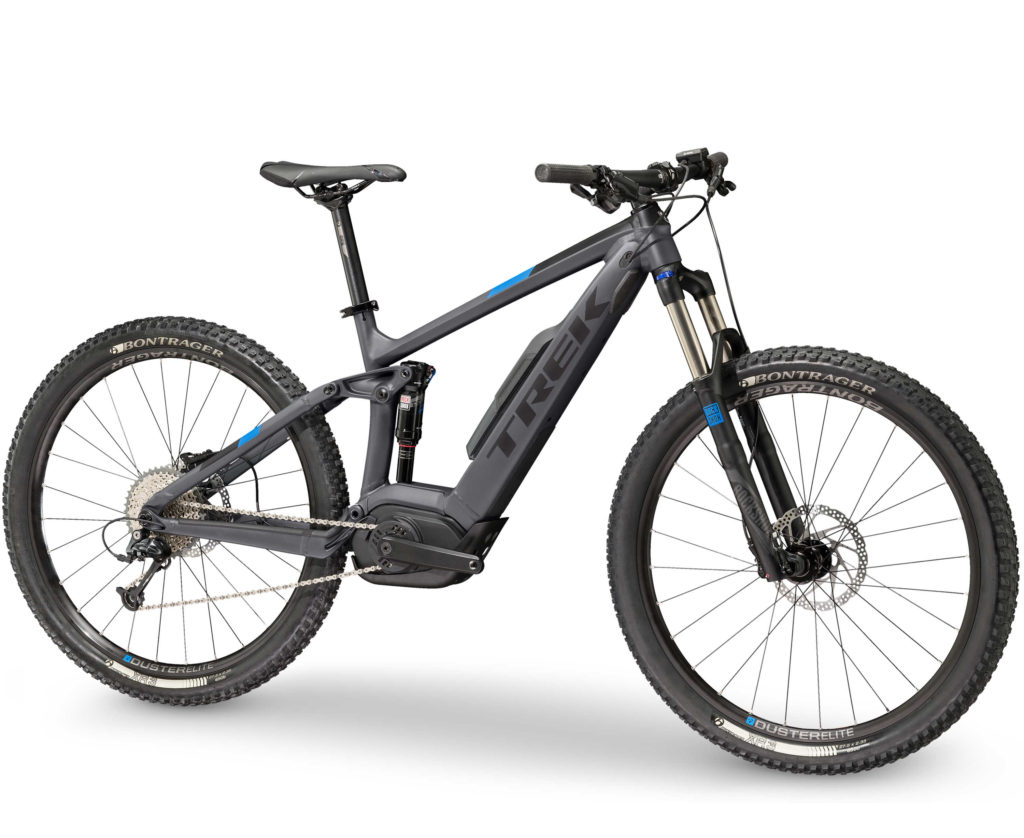 The 2018 Powerfly 5 FS is priced at $4,499 USD. Some of the specs include Bosch CX with Powerpack 500 and Purion display, Rock Shox fork & shock, Shimano Deore components, and more.
The 2018 Powerfly 5 Women's is priced at $3,499 USD. Some of the specs include Bosch CX with Powerpack 500 and Purion display, Rock Shox fork, Shimano Deore components, and more.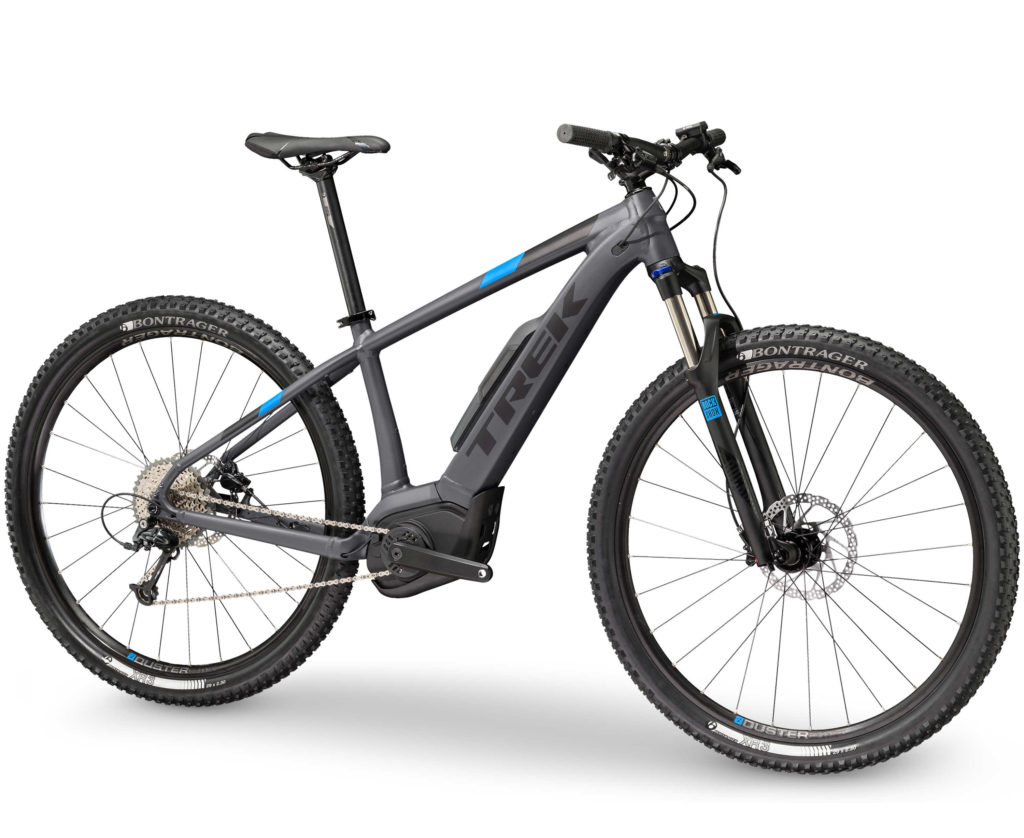 The 2018 Powerfly 5 is priced at $3,499 USD. Some of the specs include Bosch CX with Powerpack 500 and Purion display, Rock Shox fork, Shimano Deore components, and more.
2018 Specialized Turbo Levo FSR Carbon
Specialized has released their new carbon Levo for 2018 and they claim that it has shaved 650 grams (1.4 pounds) off of the frame by going to carbon! Checkout this video with some of the updates:
Specialized has also added 15% more power and a handlebar control pad to the new Levo. Bike Radar has more details on this new eMTB.
Avionics V1
Is it a bird? Is it a plane? Nope, it's a crazy eBike!
Here's a look at some of the Avionics V1 details.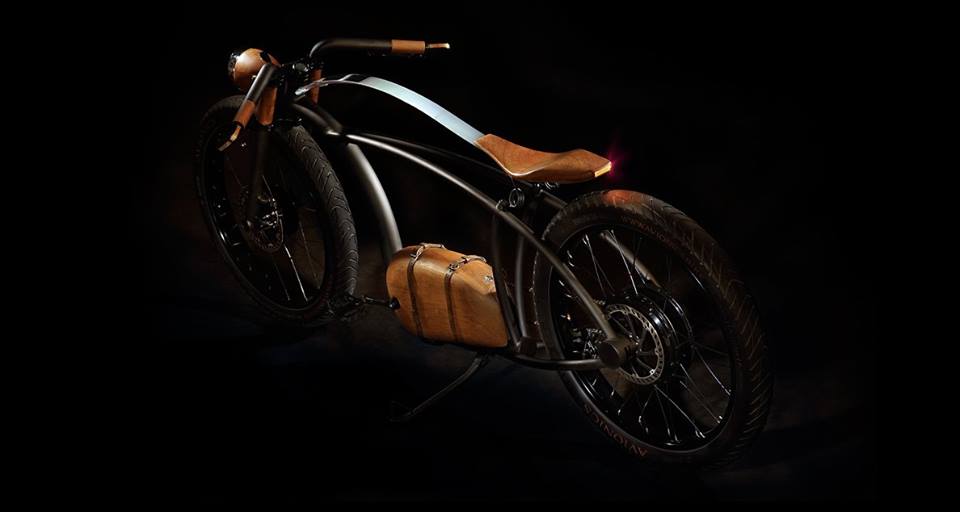 The V1 uses a steel frame with a lot of wood accents in the headlight, battery box, seat, grips, and brake levers.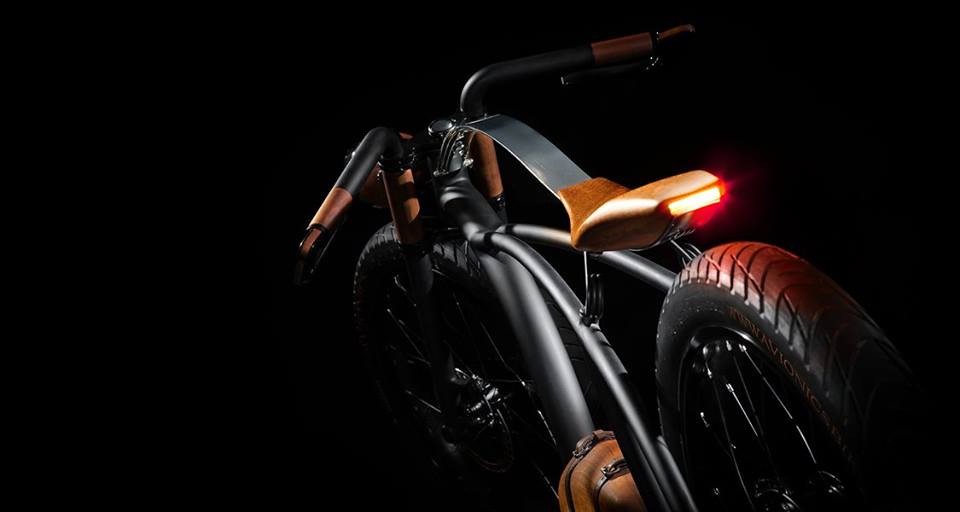 There is a leaf spring that connects to the front of the saddle for a bit of suspension effect and style. A rear light is built into the back of the wood seat.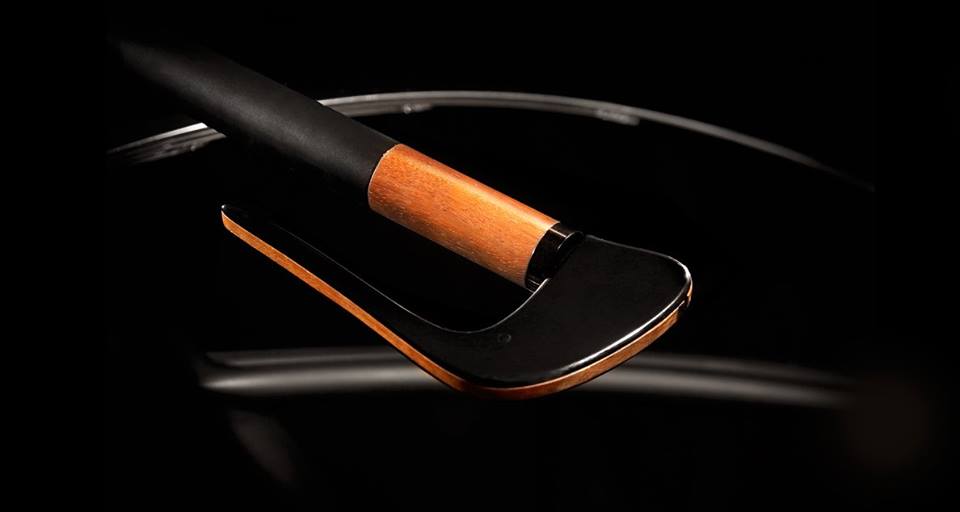 The grips and brake levers have the wood accents and note how the brake levers have a reverse lever action.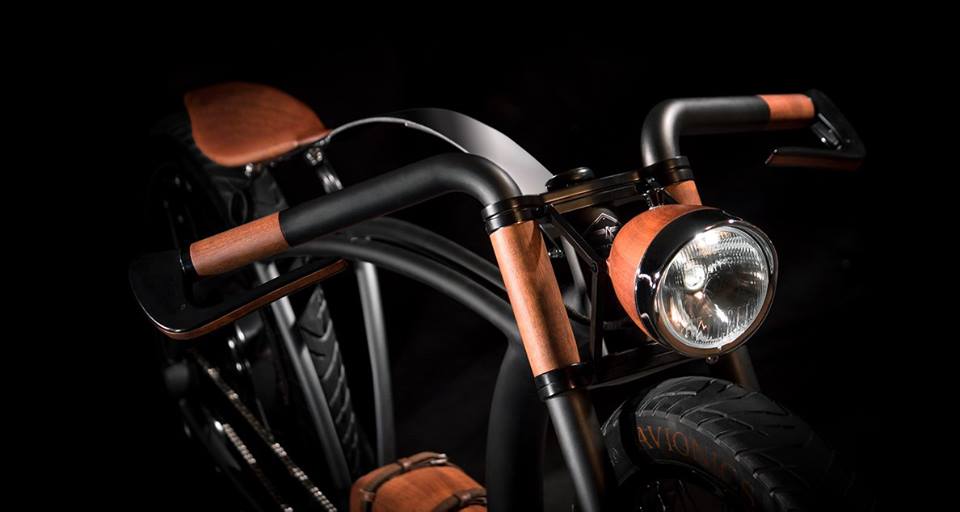 More wood accents on the front.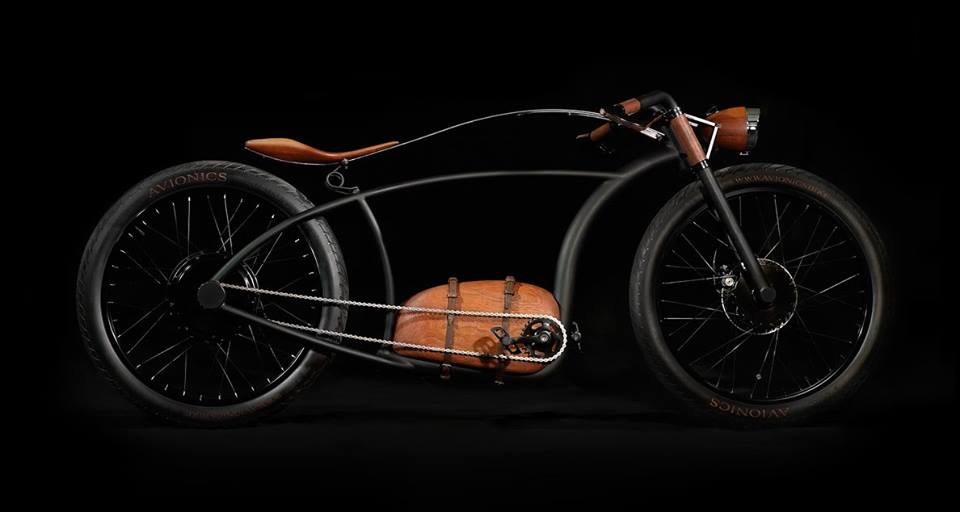 The V1 will have various street modes: 250 watt, 500 watt, and 750 watt.
The "free mode" will peak at 5,000 watts with a top speed of 58 km/h and which makes it illegal as an electric bicycle. It would most likely need to be registered as a moped if the "free mode" were to be used.
Avionics will be launching the V1 in September on IndieGoGo.
The Ruffian
In a similar laid back super cruiser fashion is the Ruffian that has been featured in a previous news post. Here is their latest video:
And here is a link to their site for more on the Ruffian Bosch powered cruiser.
Tern Teasing New Versatile eBike
From the folks at Tern "At Tern, we're pretty good at fitting a lot of bike into a little bit of space. On August 2nd, we're launching a new bike that flips the formula. It fits a lot of stuff onto a little bike: cargo-bike-capacity with a city-bike footprint."
"It's designed to carry two kids, a week's worth of groceries, or 180 kg (almost 400 pounds), but it's only 180 cm (5'11") long—shorter than a Dutch city-bike. Even better, it packs down small and fits anywhere – an SUV, a bus rack, an elevator, or inside your apartment."
Get Inspired
Meet veteran and adaptive athlete Pete Way and his son exploring Alaska on Haibike electric mountain bikes.
"In Alaska the scale of everything is just unbelievable, the emptiness, the openness. My name is Pete Way and I'm retired US Army. I got hurt in Afghanistan and I lost my leg as a result. For a while I wasn't sure I'd ever get my life back. I got introduced to some adaptive sports after losing my leg and started mountain hand-cycling, which is fun in its own right, but there are a lot of places you can't take a three wheel bike that you have to crank with your arms. The power of the e-bike and all the things it can do. I rode it around and was just amazed. I was riding with guys in the shop, riding with my son, keeping up, and after a little adjustment riding the trails just like I used to. It felt pretty natural, it's one of those moments I don't even think about not having a leg." -Pete Way
Pete is riding a Haibike XDURO AllMtn 8.0 and Joe is riding an SDURO AllMtn 6.5.
eBike Share
Park City eBike Share
Park City, Utah has just launched their new electric bike share program that is 100% eBikes. Here is the local NPR radio report and a more details from the local paper. The Park City area has a great network of bike & pedestrian paths that make it a good fit for a bike share program.
eBike Biz
GenZe Partners with Postmates for Local Deliveries
GenZe has partnered with delivery service Postmates to provide local delivery services by eScooter and eBike.
"We know our network of hard-working Postmates are also students, parents, and teachers who lead busy lives," said Vivek Patel, vice president of business operations at Postmates. "By simply making a handful of deliveries a week, each of them will now be able to retain new vehicle solutions for unlimited use in their personal lives, while connecting orders to our customers even faster and earning even more when they're on the platform. And by recognizing a responsibility to take steps to safeguard our planet, these environmentally-friendly transportation options offer a sustainable and clean-energy business solution to minimize our carbon footprint."
Here is more on this collaboration.
Mahindra is the company that owns the GenZe brand and they are planning to double their investment in the US market because they see the future potential of emobility.
Make Money Riding Your eBike
Speaking of the Postmates deal, if you live in a city where they operate you could uses your eBike to get paid to make Postmates deliveries. You can choose when and how many deliveries you make. Postmates states that you can earn up to $25 per hour + tips!
Stay tuned for more e-bike news & reviews and thanks for reading!
-Pete
P.S. Don't forget to join the Electric Bike Report community for updates from the electric bike world, plus ebike riding and maintenance tips.
Reader Interactions