E-Bike News: Portable Solar Charger, New Stealth E-Bikes, NYC Ban, & More [VIDEO]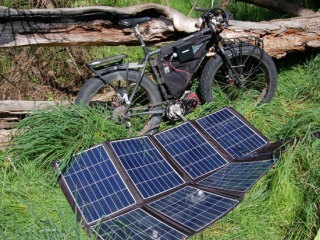 Checkout this 
portable solar charging
 solution from EcoSpeed!  It can plug directly into their batteries with a custom converter.
The panels are not cheap but it is exciting to think about the possibility of solar charging while out and about.  It could add a new dimension to e-bike touring.
May is national bike month in the US. KTLA in Los Angeles had this video coverage of e-bikes with Ethan from the IZIP Store in Santa Monica. There is a woman in the video who sold her car and now uses an e-bike instead 🙂
The 2013 US Bicycle Friendly States rankings are out.  See how your state ranked.
Stealth Electric Bikes has announced new improvements to their e-bikes like regenerative braking, DuraRazorback tires, Magura MT2 Brakes and DNM suspension standard.
Men's Journal (a very large publication) rides and reviews the new innovative eFlow E3 Nitro electric bike.  Here is my full eFlow electric bike review.
Earth Techling covers the new OHM XU450 with the new SRAM E-Matic kit and Gates Carbon belt drive.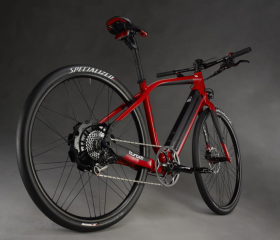 Wired reviews
the Specialized Turbo that was recently released in the US.
Checkout the new electric bikes from A2B, speeds up to 28 mph and stated ranges of up to 40 miles.
Understanding Electric Bike Modes: Throttle vs. Pedal Assist (Pedelec). Which one is best for you?
More on the ban of electric bikes in New York City…….
And here is a good response to the e-bike situation in NYC.
The Chicago Tribune put together this article about the growing popularity of electric bikes.
Yes, there is an Electric Bike World Championships!  It will be held in Bristol England June 23.
Here is a review of the high performance Ferei LED bike lights that I have used for the last few months.
Electric bikes are great for food delivery.  The Other Coast Café uses an OHM e-bike to deliver their tasty sandwiches in the steep Capital Hill neighborhood of Seattle.
That's it for now.  Stay tuned for more e-bike news and reviews!
-Pete
P.S. Don't forget to join the Electric Bike Report community for updates from the electric bike world, plus ebike riding and maintenance tips!
Reader Interactions