E-Bike News: 6,000 Mile E-Bike Trip, New E-Bikes, Rim Motor, New Mid Drive, & More! [VIDEOS & PICS]
It's time for an electric bike news round up!
How about a 6,000 mile electric bike tour to break the Guinness Record for the longest e-bike trip? And try doing that with your family!
Tomas Cortijo and Dylan Drake and their kids are currently on an e-bike tour from Montana to Maine and then down to Florida. Here is a news story about them and more info on their Kickstarter page.
Rhonda Martin lost 277 pounds by beginning an exercise routine with her Pedego Electric Bike. She had gone from barely being able to walk 150 steps at a time to now being a triathlete. "With my Pedego, I began a journey to a new shape and a new life."
On November 3rd and 4th the University of Tennessee's LEVER (Light Electric Vehicle Education + Research Center) is hosting a workshop on LEV regulation, research, and outreach.  There is no registration fee for the workshop.  Find out more about the workshop here.
CBS News recently featured the Copenhagen Wheel in this video segment: "Smart bike wheel could change transportation's future."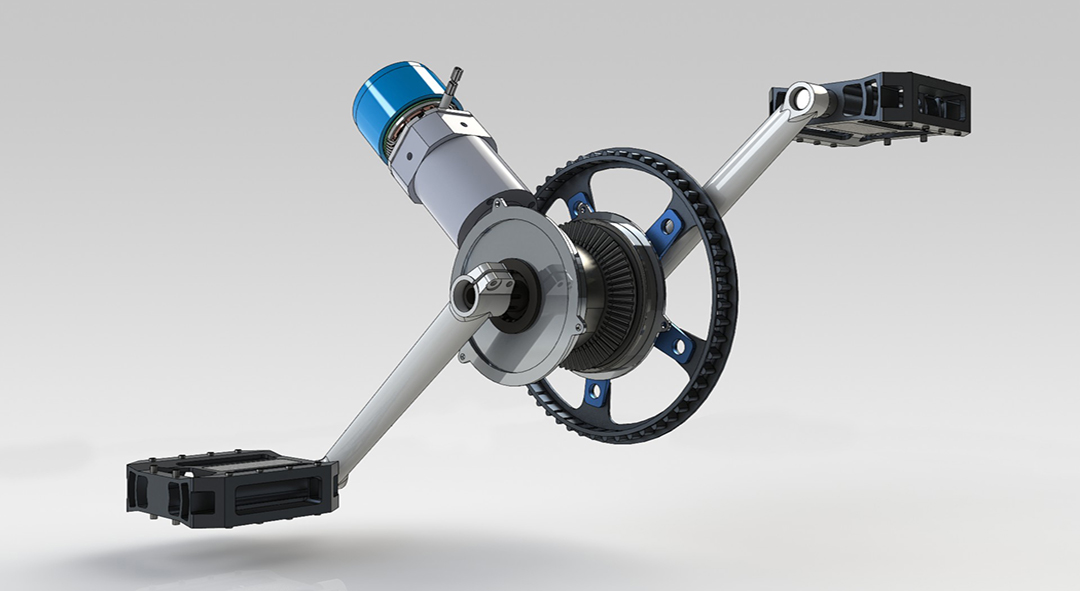 This is a new mid drive system from FreeFlow Technologies.
And here is a video of the FreeFlow system for their Angels Den fund raising campaign.
This is a new concept. What if the rim of the bike is used as the rotor of the motor? That is what the folks at Lightweight have done with their Velocite electric bike.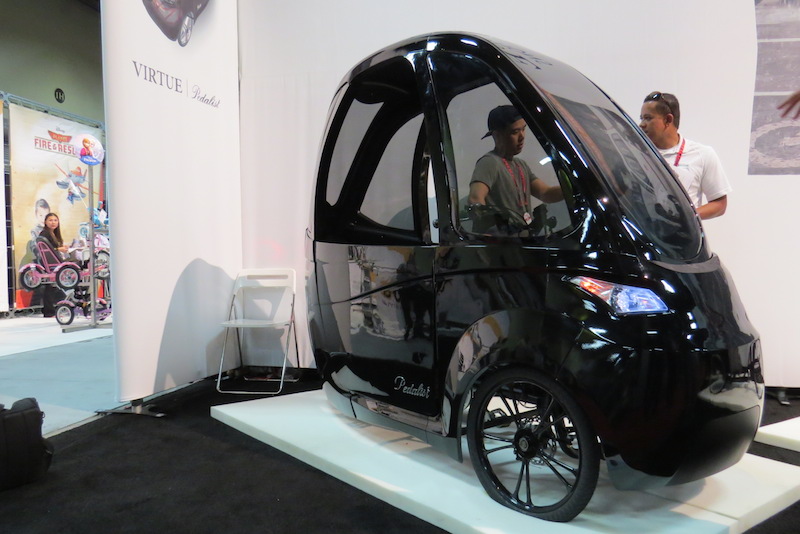 Checkout the Virtue Pedalist semi-enclosed electric trike!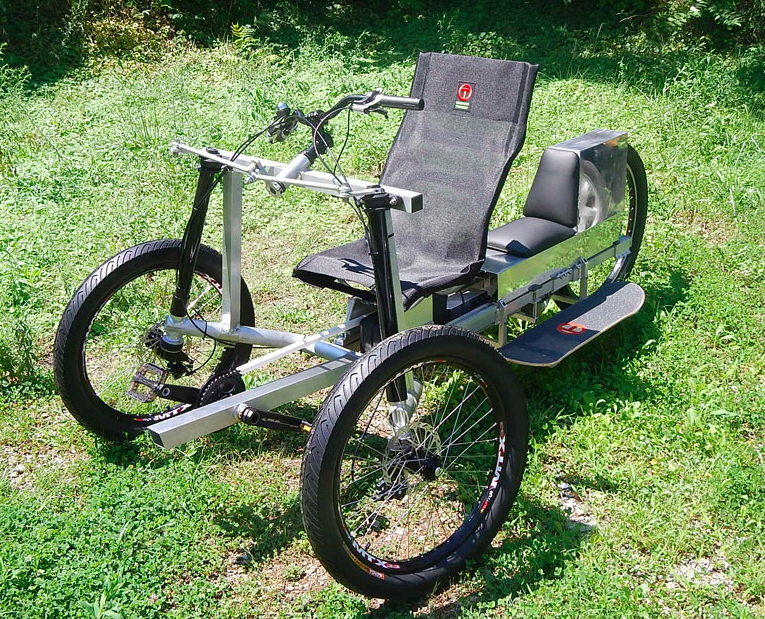 Organic Transit is well know for their semi enclosed Elf. Above is the Naked Elf. I like how they incorporated skateboard decks for the passenger foot rests!
Speaking of enclosed e-trikes, here is the Toyota i-ROAD. There is no pedal option with the i-ROAD, but it is an interesting look at the future of electric mobility.
What do you think of the color scheme on the new Polaris Diesel DL818? This is a 750 watt e-mtb that is priced at $3,999.
Here is a "fat" electric cargo bike from Madboy Electric Vehicles. This a prototype that they showed off at Interbike. Production is planned for this winter.
It's time to celebrate! This is a Metrofiets e-beer bike with the EcoSpeed mid drive system. EcoSpeed successfully exceeded their Kickstarter goal and they will be producing new units for their KS funders.
Electric bikes have been getting some mainstream media coverage lately. The LA Times writes about how electric bikes are a hit at Interbike and the Ford e-bike by Pedego. The BBC covers the high tech Mando Footloose series hybrid e-bike. The Wall Street Journal covers the electric mountain bikes on trails debate.
EBIKE MAPS is a an online trip simulator for electric bikes. Based on the information that you input, the EBIKE MAPS can estimate your battery amount used, travel time and more for ride routes that you are considering.
The title of this article is great. Electric Bikes: Gateway Drug to Bike Commuting? It comes from a blog called Mr. Money Mustache that is about early retirement and making the most of your money.
Liz Canning is the producer/director of the cargo bike documentary called Less Car, More Go and she was interviewed on Momentum Mag about her experiences with using her e-cargo bike with her 2 sons.
The VelocityClip is a universal smartphone action mount that can be used for capturing video, or for using navigation/bike smartphone apps. There are a number of clip mount options: handlebar, chest, helmet, pole monopod, suction cup, headband, and adhesive mount. I will have a review of the VelocityClip system coming soon.
Checkout this video of the Seatylock; it is a lock built into the seat so that you always have a lock with you. More info at their Kickstarter page.
That's if for now.
Stay tuned for more electric bike news.
P.S. Don't forget to join the Electric Bike Report community for updates from the electric bike world, plus ebike riding and maintenance tips!
Reader Interactions