Wild & Crazy Custom Electric Bikes at the N.A. Handmade Bike Show [VIDEO]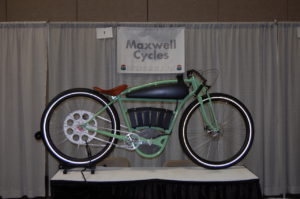 Innovative and very creative eBikes were on display at the 2017 North American Handmade Bicycle Show that recently wrapped up in Salt Lake City, Utah.
Frame materials ranged from the traditional steel, aluminium, and titanium to the exotic bamboo and wood bike frames!
The eBike types ranged from elegant commuters, gravel grinder, board track racer, sturdy touring rig, and high-power off road machine.
Thanks to Andy McKerrow from Efficient Velo Tools for most of these pictures!
Bamboo eBike from Calfee Design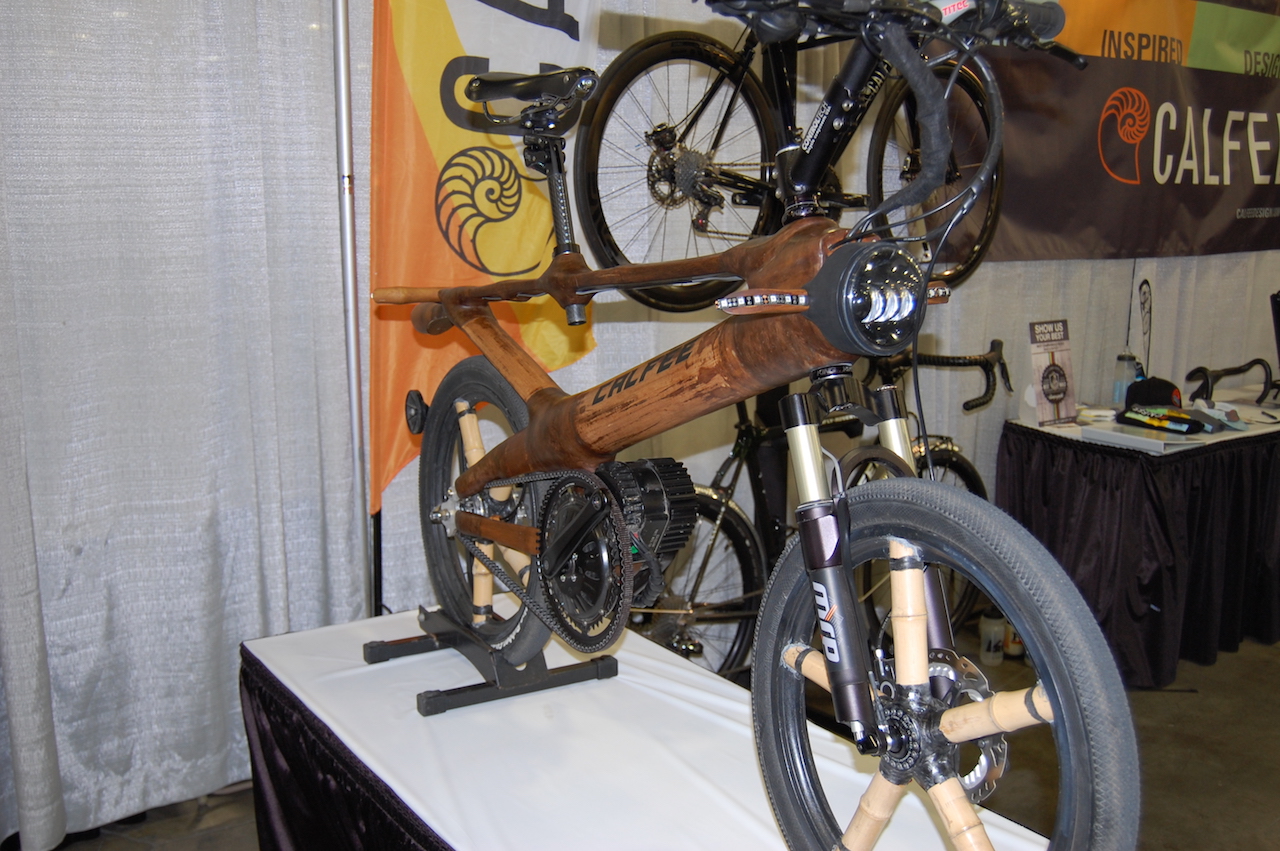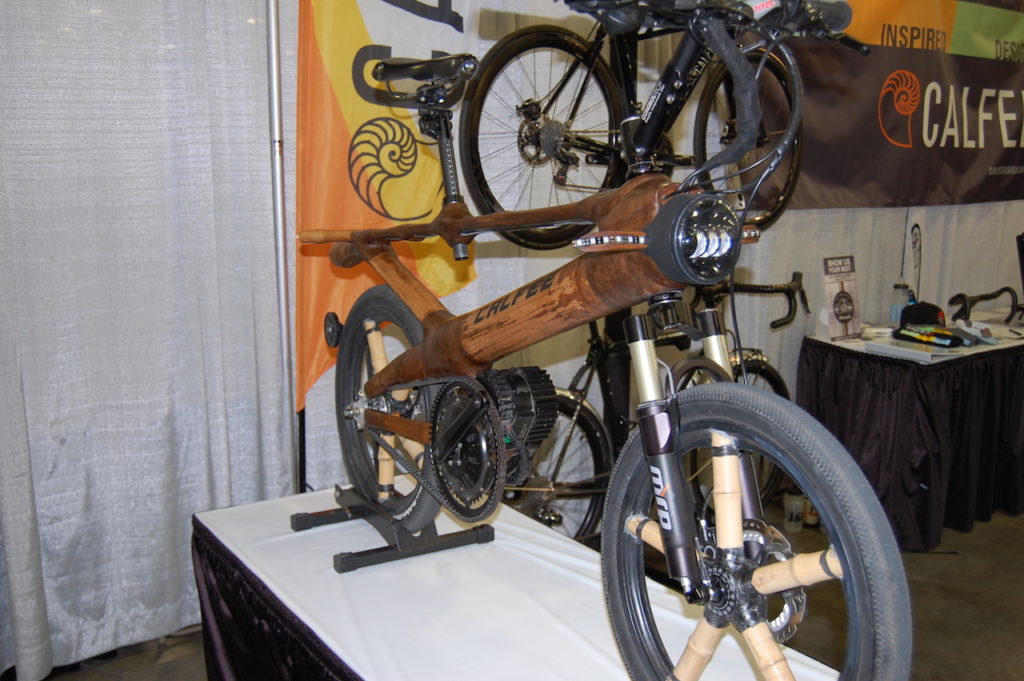 The innovative Calfee Design highlighted the show with this eBike made with a lot of bamboo! The frame has a very interesting boom tube and top tube design.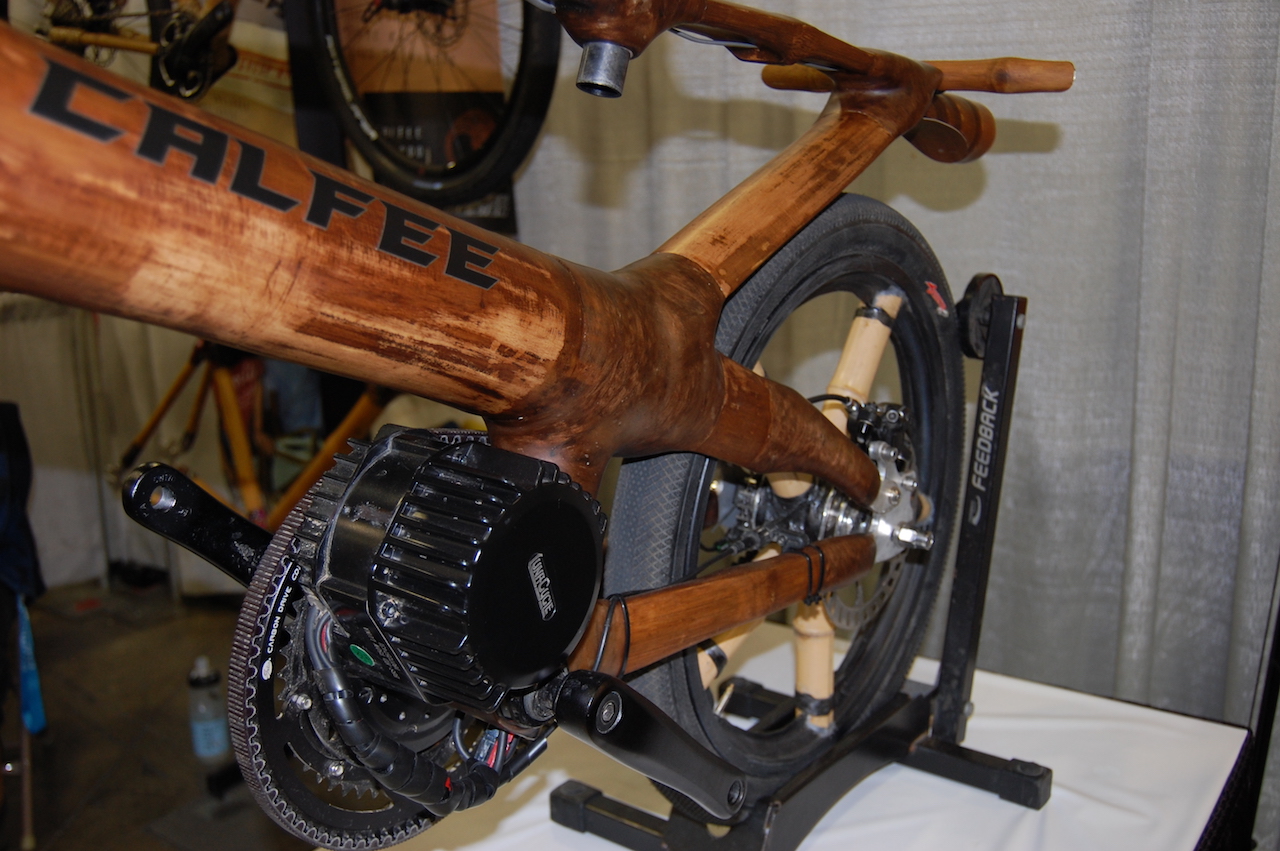 A Bafang mid drive with 1,500 watts of power and a 54-volt 980 watt hour battery is used to power this eBike up to 40 mph. This is not a conventional electric bicycle, a bit more like a moped.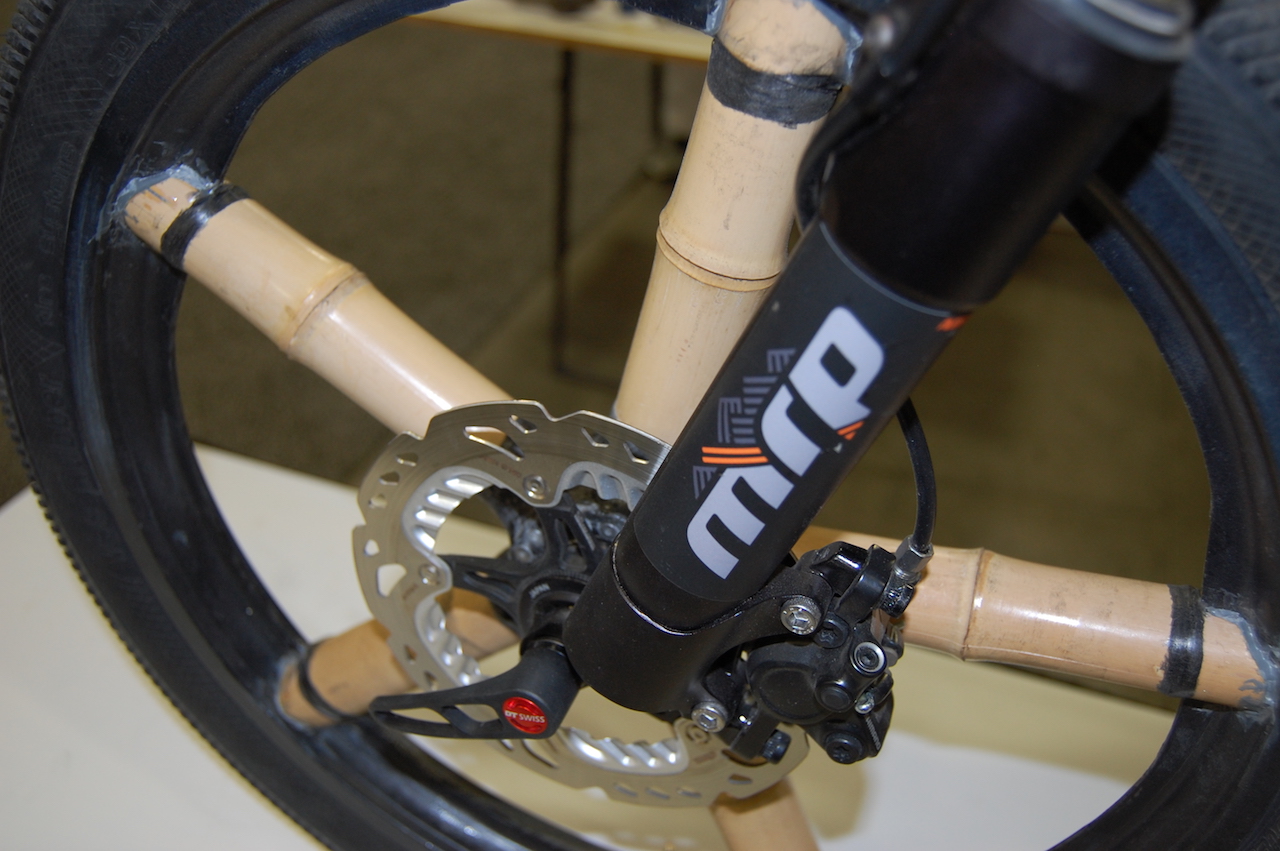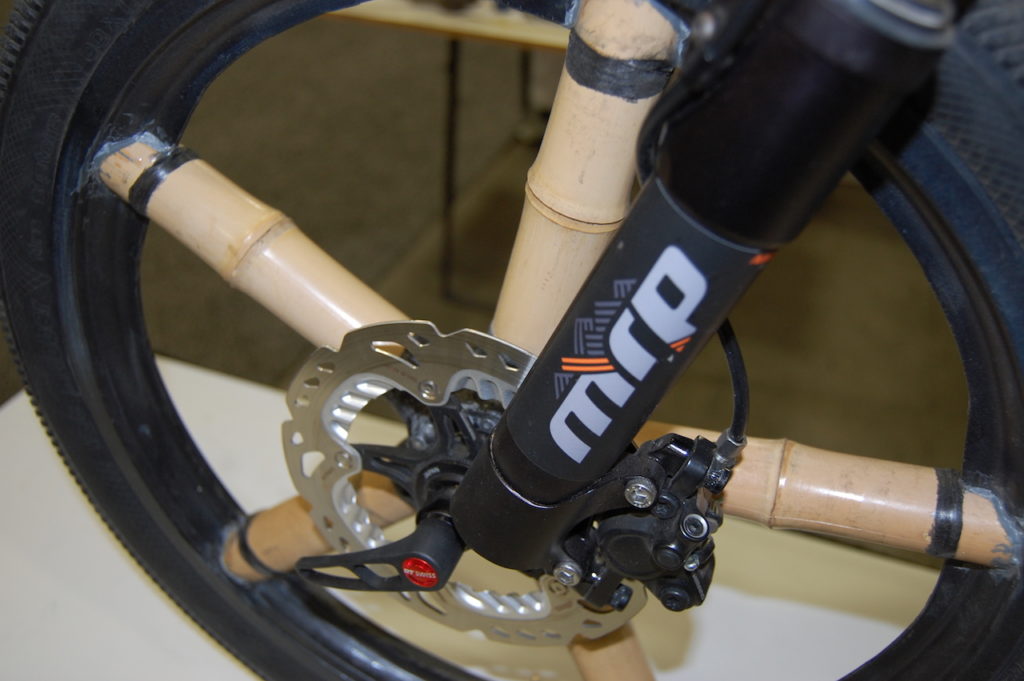 The bamboo theme is continued in the design with the spokes of the 20″ wheels! The front wheel has a dynamo hub to power an LED light system.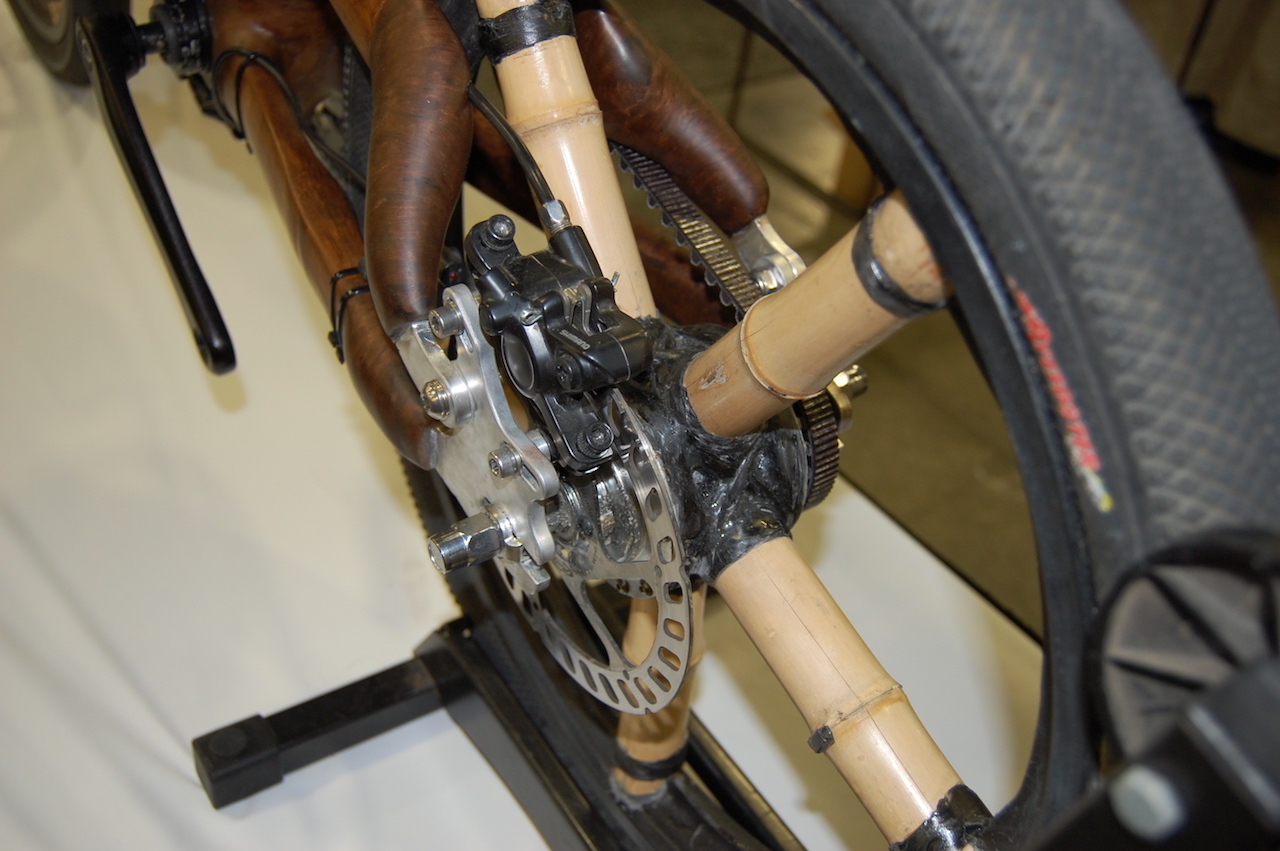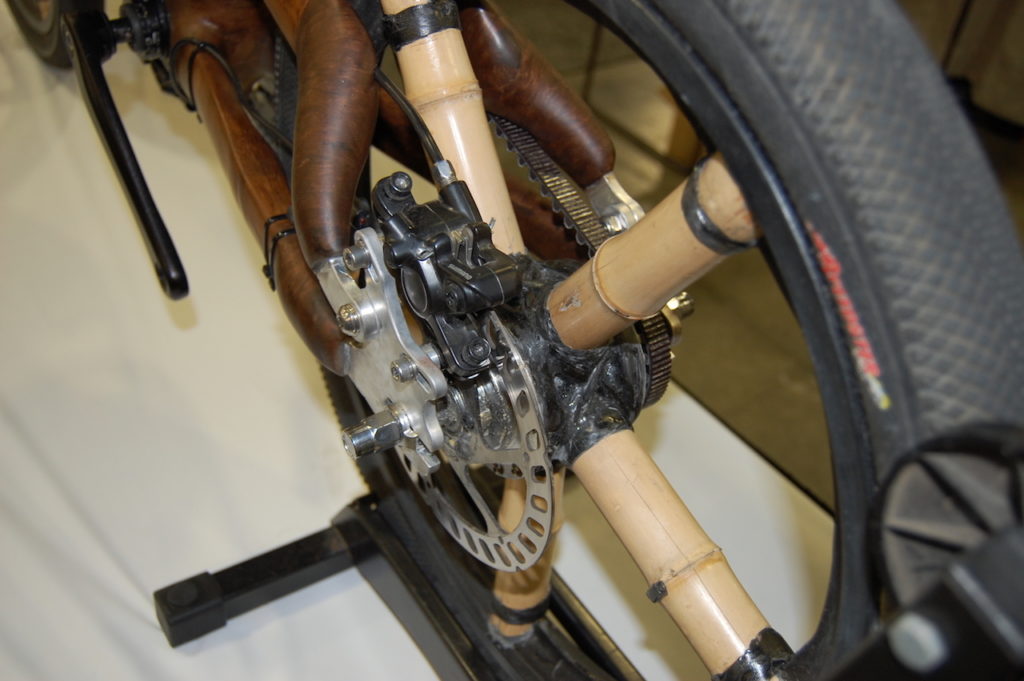 A Gates Carbon belt drive transmits the power back to the Sturmey Archer internally geared rear hub. Shimano hydraulic disc brakes provide the stopping power.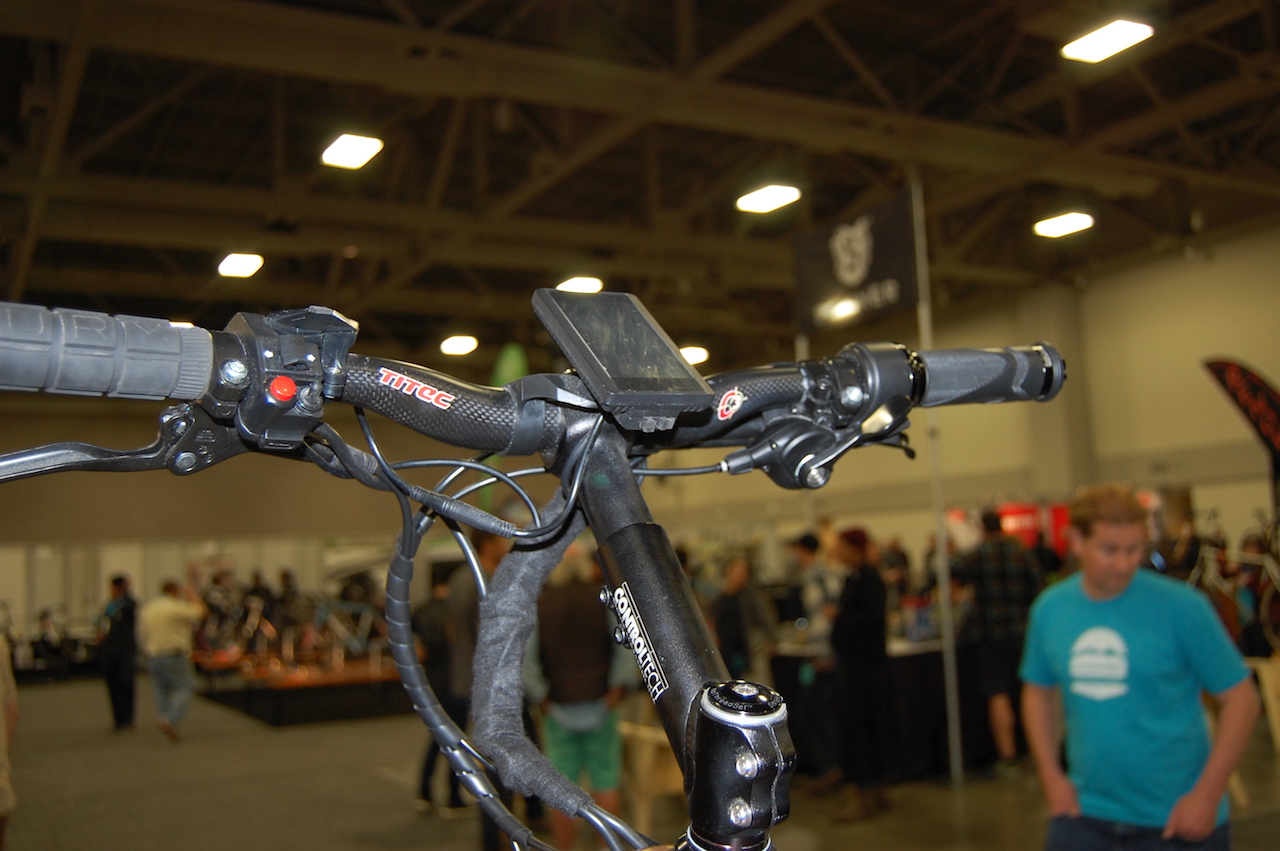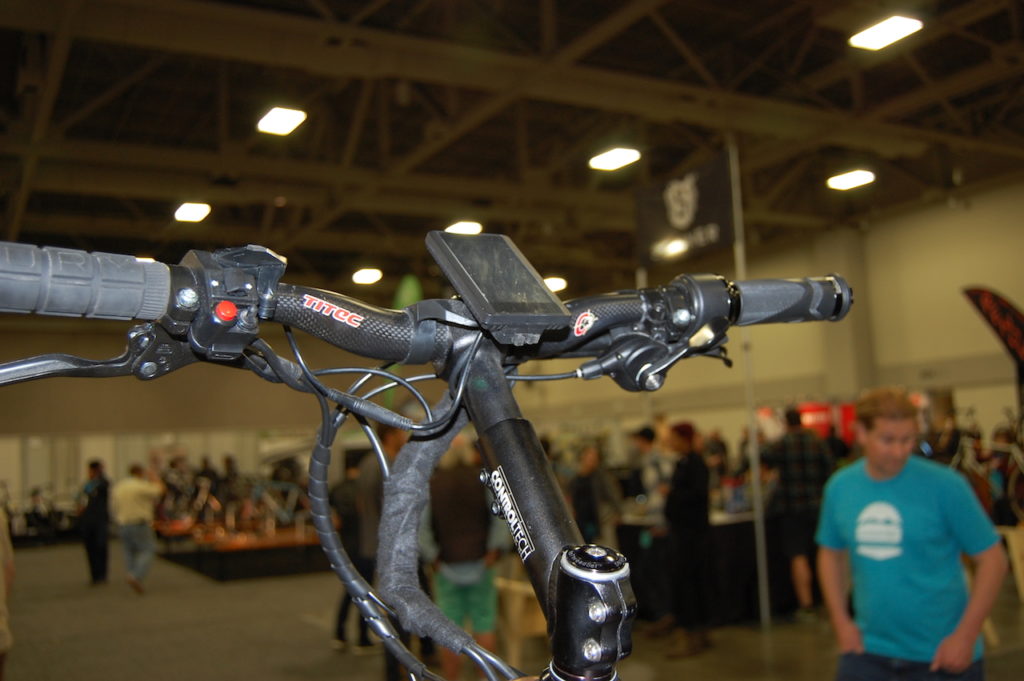 And a look at the handlebar control area.
Titanium Speed Pedelec Gravel Grinder Schwift SchweeTi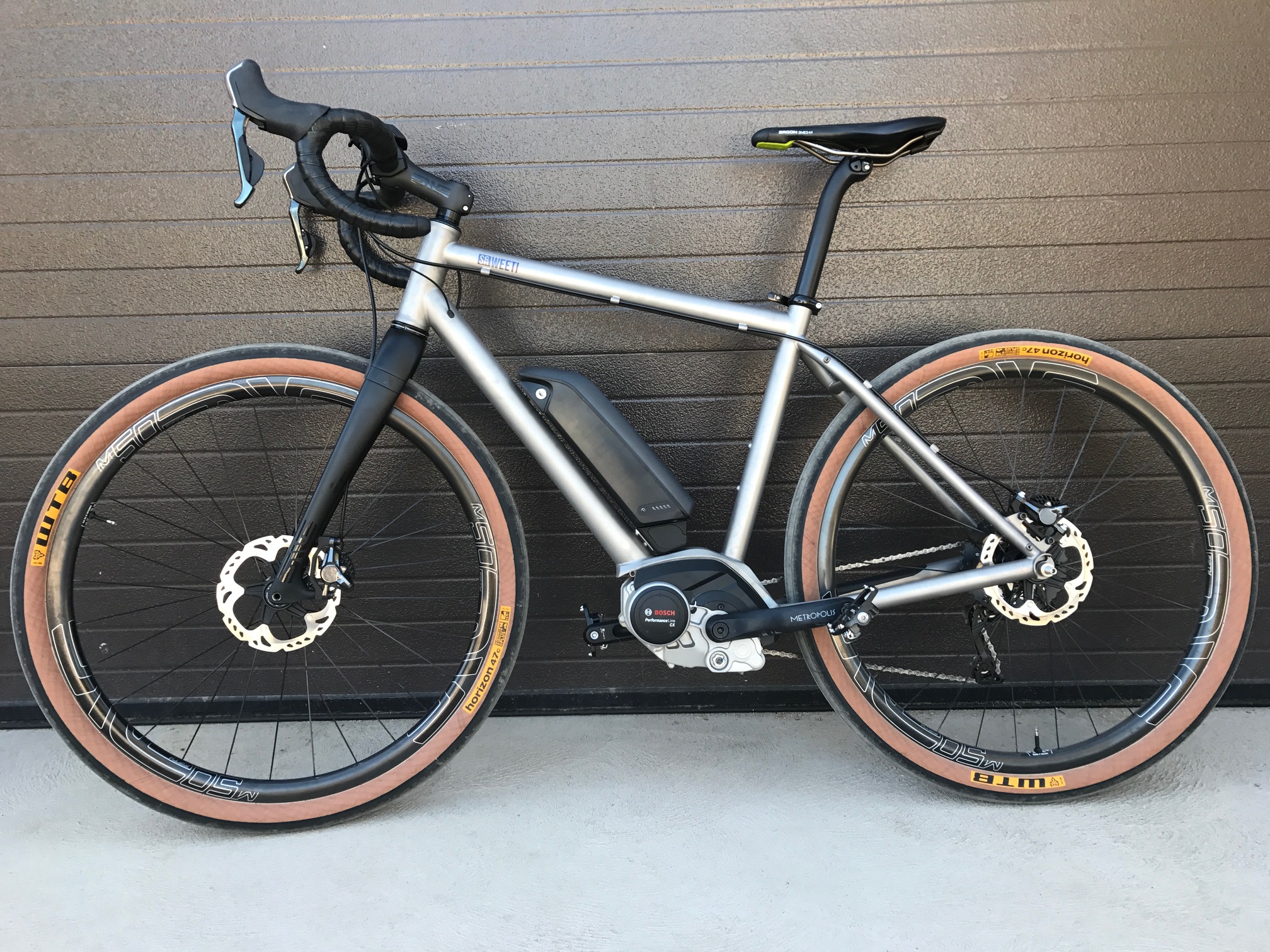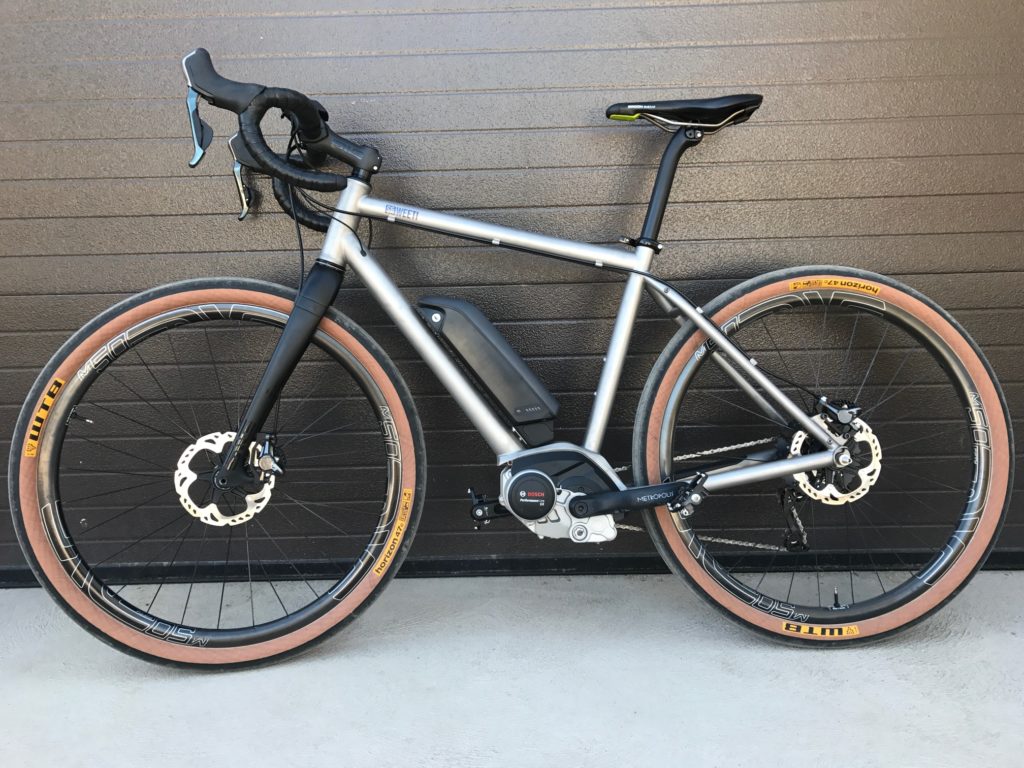 Titanium has always been a coveted frame material because of its relatively lightweight and "springy" attributes. It has a similar lively feel to steel frames but with less weight and slightly more shock absorbing properties. And it just looks cool!
Schwift Cycles was at the show to debut their latest creation, the SchweeTi, which is a gravel grinder speed pedelec with some very interesting features.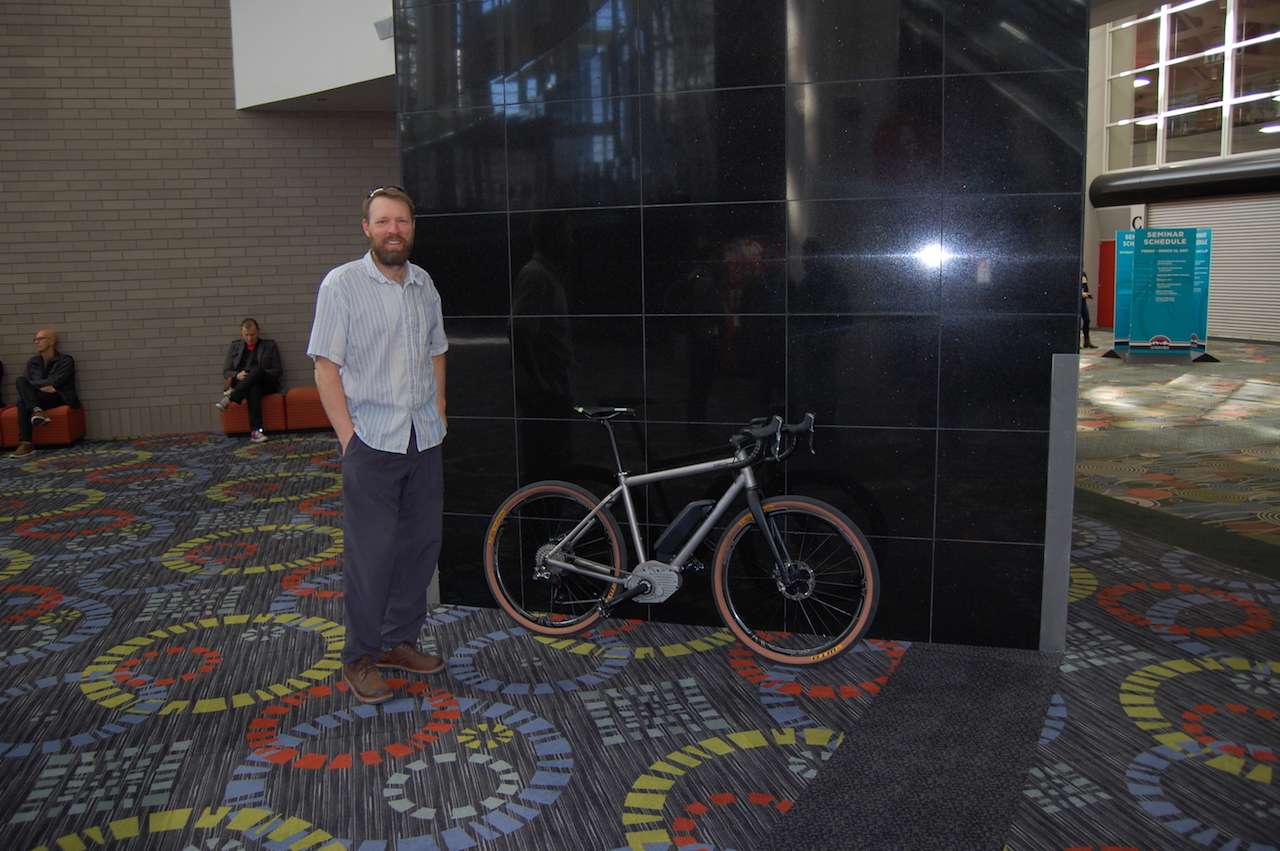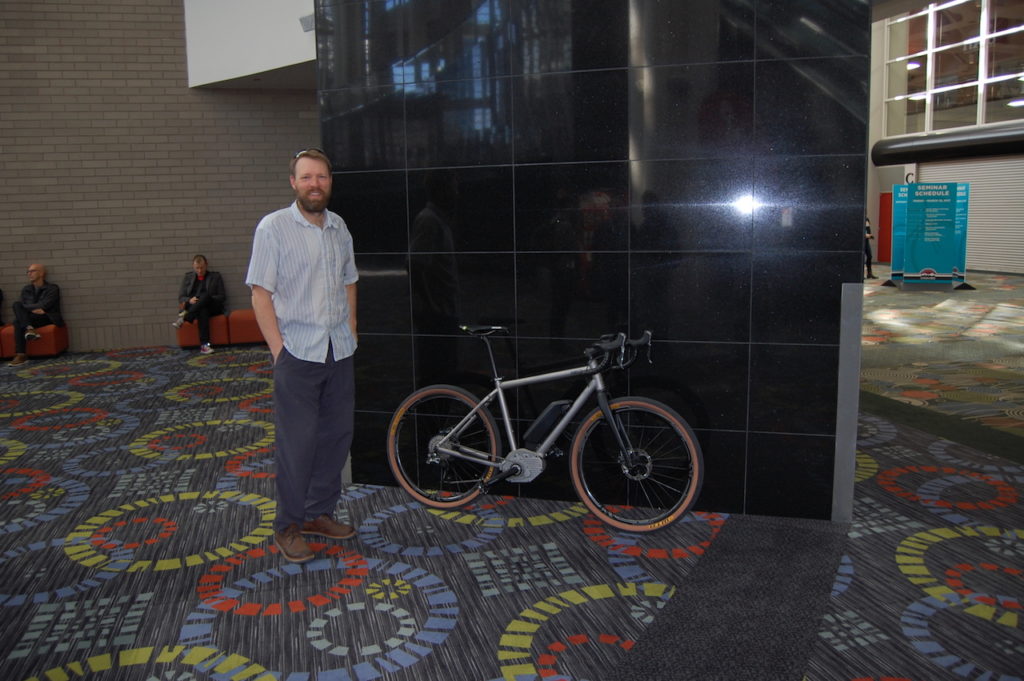 Zach Krapfl is a longtime bicycle designer (Felt Electric & others) and Schwift Cycles is one of his latest projects.
Here is Zach's description of the SchweeTi, "We created a titanium road bike called the Schwift SchweeTi with drop bars, Bosch Performance Speed system to 28 MPH, 500Wh battery, custom laser engraved head tube, laser engraved TT, 3d printed titanium motor node, hidden internal speed sensor, and a Shimano Di2 drive train."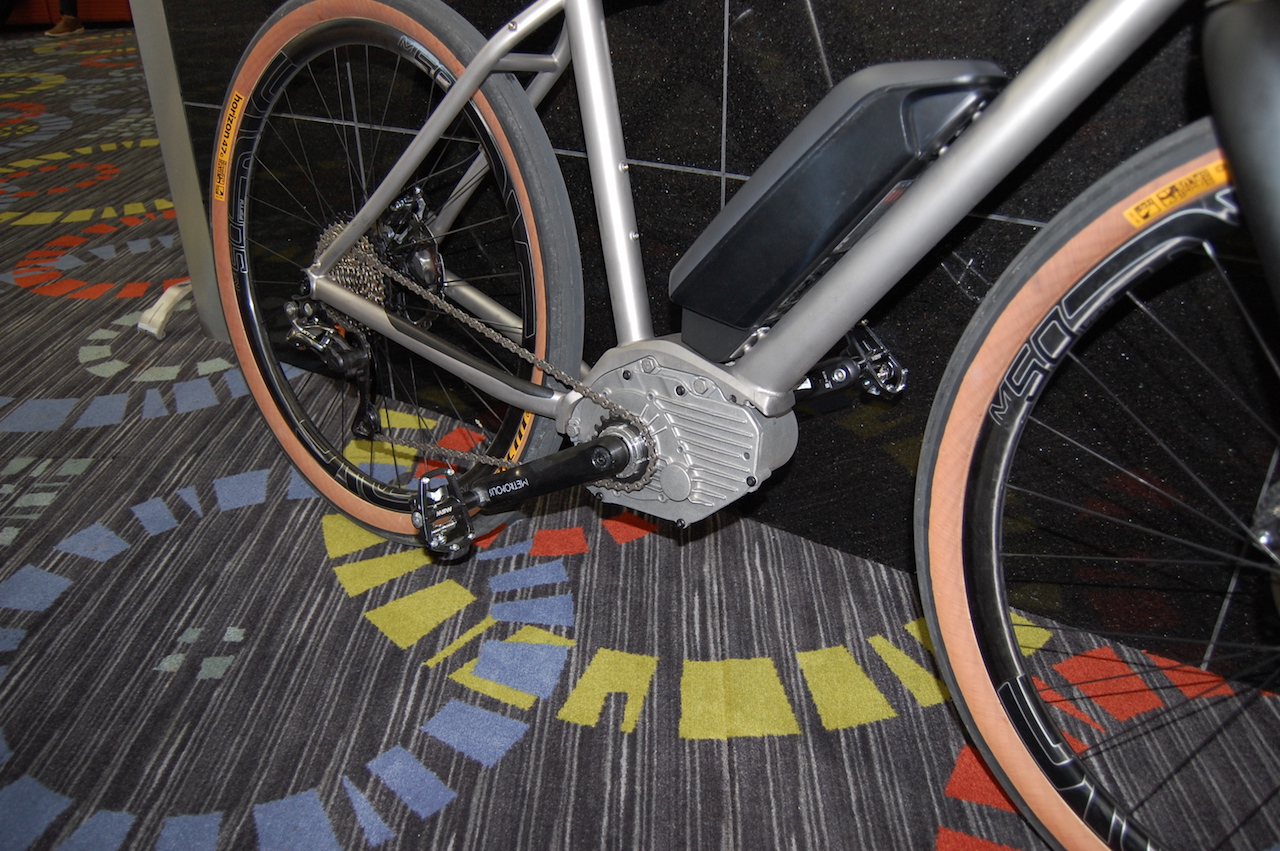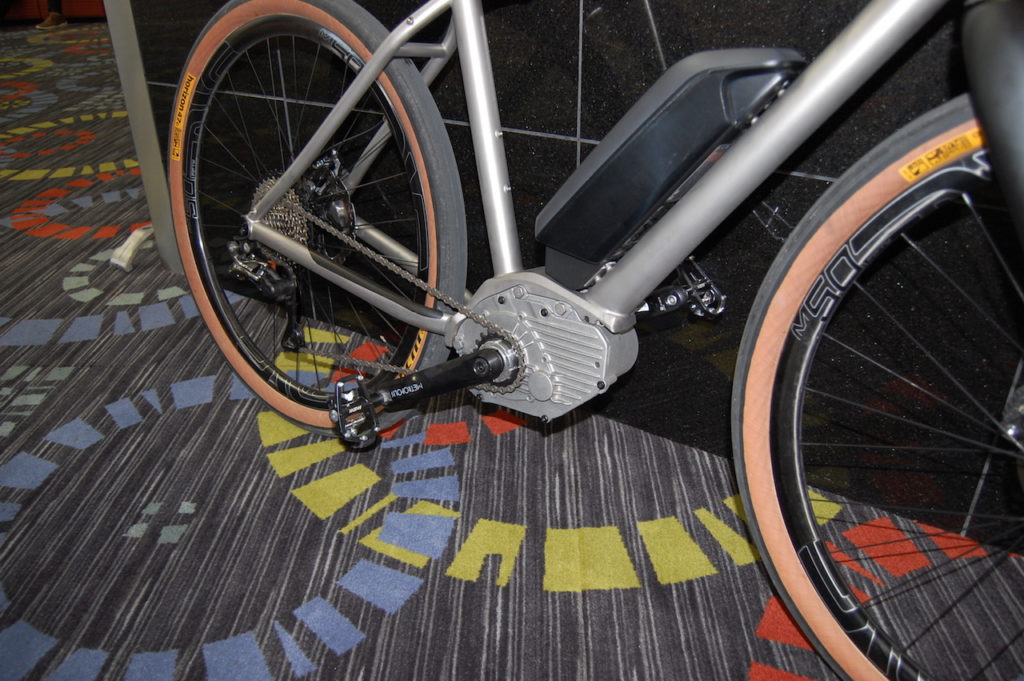 A look at the raw Bosch Performance Speed system that provides assist up to 28 mph and the Bosch PowerPack 500 watt hour battery.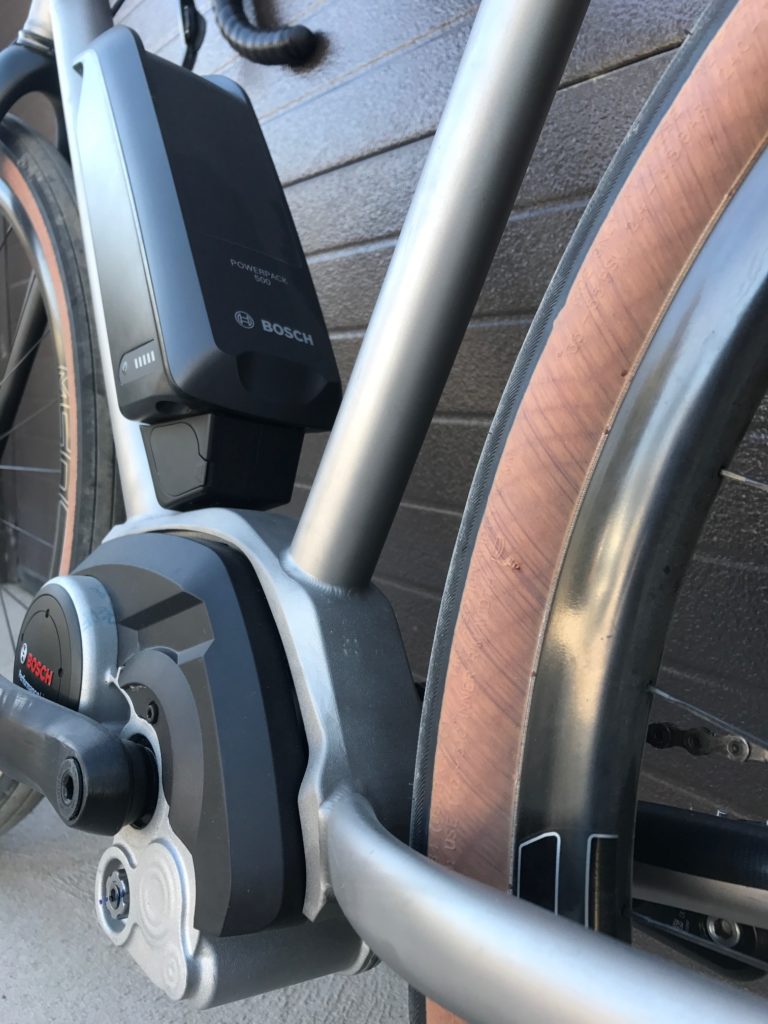 The Bosch mid-drive motor is mounted to a 3d printed titanium motor node.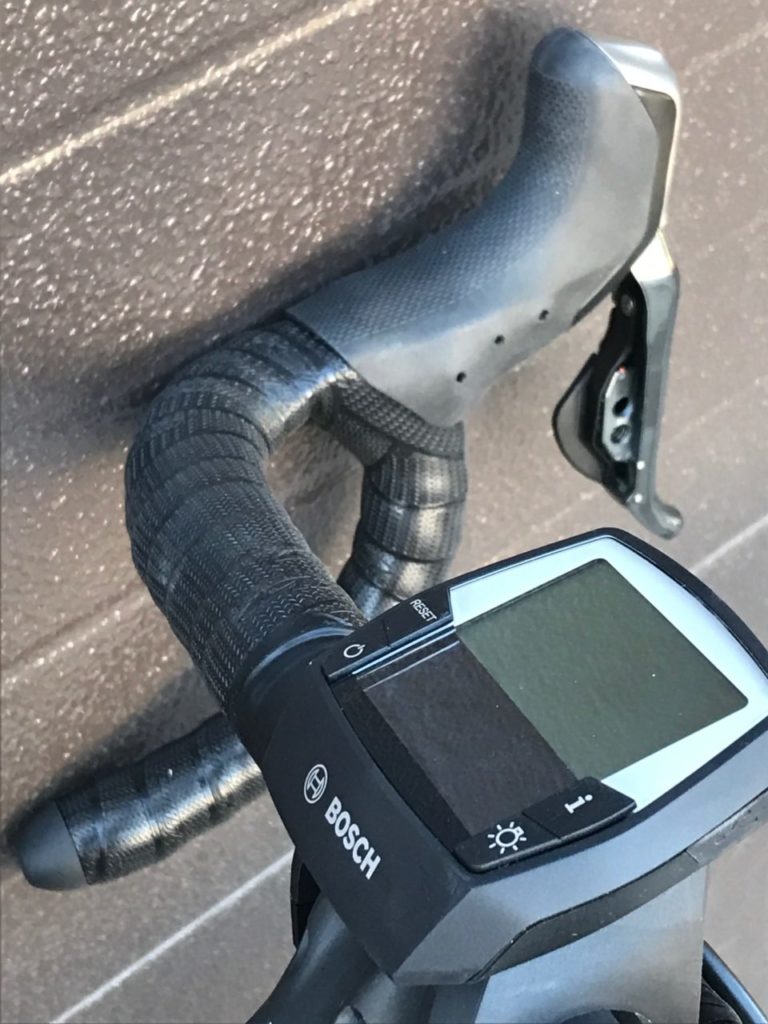 "We also have removed the standard Bosch controller for +/- and info and added it under the hood of the left Shimano shifter to keep things nice and clean."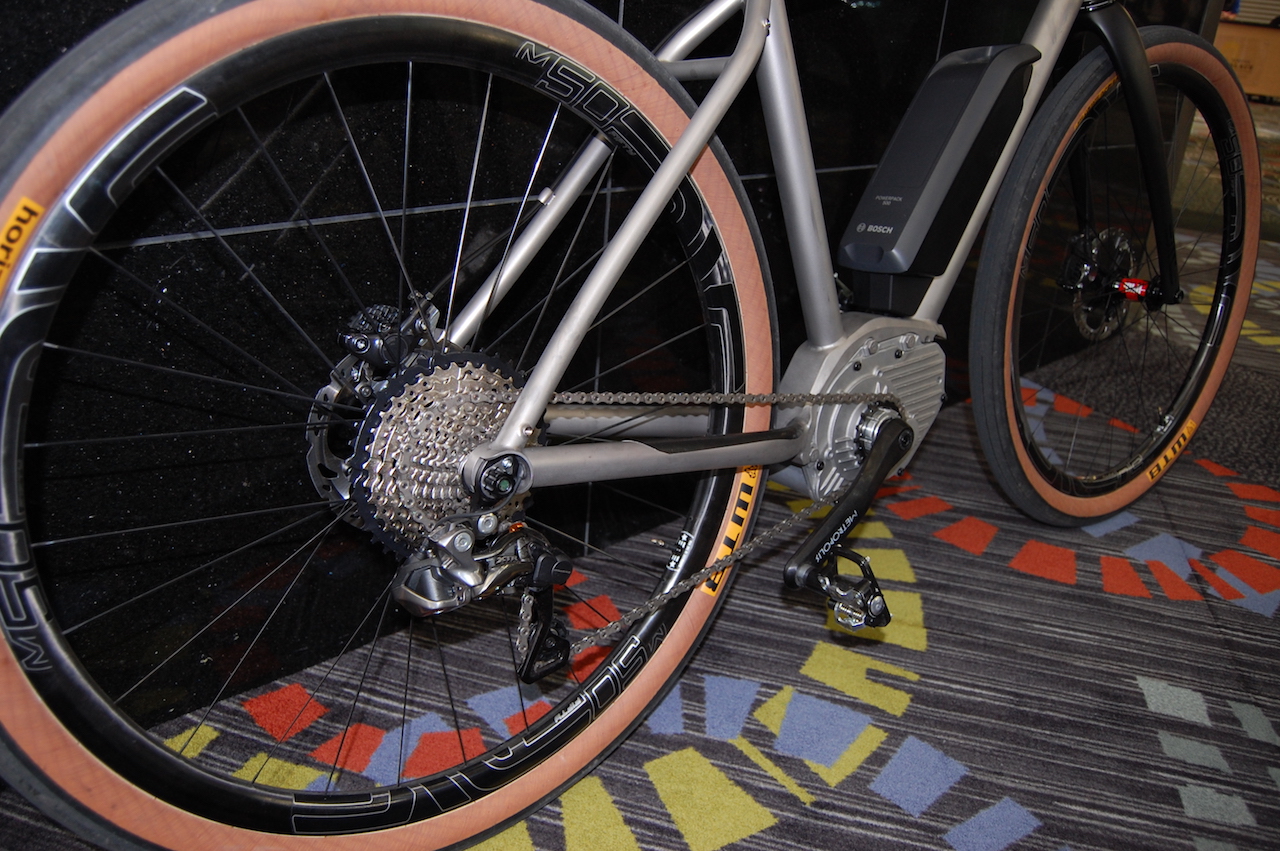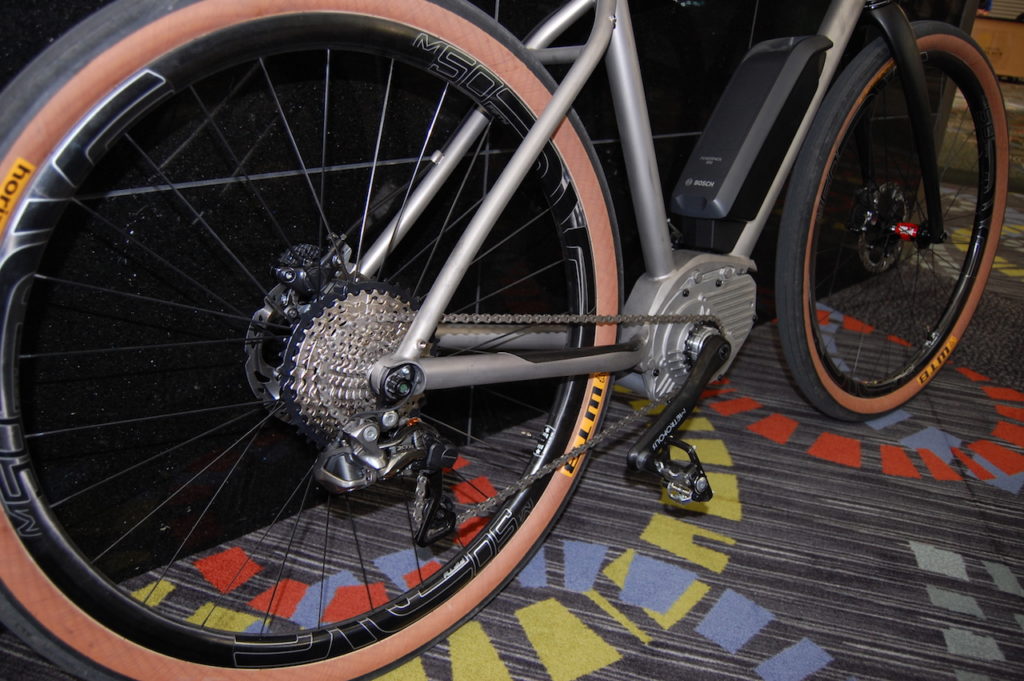 The Shimano Di2 XTR rear derailleur has electronic shifting. Zach said "We used ENVE composits for bar, stem, seat post and wheels (Road plus with WTB Horizon tires) to keep things nimble and fast, and the overall weight came out to an industry leading 36.1 pounds (16.39kg)!"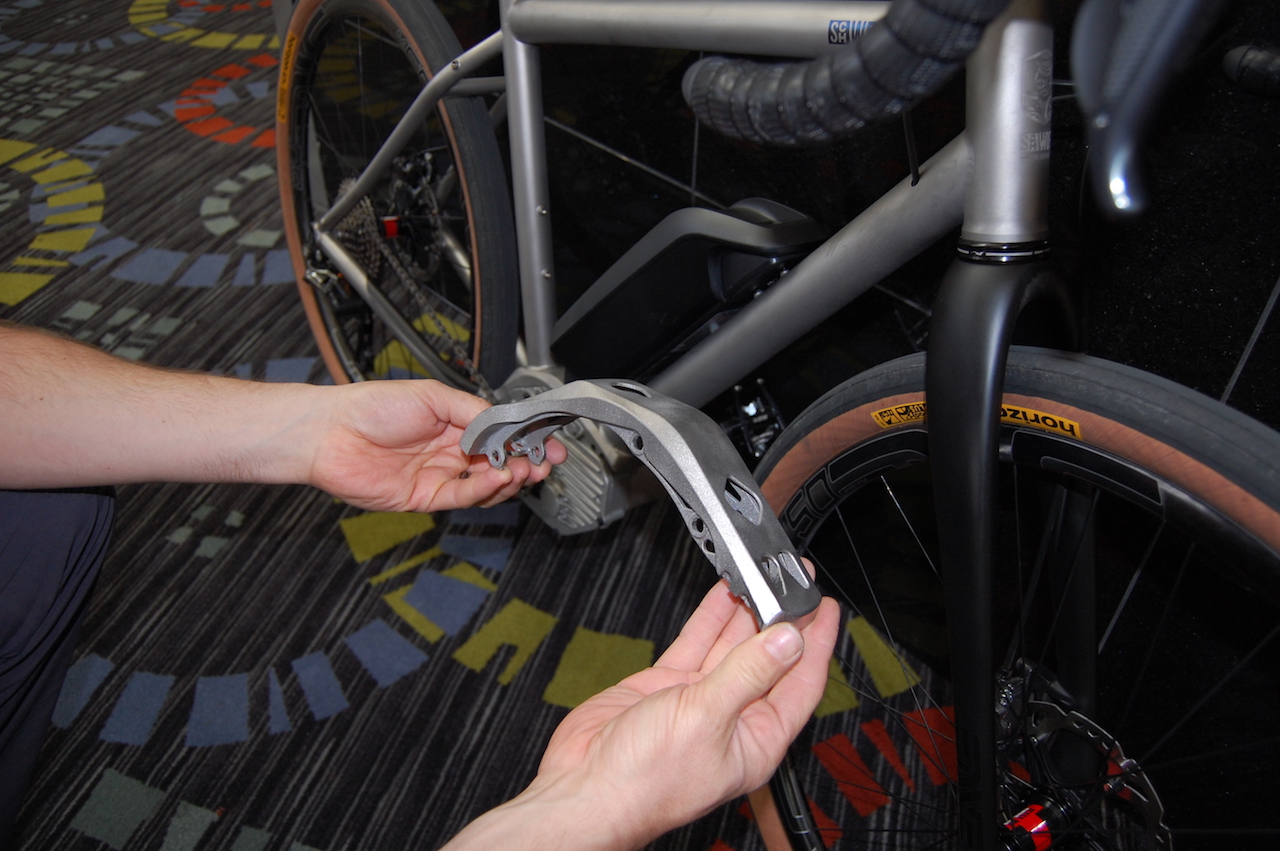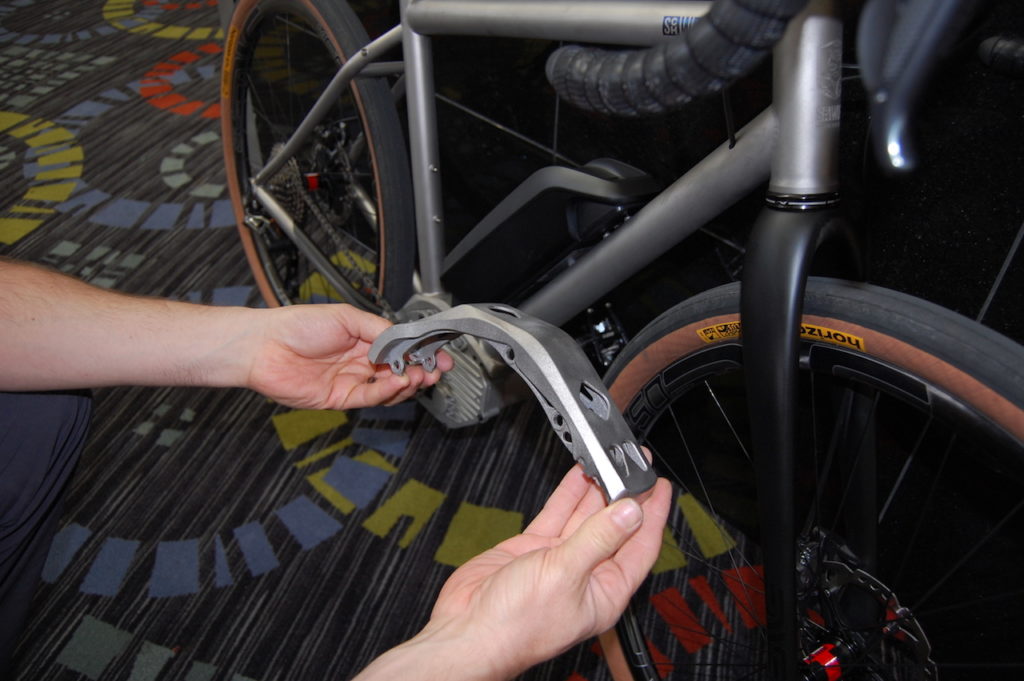 Here is an example of the 3d printed titanium motor node.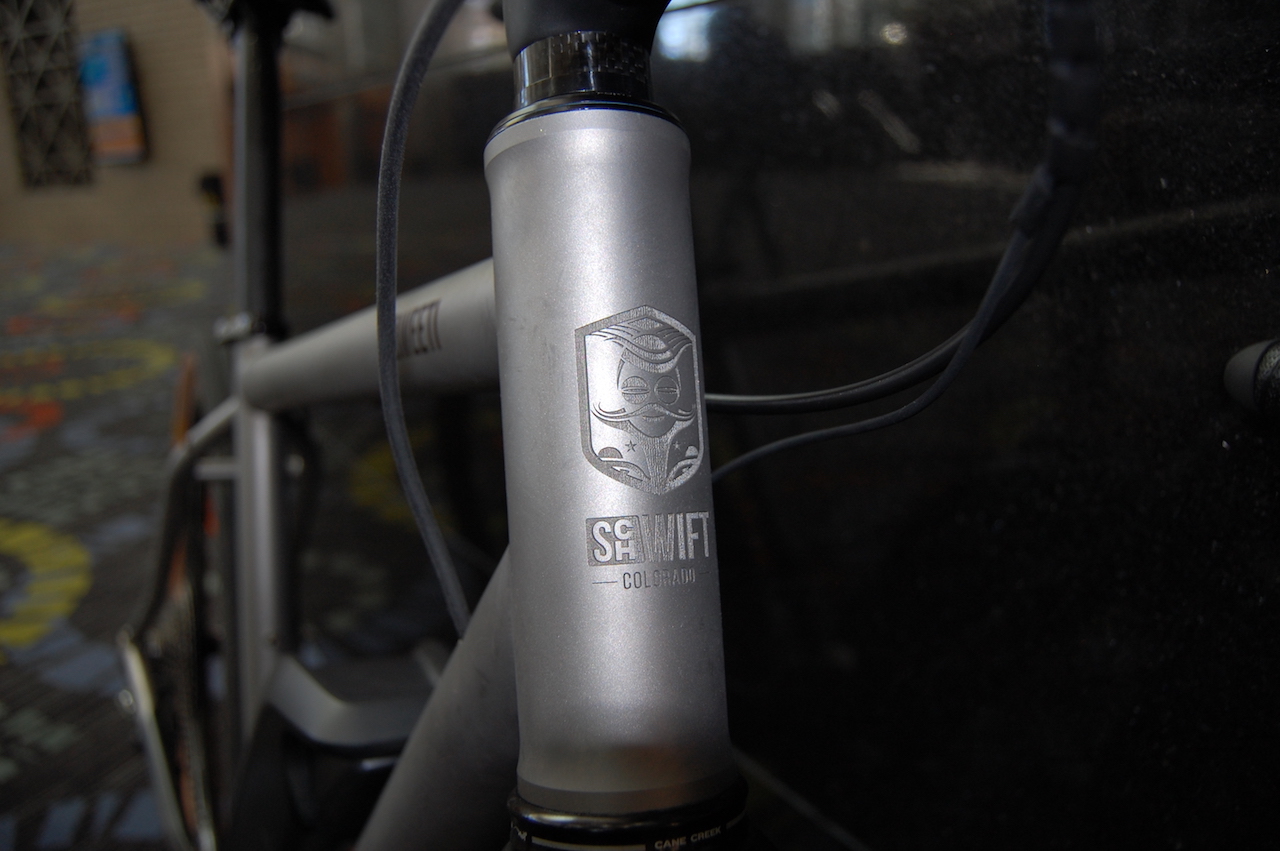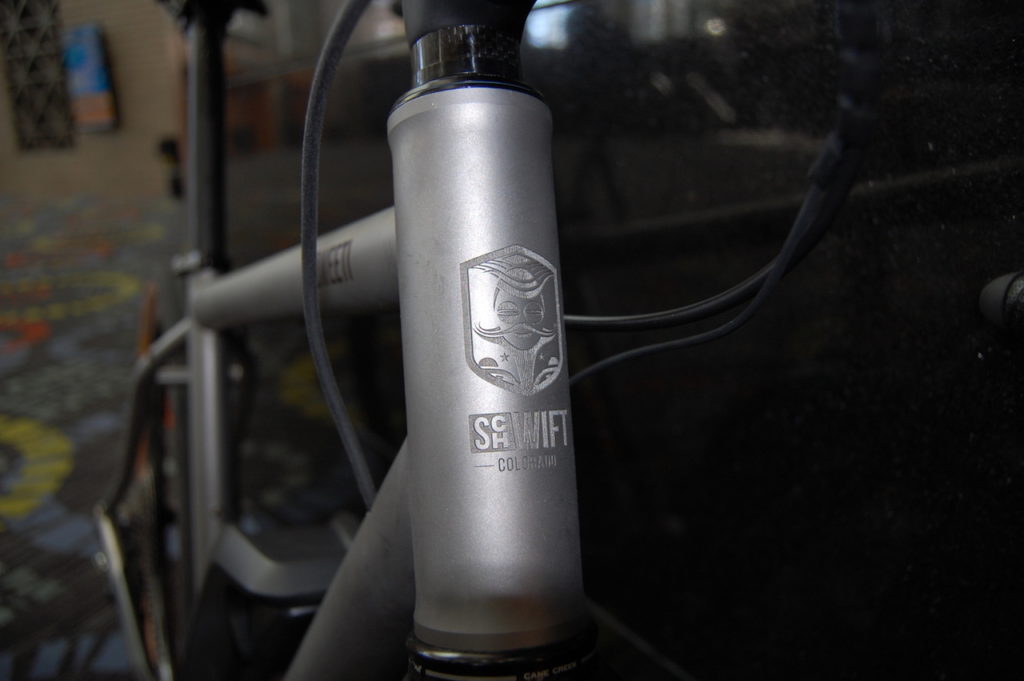 The laser engraved head tubes. Ah titanium……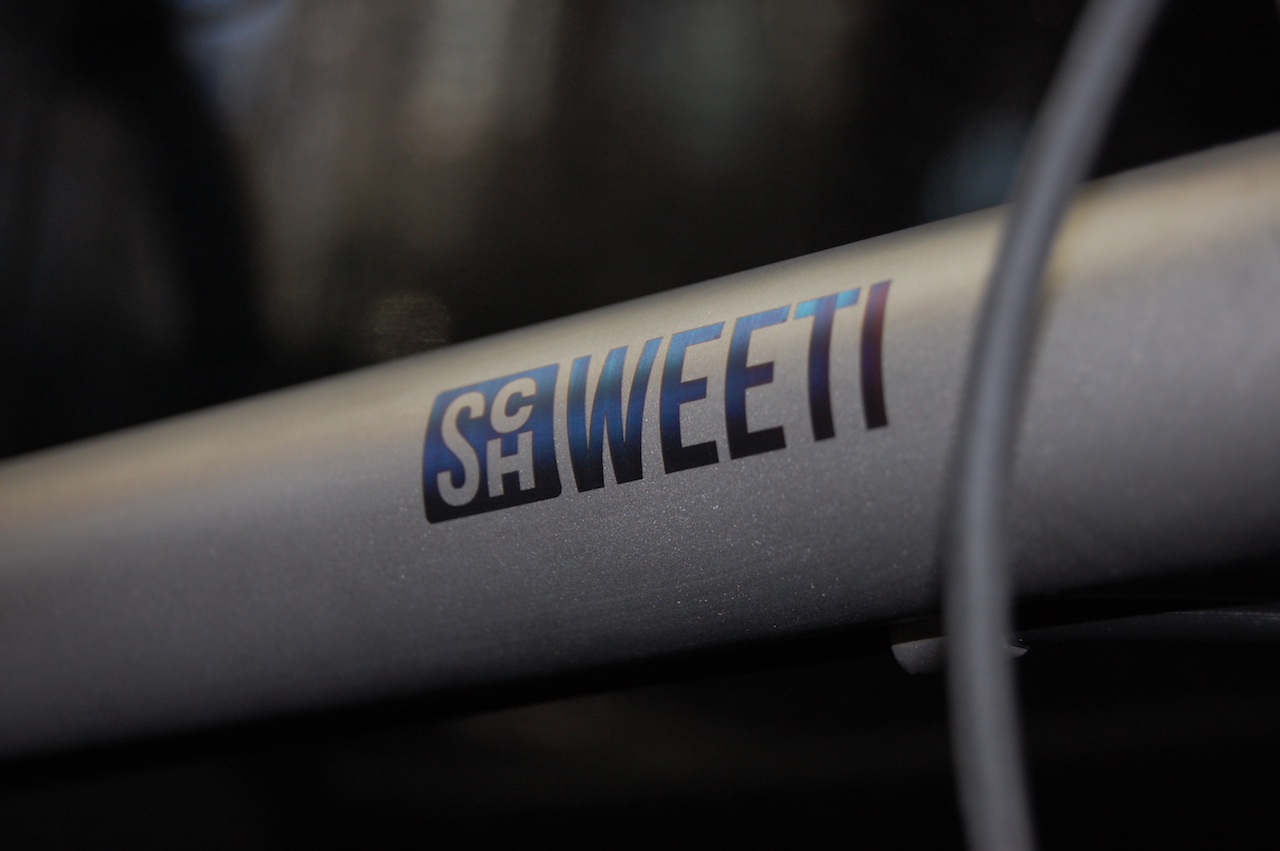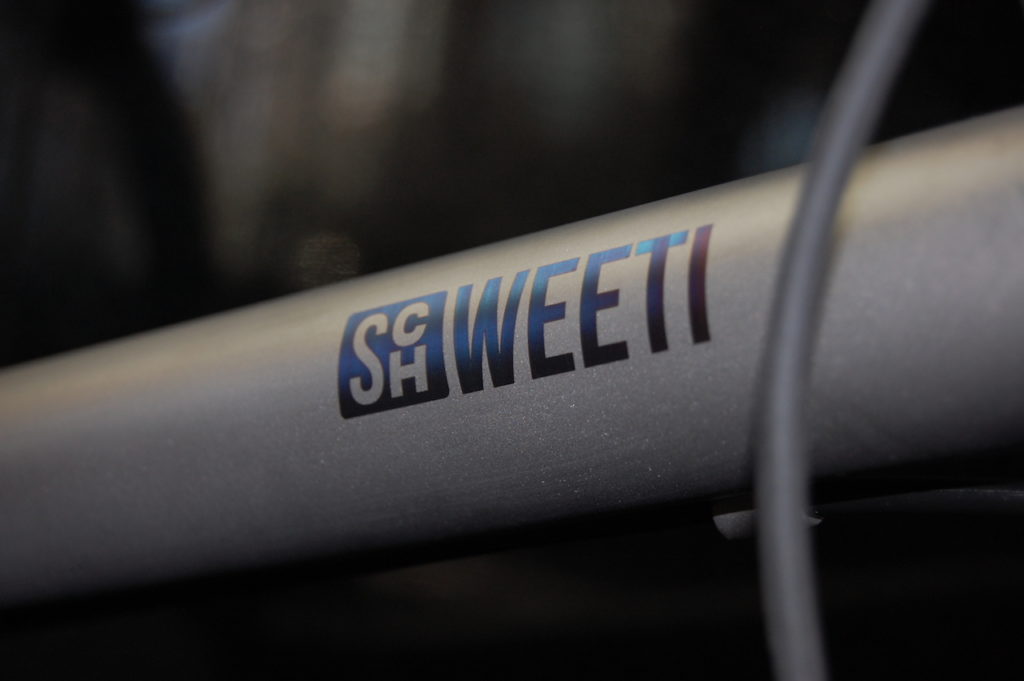 SchweeTi!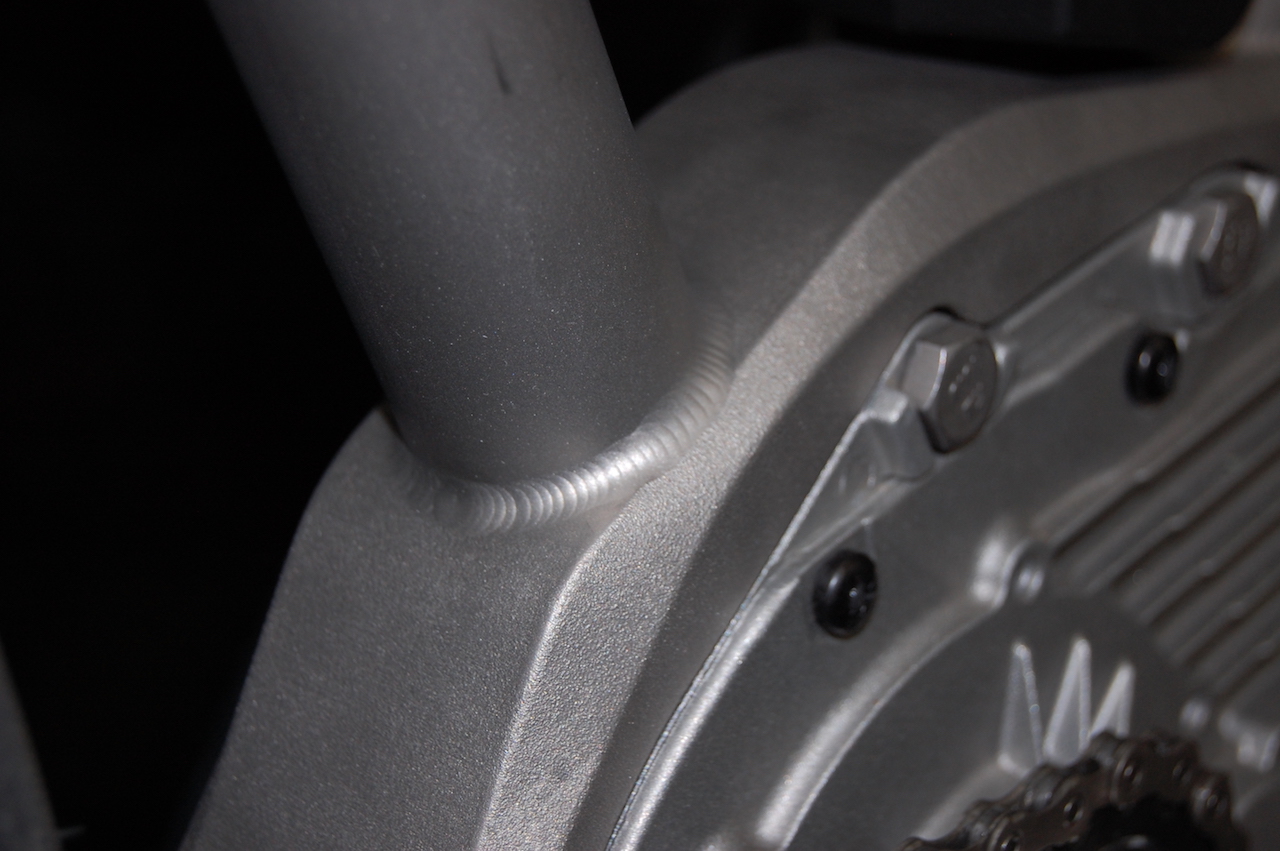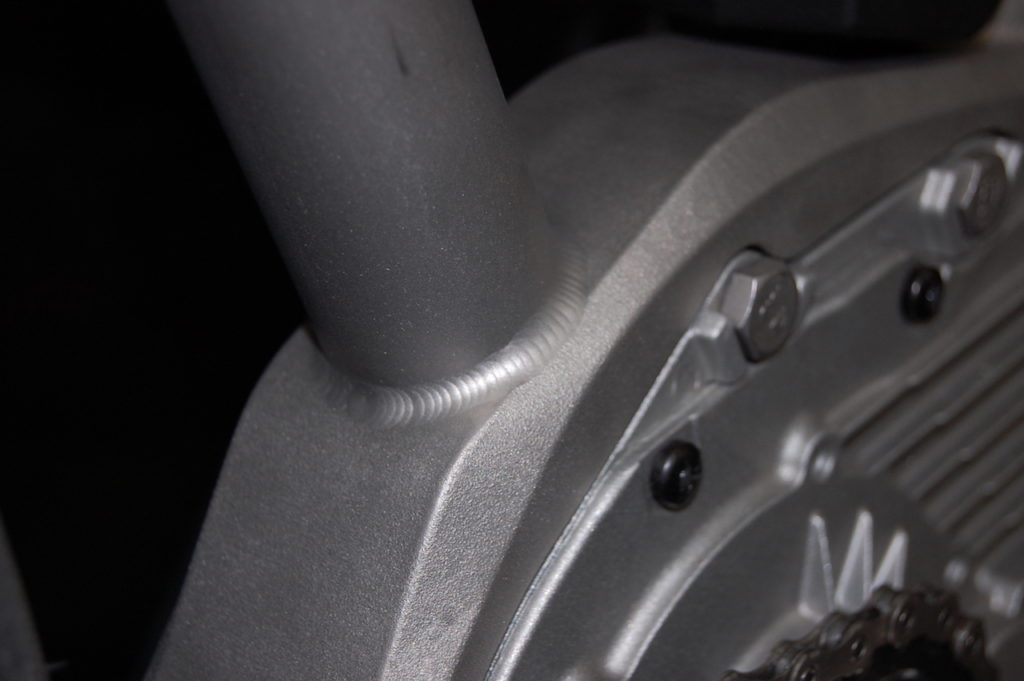 Titanium welds are so beautiful.
Zach said "We are thrilled with the performance so far and are starting to create an adventure eMTB 27.5 plus version with a Bosch CX motor this month. Those are our first models, and each are 100% custom to fit the end customer. We are making them right here in Paonia, CO."
You can follow Schwift Cycles at their Instagram page.
Maxwell Cycles E-Boardtracker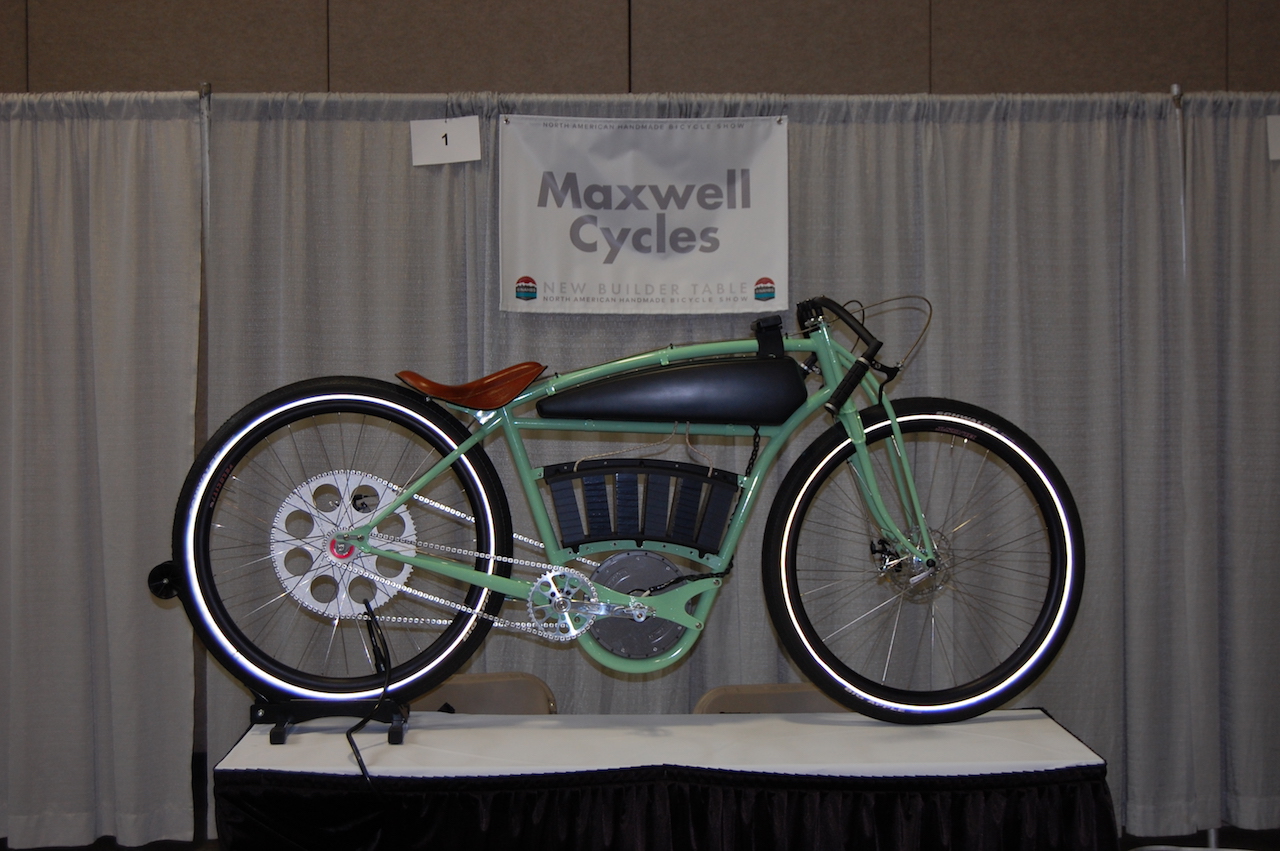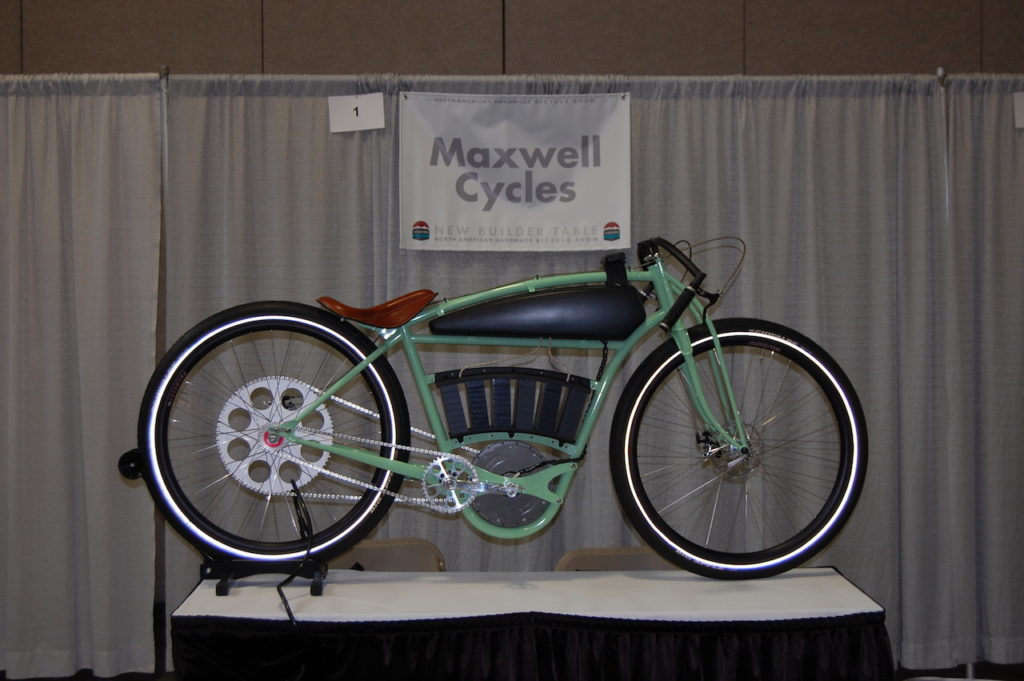 Whoa! This is the Maxwell Cycles E-Boardtracker.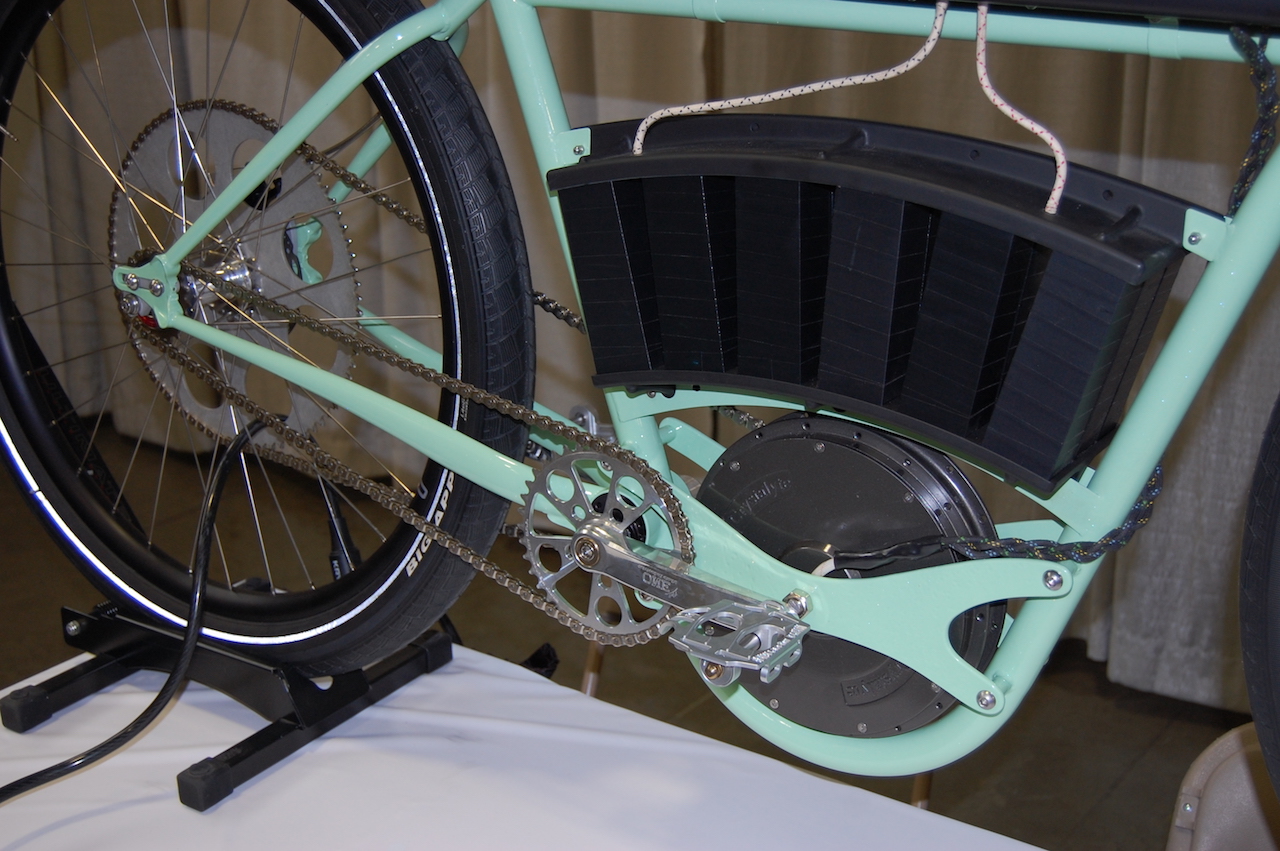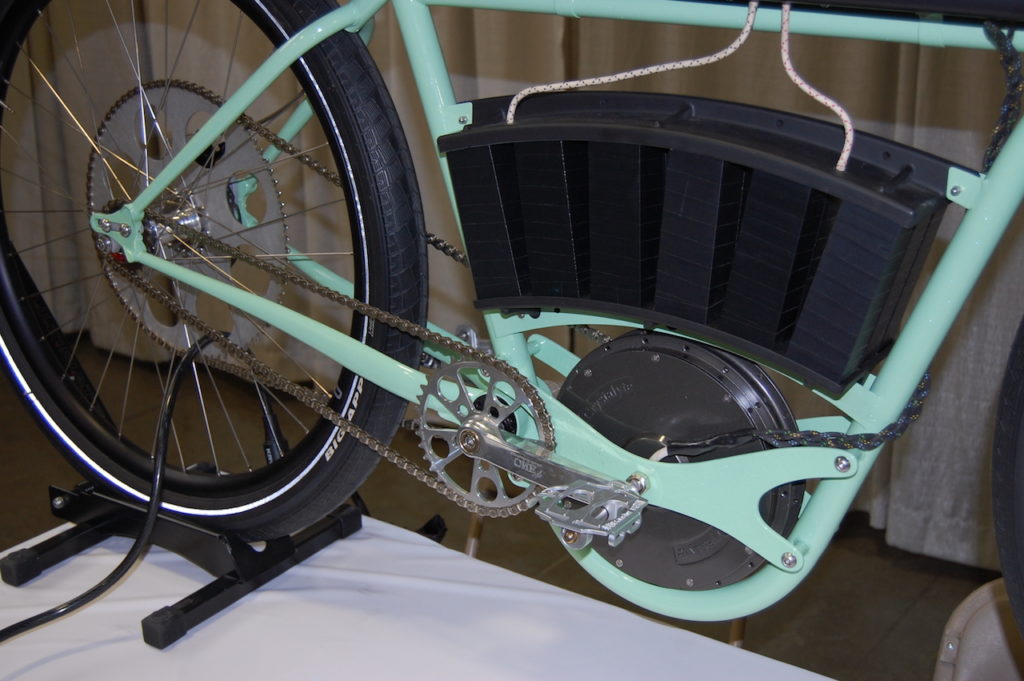 The 1,500 watt Crystalyte "hub" motor is mounted in the middle of the bike and powers the left side of the rear hub while the normal bike drivetrain powers the right side. The 52V battery sits just above the motor and comes in 20 or 30 amp hour configurations.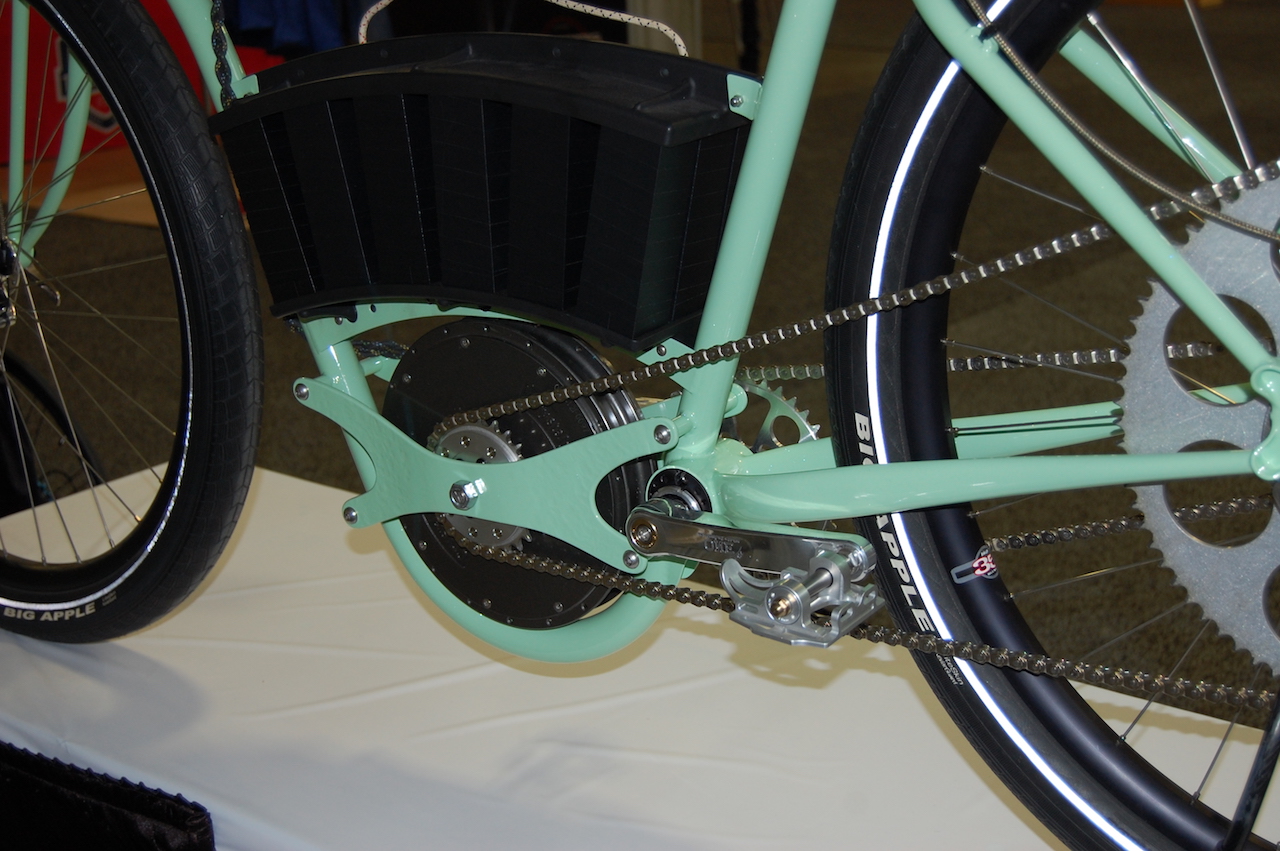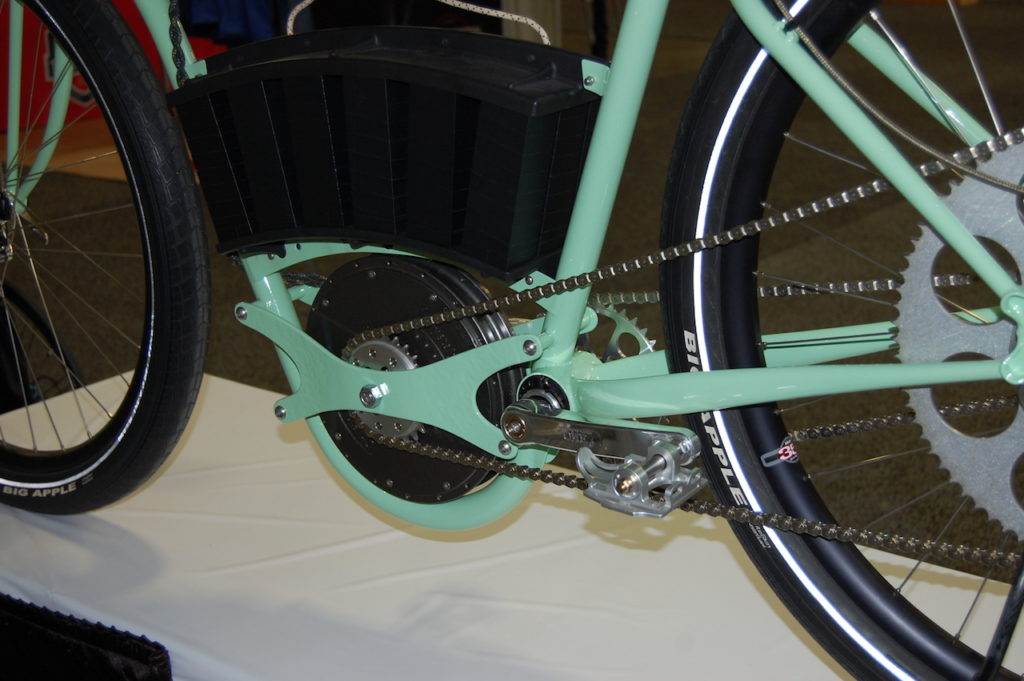 The motor drives back to the huge cog on the left side of the bike.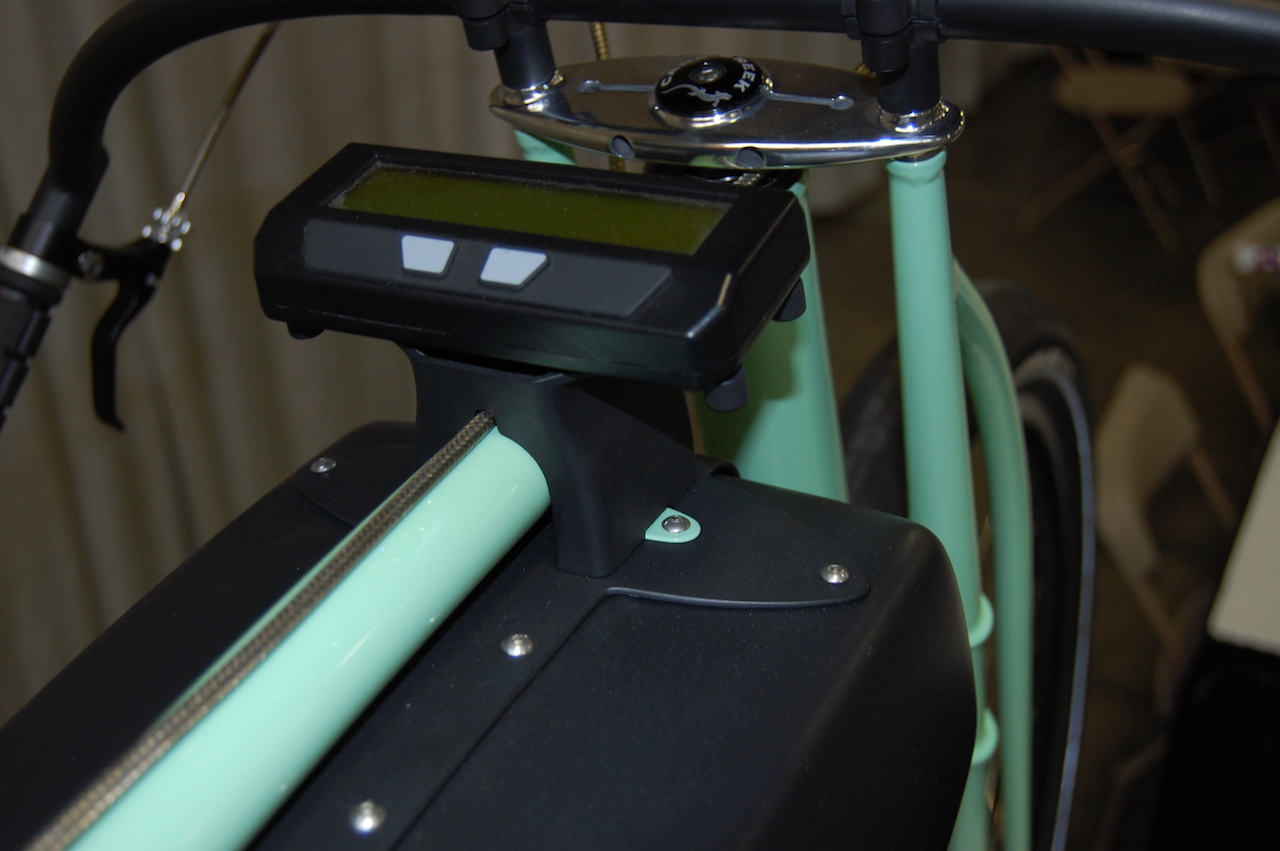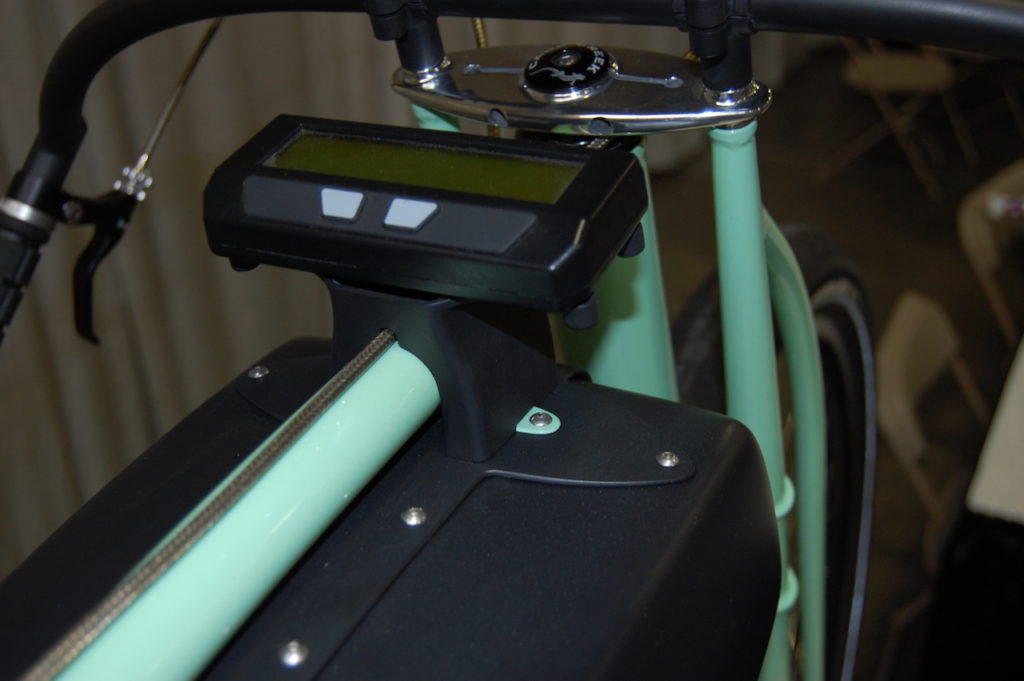 A Cycle Analyst is used for the display. The controller is housed in the faux gas tank just below the top tube of the frame.
Here is a video interview with Kevin Ostrom from Maxwell Cycles about the E-Boardtracker:
Follow Maxwell Cycles at their Facebook page.
Wood eBike from Cedarville University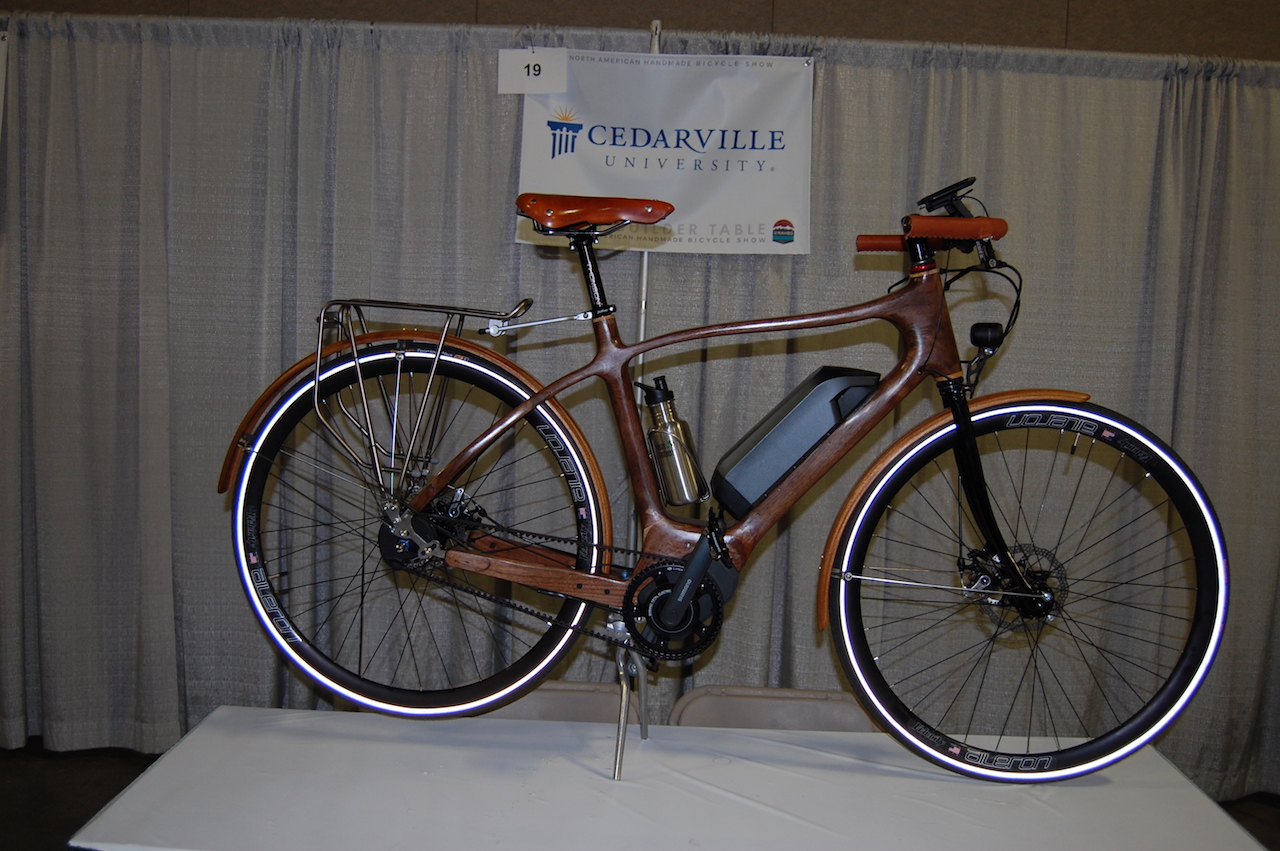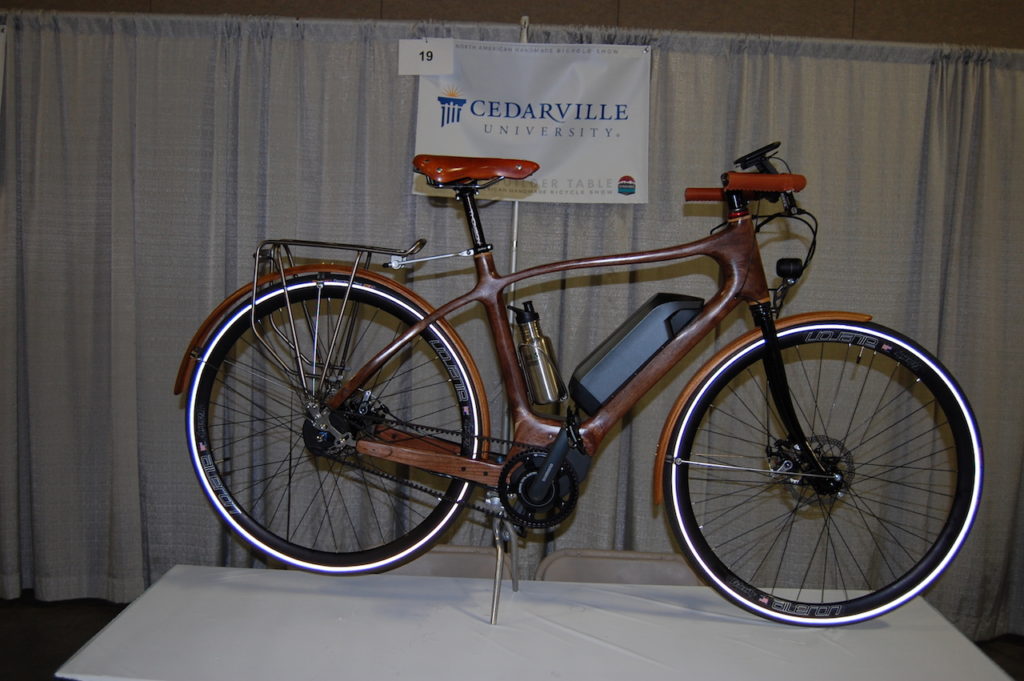 Wow, this is a beauty! The frame shapes have a fluid look with a lot of material at the major connection points. This eBike uses the Shimano STEPS mid-drive system.
Jay Kinsinger is a long time frame builder and he is also a mechanical and biomedical engineering professor at Cedarville University in Ohio.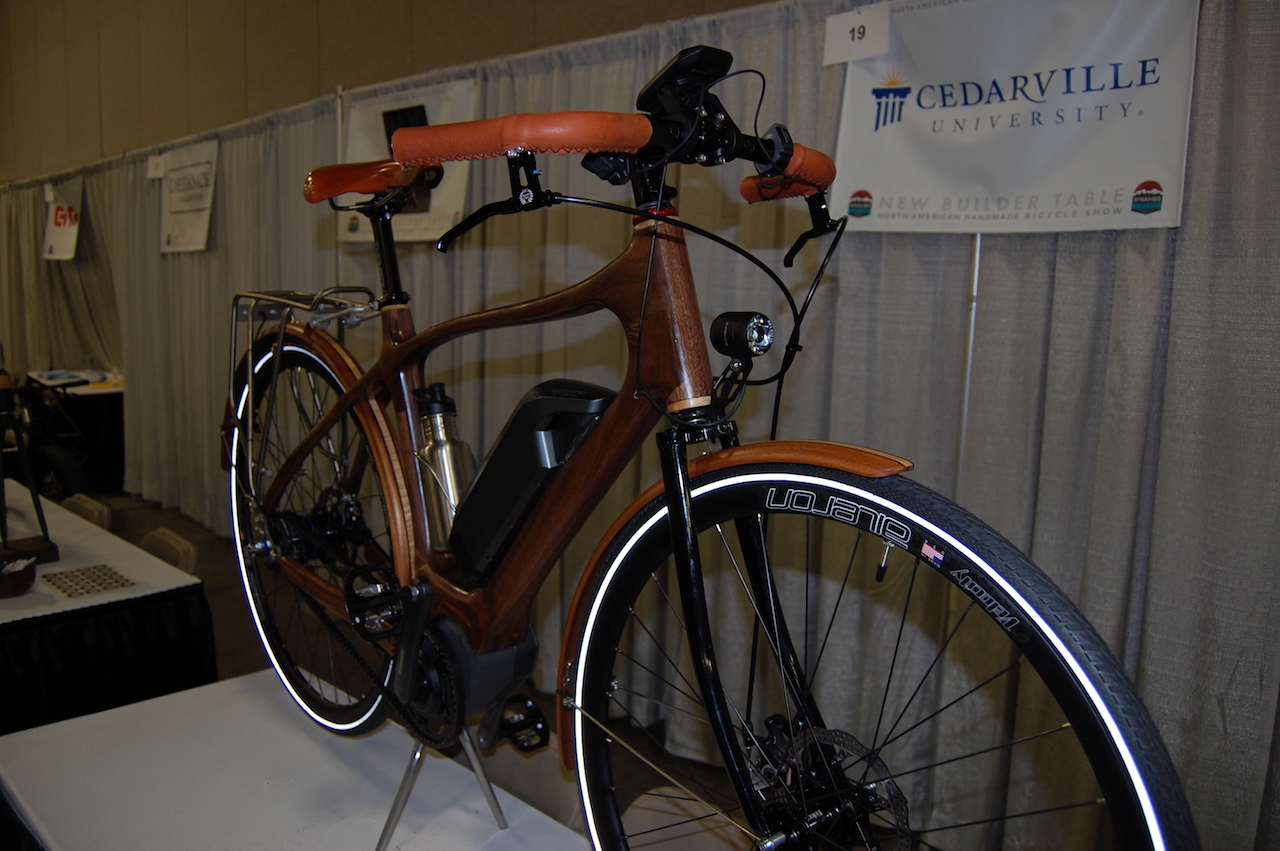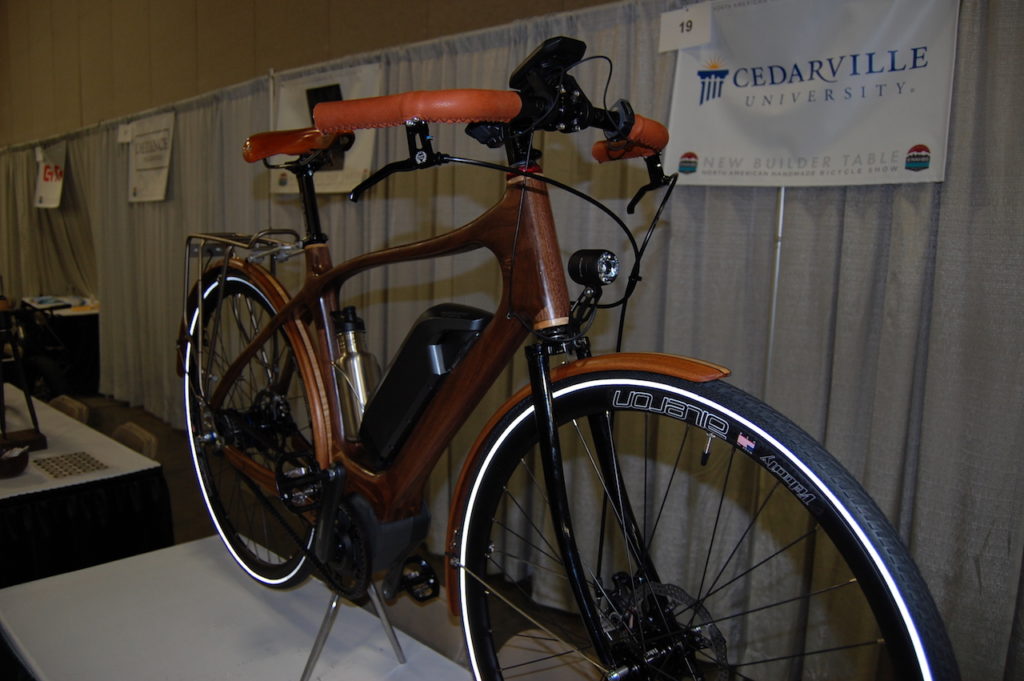 The wood fenders add additional style to this custom eBike.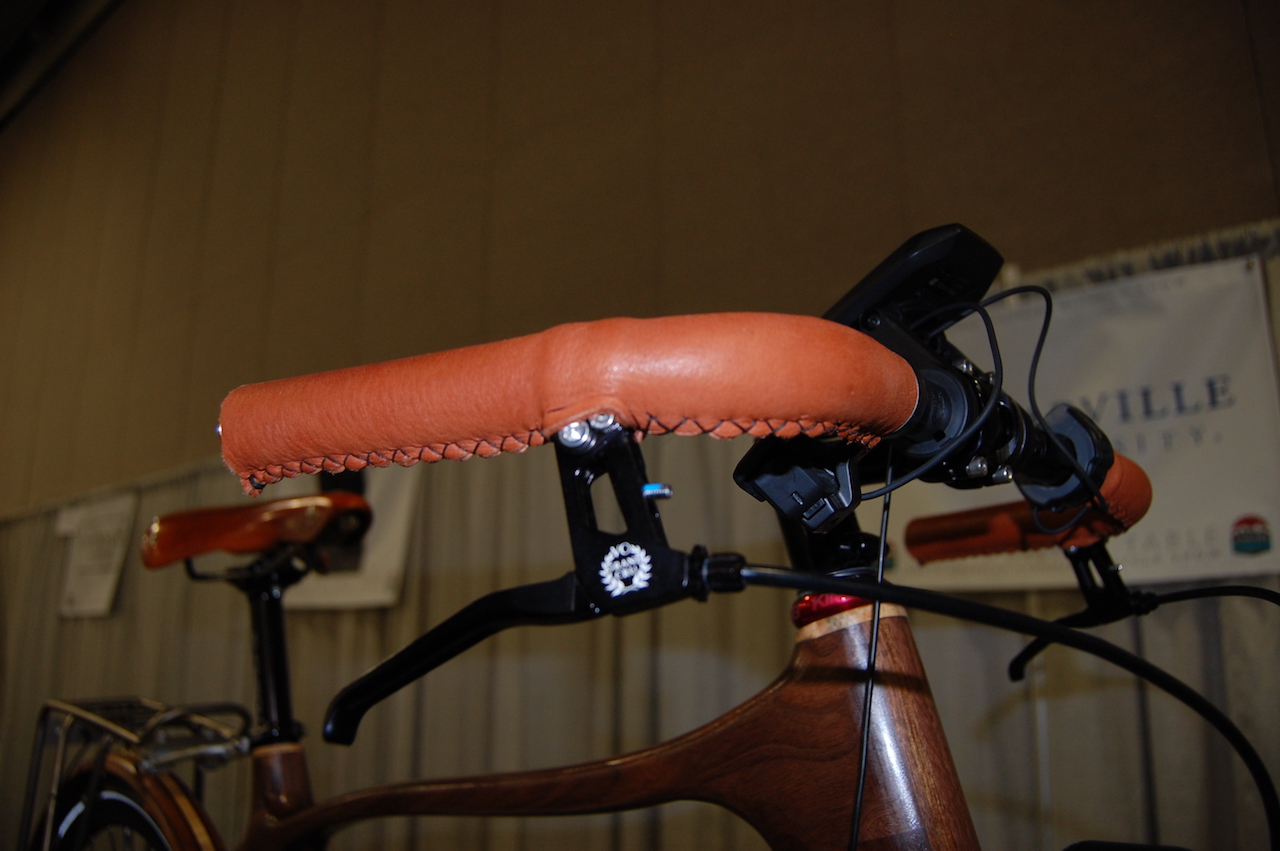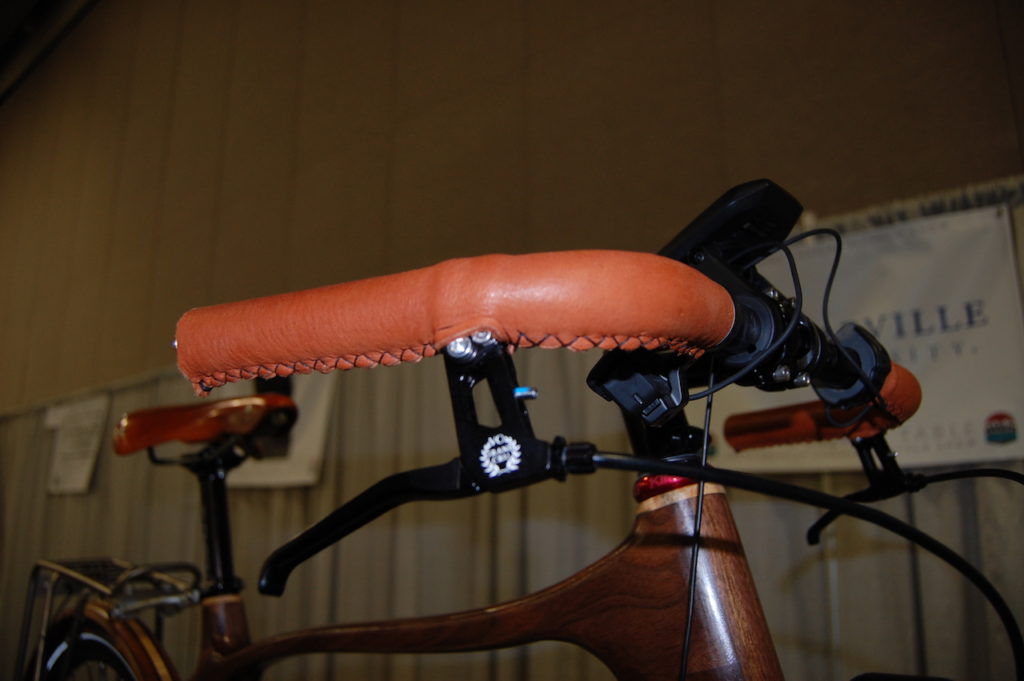 The grip area has a leather (or faux leather) covering.
Tout Terrain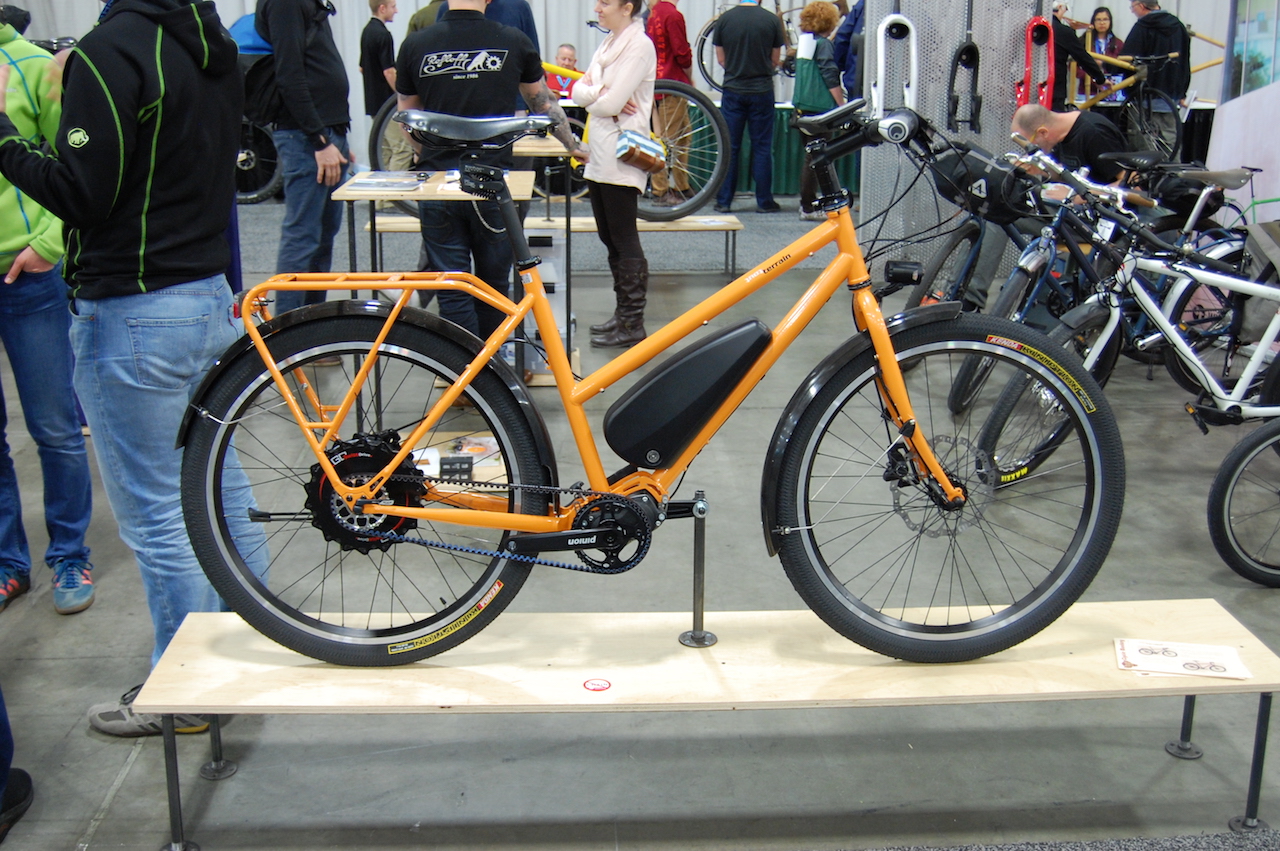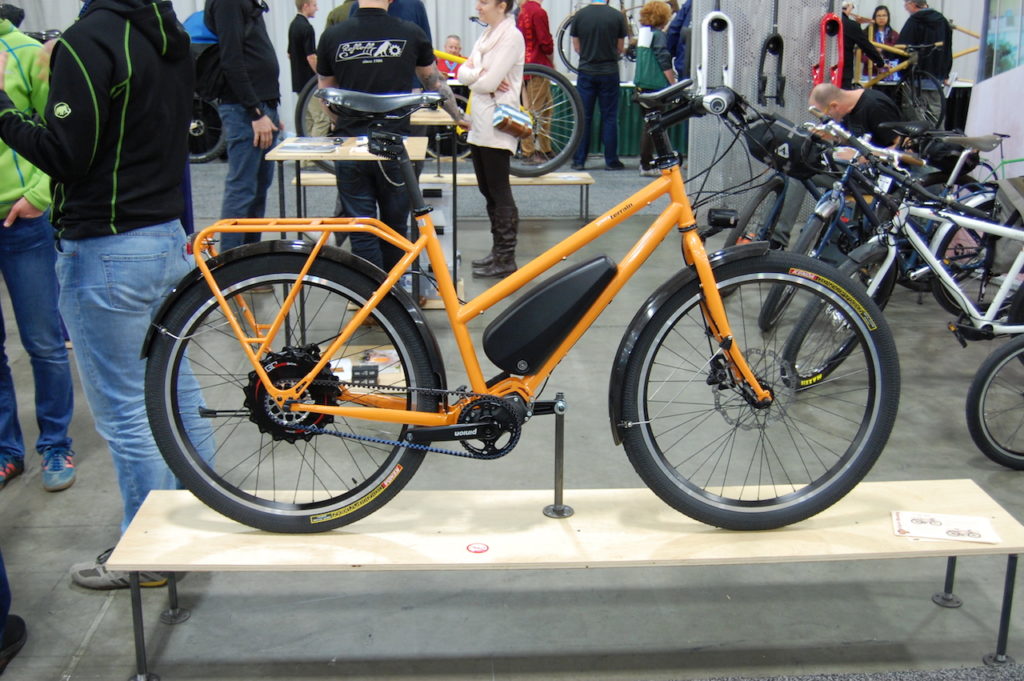 Tout Terrain focuses on sturdy touring bikes and this steel frame eBike follows that same path of sturdy construction.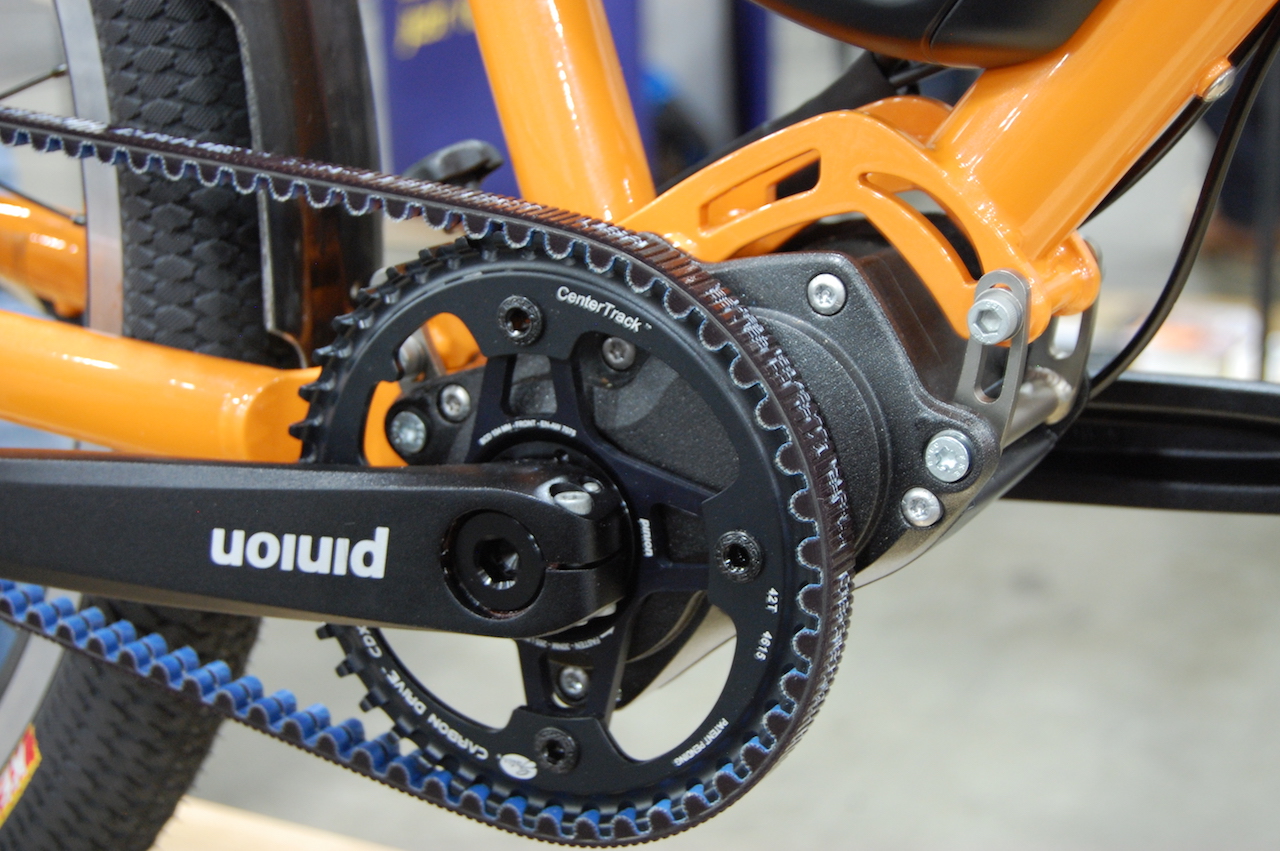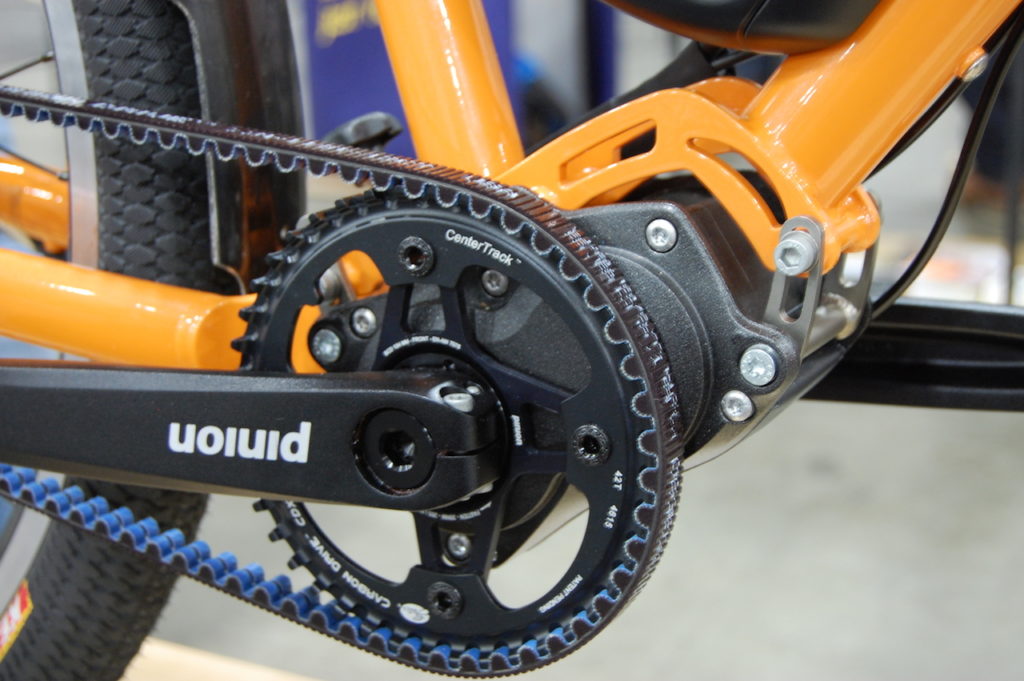 The Pinion gear box is an internally geared bottom bracket that can have up to 18 different gear options (depending on the model). A Gates Carbon belt drive is spec'ed for long term durability, nearly zero maintenance, and for keeping the pant legs clean.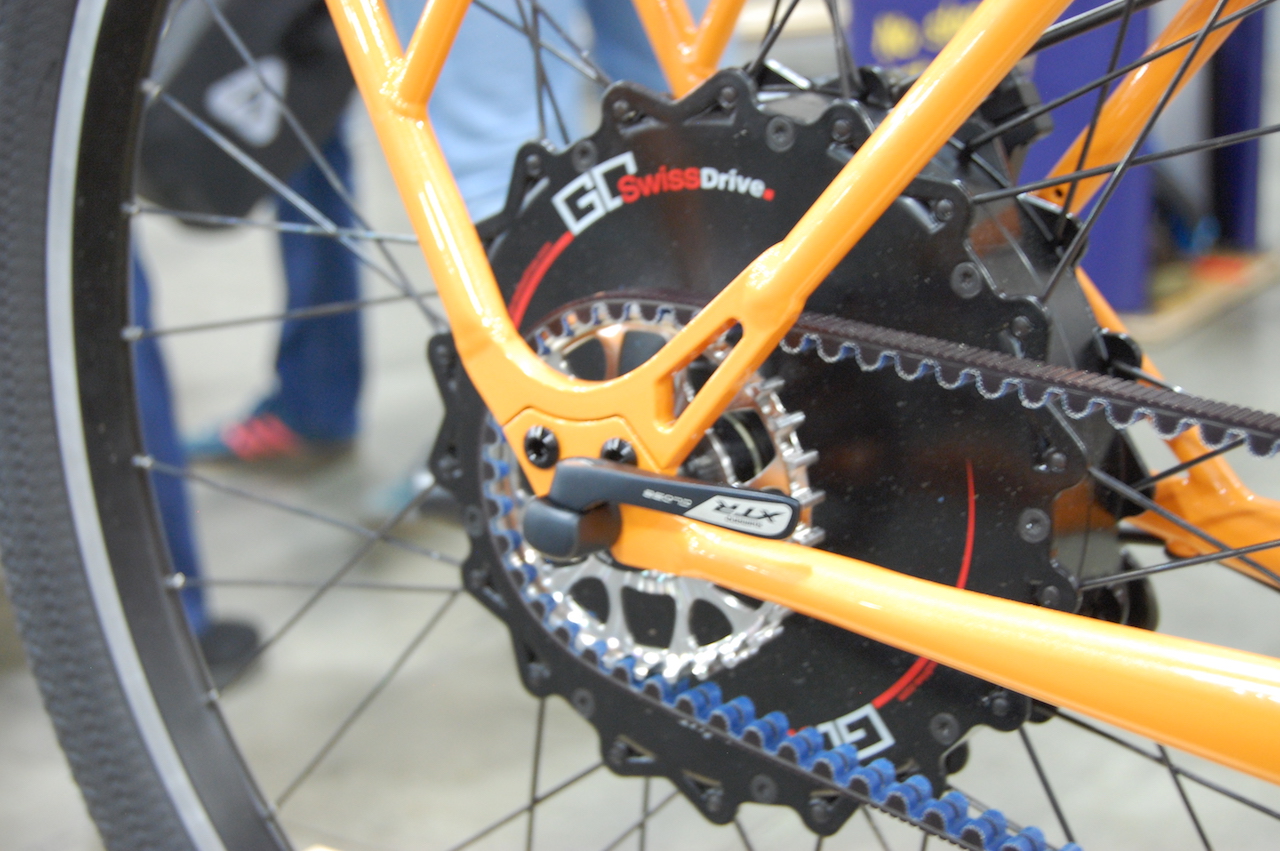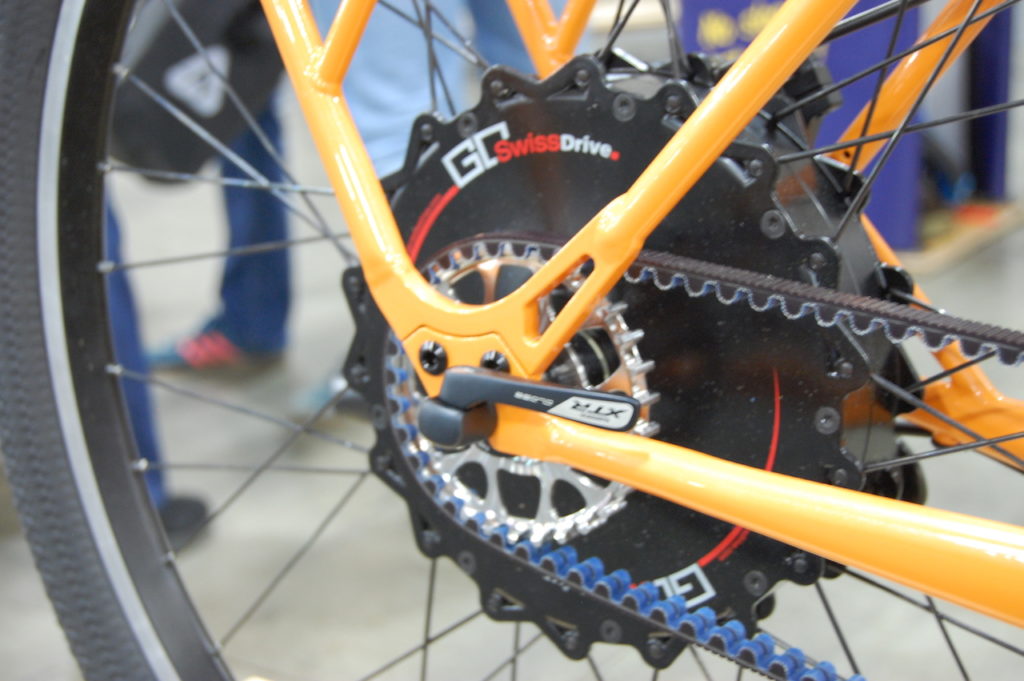 The smooth and quiet Go Swiss drive system is spec'ed on this Tout Terrain.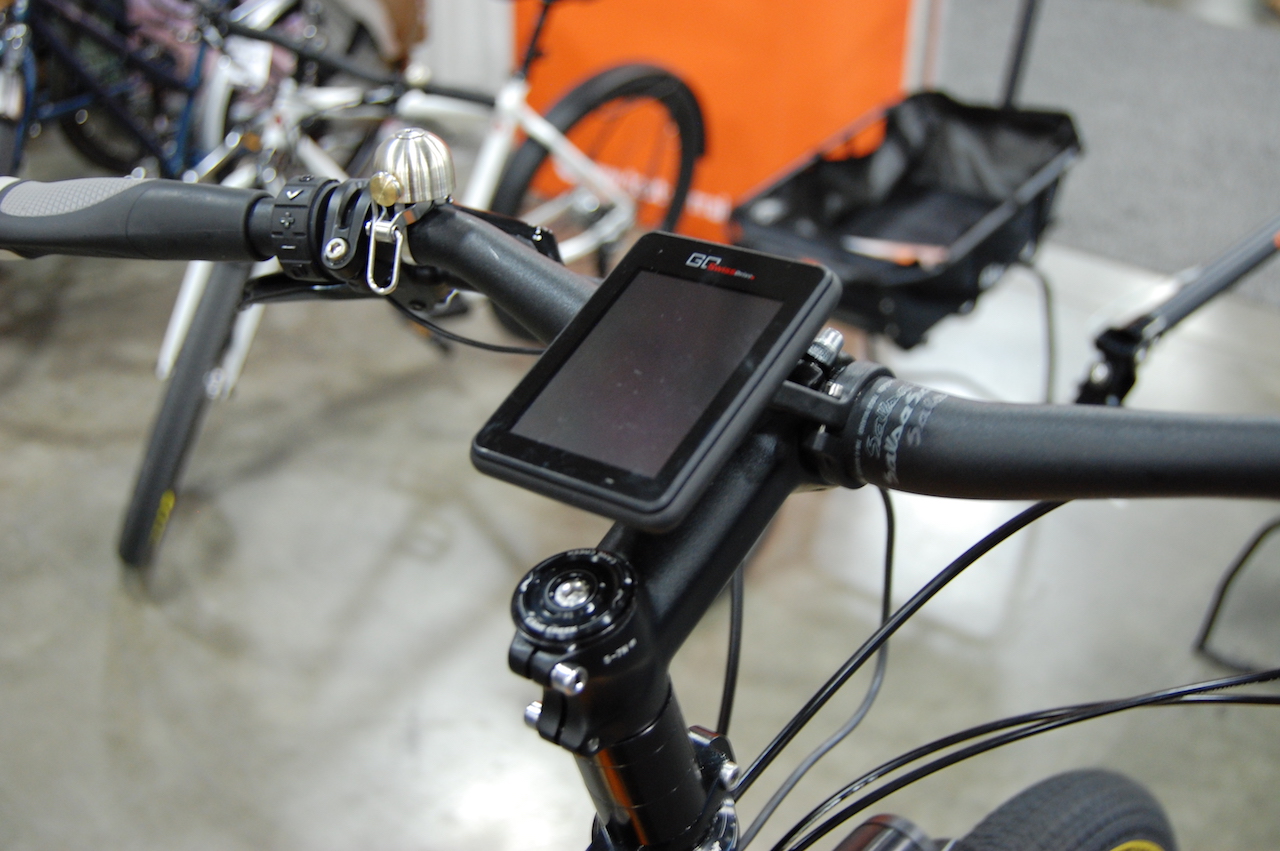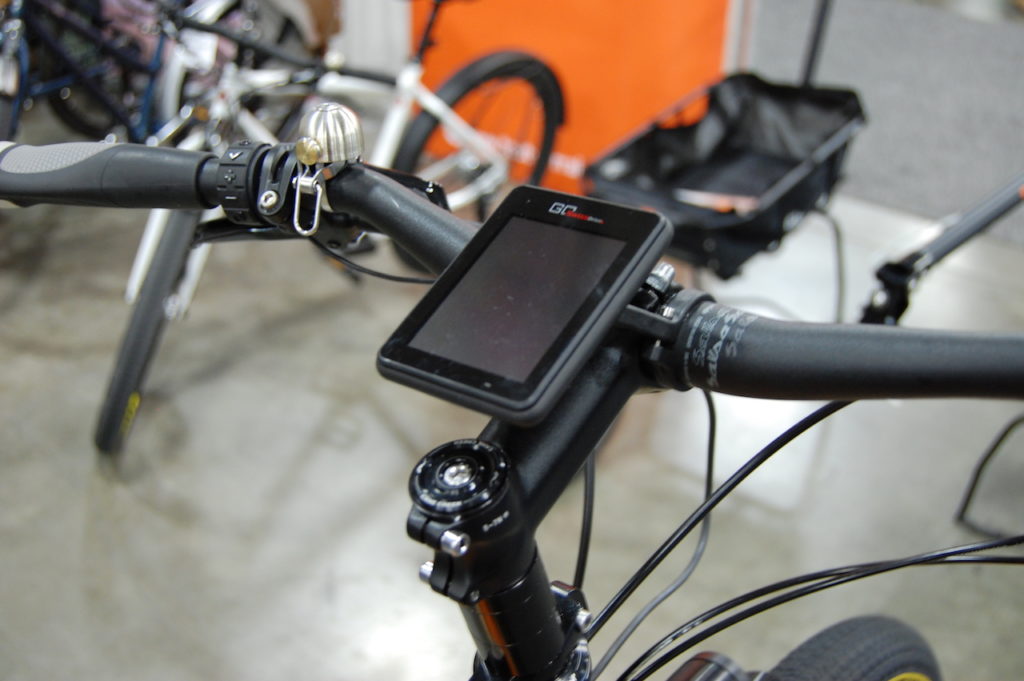 The Go Swiss display is very large! Cycle Monkey is the distributor for Tout Terrain in the U.S.
Electric Mixte by Sixth Law Cycles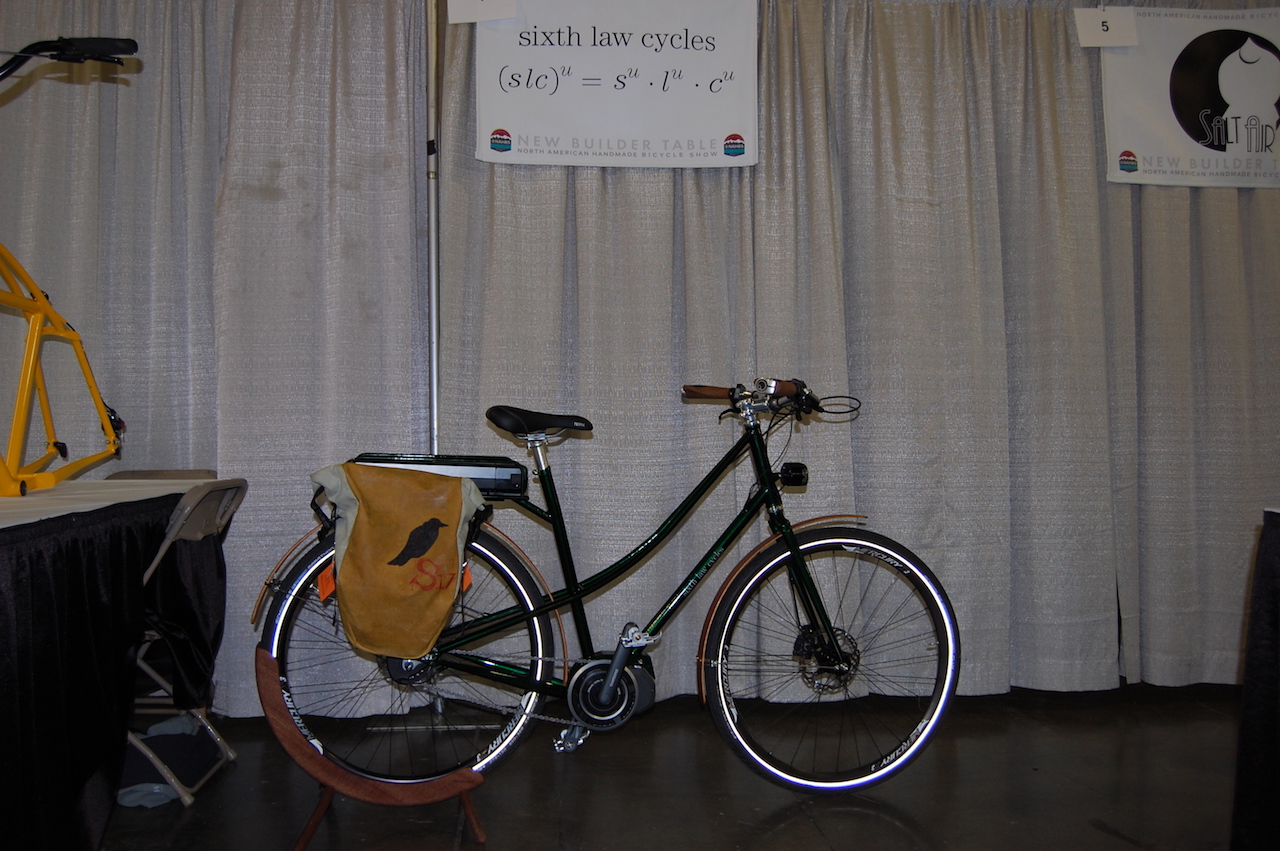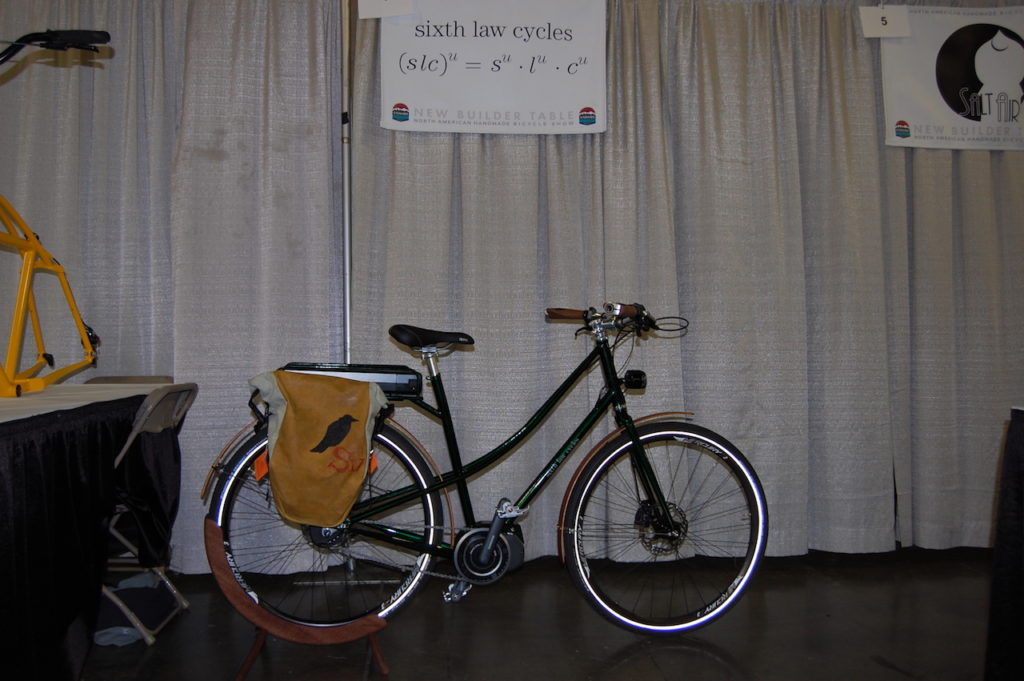 Sixth Law Cycles presented this elegant step thru commuter with the Shimano STEPS mid-drive system with the Di2 electronic shifting and Alfine 11 speed internally geared hub. The Electric Mixte has an integrated rear rack and light system.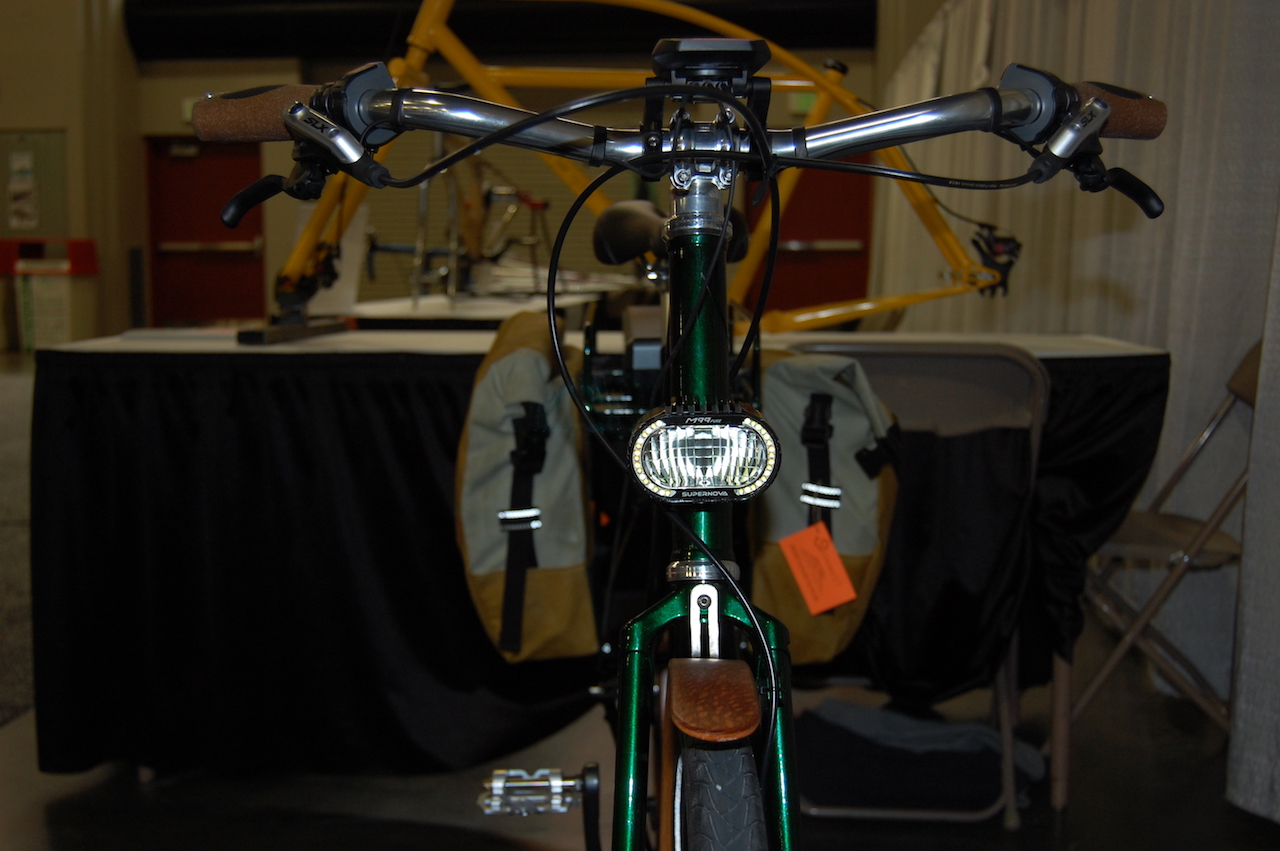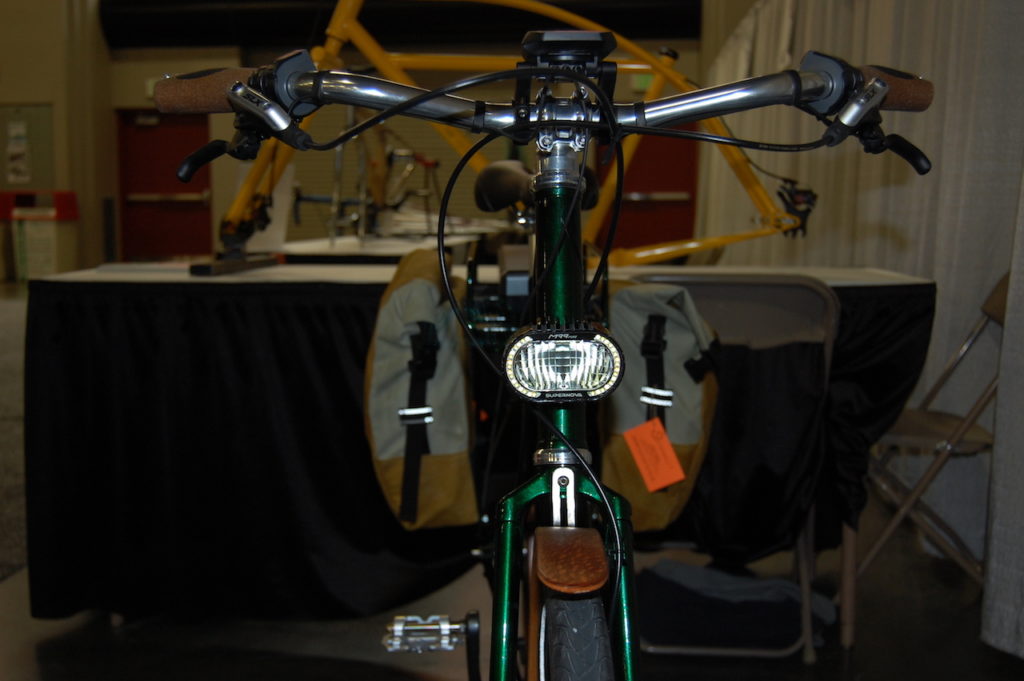 The Mixte uses Schwalbe Marathon Plus tires, a Supernove M99 headlight, and Shimano SLX hydraulic disc brakes.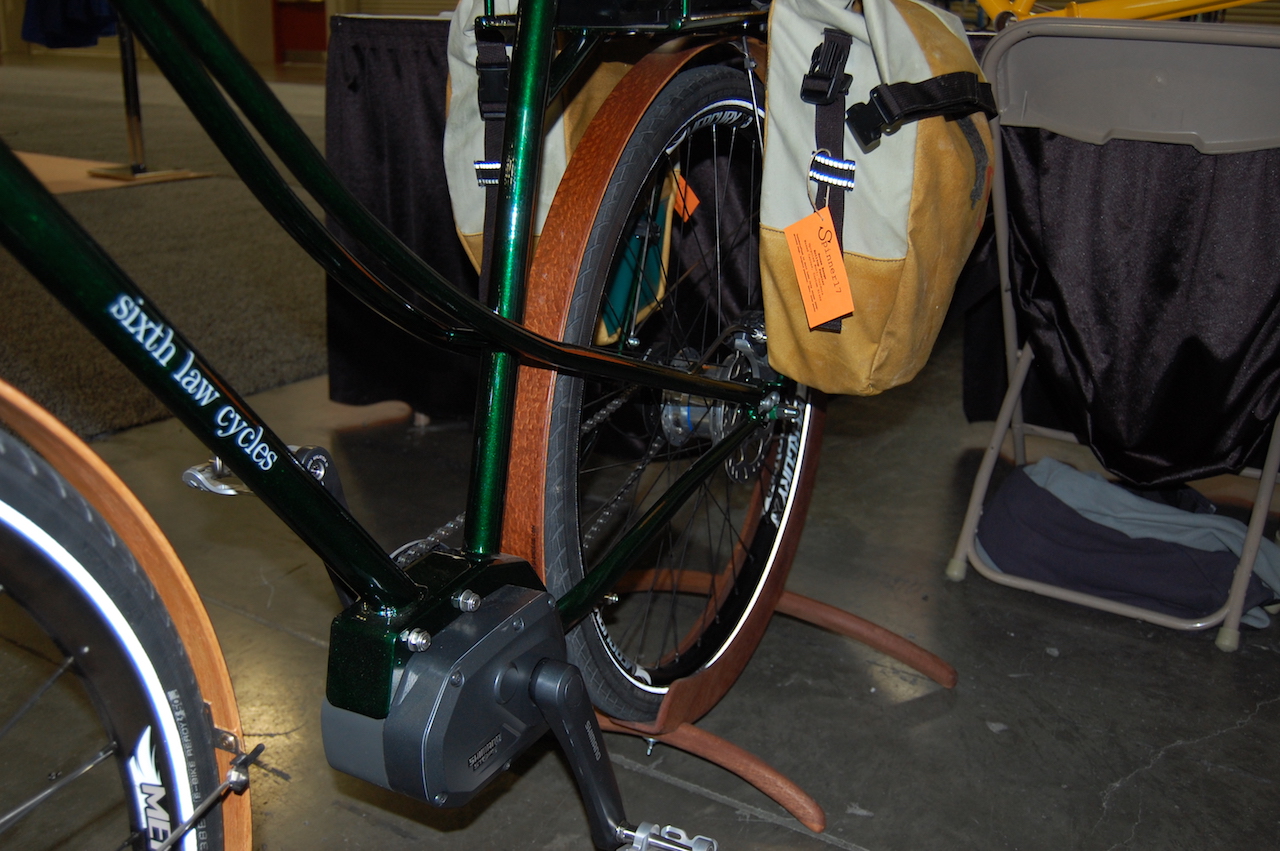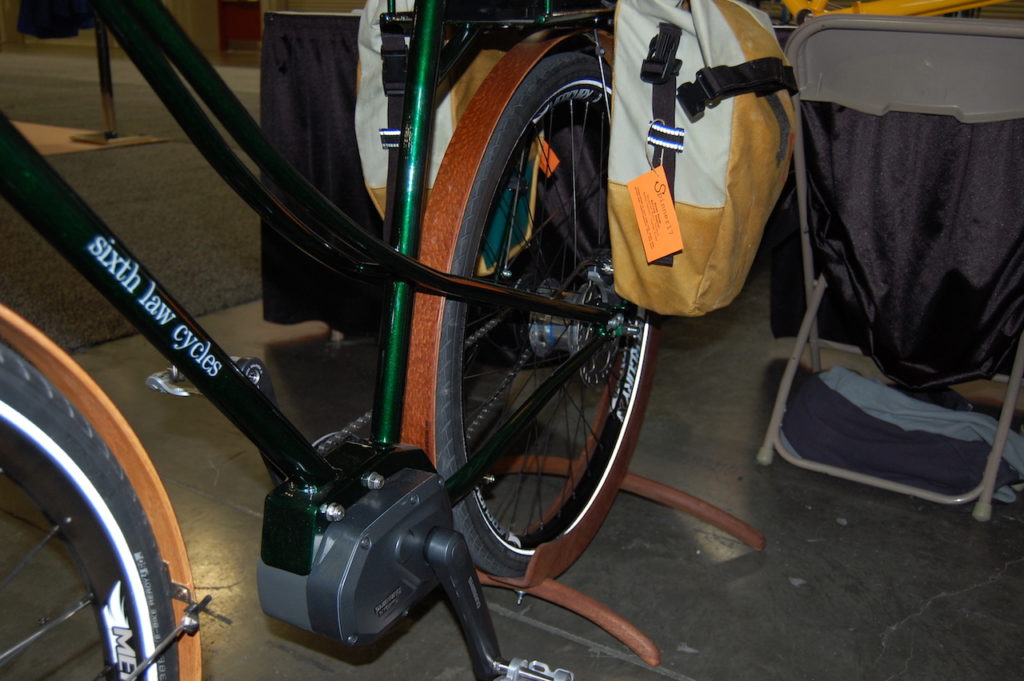 Note the double tubes at the step thru area, very cool!
Learn more about Sixth Law Cycles here.
Voltinator by Risse Racing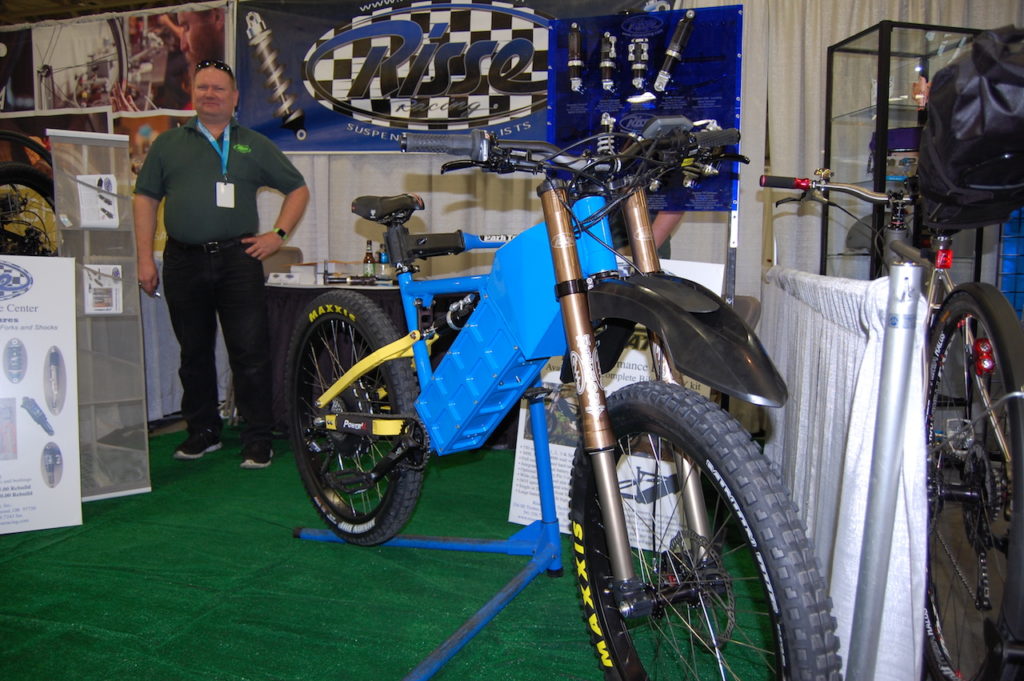 The Voltinator is a high performance eMTB that is offered in a 750 watt legal electric bike version but they also offer it in an off road only version with power options of 3000 watts, 5000 watt, and 9000 watts.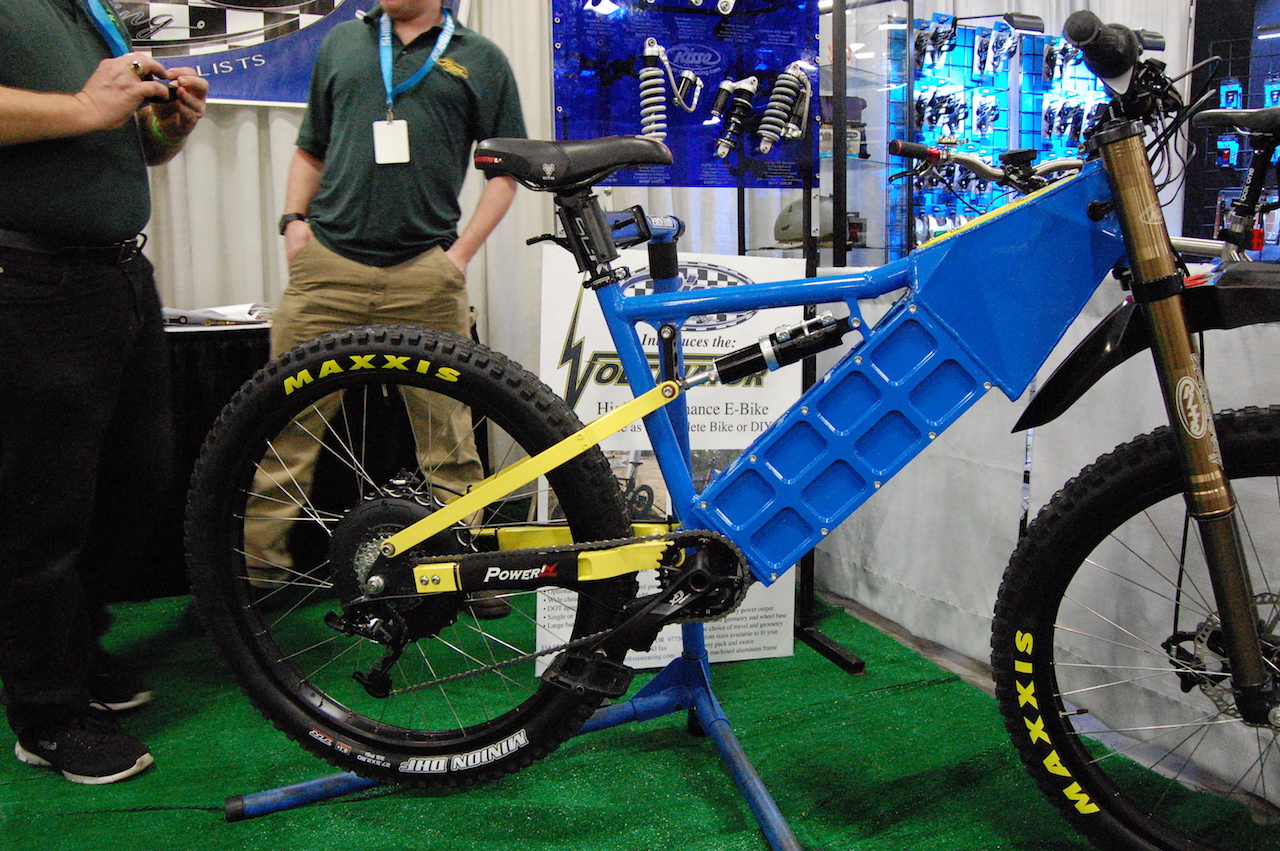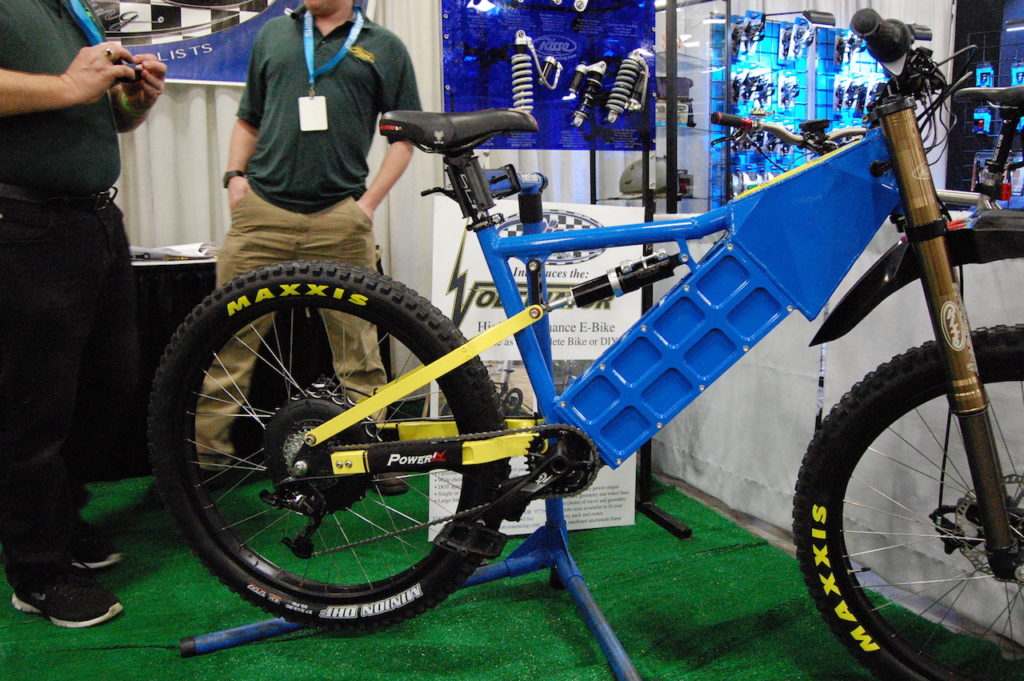 The large integrated structural battery box that creates the downtube of the frame looks tough! The Voltinator can handle a variety of wheel sizes and tire widths and the geometry/wheelbase is adjustable. Custom sizes are available to fit your specific motor and battery sizes and suspension travel requirements. Risse offers the Voltinator as a complete eBike or frame only for the DIY folks.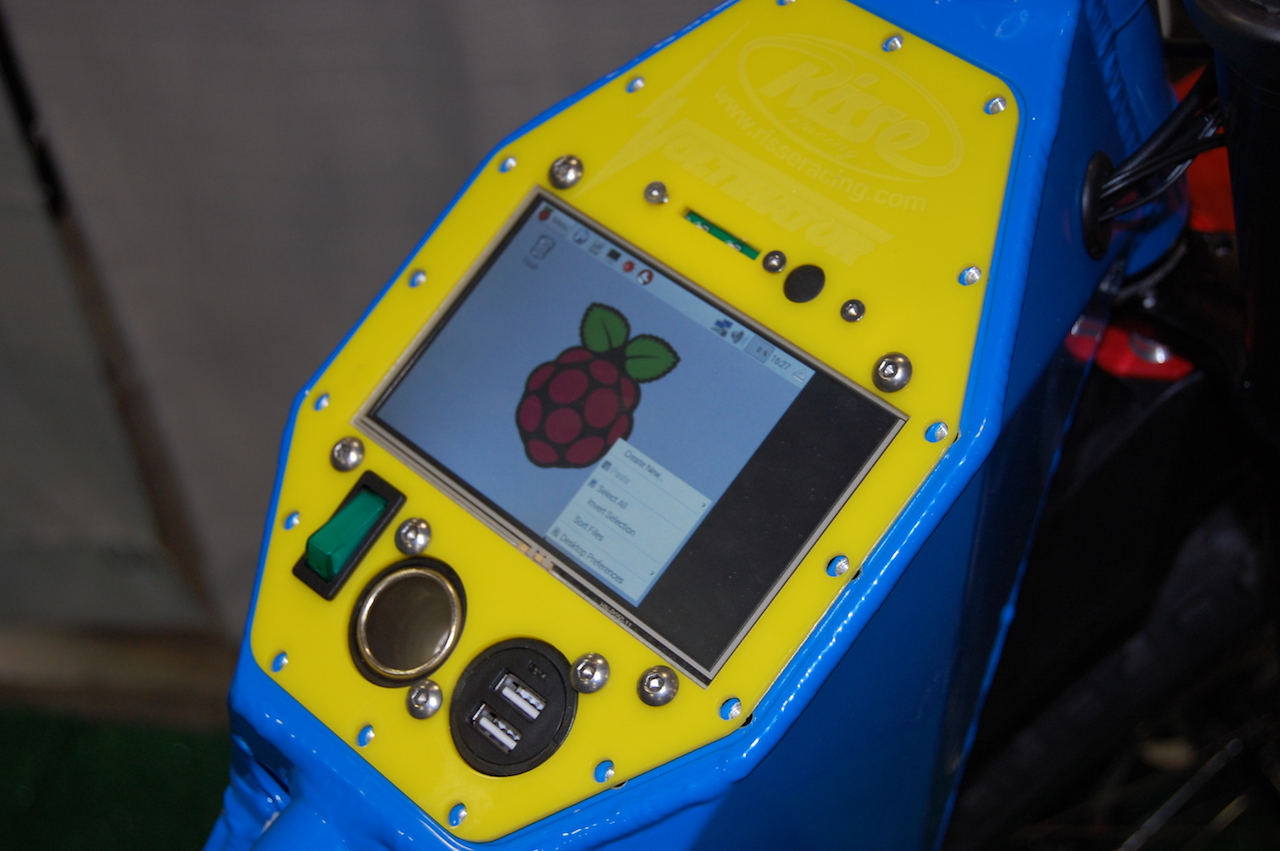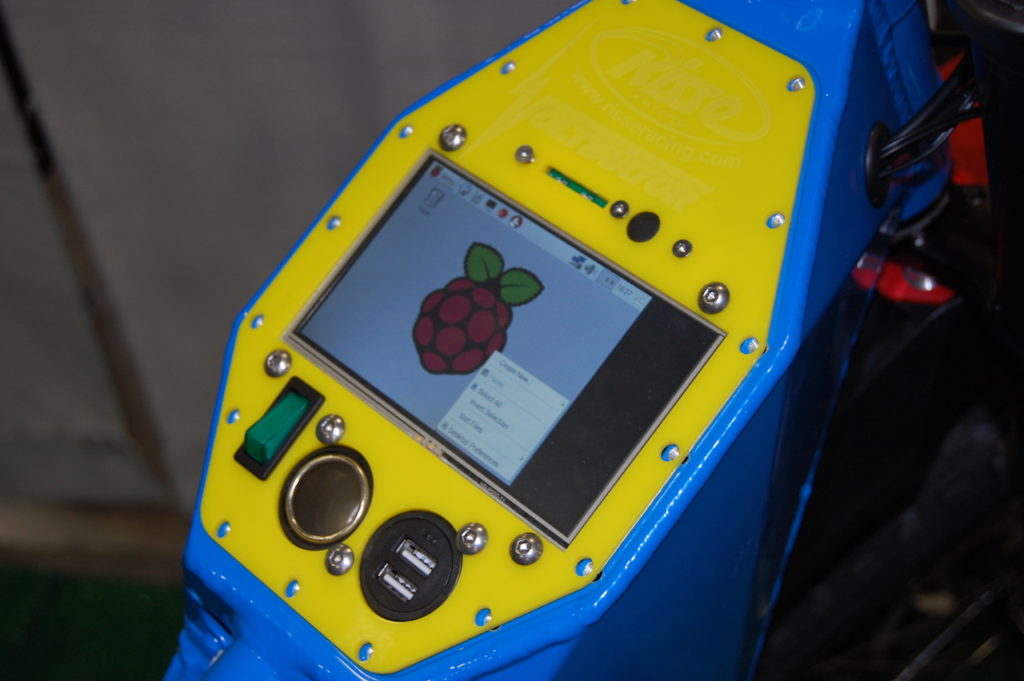 Here's a look at the display in the top tube of the frame near the handlebar area. It also has USB charging ports.
Learn more at RisseRacing.com
That's a Wrap
Thanks again to Andy McKerrow from Efficient Velo Tools for most of these pictures!
Efficient Velo Tools make high quality tools for bike mechanics and they also make the Safe Zone Mirror that is a super sturdy industrial-grade safety tool for everyday riding. Learn more about the Safe Zone Mirror here.
And if you want to geek out on more handmade bicycles (including the non-electric variety too), then checkout the NAHBS site.
Stay tuned for more eBike news and reviews!
-Pete
P.S. Don't forget to join the Electric Bike Report community for updates from the electric bike world, plus ebike riding and maintenance tips!
Reader Interactions