EUYbike S4 Review, 2023 | Moto Looks; Moto Power
A seriously speedy and stylish e-moped that can be bought at a steal!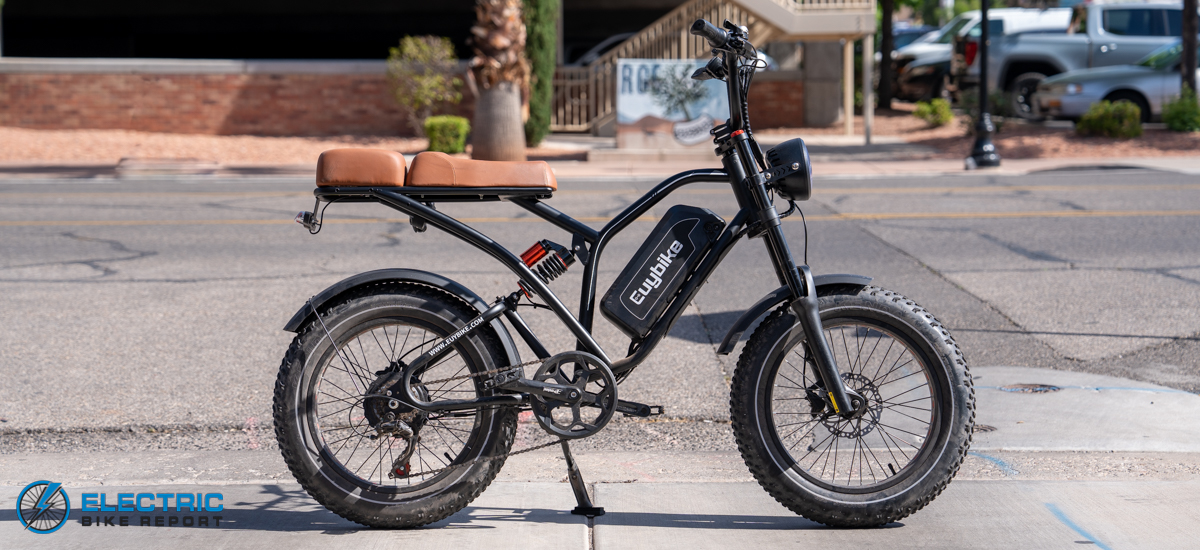 Listen up, adrenaline junkies! The EUYbike S4 just rolled up. This super-fast and fierce-looking e-moped brings the heat when it comes to balancing price and performance. We take a look at it specs, features, real-world performance as measured in our standardized tests, and more in this EUYbike S4 review!
First things first, the S4 puts the moped in "moped-style e-bike." With an insane 1000W rear-hub motor, it doesn't just blur the lines between the two types of vehicles – it runs right over them. On the plus side, it also puts the demon in "speed demon." This bike can move!
Thanks to its full suspension and thick, padded seat, the S4's ride is casual, comfortable, and smooth. We covered well over 100 miles across several days in our testing, and it checked all the boxes for a fun, comfy ride.
We at Electric Bike Report expected this bike to be priced much higher than its current cost of around $1500. With moped-style e-bikes being all the rage these days, friendly competition in the industry has done its job. The S4 is awesome value for its price tag!
Keep reading as we dive deep in this EUYbike S4 review!
Bike Category:
Moped / Moto
Unclassified E-Bike:
Throttle and Pedal-Assist up to 31 mph

Pros
Insane speed! The S4's beastly 1000W rear-hub motor delivers thrilling rides using both throttle and pedal assist.
A super comfortable ride. The bike's big, squishy seat and full suspension lend the S4 to long, enjoyable journeys.
Awesome value! With its price point of around $1500, this is one of the most affordable and capable e-mopeds we've seen.
A hugely customizable ride experience. The bike's settings menu can adjust the S4's speed, throttle, motor engagement, and more. We've never seen so many adjustable elements before!
Comes equipped for off-road use, thanks to its suspension fork, rear mono shock, and knobby fat tires.
It's surprisingly easy to pedal even without motor assistance! This could save your skin if you run out of battery power on the way home.
It just looks cool, and it has the power to match. Enough said!

Cons
The bike's power is amazing, but it comes with a tradeoff. We recommend checking your local laws, but the S4 is not likely to be street-legal without a license and registration.
Assuming the legal requirements are met, this thing is incredibly road-capable. We'd love to see turn signals for easier communication with other motorists.
ELECTRICAL SPECS & FEATURES
Battery : 48V 25Ah lithium battery (Ours was 20Ah)
Display: Black-and-white LCD
Motor: 1000W rear-hub motor w/ 96 Nm (peak) torque
Headlight: 48V LED light
Taillights: Included w/ brake lights
Pedal Assist: 5-stage PAS
Range: 40-44 miles (throttle) or 70-75 miles (PAS) (claimed)
Throttle:Twist throttle
Weight & Dimensions
Claimed weight: 76 lbs.
Total payload capacity: 400 lbs.
Components & Accessories
Brakes: Tektro 160mm hydraulic brakes
Fenders: Plastic
Fork: Alloy front suspension fork with lockout and adjustment
Frame: High-Carbon Steel Frame
Drivetrain: Shimano 7 speed
Grips: Ergonomic rubber
Saddle: Soft PU (polyurethane) shock absorber seat

Handlebar: Adjustable height
Kickstand: Included
Pedals: Foldable pedals with reflectors
Tires: 20"x4" fat tires
EUYbike S4 Review: E-Bike Overview
One of our first questions when we saw the EUYbike S4 was this – what's with the name? Fortunately, EUY's website explains: E is for "excellent," U is for "ultrafast," and Y is for "young." These descriptors made sense after our first rip-roaring ride on the bike, which left our hearts pumping, our hair blown back, and our hands a little shaky.
As crazy fun as it is, the speed and power that comes with the S4 has a tradeoff; with such a powerful 1000W motor and unrestricted speeds, it's not likely to be road legal without a few added steps. Depending on your local laws and regulations, that could mean as little as limiting the bike's top speed through its robust (but also somewhat complicated) settings menu, or as much as getting a license and registration through your local DMV, MVD, or whatever other acronym they might use.
Regardless, we loved the bike's ridiculous top speeds and we're confident that any other thrill-seekers will too. Because of its specs and capabilities, the S4 falls outside the 3-Class system that e-bikes often are divided into. As such, riders can reach speeds beyond the Class 3 limitation of 28 miles per hour through both throttle and pedal-assist – but who are we kidding? No one's pedaling the S4!
Whether pedaling or using the throttle, we appreciated the S4's comfortable saddle that struck a solid balance between squishy and supportive. It also had enough real estate that our taller riders could scoot back for better leg extension when adding in leg power to the motor's power in a low pedal-assist system (PAS) setting. Despite using coil springs on both its rear shock and suspension fork, the S4's full suspension offers a much more comfortable ride than a hardtail setup would provide, which our tailbones were grateful for.
The rear shock and suspension fork are two elements of the S4 that helps to save on cost. Small but impactful tradeoffs like this allow the bike to maintain a price point of around $1500. In the world of moped-style e-bikes, this is surprisingly low; we expected to see the bike sell for at least a few hundred dollars more. In spite of its affordability, the S4 felt solid and performed well in our testing – let's get into its results!
EUYbike S4 Review: Circuit Speed Test
Our Circuit Test, explained above, allowed us to get a true feel for the EUYbike S4's 1000W motor, ride feel, and handling. I'll save that last part for later in the review.
In the S4's baseline lap without motor assistance, the bike pedaled surprisingly well. We achieved a respectable speed thanks to the bike's weight and accommodating geometry which allowed our rider to move the bike comfortably.
The bike's 1000W rear hub motor kicked off our PAS 1 lap in style. Despite varying statements about speed limitations (the S4's website claims 10 mph in this setting and our contact suggested 13 mph), we found ourselves cruising closer to 20 on straightaways! We've tested quite a few e-bikes with limitations that make their lowest settings less-than-practical, so we were happy to see a functional level of speed on the S4.
As shown in the graph above, the bike's second PAS setting kept the trend going with a similar jump in assistance. The average speeds we measured in higher settings were tempered more by the limitations of our course than by the bike's motor itself; we found that the bike could easily hit 30 mph on longer stretches of road. In truth, the S4's average time in PAS 5 is one of the fastest we've ever recorded!
As explained in our article explaining e-bike hub motors, the EUYbike S4 uses a cadence sensor which keeps the motor engaged as long as the pedals are moving. As with many moped-style e-bikes that go (sometimes far) above 20 mph, the S4 ghost pedals at higher speeds. This is part of the reason why we think many riders will just opt to use the bike's throttle, but we appreciated the Shimano 7-speed drivetrain that allowed us to contribute some effort up to around 22 mph.
Additionally, we noticed that the motor's cadence sensor took a few seconds to engage – or re-engage after braking or coasting – but we didn't think it was much of a problem considering that the bike pedals comparatively well when the motor is not engaged.
Overall, we observed that the S4's power and speed was well-distributed throughout its pedal assist settings, and we thoroughly enjoyed the rush it provided across the board!
EUYbike S4 Review: Range Test & Battery Performance
Our Range Test, explained above, is designed primarily to evaluate an e-bikes battery capacity and the efficiency of its motor/battery pairing.
The EUYbike S4 is an unusual case (we seem to have a lot of those, for various reasons) due to a few distinguishing factors. First, with the battery's capacity. The S4's webpage advertises a 48V, 25 amp-hour (Ah) or 1,200 watt-hour (Wh) unit, but the one on our test bike was a 20 Ah or 960 Wh power source. We reached out to the company for clarification, and they advised us that the battery capacity has been upgraded. Larger capacity is always appreciated, but we were only able to evaluate the older, smaller capacity unit.
Next, regarding the range estimates advertised by EUYbike; the S4's webpage states a throttle-only range between 40 and 44 miles, and a pedal-assist result between 49 and 75 miles. These figures were calculated based on the larger 1,2000 Wh battery and the differing speed limitations I mentioned previously, and so are not quite accurate for comparison purposes.
We measured a distance of nearly 28 miles in PAS 5 and around 49 miles in PAS 1, which might not seem fantastic when compared to EUY's claimed range, but are both very good when compared to similar e-bikes we have tested. The battery on our test bike didn't have quite enough power in reserve to push the S4 to the top spot among moped-style e-bikes, but we can estimate that the bike would have ended up at – or near – that position with the larger 1200 Wh supply.
We don't often test e-bikes with battery watt-hour ratings so close to (or exceeding) the 1000 Wh mark. We also don't often have the opportunity to evaluate 1000W motors, which of course are considerably more voracious than 750W units. There are relationships between these specs that we discuss in our guide to e-bike batteries, but our results indicate that the S4's motor/battery pairing is efficient.
It's worth noting that we do not (currently) evaluate range using just throttle power in our Range Test, and so cannot speak to the accuracy of EUYbike's estimate of 44 miles – but that, too would likely be affected by the smaller battery on our S4.
Regardless of the differences between our results and the range and speed estimates/calculations made by EUY, we are satisfied with the distances we measured. The S4 demonstrated that it has endurance for a moderately lengthy trip in its max-assist setting, and users who want to extend its range can opt to ride the bike in lower (but no less capable) settings.
EUYbike S4 Review: Hill Test
Here again, the EUYbike S4 presents itself as a unique case study. In our Hill Test, which you can read more about in the graphic above, the bike's results were mixed.
On throttle power, the bike meandered its way to the summit in 1 minute and 40 seconds, with an average speed of just 10.8 miles per hour. With pedal assistance in PAS 5, it sped uphill in 1 minute and 15 seconds at an average speed of 14.5 mph.
If we compare this to other moped-style e-bikes we've tested, the S4 finds itself in the middle of the pack when it comes to max-assist results, and trailing behind somewhat with just its throttle. We found these results to be surprising, considering the bike's previously established speed, its 1000W motor, and the 96 Newton-meters (Nm) of torque its motor is rated for.
We don't intend for our Hill Test to be a determining factor for whether a bike is "good" or "bad;" these are terms that are defined personally. Despite the fact that we had higher expectations for the S4 in this test, the fact that it made it up the Hell Hole trail is enough for us.
EUYbike S4 Review: Safety and Brake Test

I'll go over all of the bike's safety features in this section of this EUYbike S4 review, but first, let's focus on the results of our Brake Test, which you can read more about above.
The S4 uses hydraulic disc brakes on 160mm rotors. We always appreciate hydraulic systems, and generally consider them essential on e-bikes capable of Class 3 speeds, or higher in this case. At least on paper, the 160mm rotors looked a little on the small side to me – but I was happy to be proved wrong.
After three demonstrations, we calculated an average stopping distance of 18'-11", which is currently the best performance we've seen on a moped-style e-bike. It's also just under our broad current average of 19' which accounts for all of the e-bikes we've tested.
The bike's additional safety features include its oversized headlight (which also includes a running light), taillight (which includes brake lights), and an electronic horn.
Additionally, the S4 includes an unusually robust settings menu that allows for a massive amount of customization. Most relevant is the ability to limit the bike's maximum speed, but its throttle (or pedal-assist system) can also be deactivated, or set to only function when the bike is in motion (throttle after pedal). In some locations, limiting the bike's speed through this menu could be enough to make it road legal.
Assuming that the proper steps are taken – whether that means the bike's settings are adjusted or it has been registered – we think it would make a fun and highly capable street bike. However, for additional safety and communication with other motorists, we'd love to see turn signals included in the future. This would take the already awesome S4 to the next level!
EUYbike S4 Review: Ride Comfort & Handling, Cockpit, and More
We have established that the EUYbike S4's ride is appreciably comfortable, so I won't go into more detail than I already have on that topic. But we have not yet covered the bike's handling!
With 20"x4" fat tires, the S4's handling feels responsive, although its turning radius is impacted slightly by the dual-crown suspension fork. Leaning into corners helps to solve this problem, and the S4's knobby tires provide more than enough grip and stability to enable this.
I took the bike off-road over compacted dirt and loose sand in my testing, and thoroughly appreciated the bike's full suspension. While it felt a bit out of place on narrow singletrack, I was impressed by how competently the S4 handled a rough dirt road. Its tires and motor almost lost out in a few inches of sand, but with a leg for added stability, I made it out. All-in-all, I was pleasantly surprised by the bike's off-road feel!
The S4's cockpit layout feels appropriate, with a slightly swept-back riser bar and a simple but effective distribution of controls. Along with brake levers, there is a half-twist throttle and an over-the-bar shifter on the right handlebar. The left bar hosts the bike's control panel and an additional module with buttons to activate the lights and LOUD electronic horn. The S4's display is a basic black-and-white unit that takes care of the essentials, although I must give kudos to EUYbike for using an LCD with a percentage-based battery readout! These are typically more reliable and accurate than the bar-based variety because it won't leave you guessing what your battery capacity is at a given moment.
Overall, I liked the S4's cockpit a lot, but I do have some critique is in regard to the grips. These are ergonomic rubber, which I appreciate, but I personally found that they felt a bit too short (admittedly, I do have large hands). This relates to my previous wish for turn signals on the bike; it's nice to have more real-estate when taking a hand off the bar to signal an upcoming turn.
EUYbike S4 Review: Summary / Where to Buy
If I had to sum up the EUYbike S4 in a word – well, I'd probably go with two: unexpectedly awesome! This bike is every bit as fast as it looks, which translates to an exhilarating experience.
Of course, we have a few minor areas of critique – or at least some things to be aware of. We appreciate the uncommon level of flexibility and customization offered through the bike's settings menu (including the ability to limit speed or deactivate the throttle), but its 1000W motor greatly reduces the S4's likelihood of being road-legal without a license and registration. Additionally, for increased safety and ease of communication with other drivers, we'd love to see turn signals that allow the rider to keep both hands on the handlebars.
Thrill-seekers looking for adrenaline will get their fix thanks to the bike's huge and hungry motor and unrestricted speeds. Those looking for a casual ride over a long distance will appreciate the S4's plush saddle, user-friendly cockpit, and impressive battery capacity. And savvy riders who want to get a seriously powerful and cool-looking bike without breaking the bank will certainly love the EUYbike S4's price point.
In short, we found a lot to enjoy through our experiences on this bike, and we think you will too!
Happy Riding! Make sure to let us know if you have any questions down in our comments section or if you think we left anything out in this review of the EUYBike S4.
Reader Interactions