Bakcou Storm Review 2023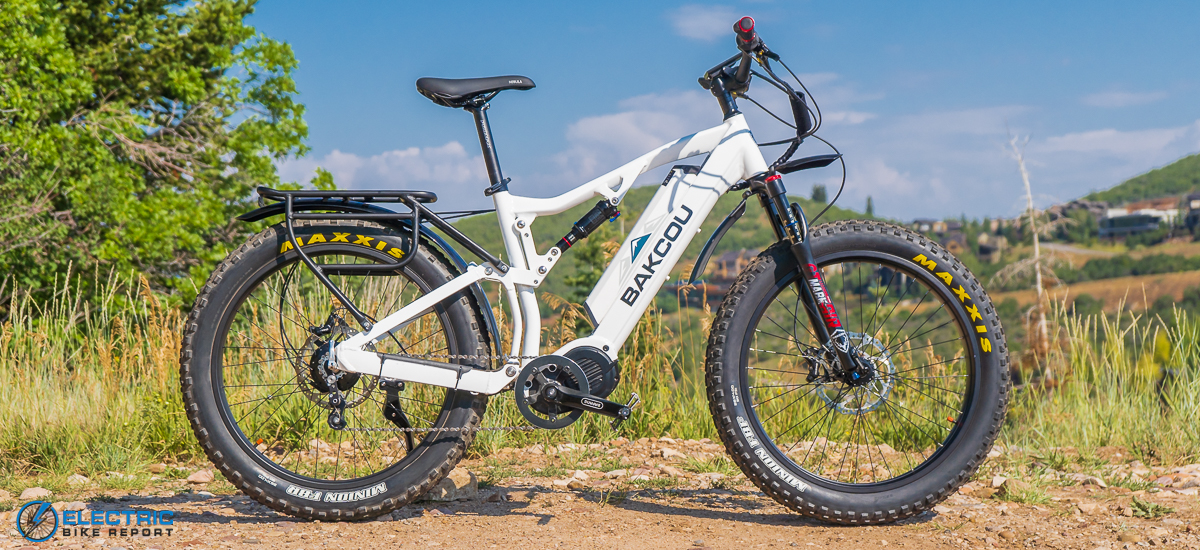 An e-bike designed to go where few others can, the Bakcou Storm is a full-suspension electric fat bike with the soul of a 4×4 and the guts of an ultra-powerful eMTB.
Founded by hunters and outdoorsmen who needed a quiet but capable mode of transportation in the backcountry that wouldn't disturb wildlife, Utah-based Bakcou specializes in all-terrain electric fat bikes that'll do just about anything you ask. The full-suspension storm is their flagship model.
Bakcou loaned Electric Bike Report a Storm during the Big Gear Show in Park City, Utah so we could put it through its paces for a morning. To put it short, this isn't your average electric fat bike. We typically are quick to voice a disclaimer when we review fat e-bikes that not all of them are built with heavy off-road use in mind; most are best used on bike paths and light gravel roads. Bakcou builds e-bikes that are the exception to this rule.
Bakcou is a member of a growing cohort of e-bike companies that cater to the hunting and outdoors crowd, a quick growing niche in the e-bike world. And while they may look like a more capable electric fat bike or a burly eMTB, they really are pioneering a new category of e-bike. I think of it as the 4×4 category, but I'm not sure if that accurately captures it. Whatever we decide to call it, the Storm is an ultra-powerful and ultra-capable full suspension fat bike that'll get you into the sticks and back without batting an eye.
Bakcou Storm Review: Performance and Handling
Speed and handling
The Storm's motor alone is one of the biggest indicators that this bike is in a class of its own. It's built around the Bafang Ultra mid-drive motor, an absolute monster of a powerplant with a 1,000W nominal rating capable of cranking out 160Nm of torque. That's a ridiculous amount of power for almost any normal circumstance. It's also not street legal in most U.S. states, meaning that unless you tune that wattage down (which you easily can), the Storm is an unclassified e-bike that can only be used on private land or OHV areas.
So why build an e-bike with that much power? According to Bakcou, it's because these bikes are made to pull loaded trailers off road and negotiate terrain that would normally be too much for a typical eMTB or electric fat bike. Think of the type of terrain a side-by-side or an ATV might normally be used to traverse, like deep sand, snow or rutted doubletrack — that's what the Storm is built for.
We were limited by time and e-bike legal off-road access when we tested the Storm in Park City, but I was immediately impressed at how unconventionally capable the storm felt — even when just pedaling on pavement. It's handlebars are wider than what we see on a typical electric fat bike, making the cockpit feel much more like the wide and stable setup you'd find on an eMTB. There's a thumb throttle that, in the street-legal configuration, is limited to 20 mph and the pedaling position felt efficient. Though, the motor was so powerful you hardly had to step on the pedals to get the bike to leap forward.
I was also pleasantly surprised with the suspension performance, especially at the rear. It's difficult to build a full-suspension fat bike that doesn't feel like a pogo stick due to the weight, but the Storm's Rockshox-equipped rear end felt good. It's no high-tech linkage design, but it'll absolutely take the edge off on burlier terrain and appears stiff enough to fight off lateral flex.
While this bike definitely is far more capable off-road than your average electric fat bike, it's likely going to be a little much on tight single track trails. It'll do it, don't get me wrong, but its sheer size and weight will likely make it a little difficult in tight or technical sections. The 1,000W motor would also be a bear to handle. Accelerating out of corners and in situations that require hard but controlled efforts, that motor would likely be overkill to the point that it would be difficult to control. Stick to more open doubletrack or backcountry riding, and it'll do great.
Bakcou Storm Review: Components
Motor and battery: A 1,000W Bafang mid-drive and large battery options
The Storm is built around a Bafang Ultra mid-drive motor with a 1,000W nominal rating and 160Nm of torque, an eye watering amount of power. That power can be easily tuned down via the display to a street legal 750W and the motor features a battery-saving eco mode and quicker sport mode. Each of those modes have 5 pedal assistance settings for a total of ten, giving the rider lots of control over how much energy they're expending.
The Storm is currently sold with three battery options, a 48V, 17.4Ah base model, a 48V, 19.2Ah mid-level or a longer range 48V, 21Ah option.
Drivetrain: A Rohloff internally geared hub
We tested Bakcou's high-end Jager model of the Storm at the Big Gear Show, which is equipped with the extremely cool 14-speed Rohloff internally geared hub.
Since their moving parts are sealed away from the elements, internally geared hubs are a good option for hunters and outdoorsmen who may be venturing into less than ideal conditions, such as mud or snow, that could pack up normal drivetrains. The German-made Rohloff hub, the internals of which more closely resemble a fine watch than a bicycle component, is considered one of the nicest money can buy. It's an incredibly reliable option that's been leaned on by long-distance bike tourers and other cyclists who can't afford breakdowns in remote areas.
The Rohloff does take a little getting used to. Unlike a typical drivetrain that requires you to pedal in order to change gears, you actually have to stop pedaling to make the Rohloff shift. It's something I had to remind myself of a few times but I quickly got the hang of it.
Brakes: Tektro hydraulic disc brakes
Bakcou spec'd the Storm with a set of Tektro Orion 4-piston hydraulic disc brakes and sizable 203mm rotors front and rear.
These brakes are made specifically for eMTBs and were plenty powerful on the big hills of Park City, despite my efforts to heat them up and push their limits on bigger descents.
Other notes: A big carrying capacity and lots of special-made accessories
Bakcou's Storm has a 300lb carrying capacity and is designed to be able to haul things into the backcountry.
It does come with fenders and a rear rack, but Bakcou does have a whole line of special-made accessories including trailers, racks and bags designed to work specifically with their bikes.
Bakcou Storm Review: Final Word
I really liked the Bakcou Storm — more than I expected to, actually — but I'm struggling to put a finger on exactly where it belongs in the e-bike ecosystem.
It's plenty capable off-road, but calling it an eMTB doesn't feel quite right; it's just too powerful and burly to fit well in that category. But it's also not your standard electric fat bike, a category full of e-bikes that sell the image of adventure but are more at home on light-duty dirt paths.
Instead, I feel like the Storm falls into a new "all-terrain" category that these hunting and outdoors e-bike companies are making for themselves. This bike, and the few others also in this category, are designed to go where few other bikes could. They're powerful, heavy and built with traction in mind. The Storm is the e-bike version of a 4×4 Jeep or side-by-side.
Bakcou is a direct-to-consumer company so you can buy the Storm on their website and have it shipped direct to your door.