Dillenger Bafang Mid Drive Electric Bike Kit Review Part 2: Ride & Range Test [VIDEO]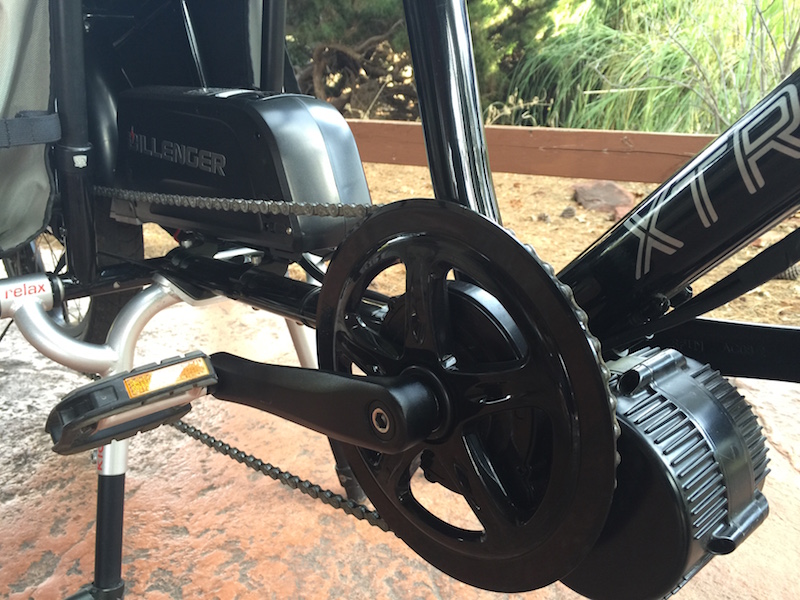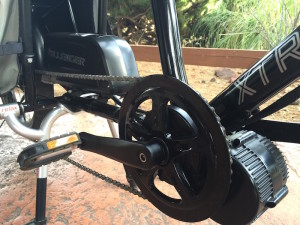 After putting on some miles and doing a full range test, the results are in on the Dillenger Bafang mid drive electric bike kit!
Overall, the Dillenger Bafang mid drive kit is one of the more refined systems that can be installed on almost any bike.
Mid drive systems can climb almost any hill because they can leverage the gears of the bike, similar to a car's motor and transmission.
This review is for the 750 watt system but there are also 250 watt, 350 watt, and 500 watt systems available.
In this second part of the full review of the Dillenger Bafang mid drive kit, you will get an idea of the ride characteristics, range test, pros, cons, and overall thoughts on this kit.
Make sure you check out part 1 of this review with large detailed pictures of the installation and kit specifications to get familiar with this system.
What you can expect from the Dillenger Bafang Mid Drive Electric Bike Kit:
To get acquainted with the Bafang kit, checkout this video:
Dillenger began in Australia in 2007 and they are in the process of establishing themselves in multiple European markets and in the US.
In addition to this Bafang mid drive kit Dillenger also sells a range of hub motor kits and complete electric bikes.
Now let's take a look at how the system performs on the road.
Riding the Dillenger Bafang Mid Drive Electric Bike Kit: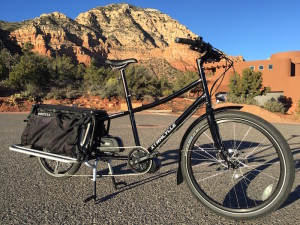 This particular system is very powerful with 750 watts and ~80 Nm of torque!  Since the motor is powering through the gears (transmission) of the bike it can climb almost any hill and get up to speed pretty quick.
A mid drive with 750 watts and up to 80 Nm of torque is probably a bit excessive for most bikes but it definitely helps with carrying a lot of cargo on the Xtracycle Edgerunner, especially up steep hills!  It is nice that Dillenger offers the options for 250, 350, or 500 watt systems to fit your riding needs.
This Bafang system is a cadence sensor system which means that when the cranks are turning the system will add assist.  It is a simpler assist system when compared to a torque sensor that varies the assistance based on how hard or easily you are pedaling.  Bafang is rumored to have a torque sensing mid drive at some point.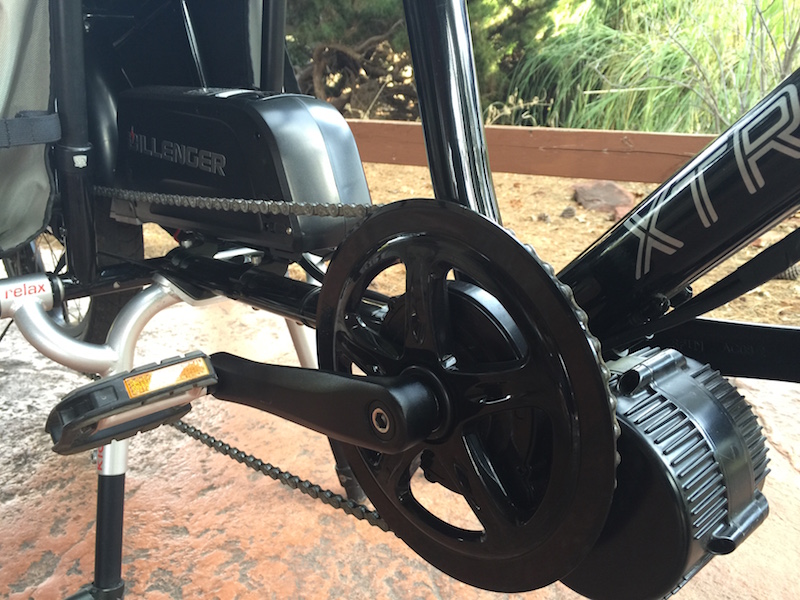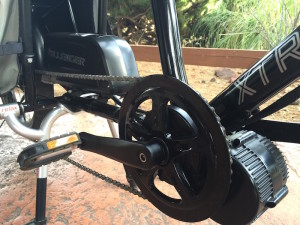 Cadence sensor systems are not as intuitive because they can provide full assist even if you are "soft pedaling" (turning the cranks but not pedaling hard).  As you get used to the system it is important to remember that if you want to stop the assist you will need to stop pedaling completely or engage the brake lever.
The brake levers that come with the kit have a sensor that will stop the assist when the brake lever is engaged.  They only work with mechanical cable actuated brakes, not hydraulic brakes, but there is a new universal brake sensor (aftermarket) that will work with hydraulic brakes.
When you start pedaling the power gradually adds assist and the motor is relatively quiet.  This adds up to a pretty smooth riding experience.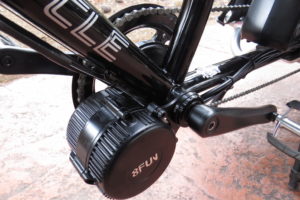 To comply to the US law for electric bikes the system comes with a 20 mph max assist but there is a way to change the max speed to be higher or lower in the advanced settings.  The max speed range that is available is between 10 mph and 25 mph.
All mid drives motors will add additional wear to the drivetrain (chainring, chain, cogs, and derailleur), because they are providing more consistent power to the drivetrain than a normal human can.  At 750 watts of power the additional wear will probably be significant in the long run.  That is another consideration when selecting the power level for your bike.
Speaking of the power, in the higher pedal assist settings you will notice the "hard shifts" or abruptness when changing gears.  The Bafang system doesn't have a system to sense when you are going to shift (Bosch & Kalkhoff Impulse systems do), so the shifting will happen under full power.  If you have a higher quality drivetrain you may not notice it as much but it will still be somewhat abrupt.
One way to work around this it to tap the brake levers to stop the assist briefly while shifting gears.  I didn't have the brake levers set up on the Xtracycle Edgerunner (because it has hydraulic disc brakes) but I have used this technique on other Bafang mid drive equipped bikes.
The Bafang mid drive comes set up with 3 levels of pedal assist and a "0" level for no assist.  There is a way to customize the system to add up to 9 indexed levels of pedal assist.  That is nice if you prefer having smaller incremental differences in the pedal assist levels.  I found that 5 levels of assist worked well for my needs.
In addition to pedal assist there is the thumb throttle option that can add a boost to the pedal assist or it can be used as a pure throttle (no pedaling required).  There is some delay between using the throttle and transitioning back to the pedal assist and it would be nice to have smoother transition.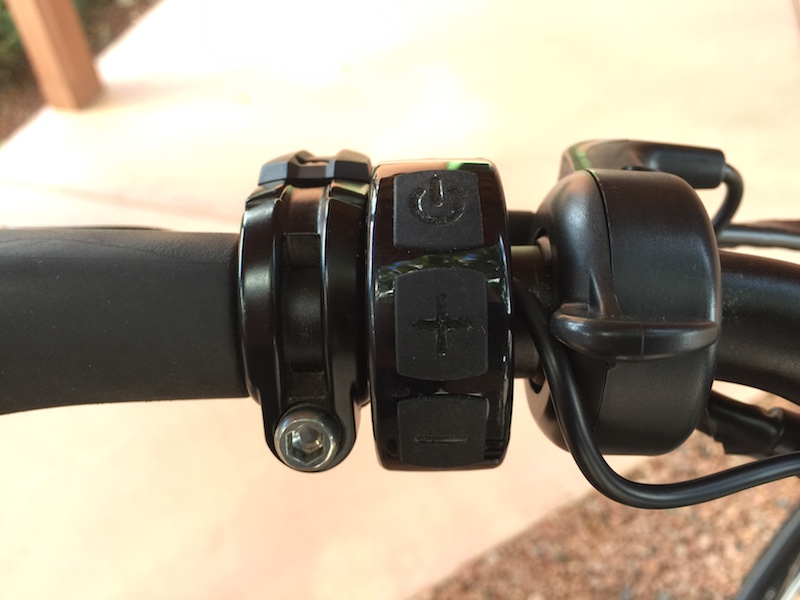 I found the throttle was useful for slowly maneuvering the bike in crowded areas before getting out into the open road where I could use the pedal assist more.
For the US and UK market Dillenger has spec'ed a 48V 8ah lithium battery with Headway cells. For the Australian market the battery is a 48V 11.6ah lithium with Samsung cells, but it is a more expensive kit.
The kit comes with a battery mount that attaches to the water bottle braze-ons on most bike frames.  The Xtracycle Edgerunner that I used to test this kit has a battery mount near the rear wheel.
The battery can be charged in ~ 4 hours with the included charger.  It can be charged on the bike or unlocked and removed from the bike for charging inside.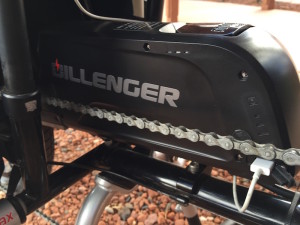 In addition to powering the bike, this battery can also charge a smartphone, tablet, MP3 player, etc. with its built in USB charging port on the side.  This is very handy for charging these devices while out and about or while on an e-bike tour.
The LCD display is very large and easy to read with just enough information like: current speed, odometer, trip distance, battery level, pedal assist level, and current time.  It has a backlit feature that makes it very easy to see this info while riding at night.  The backlight brightness can be adjusted in the advanced settings.
To turn the system on, the battery must be turned on in addition to the on/off button at the control pad on the handlebars.  The control pad also has + – buttons for adjusting the assist levels and changing the advanced settings.
Now let's see how the system did in the range test.
Dillenger Bafang Kit Range Test Results:
Here is the real world information on how the Dillenger Bafang mid drive kit performed on a riding circuit that includes hills, flats, traffic, wind (when available) etc.
While testing these bikes I like to put them through the toughest conditions to see where their bottom line is in regards to range and speed.
Range: As you can see from the GPS info that I recorded, the kit traveled 20.8 miles and did a total elevation gain/loss of around 1,700 ft. Considering that I weigh 190 lbs and I pedaled very lightly this is pretty good range for a 48 Volt 8 ah battery pack (384 Watt Hours) with a 750 watt motor.
Watt hours are the total energy in a battery pack and it is based on the volts x amp hours of a pack. This is a way to compare the size of the "gas tank" of electric bikes.
Please keep in mind that if you pedal more, weigh less than me, ride slower and/or you use the bike in terrain that is not as hilly you will get more range. These results are from tough testing.
Speed: The stock speed for the US is 20 mph with assist.  There is a way to customize the max speed between 10 mph to 25 mph in the advanced settings.
Weight: The kit tips the scales at around 15 lbs.
The weight distribution of the Dillenger Bafang mid drive kit is very good because the motor and battery are mounted in the center of the bike and relatively low to the ground.  This is good for overall bike handling.
Pros: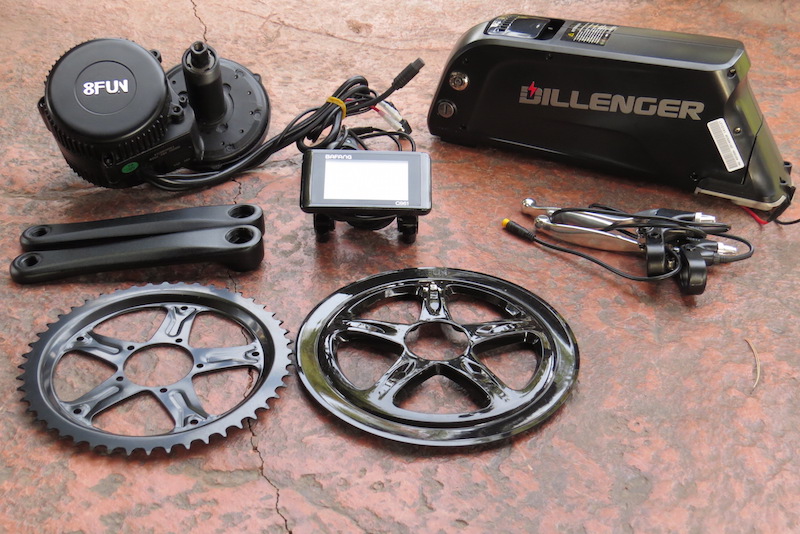 Refined Retrofit Mid Drive: The Dillenger Bafang mid drive is probably one of the more refined systems that can be added to a conventional bike.  There are other retrofit systems out there, but they are not as clean, smooth, or quiet.  Features like clean installation & look, large LCD display, and USB charging make this mid drive stand out.
Powerful Mid Drive: A lot of the mid drives installed on complete bikes are limited to 250 or 350 watts. The Dillenger Bafang offers those in addition to 500 and 750 watt options.  For those that want the higher power it is nice to have more options.
Cons:
Cadence Sensor: The cadence sensor pedal assist is not as intuitive as a torque sensor pedal assist system because it will provide a lot of power even if you are "soft pedaling". Cadence sensor systems are generally found on the more economical systems and this may be a way to keep the cost of this system relatively economical.  There is a rumor that Bafang will be offering a torque sensor mid drive.
Hard Shifts: Since this system doesn't reduce power when you shift the gears, there can be some abrupt shifts when in the higher pedal assist levels. It would be nice to see the integration of a shifting sensor.
Conclusion: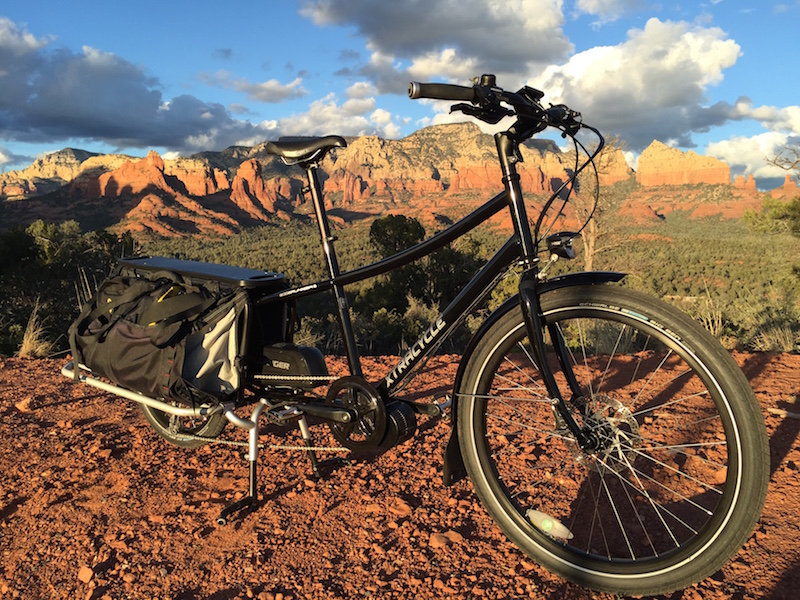 Overall the Dillenger Bafang mid drive is one of the more refined retrofit mid drive systems that I have ridden. The installation is relatively straight forward (for the mechanically inclined) and the performance is very good. The smooth and quiet power combined with a nice display and easy to use control pad make it a nice system to add to a conventional bike. It is nice that Dillenger offers a wide variety of power levels to choose from to suit your riding style.
Please keep in mind that this is a relatively short term test. This testing can't really give you the long term review of durability and reliability. My thoughts on the quality of this bike are from previous experiences with similar bikes. If you own this bike and have some input on the long term durability, please share your comments with the Electric Bike Report community below.
Where to buy a Dillenger Bafang mid drive kit? Check with Dillenger, they have a website for the US, the UK, and Australia.

Do you have any questions about the Dillenger Bafang kit?  Do you own a Bafang mid drive kit?  Please share your thoughts in the comment section below.
Thanks!
-Pete
Review Note: Each company pays a fee for a review on Electric Bike Report because of the considerable amount of time that it takes to provide an in-depth review of each eBike. A lot of time is spent on the full range test with distance & elevation profile, the wide variety of detailed pictures, in-depth video, and the write up with the specifications, ride characteristics, pros, cons, and overall thoughts. The reviews on Electric Bike Report are focused on providing you with a detailed "virtual" look at each eBike to help you determine if it is the eBike for you or not.
P.S. Don't forget to join the Electric Bike Report community for updates from the electric bike world, plus ebike riding and maintenance tips!
Reader Interactions