81 Year Old Man Comes Out of Retirement as an "Excuse" to Commute by Electric Bike!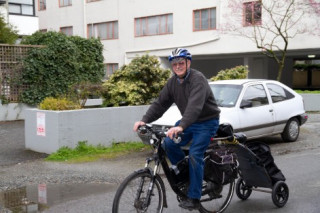 Guest post by Cathy Lau from Ohm Electric Bikes.
Jean Dion is not your typical bike commuter, but he is certainly a devoted one.
Unlike most commuters who choose to bike because they need to get to work one way or another, Jean is an 81 year old retiree who has started working again as an excuse and incentive to commute by electric bike.
To him, cycling is critical to keeping his weight down and maintaining a healthy lifestyle. Incorporating it into a daily commute is his way of making biking an integral part of his life.
Jean rides at least six days a week to get to his "workplaces."  Jean rides to homes all over Vancouver's (BC) West End to collect recyclable cans and bottles for pocket change.
It's an enviable commute. Living in Vancouver, a typical day allows him to take in the breathtaking views of beaches, mountains, and greenery that the city is known for. It's a great way to appreciate the luxury of living in one of the world's most beautiful cities, while getting in daily exercise and making a bit of money. He uses the money he makes to pay for the cost of maintaining his OHM electric bike, as well as for extra spending money.
"I am not cheap but I like making money – regardless of how little it is," Jean tells us.
To Jean, the money is just a bonus to the health benefits that regular cycling brings him. Jean originally bought the bike to keep his weight down, and started collecting recyclables as a motivation to keep going.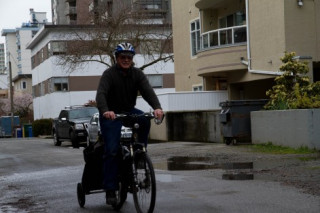 He rarely skips a single day, especially since his electric bike lets him ride through rain or shine.
"Prior to purchasing the Ohm electric bike, I was using a regular bike until August 2009, then it got to be too much for me. I require some peddling assistance. I need some major exercise to keep my weight down."
He describes: "The West End and Stanley Park have a mixture of terrain: flat in some areas and quite hilly in others. I use the battery only when needed, like uphill, getting started or when hauling a heavy load. Most of the time I carry 10 or 15 pounds, to as much as 100 lbs. The battery normally lasts me an average of 2 ½ hours when used on the above mentioned basis. When biking with no load around Stanley Park or to the East towards False Creek and beyond – depending on the terrain – you might get more mileage from the same 'charge'."
"A fully charged battery lasts approximately 2 ½ hours. Usually I use most of the battery charge. Each time I go biking I am out for an average of 2 hours plus. I always pedal assist to get my exercise.
"I have another conventional bike that I used once in a while and I soon realised that I do not have the stamina to ride it often.  So the electric bike helps me to keep busy and maintain my exercise more efficiently.
"The bike has helped me to do my things on a day to day basis and makes them a lot more enjoyable – without getting me exhausted."
End of Guest Post
That is an inspiring story!  Electric bikes are great commuting vehicles that provide exercise and fun.  I am glad to hear that Jean found an "excuse" to ride his e-bike more 🙂
Please share your electric bike commuting story in the comments section below.
Thanks!
P.S. Don't forget to join the Electric Bike Report community for updates from the electric bike world, plus ebike riding and maintenance tips!
Reader Interactions