2019 Electric Bikes at the Birmingham Cycle Show & Raleigh UK Event [VIDEO]
All the news from the latest UK e-bike launches
The e-bike segment of the Birmingham cycle show (branded The Cycle Show) grows year on year as does the backing of if by big brands.
I attended the trade day which is followed by three days for the general public to see and ride the latest e-bikes landing on the UK's shores.
The Bosch-sponsored e-mtb test track area was expanded to give visitors the chance to try out the veritable army of e-bike technology present, growing all the time it seems.
Sunny weather over at the Bafang e-bike village's outdoor test track saw a steady stream of test riders for the more city and leisure orientated models.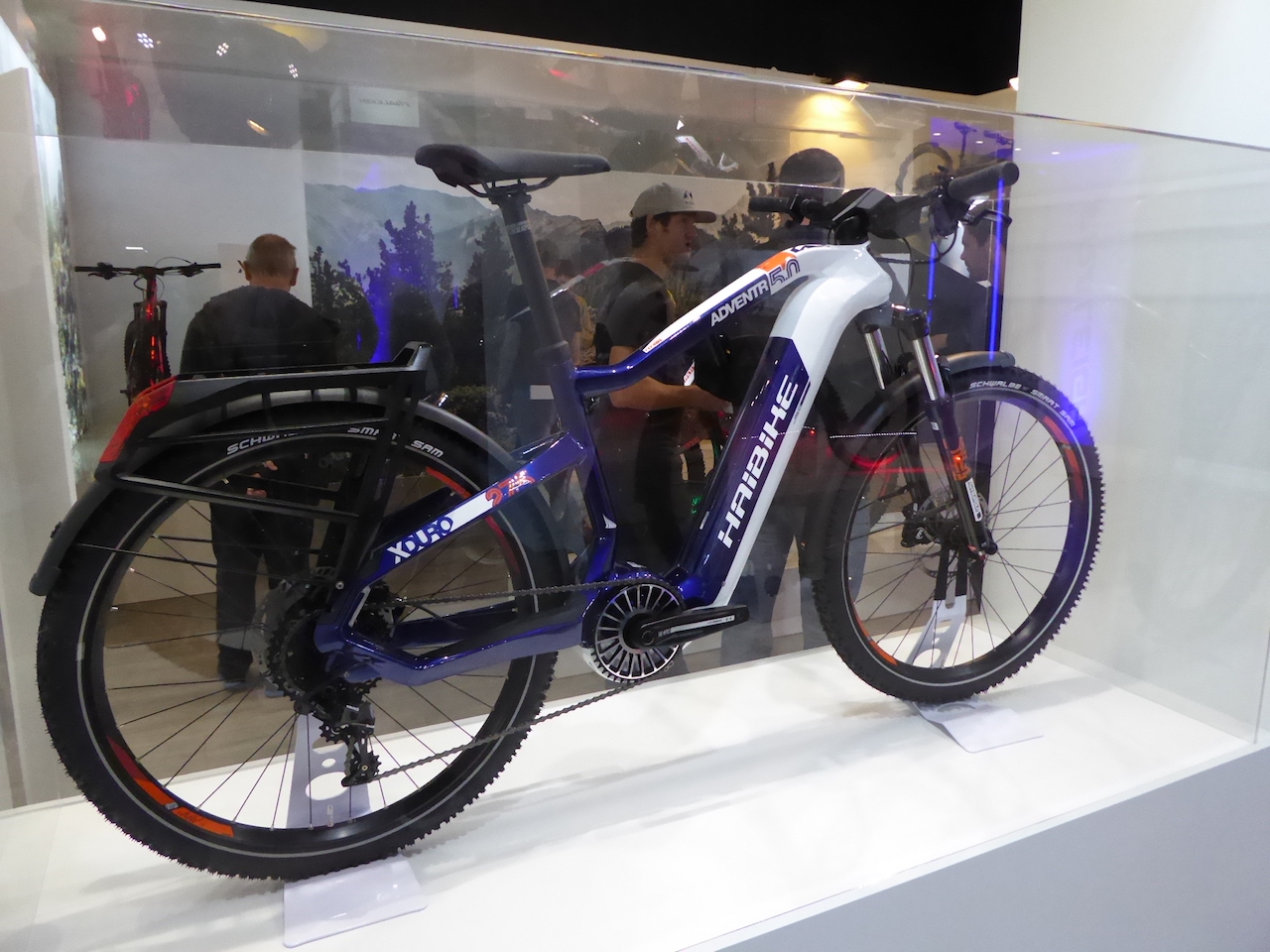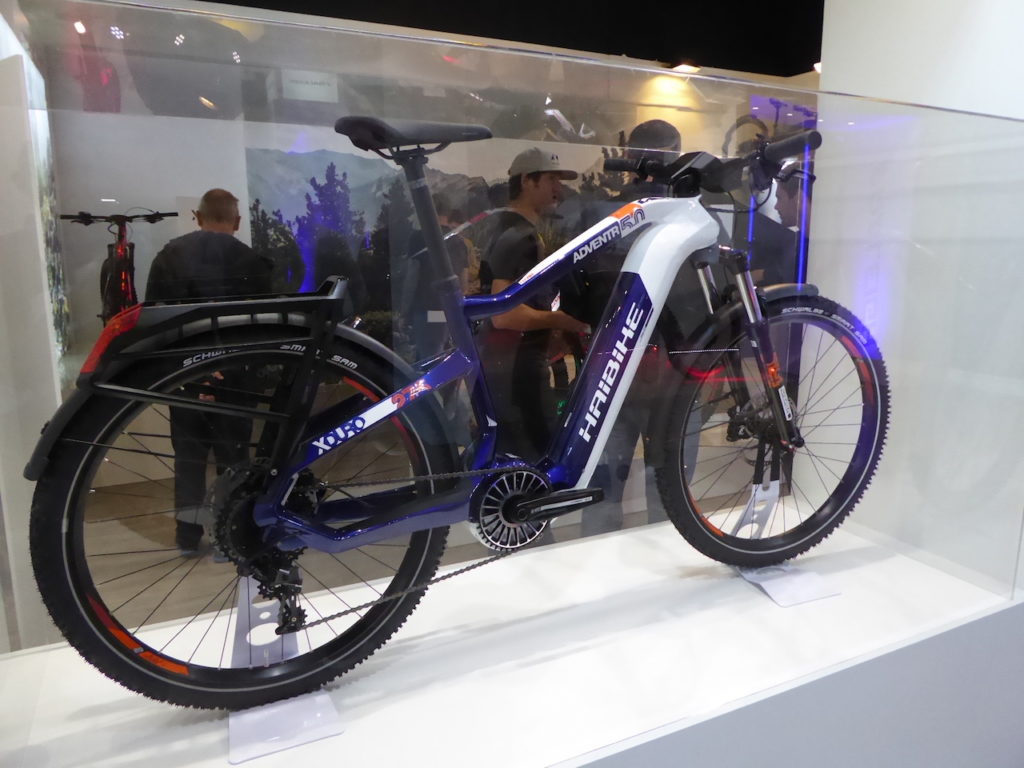 At a separate trade event at their HQ near Nottingham, Raleigh had chosen to showcase their new e-bikes alongside those of Haibike and Lapierre which they distribute in the UK, and I attended that a couple of days earlier to check out the exciting new technology on offer that will be coming the way of UK e-bikers in 2019 courtesy of one of the UK's oldest and best known bike brands.
With so much to see I've picked out a few of the brands that caught my eye.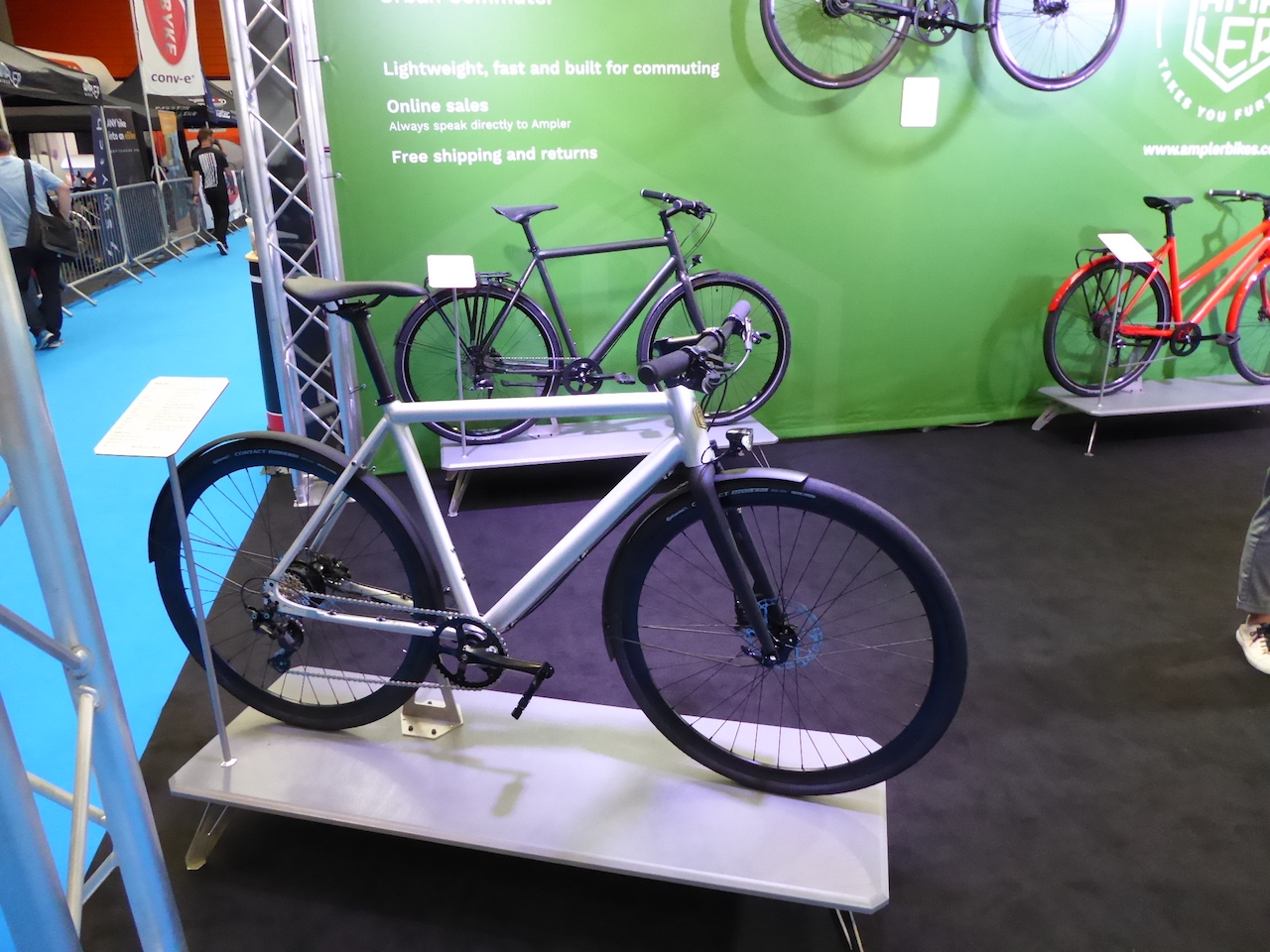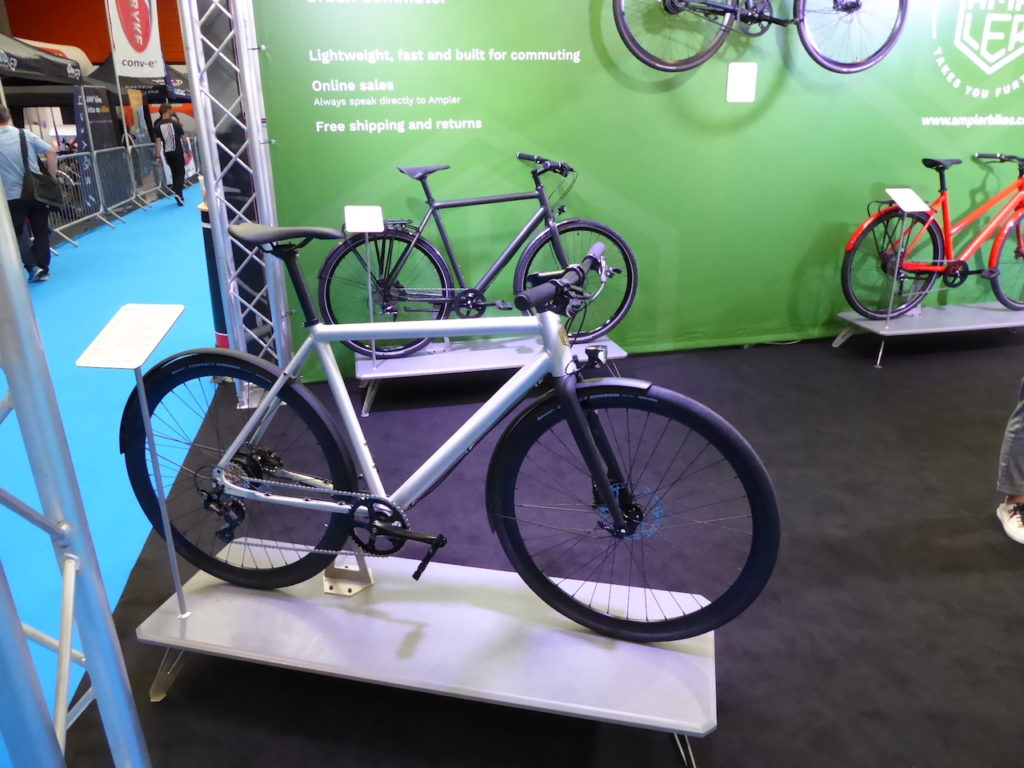 Very slick city bikes were much in evidence and I rode Ampler's single speed Curt model with a belt drive as it seemed to embody what Ampler are about: lightweight (around 14kg) and simplicity itself, with just two brake levers on the handlebars; all you have to do once you have set the desired power setting using the on-frame button is get on and pedal.
The rear hub motor is not as powerful as a meaty mid-drive bike but you would not expect it to be – this is a bike that would perform well and look at home in any city that isn't excessively hilly and has all the looks you'd want plus low maintenance simplicity.
The power is smoothly delivered by what appears to be a good quality torque sensor making for a really pleasing riding experience up to and beyond the electric assistance cut out level.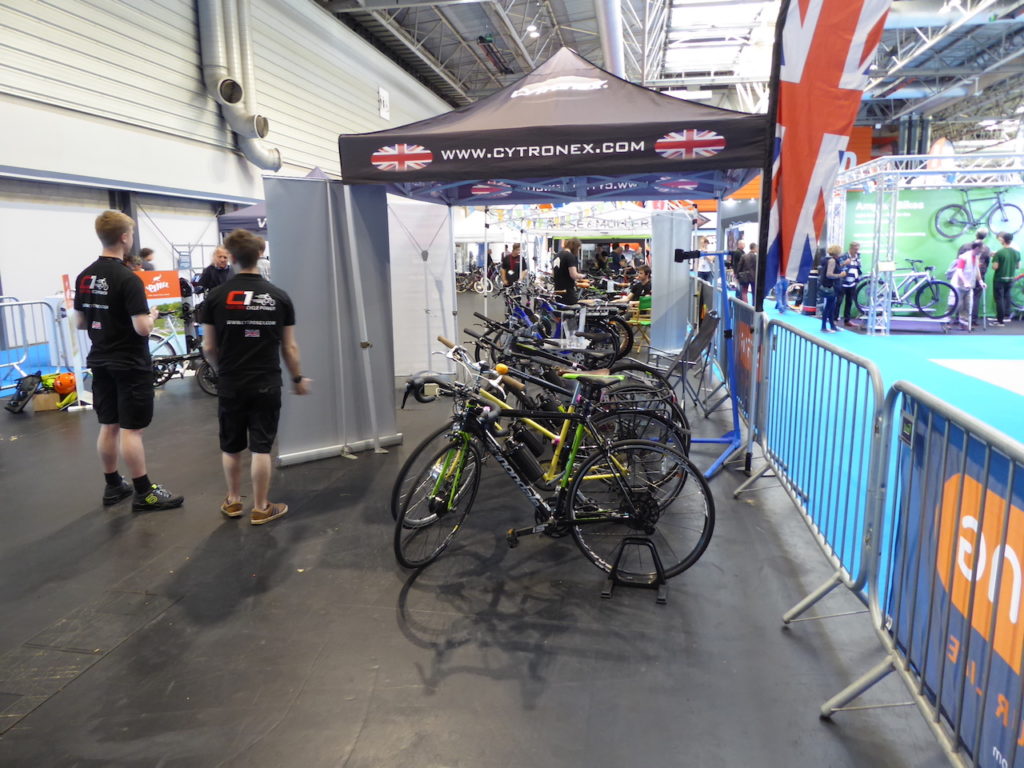 Carrying on the with same lightweight theme, one of the real showstoppers for me was the Cytronex system, designed and largely manufactured in the UK with a meticulous eye to detail by its inventor Mark Searles and his team.
The lightweight front hub motor system is used both on Cytronex's hand-picked range of lightweight bikes and is also retrofittable by Cytronex themselves, a local dealer or by the customer.
A 7.9 pounds or 3.6kg weight for the whole system means a 22 pound or 10kg e-bike is easily possible.
My ride on the test track on a sleek Cannondale model impressed as it flew past the legally assisted 15.5mph limit and kept on riding pretty much like a normal bike.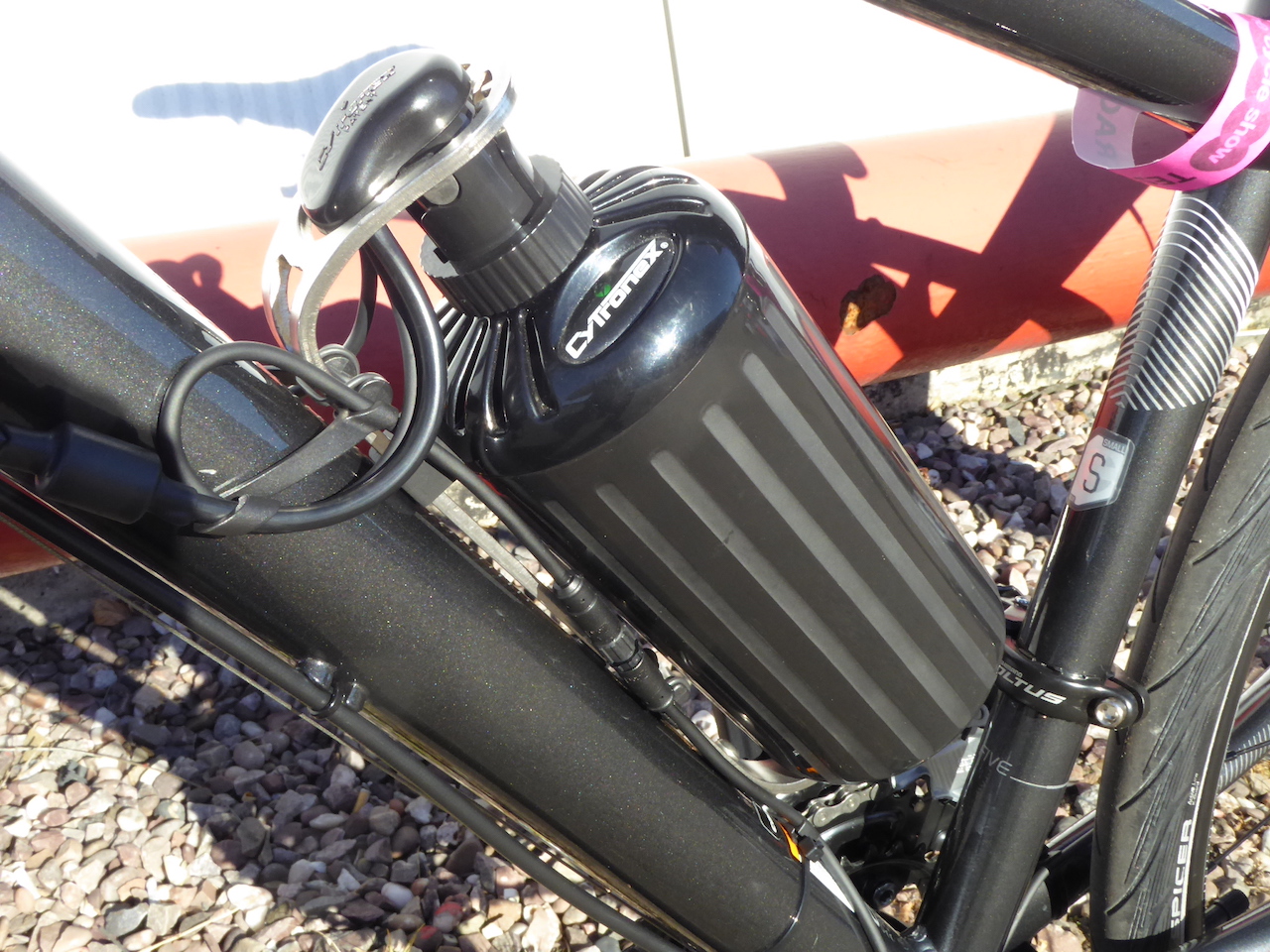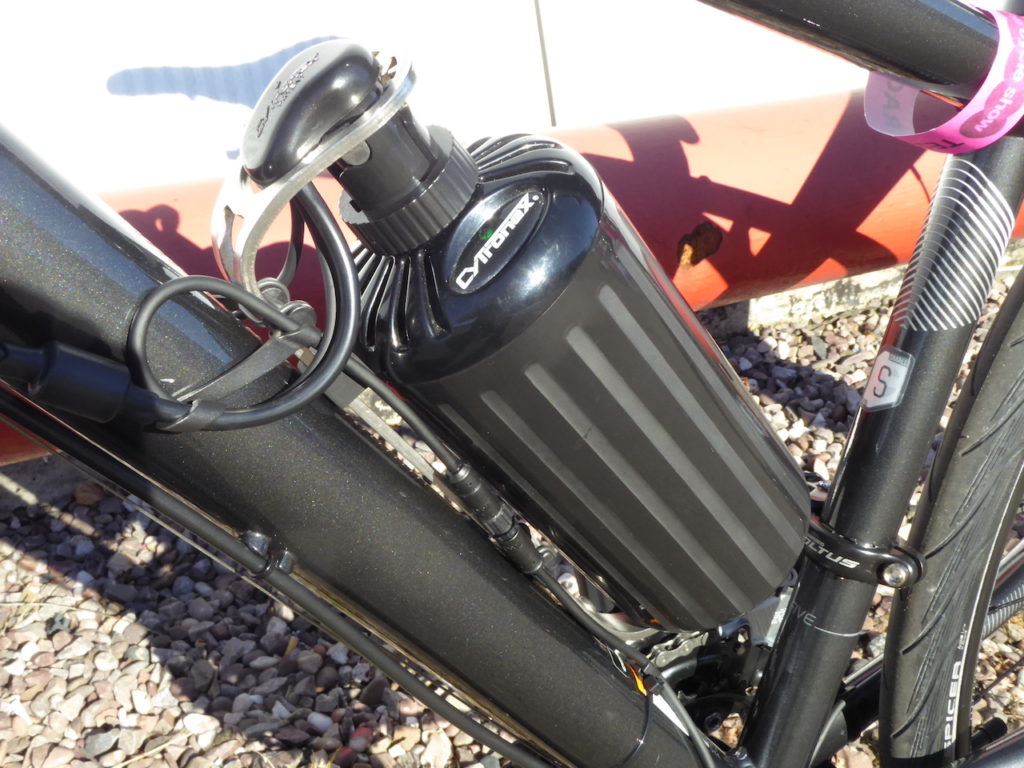 The quality of the Cytronex own-engineered parts is outstanding too, from their patented and very solidly constructed bottle battery to the colour coding power switch on the handlebars.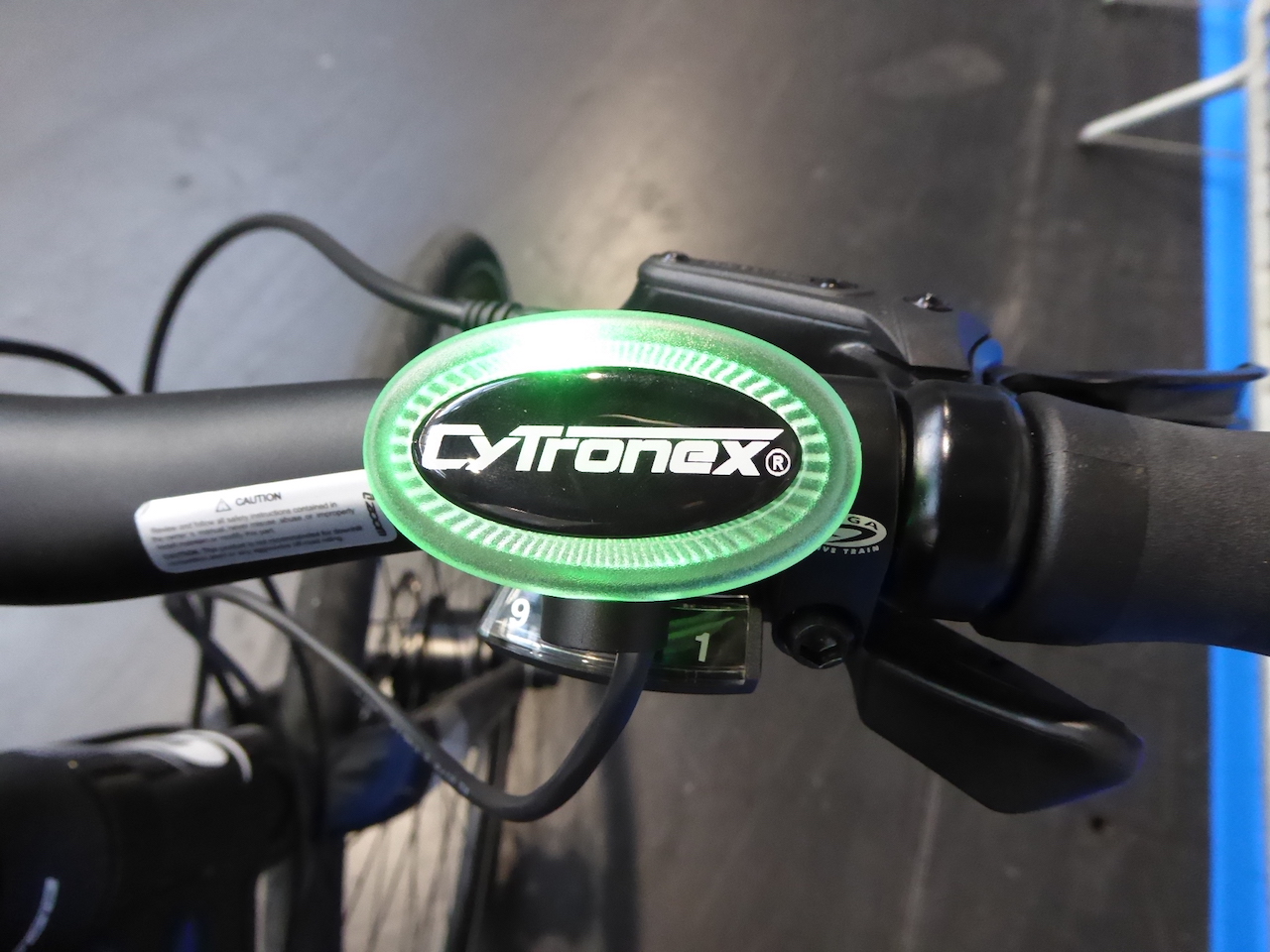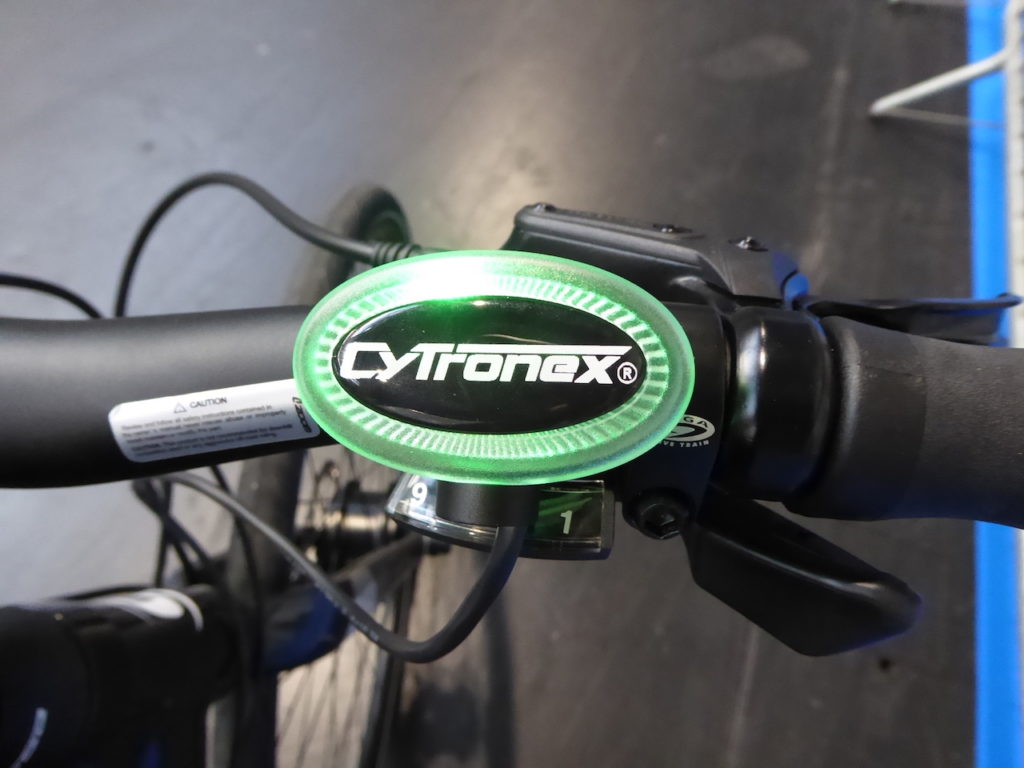 The patented rear sensor sits near the rear sprocket and works far more efficiently and cleverly than the standard and rather crude magnet system around the bottom bracket that is commonly seen.
Although Cytronex has been around for a number of years it has been and is being constantly refined, resulting in its latest C1 iteration – I'd hesitate to call this a 'kit', it's more a very superior retrofittable system.
Continuing on the lightweight theme, I'm skipping back in time to the Raleigh launch at Nottingham where lightweight eZesty e-mtbs from French manufacturers Lapierre are on display (though sadly not available for test riding).
These are sub-20kg, carbon-framed e-mtbs that look to blur the line between electric biking and non-ebiking, so holding the promise of being two bikes in one.
The removable Fazua motor system is appearing on a growing number of e-road bikes (the Lapierre version of this genre, the eZelius, was also on display and Wisper were showcasing their own Fazua-powered road bike back at Birmingham).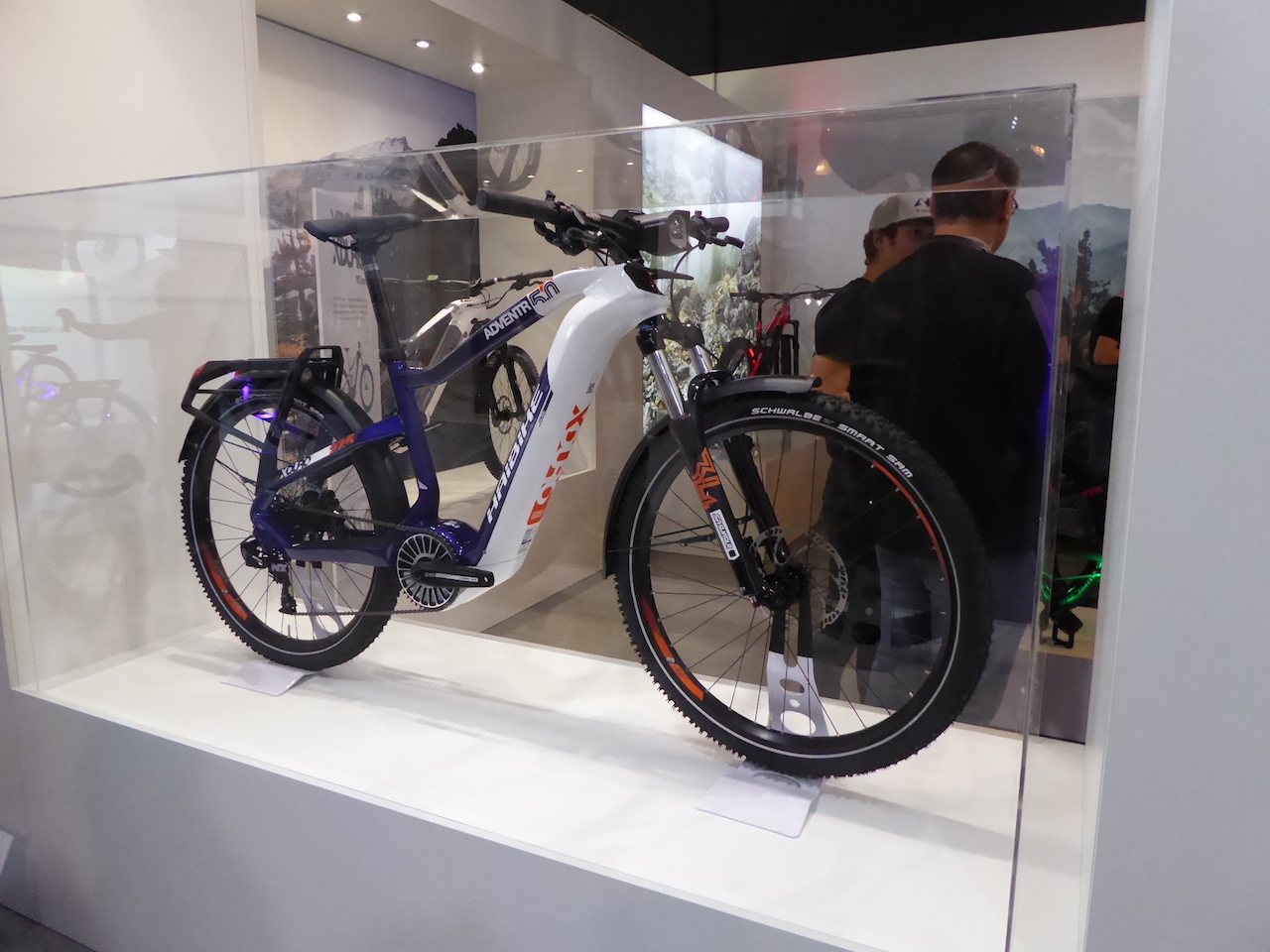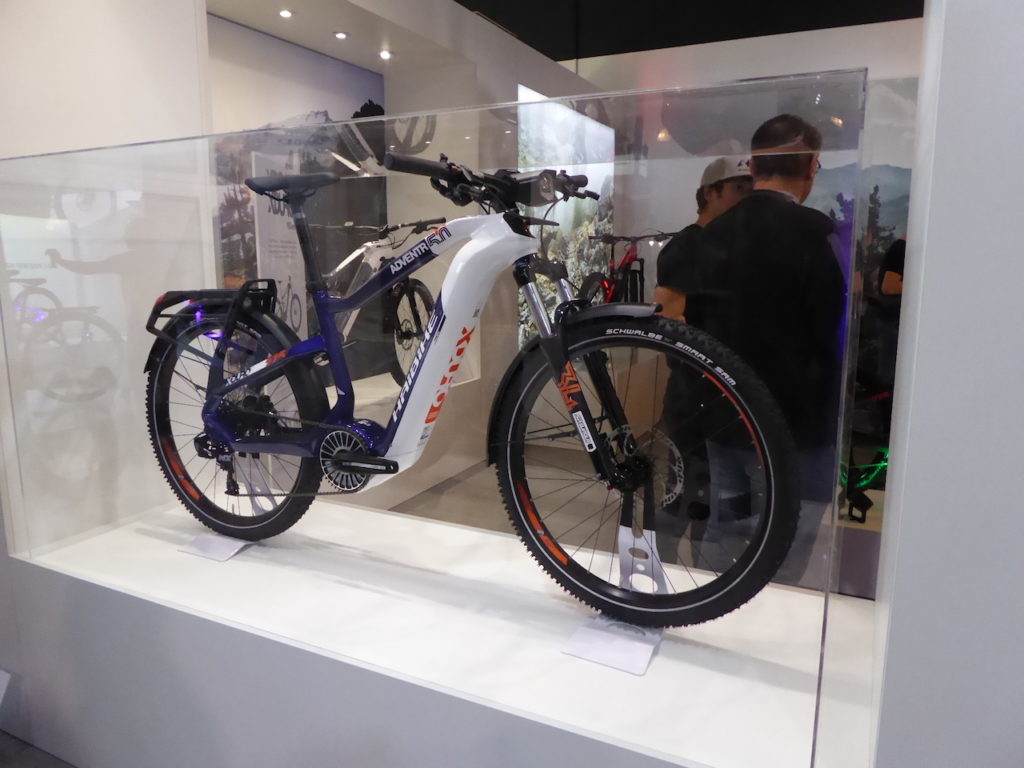 Fazua are not meant to compete with the likes of Bosch and Shimano mid-motors in terms of raw power but the new Flyon definitely is and that is featured on a new range of Haibikes with Flyon models integrated into the Xduro range.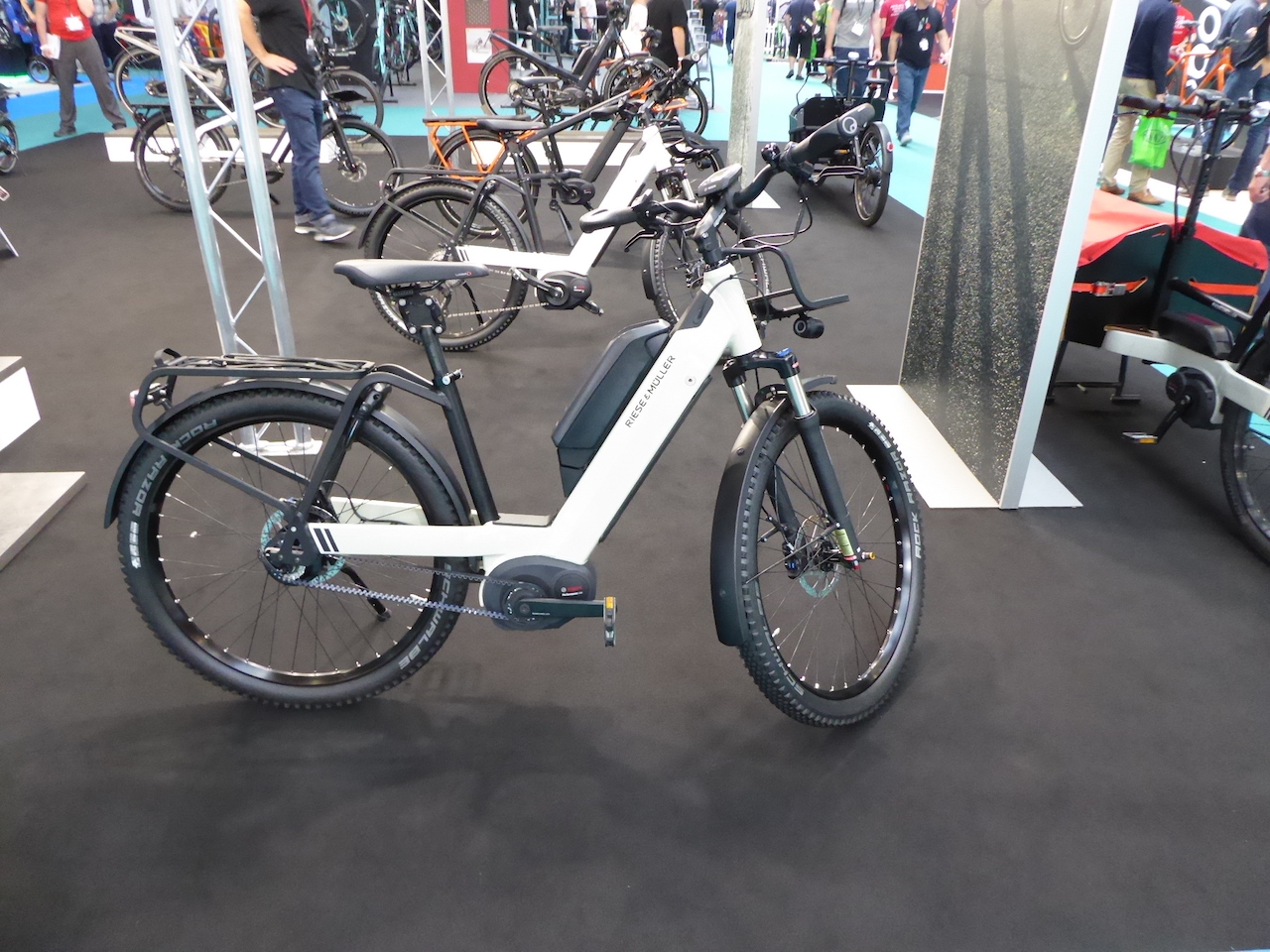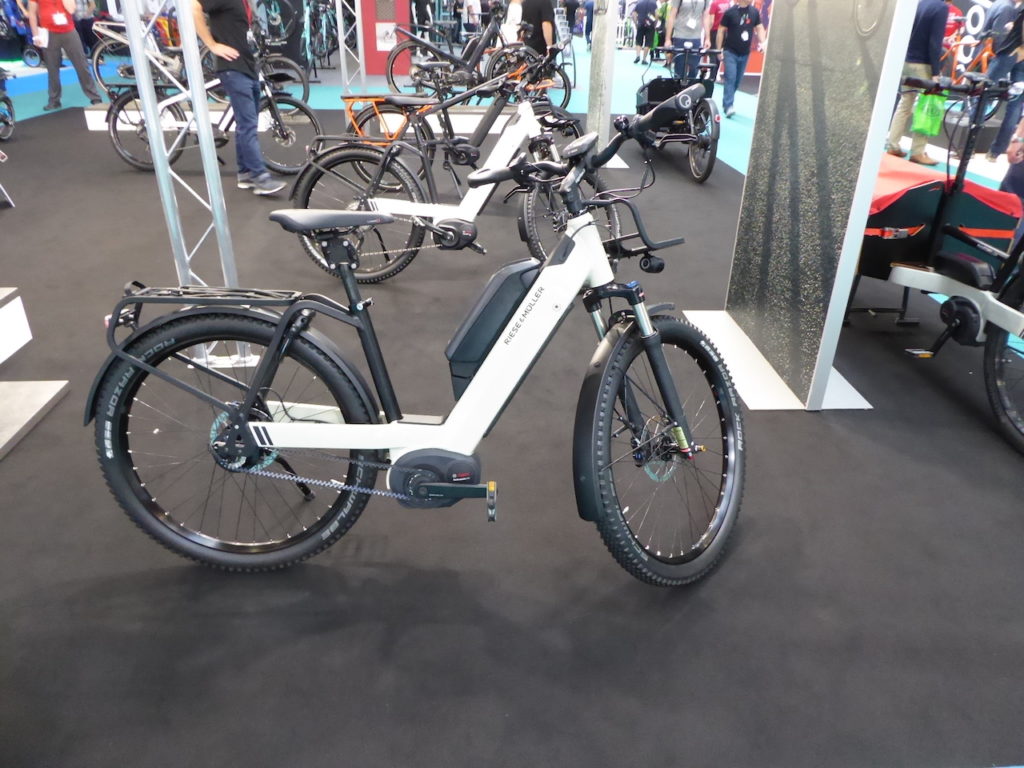 There's new designs and Bosch technology aplenty over at the Riese and Muller stand; we've covered the launch already of tech such as ABS braking and the new Kiox display in previous articles, but now UK customers can see R&M's brilliantly distinctive, stylish and highly practical new models here in the UK with the new technology as it starts to be rolled out in earnest as the 2019 models arrive in dealers.
Expect talk of gorilla glass, low energy bluetooth, daylight sensing and much more!
One of the nice things about shows is getting to see innovative or plain different styles of e-bike and new exhibitor Leisger (also known as NCM) were there with a fat e-bike and Bafang-powered folder, both of which caught my eye.
Sounds like they have big plans to expand in the UK so EBR hopes to bring you more news about this in the not too distant future.
Another brand carving their own niche in the UK are the distinctive Babboe cargo bikes aimed fairly and squarely at those who want Dutch style family or cargo carrying cycling with a box full of small people happily enjoying the ride in front of you.
They have come all the way from the Netherlands to show off a selection of their wares, including a post bike currently in trial with the Dutch post office.
They look to have a great range including a particularly interesting set of 'carving' trikes that tilt which, Babboe say, combine the stability and volume of a three wheel cargobike with the speed and flexibility of a two wheel.' We hope to have more on this interesting bicycle technology soon.
Accessories & Events
Mio are a brand of stand alone GPS displays from the Netherlands hoping to attract a following in the UK with a stand out background in car sat-navs of all kinds which may well be where UK readers have heard of them.
A guided tour of their models shows an impressive range, from the simplest to use unit to more complex multi-functional devices capable of synching with heart rate and cadence monitors and WiFi compatible models.
If you don't like mounting a smartphone on the bars, or your e-bike's display does not have GPS functionality (or you don't like its functionality) then Mio could well be worth a look.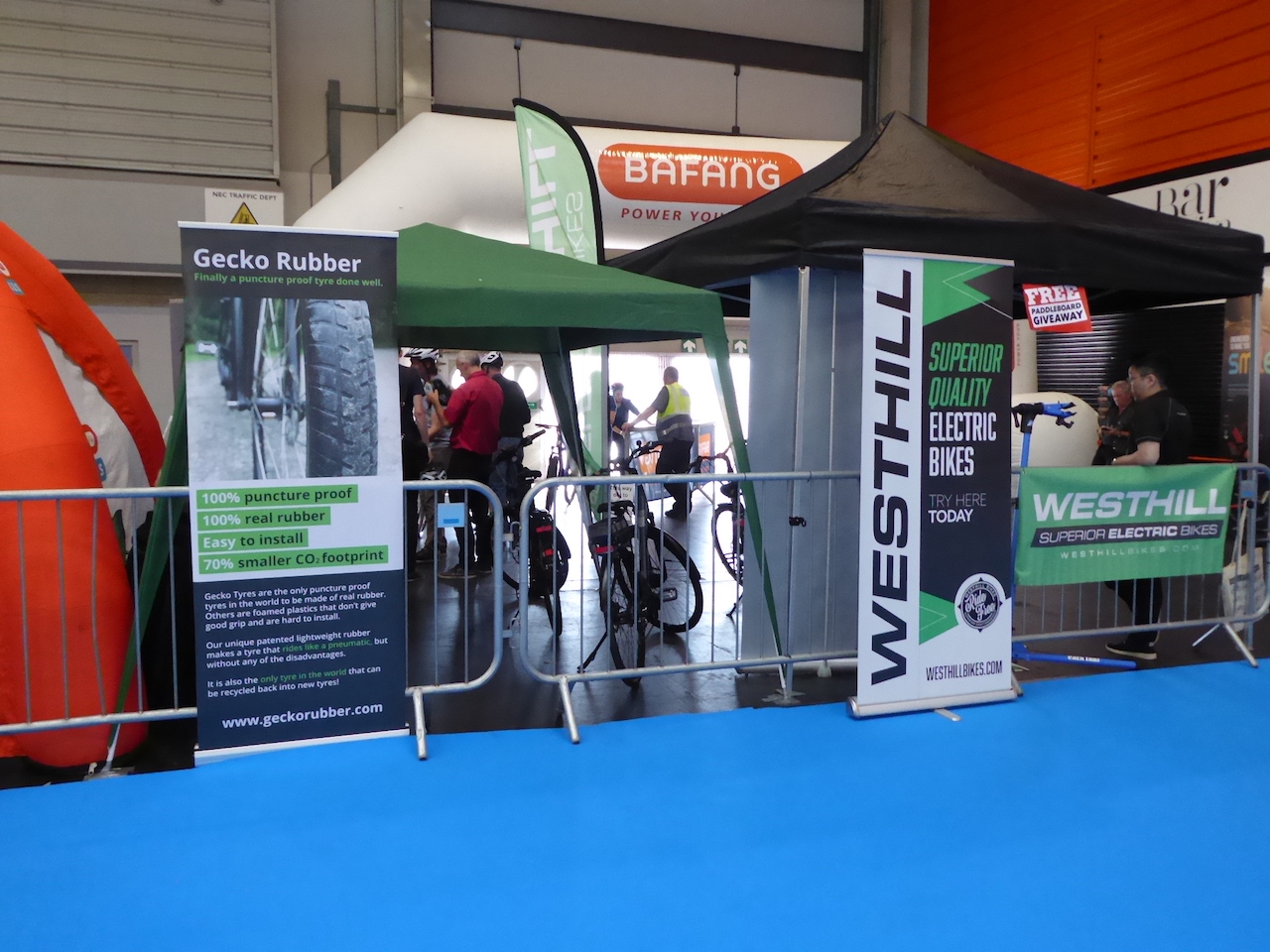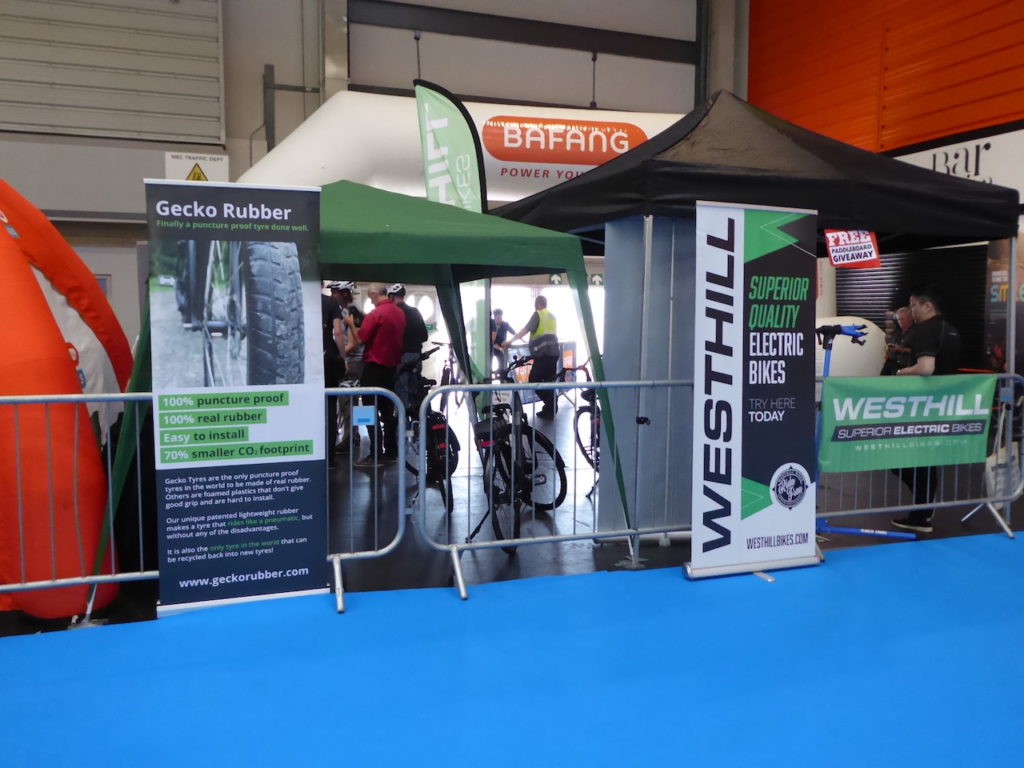 Regular featurer at EBR, Gecko cellular tyres, are on the test track to showcase their Evolution 3 freer running tyres (with a new improved fitting system) and I'm delighted to catch up with inventor Richard Adams and his associates including the production manager and the manager of a trial of 60 or so bike e-bikes currently being put through their paces by workers at Avon & Wiltshire NHS mental health services (who use the tyres on their daily rounds to their patients – by e-bike with puncture proof tyres!) More details to follow on the Evolution 3s.
Last but certainly not least in the innovation stakes are Tugga heated cycling gloves.
As the weather creeps towards winter coldness in the UK I was delighted to find these cycle gloves designed by an Andorran company and featuring an in built battery that heats small carbon filaments that runs throughout the gloves. We have been promised test samples so, again, more detail to follow.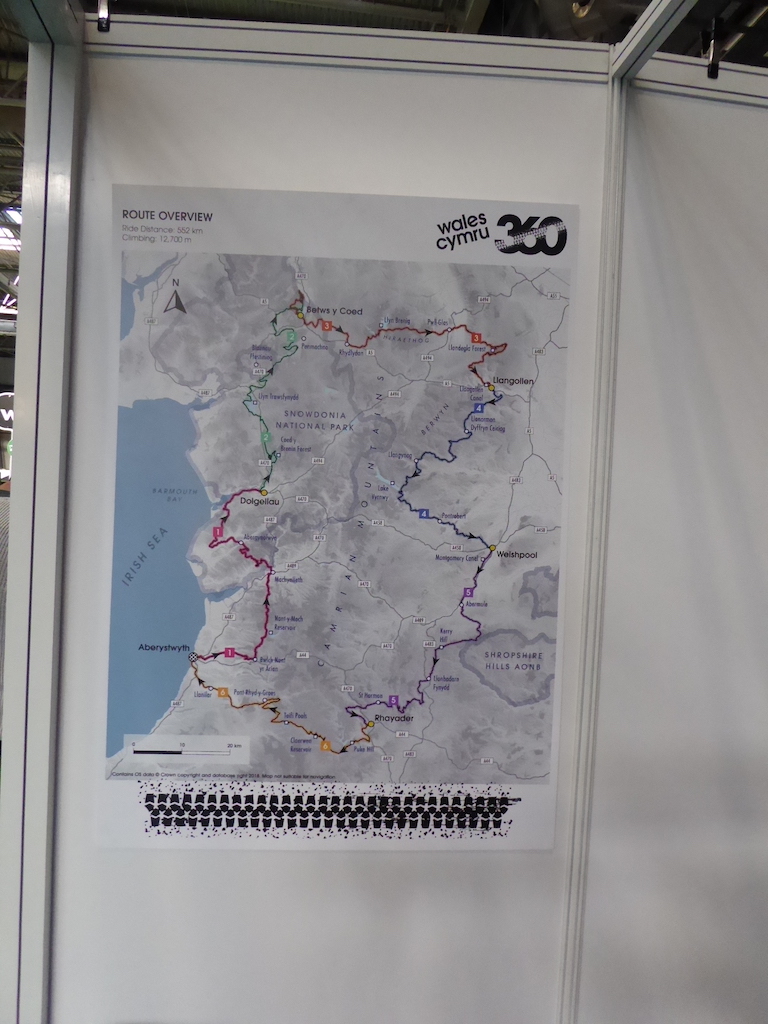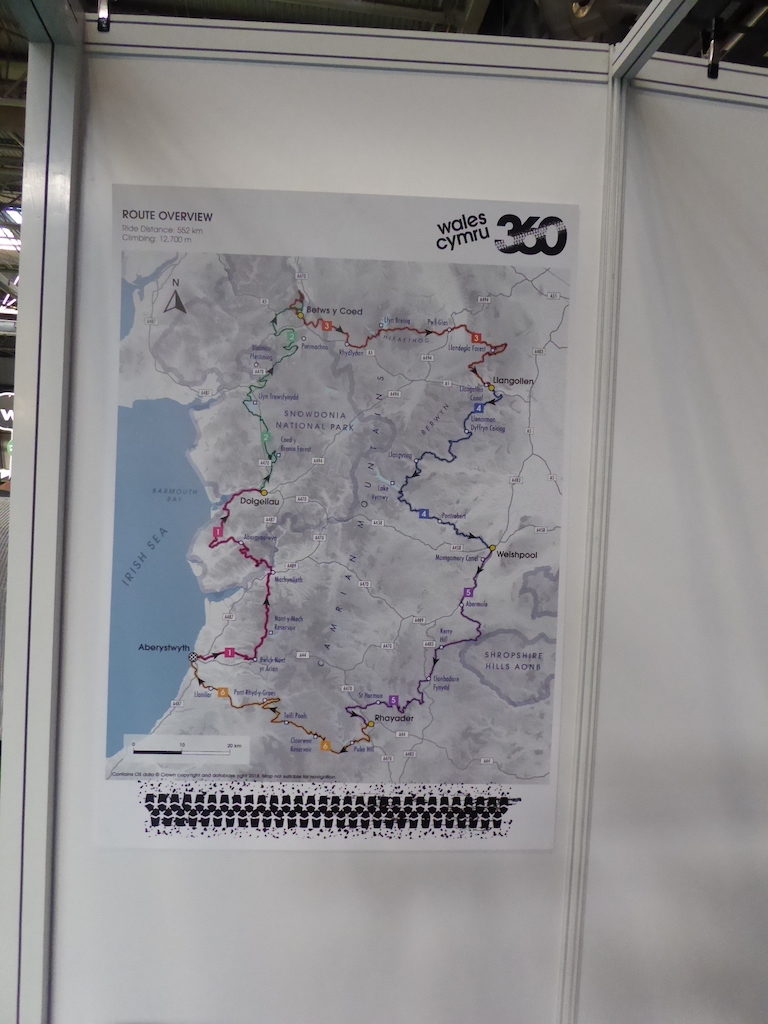 If you are looking for a true e-mtb challenge check out the Wales360 – a public entry event for July 2019 that will have an emtb category.
They had a stand at the Cycle Show with a map of the route that looked a truly inspiring challenge through some pretty testing mid-Welsh scenery.
Stay tuned for more e-bike news and reviews and keep on riding.
-Richard
P.S. Don't forget to join the Electric Bike Report community for updates from the electric bike world, plus ebike riding and maintenance tips!
Reader Interactions