eBike News: Tariffs, 3D Printed eBike, Shaft Drive Tech, Haibike Flyon, & More! [VIDEOS]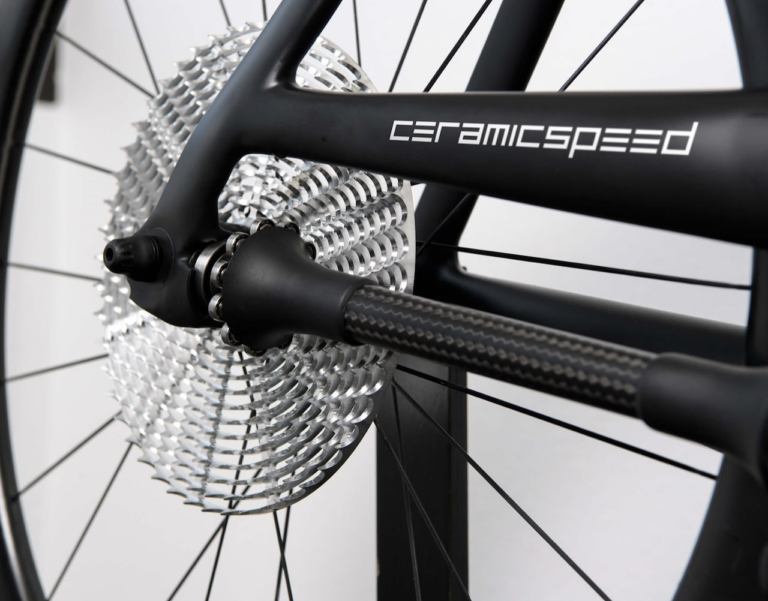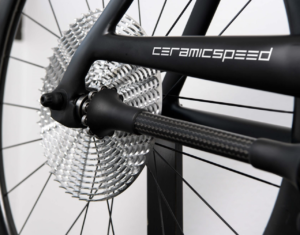 In this week's eBike news roundup:
Rad Power Bikes Addresses the US 25% eBike Tariff
Is Walking and Cycling Really that Dangerous?
A Closer Look at Haibike's new Flyon Range
New Shaft Drive Tech
3D Printed E-bike
E-bike Share Success in Seattle and Fayetteville
Scottish Cycling Cash
Industry news from the US and Europe
And Much More!
Headline News
Rad Power Bikes Addresses the US 25% eBike Tariffs
Mike Radenbaugh and Ty Collins, co-founders of Rad Power Bikes, address the recent US 25% eBike tariffs on Chinese made electric bikes in this video:
https://youtu.be/ifZ-TXLWvQU
Rad Power Bikes has done a good job presenting the information on this change on their website. The price increase to their eBikes will happen on August 23.
"The electric bike movement is skyrocketing in the U.S. and has the true potential to improve our country's environment and wellness," said Mike Radenbaugh, Co-Founder and CEO of Rad Power Bikes. "We do not want to see the tariff slow down the momentum, so we're being very transparent about how the industry is being impacted."
If you disagree with the eBike tariff, please fill out this form at People for Bikes to tell your members of Congress that you oppose new tariffs on bikes.
Ed Benjamin of eCycle Electric and the Light Electric Vehicle Association provides his thoughts on the eBike tariffs at Bike EU.
And stay tuned for more news on this issue.
UK Dangerous Cycling Storm – Keep things In Proportion
This week has seen this story about a possible dangerous cycling law dominate the news in the UK. The proposal was followed up by a Department of Transport tweet that further inflamed the situation. Cyclist groups launched a verbal counter-offensive against the government.
Whatever the 'rights' and 'wrongs' of the argument dominating the headlines, it seems much cycling coverage in the media presents it as a dangerous activity – whether you are a pedestrian or cyclist – and this seems to run counter to much of the actual evidence.
Clearly the risk of cycling on roads depends on many factors, not least where, when and how you cycle, but taken in the round it doesn't really appear as an overall risky activity compared to many of the other things people do.
Indeed there is a strong argument to suggest that, due to its health benefits, cycling (including e-biking!) will actually help prevent a cyclists' premature death and contribute to a healthier society overall by reducing the number of polluting cars on the road. With that in mind EBR is simply choosing to add to the debate by urging all cyclists to be aware of how to cycle safely.
US readers can check out the League of American Bicyclists' rules and tips here whilst UK readers can look at Cycling UK's advice.
New E-bikes and E-bike Systems
We Take a Closer Look at Haibike's Flyon E-bikes
We have mentioned in a previous newpost Haibike's Flyon range, launched to much fanfare at Eurobike 2018 and appearing all over the internet since – so we decided to delve into a little more detail.
The Flyon element refers to the new TQ motor which boasts a unique 'pin drive' design and claims a humongous torque of 120Nm and maximum pedal assist of 500% allied with a meaty 630Wh battery, all engineered into a completely new carbon frame.
There's plenty of innovation in the frame itself, from integrated lights to the ability to alter the actual riding geometry on some of the models. This video shows many of the new Flyon range features:
https://www.youtube.com/watch?v=7zcwLT5hpBA
Initial reports suggest there will be 10 Flyon models in their 2019 range.
Three are classed Nduro, full-suspension bikes designed for tackling the most extreme mtb terrain and so with the most suspension travel (and at 6299 – 8999 euros for those with the deepest pockets).
Next come three models in the Allmtn range with a little less suspension travel but still full sus (5999 to 8999 euros).
Hardtail fans can choose from two Alltrail models (4999 to 5999 euros) and for those who need to tackle slightly less aggressive terrain but want the ability to carry gear there are two pannier-rack equipped Adventr models (also 4999 to 5999 euros).
More details at emtb news.
99% Efficiency Claimed for New Shaft Drive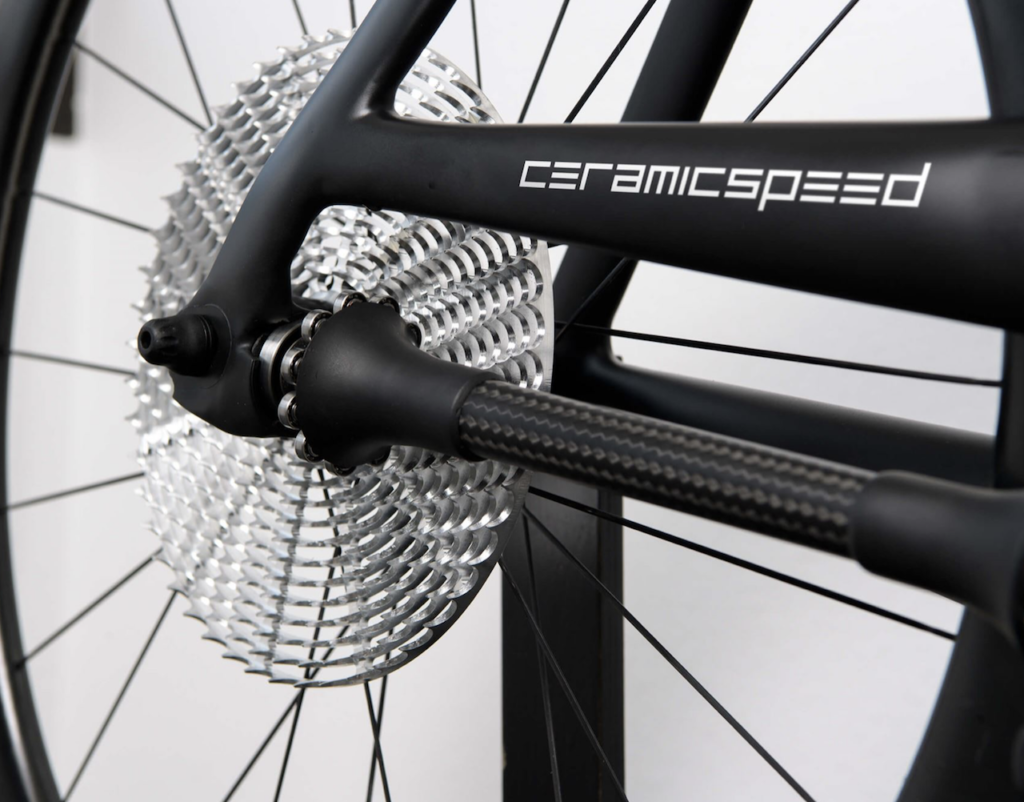 Shaft drive bicycles have been around for a while but CeramicSpeed have created a new drive shaft product named Driven which claims to be a quantum leap forward in terms of efficiency.
Whilst CeramicSpeed might want to revolutionise bike transmission by replacing the humble roller chain they will be treading where many other now obselete designs have travelled unsuccessfully.
Carbon 3D-Printed E-bike for 2019?
3ders website tells us AREVO announced last week the launch of its e-bike… using a 3D printed carbon fibre frame.
https://youtu.be/GvN229r0uNY
The announcement comes on the heels of launching its first 3D printed all terrain city bike in May.' AREVO partnered with Oechsler (Ansbach, Germany), a manufacturer of automotive and medical parts, to leverage their Drivematic three-speed automatic gearbox with AREVO's 3D printed carbon fiber frame for the electric 3D printed bike.
The printed e-bike is only a prototype with suggestions that mass manufacture may arrive in 2019.
Infrastructure and Bike Share
Seattle E-bike Share Could Succeed Where Others Haven't
This interesting Grist article describes how Seattle's municipal bike share, launched in 2014, was not a resounding success and how Lime, Ofo and Spin are now competing to take its place. Lime's public share e-bikes in particular seem to have proved a hit.
According to the article Lime started with 500 e-bikes in Seattle, but the company began adding new ones almost immediately to keep up with demand. By the end of June, there were 1,400 green e-bikes on the city's streets; today, that number is closer to 1,600.
By Lime's count, it now operates the largest e-bike fleet in North America — and maybe the world. In particular Lime e-bikes solved the problem of non-ebike share models ending up at the bottom of the city's many hills with no one willing to ride them back up!
E-bike Share for Fayetteville
Fayetteville Flyer reports that City Council members this week approved a contract with VeoRide, an Indiana-based bike-share company.
The contract grants VeoRide the exclusive right to operate a bike-share program in the rights-of-way within the city limits for three years. The company operates programs in nearly 20 cities, including Austin Texas, Lawrence and Pittsburg in Kansas; and Champaign Illinois.
The program is set to launch in September and will include 290 standard 7-speed bicycles and 50 pedal-electric assist bicycles.
Cash for Scottish Cycling Infrastructure
Sustrans, the UK charity that builds cycle routes, has welcomed £3.9m of further cycling investment from the Scottish Government to help develop National Cycle Network routes across the country.
The move brings the total of Scottish Government investment to the National Cycle Network to £6.9m for 2018/19 and will fund a series of infrastructure improvements.
E-bike Biz
Electric Theatre at Interbike
If you will be attending Interbike, here are the speakers who will present at the 'Electric Theatre' ePowered by Bosch.
Chris Cherry, University of Tennessee: "The Latest Electrifying Research on eBikes and their Health and Transportation Impacts"

Morgan Lommele, PeopleForBikes: "Electric Mountain Bikes: New Resources Answering "Where Can I Ride?"
Sam Gong, Los Angeles Police Department: "Law Enforcement with eBikes – The Los Angeles Police Department Experience"
Nicole Zinn, Rocket Electric E-Bike Shop: "Capturing Rental Business With Events Happening In Your Area"
Electric Theatre sessions are free for registered Interbike attendees. The detailed Electric Theatre schedule is available on the Interbike website.
Gearsensor Warns of Imitations
Gearsensor – manufacturers of the device found in many e-bikes that momentarily releases the gear changing process to reduce motor wear on the gears – say many consumers have recently informed them that their shifting sensor is not working well enough. However, Gearsensor say 'After reviewing all of these claims, we found out that the customers had purchased different shifting sensors (mainly from China) not our original gearsensor.com. We recognized this based on photos provided by customers.'
Gearsensor wants customers and potential customers to be aware that all sensors their company produces in the Czech Republic are marked by laser engraving, that show:
– gearsensor.com logo,
– made in Czech Republic information,
– unique code that contains product name (for instance GS), year of production, week of production and production batch number.
Pictures of the design can be found at www.gearsensor.com
Hopefully if you are after an original Gearsensor product this list will help you get one.
R200 Standardised Range Test Revealed by ZIV
'What is the range of this e-bike' must be a question e-bike dealers are asked thousands of times, but will never be able to give a truly accurate and definitive answer to. Now German industry body have come up with range test R200, designed to provided comparable range figures for differing motors.
Sounds like a great idea but it will need almost industry-wide acceptance to be truly useful to an end consumer.
HMRC Sets Mileage Reimbursement for Electric Cars – but Ignores E-bikes
The UK government has often been accused of bending over backwards to help the electric car industry but not doing the same amount for cycling and e-biking. Here's the latest example from Electrive; 'The British tax service HMRC has specified mileage reimbursement rates for electric cars. The new rate will be at 4 pence per mile for EVs from September, 1. This follows campaigning from fleet representatives and translates into a tax advantage' they tell us.
Despite other countries like Belgium effectively paying workers to e-bike to work the UK government has chosen not to follow this path for e-bikes – only e-cars!
Stay tuned for more e-bike news and reviews and keep on riding.
-Richard
P.S. Don't forget to join the Electric Bike Report community for updates from the electric bike world, plus ebike riding and maintenance tips!
Reader Interactions