2015 OHM Cycles Electric Bikes [VIDEO & PICS]
OHM Cycles has introduced their new 2015 electric bikes that includes their new XS750 Plus with 3.25″ wide off road tires & BionX D Series system.
The XS750 Plus and the XS750 both use the new BionX D series 500 watt motor that provides a lot of torque and is designed for off road riding.
OHM is still focused on commuter/touring style e-bikes too with their XU700 and XU700 LS (low step). Both of the road models also feature the BionX drive system.
Enjoy the following video and pictures of the these new OHM Cycles e-bikes!
This is the new OHM XS750 Plus off road electric bike for 2015. The 27.5″ x 3.25″ tires place this bike between a traditional mountain bike and a fat bike (4″ wide tires). With the torquey 500 watt BionX D Series motor, it will make for a "sporty" fat e-bike! The XS750 Plus retails for $3,999.
The BionX 48V 11.6ah lithium battery is placed low and center on the frame for good weight distribution. Also note the curved hydroformed aluminum frame tubing. Internal cable routing is another common feature on OHM e-bikes to keep things clean.
You can really see how wide the 27.5″ x 3.25″ tires are! This view also gives you an idea of what the new BionX D-Series motor looks like. This motor has 500 watts of and very noticeable torque in the high pedal assist levels.
The new XS750 is hardtail e-mountain bike with 27.5″ x 2.2″ tires for cross country off road riding. This bike also features the BionX D Series system. It does come decked out with a Suntour Raidon suspension fork, and a healthy selection of components from SRAM, FSA, Magura, etc. The XS750 is also priced at $3,999.
Here is a video of the XS750:
And here is a post with more details of the new OHM XS750.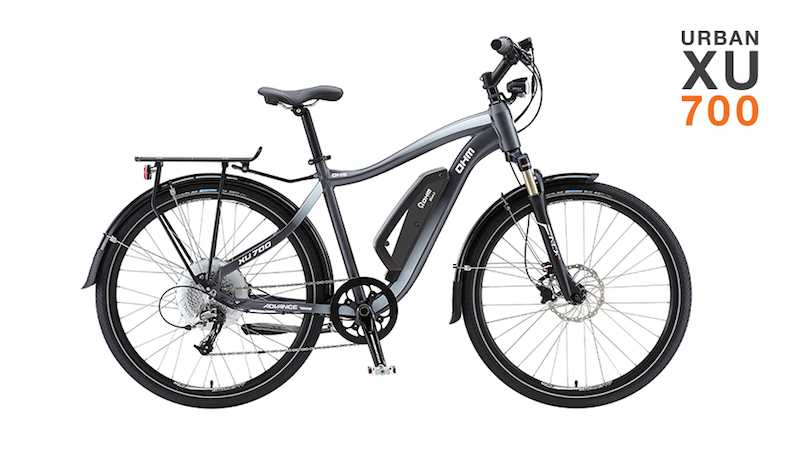 The new XU700 is a good bet for commuting and/or touring. It also has the hydroformed aluminum frame, BionX system and a healthy selection of quality components from SRAM, Magura, FSA, Suntour, Schwalbe, etc. It also comes equipped with a bunch of accessories like fenders, rear rack, front and rear lights, and a kickstand so that it is ready to hit the road.
It is using the 27.5″ x 2.0″ Schwalbe Big Ben tires for a cushy ride and the BionX S Series system (25% lighter than P Series system) with 350 watt motor and 48V 6.6ah lithium battery (with the option to upgrade to 11.6ah battery).
The XU700 is priced at $3,699. The battery upgrade to a 48V 11.6ah battery is $300 extra.
The XU700 LS is similar to the XU700 except that it has a low step frame and it uses the BionX P Series system. It is also priced at $3,699.
That's it for now. Stay tuned for more OHM Cycles electric bike news.
P.S. Don't forget to join the Electric Bike Report community for updates from the electric bike world, plus ebike riding and maintenance tips!
Reader Interactions