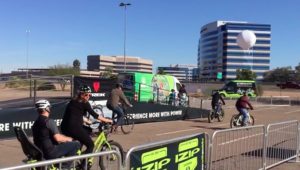 The San Diego Electric Bike Expo on February 26-28 is the place to ride over 100 of the latest electric bikes all for free!
There will be eBikes from A2B, BESV, BULLS, Easy Motion, Felt Electric, Focus, Gazelle, Haibike, IZIP, Kalkhoff, Polaris, Raleigh, Stromer, Tempo (Expo Charity Sponsor), Trek (Expo Track Sponsor), Xtracycle, Yuba with the latest electric drive systems from Bosch (Expo Presenting Sponsor), Yamaha, Shimano, and more.
Many of the models are brand new to the US and here to be tested by you for the very first time!
Here is a quick video about the San Diego Expo being held at Liberty Station: [Read more…]