eBikeNews: Yamaha's full-suspension eMTB, Bulls Bikes XC/Commuter, 200 mile range Model C cruiser, Bikes for climate change, and more
Yamaha Launches First Full-Suspension All-Mountain eMTB: The YDX MORO
Bulls Bikes Releases New XC/Commuter eBike: The ICONIC EVO TR 1 SPEED E-SUV
A 200 Mile range Cruiser from Electric Bike Company
iZIP announces new E3 Path Plus Step Thru and Path Plus Step Over commuter bike
Updated ABUS URBAN-I 3.0 Helmet
Bikes as a solution to climate change?
Win a new eBike by participating People for Bikes' Annual Survey
New eBikes; eBike Systems
Yamaha YDX Moro and YDX Moro Pro: Yamaha's Entry Into Full Suspension eMTB Category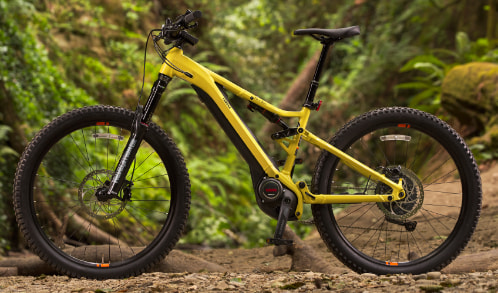 (YDX-MORO in Desert Yellow)
Yamaha has announced the release of two new all-mountain e-Bikes: the YDX-MORO and the YDX-MORO Pro. The YDX-MORO bikes are All-Mountain Class 1 e-Bikes with pedal assist up to 20 mph. They feature a proprietary Yamaha PW-X2 Motor with an upgraded Quad Sensor System. This Quad system adds an angle sensor to Yamaha's current Triple Sensor System which permits the addition of Automatic mode for a seamless transition between assist levels. Both the YDX-MORO and Pro also have an incline sensor and a new walk mode — a handy feature when you need a touch of assist while walking your bike up a techy climb. The YDX-MORO bikes also utilize an all-new patent-pending Dual-Twin Frame™ with integrated battery cage and a Horst link dual suspension design.



(YDX-MORO Pro in Podium Blue/Nickel)
The YDX-MORO is available in Desert Yellow and the YDX-MORO Pro is Podium Blue/Nickel.
Yamaha has over 25 years of experience developing power-assist bikes. Yamaha's new PW-X2 drive in the YDX-MORO models is both compact and lightweight. This system provides powerful and responsive pedal assist with five assist modes including Eco, Standard, High, new MTB mode (all of which assist to 120 rpm), and EXPW (assist to 170rpm). The motor's helical gear design also keeps it quieter.
Full specs, pricing and availability will be announced in the coming weeks. Stay tuned for additional information as it becomes available. Click here to find local dealers.
Bulls Bikes New Commuter eBike: Heart of XC Bike Meets City Commuter
BULLS Bikes USA has announced the arrival of the Iconic EVO TR 1 Speed, a full-suspension commuter bike with Bosch Gen4 Speed motor and impressive 625Wh battery.
This is a class 3 touring bike designed to provide a comfortable ride for both urban and off-road explorers. The Bosch Gen4 Speed drive system provides assist up to 28mph with an impressive 100+ mile maximum range. The Kiox display provides detailed trip information while the Suntour 120mm front and rear air shocks and Limotec dropper post keep riders comfortable on uneven terrain. The Shimao Deore 10-speed drivetrain and 203mm Shimano hydraulic brakes round out the Iconic package.
The Iconic EVO TR Speed is available in 41, 44, 48 and 54cm frame sizes on August 1, 2020. Order now from your local BULLS dealer or for more information, follow BULLS on Facebook, Instagram or Twitter
A 200 Mile Range Cruiser from ElectricBikeCompany (Up to 80 Miles on Throttle!)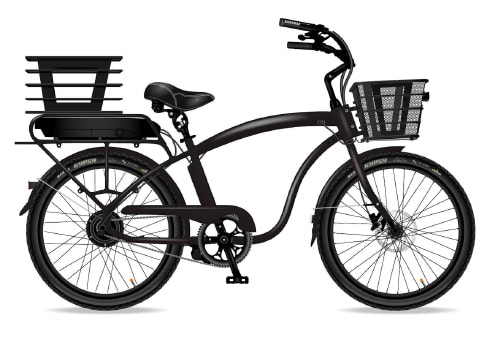 ElectricBikeCompany, the California-based e-bike manufacturer well known for durable e-cruisers, has upgraded their Model C bike to now offer over 2kw of power! Don't let the laid back styling on the Model C beach cruiser fool you, this bike is designed to haul you — and your stuff — anywhere you want to go. The newest Model C provides over 40amp hours of range which will take you 200 miles on pedal assist and over 80 miles on throttle alone!
This is especially impressive because the Model C is a hearty bike. Both frame and rack are 3mm thick rather than the standard 1.5mm; the RIMS are double walled and come standard with CONTINENTAL E-50 puncture resistant e-bike tires. All hardware, chain, spokes and nipples are rust resistant to withstand humid beach conditions and all bearings on the bike are integrated for longevity and stability.
The Model C front-mounted basket attaches to the frame so steering is not compromised and the TEKTRO DORADO 4-piston hydraulic disc brakes (2.3mm thick, 180mm rotors) can handle steep descents with ease.
The best part about the Model C engineering is the three batteries that can be run concurrently (manually turn the next one on as needed) or simultaneously (the drive system uses one each evenly). The Model C comes standard with a slide-in battery and internal charger or riders can upgrade to the external super charger (400 watt).
Check out the ElectricBikeCompany for more information about the Model C and the rest of their impressive lineup.
iZIP's E3 Path Plus Step Thru and Step Over Commuter Bike
The Path Plus, the latest commuter e-bike from iZIP is now available. Path Plus comes with a Bosch ACTIVE LINE 250W motor and 400 Wh PowerPack battery that will take you 30-50 miles per charge. This is a Class 1 pedelec with a max speed of 20mph, which makes it street legal in most cities.
This comfortable, practical e-bike makes running errands, commuting to the office, or even meeting friends at your local cafe both easy and stylish. The Path Plus is available in a step-over or step-thru frame. The Step-Thru frame is available in teal or blue and the Step Over frame is a dark green. The stable 700c wheels and 40c tires are perfect for around town riding. Shimano Altus 7speed shifters and optical gearbox provide visual confirmation of gearing and the Tektro mechanical disc brakes offer smooth braking power.
Reduce your carbon footprint, avoid traffic, and enjoy the perks of the wind in your face with the perky Path Plus.
eBike Accessory Updates
ABUS Updates Their Best-Selling Commuter Helmet
The URBAN-I 3.0, one of the best known urban helmets in Europe, has been updated with several practical features that make it ideal for cruising, commuting, and protection anytime you hop on your bike.
The URBAN-1 3.0 has an in-mold construction that creates a durable connection between the outer shell and internal shock-absorbing helmet material (EPS). A magnetic strap buckle is also easy to clip and release.
This helmet has side-wall reflectors and a large, highly mounted and integrated LED tail light with 180 degree visibility. The ability to be seen in traffic and on congested streets makes this a consistently popular helmet for e-bike commuters worldwide.
The URBAN-I 3.0 is also comfortable and adjustable. The foamed-in fly net and ponytail compatibility make it work for any length of hair and an adjustable ring system fully encloses the head for maximum adjustability and comfort. There are also 12 air inlets and 5 air outlets for excellent ventilation so you don't end up with sweaty hair at work.
Bike Industry News
Bikes as a solution to climate change?
Bikes have long been touted as a responsible solution to the ongoing problem of climate change.
Recently, several government studies reported that carbon-emitting vehicles (cars, trucks, trains, aircraft, etc) are the single largest source of greenhouse gas emissions (GHG) in the United States. In 2018, transportation vehicles were responsible for nearly 28% of all GHG emissions in the US — with 59% from cars alone. Commuter analysis data indicates that most drivers travel less than 20 minutes each trip, which means replacing these short drives with bike travel is both possible and responsible.
In January of 2019, the U.S. House Select Committee on the Climate Crisis was created to find ways to reduce GHG emissions. A new report by this committee reaffirms that policy proposals which expand bicycle commuter benefits are key to helping reduce current climate change patterns.
Organizations such as PeopleForBikes have long advocated for more responsible commuting practices. These and other community based groups are working to provide better access to more affordable bikes for riders at all levels and in all communities.
The next time you take a quick run to the market, consider jumping on your bike instead of turning on your car — both you and your community will benefit.
Win A Bike By Participating in the Places for Bikes Community Survey
Reader Interactions