State of the Industry at the People for Bikes 2021 eBike Summit
State of the Industry at the People for Bikes 2021 eBike Summit
By: Pete Prebus
After a year off due to Covid, everyone was excited to meet up in person and discuss the state of the electric bike world.
This year's eBike summit had a good group of topics to cover which included:
The state of the eBike boom
Rider safety
Advocacy
Innovative eMTB uses
The new eBike battery recycling program
This year's summit was held in Tucson, Arizona in conjunction with the 38th annual El Tour de Tucson which is a road ride that drew over 6,700 cyclists for rides of 28 miles, 57 miles, and 102 miles and this year there was a new eBike route included in the event. A number of the attendees of the summit rode in El Tour. El Tour de Tucson is a ride focused on raising funds for charity and non-profit organizations while promoting health and wellness.
The eBike summit kicked off with a happy hour at a local brew pub to network and catch up with friends in the industry. There was a lot of enthusiasm to catch up after so much time away due to COVID.
The weather did not disappoint either with highs in the low 80s, many people who traveled in from colder regions were happy to enjoy some time in the sun.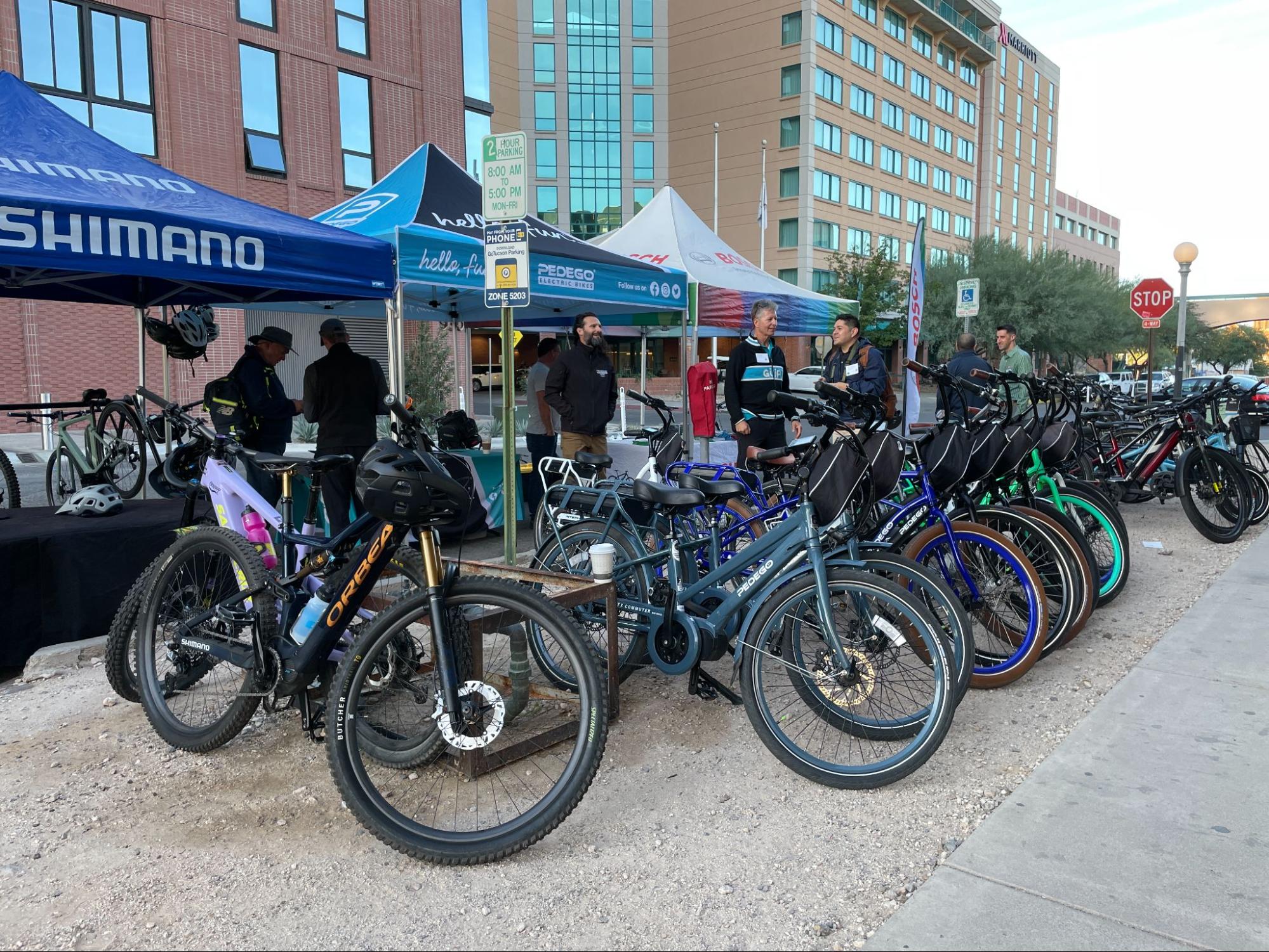 The next morning there was a fun group eBike ride from the University of Arizona campus along one of the bike boulevards. I rode a Santa Cruz Heckler to start with and then swapped half way through the ride for a Moustache Samedi Xroad step-thru. There were many different styles of eBikes for the riders to try.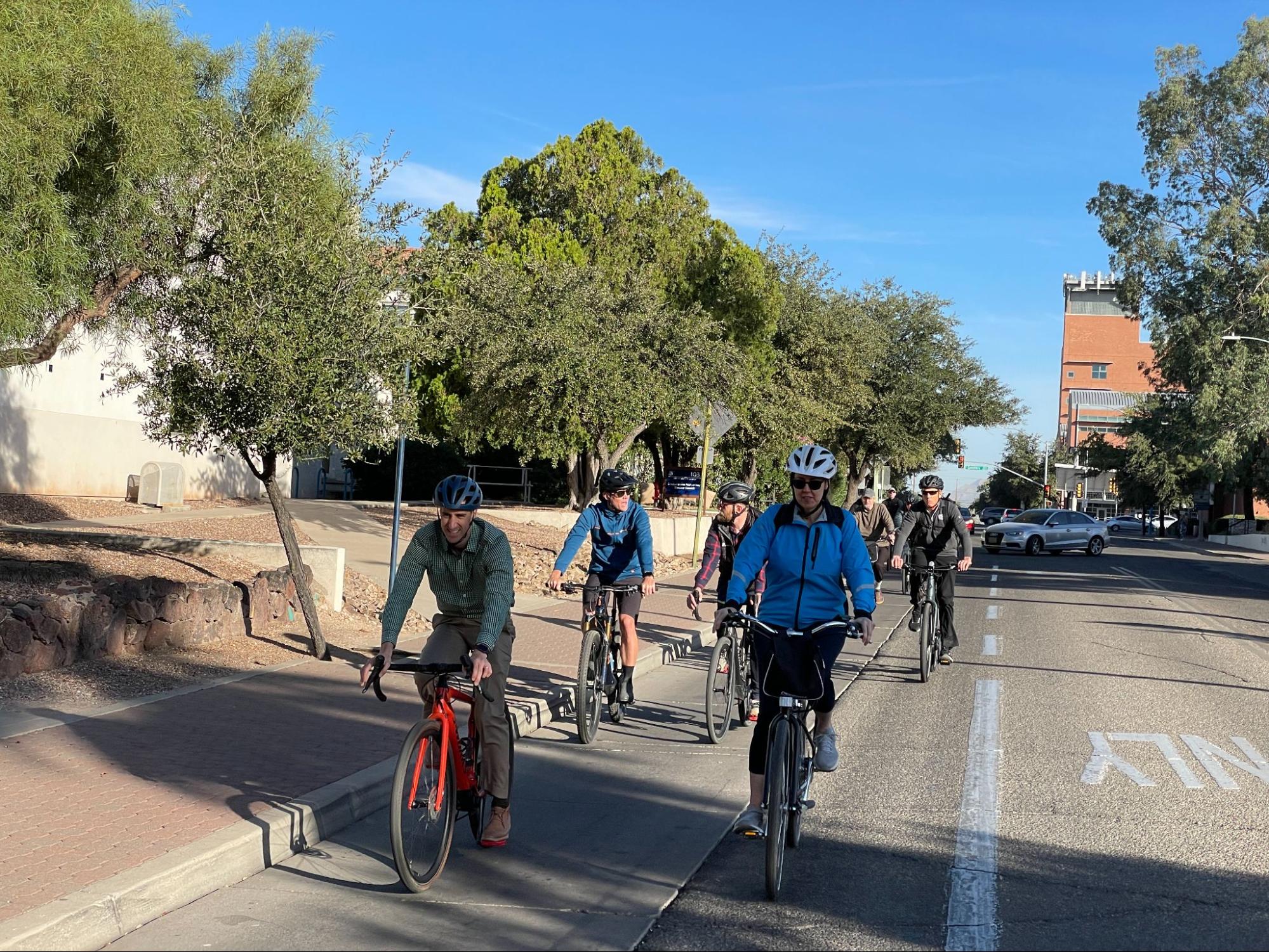 After the fun ride the seminar started with a look at the state of the industry with Ash Lovell, PhD from People for Bikes hosting the summit.
A hot topic was the eBike boom that happened during the pandemic as more and more people found eBikes to be a great way to get out and explore their towns, cities, and recreational areas.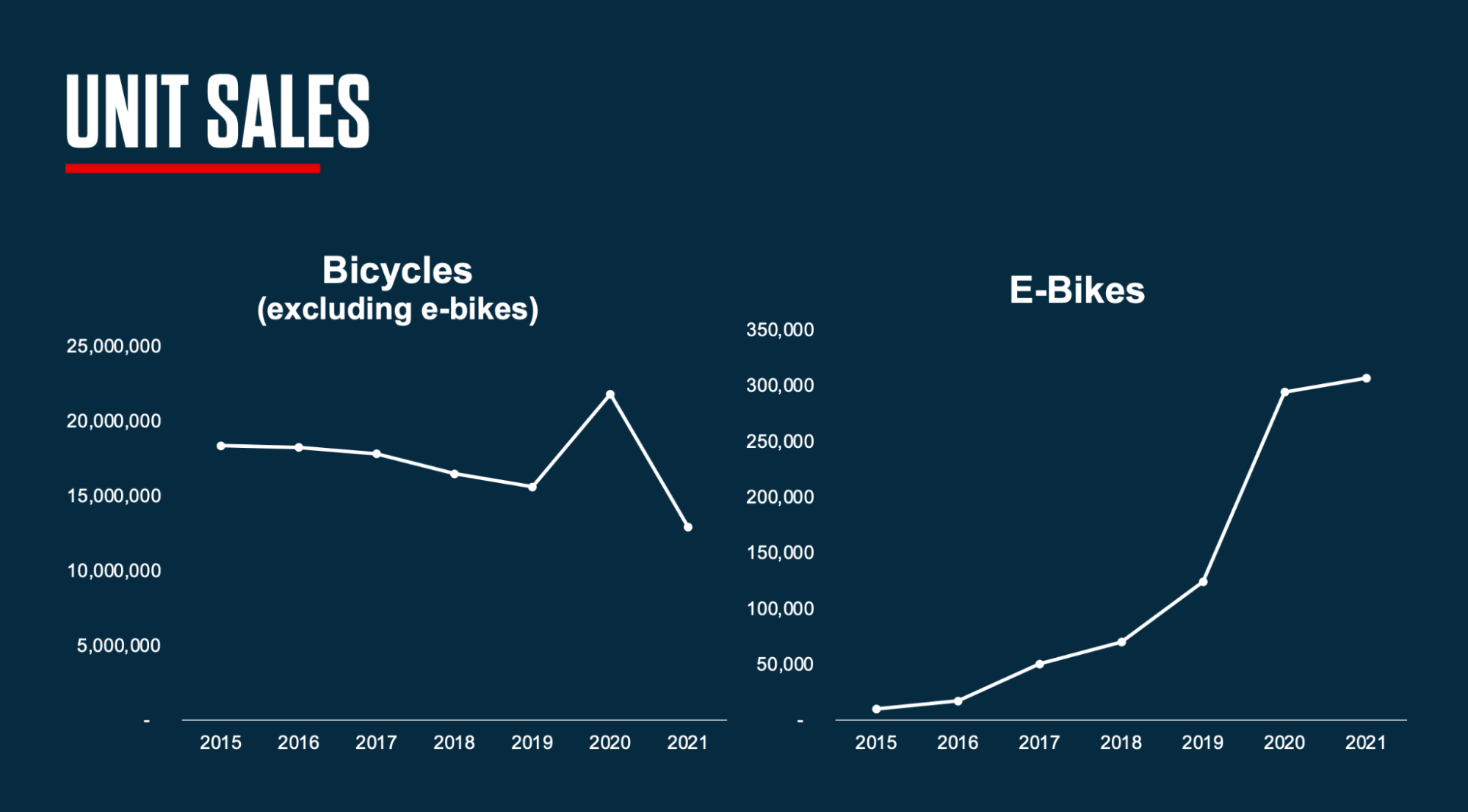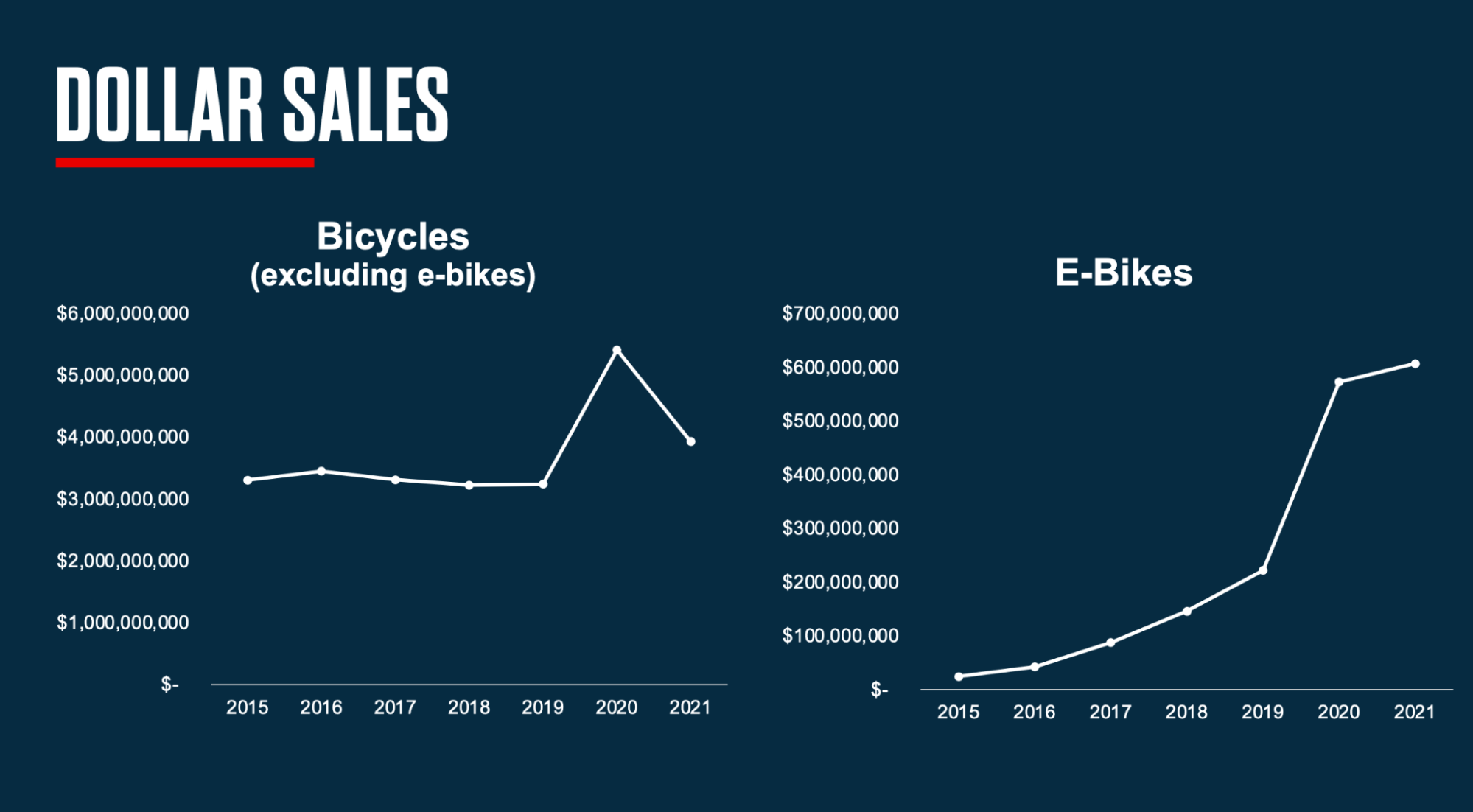 Jennifer Boldry from NAXION presented sales data and as you can see from the charts above 2020 and 2021 have seen an incredible rise of eBike sales! An important note is that these numbers are from traditional bicycle retailers that provide sales data to the NPD Group. This data does not include sales data from electric bike specialty retailers, direct to consumer eBike companies, third party eCommerce stores, and used eBikes. So with that in mind, the sales numbers are actually higher but the general trend is the important part.

John MacArthur from Portland State University (PSU) presented on trends that they have been seeing in their eBike research. Some of the highlights were that the eBike share ridership is back up to pre-pandemic levels, eBike riders ride further and more often compared to traditional bikes, and 40% of eBike trips replaced car trips. John also said that high school students in the Portland area have access to the eBike share program free of charge.
Noa Banayan from PeopleForBikes presented on the Build Back Better Bill that just passed the house the morning of the seminar. This bill has the Electric Bicycle Incentive Kickstart for the Environment (E-BIKE) Act that would offer a tax credit of up to $1,500 to buy an eBike and the Bike Commuter Act that would offer bike and eBike commuters up to $81/month in pre-tax benefits. The bill still has to make it through the Senate which could take weeks or months and there could be some changes to the bill during that time. Stay tuned on these eBike incentives! Another important note is that the Infrastructure Investment and Jobs Act that was just signed by President Biden establishes the 3 classes of eBikes at the federal level.
E-Bike Industry Safety
Claudia Wasko from Bosch and John MacArthur from PSU talked about the importance of safety of electric bikes as more and more people are riding them. There have been some media stories of eBike crashes that have attracted attention but there are questions as to the statistical frequency of these accidents compared to trends in bicycles in general. One issue is that some of these accidents are not being tracked correctly. For instance some are being categorized as motorcycle accidents instead of eBikes. Having clear data on the eBike accidents will help the industry and reporters understand whether eBiking has any higher accident frequency and severity compared to traditional bikes. The data could also help with the development of eBiking education and regulatory safety measures as well as government funding for infrastructure and eBike incentives.
Don DiCostanzo from Pedego said that they are working with their local dealers to provide safety seminars on a regular basis.
Paul Martin from the Orange County transportation department noted that education of law enforcement is important to tracking accident data.
Speaking of safety education, People for Bikes has created the video below to provide some tips on riding a bike/eBike safely.
eBike advocacy was the next big topic with discussions of how the industry can develop eBike outreach at the local level.
Nancy Eckert runs the EZBike Project in Santa Barbara County, CA where they lend eBikes to residents to try in their daily life. Residents can borrow the eBikes for up to 5 days to really try them out: "Ride it in your neighborhood, take it to work, the market and on other errands, even put kids on it and see how the beach accessories fit!" It's a low pressure way for residents to try eBikes out and see if they are fit for their lifestyle. Nancy tracks how many people convert to purchase their own eBike after they borrowed an eBike through the program and some months have conversions in the 40% range.
E-Bike Advocacy
The EZBike Project is promoted at local events like farmers markets and they also have fun rides that are held in conjunction with happenings in the community like a ribbon cutting for new bike infrastructure. Local partnerships with other bike organizations, events, dealers, and companies in the area help to further promote eBike ridership.
Dave Wiens from IMBA (International Mountain Bike Association), Saul Leiken from Specialized, and Matthew Smith from Giant discussed electric mountain bike (eMTB) advocacy. They talked about the importance of giving dealers the tools to talk with local land managers about eMTBs. People for Bikes has a rich library of eBike resources for riders, dealers, advocates, land managers, and policy makers.
Trail riding etiquette education was also highlighted as important for eMTB as well as traditional mountain bike riders as there are many new riders to the sport in the last few years.
Dave Weins emphasised the importance of creating a better user experience for everyone using the trails and brought up the example of creating more 1-way trails in regions that have heavy use trails.
For general eBike advocacy, working with other organizations that have similar goals could include groups focused on the environment, transportation, schools, etc.
Innovation
One of the big points was that we have a lot of momentum in the electric bike world right now and we should use that to work for more eBike advocacy. For example, it is important to have policy makers ride and experience an electric bike so they can really understand what they are.
Next up was the innovative uses for eMTBs presented by Andy McSorley from Shimano, Ryan Spinks from QuietKat, and Susie Murphy from San Diego Mountain Biking Association.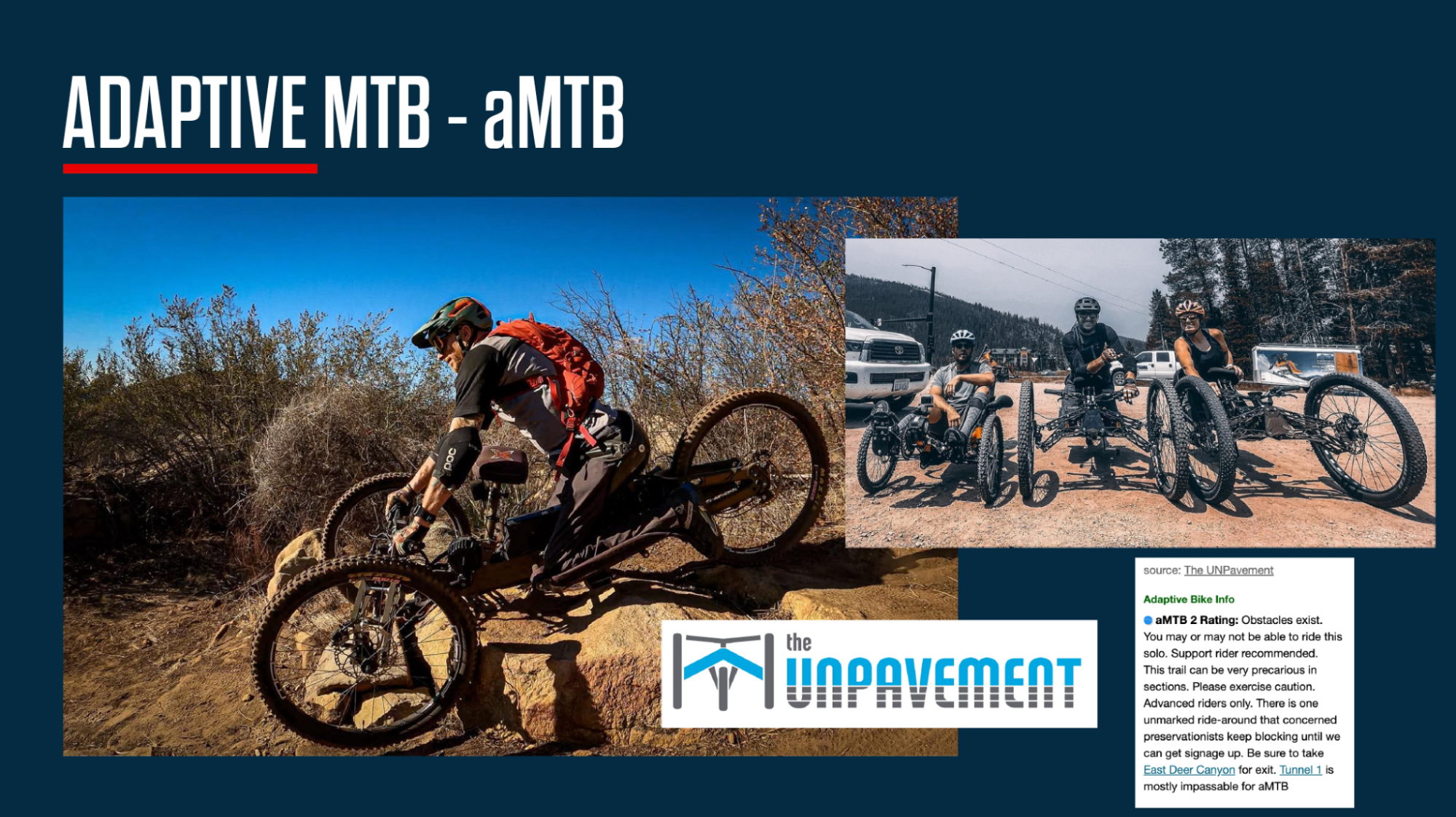 Adaptive mountain biking now has a trail rating system in the mountain bike trails app Trailforks where they list the difficulty levels. This has been developed by Jeremy McGee at The Unpavement.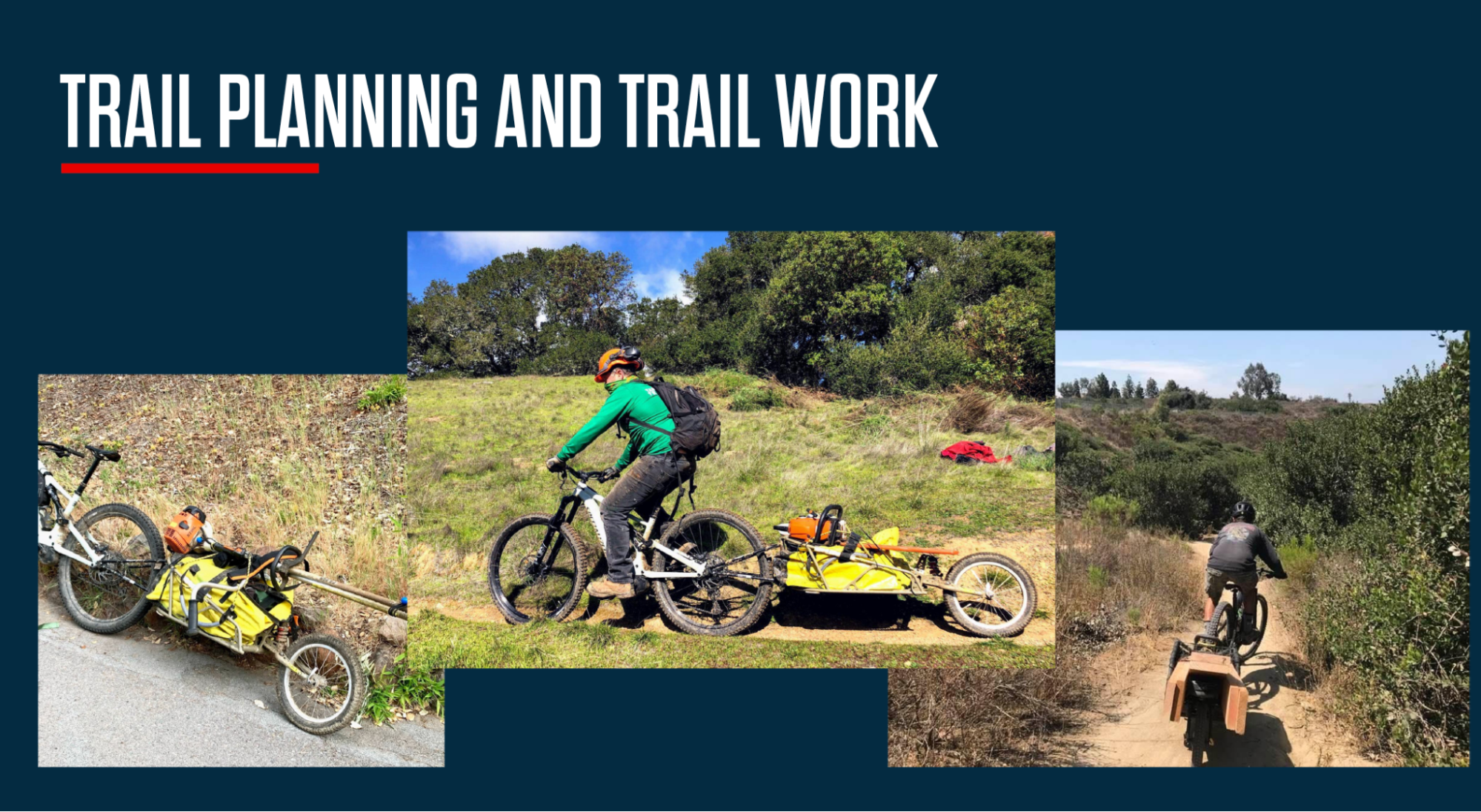 eMTBs have been used to haul equipment and food/drinks in for trail work days. Susie Murphy noted that they hauled in cement and wood to build a small bridge over a drainage in the San Diego area.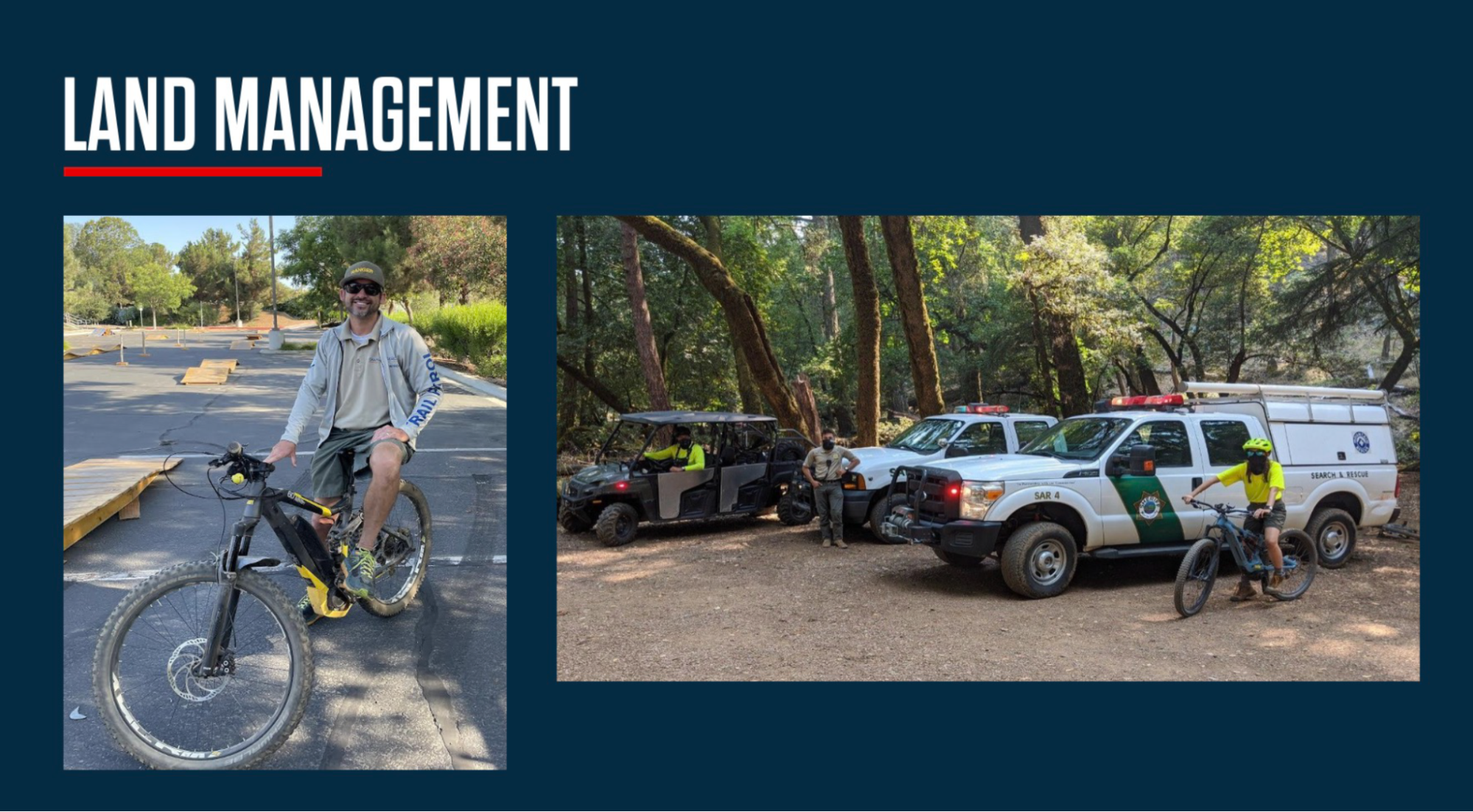 Land managers have begun to use eMTBs to ride in the areas they manage. It gets them out of the cars/trucks/ATVs and helps with striking up conversations with people out recreating on the land. Plus with regular use the land managers will gain a better understanding of how eMTBs can fit into their local area.
Law enforcement have used eBikes for many years and eMTBs further extend the area they can access with the off-road capabilities.
Search and rescue groups have been using eMTBs to get to people in need of help quickly.
The military and tactical units are looking at ways to use the quiet yet efficient nature of eMTBs in their work.
Rounding out the summit was the new eBike battery recycling program that People for Bikes has recently announced with Call2Recycle. Larry Pizzi from Alta Cycling (Raleigh, IZIP, Diamondback, etc.) presented that consumers will soon be able to take their used battery to participating bicycle dealers for recycling. Dealers interested in learning more can sign up for this webinar happening on December 1.
For those in the industry looking for more events, the Bicycle Leadership Conference will be held in Dana Point, CA March 21-23, 2022.
Reader Interactions