Volt Axis Folding Electric Bike: Shimano Mid Drive + Gates Belt [VIDEO]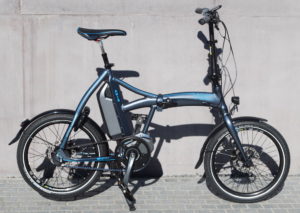 Mid-drive motor folding e-bikes are pretty rare and ones with the highly-rated Gates carbon belt drive even rarer, so it was a pleasure to check out this take on just such a thing, courtesy of UK company Volt.
From being a humble startup several years ago, Volt are now one of the most widely distributed e-bike brands in the UK.
Whilst this has been based on affordable yet good quality hub motor machines in the past, the fruits of Volt's collaborative efforts with Shimano are now bearing fruit in the form of this funky looking mid-drive e-folder, the Axis.
The Volt Axis is priced at £2999.00.
What to Expect from the Volt Axis
Here is a video overview to give you a closer look at the Axis.
At the heart of the bike is a Shimano E6000 crank drive motor, a dependable, high quality choice for city and leisure riders.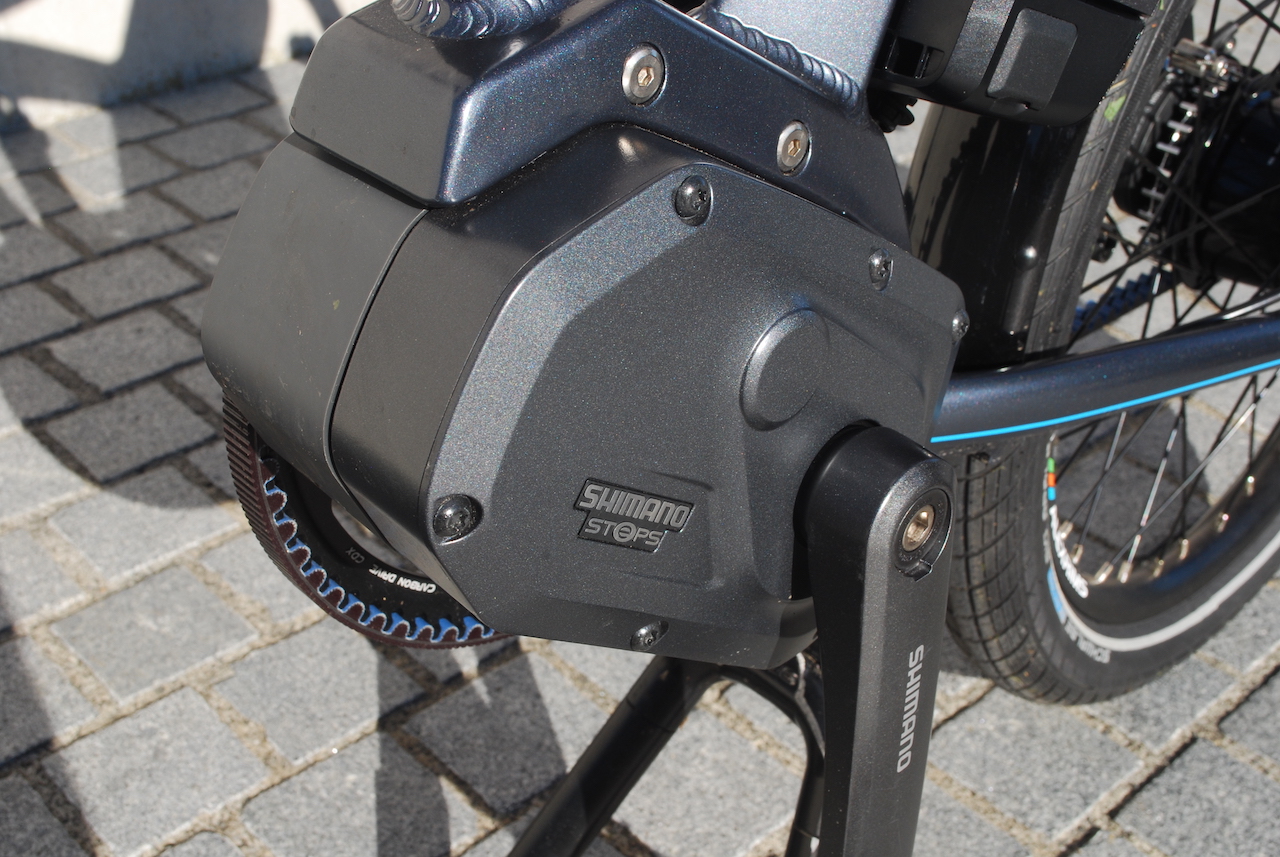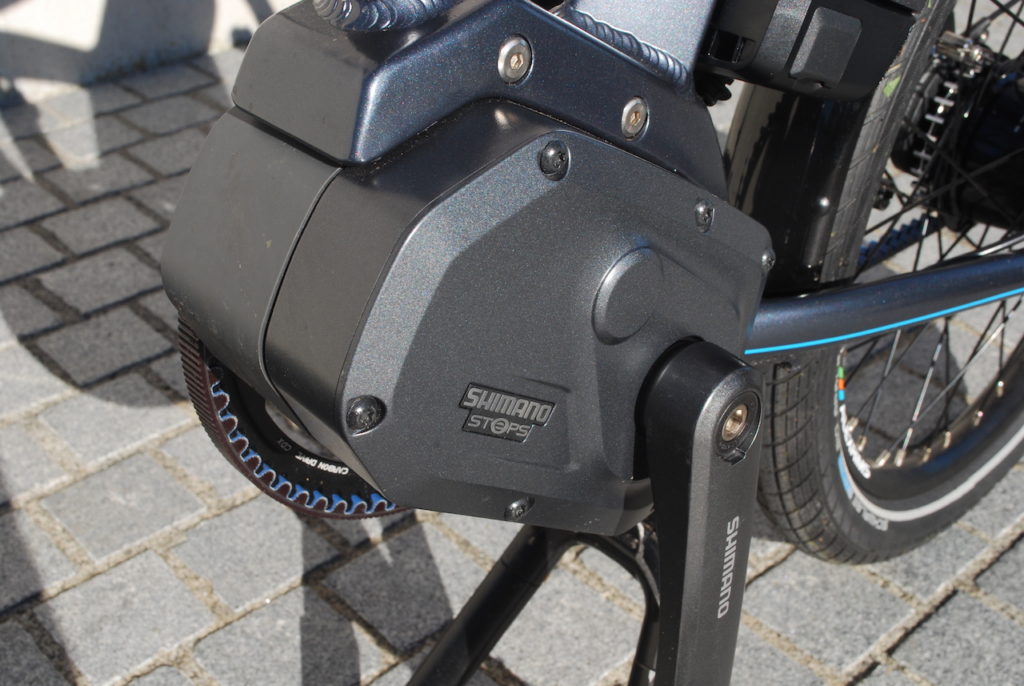 Its a good choice for a crank drive folder as, at 3.2kg, it's one of the lighter crank drives out there (though the E6100 is in the pipeline for the next iteration of the Axis and that is said to be around 300g lighter as well as being quieter).
Surprisingly, the Axis is the first folding e-bike I've come across that uses the highly-rated Shimano mid-drive system. For a full run down on all of Shimano's systems check out their page here.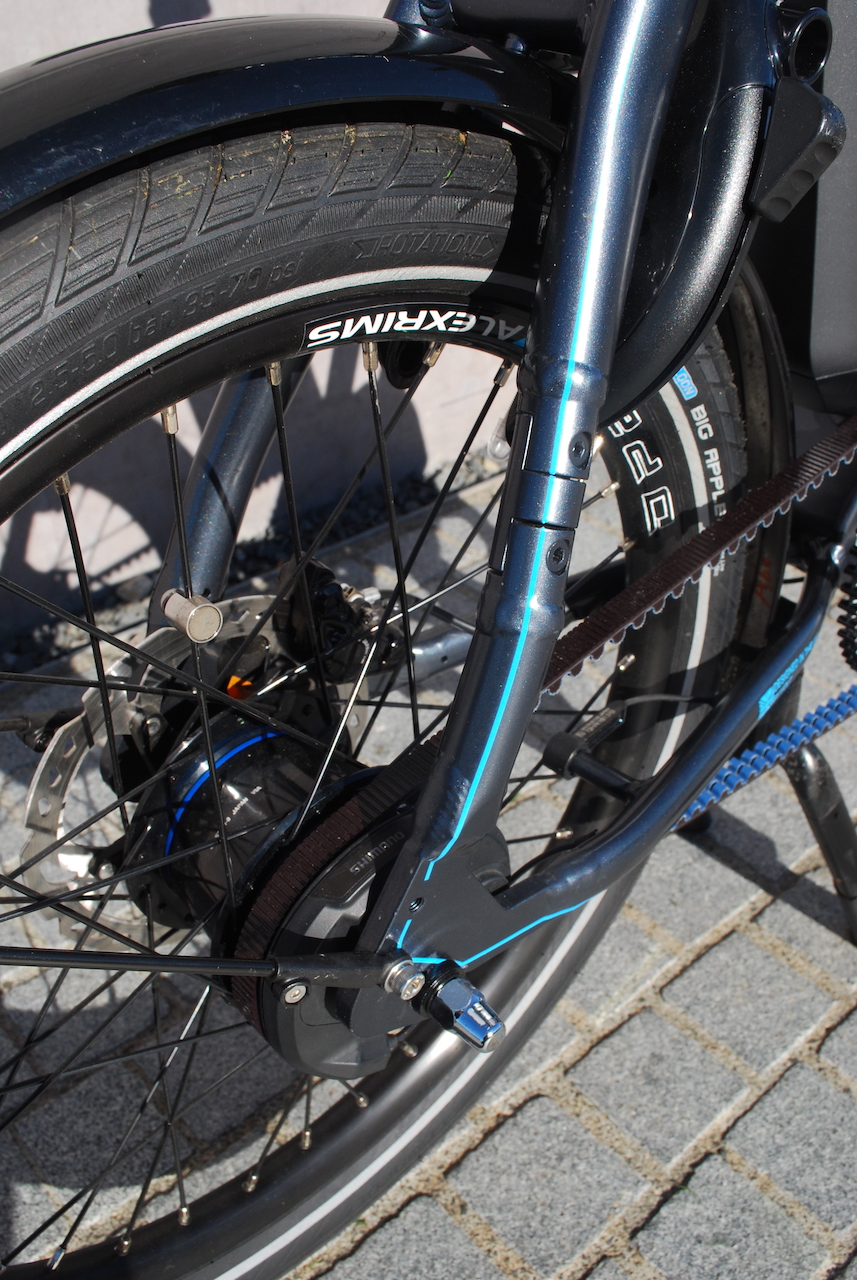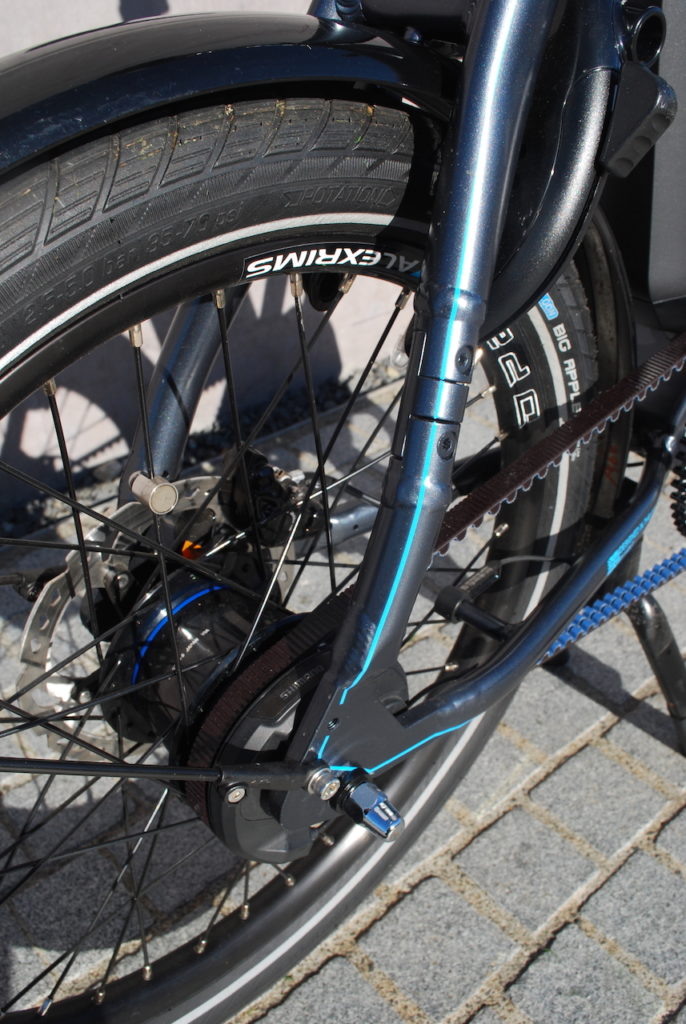 The Axis has eight Shimano Alfine hub gears that are shifted electronically; simply press the up/down grey buttons on the right hand set of handlebar buttons and an electronic signal travels down a wire to a small motor located on the side of the hub gears.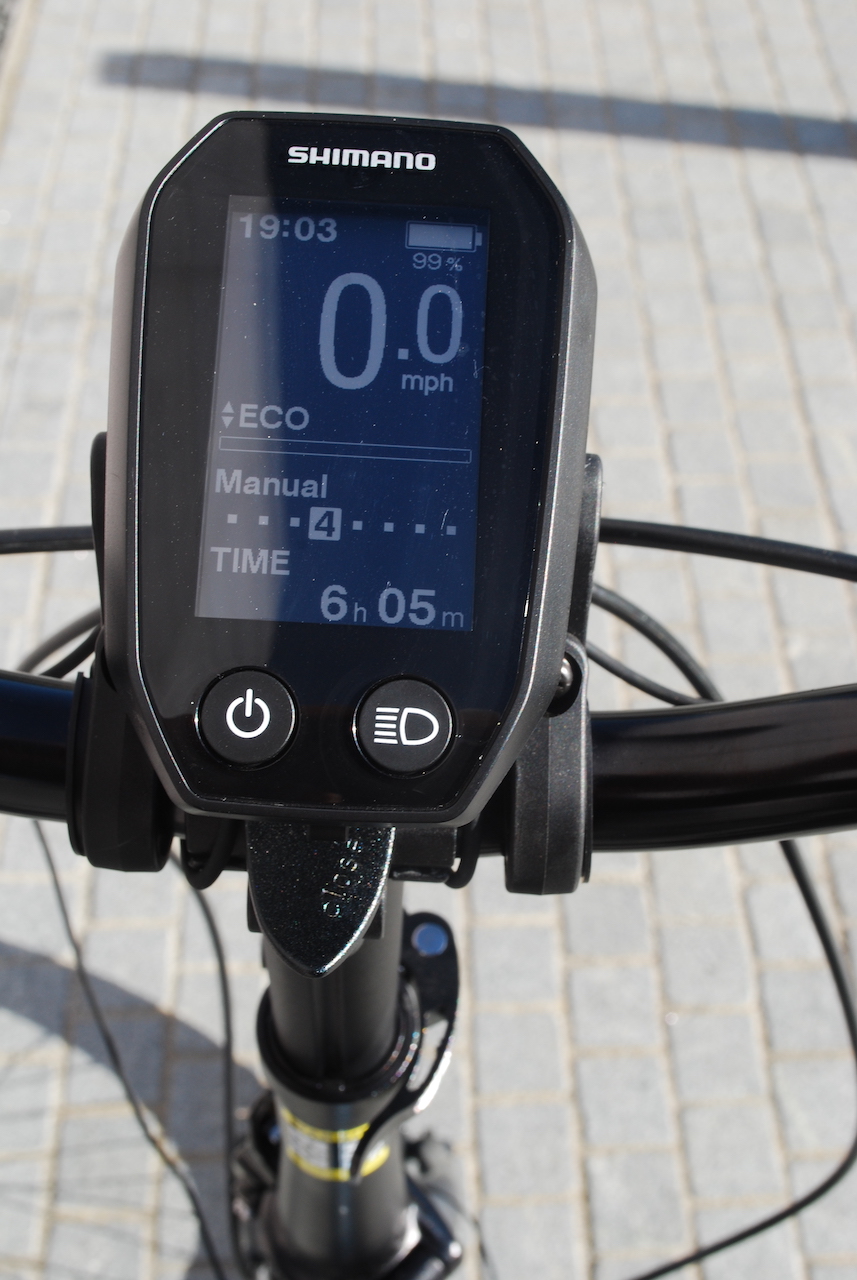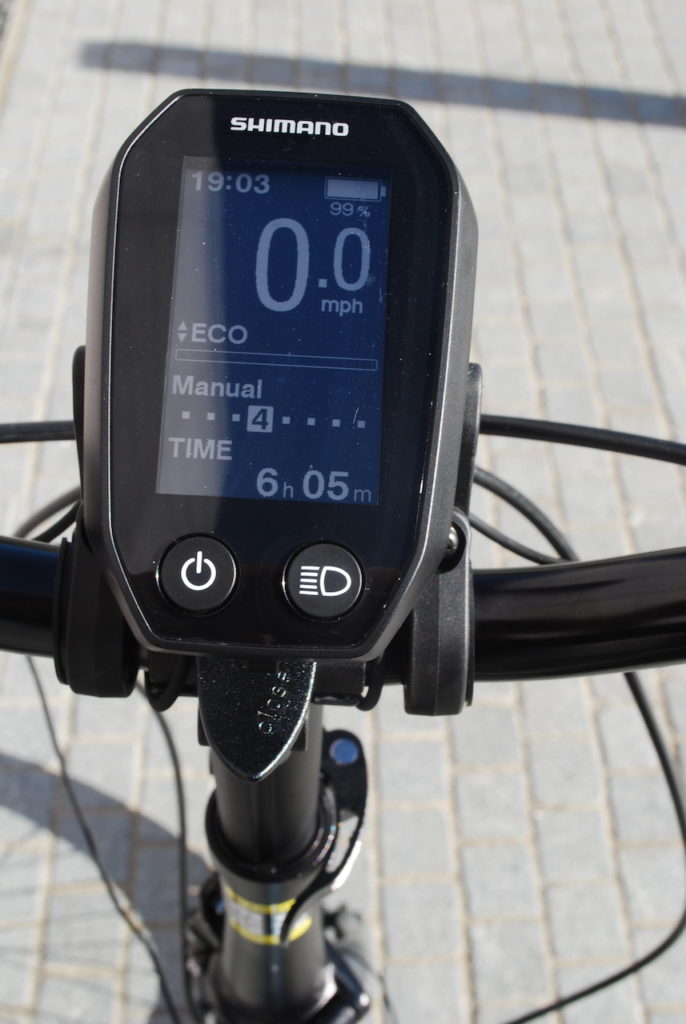 A small whirring noise from the hub and the gear indicator on the display both tell the rider the gear has changed.
Pressing the black button on the same set of handlebar buttons means you change into automatic changing mode, where the system will decide when to change for you (more detail on how the system actually works in practice is in The Ride section below).
Once very rare, now electronic shifting is becoming more commonplace and more affordable than it once was, though it still probably adds a few hundred pounds or dollars to the e-bike it is fitted to.
However, shifting really does seem easier and smoother compared to most cable operated gear systems as it means you don't need to manually index the gears, which can be fiddly. It's presence on the Axis is a welcome addition to the growing numbers of e-bikes that feature it.
The Gates carbon belt drive is a great feature, eminently suitable for an e-folder. It doesn't need oiling like standard bike chains do and so helps keep the bike clean – much-appreciated if you are carrying the bike a lot and don't want mucky clothes.
They also last a long time, so when paired with a hub gear they provide an extremely low maintenance drivetrain setup. There's more on belt drives vs chain drives in this interesting article.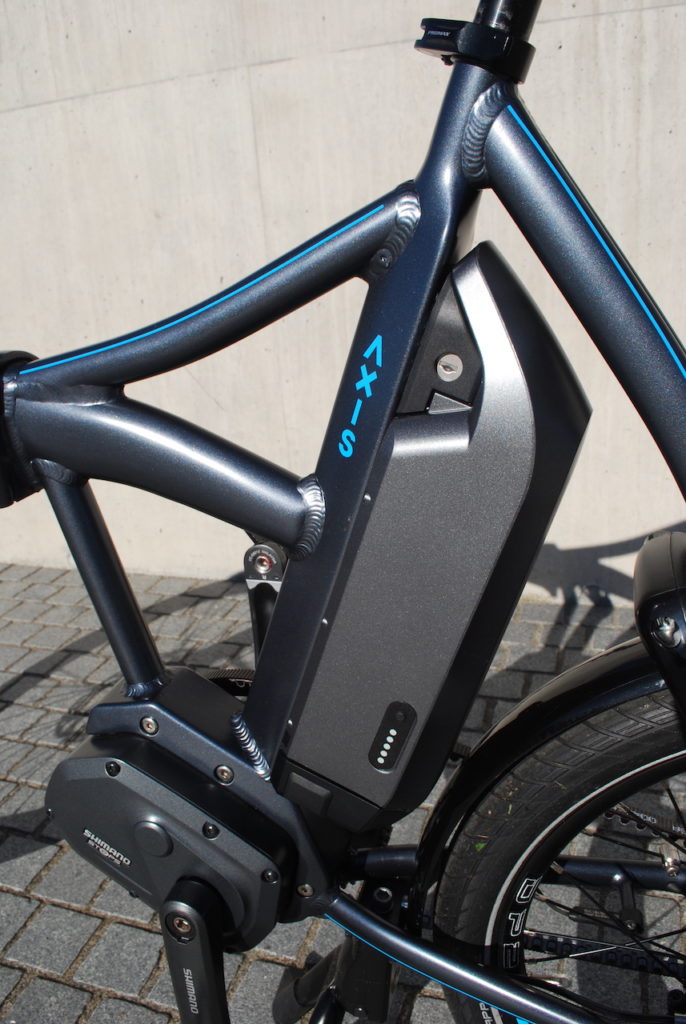 The battery is a standard 418Wh unit that comes with many Shimano Steps-powered e-bikes. It's not particularly large by today's standards but it is suitable for a bike like this where you want to keep weight down (and cost too) and where the bike itself is a pretty efficient consumer of power and daily distances less likely to be huge compared to large wheeled machines.
The Fold
The fold involves only two steps;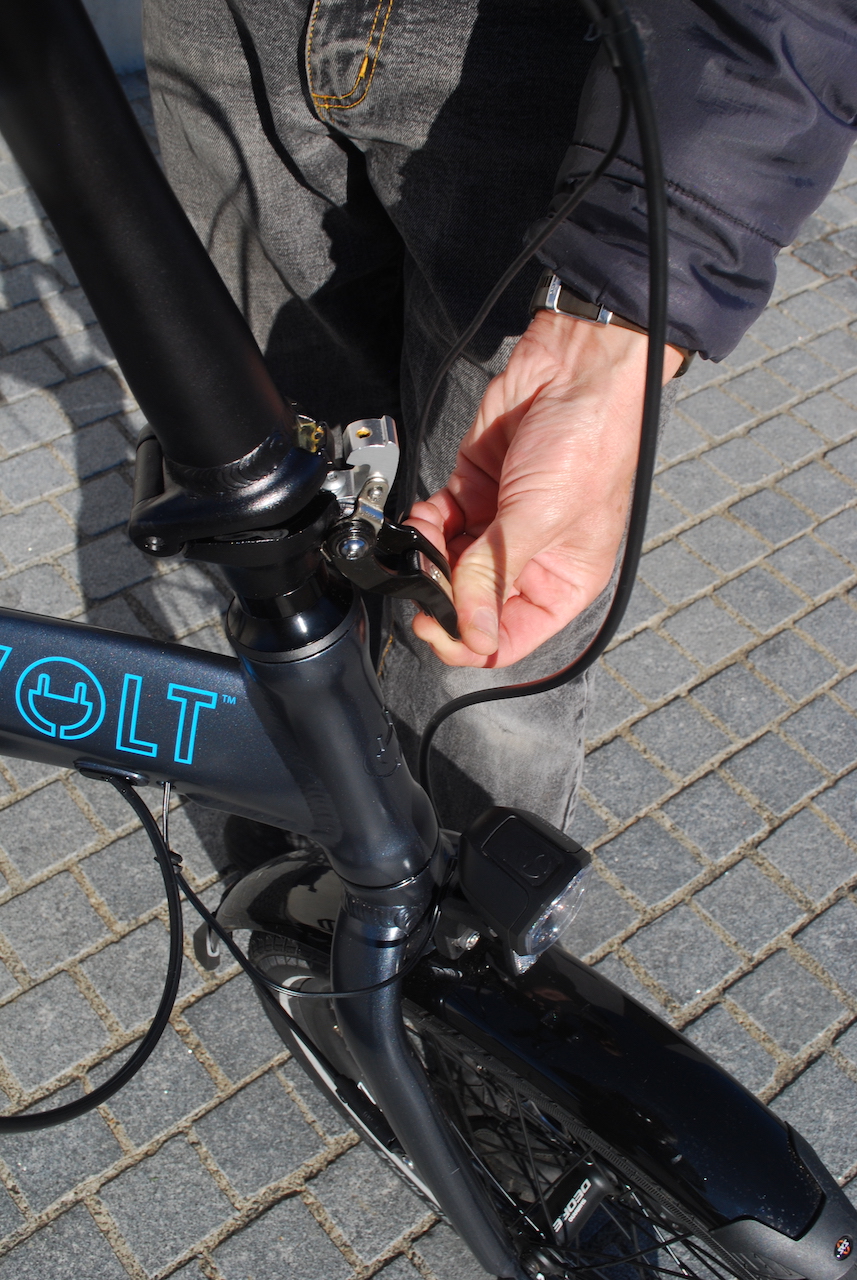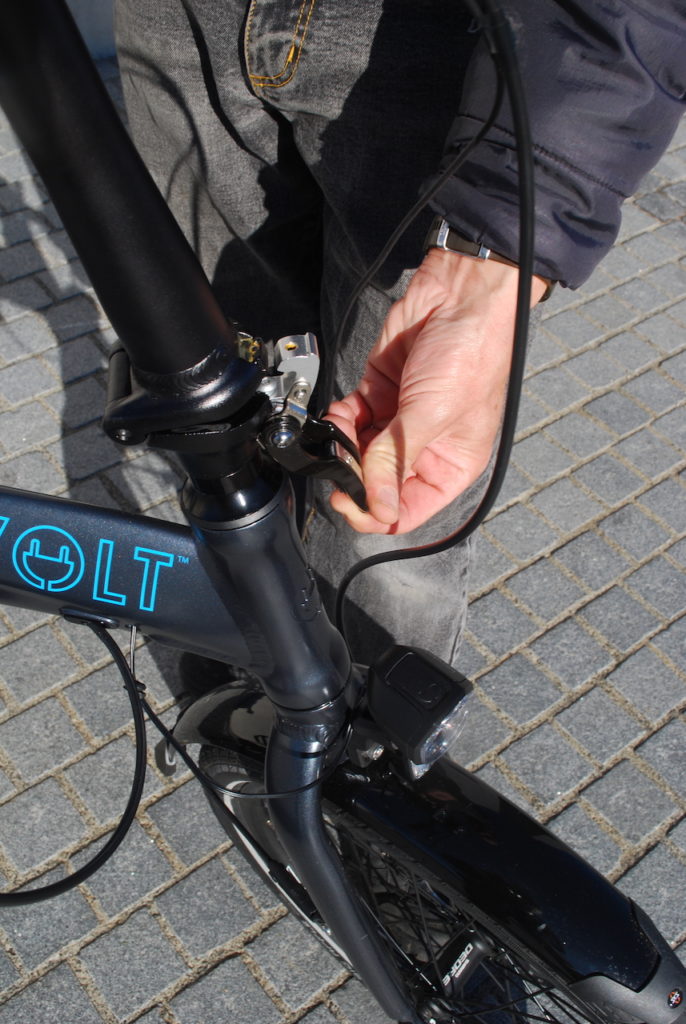 firstly unlock the handlepost hinge and fold it down onto the drive side of the bike so the rubber grip is resting on the front fork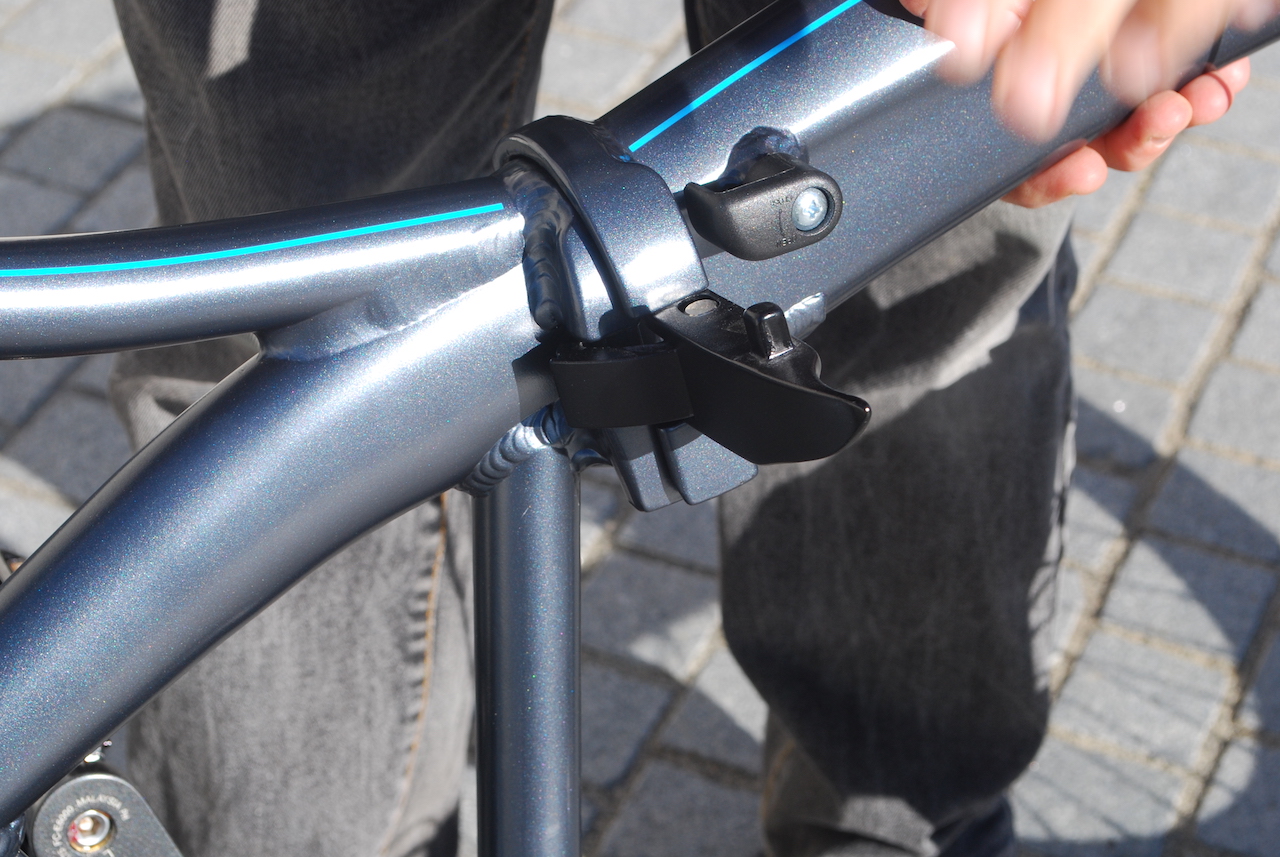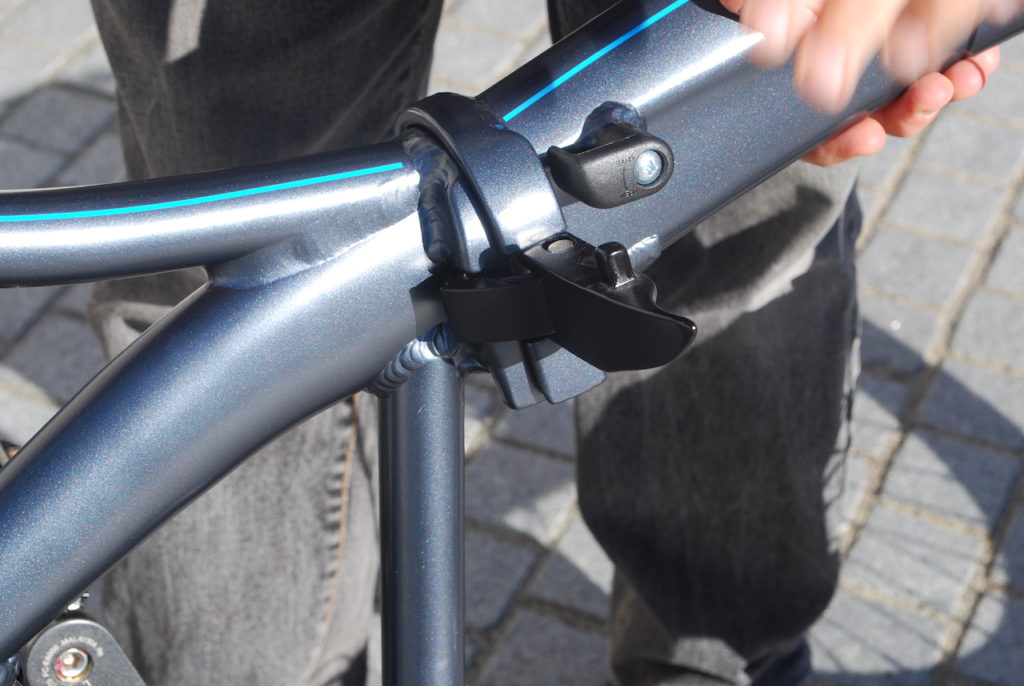 and secondly undo the frame hinge and fold the frame in half so the two halves are held together by the circular magnet system.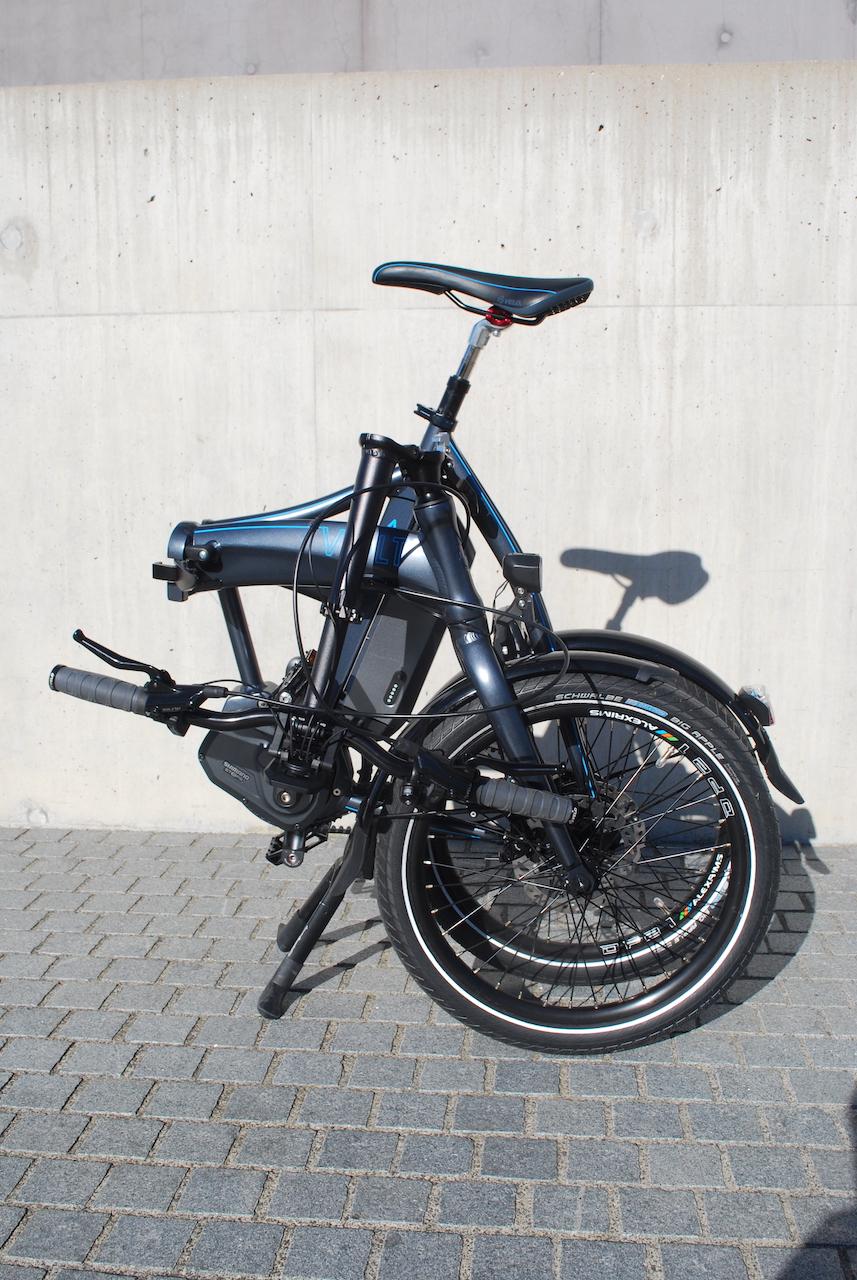 It's a quick and easy process and whilst not in the same league for compactness and security of fold as, say, the Brompton folding bike (few folders are) it's still an incredibly useful feature.
The 20 inch wheels strike a nice balance between being small enough for a reasonably compact fold and providing reasonably stable handling characteristics (larger wheels provide more stable handling on a bike than smaller ones, all other factors being equal).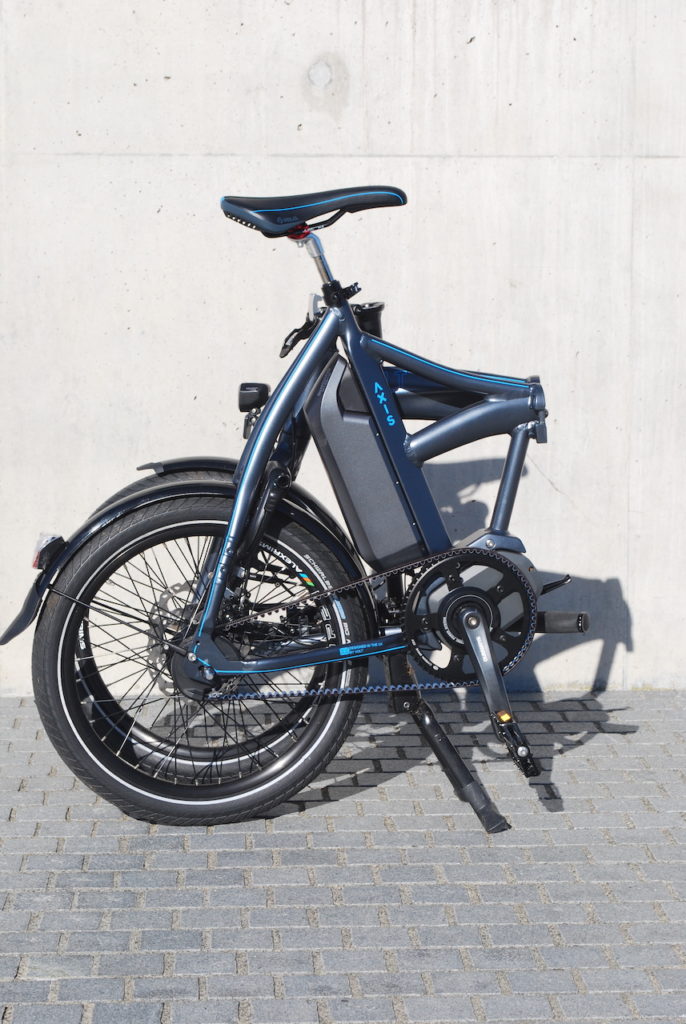 A very handy feature of the frame is the sloping member that goes from behind the mainframe hinge to the top of the seat tube. As well as adding strength this acts as a convenient handle to lift the bike up by your side.
Once folded the bike can also be wheeled on the rear wheel in front of you, using the seat as a handle to push the bike forward.
All this means the fold is a handy feature to have on an e-bike with one of the best electric drive systems out there and it allows you to lift the bike into the back of a hatchback car or squeeze it next to you on a busy train.
If you want a long slim package, for example for storing indoors in a hallway, you can simply drop the handlebars.
It's no easy job to carry the folded package down steps, take it on the London Underground or lift it above your head onto luggage racks, but if that kind of use is not so important to you the Axis fold adds a great deal of flexibility compared to a non-folder.
The Ride
Handling is nippy and agile as you would expect from a short wheelbase bike with relatively small wheels, and stopping power more than plenty from the Alfine hydraulic disc brakes.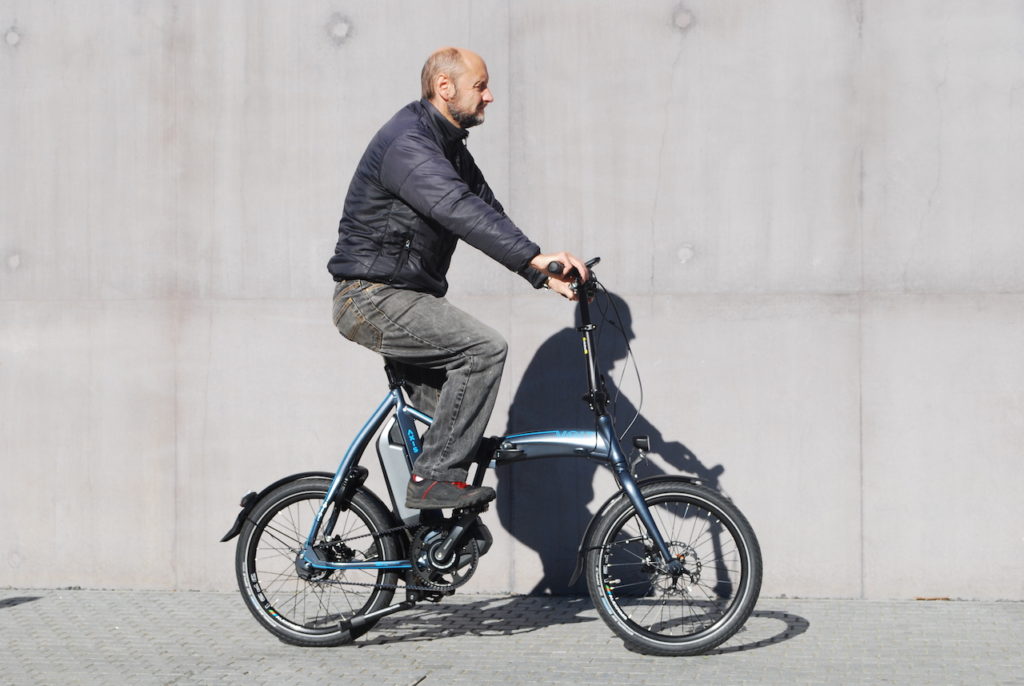 The 20" x 2" Schwalbe Big Apple tyres are a great choice, rolling quickly over tarmac which is the bike's natural habitat but also giving the ability to head off-road on better surfaced towpaths, forest roads and railtrails as they soak up smaller humps and bumps with ease.
Perhaps best of all there is power to spare from the Shimano Steps system.
The torque sensing power delivery means you just get on and pedal and the power is delivered nicely in proportion to your pedal input.
I found the Eco setting sufficient for many hills whilst the middle Normal setting was sufficient for even the steepest hills I encountered around the Pennine foothills of Huddersfield.
I never felt really in need of the High power setting though it did give a couple of extra mph speed on the very steepest of hills.
On the flat and with the power turned off it's also one of the better motors to pedal unassisted (some motors mean greater pedaling resistance than others when turned off).
The fact it climbs so nicely in the lower power settings is a great battery capacity saving feature that will extend battery range even in the hilliest of surroundings.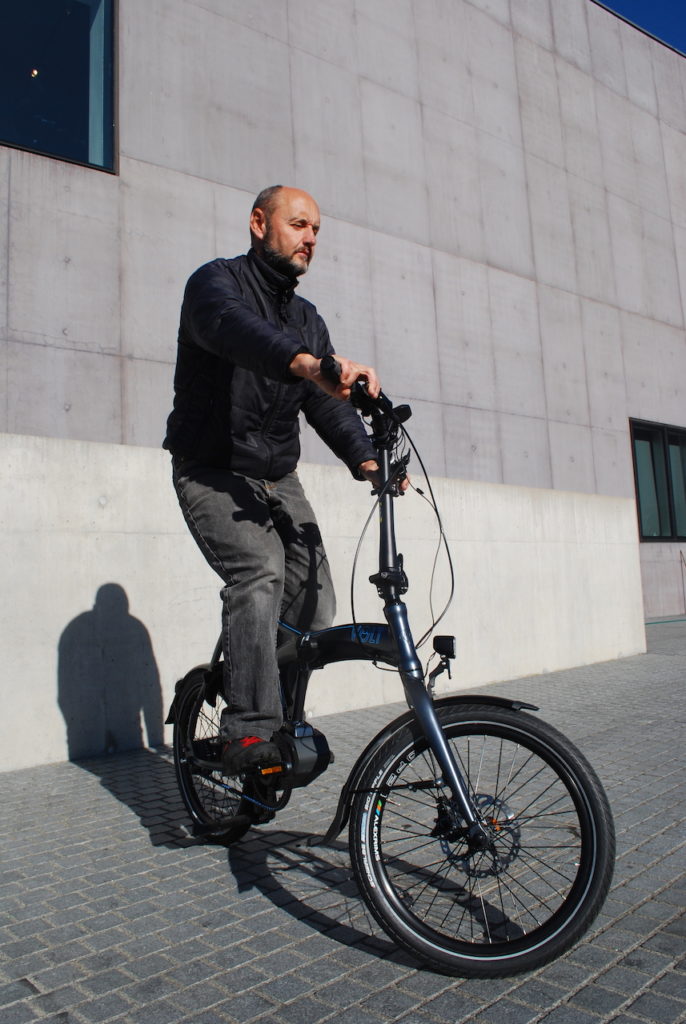 I estimated the Axis would manage at least 35 miles on the hilly tarmac roads I encounter daily.
Over somewhat gentler terrain, but still with moderate hills, battery consumption figures suggested a maximum range of around 50 miles (for reference I weigh around 67kg and would describe my riding style as fairly gentle and riding conditions as sunny, dry and calm during the test).
Handlebar controls are pretty straightforward as long as you remember gear selection is by the right handgrip and power / other info settings by the left.
The info on the large removable display is very clear and easy to read on the go.
Display info that you can toggle through includes all the usual suspects; tripometer, odometer, max speed and range calculator (figures are given for all three power modes) plus, permanently displayed, are current time, current speed and % of battery capacity left.
Both power setting buttons and gear selection buttons are positioned in the shape of a rocker switch, so although they are quite small I found it quite easy to position my thumb over them and feel which was the top and bottom button (even with my fairly tight fitting winter gloves on).
Some might prefer bigger buttons but this is one aspect to try out if you go for a test ride.
Changing with the Di2 system is simply a joy; the electronic shifting means it's accurate, quick and smooth to flick up and down the gear range at the touch of a button (my only quibble was I would have liked the buttons to have been a bit bigger).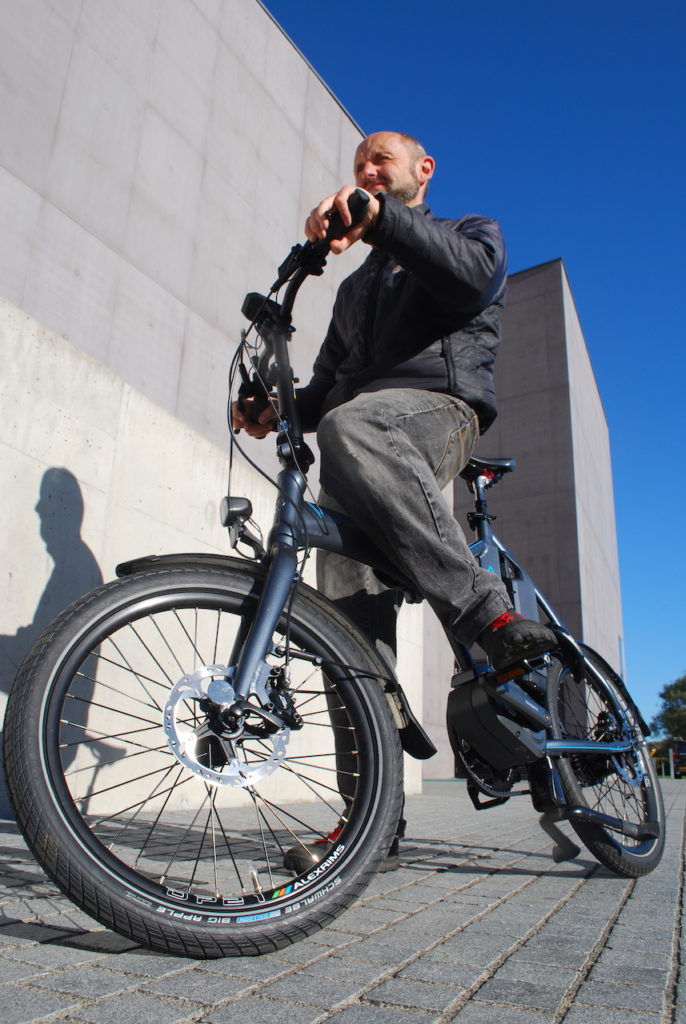 When you are stopped – either at the end of your ride or during it – the system automatically selects gear 4 so you are ready to set off, possibly useful for more occasional riders who may forget to select the correct gear before starting off again.
Even better news for those less confident with gear changing (or those who like to take it really easy) is the automatic option.
Once again it just takes the touch of a button to toogle between manual and automatic and once in automatic the system senses your cadence and speed and changes up or down appropriately.
The system has been around since 2012 which has meant Shimano have had time to refine what is an extremely complex operation.
Personally I found the system changed a little early on hill climbs, though other riders who tried it felt it was about right for their riding style. Of course, if it doesn't appeal you can always change back to manual.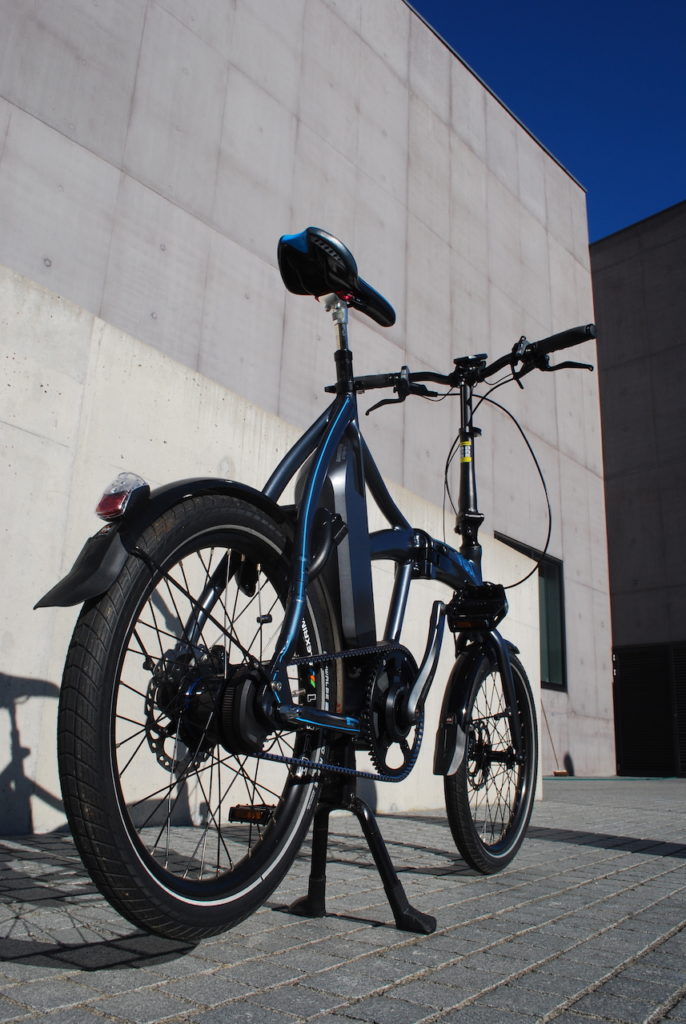 It's also worth noting that, because of the extra motor fitted on the outside of the gear hub, the minimum sprocket size that will fit this particular transmission set up is 28 teeth, meaning quite a low gearing range, making the bike most suitable for hilly areas as its very easy to pedal in the lower gears.
The overall range of 307% was plenty for the hilly riding around the Yorkshire Pennines I did, especially when allied with the overall low gearing.
In terms of 'extras' the Axis is pretty much fully kitted out and the spec is high quality and everything worked smoothly and practically.
Quick 'shop' stops around town are a breeze; just flip down the very solid centre stand and use the rear wheel lock to secure the bike (of course for longer stops where you can't keep an eye on the bike a separate lock is essential).
The lights give plenty of illumination on unlit roads, full length SKS fenders keep spray to a minimum in the wet.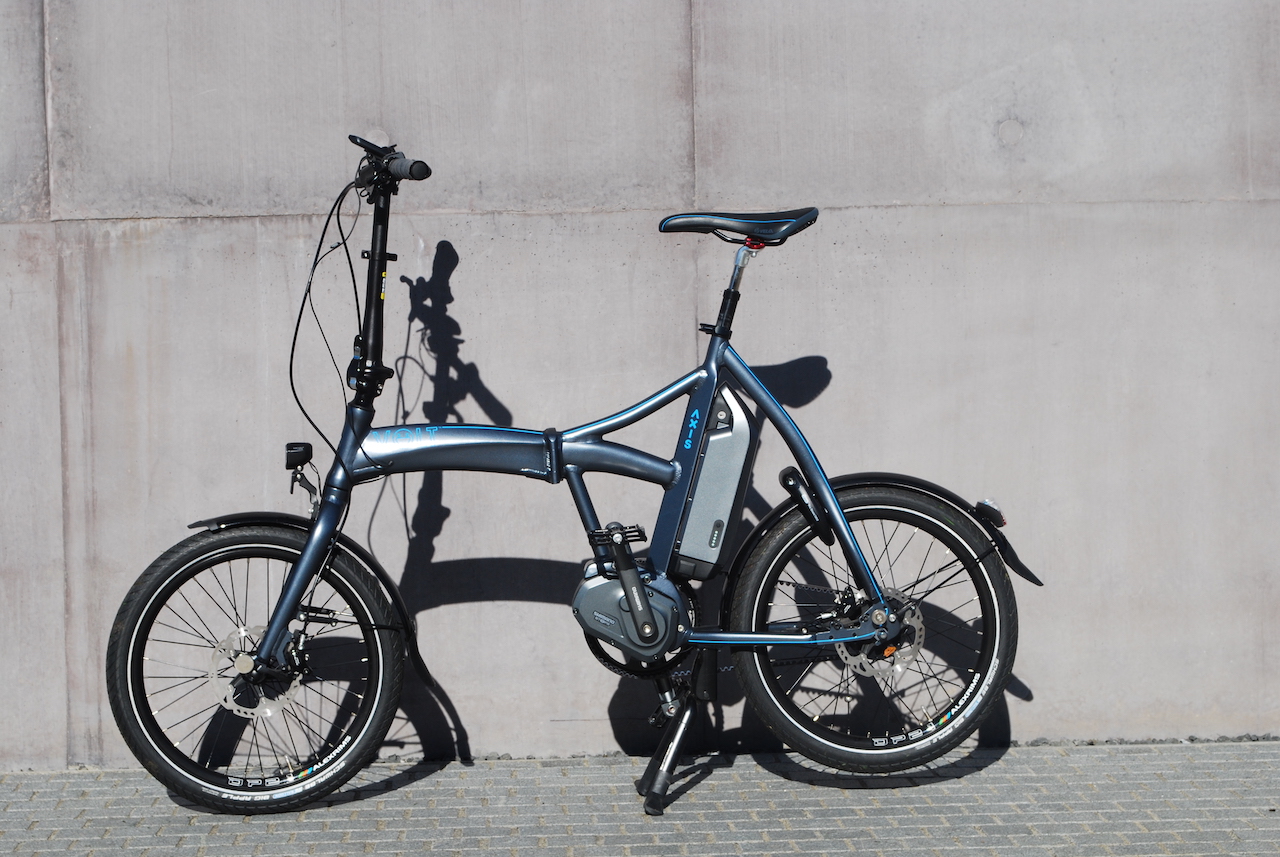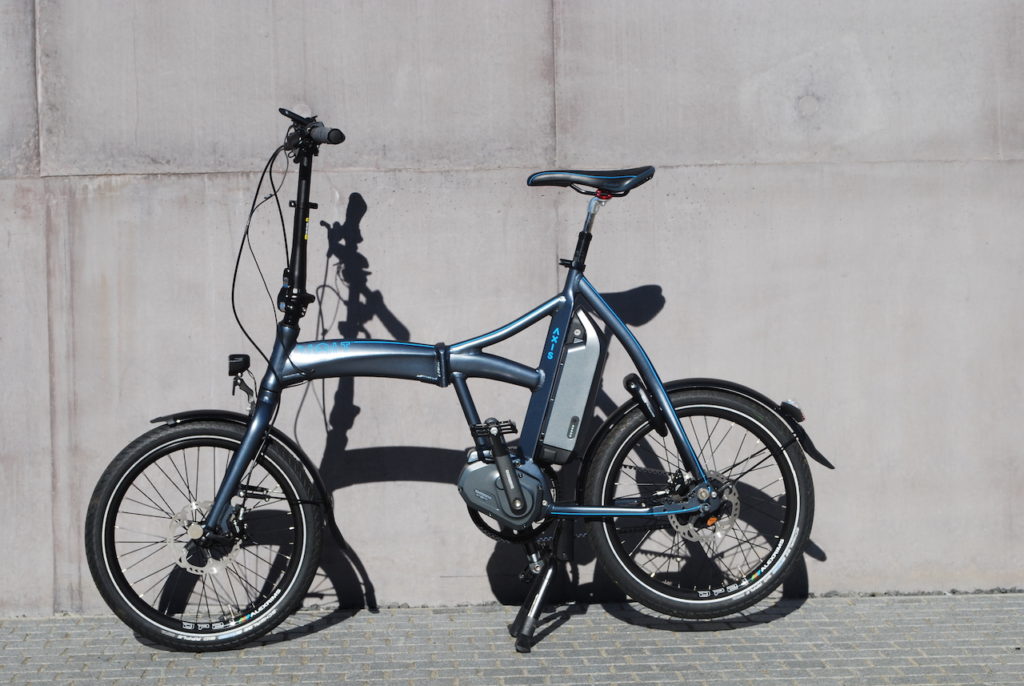 Carrying capacity was the only thing missing on my test bike but Volt say racks front and rear are a forthcoming feature.
Volt also say a rear rack can be added to this model too at the request of the customer, though again just how this works should be checked in store, as heel catch on some designs of pannier may be an issue on a bike with such short rear chainstays.
The frame comes in one size and with the seatpost and handlepost adjustments set at the bottom, the bike fitted my 5'8" frame nicely. There's loads of extra vertical adjustment on seat and bars to suit much taller riders too.
Conclusion
For commuting trips in a busy urban environment that features plenty of hills the Volt Axis looks like an e-bike to add to the 'must try' list.
The ride quality from the Shimano Steps system is superb and the quick and easy fold adds a very handy extra level of usefulness that you don't get on most e-bikes that feature this high quality of electric-assist.
Volt Axis Specifications
Frame: 6061 Aluminum
Fork: Aluminum
Folded Size: 945 x 945 x 540 mm
Motor: Shimano Steps 250W, 15.5mph E6000 / E6100 (2019)
Battery: Shimano branded, Sony cells 418Wh. 4 hour charge time from empty.
Drivetrain: Gates Carbon Drive belt with Shimano 8 Speed Alfine DI2 internally geared rear hub
Rims: Double Wall Reinforced Alex Rim DP19
Tyres: Schwalbe Big Apple 20 x 2.00
Brakes: Shimano S700 Alfine Hydraulic Disc
Lights: Spanninga LEDs
Bike weight: 22.1kg inc. battery
Battery Weight: 2.65kg
Charger Weight: 1.1kg
Max Rider Weight: 100kg
Stay tuned for more e-bike news and reviews and thanks for reading!
-Richard
Testing & Review Note: Each company pays a fee for testing and review on Electric Bike Report because of the considerable amount of time that it takes to provide an in-depth review of each eBike. The testing and review on Electric Bike Report is focused on providing you with a detailed "virtual" look at each eBike to help you determine if it is the eBike for you or not.
P.S. Don't forget to join the Electric Bike Report community for updates from the electric bike world, plus ebike riding and maintenance tips!
Reader Interactions