Trip Report: Touring France on an Electric Bike
By Richard Peace
After 520 miles of e-biking, many tens of baguettes, lots of pavement cafe stops and many fabulous chateaux visits I had finally made it across France, from the far northern ferry port of Calais, to the outstanding tourist attraction in France outside of Paris – the jaw-droppingly impressive abbey of Mont-Saint-Michel.
The Route and the Bike
I was heading for Paris to ride and research the Veloscenic bike route that links the country's capital to Mont-Saint-Michel – an 8th century monastery atop great halls and surrounded by houses and stores all encircled by massive fortifications.
If this wasn't enough it is all built on a rock outcrop that sits out in a sandy estuary off the Normandy coast and is swept daily by massive tides that surround it totally. With motor vehicles (apart from shuttle buses) banished from its environs the bike is one of the best ways to visit this UNESCO World Heritage Site which sees around 3 million tourists throng to it every year.
I was riding a Heinzmann CERES eST city bike;* actually a reasonable touring model I figured, with its easy access step-thru frame, 30kg rated rack, 24 gears and near silent direct drive rear hub motor. Other extras vital for touring include the sturdy Pletscher kickstand, high quality LED lighting powered from the main battery and full length mudguards.
I took two 400Wh batteries and was glad I did. Carradice limpet front panniers were fitted to the front and I also carried a small lightweight backpack – I was carrying a small mountain of equipment including a laptop, various electrical chargers and research material for a guidebook I had to compile along the way plus my own little luxury, an electric shaver.
* The CERES eST is now discontinued but other models with the same drive model are still available and the gearless motor is still in production as a kit, and appears set to be so for the forseeable future. Here is a review of another model in the range.
How Did it Perform
My daily riding distance was up to around 60 miles which exhausted both batteries over hilly sections; this a sounds reasonable 'fuel consumption' figure of around 13Wh a mile but I had to keep a very careful watch on the three power levels, keeping it on the lowest level of three most of the time.
A combination of a considerable extra touring weight of around 16kg, the fact that gearless motors like the Heinzmann are not as efficient as mid-motors and the use of slime-filled anti-puncture inner tubes were no doubt the main factors leading to my slow but sure progress across the country.
That approach suited me fine; I was often stopping to take photos or make notes and above all I wanted something predictable and reliable that would get me across the country without event, and so it proved.
The hydraulic disc brakes were ideal for controlling such a heavy load and the low gears in particular helped me add plenty of human power to slower climbs up some of the steeper hills.
Only towards the end of the trip did the bike falter, developing an apparent wiring fault that meant the display displayed an error code. There was no loss of power or performance otherwise, I was just unable to get any data on the large LCD display.
The limpet panniers in particular proved a good idea. Under normal riding conditions with rear panniers only the bike can feel very light to steer due to having so much weight high up at the rear (the battery is fitted into the rack). The front panniers help to counter that lightness and made for a pretty smooth riding e-touring bike.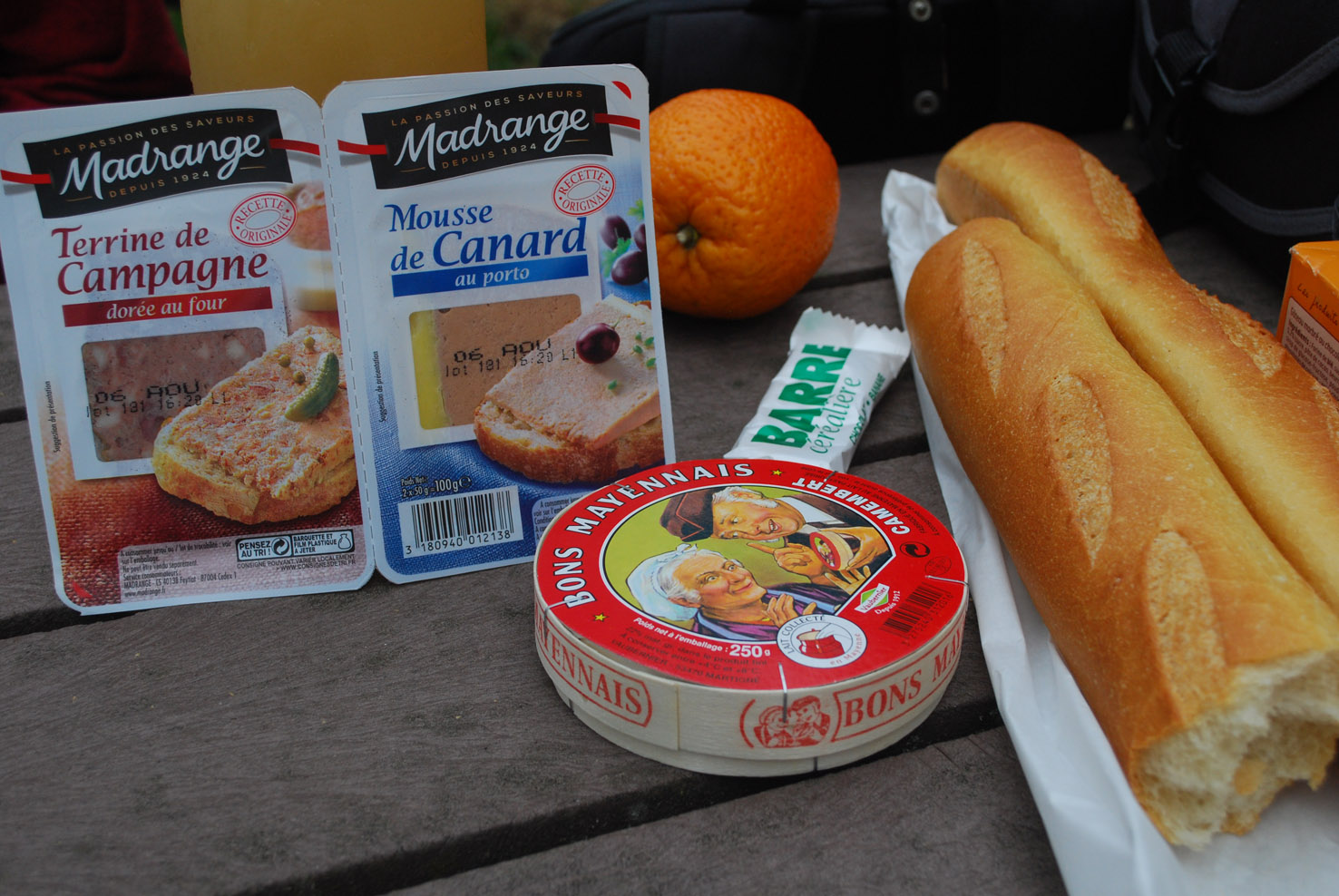 The step-thru frame was ideal for the job too, with regular stops to dismount for a photo op or another visit to one of the many boulangeries along the way…
Route Highlights
The trip from Calais to Paris featured wonderful scenery and attractive towns around the Seven Valleys area, but the greenway ride along the canal into Amiens and a visit to its towering cathedral was probably the highlight of this section.
However, the Veloscenic route is one of the jewels in the crown of France's national cycle network; it links Northern France's three major tourist draws; Paris itself, the palace of Versailles just outside the city and the visionary experience of Mont-Saint-Michel.
In between there are elegant chateaux such as Sceaux and Maintenon, some lovely greenways (in particular the one that exits Paris itself to the south through a string of parks and green spaces).
Of course, I knew about the main tourist draws and they were undoubtedly impressive but I knew nothing of the lovely variety of scenery and the many contrasting attractive towns along the way.
The Perche and Normandy Maine regional parks protect an overwhelming rural landscape of often small-scale farms with half-timbered farmhouses, whilst some beautiful towns presented great contrasts, particularly Bagnoles and Domfront.
And of course there were the ever present things that always make touring in France such a delight; the markets, boulangeries and cafes that mean an easy supply of freshly produced food and drink and the generally very courteous driving on the roads (though many country roads are virtually deserted), Paris being the exception to that particular rule.
Even there, though the traffic is frenetic it is certainly not ultra-aggressive as it can be in other major world cities. Plenty of bikes on the streets no doubt help.
Is France Going Electric?
I saw plenty of evidence that the seeds of electric mobility are being sown in France, though like many other places the car is still king.
Autolib public electric hire cars were being charged on the streets of Paris as were Cityscoot electric scooters and electric segways, electric Renault Kangoos and ZOEs were to be found in used at the incredible palace of Versailles and even I even came across a Renault Twizy, out in a country village, a relatively cheap and extremely different looking two-person electric car from one of France's best known auto manufacturers.
Good on Renault for pushing out the electric message well before other car companies who are holding back until the end of the decade.
And of course I spotted many e-bikes out and about, mainly on the streets of Paris and in use by holiday makers around the massive tourist draw of Mont St Michel (and my own anecdotal evidence from the trip is that Bosch motors are still the most popular brand actually in use, though in global sales terms other manufacturers like Shimano may well be making big inroads into their once unquestioned dominance).
The French government operates a Bike Bonus scheme that offers up to €200 off an e-bike.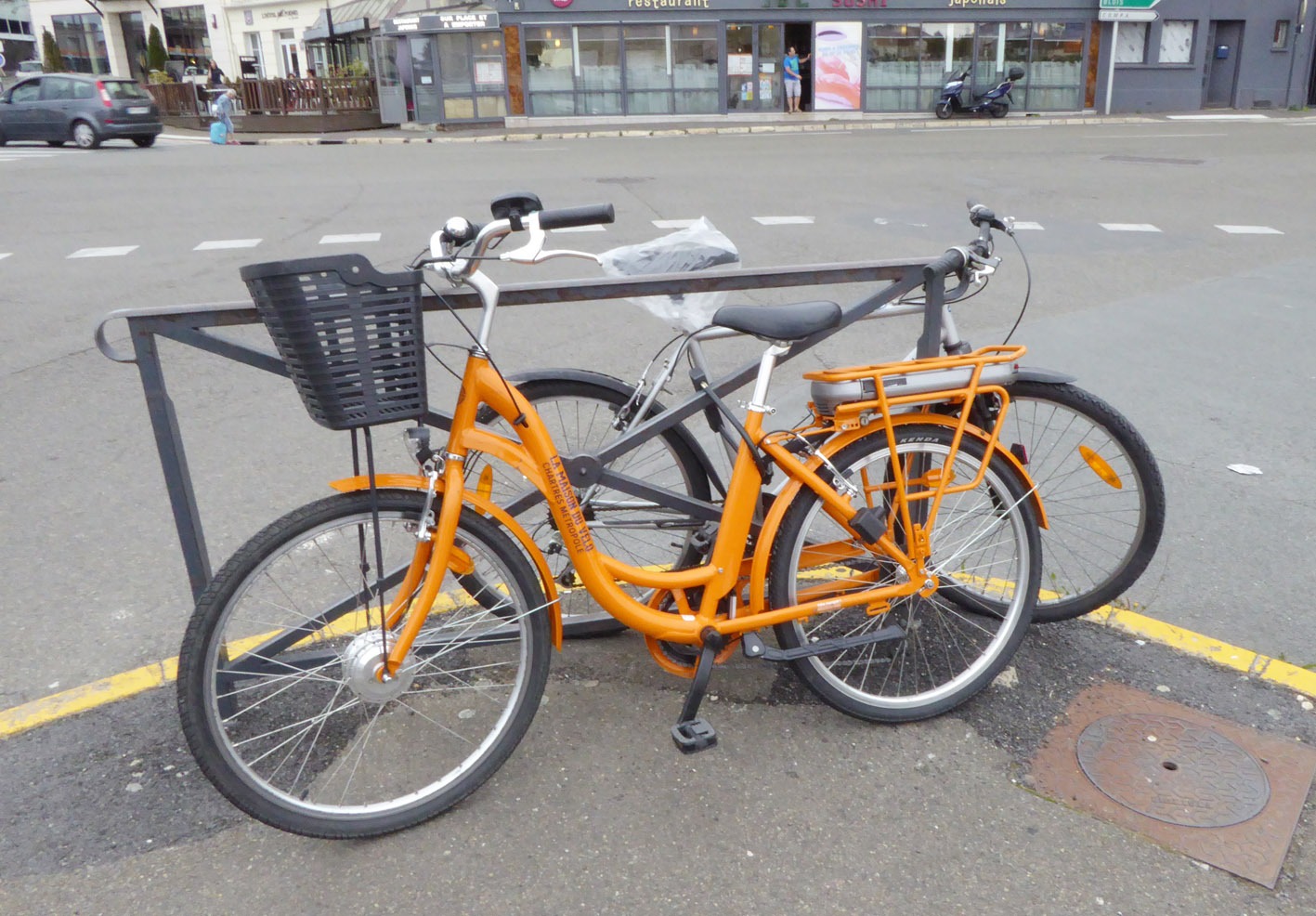 It was also great to see numerous tourist offices offering e-bike hire, albeit on an hourly or daily basis, rather than for a long touring trip such as mine.
The country may not be quite in the same league for e-bike use as its more northern continental neighbours but the revolution has definitely began and I look forward to seeing what other e-vehicles are out and about when I go on my next trip to one of my favourite e-bike touring destinations.
Stay tuned for more e-bike news & reviews and thanks for reading!
-Richard
P.S. Don't forget to join the Electric Bike Report community for updates from the electric bike world, plus ebike riding and maintenance tips.
Reader Interactions