Transporting 3 Kids by Electric Bike!
This is a guest post from Clare Elwes from Justebikes in London.
7 years ago when Kate's third child was born she decided to explore the idea of an electrically assisted bike.
Kate lives in rural Suffolk and she wanted to continue to use a bike for the 6 mile round trip to and from school but the weight of a third child made the load too heavy for a traditional bike.
Her eldest son, Andy, has Downes Syndrome and Autism and Kate was keen to find a way to develop his road sense and encourage his cycling skills.
After doing her research Kate settled on a Dutch made Sparta e-bike. She found that with the electrical assistance she could carry all three children with ease, one on a front mounted child seat and two on a double trail-a-bike.
It was an impressive sight seeing Kate and her children climb the hill to the local primary school on what became known locally as the 'Kate-train'!
This set up also allowed Andy to gain confidence on the road, developing his balance and muscle strength as he and his sister pedalled along on the trailer behind Kate. Andy can now cycle independently, which is an amazing result.
"Having an e-bike for me is all about ecology, economy, health and fitness," says Kate. "Lack of public transport in rural areas like this mean that it's all too easy to rely on a car for shopping trips and the school run but I can do all that on my Sparta. I save a lot on fuel and like the fact that my children had fresh air and exercise before school, studies show that is helpful for learning."
3 years after getting her Sparta Kate was diagnosed with Rheumatoid Arthritis. "Having an e-bike means I can continue to exercise," she says. " My joints are relieved of some of the pressure of traditional cycling. Rheumatoid Arthritis is a fluctuating condition and the Sparta allows me to choose the level of support I need on any given day. The hand grips on the Sparta are designed in such a way that my wrists are well supported too, which is very important."
Kate still does the school run with her youngest son, and with the double trailer she can bring a friend home from school on the bike too.  "An e-bike is good for all life-stages and whatever life throws at you!" she says. "What I particularly like about my Sparta is that it's a bike for life. The quality of the build and the fact that the battery and software can be updated when the bike is serviced mean that I expect to be riding this bike for many years to come!"
End of guest post. 
Thanks to Clare Elwes from Justebikes for sharing this story!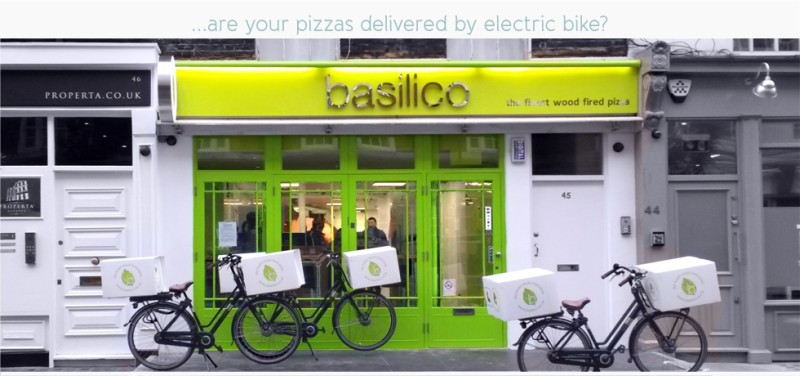 Justebikes has also been instrumental in setting up a local pizza company in London with delivery e-bikes.
P.S. Don't forget to join the Electric Bike Report community for updates from the electric bike world, plus ebike riding and maintenance tips!
Reader Interactions