Tern GSD S00 Electric Cargo Bike Review Part 2: Ride & Range Test [VIDEO]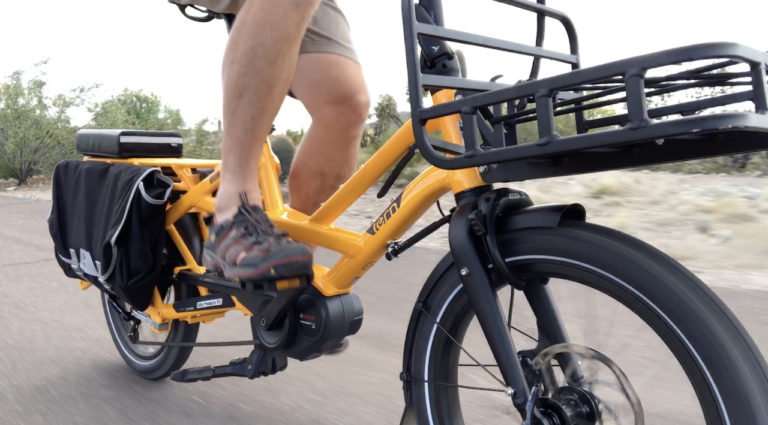 After many miles of testing the Tern GSD S00 it has proven to be a super versatile electric cargo bike with a fun and sporty ride feel.
Its sturdy compact design can definitely handle the heavier cargo while still providing a stable and maneuverable ride feel.
Tern has a bunch of accessory options to customize the GSD to make it your "daily driver" and leave the car at home.
The GSD is highly adjustable to fit almost anyone and it has some folding capabilities that make it even more compact for storage/transport.
Quality is another highlight of the GSD S00 with premium components from Bosch, enviolo, Magura, Schwalbe, and a full assortment of stock accessories. Plus there is a double battery option!
The Tern GSD S00 starts at $4,999 and there is also the S10 model starting at $3,999.
In this second part of the full review you will get an idea of the ride characteristics, range test results, pros, cons, and overall thoughts on this electric bike.
Make sure you check out part 1 of this review with large pictures and specifications to get a detailed look at this e-bike.
What you can expect from the Tern GSD S00:
To get acquainted with the Tern GSD S00, checkout this video:
Riding the Tern GSD S00

: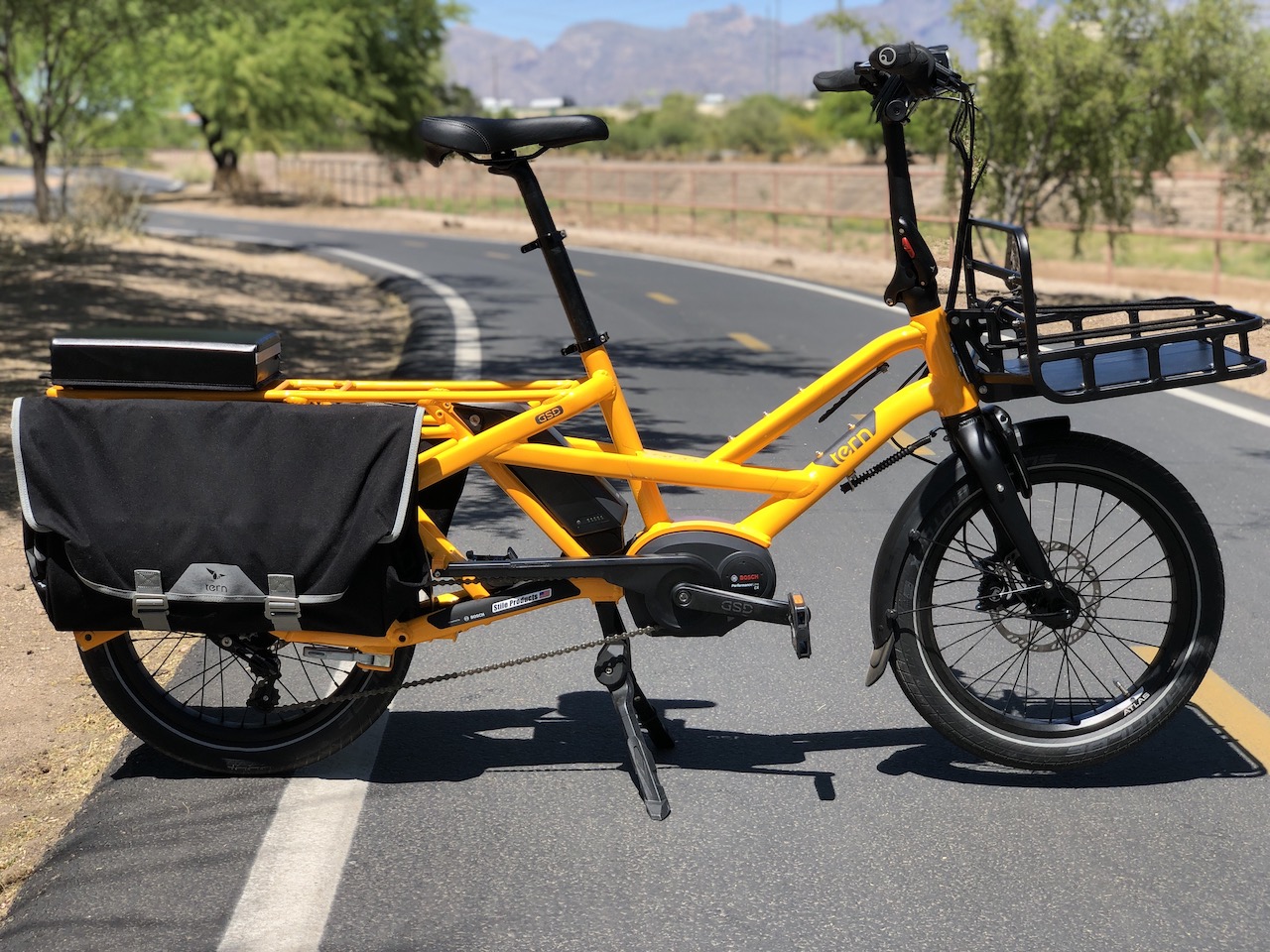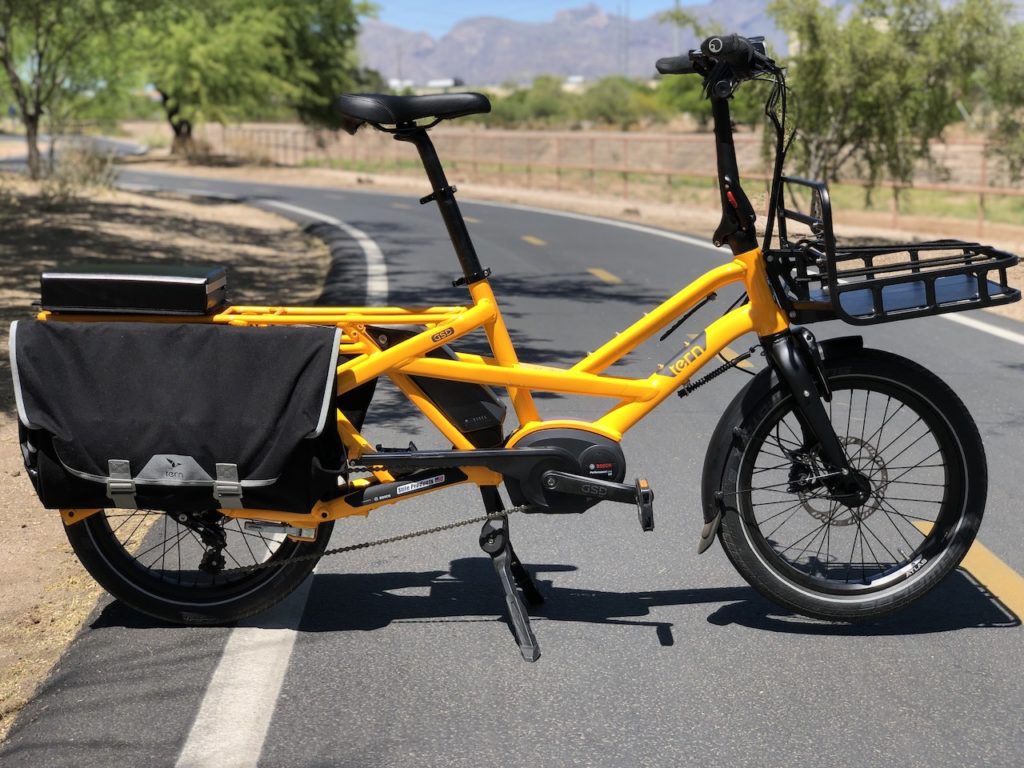 Overall there are some characteristics of the Tern GSD S00 that really stand out when riding this electric cargo bike. To summarize they are:
Fun, sporty, stable, and sturdy ride feel
Compact design for a maneuverable & transportable eCargo
Smooth & easy to use drive system with Bosch motor & enviolo continuously variable transmission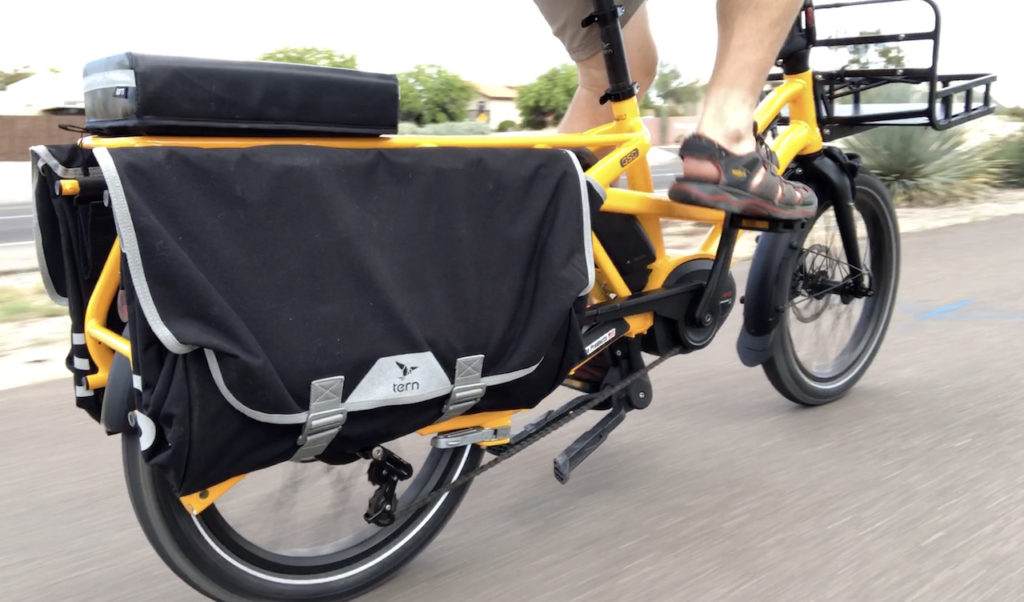 The Look & Feel of the

Tern GSD S00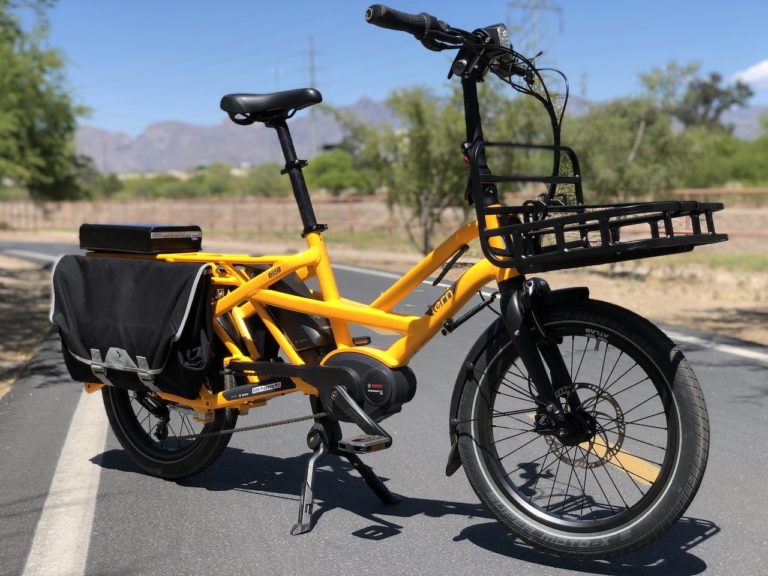 The compact look of the Tern GSD is definitely unique.
With the small wheels and low step-thru area it is a very approachable bike for many rider sizes.
The GSD is an easy bike to get on and ride and it has a comfortable and generally upright feel.
It is also an attention getter with its compact size and many cargo carrying accessories.
Many people turned there heads as I rode by and it was also an attraction at the bike parking areas!
The frame itself has a very distinct style with its MultiTruss design that has a very sturdy feel.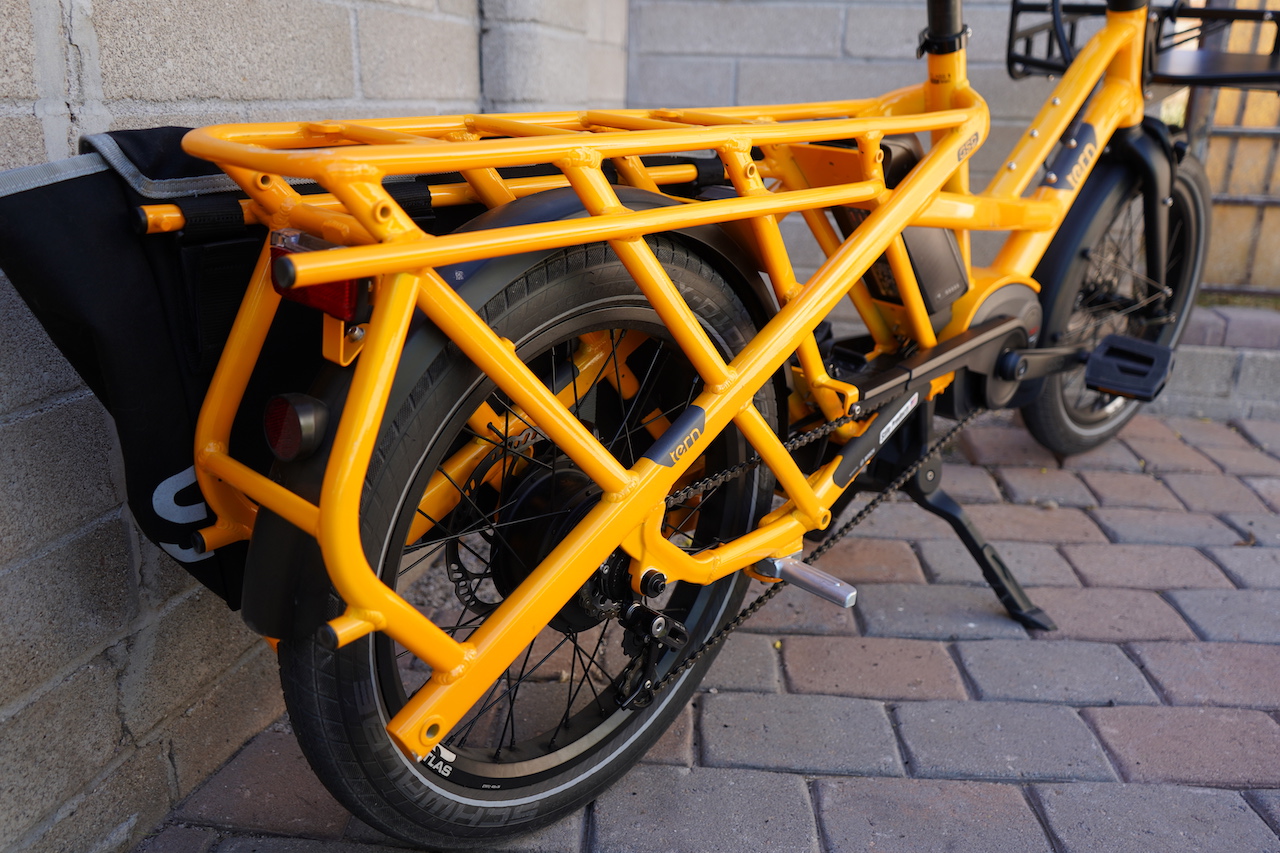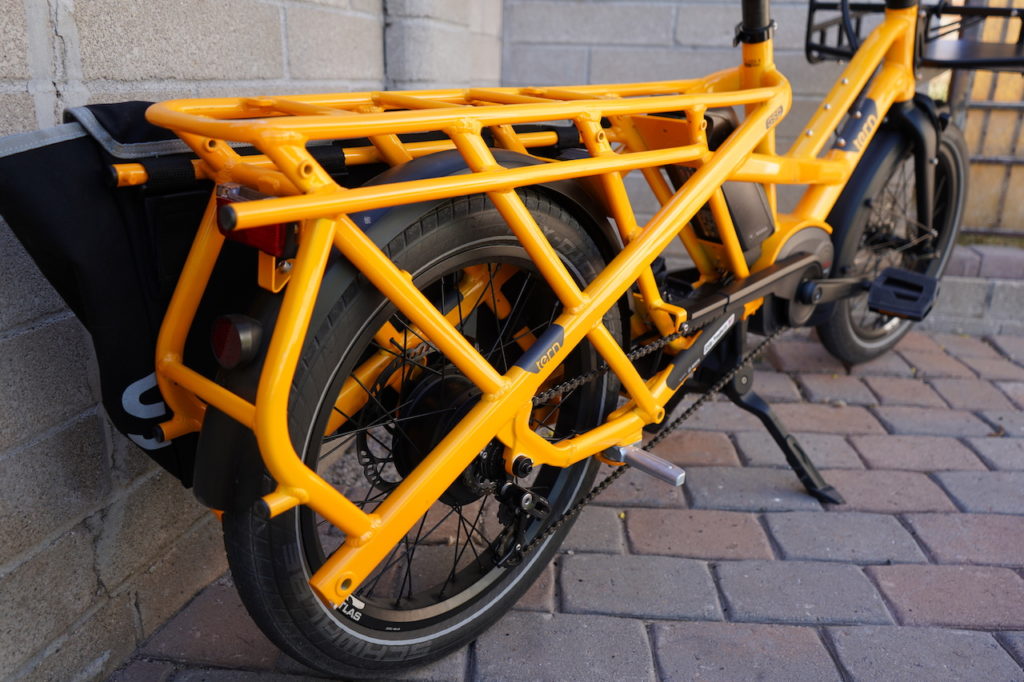 7005 aluminum tubing creates a truss like structure to provide an extremely stout rear rack system with many attachment points for cargo and additional rider accessories that Tern has available.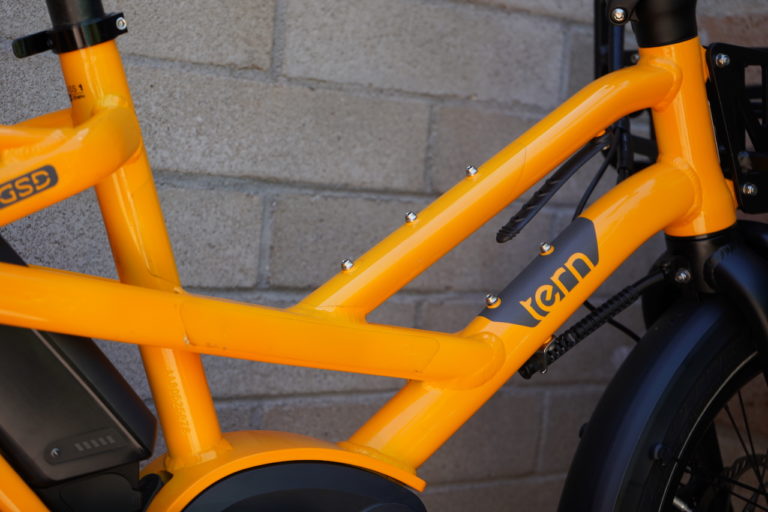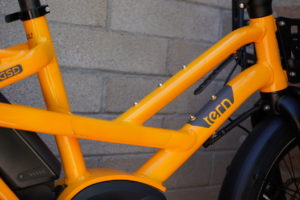 The rear rack structure also blends in 2 battery locations that are almost hidden by the frame structure.
The front of the bike features a low step-thru area that is about 19″ above the ground to make it easy to get on and off the GSD.
This is a good feature when handling heavy cargo because you can stabilize the bike more when getting on and off.
Thanks to the sturdy design there is minimal flex even when the GSD is heavily loaded.
And speaking of that, the GSD is designed to handle approximately 370 pounds of rider, accessory, and cargo weight!
With the 20″ front and rear wheels the cargo is carried low to the ground for a very stable ride feel.
The 20″ wheels and relatively compact wheelbase give the GSD a very nimble and sporty ride feel by being quickly maneuverable compare to larger wheel sizes.
Those are the technicalities but the sporty and sturdy ride style translates into the GSD being a lot of fun to ride as you Get Stuff Done!
Like other bikes that use 20″ wheels you do need to keep your eyes out for potholes and other obstacles that smaller wheels may not roll through as well as larger wheels.
Large bumps and cracks in the road are felt more with smaller wheeled bikes.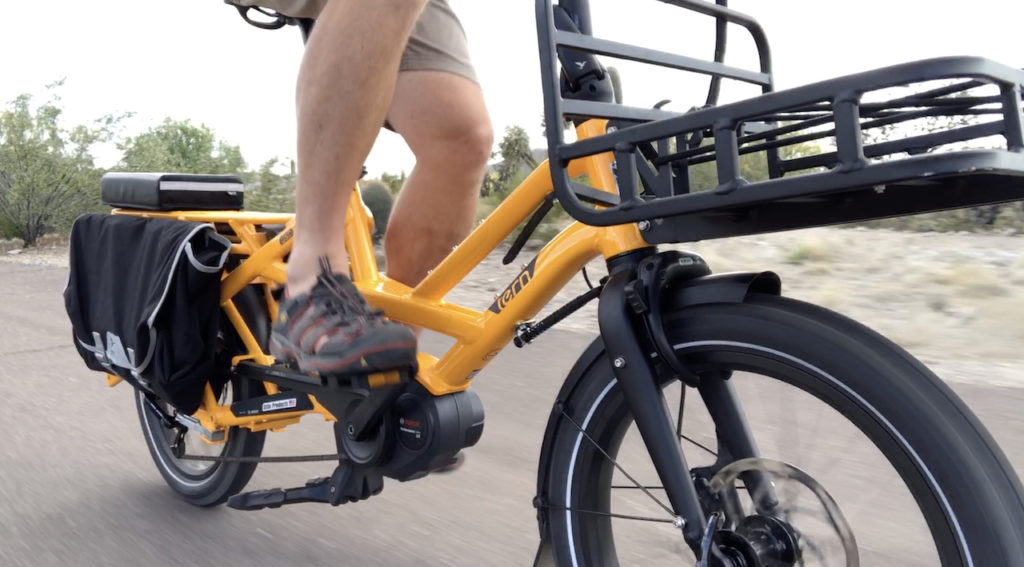 The Schwalbe Super Moto-X 20″ x 2.4″ provide a bit of built in suspension with their large air volume balloon style design. When they are run at the lower pressure range around 30 psi they do a pretty good job of smoothing out the road.
A suspension seatpost is an option for smoothing out some rougher roads.
Now let's take a look at carrying cargo! Below is a graphic that shows the many different accessories that Tern offers for carrying cargo and kids.
The bike in this test came equipped with the Cargo Hold Panniers (stock), Transporteur front cargo rack ($120), Sidekick Seat Pad ($45) & Foot Pegs ($25).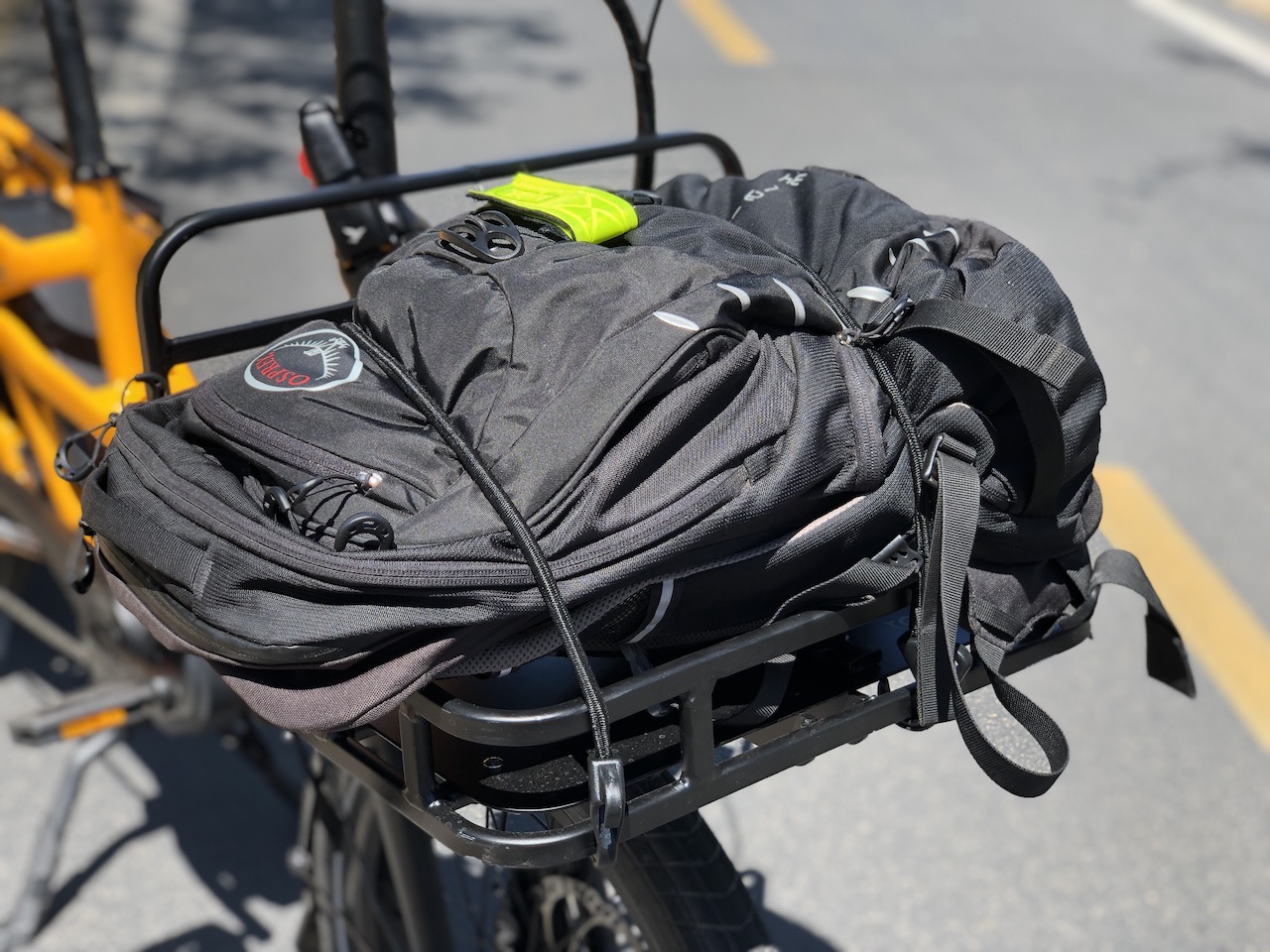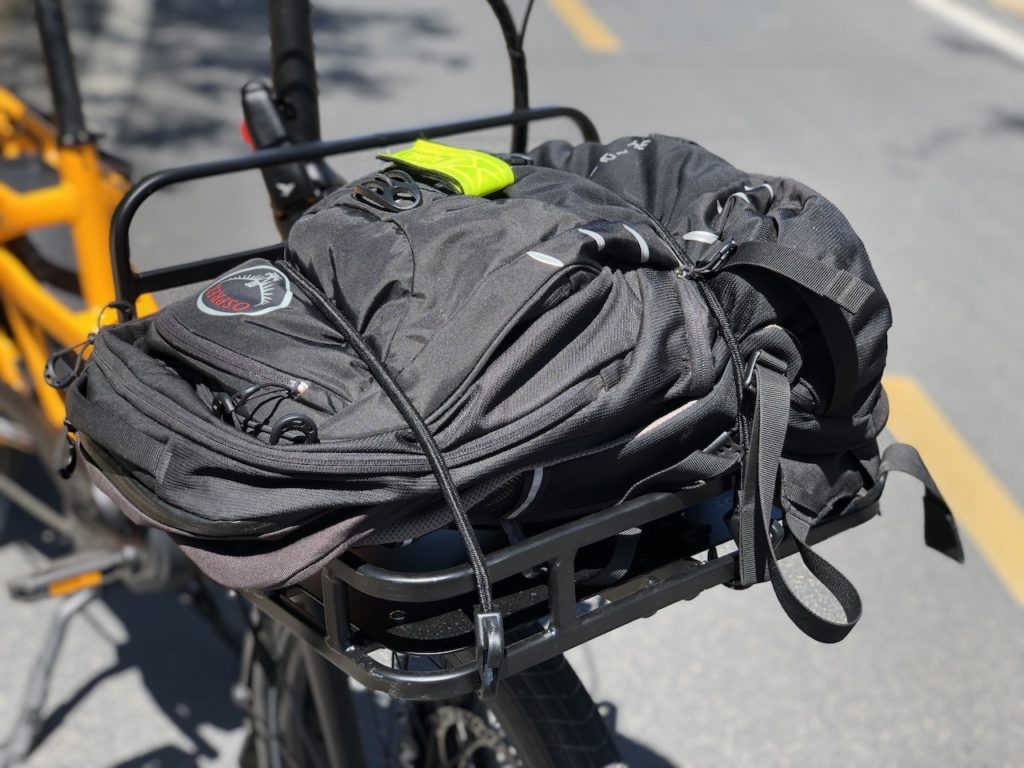 The Transporteur front cargo rack ($120) is mounted to the head tube of the frame for a solid connection point which does not rotate, when compared to a fork mounted cargo rack.
The rack is designed to fit crates, pet carriers, coolers, bags, and other cargo up to 44 pounds.
I found it nice for carrying my commuting backpack while keeping the Cargo Hold Panniers available to carry groceries and large boxes.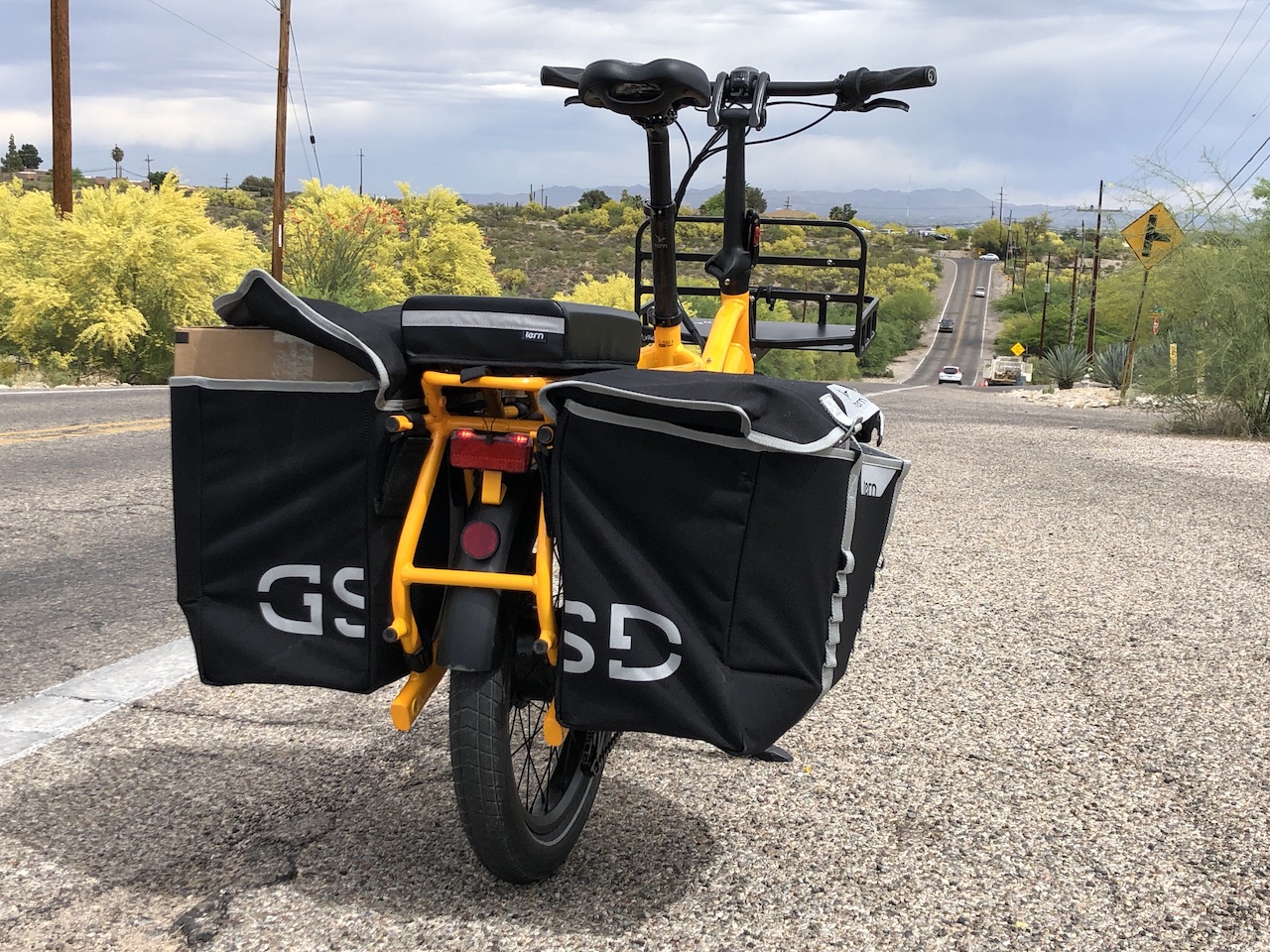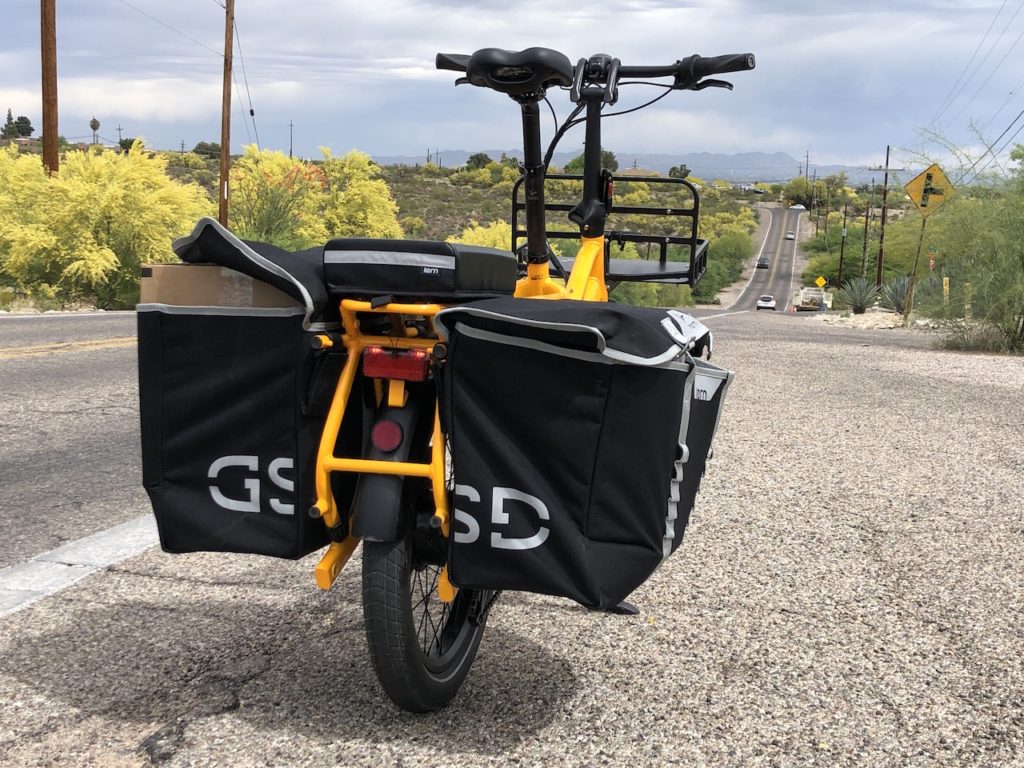 The Cargo Hold Panniers can hold an impressive amount of cargo with a capacity of 34 liters and 33 pounds per bag.
The strap system is nice for tightening up and stabilizing the cargo within the bag while the lid does a good job of keeping the cargo in the bag with rain protection.
When the panniers are not in use they fold up for a narrow profile on the bike.
The Sidekick Seat Pad and Foot Pegs are great to have for carrying passengers.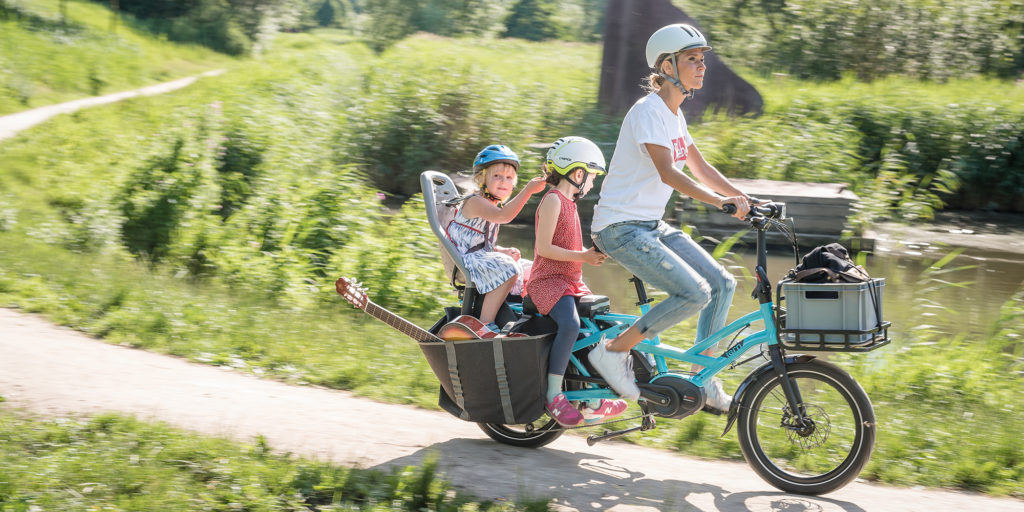 As you can see in the picture above the rear rack is long enough for a Yepp kid seat in addition to the Sidekick Seat Pad & Foot Pegs for an older child.
Then there is also the Clubhouse that provides hand rails for kids to hold onto in addition to offering structure for a cargo crate. The video below demonstrates how versatile the Clubhouse is:
During the testing of the GSD I loaded it up with some heavy cargo to really get a feel for how it handled heavy cargo.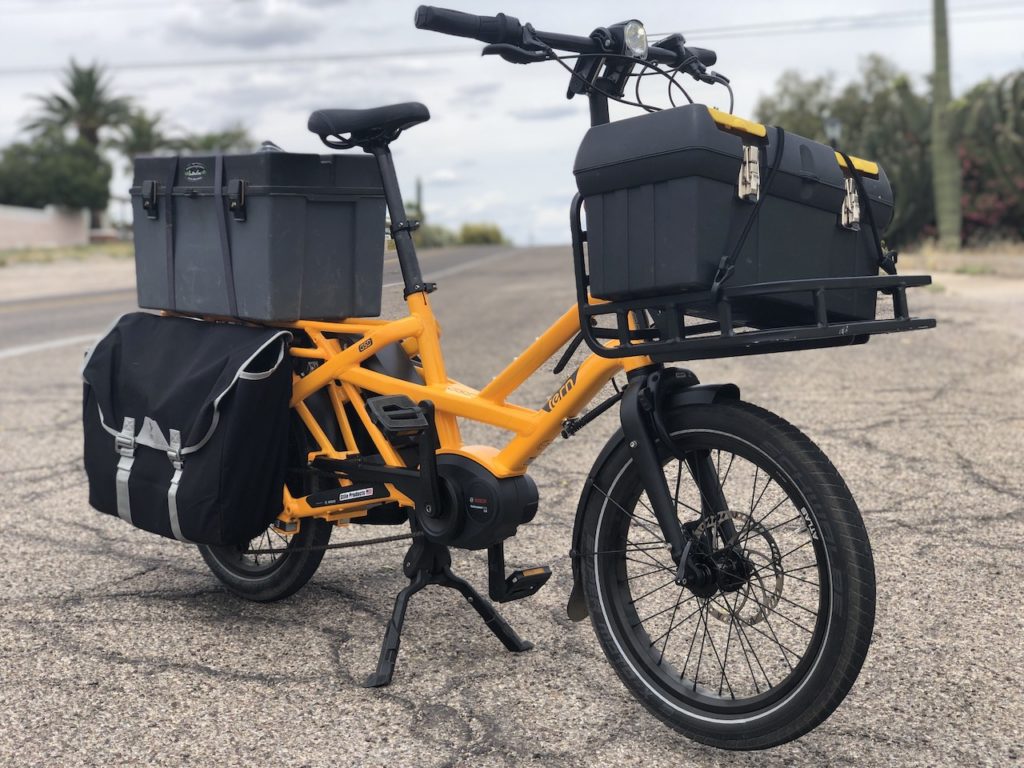 On the front was my ~40 pound toolbox with the heavier ~60 pound toolbox on the rear rack. Each Cargo Hold Pannier had 3 gallon water jugs for ~25 pounds of cargo on each side. I weigh around 190 pounds so this put the total weight on the GSD at 340 pounds which is pretty close to the 370 pounds max load capacity.
This load was a good test of the frame and rack systems and they all preformed well. There was minimal flex and everything felt stable even at around 20 mph. With these kinds of loads the bike was not as quick through the corners but it still did well considering the heavy cargo.
It climbed steeper hills well but it did take a little more time to get to the top. It was nice to dial in the best gear ratio for climbing with the enviolo grip shifter.
The dual legged kickstand did well to stabilize the bike when loading and unloading the cargo.
Now let's take a closer look at the ride position of the Tern GSD.
The GSD is designed to fit a wide range of rider sizes from from 4'11″ to 6′-5″.
This is a great feature for couples or even a family that wants to be able to share a cargo bike.
The Tern Andros stem and double telescoping seat post make it easy to dial in the GSD to fit you and your riding style.
There are two large quick release levers on the Andros stem that make it quick and easy to adjust the handlebar height and reach.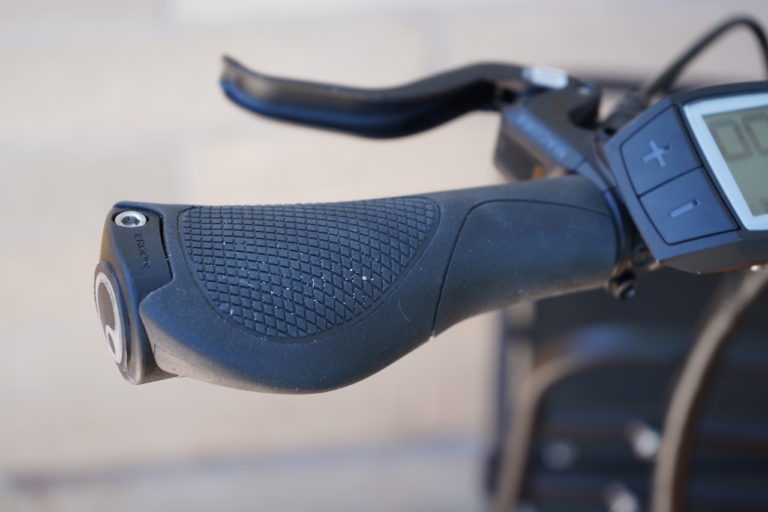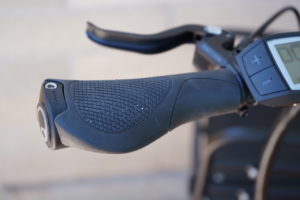 Similarly the double telescoping seat post has two quick release levers for a lot of height adjustability.
In general the riding position is upright and comfortable so that it is easy to see everything around you and for help with being seen.
A highlight of the ride feel are the Ergon GC10 ergonomic grips that provide a lot of wrist support with the wings at the end.
They are so wide at the end that they can be used almost like bar ends for a different hand position.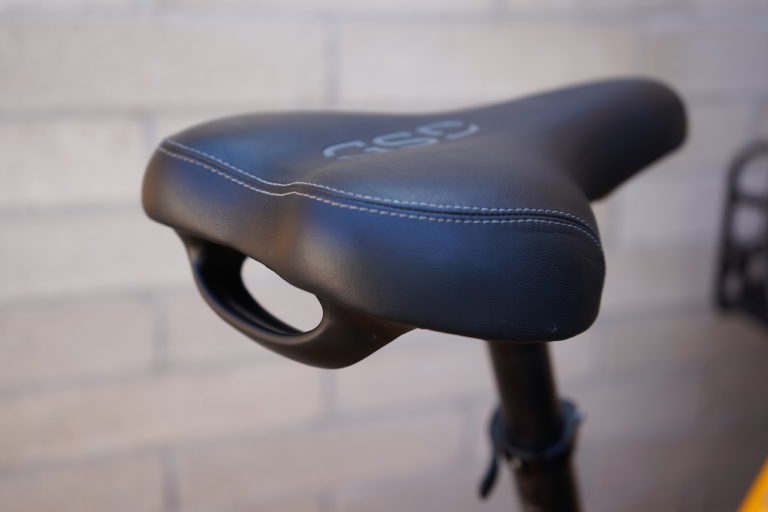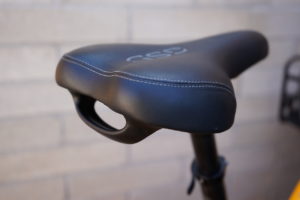 The GSD seat has a mid width profile for a comfortable ride while still being narrow enough for pedaling efficiency.
It also has a handle on the back to make it easier to move the GSD around.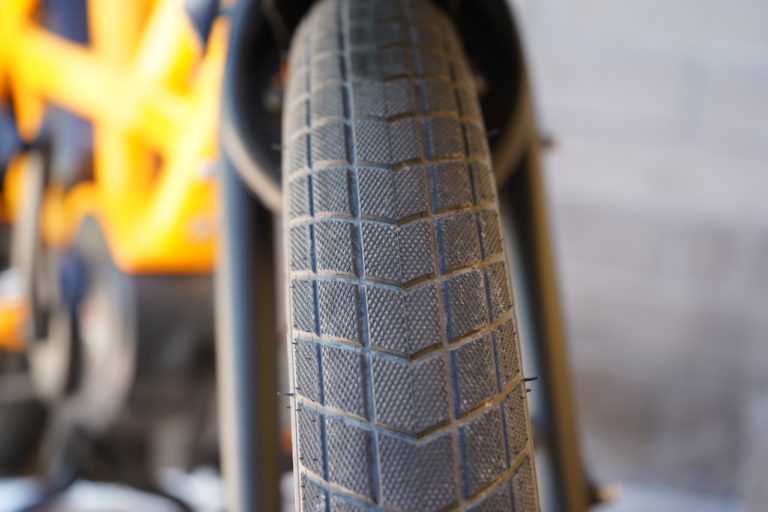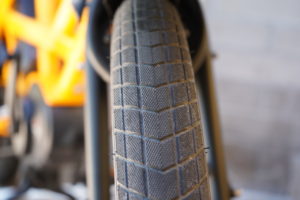 Schwalbe Super Moto-X tires are used where the rubber meets the road.
These 20″ x 2.4″ wide tires have a wide tire patch and large air volume that provides a stable and comfortable ride feel.
The relatively smooth tread gives the GSD an efficient ride while the channelling helps to dissipate water.
With the relatively large tread patch on the ground these tires also worked pretty well on moderate dirt roads.
Now let's take a closer look at the drive system on the S00. This is an area where the S00 is upgraded compared to the more economically priced S10.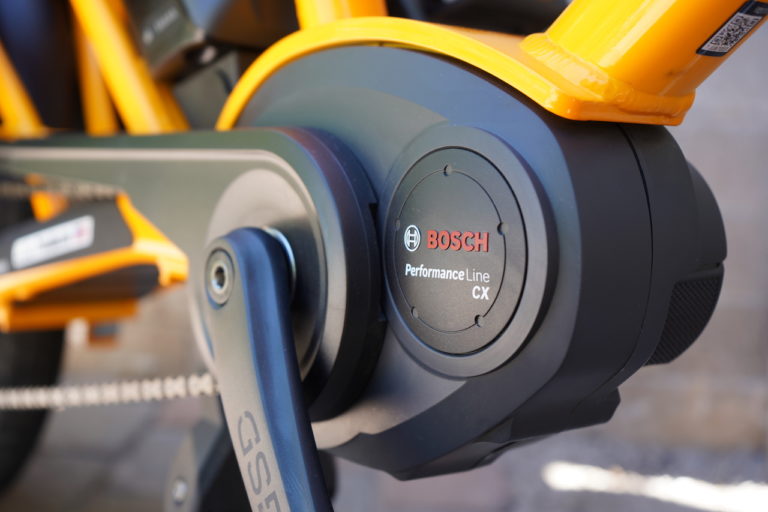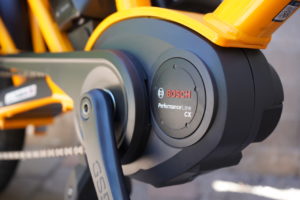 A Bosch Performance Line CX mid-drive motor provides pedal assist up to 20 mph.
It is rated at 250 watts with peak power of 600 watts with up to 75 Nm of torque.
The higher torque CX motor is a good fit for an electric cargo bike for carrying heavier loads and for help with getting started on hills.
There are 4 levels of pedal assist with the following % of assistance:
Eco 50%
Tour 120%
Sport 190%
Turbo 300%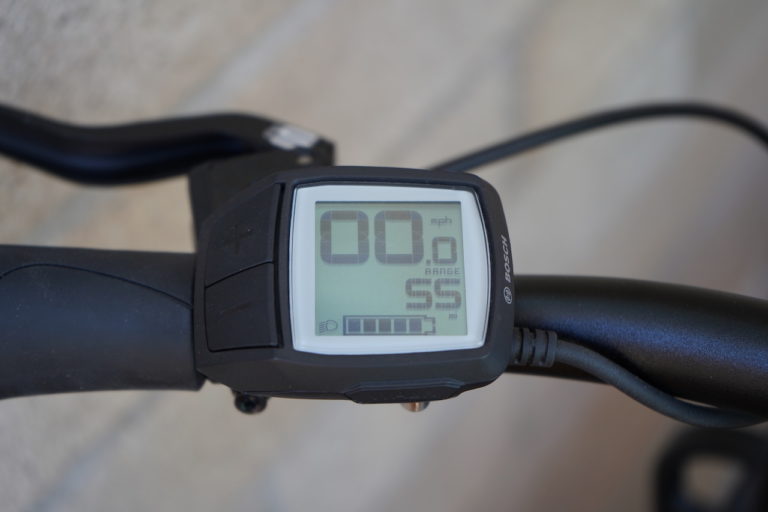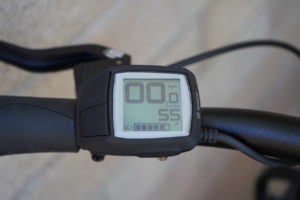 Each assist mode gives a distinct ride feel that is adjusted with the + and – buttons on the Purion display/control pad.
Eco is a casual ride feel that is good for crowded areas where you don't want a lot of assist.
Tour is moderate assist that is good when you don't have much cargo weight and you are focused on more range.
Sport mode is a faster ride feel while still offering more range than Turbo.
Turbo at 300% assist is fun for quickly getting around town and it is helpful for carrying heavy cargo uphill.
There is also the walk mode that will move the bike at about 2 mph. Walk mode is very usefully when walking with a heavily loaded cargo bike up steeper hills.
The walk mode button is at the bottom of the Purion display and once that has been activated the walk assist is enabled by holding the (+) button.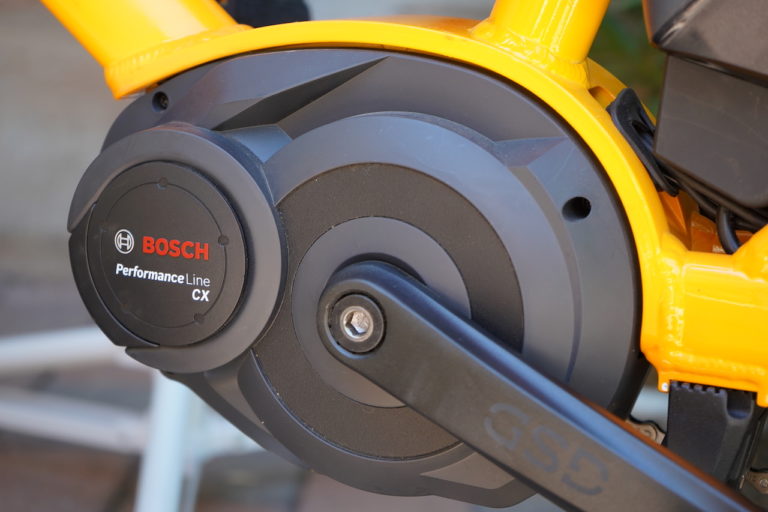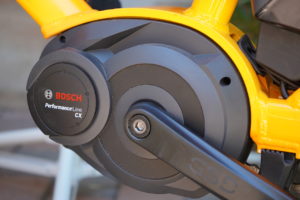 Bosch motors use a combination of sensors (torque, cadence, and speed) to determine how much assist to provide and when.
The CX mid-drive does a good job of adding assist by measuring your pedal power and providing the proportional amount of assist based on the pedal assist level selected.
Bosch systems have very smooth transitions of adding assist and stopping assist to match your pedaling in an intuitive way.
Like some other mid-drive motors, the CX motor does create some noise. It is more noticeable at the higher pedaling cadences and less at the lower pedaling cadences.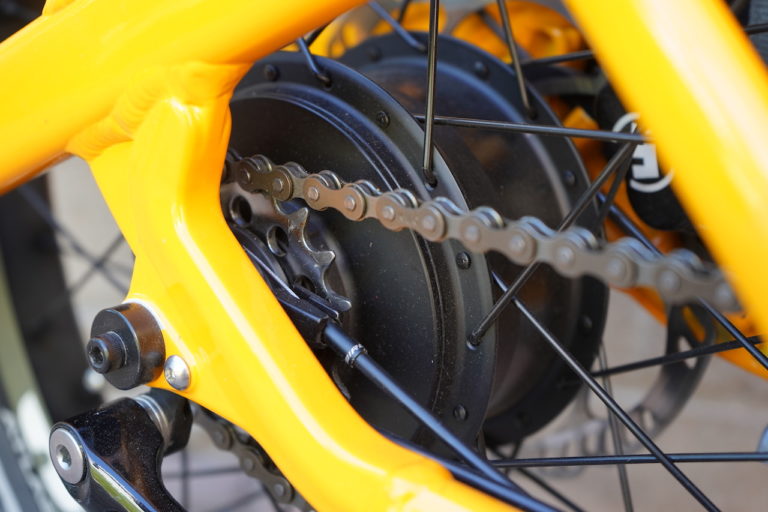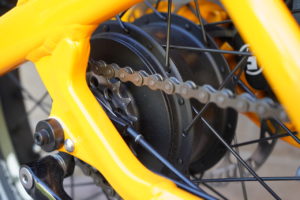 Another highlight of the S00 is the use of the enviolo continuously variable transmission (CVT) rear hub.
Instead of specific indexed gears ratios like a cog & derailleur system, the enviolo CVT offers the full spectrum of gear ratios to choose from in a 380% range from low to high.
A twist grip shifter on the right side of the handlebar is used to dial in your preferred gear ratio, much like the volume dial on a radio.
Small to big gear changes can be made with a twist of the grip and you can shift while pedaling or not pedaling.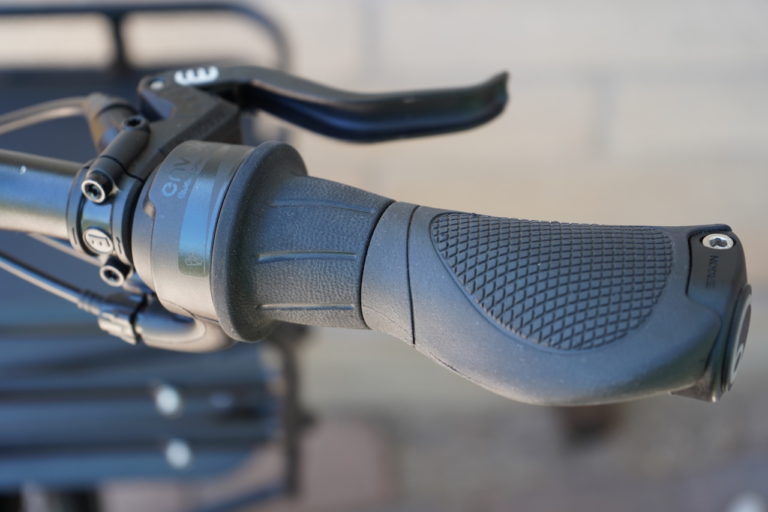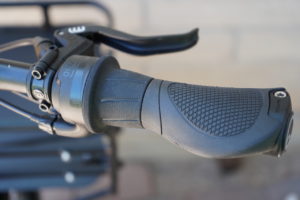 Being able shift without pedaling is helpful for adjusting to the best gear ratio for accelerating from a stop, and especially helpful when carrying heavy cargo!
enviolo hubs are designed for eBikes with the consideration of the additional power and torque.
Here is a video from enviolo with more info on their CVT system:
Another benefit is that enviolo states that their CVT hubs are self-contained system and do not require any maintenance.
Overall the drive system is smooth and easy to use with the Bosch Performance Line CX mid-drive blending in the assist and the enviolo's simple CVT shifting system.
The energy source of the pedal assist and LED lights is the Bosch PowerPack 500 that is a 36V 13.4ah lithium battery that has ~500 watt hour capacity.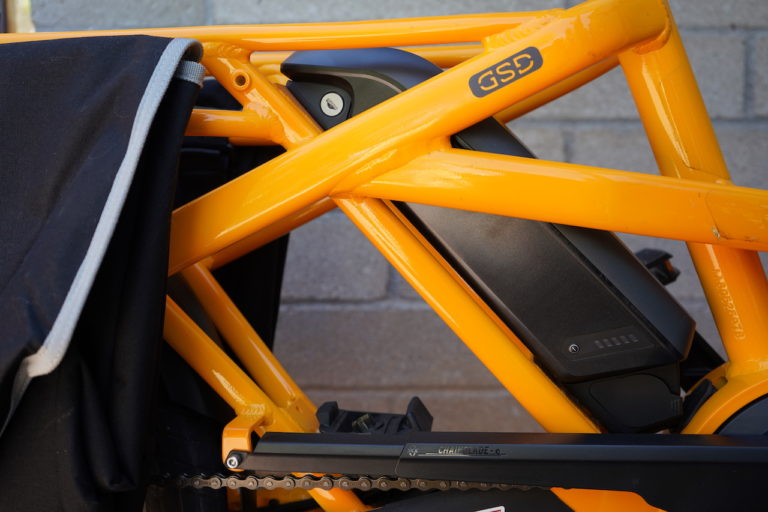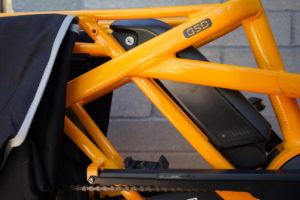 It is housed at an angle with in the frame just behind the seat tube for central and low weight distribution. It is also very well protected by the frame tubes.
And there is a second battery option! GSD's can be bought with the double battery configuration or a second battery can be added later if desired.
The bike comes stock with the second battery mounts and wiring all ready to add a second battery.
The PowerPack 500 battery weighs 5.7 pounds and it is removed by unlocking it with the supplied key and lifting it out the frame.
That key also works with the stock ABUS front wheel lock. More on that in a bit.
Charging the PowerPack 500 takes 2 hours to charge to 50% and 4.5 hours to charge to 100%.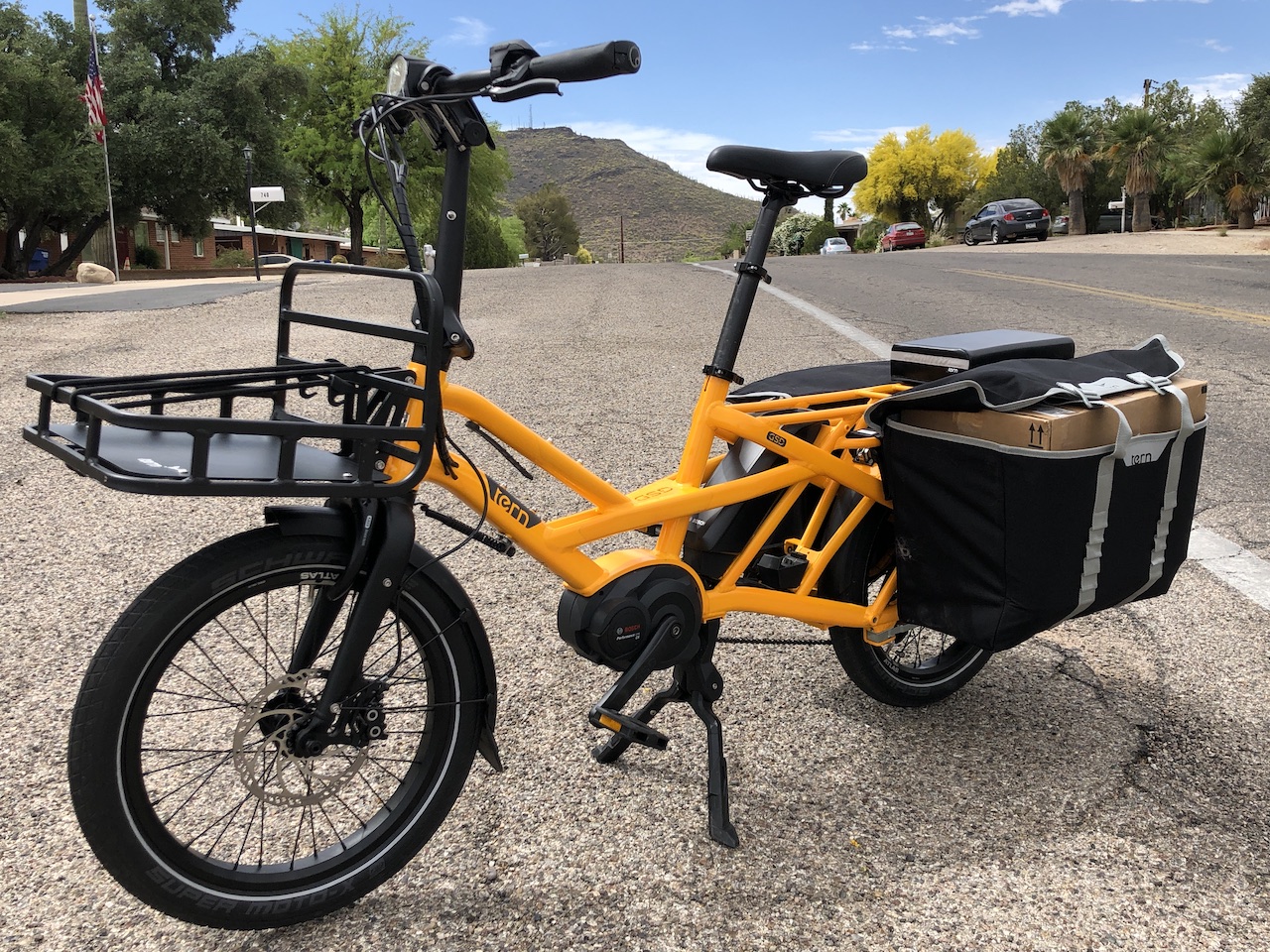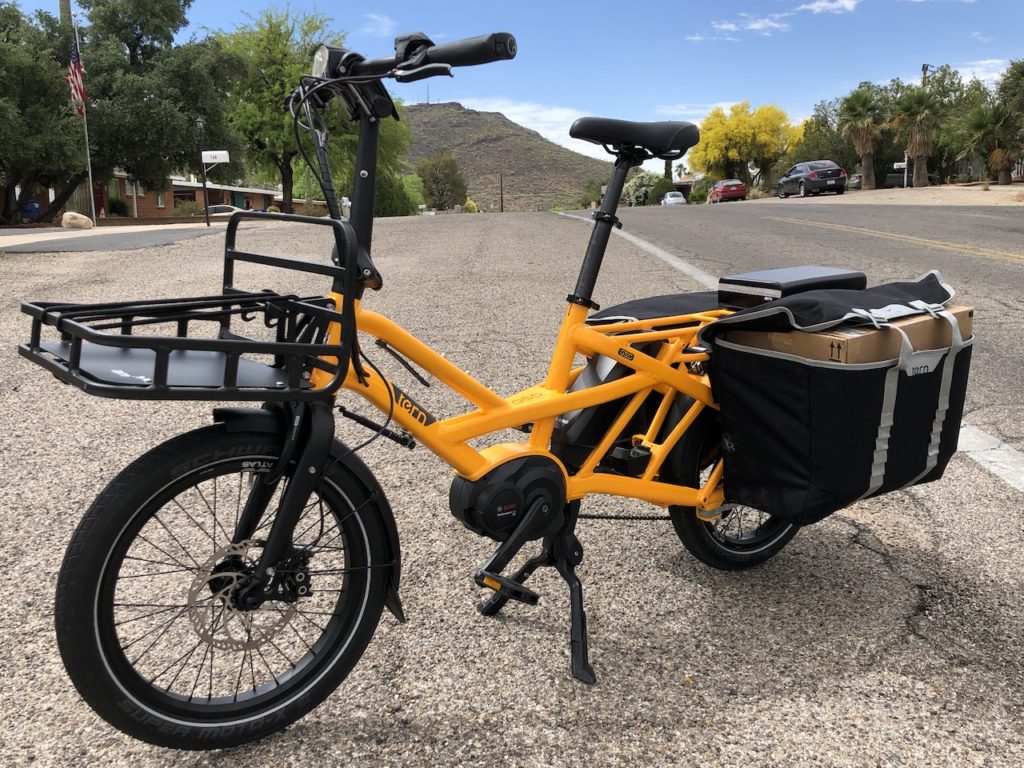 Next up is a closer look at the control center on the Tern GSD S00.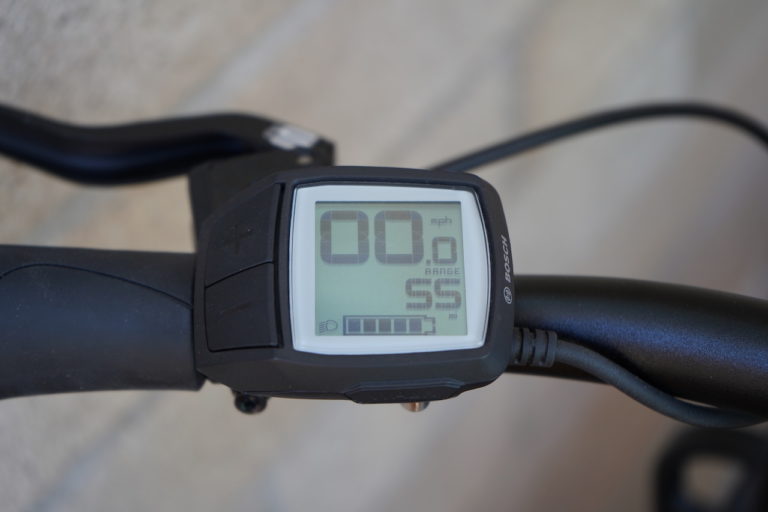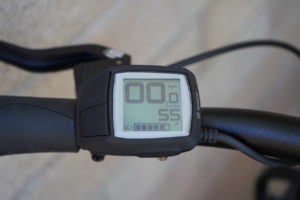 The Bosch Purion display and control pad combo is on the left side of the handlebar and there is a backlight to make it easy to see day or night.
It provides a lot of the basic information such as: pedal assist level, speedometer, odometer, trip distance, battery level, and estimated range.
The estimated range is good for planning your ride and adjusting the assist levels as needed to make sure the assist doesn't run out.
It is calculated based on the pedal assist level selected, battery level, and the terrain you have been riding on. It is constantly updated as you ride.
Slowing down the GSD S00 is handled by the Magura MT5 hydraulic disc brakes with 180mm rotors front and rear.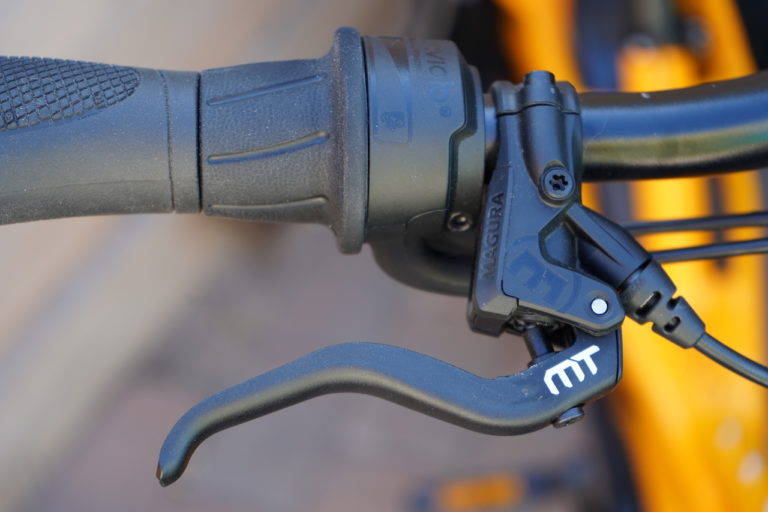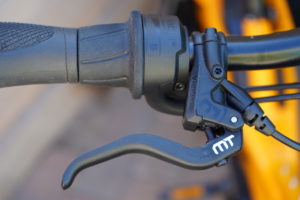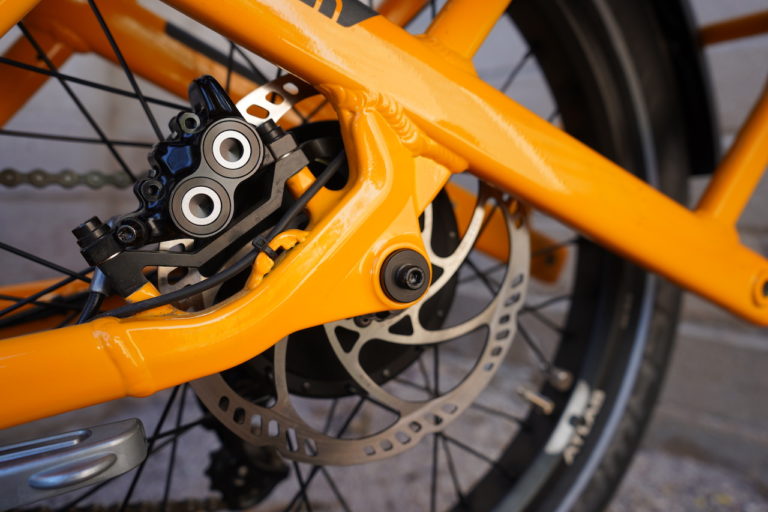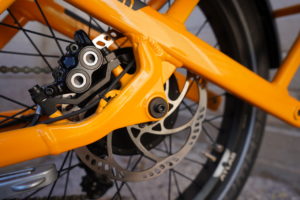 These are impressive hydraulic disc brakes because they offer a lot of stopping power that is easily modulated.
It is easy to meter out the braking power with the large brake levers that have a comfortable feel.
The Magura brake levers have a reach adjustment to fit the size of your hand.
Rounding out the Tern GSD S00 is a nice assortment of stock accessories like the Cargo Hold Panniers, front & rear LED lights, ABUS front wheel lock, full coverage plastic fenders, a bell, and the kickstand.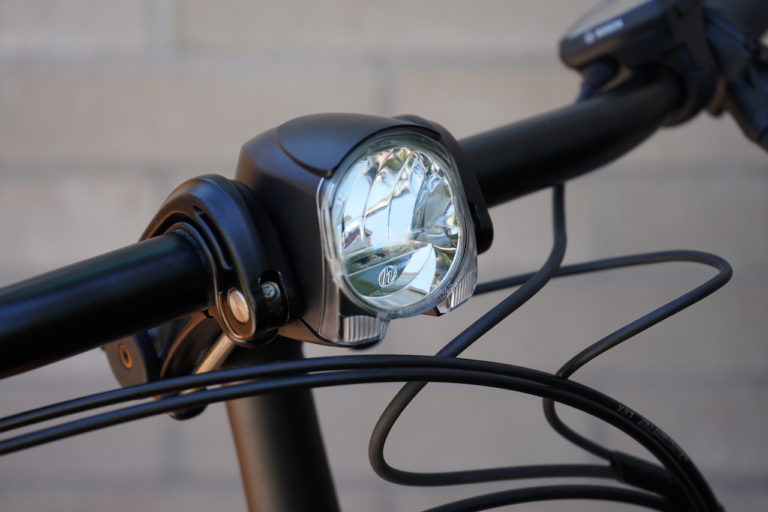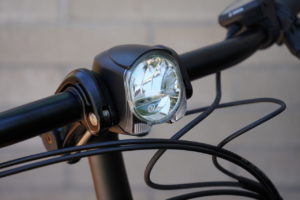 The Tern Valo Direct LED headlight is mounted in the center of the handlebar and it casts a good beam of light for seeing the road and being seen.
Both front and rear lights are powered by the eBike's battery so you don't have to worry about charging separate batteries for the lights.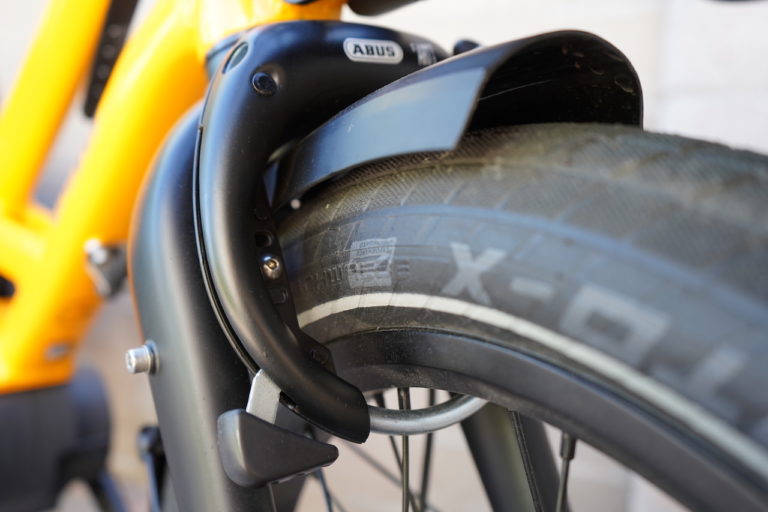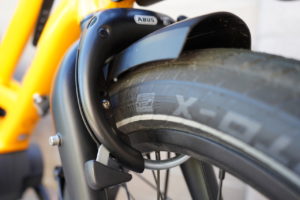 A stock accessory highlight for the S00 is the ABUS front wheel lock that is good for quick errands into the store.
A metal bar extends through the front wheel to keep someone from riding off with the bike. The battery lock key works for the ABUS lock as well.
The double leg kickstand on the Tern GSD is designed to support up to 175 pounds to make loading cargo and kids easy. It definitely has a stable feel.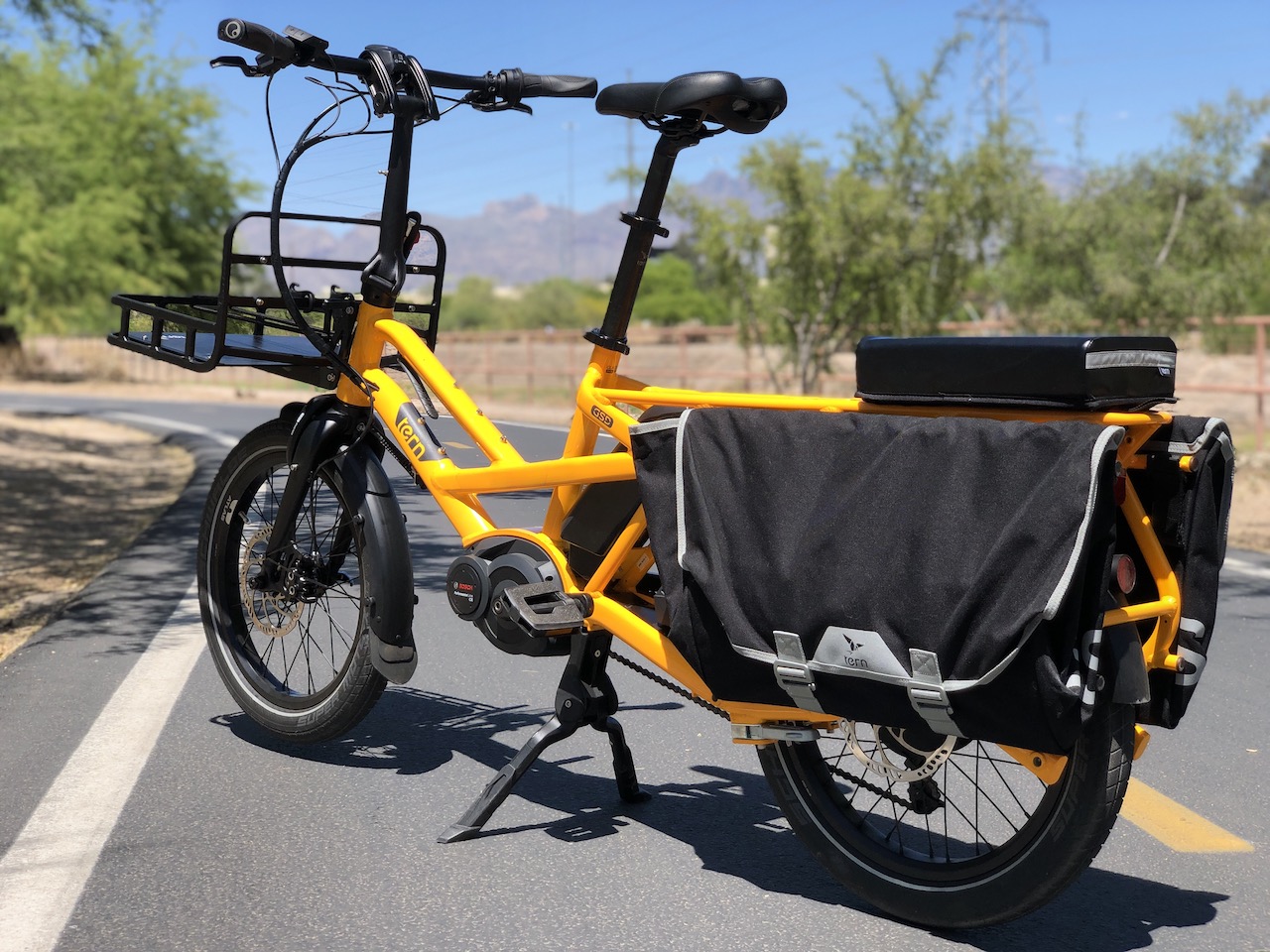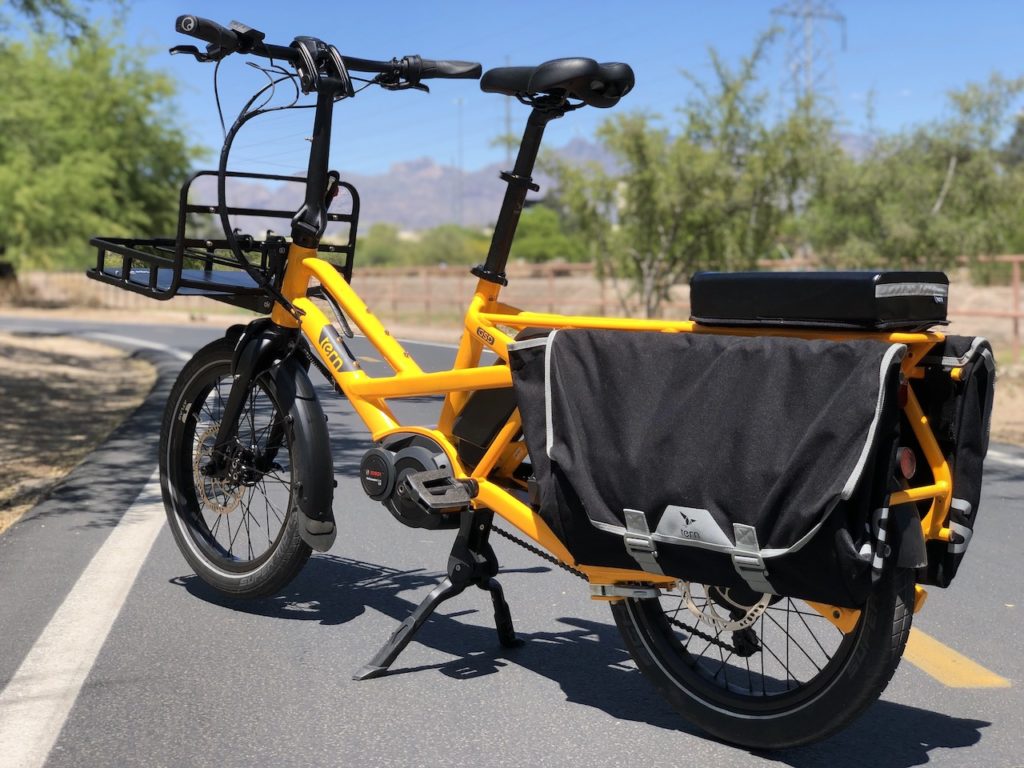 Okay, let's see how the Tern GSD S00 did out on the open road!
Tern GSD S00

Range Test Results:
Here is the real world information on how the Tern GSD S00 performed on a riding circuit that includes hills, flats, traffic, wind (when available) etc.
While testing these bikes I like to put them through the toughest conditions to see where their bottom line is in regards to range and speed. I tested the Tern GSD S00 in the highest pedal assist level (Turbo) with average pedaling on paved roads.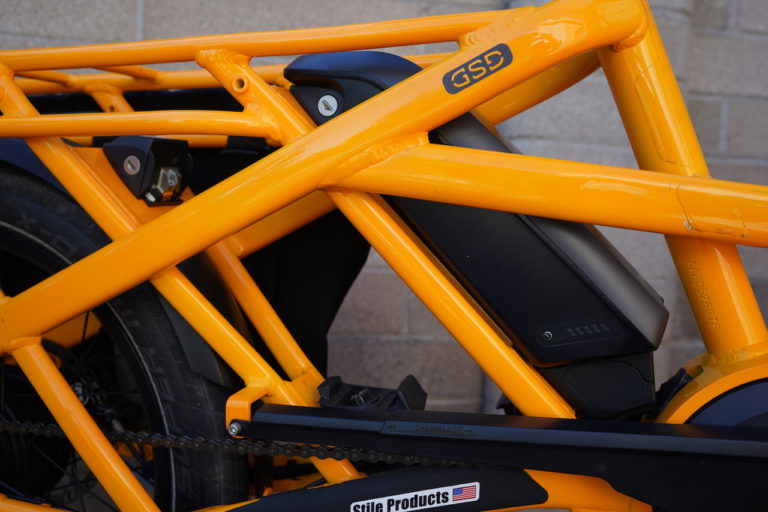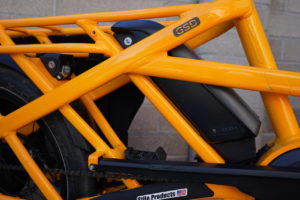 Range: As you can see from the GPS info that I recorded, the Tern GSD S00 traveled 27.8 miles and did a total elevation gain of around 2,200+ ft. Considering that I weigh 190 lbs and I pedaled at an average pace this is good range for a eCargo bike with a 36 Volt 13.4 ah battery pack (~500 Watt Hours) with a 250 watt motor assisting up to 20 mph.
Watt hours are the total energy in a battery pack and it is based on the volts x amp hours of a pack. This is a way to compare the size of the "gas tank" of electric bikes.
Please keep in mind that if you pedal more, weigh less than me, ride slower and/or you use the bike in terrain that is not as hilly you will get more range. These results are from tough testing.
Speed: The GSD S00 will assist up to 20 mph with pedal assist only.
Weight: Stated bike weight without optional accessories = 71.5 pounds. Battery = 5.7 pounds.
The weight distribution of the Tern GSD S00 is pretty good with a lot of the weight relatively centered and low. This is good for overall bike handling. Additionally the cargo locations are relatively low which also helps the handling of the bike when loaded.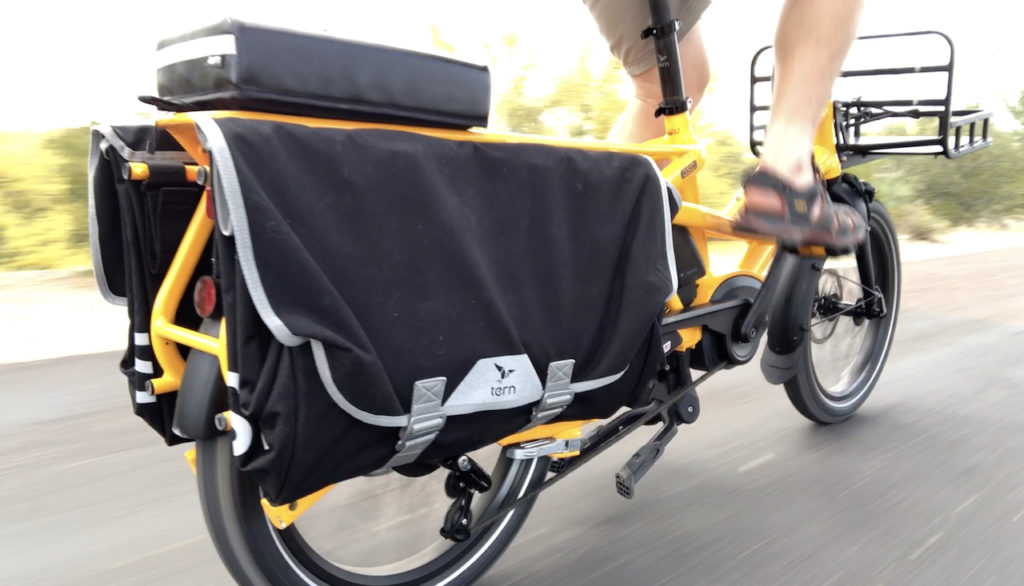 Pros:
Stable & Maneuverable: The GSD's compact design makes it a fun eCargo bike to zip around town. The smaller wheels and super sturdy frame can handle a lot of cargo/kids with a fun and sporty ride feel. The compact design make it easily maneuverable when riding and when storing at your house/work place.
Super Versatile: There are so many ways to dial in the GSD to fit your needs. It fits almost anyone which is great for families who may share it. There are a bunch of cargo accessories to customize it to your daily needs. And its foldability make it a unique eCargo bike that can be stored and transported easier.
High Quality: Tern went with a very high quality build on the GSD S00. The frame and fork have a nice build quality and the component spec from Bosch, enviolo, Magura, and Schwalbe should last for many many miles. The optional cargo accessories also have a quality look and feel that matches the GSD well.
Cons:
Smaller Wheels: The smaller wheels don't absorb the potholes, bumps, and cracks in the road as well as larger wheels so you need to watch out for road obstacles a bit more.
Motor Noise: There is a whirring noise from the Bosch Performance Line CX motor that is generally noticeable at the higher pedaling cadences and less at the lower pedaling cadences.
Conclusion: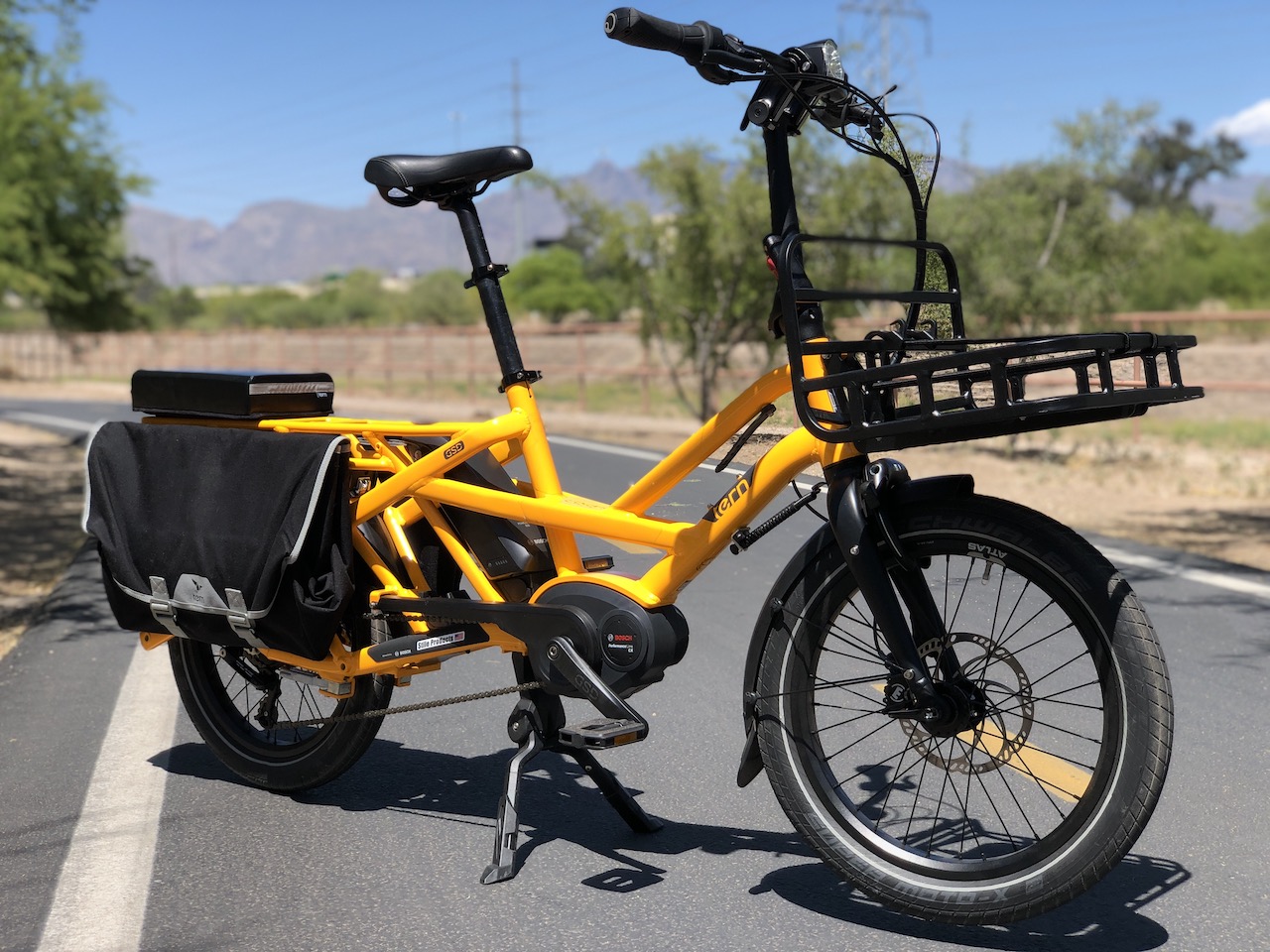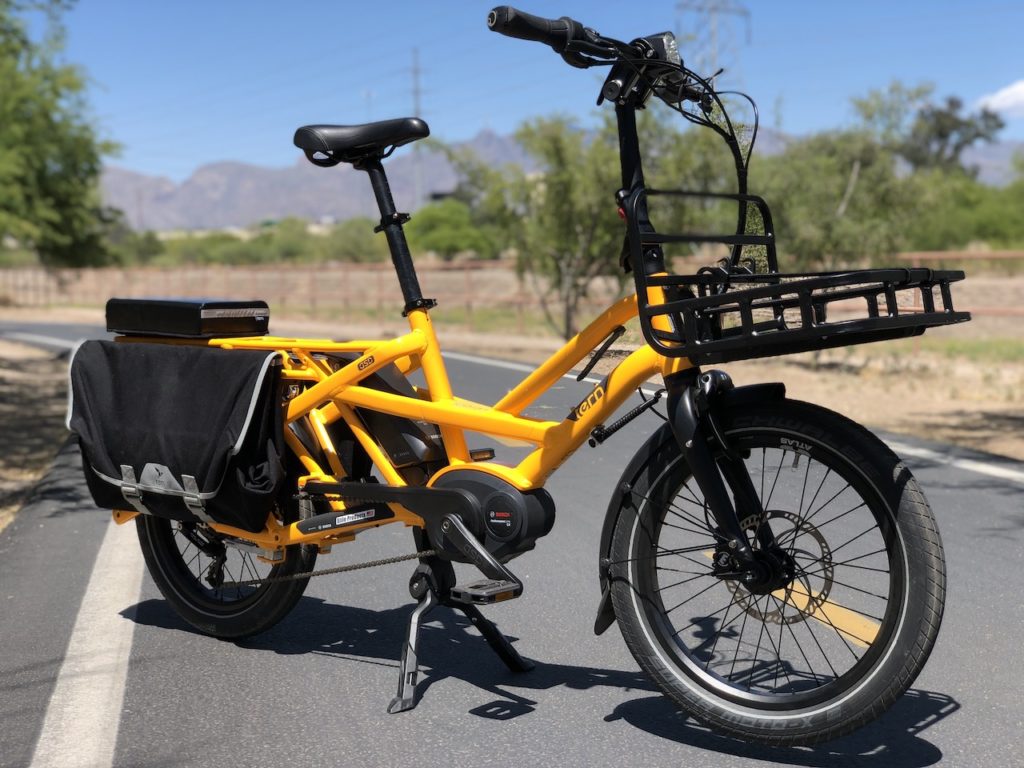 Overall the Tern GSD S00 is all about Getting Stuff Done while still having a lot of fun!
The sporty and maneuverable ride style is definitely a highlight along with the sturdy feeling of this eCargo bike.
It is impressive how versatile this compact eBike is with its many cargo options, ability to fit almost anyone, and its folding capabilities.
Tern went all out with premium components from Bosch, enviolo, Magura, Schwalbe, and a full assortment of stock accessories. And there is the double battery option!
The Tern GSD S00 starts at $4,999 and there is also the S10 model starting at $3,999.
Please keep in mind that this is a relatively short term test. This testing can't really give you the long term review of durability and reliability. My thoughts on the quality of this bike are from previous experiences with similar bikes. If you own this bike and have some input on the long term durability, please share your comments with the Electric Bike Report community below.
Where to buy a Tern GSD S00? Check with the Tern website for purchase options.
Do you have any questions about the Tern GSD S00? Do you own an Tern GSD S00? Please share your thoughts in the comment section below.
Thanks!
-Pete
Review Note: Each company pays a fee for a review on Electric Bike Report because of the considerable amount of time that it takes to provide an in-depth review of each eBike. A lot of time is spent on the full range test with distance & elevation profile, the wide variety of detailed pictures, in-depth video, and the write up with the specifications, ride characteristics, pros, cons, and overall thoughts. The reviews on Electric Bike Report are focused on providing you with a detailed "virtual" look at each eBike to help you determine if it is the eBike for you.
P.S. Don't forget to join the Electric Bike Report community for updates from the electric bike world, plus ebike riding and maintenance tips!
Reader Interactions