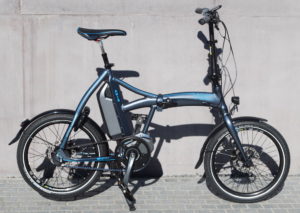 Mid-drive motor folding e-bikes are pretty rare and ones with the highly-rated Gates carbon belt drive even rarer, so it was a pleasure to check out this take on just such a thing, courtesy of UK company Volt.
From being a humble startup several years ago, Volt are now one of the most widely distributed e-bike brands in the UK.
Whilst this has been based on affordable yet good quality hub motor machines in the past, the fruits of Volt's collaborative efforts with Shimano are now bearing fruit in the form of this funky looking mid-drive e-folder, the Axis.
The Volt Axis is priced at £2999.00.
[Read more…] about Volt Axis Folding Electric Bike: Shimano Mid Drive + Gates Belt [VIDEO]