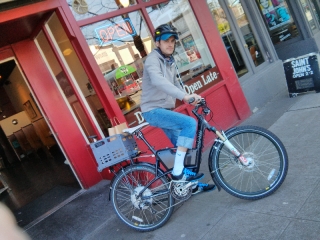 Guest post by Cathy Lau from OHM Electric Bikes.
Delivering food orders by bike is no easy task when your delivery routes are filled with steep hills and traffic.
Wanting her company's new delivery bike to be one she could trust to deliver both her food and her employees safely and reliably, Seattle café owner Emily Mabus invested in an OHM electric bike.
Since mid-March, the company's OHM XS750 has roamed Capitol Hill every day, always ready to uphold the Other Coast Café's daily 11am-9pm delivery schedule – helping the café's employees promptly deliver [Read more…]