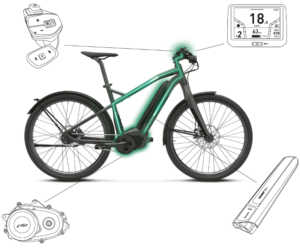 Panasonic 2-speed Mid-drive Now Award Nominated
Of the various e-bike contenders for the Dutch based 2017 Fiets Awards one caught our eye.
The speed pedelec FLYER U-series utilises a 2-speed Panasonic motor with manual and automatic switching options; in theory this should give a much wider range of speeds over which the motor can operate efficiently, which could in theory mean greater range, greater climbing ability and more assistance at speed.
Panasonic and Flyer class it as a 'world-first' so it will be interesting to see just how it fares at the awards.
See the summary video below to get a feel for the features and operation of the system. [Read more…] about eBike News: Internally Geared Motors, eMTB Racing, Battery Tech, eBike Boat, & More! [VIDEOS]