eBike News: Internally Geared Motors, eMTB Racing, Battery Tech, eBike Boat, & More! [VIDEOS]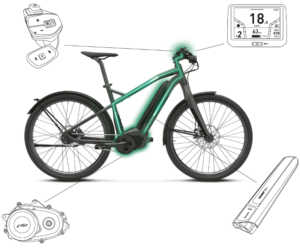 Panasonic 2-speed Mid-drive Now Award Nominated
Of the various e-bike contenders for the Dutch based 2017 Fiets Awards one caught our eye.
The speed pedelec FLYER U-series utilises a 2-speed Panasonic motor with manual and automatic switching options; in theory this should give a much wider range of speeds over which the motor can operate efficiently, which could in theory mean greater range, greater climbing ability and more assistance at speed.
Panasonic and Flyer class it as a 'world-first' so it will be interesting to see just how it fares at the awards.
See the summary video below to get a feel for the features and operation of the system.
https://www.youtube.com/watch?v=A2lpfYW2ZSA
Here is more about the Flyer FIT system.
New Sparta eBike with 5 Gears in the Rear Hub Motor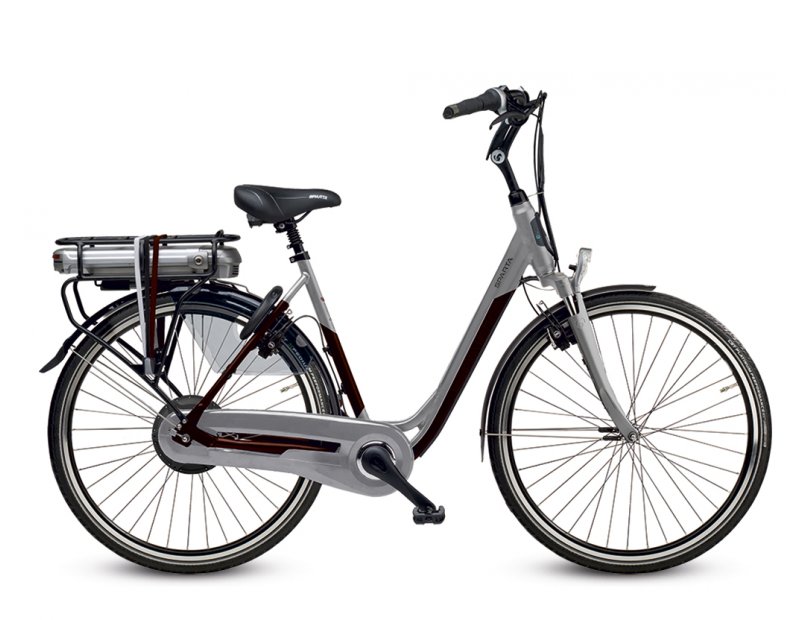 Accell Group, owner of Sparta, has announced a new 5 speed internal gear system in a direct drive rear hub motor. Above is the 2017 Sparta R 5e electric bike that will feature this new motor and gear system.
Shimano STEPS Powered Folder for 2017
The UK's Volt has just announced what it says is the world's first Shimano STEPS-powered folder.
Main features are a Gates carbon belt drive, 8 speed hub gear with automatic shifting and hydraulic disk brakes. The claimed weight of the 20″ wheeled folder is 18kg (around 40lbs) and the anticipated release date is summer 2017.
UBCO for UK Farms?
EBR has already reported on the remarkable looking, all-terrain, dual motored UBCO from New Zealand. Now UK importers and retailers 50 Cycles have announced the e-bike style motorbike is available in the UK 'for off-road use only'.
50 Cycles told us ' There is a road legal version in progress. We just debuted the UBCO at a large agricultural show as it is intended as a replacement for ATVs and Quads. Silent, lightweight, adaptable, practical and useful as a power source at your destination.'
Get Inspired
LA Times Article
"E-bikes may be the greenest form of transportation in human history. Why aren't cities taking advantage?" This is a good opinion article and it highlights some of the top reasons why eBikes have been slow to take off in North America.
UK E-bike Off-Road Racing from Haibike
As e-bikes continue to go more and more mainstream it's great to see e-MTBs accepted in race format alongside regular MTBs, in the UK at least. This development comes with the news that the Mini Enduro series of races will offer an e-MTB category for 2017.
The event series will be sponsored by Haibike and the first one kicks off on 4th March.
Get Trail Riders on E-bikes to Gain Acceptance
A study that has taken place on the trails of Colorado suggests that the key to getting e-MTBs more widely accepted on them is simply to get more people to try them. The study clearly showed that people's preconceptions changed after riding, with 71% of those who tried out e-bikes changing their perception of them after the test. Also many people did not even recognise e-bikes on the trail; even when asked if they had seen one that day some answered 'no', despite the fact one was actually riding past!
New Products
New Lights from Brightspark
UK company Brightspark are now taking pre-orders with international delivery for their twin handlebar-mounted light and indicator system. Check out the video below
And details at brightsparkglobal.com
Can an Electric Bicycle Wheel Power a Boat?
The short answer from this video and particular set-up is no, but it is entertaining!
E-Bike Battery News
More Range for Juiced
The US's Juiced Bikes has just announced their Super Extended Range battery – some 835Wh that will fit their Cross Current and Ocean Current ranges.
Existing customers qualify for a discount on a battery pack that is that has more than twice the capacity of their standard offering.
Immotor Plans E-bike
A recent article in L.A. Biz stated that 'Immotor was started in June 2016 with the main goal of bringing its Immotor Super Battery to market' and that 'the company is positioning Immotor as a new battery standard for high-power devices, saying it is a customizable power source equipped with its own programmable operating system, high-efficiency lithium battery cells, battery isolation tab containment for each of those cells, and metal protective casing. When power isn't needed, the 'super battery' remains inert or off, which the company says makes it not only energy-efficient, but also safer than other batteries.'
Whilst they are launching the 'smart battery' on an electric scooter there are said to be plans for an Immotor-powered e-bike.
Is the Future Supercapacitors?
This recent article from the UK's BikeBiz suggested 'supercapacitor devices, which take very little time to recharge and last up to 30,000 cycles' may well be the future of battery technology. The article quotes technology developed by the University of Central Florida but in fact its clear there is a global race on to develop a consumer ready graphene-based supercapacitor that could potentially transform e-bike batteries.
For example, this article talks up the possibility that a UK-based start-up company, Zap & Go, may be on the brink of launching a portable supercapacitor charger for mobile phones. If this technology proves workable with mobile phones and it can be scaled up to e-bike capacities then it really could transform the world of electric assist vehicles.
E-Bike Law
Registration Not Good for E-bike Sales
Occasionally it is suggested by anti-bike lobbies that all bikes be subject compulsory registration and helmet wearing. From Malta comes news of what might happen when such a policy is applied selectively to e-bikes (we are not talking about speed pedelecs here, rather Malta's decision to enforce registration and helmet wearing on regular pedelecs that are already speed and power capped).
Result? A 75-90% plummet of pedelec sales.
E-bike Biz
Haibike HQ Heads to Denver
The Denver Post tells us that Haibike will move their US HQ from California to Colorado. It suggests that the state's bike friendly reputation – not least it's 5,000 mile trail network – may well have played a part in the relocation. It is estimated that currently cycling contributes around US$ 1.1 billion to the Colorado economy.
Apple Bike Anyone?
Bike-sharing programs in China (including some e-bike sharing versions) appear to be on the up and can only be helped by Bike Europe's revelation that Chinese bike-sharing service Mobike signed an exclusive strategic partnership with Foxconn Technology Group, the manufacturer of Apple iPhones. The article claims the move will double their annual bicycle production capacity to more than 10 million units. Sounds like a recipe for a futuristic, high-tec e-bike share scheme!
Stay tuned for more e-bike news and thanks for reading!
-Richard
P.S. Don't forget to join the Electric Bike Report community for updates from the electric bike world, plus ebike riding and maintenance tips!
Reader Interactions