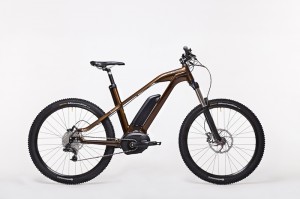 Grace Electric Bikes will be on display at Interbike this year.  These high tech e-bikes feature the Bosch mid drive system, with Gates belt drive and the NuVinci continuously variable rear hub.
Bosch is working on a new control unit called Nyon. It has e-bike controls, navigation, fitness and smartphone functionality. They are also working on integrated shifting solutions with NuVinci, SRAM, and Shimano. 
SRAM is working with Bosch to offer a semi-automatic drivetrain.  It features an internally geared hub that automatically shifts in addition to a traditional derailleur and cogset that the rider can manually shift……..interesting!
If you are looking for a high tech electric bike then [Read more…] about E-Bike News: New Bosch Tech, Grace, ProdecoTech, E-Bike Touring, E-Mtn Bikes, Harley Davidson?! [VIDEOS]