Specialized Turbo Tero 5.0 Review 2023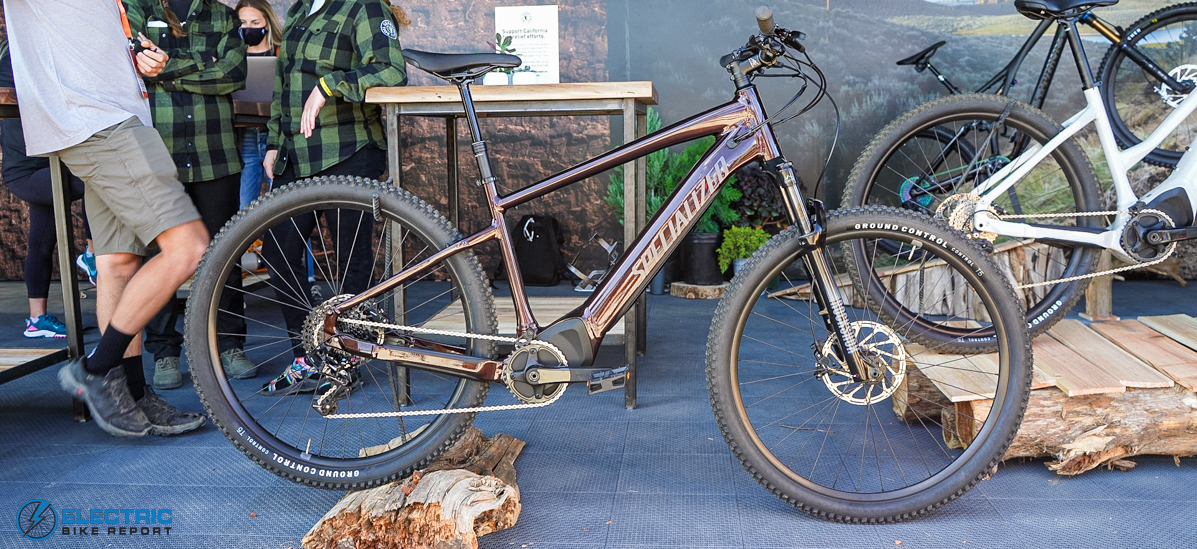 Monterey, CALIF. (Sea Otter Classic) — At this year's Sea Otter Classic in Monterey, California, Specialized had on show its newest addition to its e-bike lineup — the all-new Specialized Turbo Tero 5.0.
The Turbo Tero was released side-by-side with updated versions of the full-power Turbo Como and Turbo Vado commuter bikes, two staples of the brand's electric commuter bike lineup. But the Tero is slightly different from the others; built on an eMTB chassis with knobby tires and a dropper post, the Tero is part eMTB part do-it-all utilitarian adventure bike.
We got a chance to visit with Emily Oppliger and Ash Puzey of the Specialized Turbo Tech team at Sea Otter for the low down on the new Tero 5.0, as well as a few other new things from the California-based bike brand.
Specialized Turbo Tero 5.0: An eMTB with a utilitarian bend
With 29-inch wheels, 110mm of front suspension, a dropper post and 2.3-inch knobby tires, the Tero 5.0 has all the makings of a thoroughbred eMTB hardtail. But Specialized added a few key features — like modular accessory mounts, the new MasterMind display and connectivity with the Mission Control app — that give the bike a bit of a utilitarian bend.
"This is your do it all bike from groceries to singletrack to gravel," Puzey said. The front suspension mixed with the ability to add racks and fenders allows the Tero to mold to your needs, she added, and the new MasterMind display also allows riders to fine tune their Tero relative to their lifestyle.
That new display paired with the revamped Mission Control app represents a big step forward in Specialized's development of the tech that supports its e-bikes. Aside from improving the user interface, Specialized can now push over-the-air updates to its riders so bikes can be updated at home from the app. That means you'll seldom have to worry about dropping your bike at a shop for basic software updates.
"The coolest thing about this display is you can connect to our app Mission Control and you'll have full adjustability of motor support, customizing your display and we even launched a new bike lock feature with this bike" said Oppliger.
Specialized has been hitting the electric bike scene hard in all disciplines and categories for the last couple of years. Electric mountain, road and commuting bicycles have been a large part of Specializeds' sales for the past while, and with good reason. The Tero 5.0 is an attempt to blur the lines between these categories.
In addition to investing in its e-bikes, Specialized is making sizable investments to make sure your local bike shop is qualified to support its e-bikes. "We will have a full certification program to get mechanics Turbo certified," Opplinger said.
Specialized has long been at the forefront of e-bike development, and the brand appears to have no intention of slowing down. Even as the industry expands its e-bike portfolio from simply building good e-bikes to also creating a sound and connected support structure for those e-bikes, Specialized continues to set the pace.
"(Specialized) always take the reins to steer the e-bike industry … I think that we can only promise more of that," Oppliger said.
The Specialized brand was well represented at this year's Sea Otter Classic, their staff, bicycles and presentation embodied what the brand is all about — butts on bikes. It's safe to say the investment Specialized is making into their employees and bikes is paying off.
Stay tuned to Electric Bike Report for future reviews of Specialized electric bikes.