Solar Electric Cargo Bike – Interview with Neil Saika, Inventor of the NTS SunCycle [VIDEOS]
NTS SunCycle
that will available for sale in May 2014!
The NTS SunCycle has a solar panel that is attached to the front cargo box for charging the battery.
According to NTS Works: "We have tested the power produced from the solar panel and we were able to exceed the rated power of 60 watts. That is more power than you use with the power setting on low."
Here is a quick video to give you an idea of what the NTS SunCycle looks like:
An electric cargo bike that can be charged via the sun is definitely something to take note of.  Neil Saiki is the inventor of the NTS SunCycle and he is no stranger to 2 wheeled vehicle design.
Neil spent many years at Santa Cruz Bicycles (high end mountain bikes) and he founded Zero Motorcycles (an electric motorcycle company).
In this interview I had a chance to find out more about Neil, the NTS SunCycle, and NTS Works.  Enjoy!
Pete:  Neal, you have a long history in the engineering world of 2 wheeled vehicles.  Could you give us a little background of your work at Santa Cruz Bikes and at Zero Motorcycles?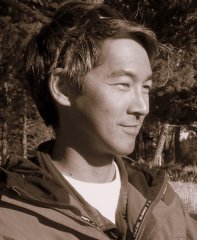 Neal:  I started working for Santa Cruz Bicycles just before full suspension mountain bikes took off. I designed the early iconic mountain bikes like the Hekler, Bullit and Superlight that has made Santa Cruz Bicycles the brand it is today.
In 2005 I founded what is now the world leader in electric motorcycles, Zero Motorcycles.  The company started out with a battery technology that I patented. The company grew very quickly and when I retired in 2011 there were roughly 65 employees world-wide and 4 models of electric motorcycle available.
Pete:  How did you go from e-motorcycles to e-cargo bikes?
Neal:  I have been working on battery technology for the last decade.  After I retired from Zero Motorcyles, I spent four years inventing the Lifetime Rebuildable Battery Technology that we use at NTS Works.  I searched the world over for an electric vehicle to showcase the technology. The electric motorcycle market is slow growing and the e-bike business is booming.
So, I set my eyes on improving cargo bicycle design since most available to consumers are primitive and do not provide a bicycle that anyone can get on and ride to the grocery instead of taking their car. I redesigned the way that the cargo bicycle steers and added front wheel drive to my design.
Pete:  What is it about e-cargo bikes that gets you excited?
Neal:  The potential to get people to adopt a more sustainable mode of transportation excites me. Global warming scares me. I want a better world for my children and their children than the one I am currently living in. We have to change our way of transporting ourselves. The e-cargo bicycle is an exciting solution for me and my family.
Pete:  Do have some early customers who have replaced their car or used their car a lot less.
Neal:  Yes, there are early customers who have pre-ordered who plan to use their car far less.
Pete:  What kinds of things have you and/or your customers carried on the bikes?
Neal:  The bicycles carry groceries, children, tools, really anything you need.
Pete:  Have businesses expressed interest in using NTS e-cargo bikes?
Neal:  We are working with many businesses around the country to replace their gas powered scooters and delivery vans with our NTS e-cargo bicycles.  Delivery by gas scooter is really popular in the EU and there are incentives to replace gas scooters with electric cargo bicycles.
Pete:  Let's talk about your bikes.  First of all, tell us about your new NTS Works SunCycle e-cargo bike with built in solar panels.
Neal:  The NTS SunCycle is possibly the most efficient vehicle on earth.  It is essentially the NTS LockerCycle with a big highly efficient solar panel. Technically the NTS SunCycle has exceeded our expectations. We have tested the power produced from the solar panel and we were able to exceed the rated power of 60 watts. That is more power than you use with the power setting on low.
In the rear, we offer an optional rear rack system with removable wire baskets. This gives you a lot of flexibility to balance the weight distribution front to rear and tall objects can be carried in the rear.
Like all of our cargo bicycles, it features our revolutionary steering system that makes a cargo bicycle ride like a regular bicycle (patent pending).  In order to help you conquer hills, it features a powerful electric front hub motor with gear reduction and our patent pending Lifetime Rebuildable Battery.
Pete:  In addition to the NTS SunCyle you are also offering the NTS LockerCycle and NTS PickupCycle.  Could you describe the differences of these bikes?
Neal:  The NTS LockerCycle has a large locking compartment over the front bed. It's not just for security, it also reduces wind resistance. This is perfect for bicycle touring or running errands in the city where you need the security of a locked cargo compartment. Businesses love the front compartment that is ideal for advertising. The high quality formed plastic lid is 100% produced here in the United States.
The NTS PickupCycle replaces last year's 2×4 and features a better cargo bed and a more stable kickstand. This is our pickup truck of bicycles. If you are replacing a car, you need a bike that can handle every situation. The front cargo area has plywood sides and a bungee cord system to help keep small objects contained on the cargo bed.
Pete:  Your design puts a majority of the cargo load over the front wheel of the bike with a front hub motor.  Could you tell us why you went with this design compared to a rear cargo focused design?
Neal:  This is the best combination of cargo and drivetrain.  We use front wheel drive because we wanted to build a maintenance free internal gear hub and belt drive in the rear. When you have front wheel drive, you want to put the cargo over the front wheel to get more traction when the bicycle is loaded with cargo.
Pete:  You have a unique steering system design.  Could you give us an idea of what it feels like to ride a full loaded NTS Works e-cargo bike with your steering system?
Neal:  The NTS Works e-cargo bikes ride just like a regular bike with up to 100 pounds in the front and up to 50 pounds on the (optional) rear rack.  This produces a balanced bike that is easy to handle by an average rider. Our cargo bikes  have been tested to hold over 200 pounds in the front and 110 pounds in the rear, but frequent use at that extreme loading will prematurely wear out the wheels, tires and brakes.
Pete:  In the following video, Neal talks about the unique NTS Works rebuildable and upgradable battery.
Pete:  Let's talk about the performance specs of NTS Works bikes.  What is the motor power, the battery size, pedal assist and/or throttle, and range?
Neal:  
Range
Average Range: 25 miles
Range on High Power & Steep Hills: 15 miles
Range on Low Power & Moderate Hills: 40 miles
Weights
Suggested Front Cargo Capacity: 100 pounds (45kg)
Structural Front Cargo Rating: 200 pounds (90kg)
Suggested Rear Cargo Capacity: 50 pounds (23kg) with optional Axiom rack
Structural Rear Cargo Rating: 110 pounds (50kg) with optional Axiom rack
Total Weight: 68 pounds (31kg)
Frame: 22 pounds (10kg)
Battery: 8 pounds (4kg)
Drivetrain
Gears: 8 speed Shimano Alfine internal gear hub
Belt Drive: Gates Carbon Drive Centertrack
Rated Power: 250w EU compliant or optional 350w Non-EU
Battery: Li Ion 36v 14.3ah 517wh
Motor: hub motor with internal gear reduction (pedal assist)
Pete:  What is the price range for NTS Works bikes?
Neal:
NTS PickupCycle $3,600
NTS LockerCycle $3,800
NTS SunCycle $4,100
Pete:  When will NTS Works e-cargo bikes be available?
Neal:  May 2014
Pete:  Thanks for your time Neal.  On final question for you; besides your e-cargo bikes as a good alternative to a car, how do you think we can get more people on bikes?
Neal:  Ebikes get a lot of people on bikes who really can't pedal a regular bicycle without a lot of strain.  The fact is that a lot of people are over-weight and an ebike is one of the best ways to get a moderate workout.  The other big segment of buyers are people commuting to work and they want a little exercise, but they don't want to get all sweaty.
End of Interview with Neil Saiki from NTS Works.
P.S. Don't forget to join the Electric Bike Report community for updates from the electric bike world, plus ebike riding and maintenance tips!
Reader Interactions