Review of the Revolve Business Casual Electric Bike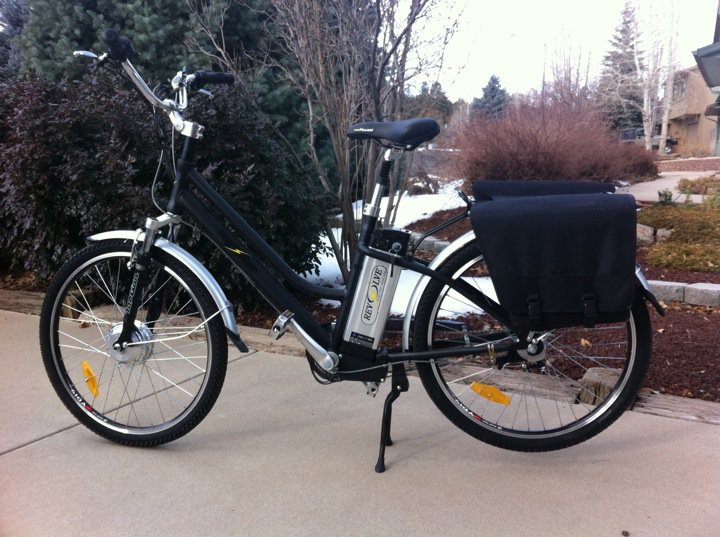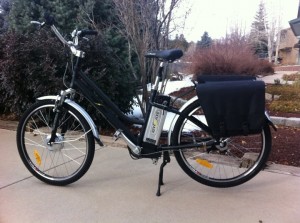 Alright!  It is time for the Revolve Business Casual electric bike review.  I have been riding this bike for a couple of weeks and I want to share my thoughts on this comfortable e-bike with you.
The usual ride was my commute to work that has a couple large hills, paved paths, dirt paths, etc.  My round trip commute is about 13 miles.  I also ran a few errands around town on this bike.  It has been through rain, snow, and nasty headwinds; all the fun conditions we can have in Flagstaff Arizona!
Features of the Revolve Business Casual
First of all here are some of the features of the bike.  They are also included in the video below if you want to take a look at the bike.
Features and Specs:
Upright comfortable positioning that is adjustable for different sized riders.

Step through frame that allows for easy "get on and ride".

Comes equipped with fenders, rear rack, bags, lock.

Suspension front fork and seat post.

250 watt front hub motor

36 Volt 10ah battery that can be locked to the frame or removed with a key.

Throttle and pedal assist system (when you start pedaling it gives you a little help)

Aluminium Frame

Shimano 3 Speed internal hub

Front V-brake and rear coaster brake

Speed = up to 18 Mph with electric assist

Range = 25-30 miles

Price = $1400 MSRP
What is the ride like?
This is a very easy bike to just get on and ride.  It is a smooth and comfortable ride thanks to the upright position and the suspension fork.
It is not the most powerful electric assist but it does accelerate pretty well and can get up to speed without pedaling.  The 250 watt motor is not a super hill climbing machine as I'll explain later.
The range?  Well it has got me to work and back including some errand running (about 20 miles) without running too low on juice.  I have not had a chance to run it all the way down for a full range test yet, but when I do I will add that to this review.
Now that you have in idea of what the bike is like; here are my thoughts on the pros and cons of this electric bicycle.
Pros
This is a very comfortable bike to ride.  The step through frame makes it easy to throw your leg over and get on the bike.  Actually, you really don't have to throw your leg over it; just step onto the bike 🙂  The adjustable stem height and upright handlebars also make it comfortable for anybody who doesn't like to be hunched over on a bicycle.
I like that this bike comes with so many accessories already installed.  It is nice to be able to get a bike that is already setup to run errands in the rain if need be (i.e. bags and fenders).  Some bikes don't come with accessories in order to keep the cost lower, but it is nice to see bikes that are almost fully oufitted like the Business Casual.
The motor is pretty quiet.  Not all motors are quiet but the front hub motor on the Revolve is quieter than most.  You may notice it at lower speeds, but once you get moving it fades away into the wind noise.
$1400 is a reasonable price for this electric bike with a lithium ion battery and all the accessories that you get.  The lithium batteries add quite a bit of cost to electric bikes but they are worth it if you plan on using the bike much.
Cons
There is the saying "You get what you pay for" and I think that applies to almost everything that you can buy.  That relates to this bike in the quality of the components of the bike.  They are generally on the lower end of the quality scale.  I am mainly referring to the non electric components because I don't have long term experience with this particular motor or battery.
The lower quality bicycle components may not be an issue for someone who will ride the bike here and there, but if you plan on riding a lot you make want to consider a bike with nicer components (more $).  Then again you can always buy a bike like this and upgrade the components later if you really end up riding a lot.
Here are some specific things that I found to be lower quality.
The suspension seat post was a little "wiggly"; the seat moved side to side when pedaling.  Typical of lower quality suspension seat posts.


The brakes are not the strongest; typical of low quality brakes.

The bags are not that sturdy and will probably wear out quicker than typical bike bags.

The bike makes some "rattling" sounds that is typical of lower end bikes.
One weird aspect of the bike was that the shifter was mounted low on the handlebars, away from the grips.  This made shifting a little more difficult because I had to remove my hand from the grip to shift the gears.  (The shifter cable housing was too short)
This bike is not made for really hilly conditions.  The 250 watt motor will pull you up some hills but on the steep stuff it struggles.  Of course it still helps out, but I you need to help a bit too!  But that is the point of an e-bike, a little human power and a little electric assist.  Simply put, if you live in a place like San Francisco you will probably want a different bike.  The 3 speed hub is also geared high for flat terrain.  I think the bike will do well in flat to relatively hilly terrain.
I am a big fan of integrated lights (they run off the battery) and it would be nice to see those on this bike.  Of course that would bump the price up a bit and some people may want to choose their own lights.
Who is this electric bike for?
I think that the Revolve Business Casual is a great bike for someone who lives in a relatively flat area with a few hills, and wants to ride now and again but not everyday.  This would also be a good bike for someone who wants to get into e-biking but doesn't want to spend a lot of money up front.  There is always the possibility of upgrading some of the components later.
This is also a good bike for someone who is looking for an easy going e-bike.  What I mean is that it is pretty mellow when it comes to the electric assist.  It won't buck you off the bike when you hit the throttle!  I think this can be a nice feature for some people looking for a relaxed ride.
Comments or Questions?
Please let me know if you have any questions about this bike.
Also, please keep in mind that this is a relatively short term test.  This testing can't really give you the long term review of durability and reliability.  My thoughts on the quality of this bike are from previous experiences with similar bikes.  If you own this bike and have some input on the long term durability, please share your comments with the Electric Bike Report community below.
Thanks!
-Pete
P.S. Don't forget to join the Electric Bike Report community for updates from the electric bike world, plus ebike riding and maintenance tips! (upper right hand corner of this site)
Reader Interactions