Review of the NuVinci N360 Hub on a Greenspeed Recumbent Trike with EcoSpeed Electric Bike Kit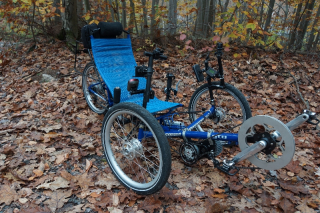 This is a guest post from Gary Kaye, founder and chief content officer at In the Boom Box.  "In The Boombox is intended to be the place for baby boomers to find products best suited for us, with clear, concise information to help them make smart purchasing decisions."
There are no good figures for the number of Americans who ride bicycles.  Back in 2007 the National Sporting Goods Association generated this factoid:
"The number of Americans who ride bicycles is greater than all those who ski, golf, and play tennis combined." 
We know the number is in the tens of millions, and we also know, based on bicycle sales that the number of bikers is increasing by double digits, as are the number of bicycle commuters.  Millions of Baby Boomers are among the cadre of avid cyclists.  Yet, as we age, our biking needs change.  Going up hills is more daunting.  And it turns out that even shifting gears has proven to be an impediment inhibiting Boomers and seniors from taking up the sport.
But now there's a revolutionary technology that allows you to adjust your bike's ability to conquer almost any terrain without using real gears.  It's called the Nuvinci Continuously Variable Planetary Drive.  And yes, that's a mouthful.  But it means that you can go from what traditionally would be a low gear to a high gear without having to move the chain from one gear to another.
That means no jarring when you shift gears.  It means no loss of power as you shift gears.  It means no gears slipping.  And it means no problems if you have to come to a halt at the bottom of a hill, or find you don't have the speed to shift into a lower gear going uphill.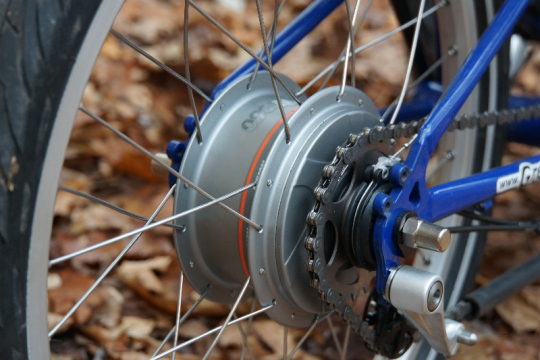 The engineering behind the Nuvinci, by Fallbrook Technologies, seems a little like black magic.  Instead of having gears inside the hub you have a series of rotating balls laid out around a center axle.  Two rings circle the balls.  As you twist the handlebar mounted shifter, a cable is either pulled or released, and that changes the angle of the wheels in relation to the rotating balls, that in turn changes the output to your rear wheel.
Because there are no gears, you might wonder how the entire system maintains internal traction so the balls and the ring don't simply slip.  The answer is the secret sauce. A fluid I don't even pretend to understand.  But it works.  If a picture is worth a thousand words, I suggest you checkout the video below to give you a much clearer idea of how this all works.
I replaced the rear gearing system on my Greenspeed recumbent tricycle with the Nuvinci 360N hub.   In order to do this I needed to make some tradeoffs.  While most traditional bikes come with a rear hub with 9 gears, my trike had that plus an internal cassette with an additional three gears, giving me a total of 27 rear-mounted gears.  While some of those overlapped, collectively they represented a broader high and low range than what was offered by the single Nuvinci hub.
So I had to choose which part of the gearing range I wanted to use.  The decision was relatively easy since for me, the battle on the trike is always going uphill, never the speed on the flats or the downhill.  So by choosing the appropriate rear sprocket I got about as low as I did with my original gearing system, but lost what feels like about 25% on the overdrive side.
What I got for the tradeoff is a remarkably smooth riding experience.  It even sounds smooth.  My Greenspeed trike also has an electric assist motor from EcoSpeed that helps me up the hills.  With the Nuvinci, combined with the low front end gearing that I get from a Schlumpf mountain drive system, I figured I could take on just about any hill.
Then I got to Vermont's Green Mountains, where I did fine until one hill on the way out of Warren, Vermont brought me to a halt.  Had I been in a little better shape, I could have made it.  But with that one exception, over a week's worth of biking, the entire system performed wonderfully.  As Nuvinci promises, there is no jarring or loss of power when you shift.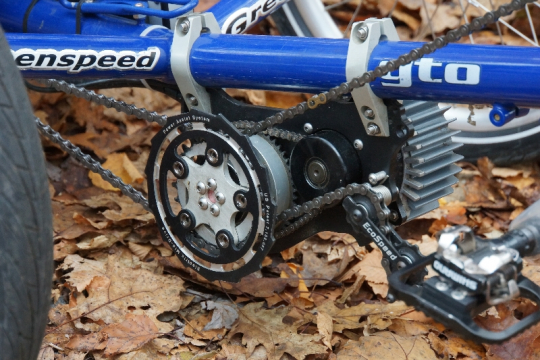 A quick note here about the differences between upright bikes and recumbent.  When you encounter a hill on a regular bicycle you can get up out of the seat and use your entire body for leverage.  If it's really tough, you can get off and walk.  With either a two wheel or three wheel recumbent the only leverage you have on a hill is from your legs, so low gearing becomes essential.  And with a recumbent trike, you really cannot even get off and walk it, since there is no way to walk it while standing upright.
The Nuvinci is very sensitive to changes in terrain, more so than with traditional gearing.  Even a slight uphill or downhill required some adjustment on the Nuvinci's grip shifter.  While Nuvinci supplies a small display for the handlebar that shows where you are in terms of your gear range from low to overdrive, you really don't need it.  A few minutes with the system and you'll be able to feel it.  I had no trouble adjusting the gearing going uphill, or even from a standstill.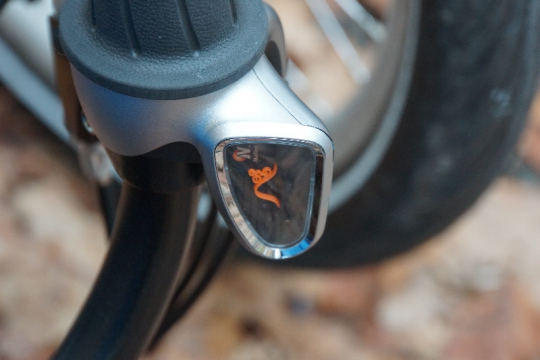 The Nuvinci N360 hub kit sells for anywhere from about $320 to almost $400.  And unless you can do this fairly complex installation yourself, you can expect to part with another $200 or $300 to have your local bike shop do the job.  However, there are now dozens of bikes , both traditional and electric that are coming with the Nuvinci already installed.  Many were on display at both EuroBike and InterBike shows this season.
Besides the hub, Nuvinci makes a complete automatic transmission system called the Harmony, which will shift as the terrain and your cadence warrant.  Several bike brands are offering the system, including Bodhi. 
Fallbrook Technologies has already produced several models of the Nuvinci going back to 2007. But the chances are that unless you follow biking closely, you've probably never heard of it.  Why not?  Well the first fluid filled automatic transmissions were made in the mid 1930's but didn't become the automotive standard until the early 1950's.  But back then there was no Internet to spread the word.  I don't think Nuvinci has very long to wait before it becomes a well established entry in the lexicon of biking.
End of guest post
Here is another post about the NuVinci N360 you might be interested in.  I visited their engineering headquarters in Austin Texas and had the chance to ride the N360 on a number of e-bikes.
Do you have any comments or questions for Gary on the NuVinci N360 or his Greenspeed trike with EcoSpeed electric bike kit?  Please leave your comments in the section below.
Thanks!
-Pete
P.S. Don't forget to join the Electric Bike Report community for updates from the electric bike world, plus ebike riding and maintenance tips!
Reader Interactions