Would You Like To Rent an Electric Bike?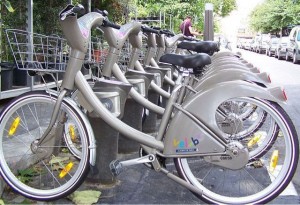 That's right, I have a question for you! I recently read an article on a bike shop that rents electric bikes in Steamboat Springs, Colorado and I thought of two reasons why renting an electric bike would be a good idea. Below are the ideas and at the end of the article I would like your opinion on if you think you would rent an E-Bike.
First of all the price of an electric bike can be a little daunting. (Actually, when you break it down it is a very inexpensive price for an electric vehicle but that is the topic of another article.) By renting an electric bike you could really get the feel of it on an all day ride around where you live. It would be much better than just a 20 minute test ride near the shop that sells electric bikes.
Renting a few different electric bikes could help you determine which one fits you the best and which one has the best features. That could take away some of the anxiety of making the right decision on which electric bike to buy.
An electric bike could also be a great way to get around when you are on vacation for exploring the place you are at. Imagine being able to cruz around the side streets or bike ways and really get a feel for the place you are visiting.  For instance; you could rent an electric bike from Sedona electric bike rentals and enjoy the beautiful red rock views of Sedona Arizona on an e-bike.
I am currently reading a book called "Bicycle Diaries" by David Byrne where he talks about how he explored cities by bike while he was performing around the world. He explains in the book that he is able to get a better feel for the places he visits by seeing them by bike instead of by car.
Maybe in the future electric bike rental shops will be more prevalent and you will be able to easily rent an e-bike for getting around and enjoying your vacation spot.
So that leads me to my questions for you.
Would you be interested in renting an electric bike for the reasons I covered?
Is there another reason that you can think of for renting an electric bike? (like a program similar to the Zip car? :))
Please leave your comments below! You can use your Facebook or Twitter login to leave a comment.
Thanks!
Pete
P.S. Don't forget to get sign up for updates from the electric bike world, plus ebike riding and maintenance tips!  (upper right hand corner of this site)
Reader Interactions