Raleigh Tristar iE Electric Trike Review Part 2: Ride & Range Test [VIDEO]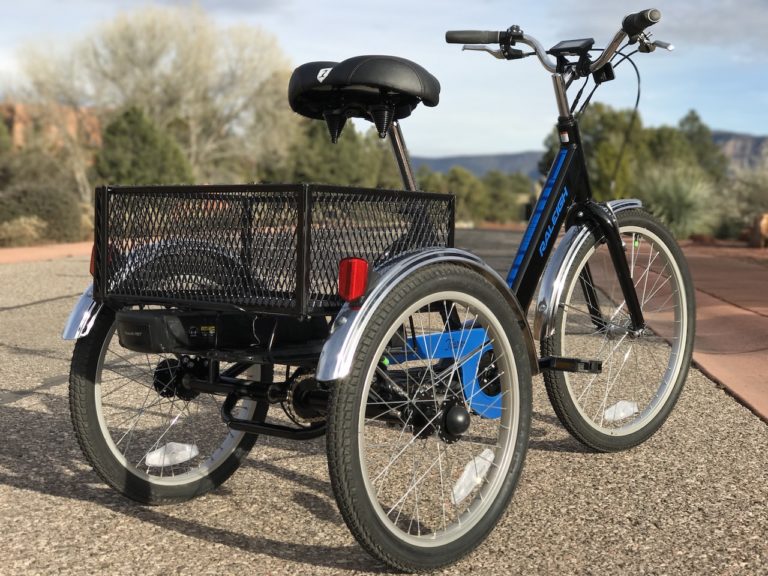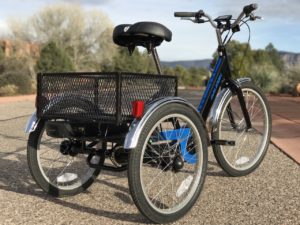 After many miles of putting the Raleigh Tristar iE through it's paces it has proven to be a comfortable, easy to ride, high performance electric trike that is a fun neighborhood town and country cruiser!
At $2,599 the Raleigh Tristar iE has added a lot of modern day electric bike tech to the comfortable upright trike design.
It can climb steeper hills with its mid drive motor, make errand running easy with its cargo basket, and really go the distance with its option for double batteries!
In this second part of the full review you will get an idea of the ride characteristics, range test results, pros, cons, and overall thoughts on this electric trike.
Make sure you check out part 1 of this review with large pictures and specifications to get a detailed look at this eTrike.
What you can expect from the Raleigh Tristar iE:
To get acquainted with the Raleigh Tristar iE, checkout this video:
Riding the Raleigh Tristar iE
:
Overall there are some characteristics of the Raleigh Tristar iE that really stand out when riding this electric trike. To summarize they are:
A comfortable ride position with an easy to get on and ride step thru frame
A mid drive motor for climbing steeper hills with a sporty ride feel in higher assist levels
Nice cargo capacity with a large metal basket
Option for second battery and double the range
Upright trikes are a great option for people who are looking for an easy going comfortable ride without worrying about balancing a bike.
And with the rear cargo basket, upright trikes are fun neighborhood errand running machines.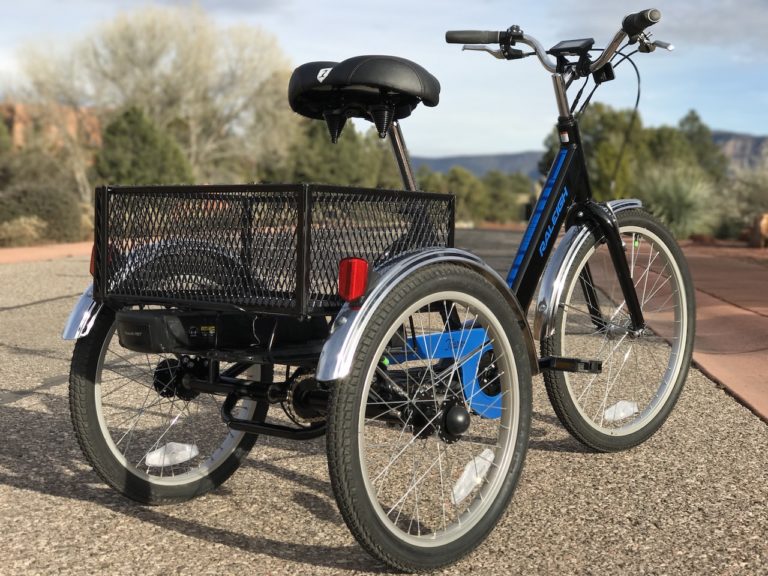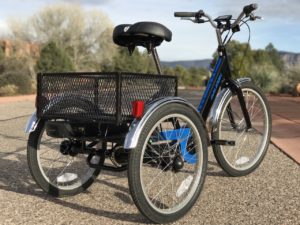 Raleigh has done a good job of adding some modern day features to the traditional upright trike design by adding the mid drive motor, dual battery option, and the low step thru frame design.
The Raleigh Tristar iE is a good eTrike for people looking for a fun neighborhood runner because it is stable, comfortable, and easy to ride.
It can also be a good delivery eTrike for a business looking to add an electric vehicle to their fleet. The Raleigh Tristar iE gets attention out on the street and a business could add some branding to the sides and back of the trike for additional exposure.
Okay, let's get into the what it is like to ride the Raleigh Tristar iE.
The Tristar iE has a very comfortable upright position and the step through makes it very easy to get on and off the trike.
Swept back and upright handlebars provide a comfortable ride and it helps with seeing around you and being seen by other.
The saddle has a wide profile that is super cushy for comfortable cruising.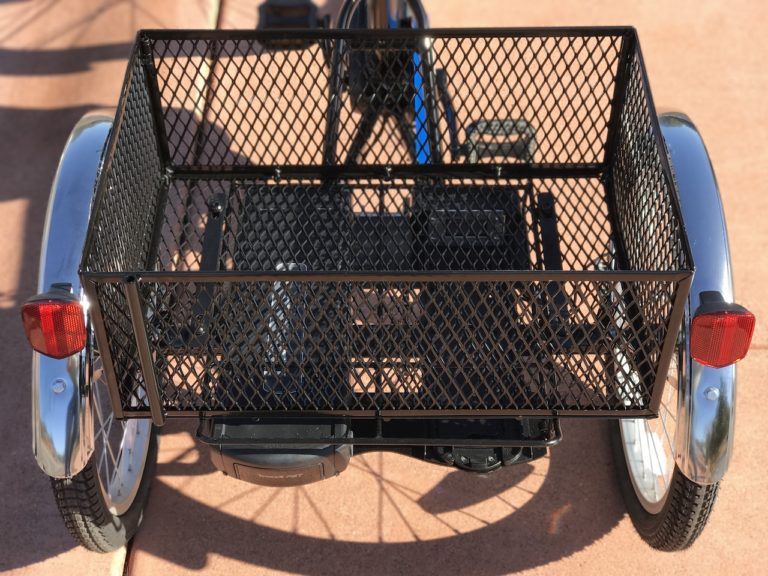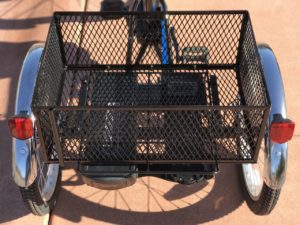 Carrying cargo is easy with the large 21″ x 14.5″ x 8″ metal cargo basket on the back between the two rear wheels. Adding a mesh cargo net can help with securing loads in the basket.
The width between the rear wheels is 29″ so it will fit through most doorways for the ability to bring this eTrike inside and load and unload cargo.
Trikes in general can be very stable but they can have a somewhat twitchy feeling if you are used to riding a bicycle that generally carves corners by leaning into the corner. The cornering on a trike is different because it does not carve the corners (unless you are on two wheels!) and it can take some time to get used to the quick handling of a trike.
I found that after some time learning how to move my weight around the trike and making steady slow turns it proved to be a stable ride. On some descents I was hitting speed of 25+ mph and the trike felt stable; you just need to make sure you don't make any sudden turns.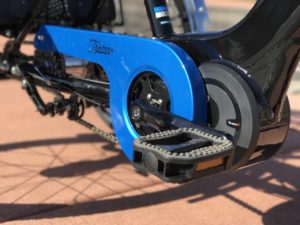 The 350 watt Currie Electro-Drive mid drive motor with the 48 V system definitely has some kick, especially in pedal assist levels 3 and 4. Accelerating off the line is pretty quick in the higher assist levels!
The lower assist levels 1 and 2 provide for a pretty mellow ride and they are very useful when riding in congested areas or when making a lot of tight turns.
The Raleigh Tristar iE uses a cadence sensor system and the pedal assist starts to add assist as soon as you make about a 1/4 revolution of the cranks.
The motor does make a humming noise in the higher pedal assist levels. It makes the most noise when you stop pedaling and it seems that the noise is associated when the gearing in the mid drive motor system slows down.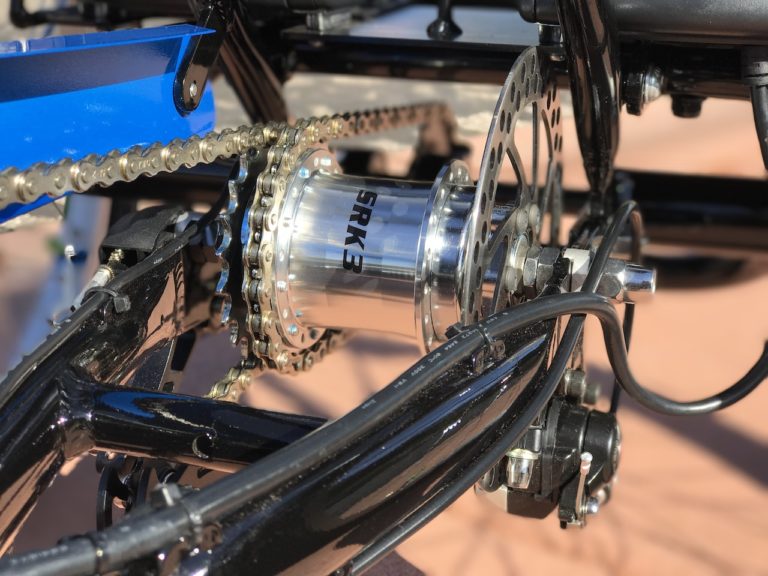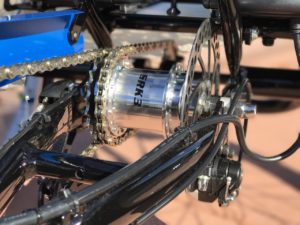 A Sturmey Archer 3 speed internally geared rear hub that is housed near the rear axle of the bike provides a simple drivetrain that can handle pretty steep hills with the lowest gear (1). The high gear (3) helps this trike cruise along the flats with a nice pedal cadence.
One of the advantages of an internally geared hub is that you can shift while the bike is not moving. This is helpful if you come to a stop sign or light and realize that you need to shift to a lower gear for accelerating from the stop.
Like most internally geared hubs it is hard to shift the gears under power. This is especially true when climbing hills. Shifting from the low to high gears (from 1 to 2 to 3) is pretty easy. But trying to shift from high to low (3 to 2 to 1) under power is very difficult.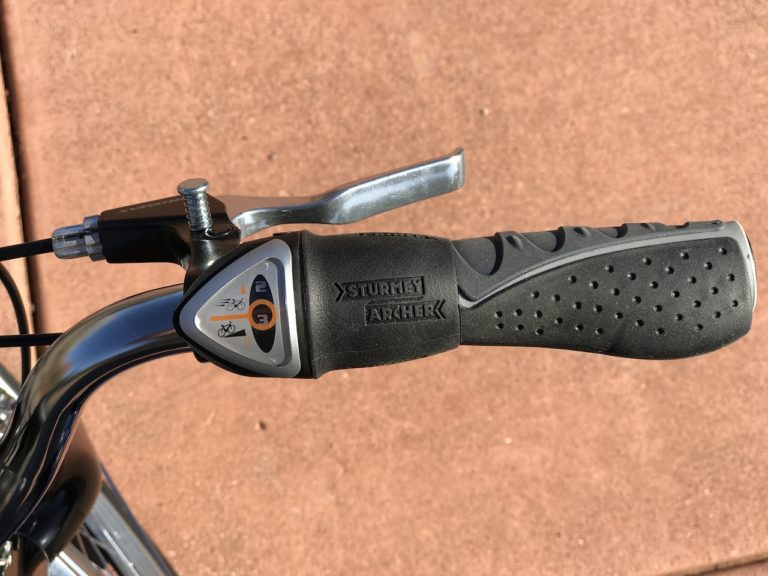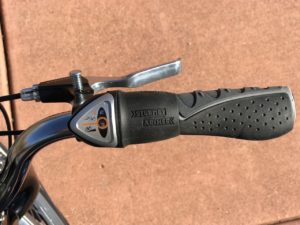 It's best to anticipate what gear you need to be in before you start climbing a hill. And if you need to shift down, make sure you have enough speed so that you can pause pedaling to shift and then start pedaling again.
If you are stuck in a higher gear on a climb, using the higher pedal assist levels can help to get you over the climb.
Your pedal power and motor power are routed through the internally geared rear hub to the right rear wheel of the trike.
The rear braking is also handled by the right rear tire so you want to make sure that it is always planted on the ground 🙂
And speaking of keeping the Raleigh Tristar iE planted on the ground, the Innova tires do a good job of providing traction on the road and on some light off road conditions. The 2″ width offers a comfortable ride with good efficiency.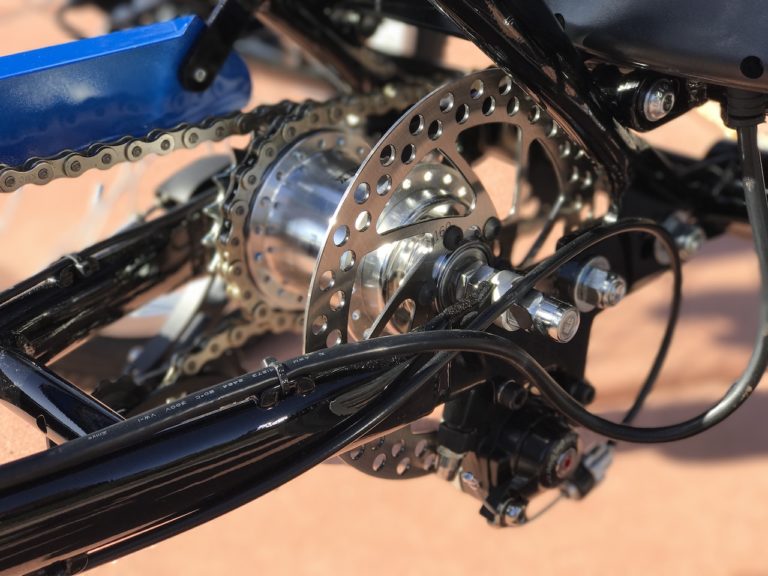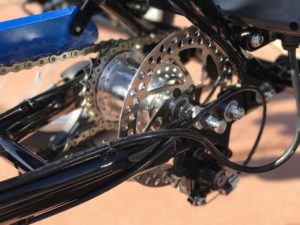 The overall braking power of the Raleigh Tristar iE is good. The front v-brakes are powerful and the rear mechanical disc brake has solid stopping power through the right rear wheel.
The brake levers have built in locking buttons for use when the trike is parked. I also used this braking feature while sitting on the trike when I stopped to talk with someone out on a ride.
The LCD display centered on the handlebars provides large format numbers that are easy to read and there is just enough information that the display provides to keep you up to date on the ride like the current pedal assist level (there are 4 different levels), the current battery level, speed, trip distance, odometer, and estimated range.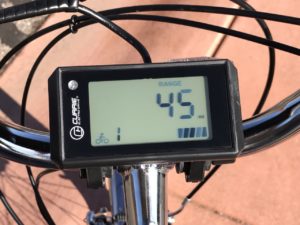 The estimated range feature proved to be pretty accurate in the range test which you will see below. Here is a break down of the estimated range with a fully charged battery pack:
Pedal assist level 1 = 49 miles
Pedal assist level 2 = 37 miles
Pedal assist level 3 = 27 miles
Pedal assist level 4 = 15 miles
And that is just with the standard single battery configuration. You can double those ranges if you were to use the additional battery (+$499).
The display also has a backlit feature that makes it easy to see day or night.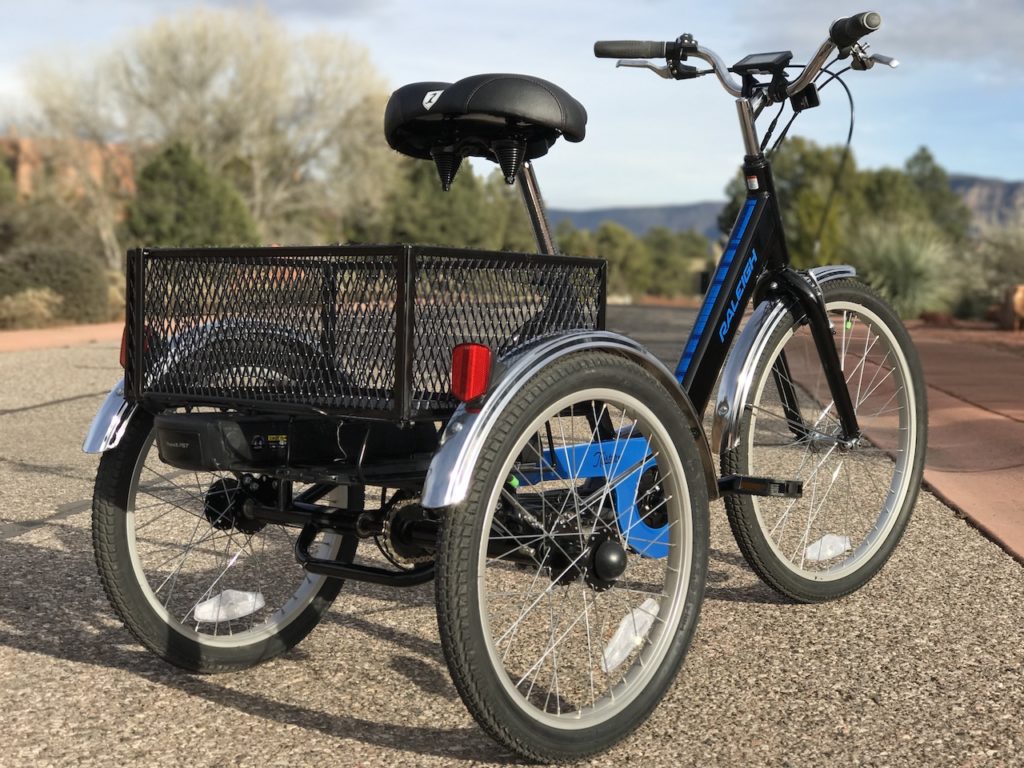 The Tristar looks good with its durable looking aluminum step thru frame and the chrome metal fenders are a nice touch of retro style.
Okay, now let's take a look at how the Raleigh Tristar iE did out on the open road.
Raleigh Tristar iE Range Test Results:
Here is the real world information on how the Raleigh Tristar iE electric trike performed on a riding circuit that includes hills, flats, traffic, wind (when available) etc.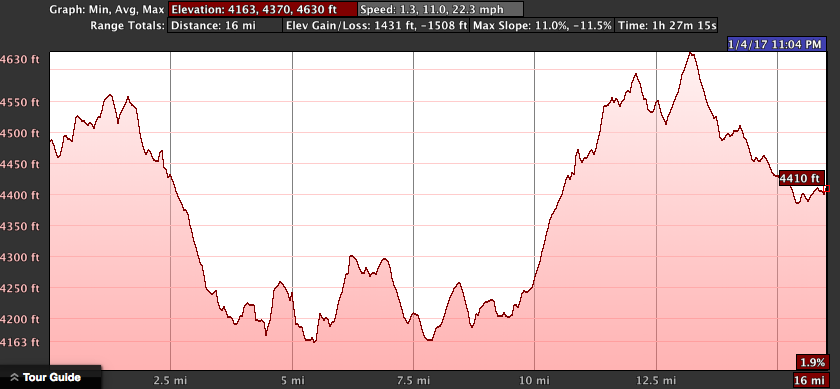 While testing these bikes I like to put them through the toughest conditions to see where their bottom line is in regards to range and speed. I tested the Raleigh Tristar iE with the highest pedal assist level with relatively easy pedaling.
Range: As you can see from the GPS info that I recorded, the Raleigh Tristar iE traveled 16 miles and did a total elevation gain/loss of around 1,400 ft. Considering that I weigh 190 lbs and I pedaled very lightly this is decent range for a trike with a 48 Volt 8.7 ah battery pack (418 Watt Hours) with a 350 watt mid drive motor.
When I started the range test the display estimated the range to be 15 miles in pedal assist level 4, so this proved to be pretty accurate. It is nice that it was providing a conservative estimate even with the tough ride that the Raleigh Tristar iE went through during the range test.
Raleigh also offers the option of an additional 48V 8.7ah (418 Wh) lithium battery for double the range (around 32 to 100 miles) for an additional $499.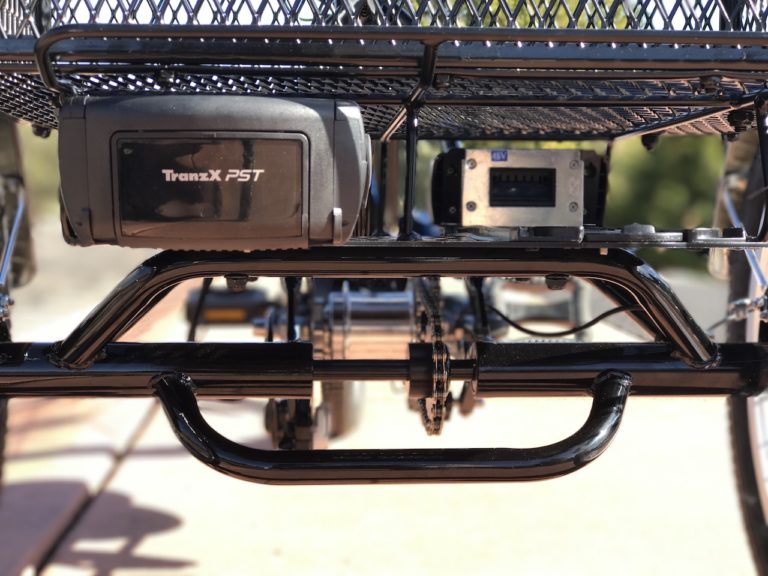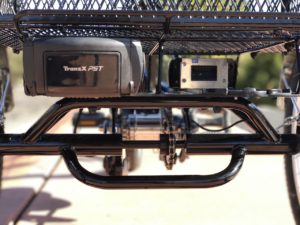 Watt hours are the total energy in a battery pack and it is based on the volts x amp hours of a pack. This is a way to compare the size of the "gas tank" of electric bikes.
Please keep in mind that if you pedal more, weigh less than me, ride slower and/or you use the bike in terrain that is not as hilly you will get more range. These results are from tough testing.
Speed: The Raleigh Tristar iE will assist up to 12.5 mph is pedal assist level 1 and up to 15 mph in pedal assist levels 2, 3, and 4. Upright trikes generally have a lower speed to provide stability when cornering.
Weight: The Raleigh Tristar iE tips the scales at 85 lbs. Removing the battery brings it down to around 77.7 pounds. The battery weighs 7.3 pounds.
The weight distribution of the Raleigh Tristar iE is back heavy because of the two rear wheels and frame, cargo basket, and battery. This doesn't really affect the handling of a trike much because it doesn't tilt into the corners.
Pros:
Comfortable and Easy to Ride: The Raleigh Tristar iE upright position and comfortable saddle make it an easy bike to get used to riding. It's step thru aluminum frame makes it very easy to get on and off.
Carrying Cargo: The large 21″ x 14.5″ x 8″ metal cargo basket on the back of the trike provides a great place for carrying cargo while out running errands.
Climber: The 350 watt Currie Electro-Drive mid drive motor with the 48 V system helps the Raleigh Tristar iE climb some of the steeper hills.
Cons:
Shifting: Shifting under power with the internally geared hub is difficult when going from the high gear to lower gears: 3 to 2 to 1.
Noise: Like almost all mid drive motors, the mid drive on the Raleigh Tristar iE does make some noise. Compared to other mid drives tested, it is in the medium range of noise.
Conclusion:
Overall the Raleigh Tristar iE is a fun, comfortable, and easy going eTrike. It has a lot of modern day electric bike tech built in to make it a versatile neighborhood runner.
It can climb steeper hills and zip around in the higher assist levels or just cruise the neighborhood with the lower assist.
It is also a nice errand runner with it's built in cargo basket and option for double batteries.
At $2,599 the Raleigh Tristar iE offers a solid line up with it's step thru aluminum frame, 350 watt Currie Electro-Drive mid drive motor with the 48 V 8.7ah lithium battery, metal cargo basket, and metal fenders.
Please keep in mind that this is a relatively short term test. This testing can't really give you the long term review of durability and reliability. My thoughts on the quality of this bike are from previous experiences with similar bikes. If you own this bike and have some input on the long term durability, please share your comments with the Electric Bike Report community below.
Where to buy a Raleigh Tristar iE? Check with Raleigh for a dealer near you.

Do you have any questions about the Raleigh Tristar iE? Do you own a Raleigh Tristar iE? Please share your thoughts in the comment section below.
Thanks!
-Pete
Review Note: Each company pays a fee for a review on Electric Bike Report because of the considerable amount of time that it takes to provide an in-depth review of each eBike. A lot of time is spent on the full range test with distance & elevation profile, the wide variety of detailed pictures, in-depth video, and the write up with the specifications, ride characteristics, pros, cons, and overall thoughts. The reviews on Electric Bike Report are focused on providing you with a detailed "virtual" look at each eBike to help you determine if it is the eBike for you or not.
P.S. Don't forget to join the Electric Bike Report community for updates from the electric bike world, plus ebike riding and maintenance tips!
Reader Interactions