Prodeco Outlaw SS Electric Bike Review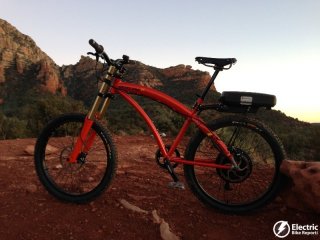 Wow!  Are you looking for a fast and powerful "muscle e-bike"?  If so, then you should check out the
Prodeco Outlaw SS
electric bike!
The appearance, component spec, and price point ($2,199) of this USA assembled e-bike definitely make it stand out!
Make sure you check out the video, large pictures and specifications of the Prodeco Outlaw SS to get familiar with this fast and powerful e-bike.
What you can expect from this electric bike:
Here is a video that highlights some of the features of the Outlaw SS and shows it in action!
The Prodeco Outlaw SS is a big bike in almost every sense of the word!  It has big power, big speed, big size (handlebars, fork, tires, etc.) and big attitude (if a bike can have attitude?)!
This is a bike that gets noticed.  In addition to it looking and acting big, it also has the striking candy orange color that will stand out in any crowd.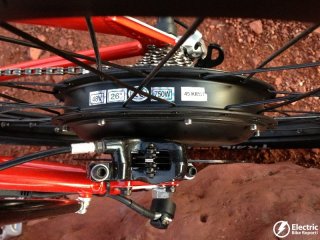 Electric spec wise, this bike comes with a 750 watt direct drive rear hub motor and a 51.2 volt 9 amp hour lithium iron phosphate battery pack and it can travel up to 28 mph with throttle only.  Yeah, the Prodeco Outlaw SS is fast and powerful!
Since the Outlaw SS can travel up to 28 mph with throttle only, it does not fall under the typical electric bike guidelines of being street legal as a conventional bicycle (750 watts of power and 20 mph with throttle only).  Therefore Prodeco has classified this as an off road only electric bike.
Since this is an off road only e-bike you should be aware of what it is like to ride off road.  Most mountain bike trails will not allow motorized vehicles because those trails are also shared by hikers and equestrians.  In general the Outlaw SS should be used on dirt roads and motorcycle/ATV trails.
Another option would be to register this bike as a moped and get the appropriate insurance.  My suspicion is that some people will use the Outlaw SS on the streets and not get it licensed/insured as a moped.  This may be okay if the rider keeps the bike under 20 mph on the streets but I can see the temptation to go faster.  Please understand that you are doing this at your own risk .  Car drivers, pedestrians, and other cyclists are not used to seeing a bicycle go so fast.
Prodeco makes 2 other Outlaw models, the SE and EX, that are limited to 20 mph and therefore are street legal.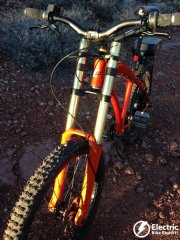 As I mentioned before, the Outlaw is big and it handles like a big bike.  With the tall double crown 140 mm travel suspension fork , laid back frame geometry and wide handle bars it is a bike meant for cruising!
The 2.4″ wide tires combined with the suspension fork definitely soak up the bumps.  A suspension seatpost would be a nice addition to smooth out the back end of the bike because the aluminum frame is definitely very rigid!
28 mph is fast!  It is a lot of fun but it is also could be dangerous.  You really need to respect the speed and make sure you are anticipating what is ahead of you in order to react in time.  The Outlaw SS has powerful Avid Elixir 5 hydraulic disc brakes with 200 mm rotors and they do stop well.  Let's just say that this is not your typical bike riding experience!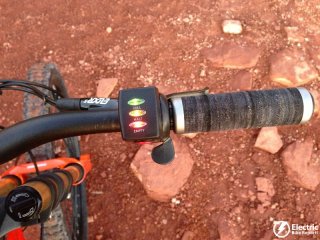 The Prodeco Outlaw SS has a thumb throttle that Prodeco decided to go with instead of a twist grip because it is a safer to have a full grip to hold on to at high speeds!  The thumb throttle worked great for all the riding I was doing.
Overall the Outlaw SS is good for cruising the streets (at 20 mph or less unless you register it as a moped), riding dirt roads, and the occasional moto/ATV trail.  Since it has such a laid back geometry and the battery pack on the rear rack it is not the best handling bike on tight/twisty/rough trails; but the Outlaw SS was not designed for that.
The ride test results:
Here is the real world information on how this bike performed on my typical riding circuit that includes hills, flats, traffic, wind (when available) etc.
The results below are based on a paved circuit that I use for testing other electric bikes.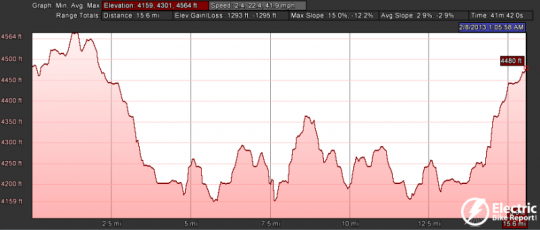 While testing these bikes I like to put them through the toughest conditions to see where their bottom line is in regards to range and speed.
Range:  As you can see from the GPS info that I recorded, the bike traveled 15.6 miles and did a total elevation gain/loss of around 1300 ft. Considering that I weigh 190 lbs and I pedaled very lightly this is pretty good range for a 51.2 Volt 9 ah battery pack (460 Watt Hours) with a 750 watt motor that peaks at 1200 watts!
Watt hours are the total energy in a battery pack and it is based on the volts x amp hours of a pack.  This is a way to compare the size of the "gas tank" of electric bikes.
Please keep in mind that if you pedal more, weight less than me, ride slower and/or you use the bike in terrain that is not as hilly you will get more range.  These results are from tough testing.
Speed:  The Prodeco Outlaw SS travels up to 28 mph on throttle only.  It also climbs hills pretty well.  On the steep hills you will need to give the motor a little pedaling help, but for moderate hills you can pedal lightly or just turn the throttle and sit back as the bike takes you up the hills.
Weight:  This bike tips the scales at 62 lbs.
The weight distribution on this bike is pretty back heavy because of the direct drive rear hub motor and the battery pack mounted on top of the rear rack.  The battery mounted so high makes the bike a bit "tipsy" at lower speeds or when you are walking the bike up stairs, for instance.
PRICE! Wow! At $2199 you get a lot of bike for the money.  It is amazing to see all of these high quality components (SRAM, AVID, Truvativ, Continential Tires, etc.) on this bike for this price.
Speed & Power:  Yes it is fun to go 28 mph on a "bicycle" and 750 watts with 1200 watts of peak power helps you up the hills!  If you like speed and power then you should definitely checkout the Outlaw SS.  Just be responsible, okay 🙂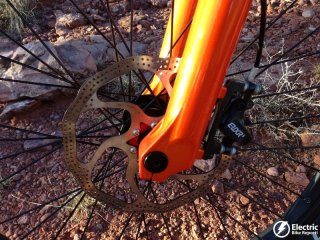 Disc brakes:
  The
AVID Elixir 5 hydraulic disc brakes
with 200 mm rotors offer some amazing stopping power.  And that is a good thing when you are going nearly 30 mph!
The AVID brake levers have a comfortable feel and they were easy to grab when you needed them.
Nice tires:  The 2.4″ wide Continental Trail King's are tough off road tires!  They have a very aggressive knobby tread and the sidewalls have a reinforced grid texture.  Continental is a well know name in the bicycle world.
Drivetrain: The mostly SRAM drivetrain (shifter, derailleur, cranks) offers solid, crisp shifting that the SRAM brand is known for.  Like Continential, SRAM is a well know brand name in bicycle components.
Suspension Fork:  The magnesium double crown 140 mm travel suspension fork with 20 mm thru axle is a surprising upgrade on this bike.  It definitely makes it look tough and helps soak up the bumps!
Leather Grips & Saddle:  The Outlaws come with a Brooks style leather saddle and leather lock on grips.  It is a nice touch of class!
Assembled in the USA:  All Prodeco bikes are assembled at their Pompano Beach, Florida facility.  Here is a report from my visit to the Prodeco headquarters.
Cons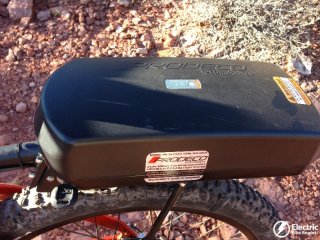 Battery on Rear Rack:
 For a bike that is intended more for off road riding it would be nice to see the battery placed low and in the center of the bike for better handling.
I definitely put the Outlaw SS to the test on the rough and rocky terrain here in Sedona, AZ and I may have pushed it beyond it's design intent, but I try to give all bikes a hard time 🙂
During my rough off road testing the rear rack bolts came loose and one of the bolts sheared off as one of the rack support struts came off.  I contacted Prodeco and they sent out a new strut kit that included an extra strut for each side of the rack, so now the rack is supported by 4 struts total (2 on each side).  Prodeco also sent out Locktite to make sure the bolts don't loosen up again.
Due to my experience, Prodeco is now building all of their Outlaw's with 4 struts and Locktite on the bolts for the rack.  They are able to make this change in production quickly because all of their bikes are assembled in Pompano Beach, Florida.
That will probably help with the overall stability of the rack, but for an off road bike it would bike nice to see the battery mounted low and in the center which would also eliminate the rear rack entirely.
Suspension Fork:  The fork suspension seemed to be pretty stiff.  I weigh 190 lbs and even at the lowest fork suspension adjustment it seemed pretty stiff (hard to activate).  For a high speed bike you wouldn't want the fork to be too easy to activate but it seems that lighter springs that could be adjusted with the fork spring load dials maybe a good way to go for lighter riders.  Prodeco said that there are lighter springs that could be installed.
Motor noise:  The motor makes a little noise.  It is not stealthy quiet like a Bionx motor but it is not as loud as a typical geared hub motor.  I got used to it pretty quick, but if you are noise sensitive it is something to be aware of.
Conclusion
Overall the Prodeco Outlaw SS is a "muscle" e-bike!  It is a big bike in many ways (speed, power, appearance, etc.) and it rides like a big bike.
If you are looking for a laid back off road cruiser with a solid component spec for a great price you should definitely consider the Prodeco Outlaw SS.
There are a few items that could be improved (battery location, fork springs) but no e-bike is perfect.
I hope this review has given you a virtual idea of what the Prodeco Outlaw SS is like.
Please keep in mind that this is a relatively short term test.  This testing can't really give you the long term review of durability and reliability.  My thoughts on the quality of this bike are from previous experiences with similar bikes.  If you own this bike and have some input on the long term durability, please share your comments with the Electric Bike Report community below.
The Prodeco Outlaw SS retails for $2,199.  Where to get the Outlaw SS?  Check with the Prodeco Technologies for a dealer near you.
If there is not a dealer near you, you can purchase the Outlaw SS online.
Do you have any questions about the Prodeco Outlaw SS?  Do you own the Outlaw SS?  Please share your thoughts in the comment section below.
Thanks!
-Pete
Review Note: Each company pays a fee for a review on Electric Bike Report because of the considerable amount of time that it takes to provide an in-depth review of each eBike. A lot of time is spent on the full range test with distance & elevation profile, the wide variety of detailed pictures, in-depth video, and the write up with the specifications, ride characteristics, pros, cons, and overall thoughts. The reviews on Electric Bike Report are focused on providing you with a detailed "virtual" look at each eBike to help you determine if it is the eBike for you or not.
P.S. Don't forget to join the Electric Bike Report community for updates from the electric bike world, plus ebike riding and maintenance tips!
Reader Interactions