New E-Bikes: Faraday, Pedego, & Juiced Riders [VIDEOS]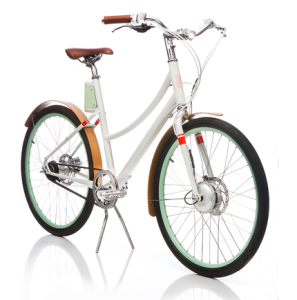 We have some new electric bikes rolling into the market for February 2016.
Faraday just announced their new step thru frame Cortland that is similar to their classically styled Porteur.
Pedego has announced their new Latch folding e-bike with a belt instead of a chain.
Juiced Riders just announced that their new 28 mph speed pedelec Cross Current is available for order.
In this post you will get an overview of some of the latest eBikes that have hit the market. There are links included so you can learn more about each bike.
Faraday Cortland
First of all, enjoy this humorous video of the new Cortland. The folks at Faraday obviously had a good time putting this together!
As you can see, not only is Faraday launching this new step thru but they have the auxiliary battery, GPS tracking device and new smartphone app. They have been busy!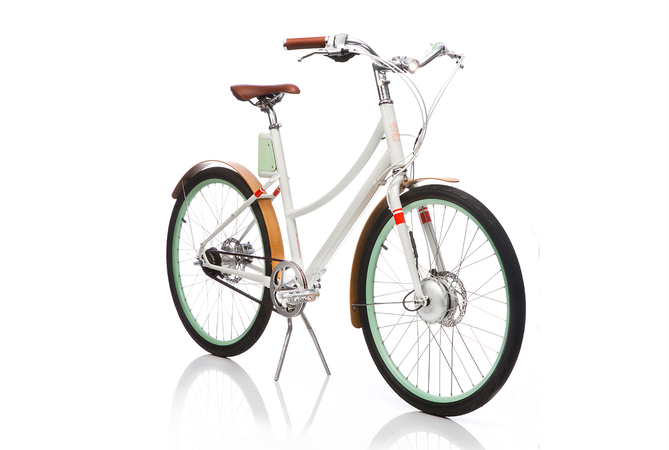 The Cortland has a 250W front hub motor and a 290Wh lithium battery housed in the frame. The Cortland's stated weight is 40 pounds, pretty light for an eBike!
The Faraday auxiliary battery adds additional range for a total of 40 miles according to Faraday.
Faraday developed a GPS Tracking Device that can be hidden inside a Faraday and, when connected to the new Faraday app, can identify where your bike is if it were to go missing.
The Faraday Cortland starts at $1,999 for Cortland S early bird pricing on Kickstarter.
Here is a link to the Faraday Cortland Kickstarter page for more info on their new line up.
Pedego Latch Folding Electric Bike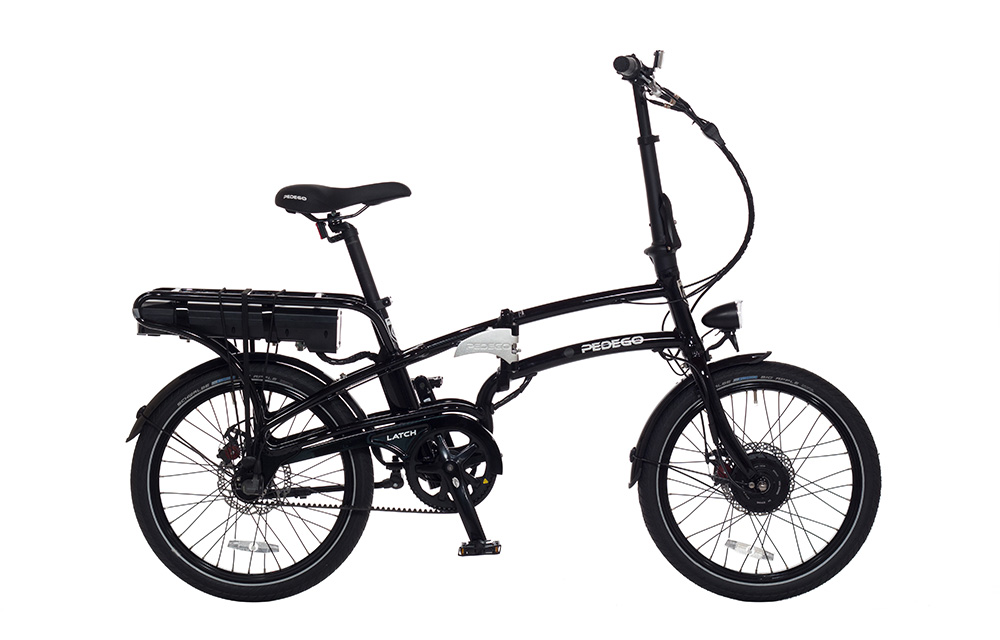 Pedego keeps rolling out new types of eBikes and the Latch is their latest folding model.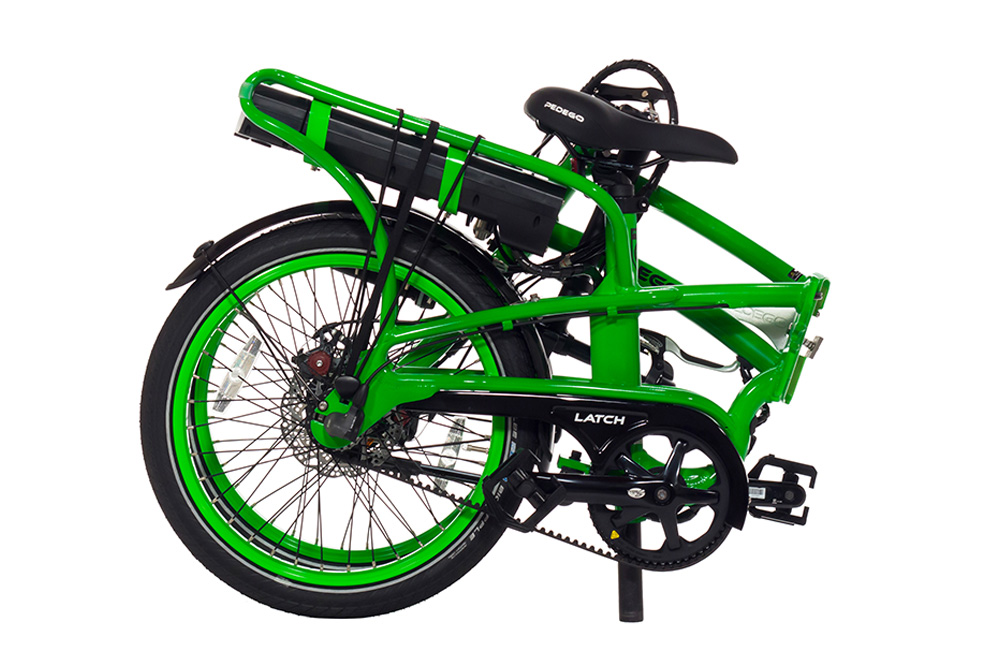 A look at the lime green color Latch folded up.
Here's a quick video on how to fold the Latch.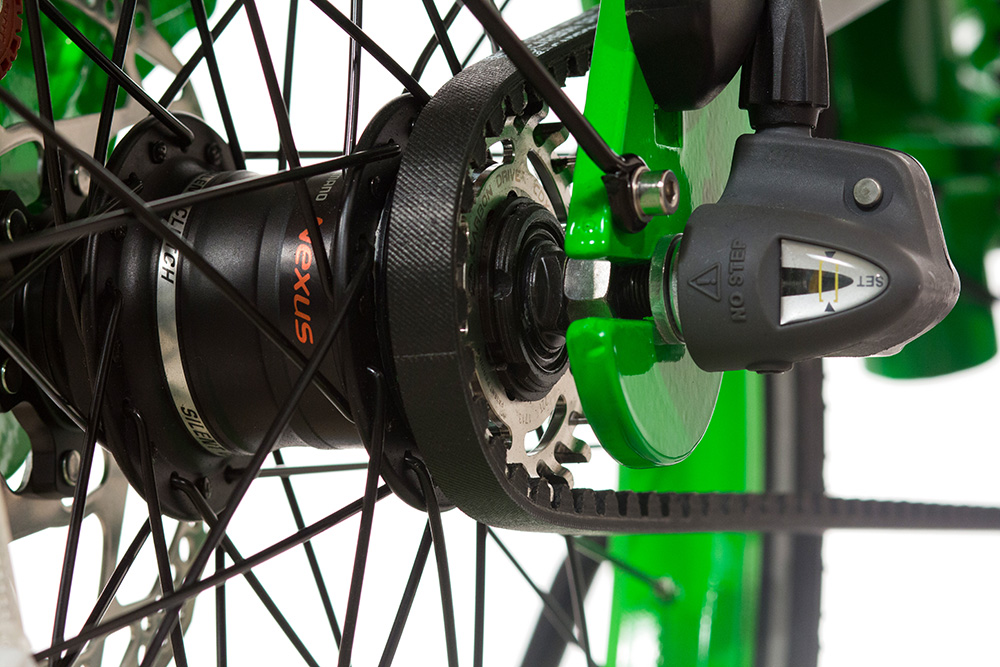 As you probably saw in the video, the Latch comes with a belt instead of a chain to keep those pant legs clean.
The Pedego Latch is priced at $2,595 with the 36V 10ah battery. $2,895 with the 36V 15ah battery.
Here is a link to more info on the Pedego Latch.
Juiced Riders Cross Current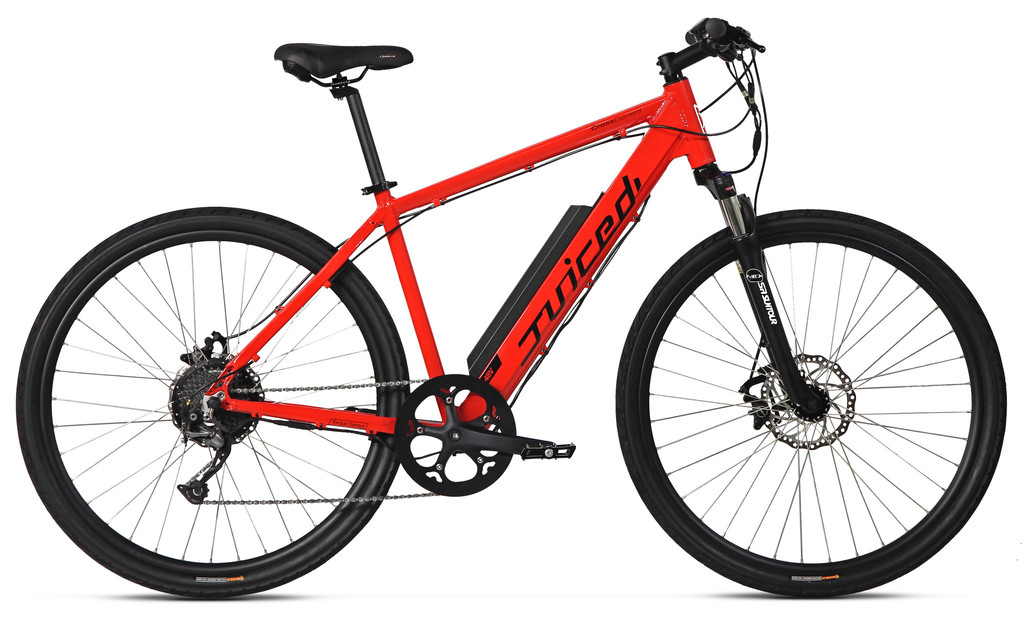 The Cross Current is a 28mph speed pedelec (pedal assist) with 700 watts of peak power from the rear hub motor. The integrated frame battery keeps the weight low and centered for good weight distribution.
This is the control pad for the Cross Current. The Sport mode adds the kick up to 700 watts of power. In the background you can see that this bike comes with Tektro hydraulic disc brakes.
The Cross Current comes in 2 different configurations: 48V 7.8ah for $1,499 and 48V 10.4ah for $1,749.
Here is a link to more info on the Juiced Riders Cross Current.
Stay tuned for more new 2016 electric bikes!
-Pete
P.S. Don't forget to join the Electric Bike Report community for updates from the electric bike world, plus ebike riding and maintenance tips!
Reader Interactions