New Bosch eMTB Mode w/ eMTBs from Moustache, Lapierre, BULLS, Cannondale, Riese & Muller, KTM, Trek, IZIP, Haibike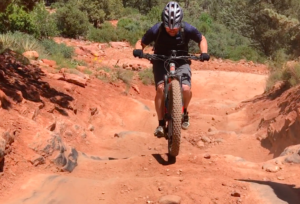 Every year Bosch, Magura, and other bike companies get together in Sedona, AZ for the Magura Ride Camp to show off their latest products to journalists from all over the US.
This was the 13th annual Magura Ride Camp and it was good timing for the launch of the new Bosch eMTB mode!
eMTB mode automatically adjusts the Bosch power modes (Tour, Sport, Turbo) based on your pedal power so all you have to do is focus on your riding. Set it, forget it, and ride!
You can learn more about eMTB mode in the video below with Jonathan Weinert from Bosch.
Also in the video are some new eMTBs from Moustache, Lapierre, BULLS, Cannondale, Riese & Muller, KTM, Trek, IZIP, and Haibike.
In addition there are videos of:
The Bosch eMTB race & eMTB riding
Magura's eMTB brakes, suspension fork, wiresless dropper post
SQ Lab ergonomic saddles, grips, bar ends, handlebars, and more
SKS fenders, pumps, and other accessories
Bosch eMTB Mode: Moustache, Lapierre, BULLS, Cannondale, Riese & Muller, KTM, Trek, IZIP, Haibike
Bosch introduces their new eMTB mode that automatically adjusted the pedal assist levels to fit your riding style so that you can focus on your ride.
Also in this video are new eMTBs: Moustache Samedi 27 Trail 6, Lapierre Overvolt Special Edition, BULLS 650 Plus, Cannondale Moterra, Riese & Muller Delite, KTM Macina Lycan, Trek Powerfly 8, IZIP Peak DS, Haibike All Mtn 8.0.
eMTB Racing & Riding at Bosch/Magura Ride Camp
Here's a quick look at the Bosch electric mountain bike race and some eMTB rides from the Bosch/Magura Ride Camp in Sedona, AZ.
Bosch is sponsoring 2 major eMTB races this year. The first is at Snow Summit, CA on July 23 and the second is at Mammoth Mountain, CA on September 16.
Find out more at www.TLDBoschBoogaloo.com
I had a chance to ride the Cannondale Moterra and the Moustache Samedi 27 Trail 6 out on some pretty tough terrain. They are both fully capable eMTBs with some innovative battery locations and the plus size tires with full suspension is a great fit for eMTBs.
Magura Brakes, Boltron eMTB Suspension Fork, & Vyron Wireless Dropper Post
In this video from the Magura press camp in Sedona you will see their 4 piston hydraulic disc brakes, eMTB Boltron inverted suspension fork, and the Vyron wireless dropper post that uses ANT+ protocol.
SQ Lab Ergonomic Components: Saddles, Grips, Bar Ends, Handlebars, and More
SQ Lab makes a wide variety of ergonomic bike components to make your ride more comfortable. They focus on providing seats that fit your sit bones and riding style, along with an assortment of grips, handlebars, bar ends, stems, and more.
SKS Fenders, Pumps, and Other Accessories
SKS makes a lot of accessories to keep you riding. They have quick install fenders, floor pumps, small pumps, air canisters for quick air on the go, and more.
Stay tuned for more eBike news and reviews!
-Pete
P.S. Don't forget to join the Electric Bike Report community for updates from the electric bike world, plus ebike riding and maintenance tips.
Reader Interactions