Looking Back at the 2020 eBike Year
An Unexpected eBike Boom that Begs Many Questions
2020 has been a hugely tumultuous year for the world and for e-bikes too. March 16th has been tagged as 'the week the world shut down' with what seemed at the time as dire consequences for the majority of industries. However, with many countries declaring bike shops as essential service and allowed to stay open, and city authorities soon putting place cycle-friendly measures in place to encourage cycling as a means of socially distanced transport and lockdown exercise things began to change as far as e-bikes were concerned. They represented just one small but vital tool in helping societies around the globe to keep healthy and keep functioning in dire and tragic circumstances.

Bike and e-bike use rocketed and led to shortages in shops whilst city streets were deserted of motor traffic at the height of the lockdown; for example motorized trips dropped by some 80% in Los Angeles since the March restrictions were announced. Air quality saw an unprecedented leap in quality. In major cities the Covid crisis acted as a spur for major investment. Across Europe more than 1 billion euros has been spent and more than 1400 miles of cycle lane created. Here are some of the major infrastructure developments from around the globe in 2020:
Milan, Italy announced €115m to stimulate cycling. The government has pledged subsidies of up to €500 if citizens want to buy a new bike or an e-scooter in a bid to keep people off public transport and out of cars.
Houston, Texas recently announced its Vision Zero plan for transport aiming for 50 miles of sidewalks and 25 miles of high-comfort bikeways each year for the next ten years. The Zero refers to the aim of reducing road fatalities to zero (though a note of caution is sounded by this Bloomberg article). Another 2020 infrastructure success – small but notable – was NYC's Jackson Heights beautiful tree-lined 34th Avenue becoming an 'open street' to allow more social distancing, allow people to get some exercise and have better mental health. Now that the open street runs for 1.3 miles every day from 8am to 8pm, you will see children, families, exercisers, seniors and people using it that need to shop & run vital errands.
For a roundup of European pro-bike developments check out this informative BBC article or check out the film below. It gives a flavour of the success e-bikes have been enjoying. To give one example Taco Carlier said his electric bike brand VanMoof sold more bikes in the first four months of 2020 than it did in the previous two years.
By July motor travel was returning but the bike and e-bike boom continued and e-bikes continued to be in short supply for the rest of the year. No doubt supplies will normalise but the big question for the continued success of e-bikes continues to be will the new cycle lanes be kept and will more be built; all the evidence suggests that once cyclists feel safe cycling they will arrive in droves.
Cyclist friendly roundabouts like the one below in Cambridge, UK are everywhere in the Netherlands but this is a first for the UK and caused quite a stir.
So the big question heading into 2021 is will the momentum for more bike infrastructure and more pro-bike measures continue. Certainly many members of the C40 Cities group have recognised the need for change and many seem determined to push it through. The post-Covid recovery, in the eyes of many of the world's major cities, it seems is inseparable from tackling climate change and promoting light electric vehicles like the e-bike.
Top eBike Launches
Mid-Drives
The headline act in 2020 in terms of mid-drive launches was probably Shimano's launch of the EP8 mid-drive that will be appearing on 2021 e-bikes such as the new Pivot Shuttle. 
Newly launched for high performance 2021 e-bikes, the EP8 is Shimano's attempt to go toe to toe with Bosch's Performance Line CX motor.  It matches it for torque and beats it on weight due to a new magnesium casing.
Star of the EP8 launches though was arguably the lightweight  Orbea Rise. It's claimed weight is 16.3kg though at the expense of a relatively small 360Wh battery.
Another high profile eMTB launch was Yamaha's announcement the of two new e-mtbs: the YDX-MORO and the YDX-MORO Pro. The YDX-MORO bikes are All-Mountain Class 1 e-Bikes with pedal assist up to 20 mph. They feature a proprietary Yamaha PW-X2 Motor with an upgraded Quad Sensor System. This Quad system adds an angle sensor to Yamaha's current Triple Sensor System which permits the addition of Automatic mode for a seamless transition between assist levels.
One of the more unusual off-road mid-drive e-bikes that appeared in 202 Yuba's 'first limited edition off-road electric cargo bike, the Spicy Curry AT…..the new model incorporates front suspension, seatpost suspension, off-road tires and other specific components designed to carry passengers or gear over gravel, dirt or other off-road terrain.' It features a high quality Bosh Cargo Line motor.
Serial 1 ebikes – MOSH/CTY and RUSH/CTY gained as much attention for being a Harley Davidson spinoff as for their impressive spec; all powered by the 90 Nm torque / 410% pedal assist Brose S Mag drive more often found on top performing e-mtbs. Battery packs are frame integrated and very low down with a choice between 529 Wh and 706 Wh capacities.
[youtube https://www.youtube.com/watch?v=ugWBj8dSy3A&w=498&h=360]
Some mid-drive launches in 2020 were notable for the power or speed they packed including:
Evelo Delta X Duo with a whopping 1114Wh capacity via it's two onboard batteries, one on the frame and one in the rear rack. It also features a hugely powerful mid-drive which claims a 750W rating and 120Nm of torque.
The Priority Current: Describes itself as 'the most progressive e-bike on the market, with more power and more comfort than any of its competitors at an unmatched price point. At 140Nm max torque, a 500 watt motor, and an integrated 500 watt-hour battery, and an ultra-responsive e-bike specific Shimano hub…'
Keeping up the ultra-powerful mid-drive theme Jeep also launched an impressive looking off-road e-bike (actually a rebranded Quietcat). The 750W motor can be upgraded to a 1000W (generally not street legal) and there is a throttle control that can be deactivated to make it into a class 1 pedelec if required. There is also a sizeable 696Wh battery.
[youtube https://www.youtube.com/watch?v=xHiTO3sYr_Y&w=510&h=287]
Bosch announced a new Performance Line Sport drive unit to their portfolio of pedal-assist eBike motors in October. It gives assistance up to 28 mph. Because it's a Class 3 drive unit (up to 28 mph), Performance Line Sport is only available in the U.S. and New Zealand and it wasn't long before it was snapped up by Tern who announced it would be used on their first speed pedelec the HSD S11.
Mid-drive e-bikes notable for their lightness were rare but did pop up form time to time.
Canyon launched the Commuter:ON a lighter urban model with a claimed 17.6kg weight for a medium frame model. It used the Fazua Evation motor system which has less power than say a Bosch system but is much lighter and is fully removable so you can ride the bike as a 'regular' bike if you like. It features adjustable handlebar height, built-in pannier rack and high quality LED lighting.
LOOK took the mid-drive weight saving even further, launching the E-765 GOTHAM. It was described as 'ultralight' and it features a carbon fiber frame and, like the Canyon, Fazua Evation mid-drive which can be removed from the bike so it can be ridden as a 'regular' machine and has a claimed weight of 15.8kg.
One of the lightest of all the mid-drive launches however was the Specialized all new Vado SL – a fast hybrid style range with a headline grabbing weight 33 pounds/14.9kg for the lightest model and using their own lightweight mid-motor. Older Vado versions have used heavier mid motors but now the SL 1.1 motor used on previously on the much pricier Creo (e-road bike) and Levo (e-mtb) models comes to the commuting and leisure orientated Vado.
There was further good news for fans of lightweight mid-drives with the launch of the new Yamaha PW CE mid-drive, rated at 250W with 50Nm of torque with a stated weight of  just 2.9kg (coaster brake version), making it 'the lightest drive unit ever created by Yamaha' reportedly.
'Budget' mid-drives are pretty rare but affordable e-fat bikes with a mid-drive even rarer. Enter IZIP's Sumo; it has a Bosch Active Line Plus mid-motor, 4-inch tires and Tektro M735 hydraulic disc brakes with 4-piston front caliper and 2-piston rear. The fully formed aluminum alloy frame and fork have plenty of cargo mounts to carry heavy loads. $2850 might not sound cheap but for such a spec it's outstanding.
Looking further to the future however announcements from Finland's Revonte and France's Valeo of their combined mid-drive and gearbox units, seemed to herald a major new line of development for heavy duty e-bikes and light electric vehicles. To quote Valeo:
'The Valeo Smart e-Bike System is the first solution in the world to integrate both an electric motor and an adaptive automatic transmission in the pedal assembly. With this new electric assistance system, the bike adapts to the cyclist, and not the other way around. The gears change automatically and the system's algorithms instantly adapt to the amount of electric assistance the cyclist needs right from the first pedal stroke.'
With electric traction and gearing all combined in one touch looking unit it's a design which could herald the arrival of a whole new swathe of e-bike and light electric vehicle designs. Indeed EAV from the UK already announced back in January they were using the Revonte on their innovative four-wheeler that utilised e-bike tech.
Hub Motor Launches
The most notable budget hub motor e-bike launch in the US was surely Rad Power's Rad Mission, launched at US$999 with a sizeable 504Wh battery and a 500W rear hub motor plus integral lights. Here's the EBR lowdown on the bike.
In Europe notable budget hub motor launches included:
Halfords Devron range including a step-thru model at £1000.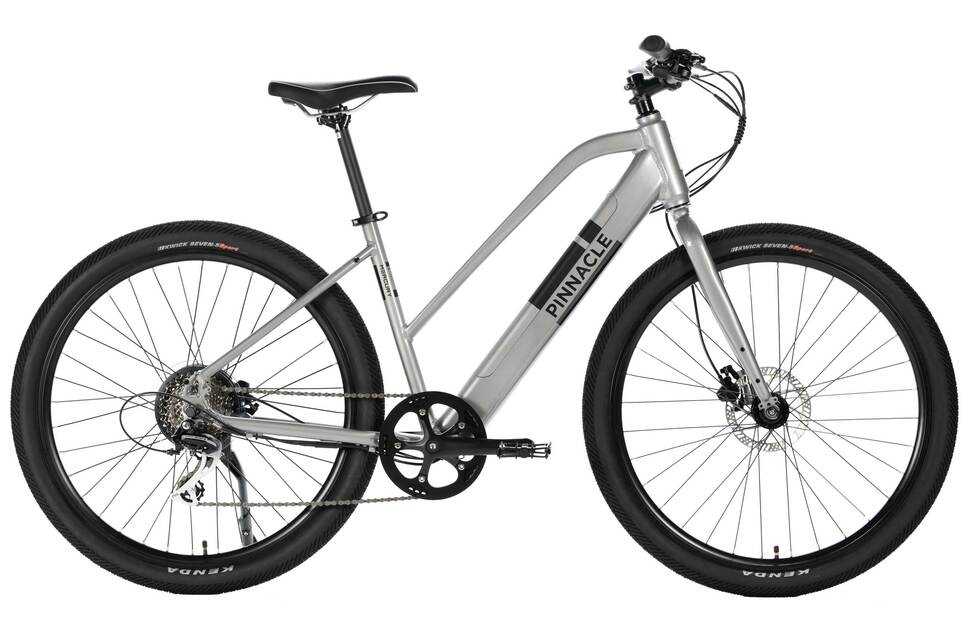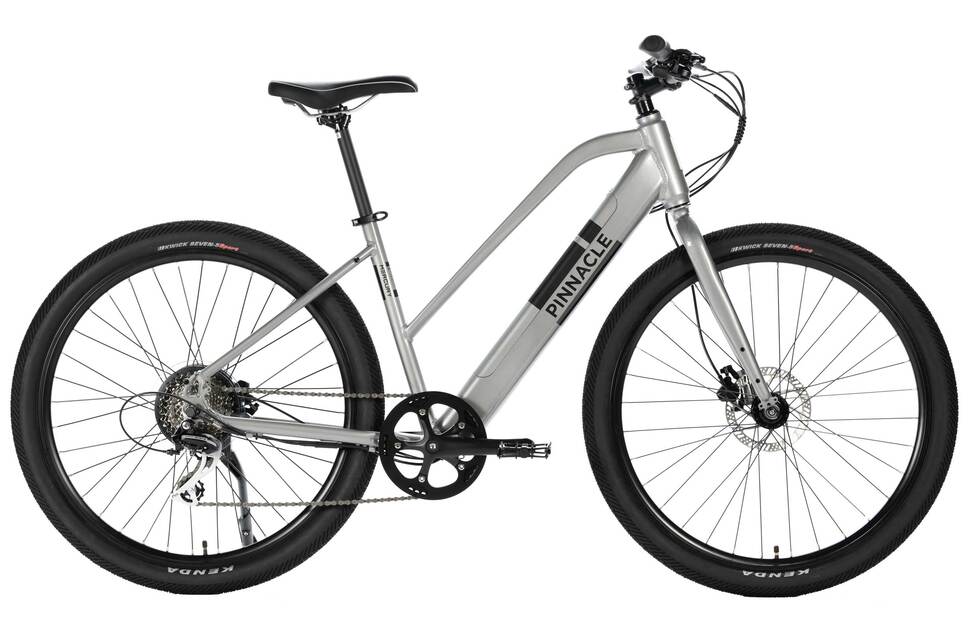 Evans' sleek hybrid design the Mercury an impressive for an £1100 e-bike. It includes fully frame-integrated 374W/h battery, Bafang G020 rear hub motor with 45Nm of torque, hydraulic disc brakes and high-volume 2.2″ wide tyres on 27.5 MTB format rims . There are also mounting points for water bottles, rear rack and mudguards.
Though not exactly bargain basement bikes Dutch bike maker Vanmoof launched its next generation ebikes, the S3 and the X3 with a redesigned power system, automatic gear shifter, a rear wheel-blocking kick lock, smart tech and an upgraded app. They are some 60 percent of the cost of their predecessors at £1798.
Hub motors can also be good for 'specialist' e-bikes and a good example from 2020 is the electric assist version of the balance bike from Mondraker, the Grommy. Available in two sizes, 12-inch or 16-inch, both using an 'easy-to-control 250W power unit'.
More of a cross between an e-scooter and an e-bike, the remarkable Jack Rabbit also began crowdfunding in 2020.
The last couple of years have seen hub motors gain in popularity when at one point it looked as though they might be relegated to 'cheap and cheerful' e-bike models only. The predominant recent trend has been small hub motors powering lightweight e-bikes.
Early 2020 saw UK firm Cytronex launch a lightweight hub motor retrofit system specifically for Bromptons and the company is now getting so many orders it is looking to expand.
Taiwanese firm Gogoro are aiming to make hub motors svelte and sexy and are bringing the virtually cableless, lightweight Eeyo 1 e-bike offering to Europe. With distribution agreements in several European countries expect to see more and more of the intriguing Eeyo 1.
Other notable lightweight hub powered launches included the fully-specced COBOC Iseo, the Furo Aventa, and the Wilier Triestina Hybrid Move Fast. If the Le Mond carbon framed e-bikes arrive as touted in January and prove successful their 12kg stated weights could set a real benchmark for slick city e-bikes.
Even more notable were Islabikes eJanis and eJimi, both aimed at older riders and utilising low gearing together with the ever popular Mahle X35 rear hub system.  Claimed weights are 13.5kg and 13.8kg respectively, the eJimi being aimed at off road riders.
The end of the year saw a particularly promising launch in the form of Finland's innovative and sleek looking Equal Bike – lightweight like many others but with a particularly attractive price tag of €1490 benefitting from a €100 discount with delivery slated for summer 2021.
[youtube https://www.youtube.com/watch?v=IJ4k6RDl8jY&w=498&h=422]
Mention must also be made of the  BiMotal Elevate retrofit system announced in fall 2020, a unique motor that mounts around disk brake mounting points and has a claimed weight of 2lbs / sub 1kg with a 750W rating assisting 'up to 28mph'! It claims to remove in 20 seconds with only 200g of extra weight remaining on the bike.
A more conventional but very attractive kit launch was from Polish firm Velotton who launched what looks to be a very minimalist e-bike retrofit kit the Vekkit. It features just three main components; battery, front hub  motor and wireless sensor that attaches to the pedal crank. It has a claimed overall weight of just 3kg, with prices starting from €535. Vekkit say they have options for city bikes, touring bikes and folders. Electric assist is limited to European spec of 25kmh but Vekkit's website intimates they will ship to many countries globally including USA.
Small eBikes That Do It All
Small but highly capable e-bikes that carry all manner of things have gone form strength to strength in 2020. Most notable was the launch of the next generation of the Tern GSD, their flagship 20″-wheeled 'mini' e-cargobike.  Tern says 'Improving on the previous iteration, the new GSD offers a stronger, stiffer, and even more stable frame able to carry up to two kids or an adult passenger, plus your groceries.' Other new features include a more powerful motor, new double kickstand design, front suspension fork, integrated footplates, Rohloff hub gear option, better tall rider geometry, and new luggage options.
November saw the release of weatherproof passenger accessories for the Tern GSD.
Even at the start of the year it was clear these incredibly useful and practical genre of e-bikes were becoming very popular with Rad Power Bikes announcing the limited release of the RadRunner Plus, a feature-rich version of the brand's groundbreaking electric utility bike, the Plus fully loaded with exclusive upgrades and accessories.
The Rise and Rise of eCargo Bikes
2020 saw e-cargo bikes being used for everything from providing ambulance services on the streets of Paris to delivering building materials in London.
Proof that the e-cargo bike trend has truly, truly caught on came with the announcement of Cube's Cargo Sport Dual Hybrid -Cube being a high quality, value for money and truly 'middle of the road' type e-bike manufacturer who surely wouldn't launch any new model, let alone a very expensive e-cargo bike, on the basis of 'let's launch one and see what happens'!
For a truly refined take on a child carry bakfiets design which finally became available in 2020 after several years in gestation through several designs check out Carqon.
The commercial potential of heavy duty e-cargo bikes was also picked up by the UK's Pashley who announced advance details of a new UK-designed e-cargo trike, set to enter production in April 2021. Currently under the project name ALECS, the articulating lightweight electrically-assisted cargo solution will "has a number of features including a tilting mechanism, for which a patent has been applied for.
ALECS will be compliant with the German standard DIN79010. It will have a gross weight (including the rider and the e-trike itself) of up to 300kgs and a load capacity of up to 1.2 cubic metres. Its narrow wheelbase option means it can be used on cycle lanes and in areas with restricted access.
Similarly Ukraine's Delfast moved aware from their 'core' offering of big battery superbikes to launch a practical and sturdy looking e-trike delivery model clearly aimed at cost-conscious businesses:
[youtube https://www.youtube.com/watch?v=_3nVWyn9fLw&w=498&h=360]
E-bike mini-cars are still on the horizon but it seems to be a horizon that it getting much closer. Germany's Schaeffler announced they were hoping to sell over 1,000 of their  Bio-Hybrid, in 2021 whilst in the UK EAV from Oxford hope to have their vehicle in production as taxi vehicles by next year too.
[youtube https://www.youtube.com/watch?v=JqZHZQtd5ek&w=498&h=360]
eBike Access Increases as Does Legal Standardisation
Early September saw The Great American Outdoors Act signed into Law. The extra funding it secures means mountain bikers and electric mountain bikers could ultimately see more trails opening up for them to ride on.
The Land and Water Conservation Fund is now permanently funded at $900 million per year as of 2019, and the fund is divided into two separate parts—federal and stateside. Add that to new resources for maintenance backlog on federal public lands, and land agencies will have access to nearly $2 billion per year for the next five years. It has been described as the biggest land conservation legislation in a generation as well as being an unlikely success story that attracted bipartisan support from both major political parties. It is aimed at addressing, amongst other things, the US$12 billion backlog of maintenance to repair roads, trails, campgrounds, monuments, fire safety, utilities, and visitor infrastructure in National Parks.
It was also good to see Order 3376, developed by the Department of the Interior of the United States, implemented. It aims to encourage the usage of eBikes on public lands. To encourage eBike usage, the new order has simplified and unified all e-bike regulations across the four sub-departments and the lands governed by them. Any public land, park, or area managed by the Bureau of Land Management, the Bureau of Reclamation, the Fish and Wildlife Service, and the National Park Service will now follow the same rules and regulations. With this order, the Department of Interior hopes that the new regulations will clear up many of the restrictive and inconsistent policies that regulated eBike usage on public lands in the past. Note the new rules will not apply to any lands managed by the United States Forest Service.
Similarly encouraging was the expansion of the three class e-bike model, being adopted by more and more states. By the end of 2020, 39 of the 51 States in the U.S. will have implemented the same 3-class model legislation on e-bikes. This stands for three-quarters of the U.S. that has clear legislation in place which must be good news for those who want to see wider use of e-bikes.
eMicromobility Makes A Comeback
Despite appearances at the start of Covid that e-bike and e-scooter share projects would suffer or even disappear, the latter part of the year saw a strong turnaround.
E-bike share projects also gathered impetus after the shock of the first lockdown. Boulder's iconic and longstanding B-Cycle announced it would be doing electric trials towards the end of the year whilst  the similarly named Charlotte BCycle in North Carolina has a new name, a new look – urban bike sharing company Charlotte Joy Rides' 250 revamped e-assist bikes found their way onto the city's streets recently and also found their electric assist speed increased to 15mph and varied, striking new paint jobs designed by seven local artists. Spectrum News1 also announced Lyft are now offering share e-bikes in Santa Monica.
Some share e-bikes were also developing to keep their bikes more usable and more easily available to users. Dott are a good example and began a European rollout in 2020 from their Amsterdam base. TheDott e-bike itself looks interesting as it reportedly features the latest technology 'such as parking assistance, anti-vandalism, and anti-theft. Also, there will be advanced GPS navigation software for proper parking and lowest carbon footprint claims the company. The unique features as detailed by Dott include a unique frame from of a single piece, custom-developed 26" foam tyre inserts for improved durability and cushion.'
[youtube https://www.youtube.com/watch?v=j_VZ53mJ-Ro&w=1109&h=624]
In terms of sheer numbers of share e-bikes added though the major news was that the Portland Bureau of Transportation has announced a new 5-year contract extension for the Biketown bike-share system. It included an all-new fleet of 1,500 pedal-assisted electric bikes with a top speed of 20-mph.The rollout from fall onwards appears to have been going to plan.
The UK, where e-scooters are illegal, saw e-scooter 'trials' begin (bought forward because of the Covid crisis) and expand so that as of writing there are some 20 or so prjects running across England as pictured below:
Clearly expansion is on the cards for many e-scooter companies and the UK's eBiketips reports that 'Micro-mobility firm, Voi, has raised £120m as it seeks to establish itself as the biggest operator in the European e-scooter rental market.
With the increasing rollout of e-scooter projects came more concern by the e-scooter providers for safety. Voi  launched its new helmet selfie feature, which uses AI to determine if a customer is wearing a helmet during an e-scooter ride whilst Lime are developing 'acoustic alerts' to warn blind and partially sighted pedestrians of an e-scooter's approach.
But perhaps the best example of a safer looking e-scooter came the new Bolt model reinforcing the trend for bigger sturdier and tech-smarter public share e-scooters. It's key points were a super hefty 19kg weight, stated 40km range, aluminum construction and an estimated lifespan in public use of  5 years. It also features 'built-in sensors to detect accidents and unsafe riding' adding 'On the integrated dashboard, you can receive alerts telling you that you're riding in a pedestrian area, or in a low-speed area. You can also see if you're allowed to park in this area. Bolt plans to turn on front light blinking when you enter a pedestrian or low-speed area.'
Tech Crunch reported 'Lime is focused on deploying the Gen4 (electric scooter)….The Gen4 will roll out across Europe in early 2021….The developments concentrate on safety and user friendliness as the new Gen4 'features swept-back handlebars that are similar to the design of bike handles, which Lime says allows for a more comfortable grip. The new model also sports an enhanced suspension and larger wheels, a dual hand-brake system, a lower baseboard to optimize the center of gravity on the scooter and a new kickstand with two legs.'
Stay tuned for more e-bike news and reviews and thanks for reading!
-Rich
Reader Interactions