London Bike Show: New Electric Folders & Commuters + Innovative Accessories [VIDEO]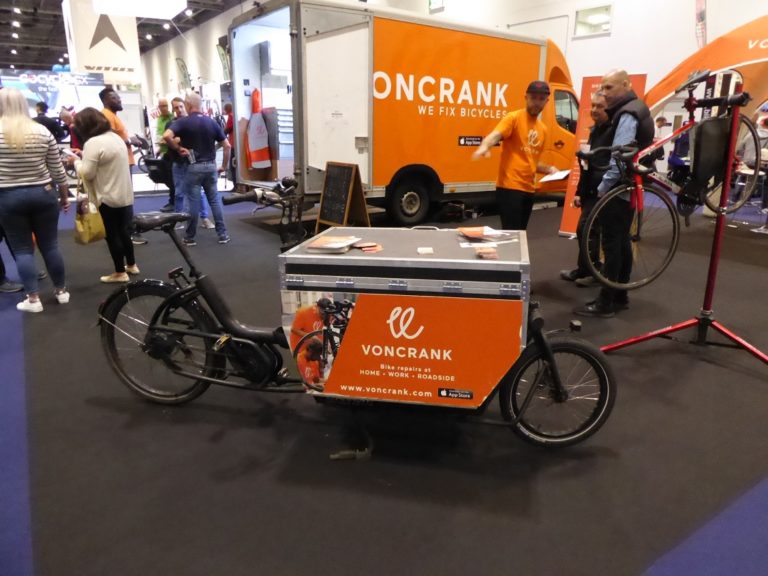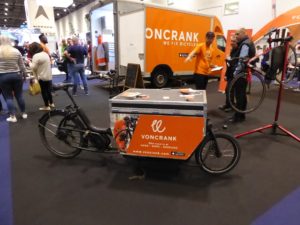 I took a stroll around the London Bike Show (29th-31st March) for a day, to check out what was happening in the always busy e-bike area.
In this report:
New Gocycle GX eFolder
Compact Brompton eFolder
Lightweight Hummingbird eFolder
Ribble's new eRoad & eCommuters
Von Crank Mobile Mechanic
Foldable Helmet
And More!
eFolding Market Heating Up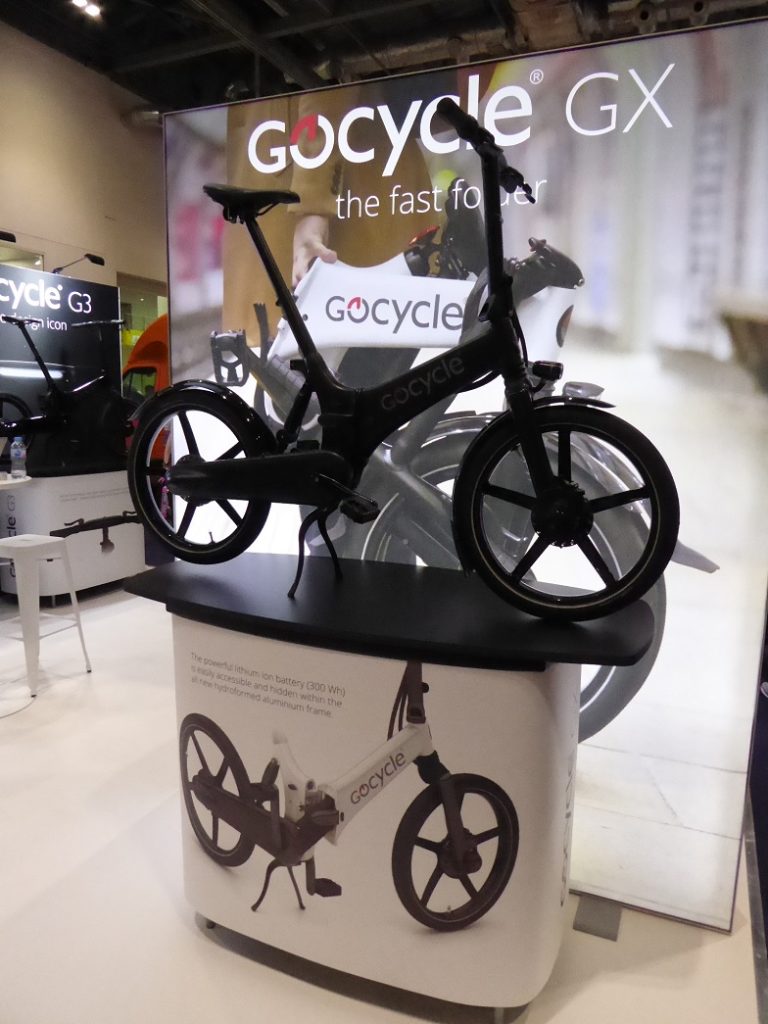 GoCycle launched their fully folding GX model, which retains practical features like side-mounting 'pitstop' wheels and a fully enclosed drivetrain and its own design of hub motor…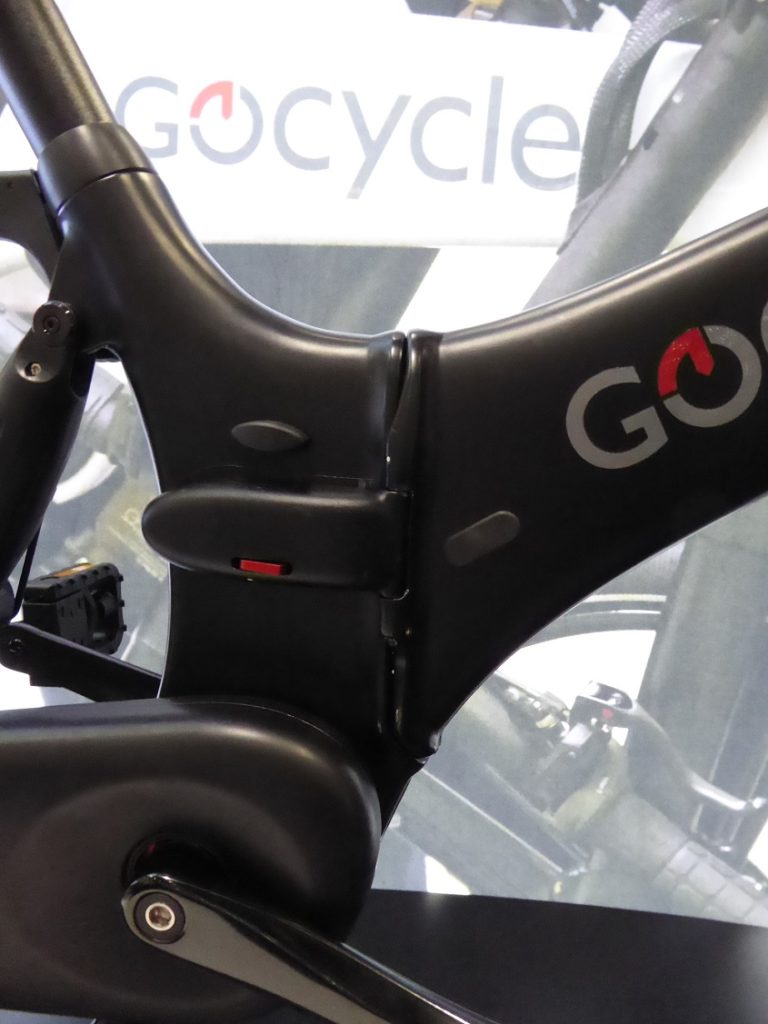 …..whilst introducing a quick-fold frame with a mid-frame hinge.
Just across the way was the the Brompton Electric, soft-launched last year but now proving very popular on the test track as Brompton take it to a mainstream market. Both folded pretty quickly and compactly and rode well on the test track.
Whilst the Brompton folded more compactly that the GoCycle (it folds more compactly than most folding bikes), the very innovative front battery mounting system comes at the cost of some luggage space, whereas the GoCycle has front and rear rack options for plenty of carrying capacity.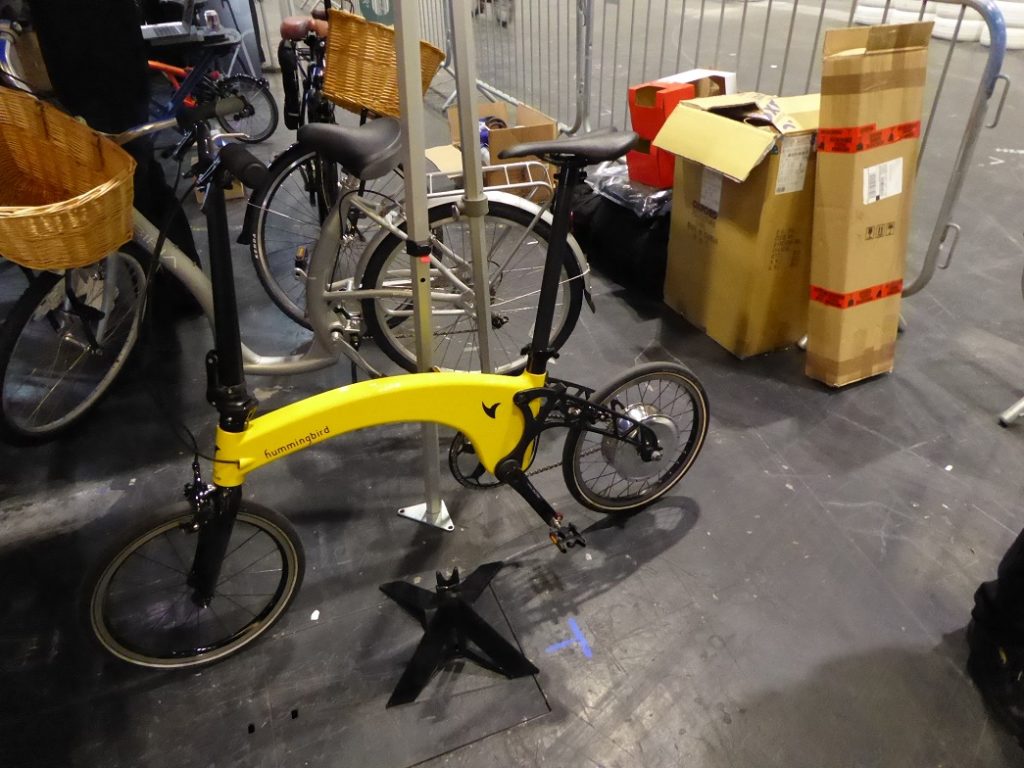 Adding to the newly competitive folding e-bike scene were Hummingbird, clearly way ahead in the weight stakes, with a claimed weight for their electric model of 22.7 pounds or 10.3kg.
This is achieved by combining a monocoque carbon frame and the all-in-one Zehus drive system, which includes direct drive motor, battery, controller and torque sensing electronics in a single rear hub.
It folds into a longer, thinner package than the Brompton and GoCycle but it too delivered nice smooth assist on the test track.
Urban Commuting Forging Ahead
Bike commuting in London is massive; according to this Wired article it was approaching three quarters of a million trips a day in 2018.
As the same article points out, it is also dominated by sporty male riders, especially at rush hour, when the new cycle superhighways can resemble race tracks.
This video gives a flavour of how cycling in London is developing and details how cycling at rush hour in London can be an 'intense' experience.
This sporty element was reflected in many of the e-bikes on show at the test track, most notably Ribble's launch of four lightweight electric bikes.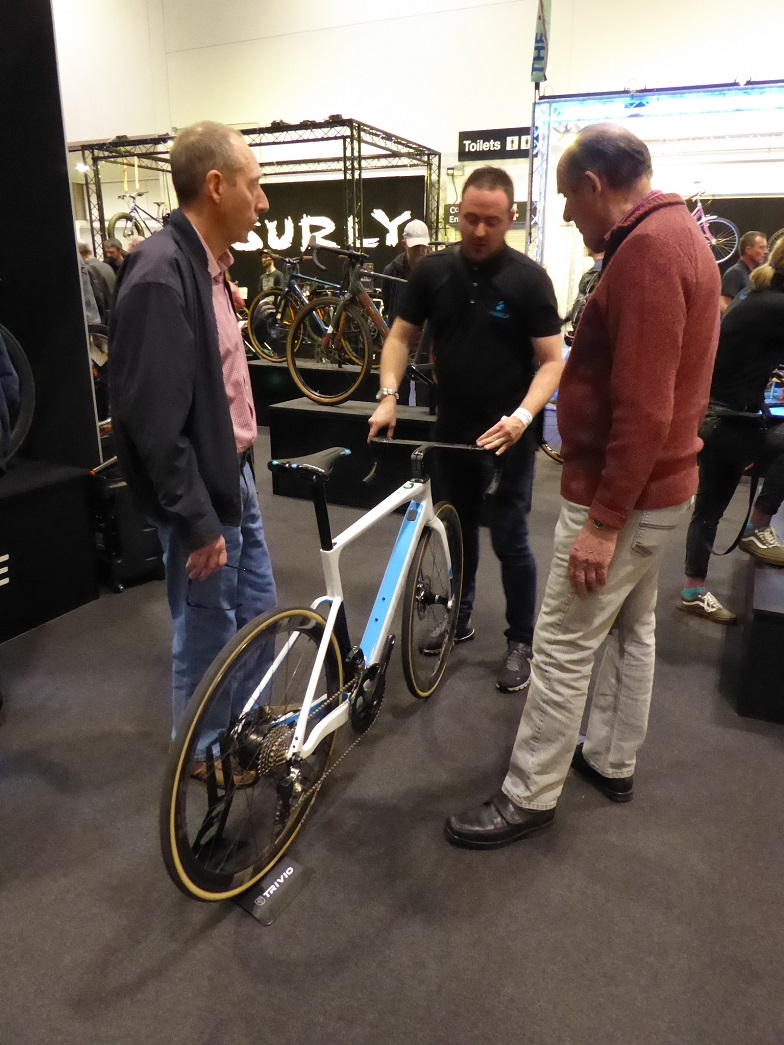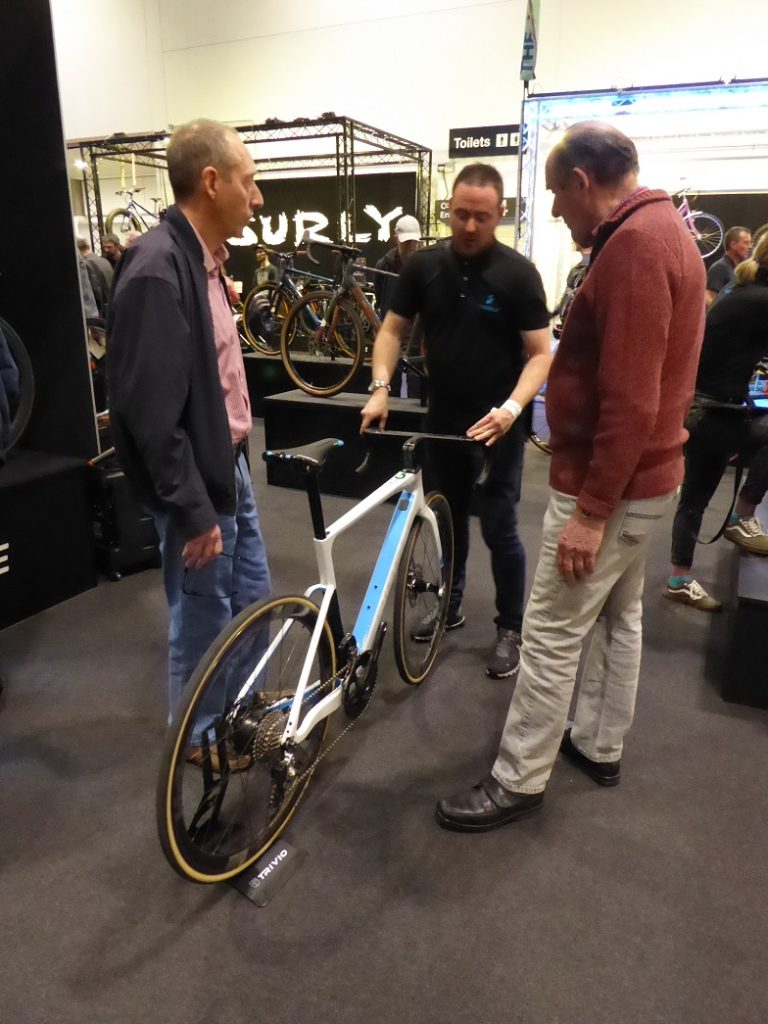 All four models launched, the Endurance Sle, the CGR Ale (Road and Trail options)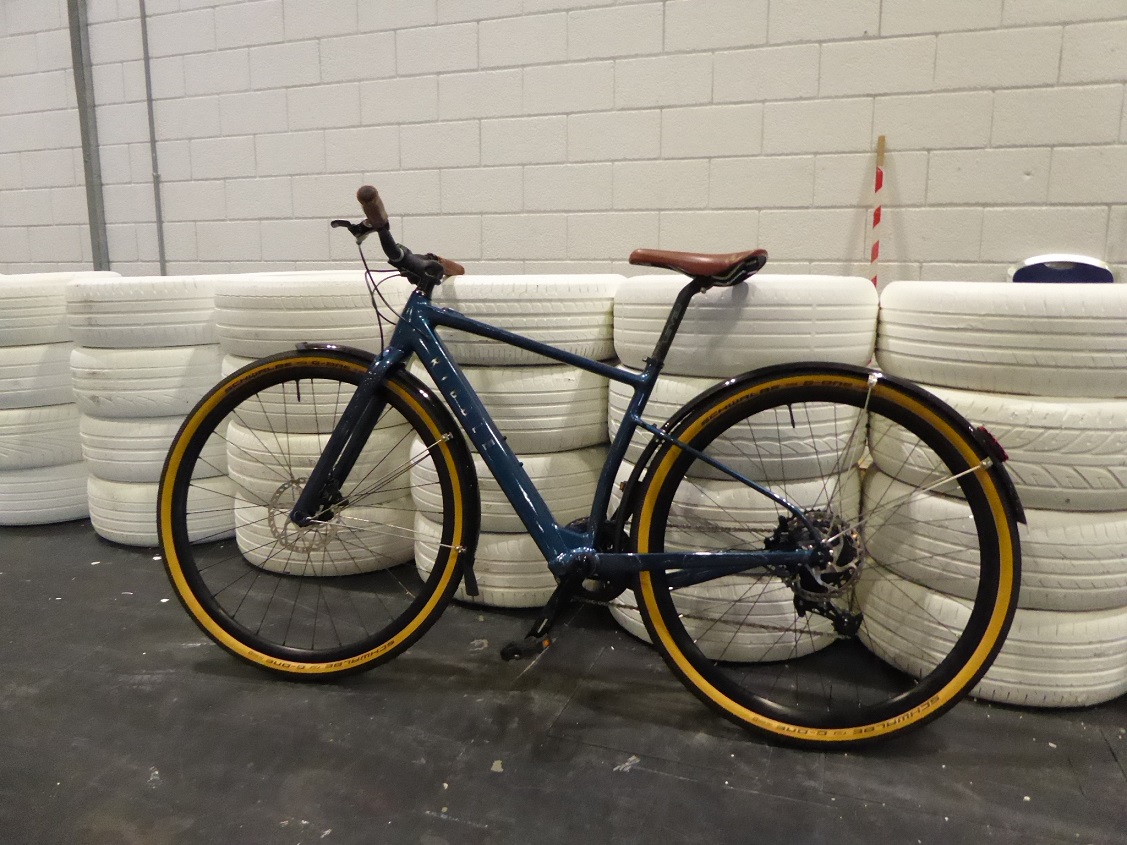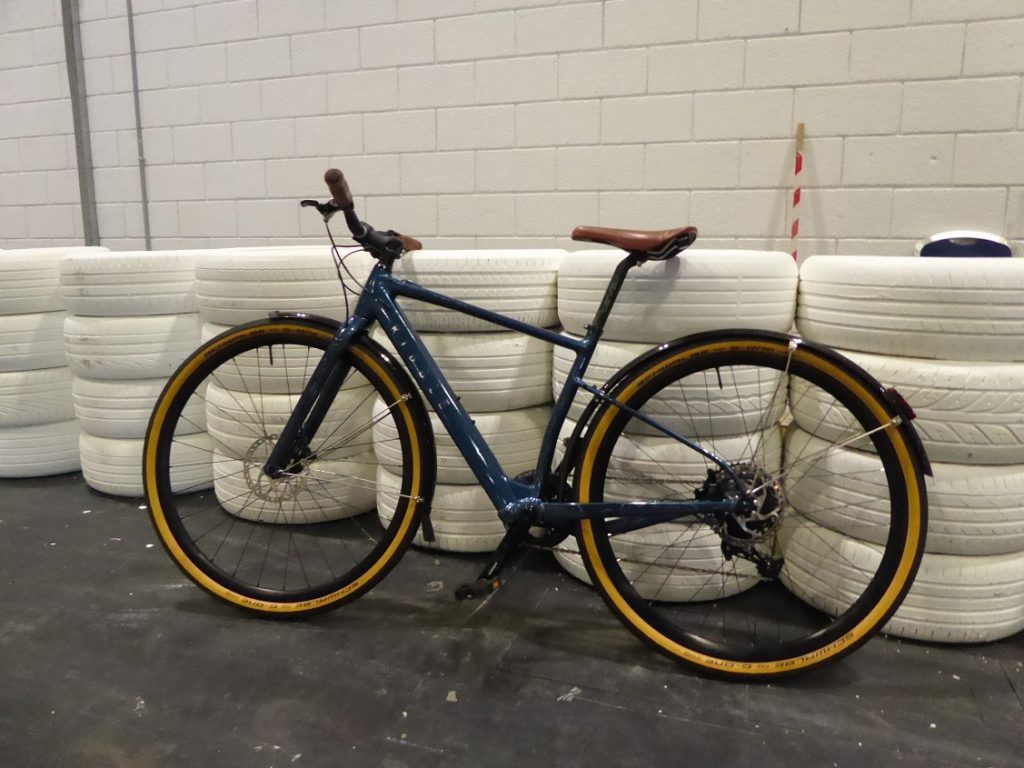 and the flat bar Hybrid Ale use the Spanish-designed Ebikemotion system.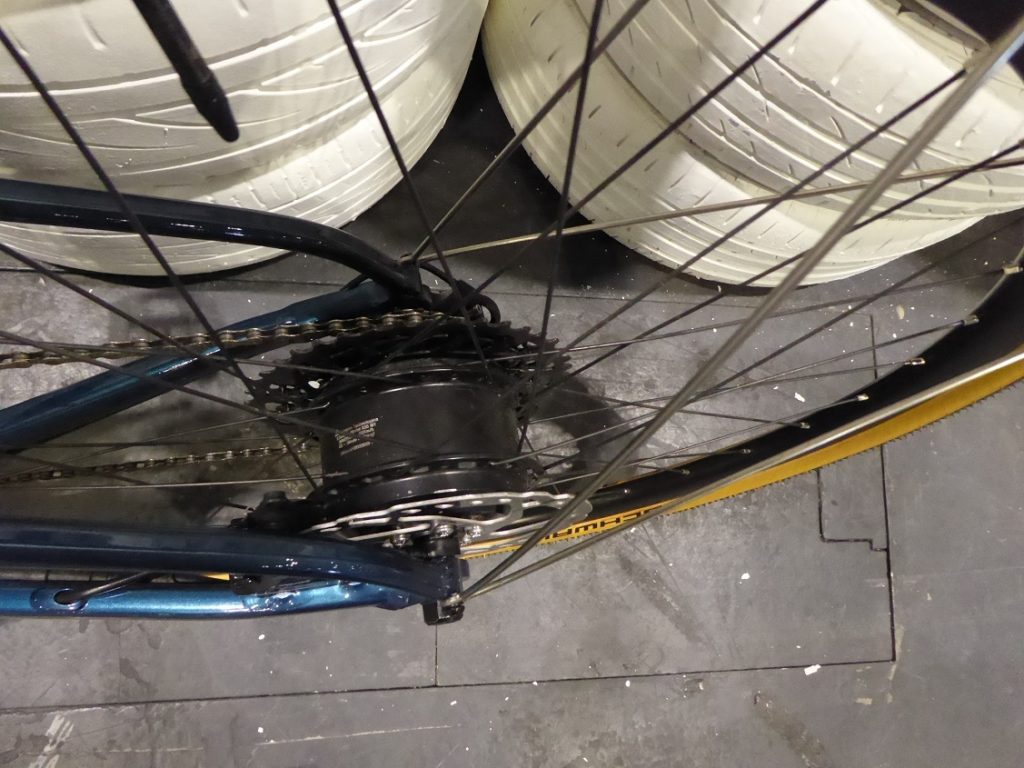 This consists of a barely noticeable rear hub motor, in-frame batteries and a single push button power control on the bikes' top tube; in short it's very hard to tell these are electric bikes.
Orbea also had models on the test track that used the Ebikemotion system; adding only 3.5kg to the weight of a non-electric bike, it's easy to see how it would prove extremely popular with speedy London commuters getting where they want to go as fast as possible at bike rush hour.
Having said all that, London is one of the few places in the UK where electric cargo bikes can be seen on a daily basis too; often in the more residential areas away from the Cycle Superhighways which often run along main roads.
Reflecting this, Tern's compact e-cargobike the GSD was getting lots and lots of miles on the test track.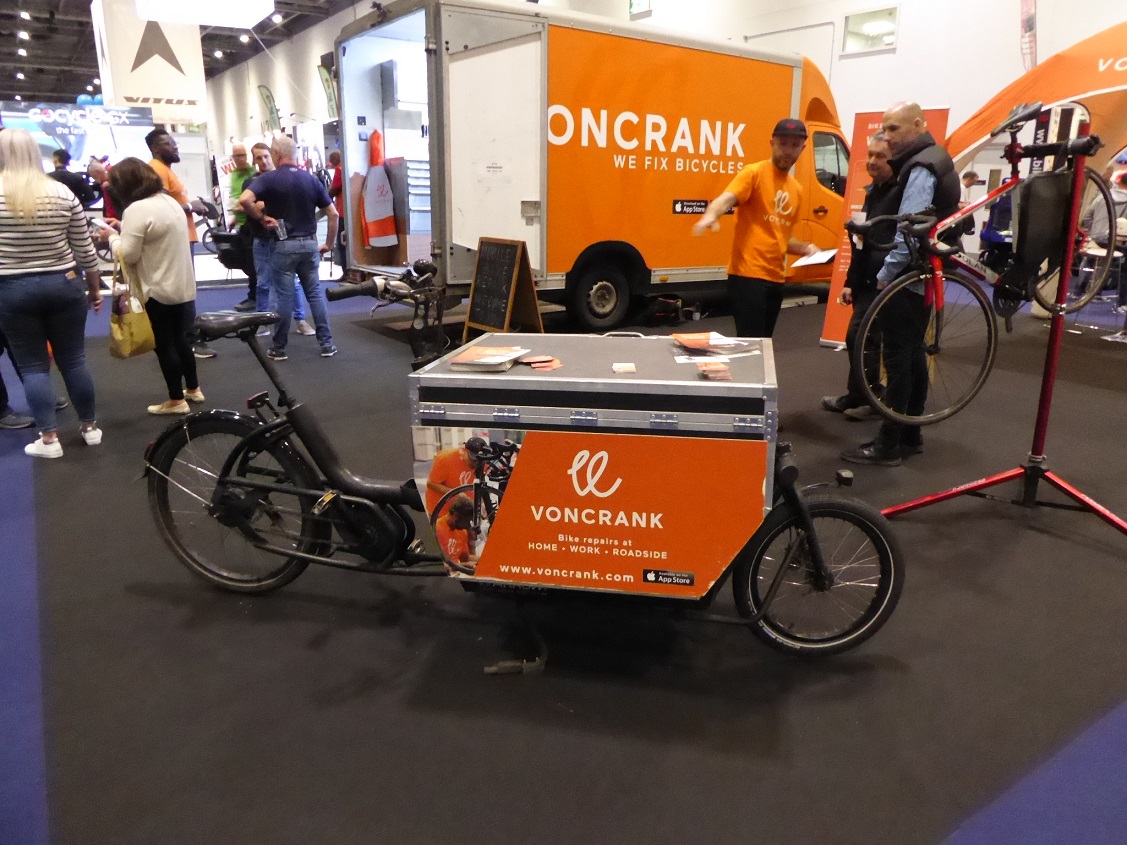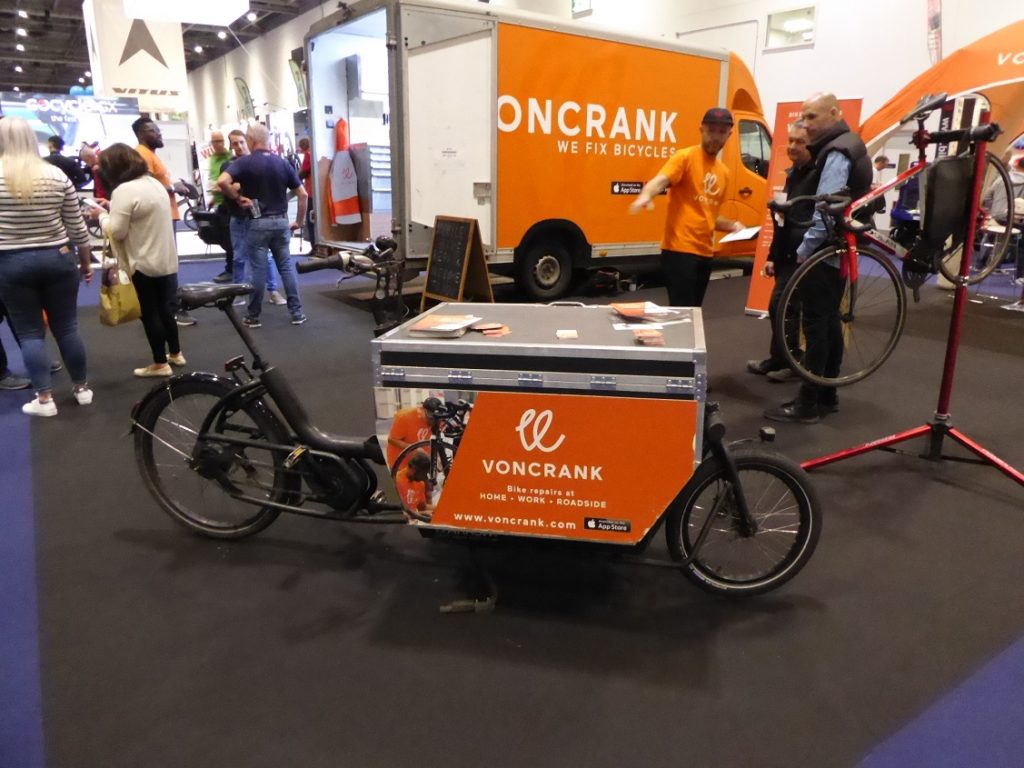 Mobile repair specialists Von Crank were exhibiting one their mechanic's Urban Arrow e-cargo bikes with a truly massive carrying capacity; sufficient, the mechanic told me, to do the vast majority of bike repairs, including a full strip down and rebuild.
The Von Crank app lets customers see how far away a mechanic is and slot a repair time into their busy London life. Great idea!
There was also a contingent of more leisurely e-bike designs, including Dutch bike specialists Gazelle, funky looking French brand O2feel and UK-based Ridgeback .
Yet More UK Companies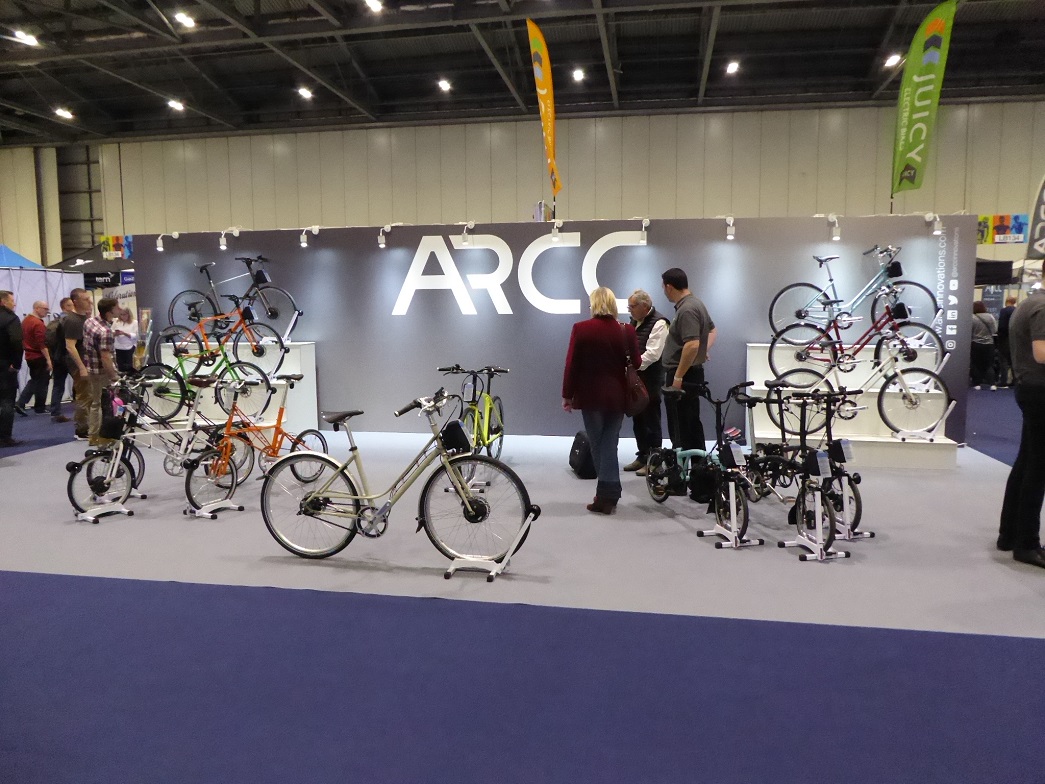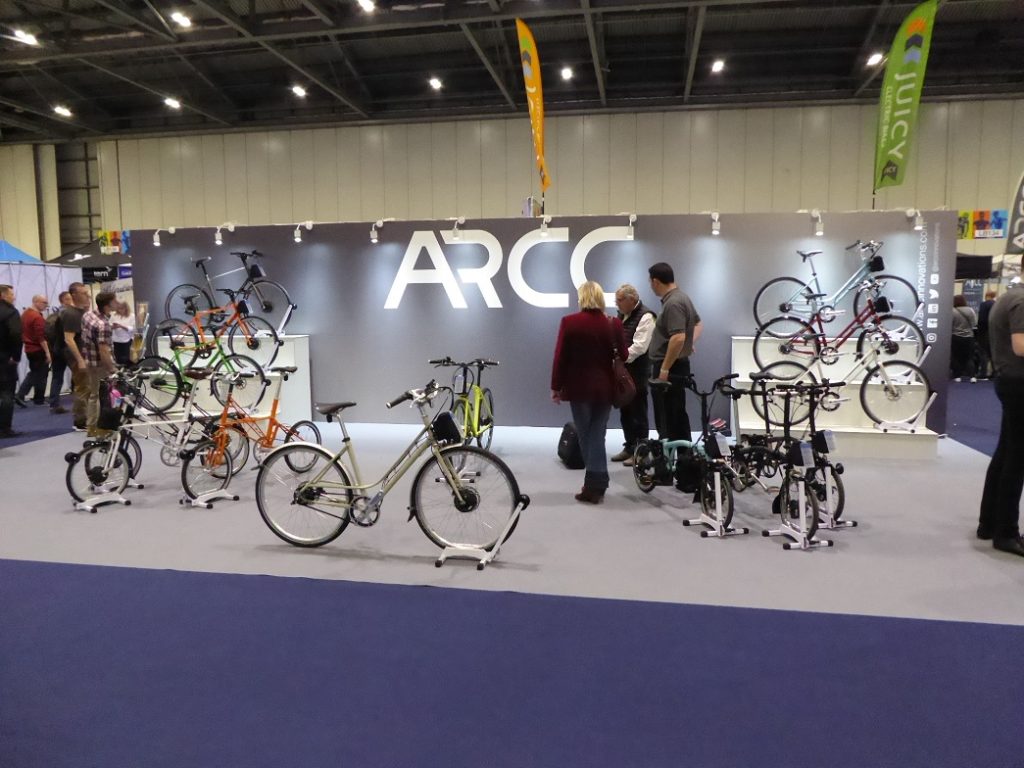 A couple of other UK companies had their own unique take on e-bike design. We have featured Cambridge-based ARCC Innovations before with our Moulton test.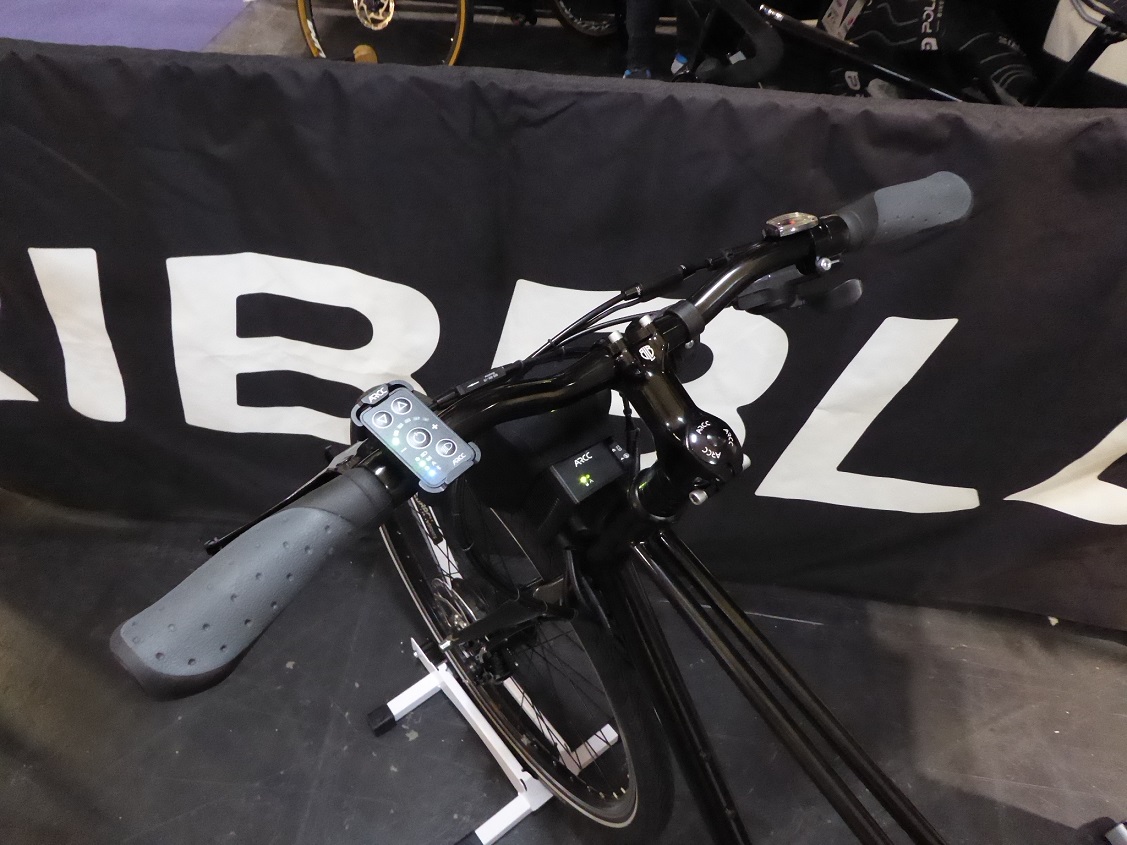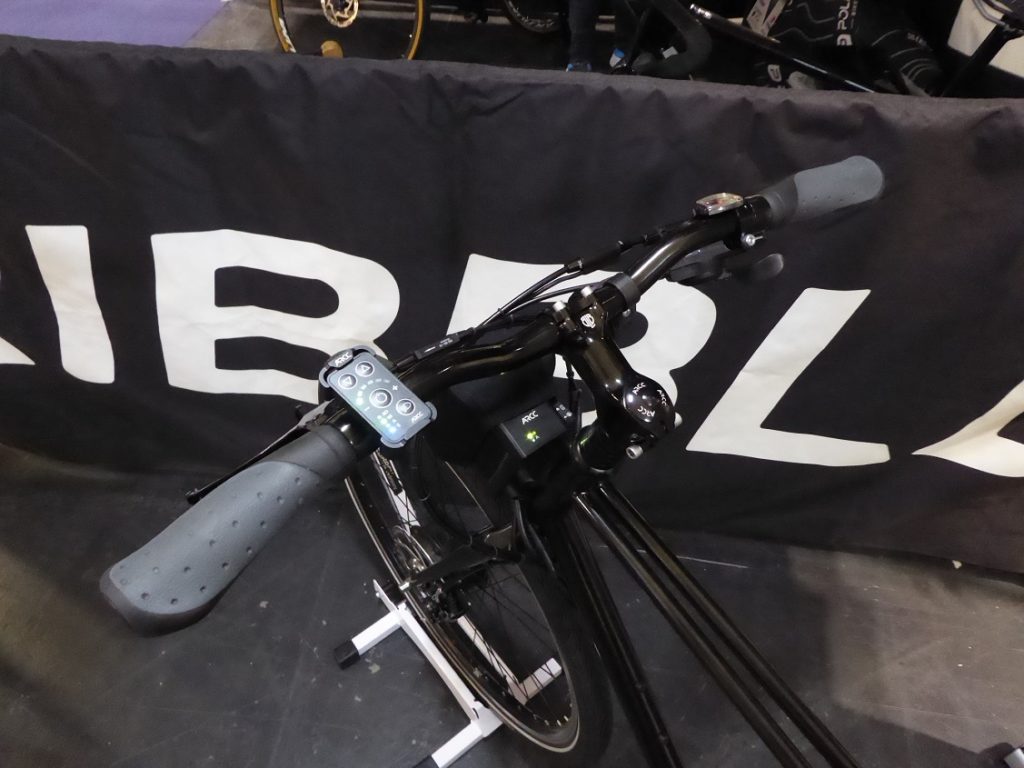 The system has evolved since then, most notably with the addition of a wireless handlebar power control button and it is now available on a much wider variety of models including Airnimal and Brompton folders.
ARCC were using the show to debut their two new stylish urban commuters, the Abingdon and the Rosemont.
Their frames are handbuilt at their Cambridge factory with 4130 aluminium steel tubing for that thin elegant look, whilst maintaining great frame stiffness and strength without compromising on a comfortable ride. Stated weight for both models is an impressive 32 pounds or 14.5kg.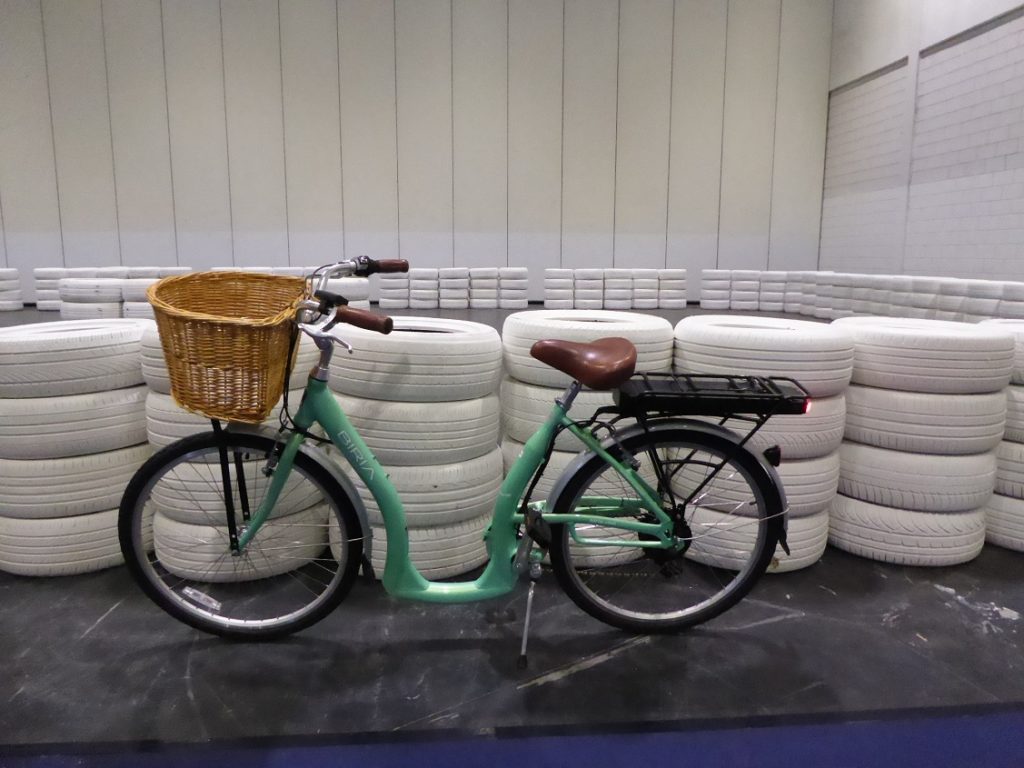 Southsea Bikes introduced me to their their ultra-low step-through model the Biria Easy Boarding 7.
It comes in electric and non-electric versions, former being created by Southsea who have added a Promovec motor and battery.
Southsea say the market is not just older riders but also those who, for whatever reason, can't or really don't want to raise a leg over any kind of frame, for example those with injuries or disabled riders.
E-kickscooters Getting Kickstarted?
Electric kickscooters were present both at the show and on London's streets – despite their illegality in public spaces they can be seen being used on London bike paths and appear to be tolerated.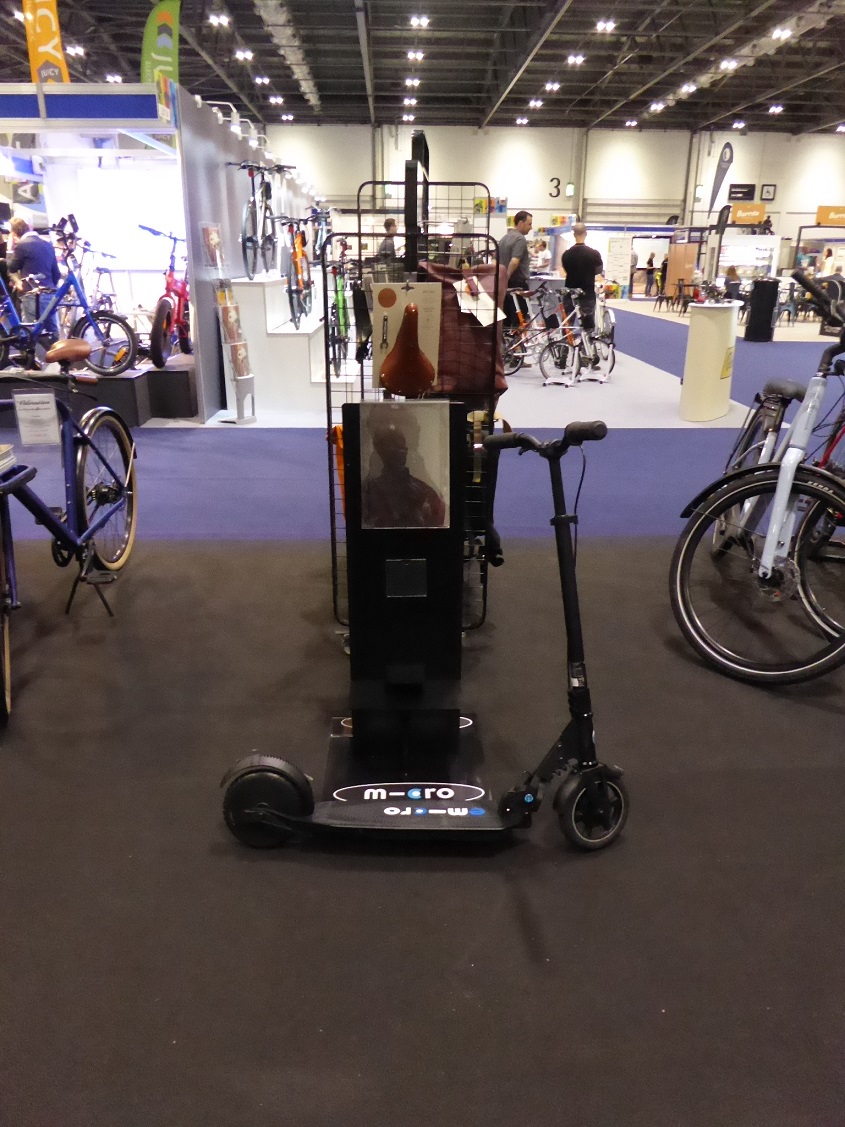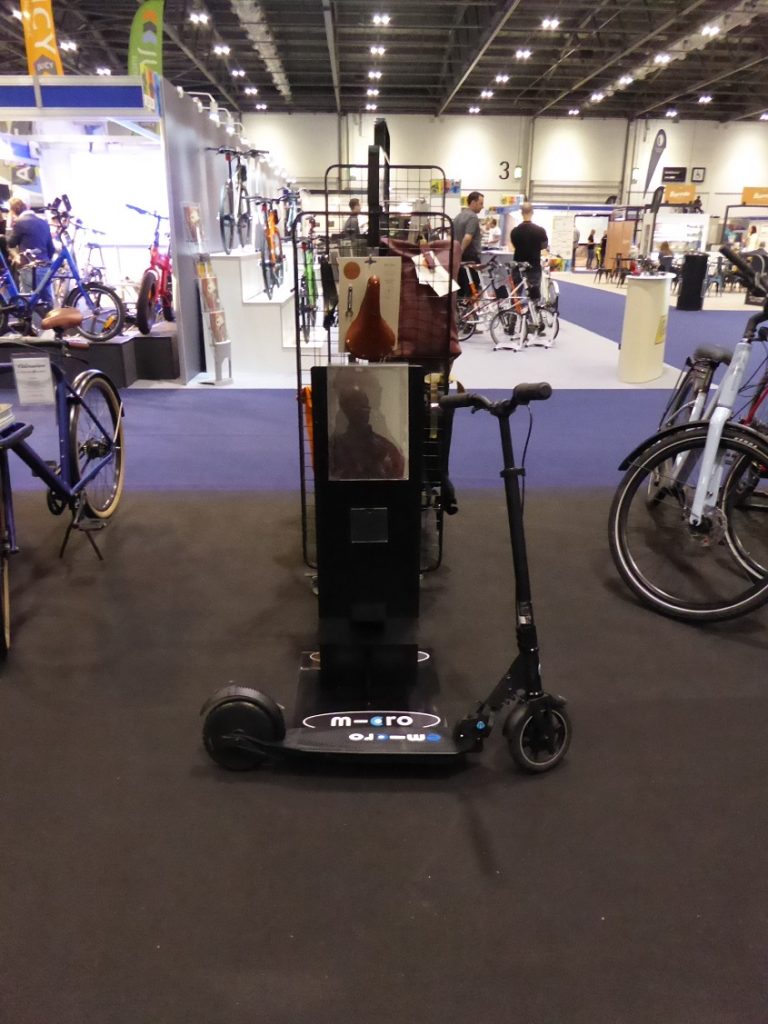 With e-kickscooters becoming legal in Germany and their legalisation being hinted at in Westminster, could the London Bike Show morph into an electric micromobility show the type of which are already appearing on the continent?
Innovative Accessories
Bike shows are always seen as good launching pads to garner the maximum attention for new and innovative bike accessories and there were a handful at the London Bike Show.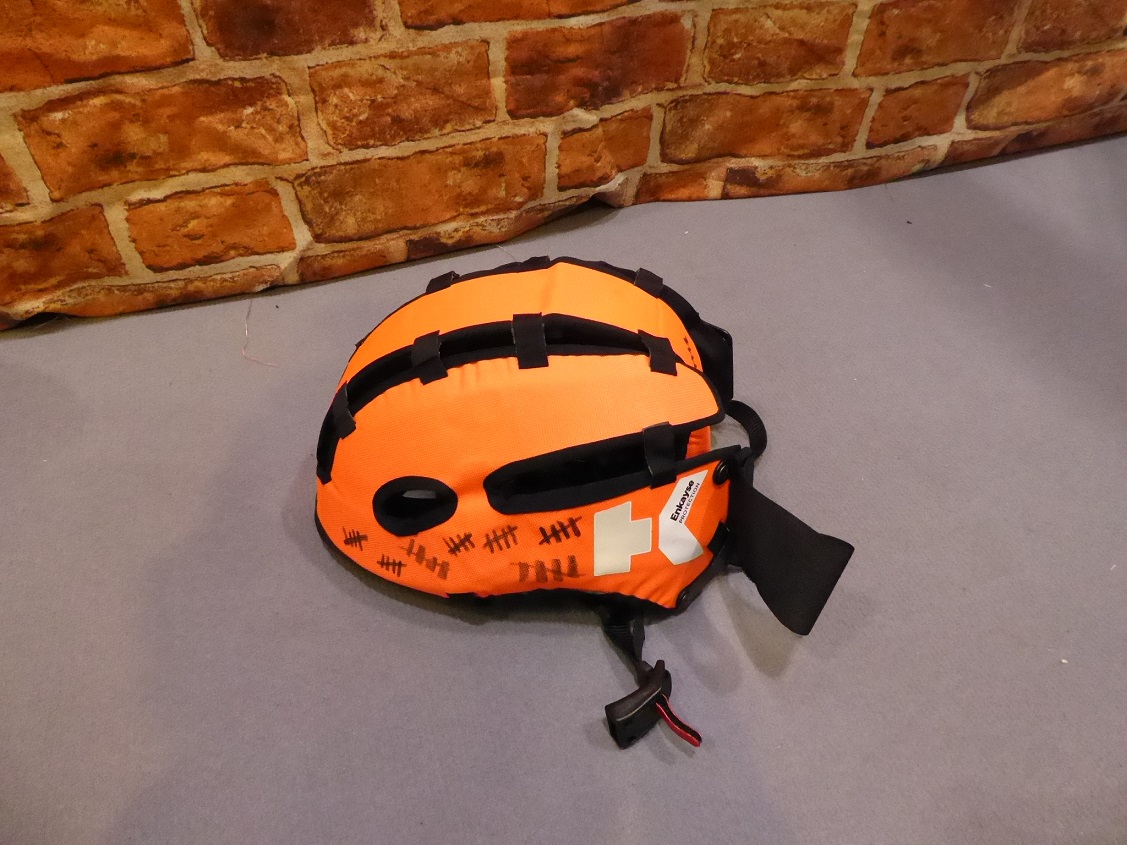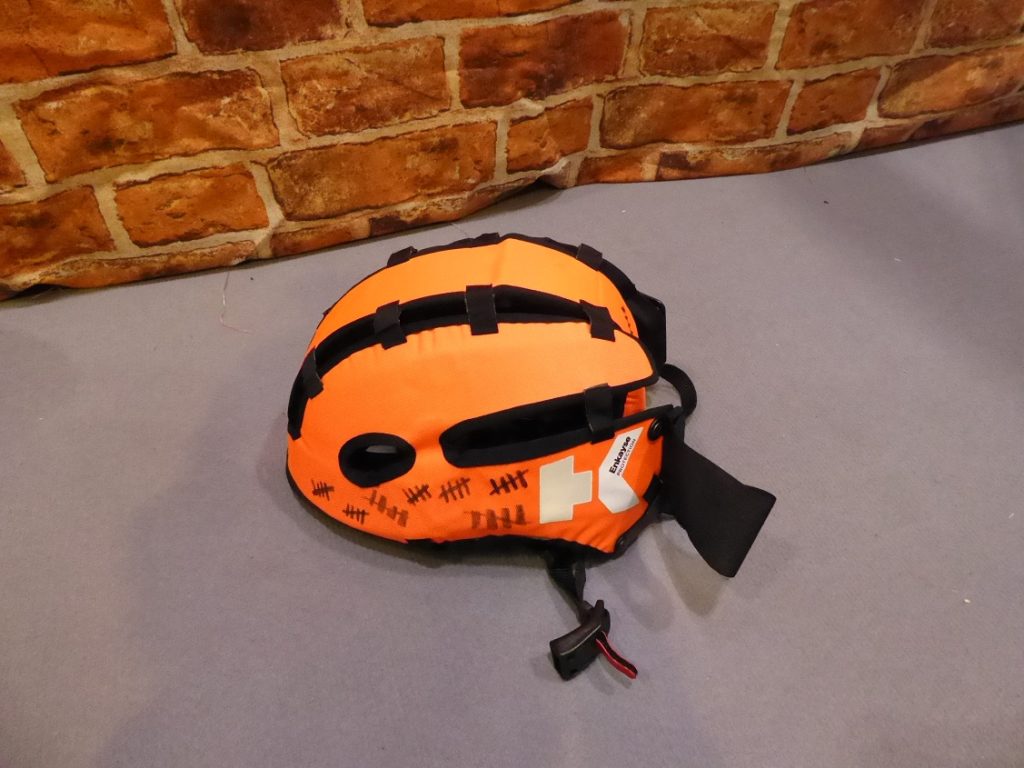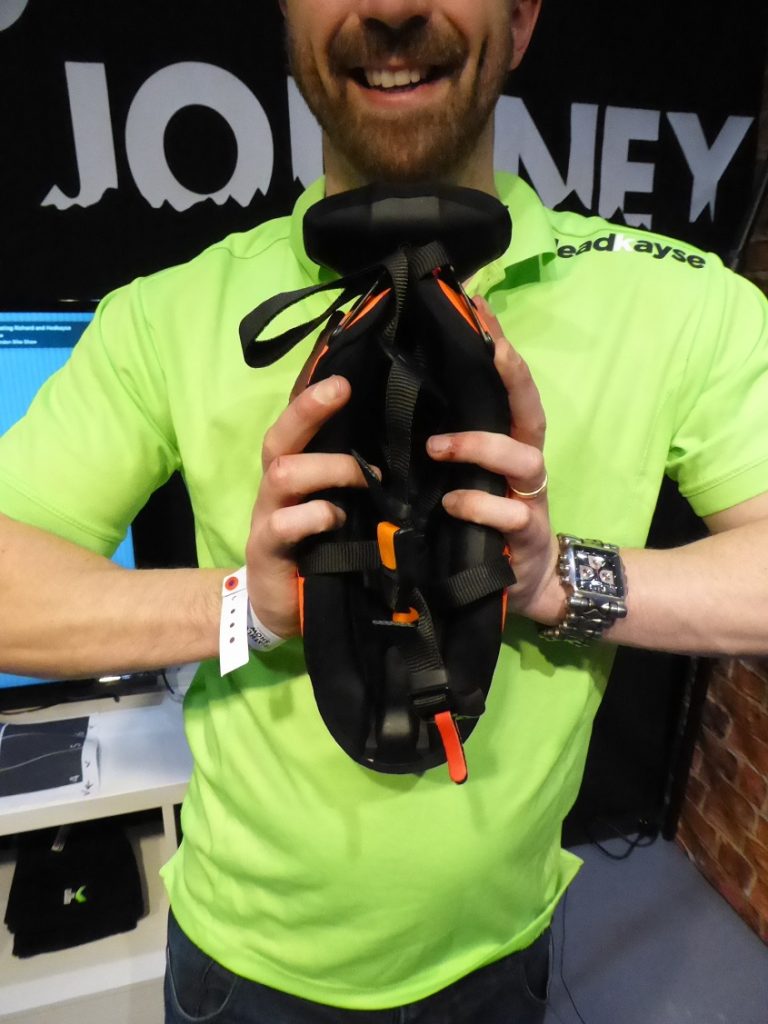 Hedkayse describe their product as 'The first truly multi-impact cycle helmet of its kind. Designed and made in the UK from Hedkayse's own Enkayse material… Its patented folding design makes it ideal for the urban cyclist, commuter and bike-sharing user.'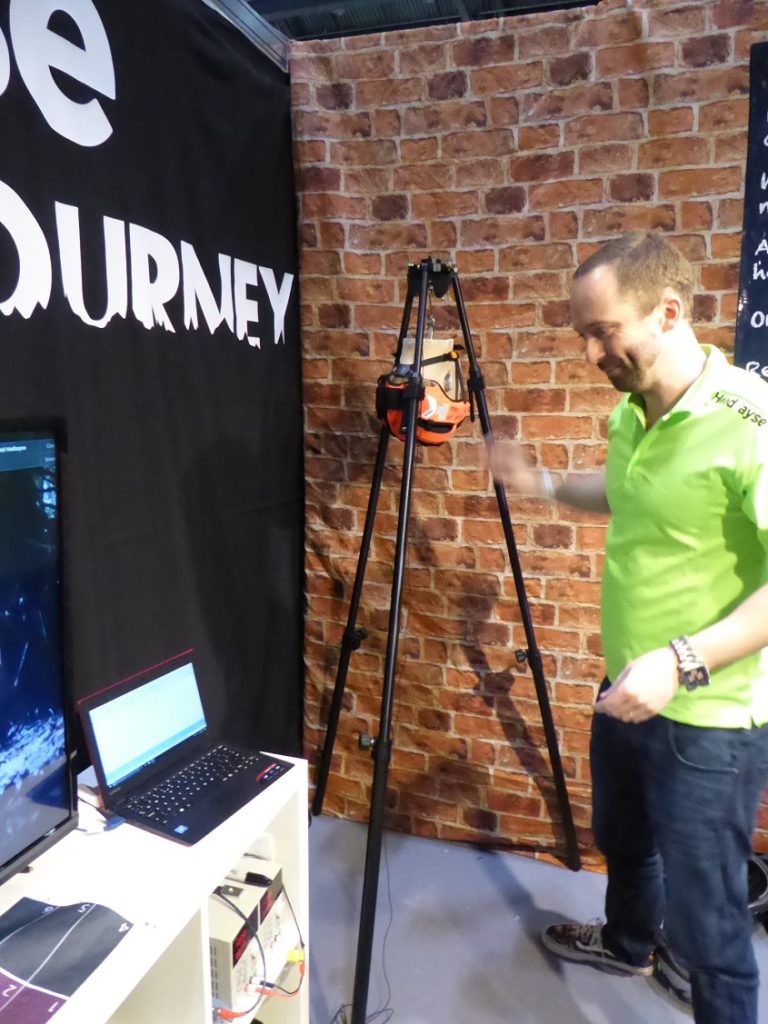 Their drop test rig featured a convincingly scientific demonstration of how the material they use will cushion impacts and how it will recover to do the same job again and again.
Galanck is a French-designed smart bag with bike indicator lights that can be operated manually or linked to GPS data via a smartphone app to make a turn signals automatically on approaching a junction.
Squire were demonstrating their D-lock operated via Bluetooth on your smartphone whilst UK based Litelok were demonstrating their light but strong locks which they say are up to 50% lighter than other locks of the same standard.
Stay tuned for more e-bike news and reviews and thanks for reading!
-Richard
P.S. Don't forget to join the Electric Bike Report community for updates from the electric bike world, plus ebike riding and maintenance tips!
Reader Interactions