Interview with Faraday Bicycles CEO, Adam Vollmer [VIDEO]
Faraday Bicycles made a splash in the electric bike world a few years ago when they introduced the Porteur.
The Porteur has a classic European style and concealed electric bike components that almost hide the fact that it is an electric bike.
In 2011 the Porteur won the Oregon Manifest People Choice Award for best utility bike.
To find out more about the Porteur and Faraday Bicycles, I had the chance to interview the CEO of Faraday, Adam Vollmer.
First of all, enjoy this video with Adam talking about his inspiration for the Porteur:
Alright, let's get into the interview!
Pete: Adam, how did you get into electric bikes?
Adam: I first got into electric bikes during my years at IDEO when we would go to Interbike and cruise the fringes of the show looking for the most interesting new technologies and ideas.  This was back in maybe 2009, 2010.
We'd come across all of these ebikes and ebike components from the Taiwanese manufacturers, and it just seemed like this huge disconnect – there was clearly an industry there, but none of it was penetrating into the middle of the show where all the big bike brands were.
When I led the Oregon Manifest design effort, we were inspired to design an ebike that could have resonance for that more mainstream cyclist.
Pete: The Porteur has a very classic look.  What was the design focus for the Porteur?
Adam: I actually have a great picture of the bike that originally inspired the Porteur.  It's a Swedish delivery bike from close to the turn of the century, with a double top-tube for reinforcement and a giant front cargo rack for delivering groceries or mail.
When we first set out to design the Porteur, we wanted it to be a utility bike, which forced us to define the word "utility".  We decided that it meant that the bicycle would be an integral tool for daily living – something you could use, ideally, every single day.
The Porteur is our modern-day incarnation of that old Swedish utility bike, except that instead of carrying the mail, our modern rider is throwing in a 15-inch laptop and whisking off to their graphic design job.  I think it's a really romantic reinterpretation of a classic.
Pete: Could you give us some of the tech specs for the bike (motor, batteries, pedal assist or throttle, internal geared hub, belt drive, etc.) along with the reason for those specs?
Adam: The Porteur has a 250W geared hub motor, a custom 240Wh battery, and is a pedal assist bike with a torque sensor and 2 assist modes, controlled by a custom thumb switch.
The drivetrain is an 8 speed internally geared hub and belt drive.  High-powered (4W) LED lights are integrated into the frame.
I can sum up the rationale for every component, electric or non-electric, as this: we wanted the Porteur to be first and foremost a bicycle, meaning that with or without the pedal assist, it should be exceedingly intuitive, low-maintenance, and delightful to ride.
That means light weight (<40 lbs), no throttle, silky-smooth components like the belt drive and internally geared hub, and a battery that strikes the right balance between range (20 miles) and low profile.
Pete: The steel frame is made in the USA. A lot of companies are having their bikes built overseas. Why did you decide to have the Porteur frame made in the USA?
Adam: We chose to build our inaugural run of Porteurs in the USA because it was the best way for us to achieve uncompromising quality in the timeline we needed.  Not only did we build the frame domestically, but we did all of the assembly as well.
A lot of people assume that Asian manufacturing is synonymous with lower quality, which is not necessarily true.  Any manufacturing partner requires an enormous investment of time and resources to achieve good results.
But – when that manufacturing partner is down the street, as opposed to a 13 hour flight away, troubleshooting and solving problems on the fly is a lot less painful!
Pete: The Porteur is very light (39 lbs.) by e-bike standards.  How did you accomplish that?
Adam: Designing a lightweight e-bike was a top priority from Day 1.  Many of us in San Francisco commute by train or bus, or live in walkup apartments, and a bike that couldn't be lifted onto public transit or up a few stairs was a non-starter.
We started by choosing a battery size and motor that gave us a very useful range (around 20 miles) and good climbing ability, without adding too much weight.
Geared hub motors are less sexy at the moment compared to big-name mid-drive motors, but I actually think hub motors are great.  They have very high power to weight ratios, are frictionless, and are so low-profile they can blend in seamlessly with the bike's aesthetic.
Steel is the other secret to the Porteur's light weight.  It's obviously not a light material in and of itself, but it's incredibly strong, which lets us put strength where it's needed.  The end result is very smooth riding, strong, and physically – and visually – light.
Pete: How much does the Porteur cost?
Adam: The Porteur costs $3500.  This is the same price that we sold the bike through Kickstarter, but the difference is that the bike's accessories (like the front rack or leather top-tube pouch) will now be sold separately.
We're currently accepting pre-orders for our second production run, which will be shipping late this year.  A pre-order can be placed at our website, www.faradaybikes.com, and actually requires no money down, and can be cancelled at any time.
We find we have a pretty low cancellation rate – most people are excited to get their bikes!  It's not currently described on our site, but one policy which we're introducing this summer is a 30-day return policy.
I want people to fall in love with their Faradays and I'm confident they will, but on the off chance it's not the bike for you, we offer easy returns within that first month.
E-bikes are fantastic, but they're also really new for most people, and I think this is one way we can make the experience of owning one as easy and risk-free as possible.
On the same note, we're also offering financing on purchases through our website.  We currently have a 3-month payment plan, though I hope to extend that out as far as possible … we're working on it.
Pete: Faraday had a successful Kickstarter campaign. Now that you are shipping bikes to those early "investors", could you let us know how the Kickstarter experience was for Faraday?
Adam: Kickstarter was a great experience, but not necessarily an easy one, for us or our customers.  I don't know many ways that a very small company with essentially no resources could have achieved the same level of coverage and reached such a diverse group of customers, and in that sense, Kickstarter was amazing.
At the same time, it hasn't been easy.  This is a very subjective claim, but I think it's fair to say we're one of the more complex products to have ever come through Kickstarter.  The process of building a new product – and a new company – takes a huge amount of time, effort, and uncertainty, much of which is only tangentially related to building the actual product.
For many of our customers, the delays in our ship date have been very frustrating, and understandably so – we missed our promised ship date by a year and our customers missed an entire summer of riding!
That said, I've been nothing short of amazed by the patience and understanding of most of our customers and backers.  We're fortunate to be supported by a great group of folks who want to get an excellent bike, but also want to see us succeed as a company.
It's an incredible feeling to finally be delivering a product that meets, and in many cases even exceeds, their very high expectations.
Pete: Some changes have been made since you originally launched the Porteur. Could you give us an idea of what those changes are and the benefit of those changes?
Adam: When we first launched the Porteur it was really more of a concept than a fully baked product.  As we started finalizing the details we realized there were many opportunities for improvement to deliver a product that we, and our customers, would be happier with. The challenge was to make those improvements without compromising the iconic design of the bike.
The battery is one great example … we began with a battery that was 130Wh, and quickly realized that that was much lower than we wanted.  The new battery design increases the capacity to 240Wh – a huge improvement.
Another change is the front rack.  We wanted to preserve the Porteur's frame-mounted rack and striking curved tubing, but also make the front rack fully removable.  The new design we came up with required us to change the headlight and originally ruffled some feathers among our Kickstarter backers, but has now been widely embraced and is a really unique and popular feature of the bike.
Even little changes – like upgrading to a belt drive – initially raised some concerns among customers that we were compromising the bike's classic aesthetic.  It's now a wildly popular upgrade.
I can attest to this from my time at IDEO – no product is fully realized until it is assembled, packaged, and shipped to a happy customer.  The challenge throughout the design process is to keep the "design intent" first and foremost while letting consumer needs and feedback drive your decision making.  This is how great products get made.
Pete: What is your favorite customer "success story"?
Adam: Honestly, there are so many, it is really hard to say.  It's been really amazing to learn the different reasons people have bought their Porteurs, and to hear the different ways they're being used now that we're shipping.  I couldn't make up better stories if I tried.
We have at least a handful of customers who have replaced their car with their Faraday – for me, that's an amazing result, and a great affirmation that we've built not just a beautiful bike, but a very effective transportation alternative.  We have lots of riders who are now commuting to work by bike for the very first time, or who have gone from occasional bike commuters to daily bike commuters.
There's folks who are now riding with their spouse for the first time now that they have their Faraday, or who are beginning to lose a few pounds as their Porteur helps them embrace a more active lifestyle.
If I had to pick a favorite story, though, it might be a guy I met just last week.  He's a young guy, about my age, and he lives in LA.  He was fed up with LA traffic and decided that the only way he could enjoy living in that city was to give up his car – so he bought a Faraday.  The fact that someone can live car-free with the help of their Faraday – in LA of all places! – is just so fantastic.
Not everyone will want or be able to make such a big lifestyle commitment, but I think it's a really exciting and inspirational example.
Pete: This was a quote from a recent Porteur test rider: "Up until I experienced your bike I was against E-bikes for two reasons. They seemed lazy and I detested the look of them. After riding your bike for those brief moments my perspective has completely changed. Thank you for changing my perspective on E-bikes. I realized they can be gorgeous and help out in those sweltering days. I hope to one day purchase a Faraday and now feel that bikes like yours can change the landscape of Urban areas in America."  Do you get that kind of statement much?
Adam: To be honest, I do hear statements like this a lot.  I think that two of the bigger barriers to greater e-bike adoption in the US are that:
a) the vast majority of people know nothing or next to nothing about e-bikes, and
b) many people who are aware of the category have a negative – or at least, perhaps, misinformed – perception.
This goes back to why I founded Faraday in the first place, to show that that e-bikes could be every bit as attractive, intuitive, and ride-able as a conventional bike.
Bikes and e-bikes aren't in two different camps, they're on a spectrum of two-wheeled transportation.  At one end you have a 16 pound carbon fiber road bike, and at the other end, a 60 pound moped with a 750W motor and a twist throttle.  Faraday lands somewhere in the middle, which is a really interesting place to be, and an area that has, I think, been largely ignored by the industry so far.
Statements like the one above tell me that there really is a huge opportunity to make e-bikes much more relevant, and popular, by making them appeal to the mainstream consumer.
Pete: Do you plan on having other Faraday models in the future?
Adam: Absolutely!  We plan to launch a step-through model in the near future, which will probably begin shipping sometime mid next year.  We get a huge amount of interest in a step-through, understandably, and that's a new model that I'm really excited about.
There are a few other models that we have slated for launch, but those won't be till further out, probably 2016.
Pete: Do you have any other exciting news to share from Faraday headquarters?
Adam: Now that we're close to wrapping up our first production run, there are a lot of projects that I'm excited for our team to tackle.
We plan to launch a handful of new accessories to complement our bikes, and we're looking at some exciting development projects like an extended-range battery back and a Faraday mobile app.  Most of these won't come to market until next year, but they're exciting projects nonetheless.
In the meantime, we plan to really focus our efforts on making Faraday more accessible and visible to interested new customers, and improving our manufacturing so we can deliver bikes more rapidly and keep up with the great demand we're seeing.
Bottom line – we're staying busy!
Pete: How can we learn more about Faraday?
Adam: There are lots of ways to learn more about Faraday – our website, www.faradaybikes.com, is probably the best, and we'll be updating it in the coming months to make it even more engaging and informative.
We're also on all the normal social networks (@faradaybikes on twitter, facebook.com/faradaybikes, and faradaybikes on instagram).
If anyone has questions for us directly, they can email [email protected] and we'll do our best to reply promptly.  Our mailing list (sign up at our website) is the best way to stay informed about news from Faraday like demo events, new dealer locations, new models, promotions, reviews, etc.  We won't sell your address or send you spam, so I encourage people to sign up and stay informed.
It's always great to hear from current and new customers, so please be in touch!
Pete: Where can someone test ride the Porteur?
Adam: At this moment, we're only doing test rides by appointment from our office, so if you live in or are visiting the Bay area, drop us an email and we'd love to meet you.
This summer we plan to make a big push to make Faraday much more accessible across the country.  This will include placing Faraday bikes in a dozen or so of the top bike dealerships across the country, doing as many demo events as possible, and testing out a new demo/rental program in the bay area.
Again, our mailing list and facebook page will be the best sources of information on test ride opportunities.  It really helps us know where there is the greatest interest when we hear directly from our customers, so I encourage people to get in touch ([email protected], or @faradaybikes) – we'll do our best to get Faraday to you!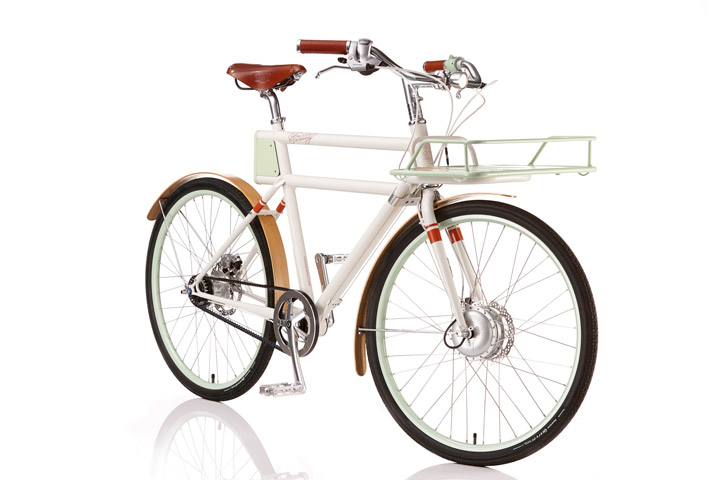 End of Interview
Thanks to Adam Vollmer for taking the time for this interview!
Stay tuned for more interviews on Electric Bike Report.
-Pete
P.S. Don't forget to join the Electric Bike Report community for updates from the electric bike world, plus ebike riding and maintenance tips!
Reader Interactions