iGO M29r Electric Bike Review Part 2: Ride & Range Test [VIDEO]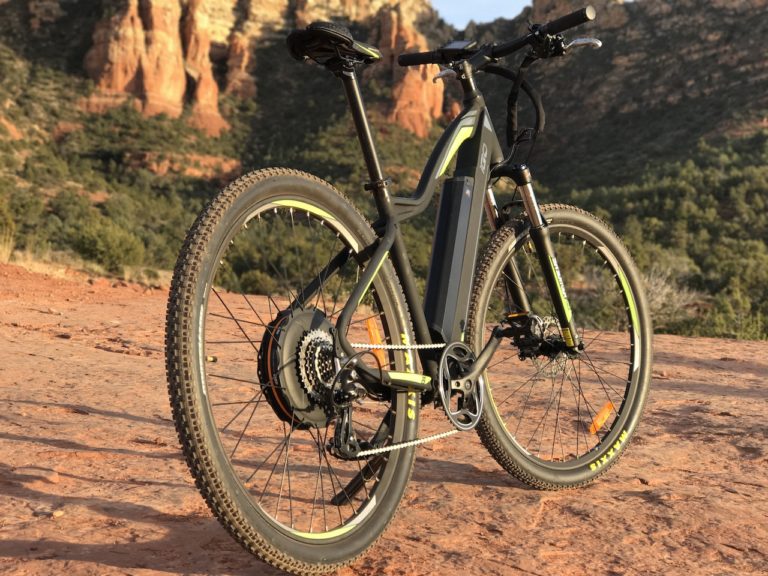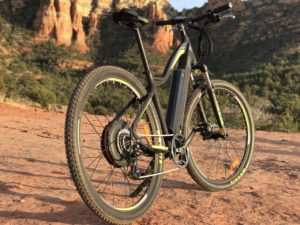 After riding the iGO M29r on a variety of terrain it has proven itself to be a versatile eBike for on and off road conditions.
This 29er electric mountain bike has a solid ride feel with smooth and quiet performance from its 500 watt direct drive motor and it has a highly tunable pedal assist system.
At $2,199 the M29r offers value with features like an aluminum frame with integrated lithium battery using Samsung cells, Shimano and Suntour components, Maxxis tires, and Selle Royal saddle.
In this second part of the full review you will get an idea of the ride characteristics, range test results, pros, cons, and overall thoughts on this electric bike.
Make sure you check out part 1 of this review with large pictures and specifications to get a detailed look at this e-bike.
What you can expect from the iGO M29r:
To get acquainted with the iGO M29r, checkout this video:
Riding the iGO
M29r
: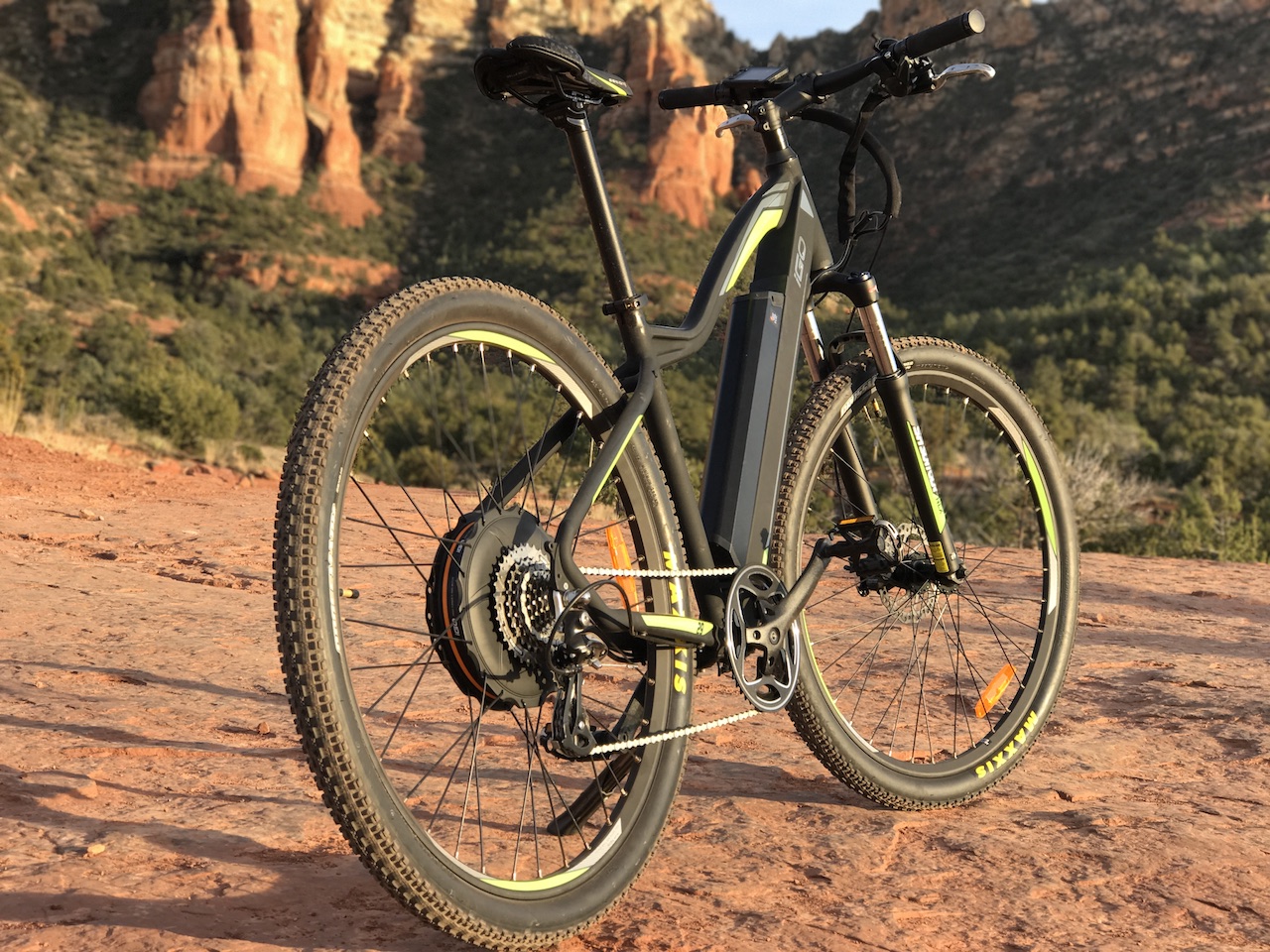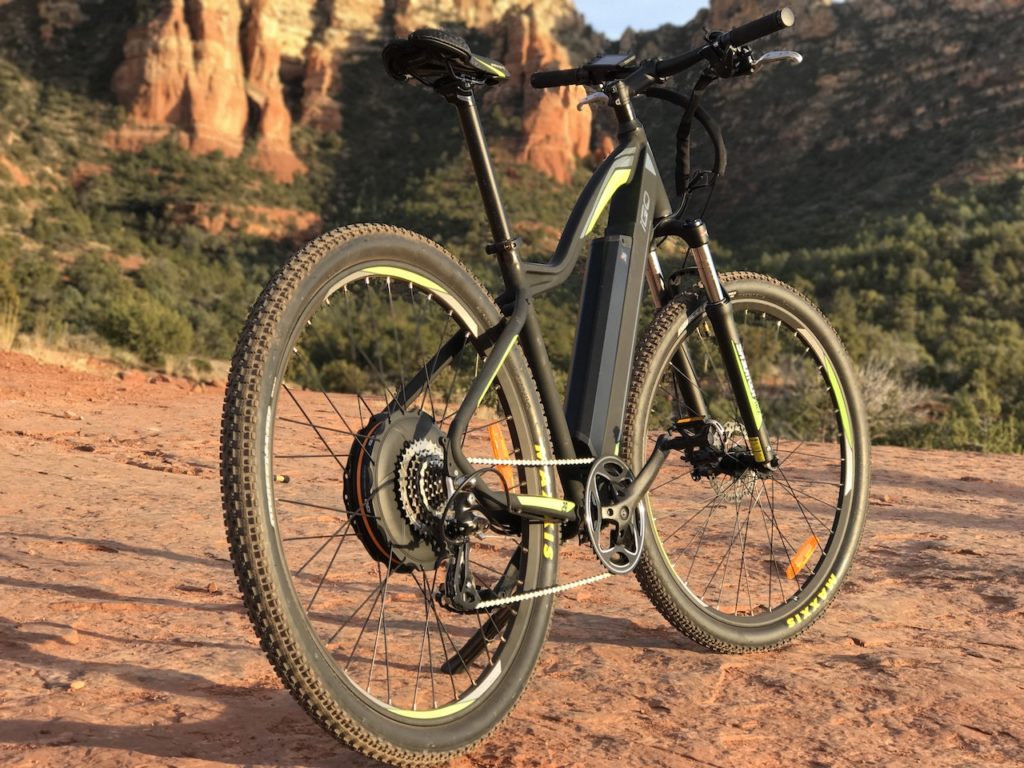 Overall there are some characteristics of the iGO M29r that really stand out when riding this electric mountain bike. To summarize they are:
Smooth and quiet electric assist
The stable feel of a 29er
Versatile ride style for on and off road riding
Like the iGO eXplore commuter eBike, the M29r is equipped with the smooth and quiet iGO 500 watt direct drive rear hub motor. This is a nice feature when riding off road because you can hear everything around you.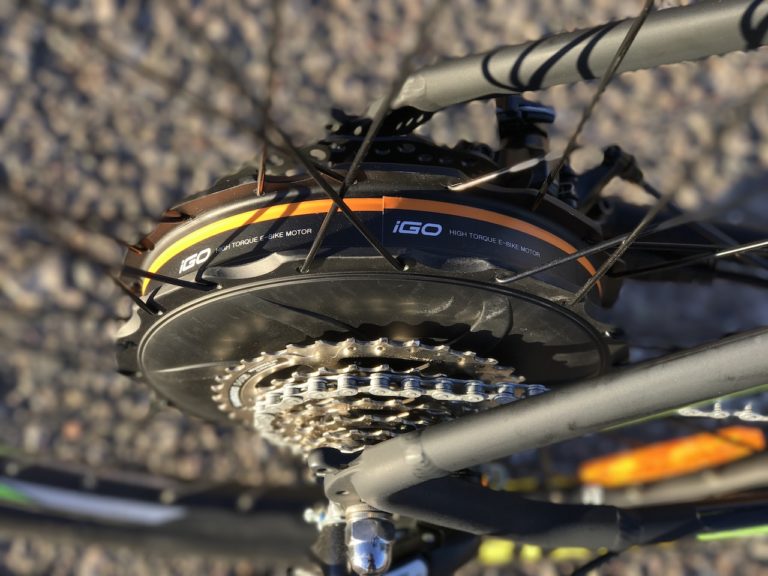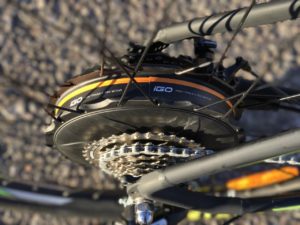 This is definitely one of the highlights of the M29r and it sets it apart from many eBikes in this price category.
The 48V system and 500 watt motor (700 peak) can provide for peppy ride when using the Power drive mode and higher pedal assist levels.
The higher assist levels are good for riding around town and the lower assist levels are useful for riding off road through technical terrain.
iGO has created the Ergofit design that allows riders of either gender from 5' to 6+' to be able to ride the M29r comfortably. iGO electric bikes are designed and tested in Montreal Canada.
The 6061 aluminum frame has been designed with a shorter seat tube height and the long seatpost for the M29r to fit a wide range of riders.
29ers or 29″ wheel bikes use the largest standard wheel size for mountain bikes (compared to 26″ or 27.5″) and the large wheels roll over obstacles easier and generally allow you to pick a more direct line through technical terrain.
They corner well with a stable carving feeling similar to a road bike. There is a also a certain feeling of momentum that comes from from 29er bikes once you get them up to speed.
When compared to 26″ or 27.5″ wheeled bikes, 29ers are generally not as agile through technical terrain and they don't have the same punchy acceleration of smaller wheeled bikes.
Overall 29ers have a stable ride feel that works well for on and off road riding and that is true for the M29r.
The M29r has a stretched out feel that is a bit more upright than a traditional mountain bike position. With the stock stem is seems to fit people who around the 6′ range. A quick change of the stem for a shorter stem would work well for riders in the 5′ range.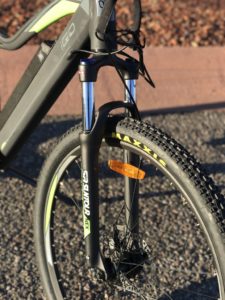 Smoothing out the trail or road is accomplished with the Suntour NEX suspension fork on the front. It is very lively fork and it has enough travel to take the edge off of most of the rough stuff on or off the road.
The lockout feature is great for riding on smooth roads because it provides a more efficient ride by eliminating the "bobbing" effect when standing out of the saddle and pedaling hard.
The saddle has a narrow performance style profile with a center relief section. This is a good saddle for performance, sporty riding but it is not the most comfortable saddle for just cruising around.
For a more comfort ride I recommend a suspension seatpost for most eBikes with a rigid frame (hardtail).
A suspension seatpost is a great match with a suspension fork and balances out the shock absorption on the front and back of the bike.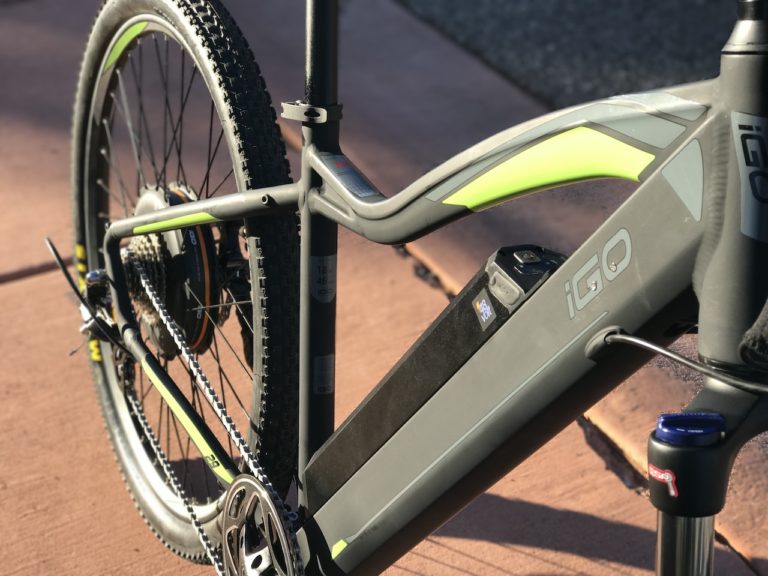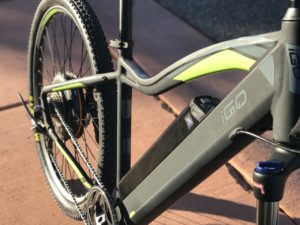 It is impressive to see how iGO designed their lithium battery pack into the downtube of the frame. This location is good for overall bike handling because the 7.5 pound battery is centered and relatively low on the bike.
The 48 Volt 10.4 ah (500 watt hours) battery pack uses Samsung cells and it takes 4 to 6 hours to fully charge an empty battery pack. The pack can be charged on or off the bike.
A USB port is located on the top right of the battery and it can be used for charging smartphones, tablets, and other USB charged devices on the go.
iGO also offers the 48V 13ah (624 Wh) lithium battery for increased range. It adds $299 to the base price of $2,199.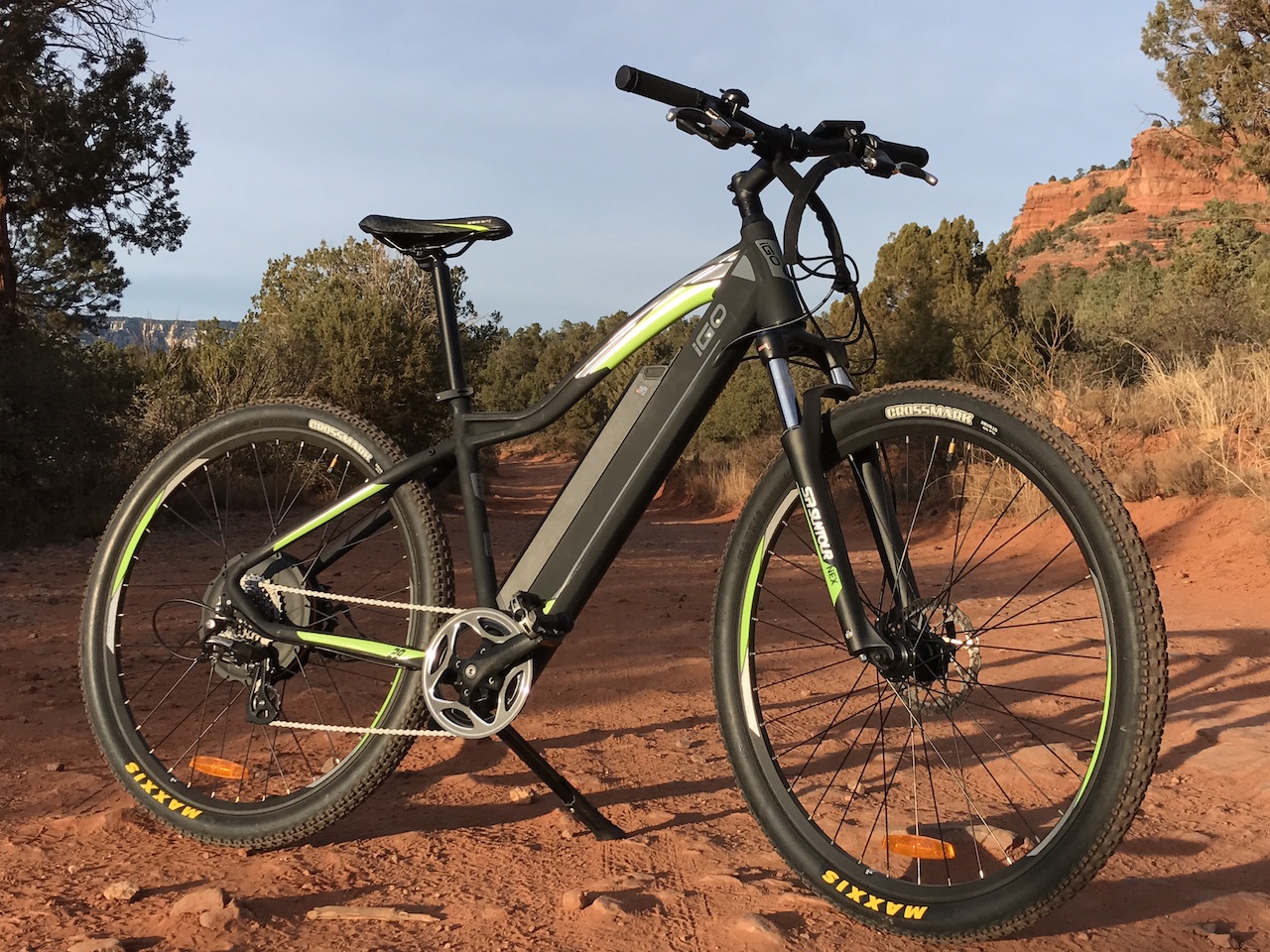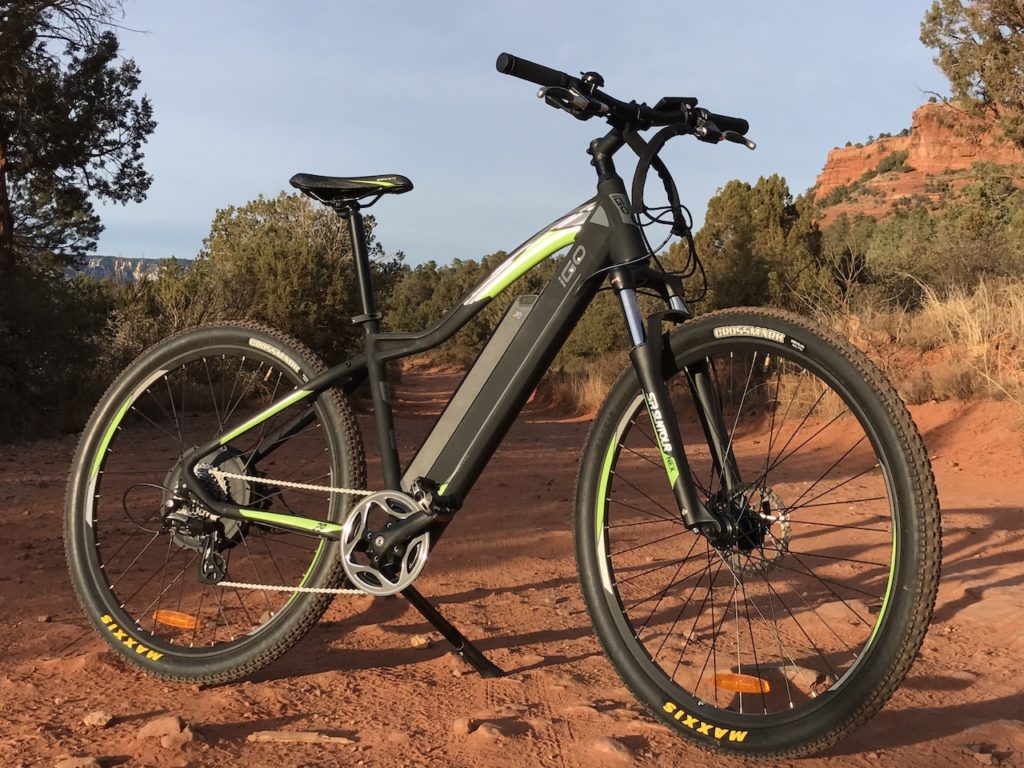 iGO offers both pedal assist and throttle options with the M29r. The pedal assist is a cadence sensor system. This system works well for riding on the road and light off road riding.
For technical off road riding, the cadence system is not as intuitive as a torque sensor based system because it engages the motor even when you may be "soft pedaling" through obstacles. Lowering the assist level helps with this but it still does not blend the motor power with your pedal power as well as a torque sensor based system.
Torque sensor based systems are generally more expensive so the cadence sensor may be used to keep the overall bike price down. If you will be doing mostly road riding and some light off road (dirt roads) riding this may not be much of an issue.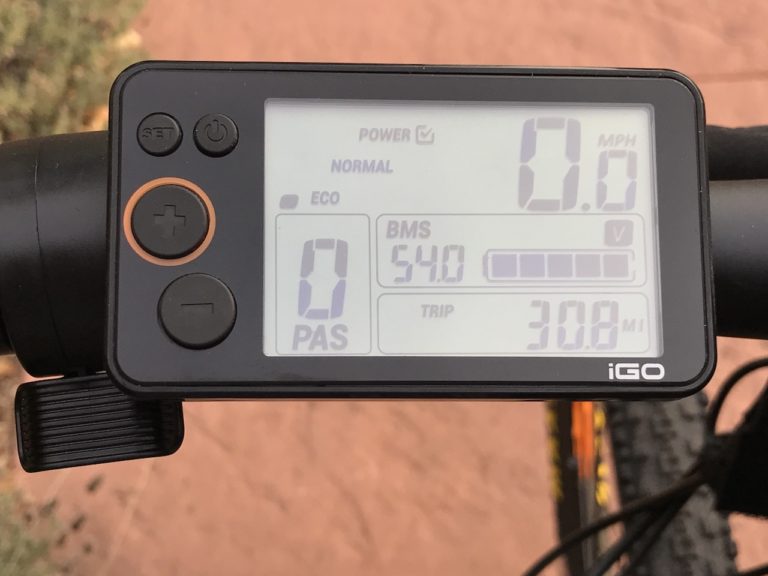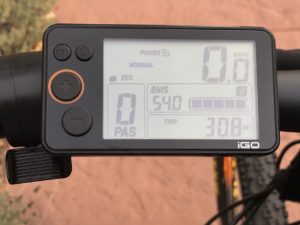 Within the pedal assist function of the bike there are 3 driving modes (Eco, Normal, Power) with 8 levels of pedal assist each.
24 different pedal assist options can sound overwhelming but I found that I picked one of the Driving Modes (Eco, Normal, Power) that I normally kept the bike in and then just varied a few of the pedal assist levels during my normal rides.
If you want to bypass the pedal assist there is the the thumb throttle option that you can use with or without pedaling. This is a nice feature for off road riding because it can help you get started on a steep climb. It is also helps on the road when you need a quick boost through an intersection.
The thumb throttle on the M29r has a large platform that provides a solid feeling.
There is also the walk mode that provides assist up to ~3.7 mph and it helps when you are walking the bike up a steep hill or stairs. It is activated by holding the + button on the display.
The LCD display provides a lot of information like the driving mode, pedal assist level, speedometer, odometer, trip odometer, battery level with voltage reading, energy consumption, and error diagnostics.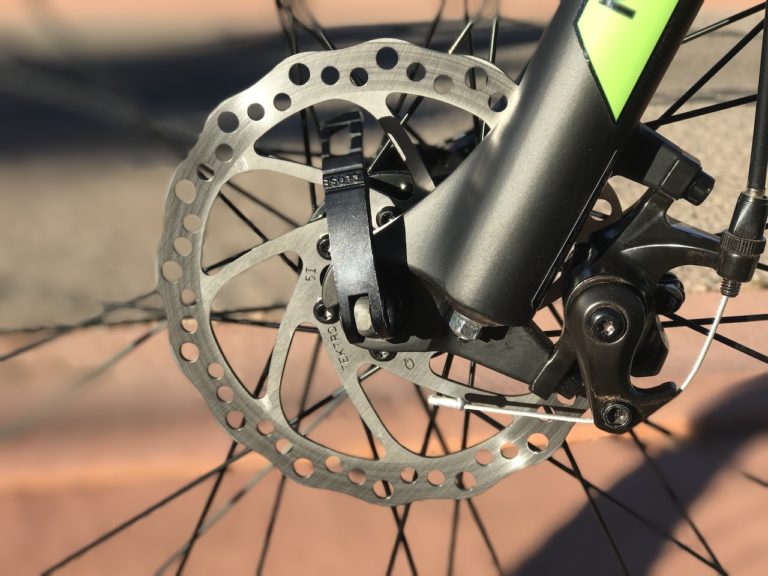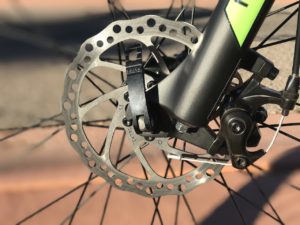 The energy consumption is a nice feature for monitoring how much assist you are using and it can be used to help you maximize range by focusing on using more pedal power and less assist.
Important info like the current speed and pedal assist level are shown in a large format for easy visibility at a quick glance. A backlit feature makes it easy to see day or night.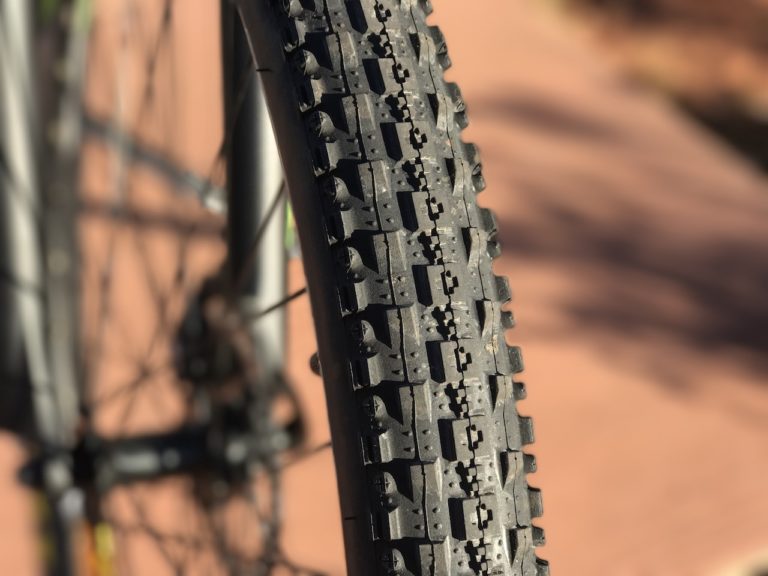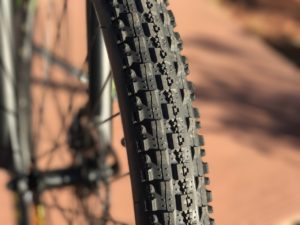 Slowing the M29r down is handled by the Tektro Aries mechanical disc brakes with 160 mm rotors. These brakes offer pretty good stopping power and they have built in switches that will stop the assist once the brake levers have been engaged.
There is a grippy rubber material on the Tektro brake levers that provides a comfortable feel while helping with grabbing the brake levers in wet conditions.
If you plan on riding this bike off road in steeper conditions it would be beneficial to have hydraulic disc brakes for additional stopping power.
The 29″x2.1″ Maxxis Crossmark tires have a solid off road tread pattern that also work well on the road for a fairly smooth ride.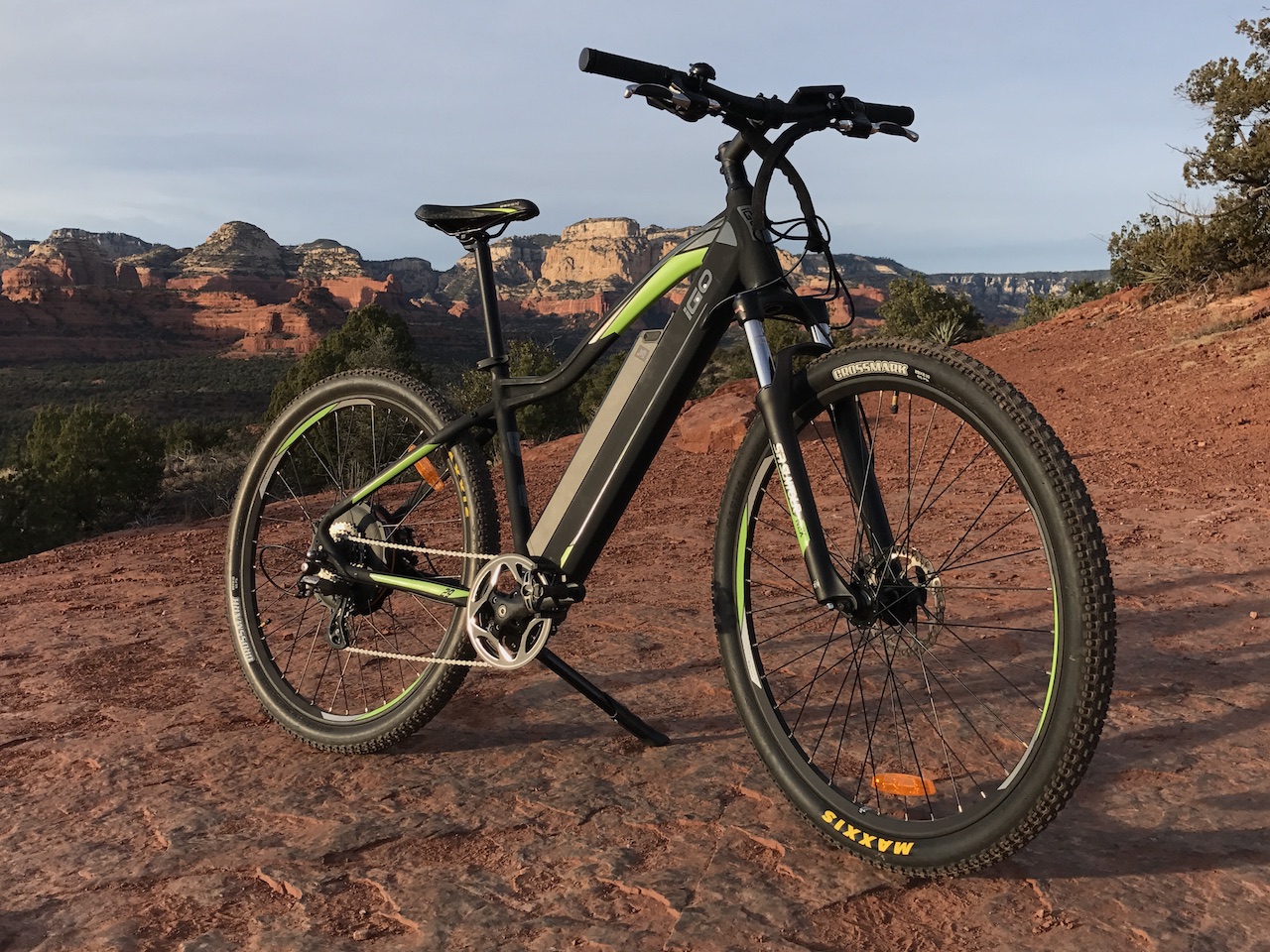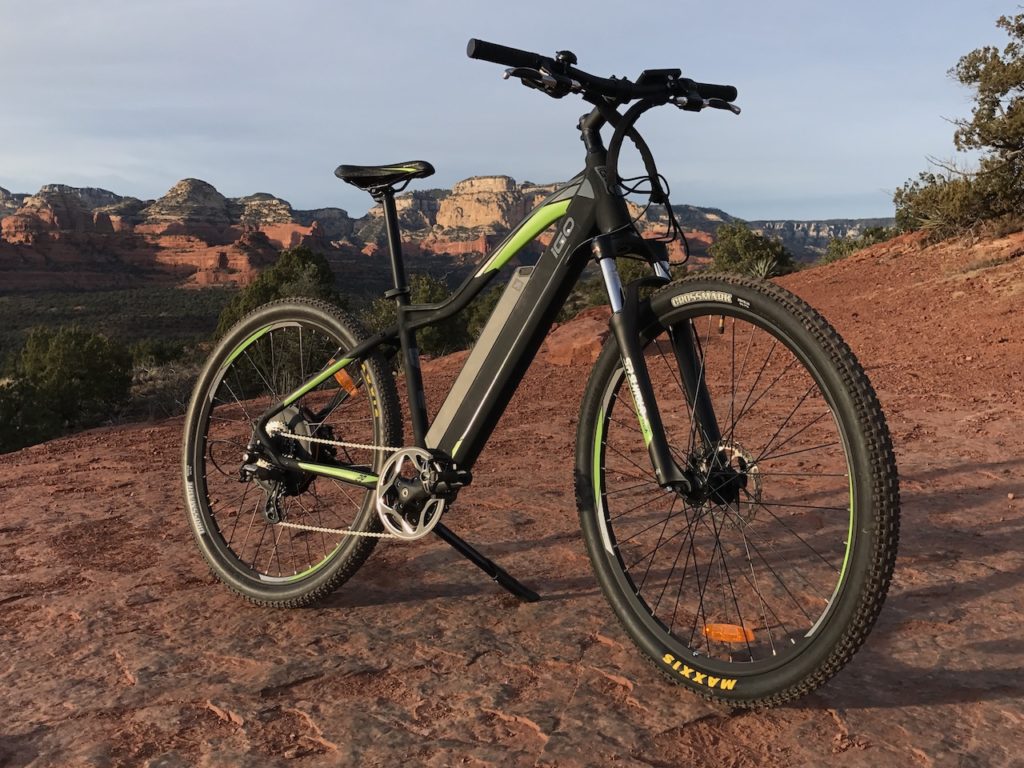 iGO M29r Range Test Results:
Here is the real world information on how the iGO M29r electric bike performed on a riding circuit that includes hills, flats, traffic, wind (when available) etc.
While testing these bikes I like to put them through the toughest conditions to see where their bottom line is in regards to range and speed. I tested the iGO M29r in the Power drive mode with the highest pedal assist level with relatively easy pedaling.
Range: As you can see from the GPS info that I recorded, the iGO M29r traveled 25 miles and did a total elevation gain/loss of around 2,200 ft. Considering that I weigh 190 lbs and I pedaled very lightly this is pretty good range for a 48 Volt 10.4 ah battery pack (500 Watt Hours) with a 500 watt motor.
iGO also offers the 48V 13ah (624 Wh) lithium battery for increased range for an additional $299.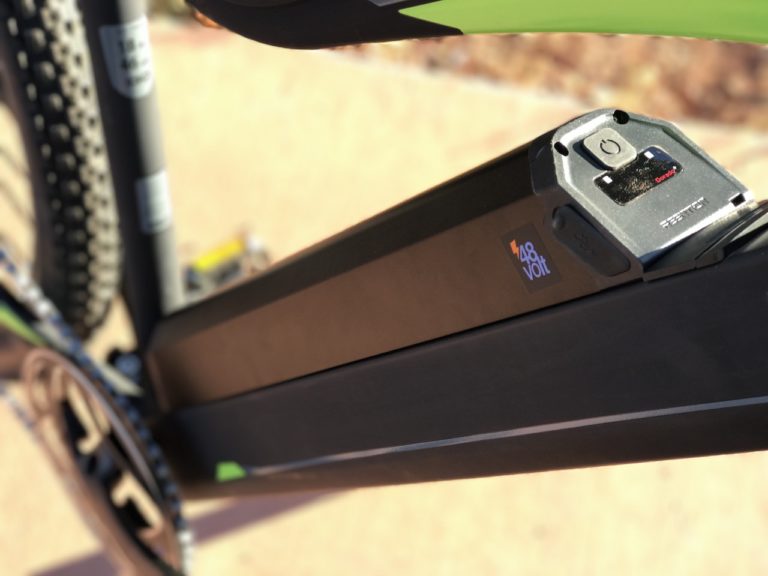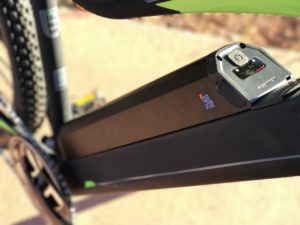 Watt hours are the total energy in a battery pack and it is based on the volts x amp hours of a pack. This is a way to compare the size of the "gas tank" of electric bikes.
Please keep in mind that if you pedal more, weigh less than me, ride slower and/or you use the bike in terrain that is not as hilly you will get more range. These results are from tough testing.
Speed: The iGO M29r will assist up to 20 mph.
Weight: The M29r tips the scales at 57 lbs which is on the heavier side for an electric bike. Removing the battery brings it down to around 49.5 pounds which makes it a little easier to load onto a car rack.
The weight distribution of the iGO M29r is pretty good because the battery is relatively low and centered on the bike with the rear hub motor making it slightly back heavy.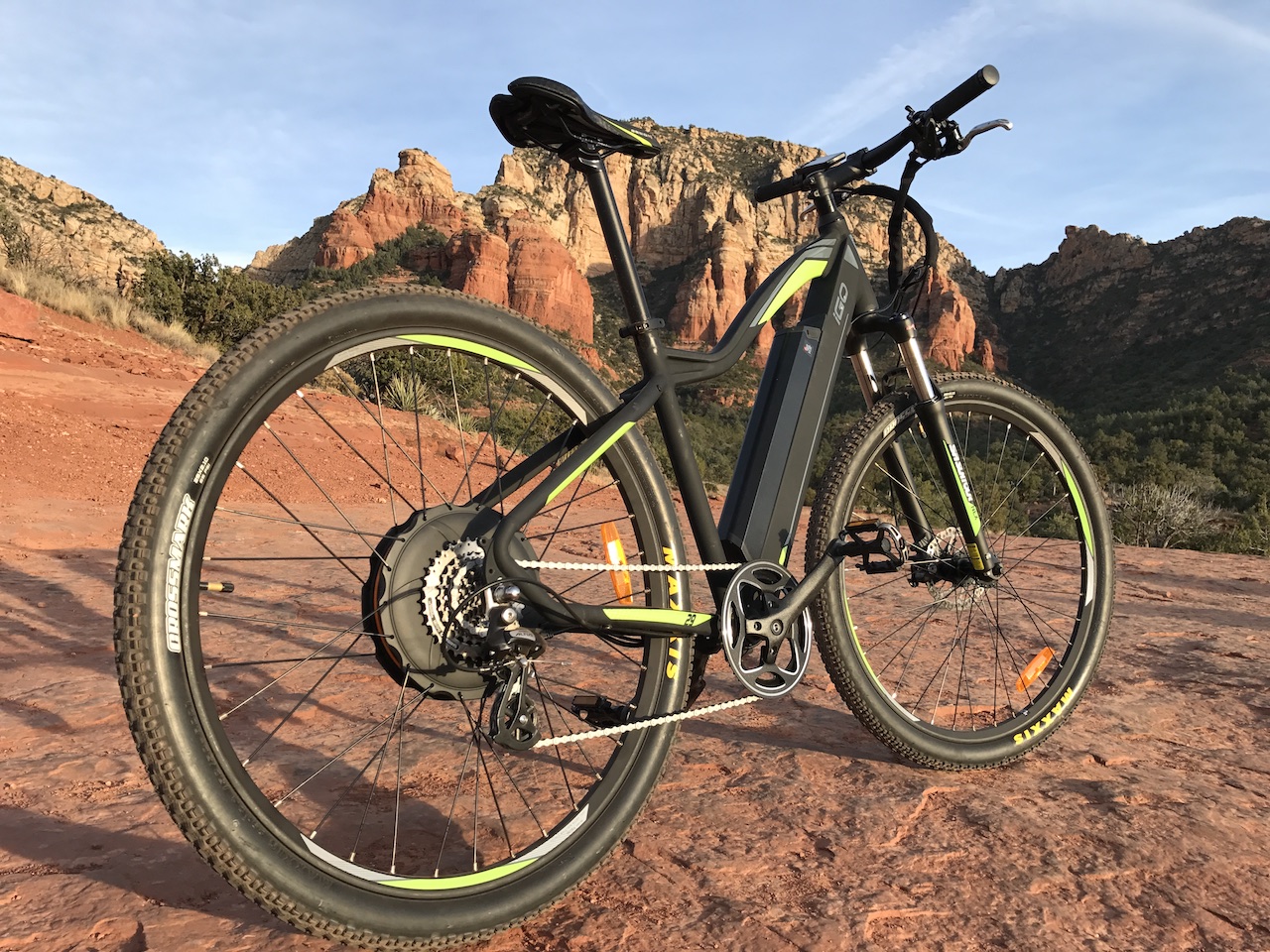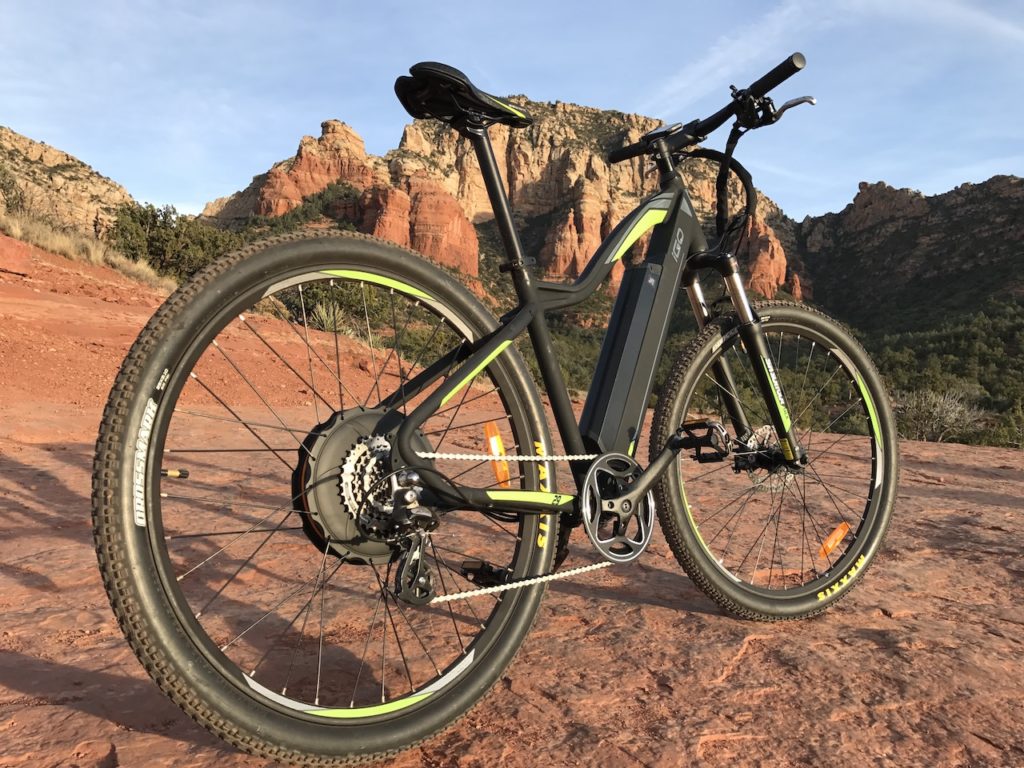 Pros:
Smooth and quiet: The iGO 500 watt direct drive motor is one of the smoothest and quietest motors that I have ridden on an electric bike. This is definitely one of the highlights on the M29r.
29er Wheels: 29er wheels provide a stable ride feel for on and off road riding. They roll over obstacles well, they carve into the corners, and they have a certain feel of "momentum" once they are up to speed.
Cons:
Heavy: At 57 pounds the M29r is on the heavier side for electric bikes and the direct drive rear hub motor makes it a bit back heavy.
Brakes: It would be nice to see the M29r come stock with hydraulic disc brakes for better stopping power on steeper off road conditions.
Conclusion: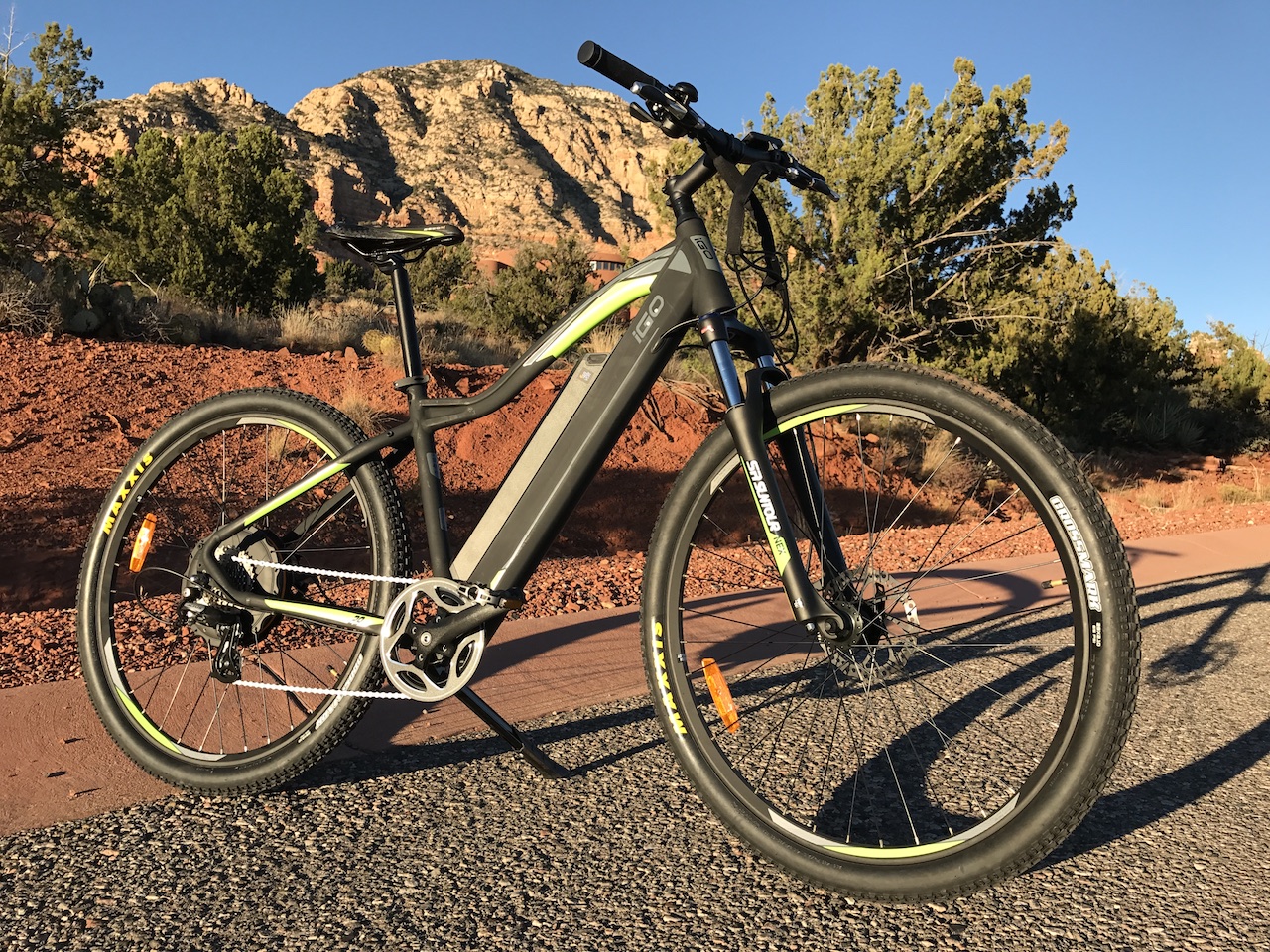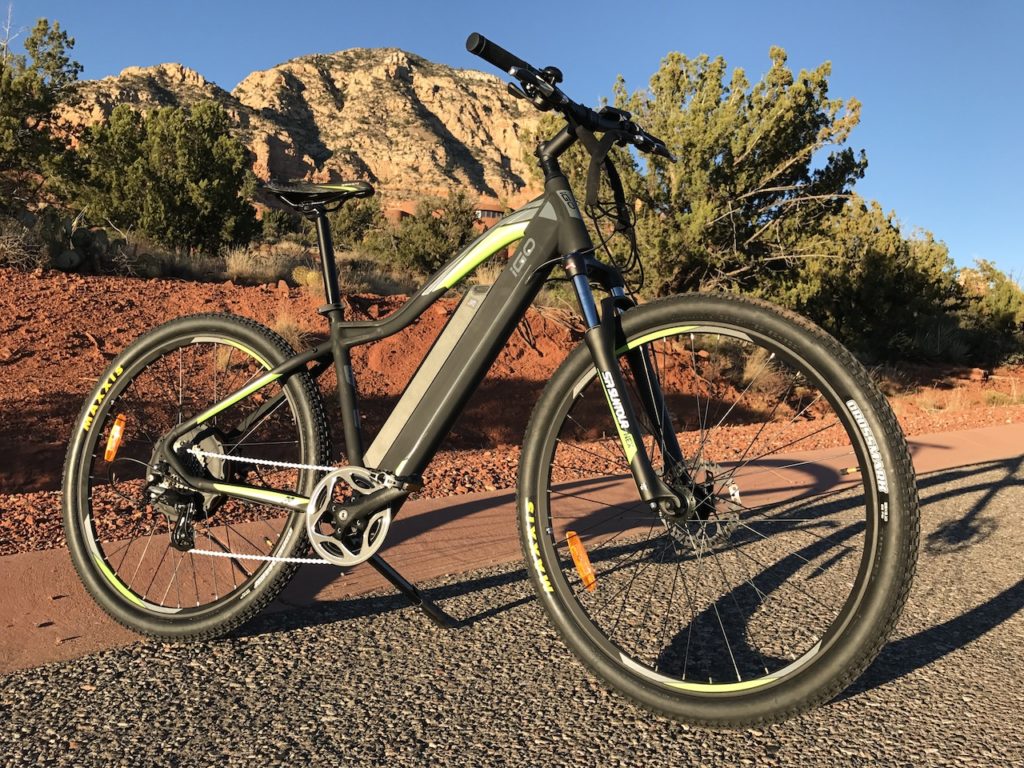 Overall the iGO M29r is a good electric bike for on and off road riding. It has the solid ride feel of a 29er with smooth and quiet performance from its 500 watt direct drive motor, and highly tunable pedal assist. The Ergofit frame design provides a platform that will fit a wide range of riders.
At $2,199 the M29r offers value with features like an aluminum frame with integrated lithium battery using Samsung cells, Shimano and Suntour components, Maxxis tires, and Selle Royal saddle.
Please keep in mind that this is a relatively short term test. This testing can't really give you the long term review of durability and reliability. My thoughts on the quality of this bike are from previous experiences with similar bikes. If you own this bike and have some input on the long term durability, please share your comments with the Electric Bike Report community below.
Where to buy a iGO M29r? Check with iGO for a dealer near you.

Do you have any questions about the iGO M29r? Do you own a iGO M29r? Please share your thoughts in the comment section below.
Thanks!
-Pete
Review Note: Each company pays a fee for a review on Electric Bike Report because of the considerable amount of time that it takes to provide an in-depth review of each eBike. A lot of time is spent on the full range test with distance & elevation profile, the wide variety of detailed pictures, in-depth video, and the write up with the specifications, ride characteristics, pros, cons, and overall thoughts. The reviews on Electric Bike Report are focused on providing you with a detailed "virtual" look at each eBike to help you determine if it is the eBike for you or not.
P.S. Don't forget to join the Electric Bike Report community for updates from the electric bike world, plus ebike riding and maintenance tips!
Reader Interactions