iGO eXtreme 2.0 Electric Fat Bike Review Part 2: Ride & Range Test [VIDEO]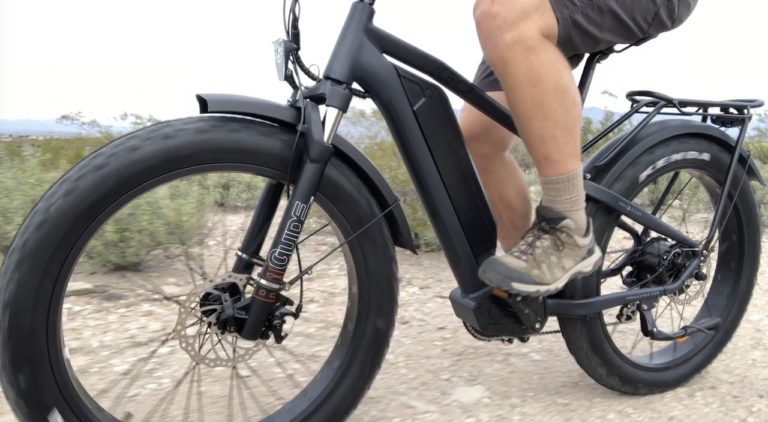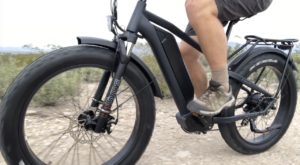 After many miles of testing the iGO eXtreme 2.0 it has proven to be a powerful eFat bike with good range and a well rounded accessory package.
With 4″ wide fat tires and a 500 watt motor the iGO eXtreme 2.0 will tackle sand, snow, mud, and pavement and is also fully equipped for everyday commuting and exploring.
Its 48V 13ah lithium battery provides good range (see range test results below), especially given that it is an electric fat bike, whose larger, heavier tires tend to reduce range compared to non-fat e-bike models with similar spec.
The iGO eXtreme 2.0 is priced at $1,999 with free shipping in the US and Canada.
In this second part of the full review you will get an idea of the ride characteristics, range test results, pros, cons, and overall thoughts on this electric bike.
Make sure you check out part 1 of this review with large pictures and specifications to get a detailed look at this e-bike.
What you can expect from the iGO eXtreme 2.0
To get acquainted with the iGO eXtreme 2.0 checkout this video:
Riding the iGO eXtreme 2.0
Overall there are some characteristics of the iGO eXtreme 2.0 that really stand out when riding this eFat bike. To summarize they are:
An all-terrain eBike that is also well equipped for the daily commute
A powerful 500 watt geared rear hub motor
48V 13ah 624 Wh battery for good range on an eFat bike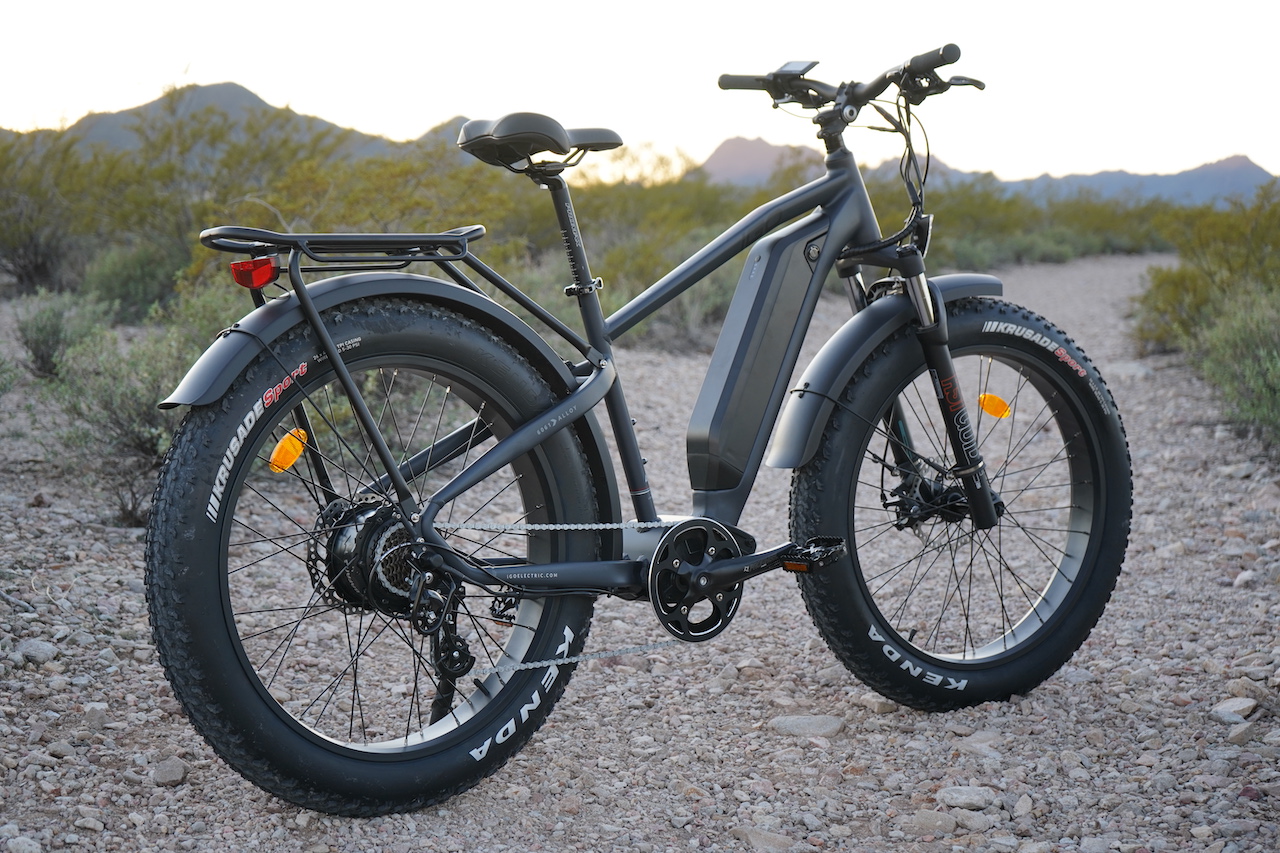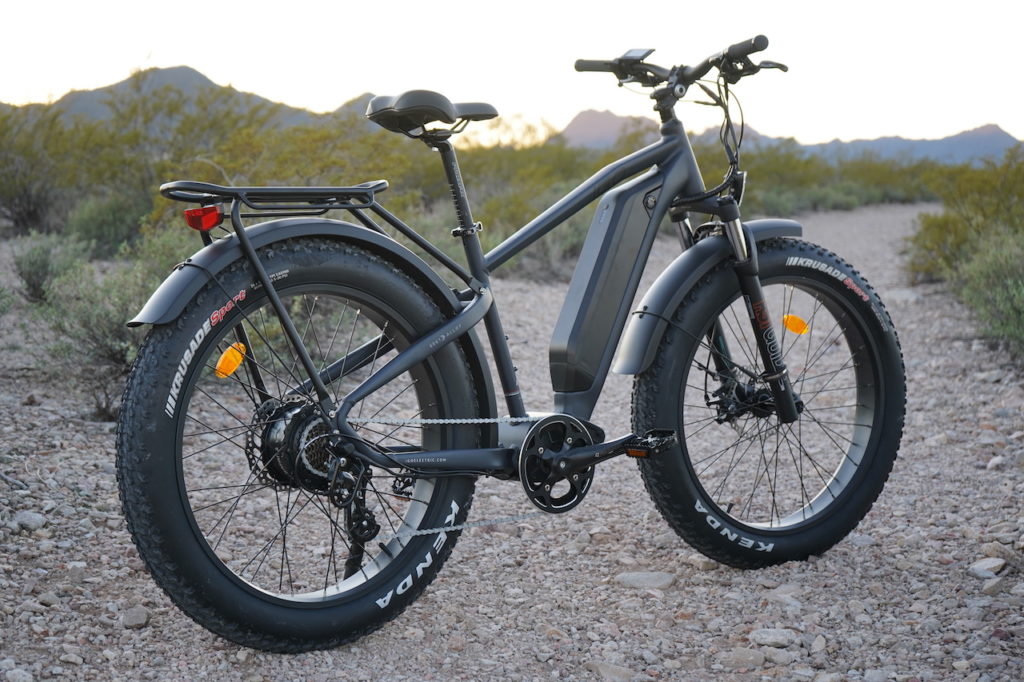 The Look & Feel of the iGO eXtreme 2.0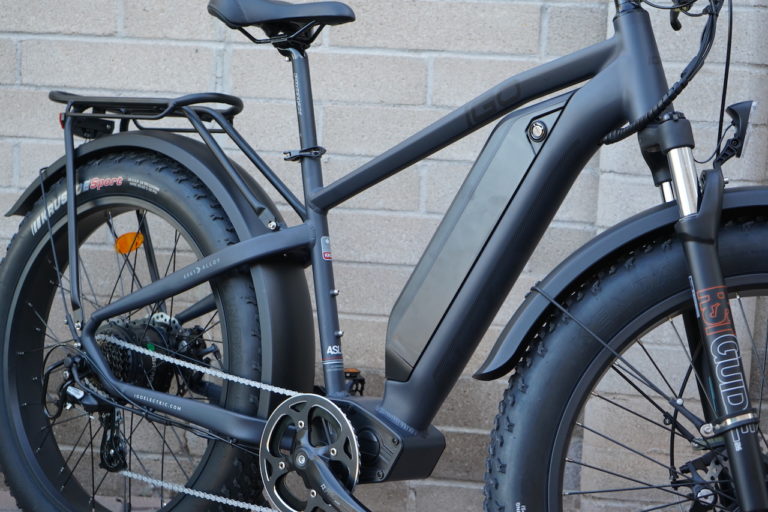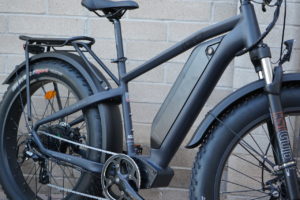 The iGO eXtreme 2.0 has bold looks and a similarly bold feel, with its 4" wide off-road tires and angular, sculpted frame tubing.
The front suspension fork adds to the bold looks and has a comfortable active feel while its lock out option gives a more efficient ride on smoother surfaces.
There is a cleanly integrated battery on the downtube while the sloping top tube provides a good amount of standover height.
Sturdily constructed wide front and rear triangle also contribute to a bold and sturdy look.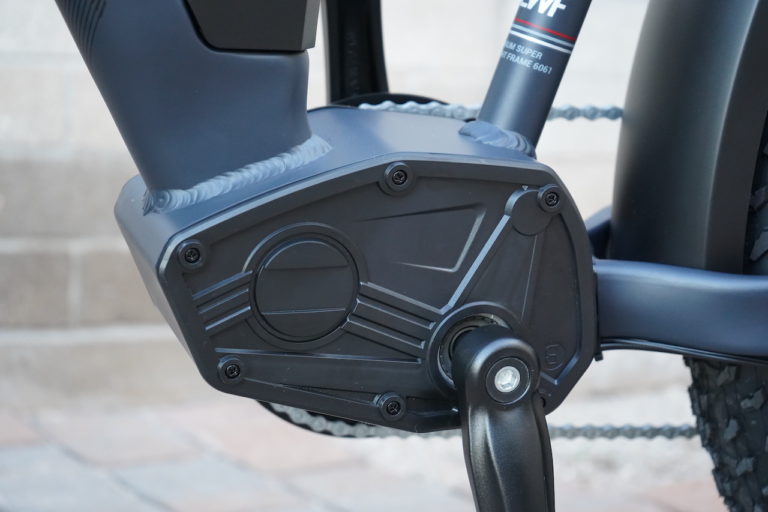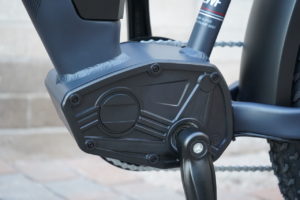 It almost looks like this bike has a mid-drive and rear hub motor but in fact it is the controller that is housed in the crank area of the frame that makes it look like a mid-drive.
This mid drive area has removable covers to access the controller and all electrical components on the iGO eXtreme 2.0 are 'plug and play' for ease of maintenance.
iGO also has twist locking weather proof connectors for many of the components if they were ever to need replacing.
From Gary Richman, founder of iGO "Our customer service department will offer immediate insight into any parts or service related need."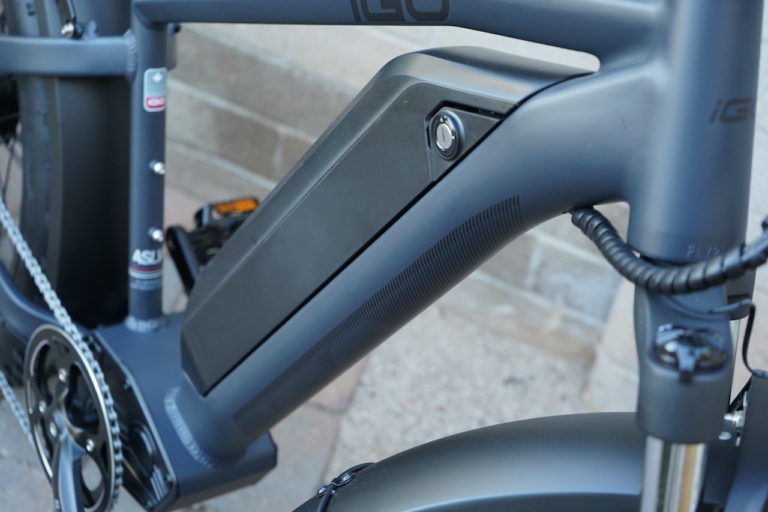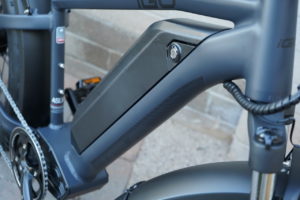 The full accessory package makes it look ready for commuting and the large gauge aluminium rack means it is a bike ready for adventure riding too.
As mentioned the sloped top tube means it's easy to get on and off the bike and it also gives a good stand over height.
Combined with an 18" frame size and a good amount of height adjustment on the saddle (32″ to 40″ height) this means the iGO eXtreme 2.0 will fit many different rider sizes.
The electric components blend in well with the overall look of the bike, the downtube mounted battery blends in well with the frame and the 500 watt motor is nicely in proportion to the fat tire wheel size.
The battery location is low and centered which helps with the overall bike handling characteristics and it also provides a more balanced feel when picking the bike up.
Another frame design highlight is the internal cable routing through the large downtube for a clean look and protection of the cables.
Now let's take a look at the large high volume 4″ wide fat tires!

Fat tires give the iGO eXtreme 2.0 that bold and sturdy look and they also provide a very stable all-terrain ride feel.
The bike comes equipped with the Kenda Krusade Sport 26″ x 4″ tires with a 60tpi thread rating. These are the higher end Kenda fat tires.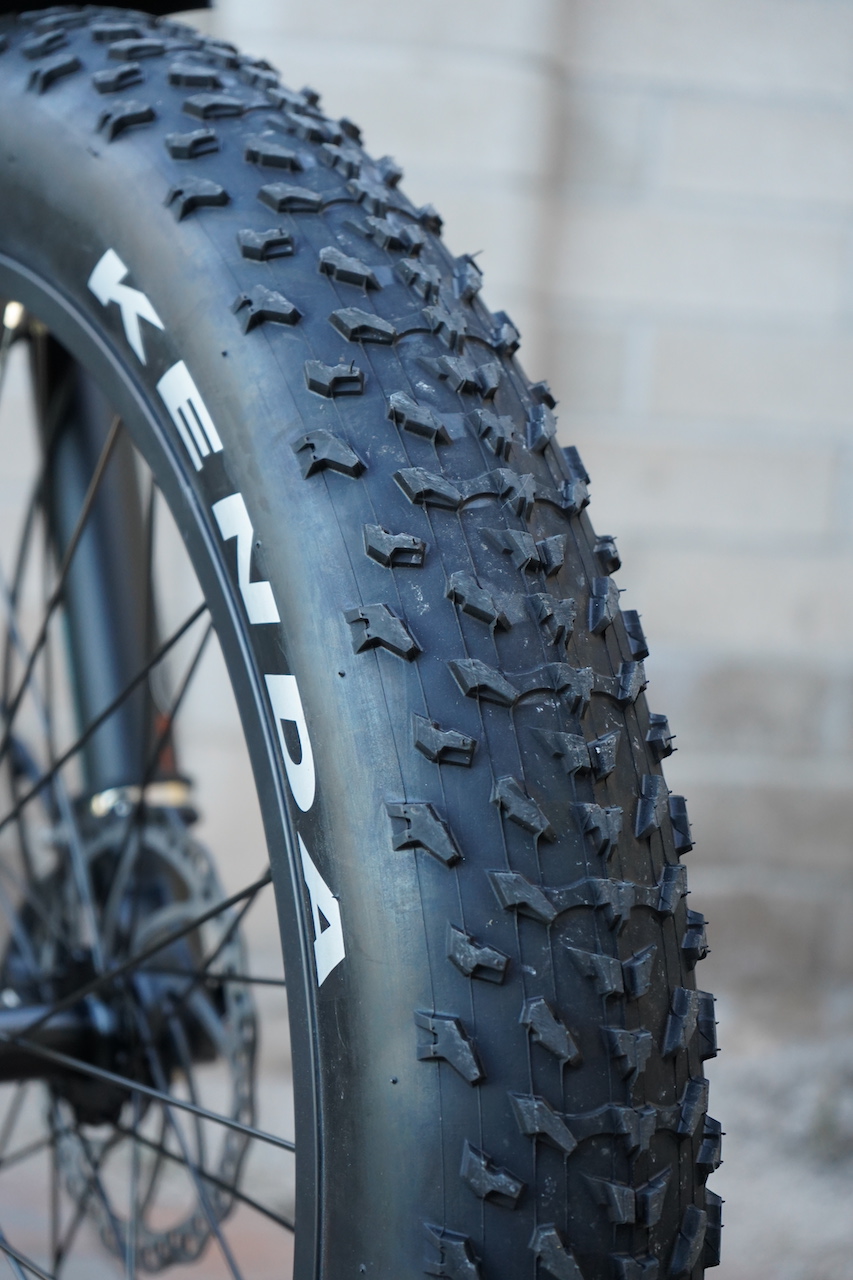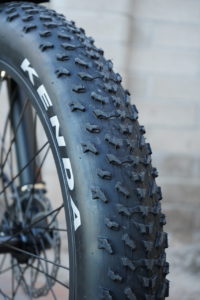 There are 2 aspects of fat tires that set them apart from traditional bike tires: high air volume and a huge tread patch.
The high air volume provides a significant amount of built in suspension effect when they are run at lower pressures.
At the lower air pressure these high air volume tires mold over rough terrain and provide an amazing amount of traction because of the large tread patch on the ground.
Those characteristics make fat tire bikes well suited to ride in almost any kind of terrain.
They can "float" on soft terrain like sand and snow because of that large tread patch instead of cutting through like a narrow tires are prone to do.
Below are tire pressure recommendations for different terrain:
Sand and Snow: + or – 8 psi
Hard pack to muddy roads/trails: 12-15 psi
Urban riding: 20-30 psi
It is important to test different tire pressures for the terrain you are riding on while considering your weight and riding style. 1 or 2 psi can make a big difference in the way a fat bike feels.
At the lower tire pressures the bike does feel a bit sluggish in the corners when compared to traditional mountain bike tire sizes.
That sluggishness is most noticeable when carving into a turn because you can feel the larger mass of these big wheels as you are cornering.
Here is a video that compares the attributes of a Fat bike vs. Plus (2.6″ to 3″ wide) bike tires.
Another benefit of these fat tires is that the outer tire diameter is relatively close to a traditional 29er tire diameter so they roll over obstacles well and the built in suspension effect helps to absorb rocks and roots.
Pinch flatting the tube is much less likely than conventional tires because the large air volume can absorb more impacts without pinching the tube on the rim.
If you want to eliminate the inner tube completely a tubeless tire sealant system can be added.
A tubeless system (Orange Seal for example) uses tape to seal the rim and a sealant to seal many voids in the tires, including cuts from small objects like thorns, glass, and other small objects.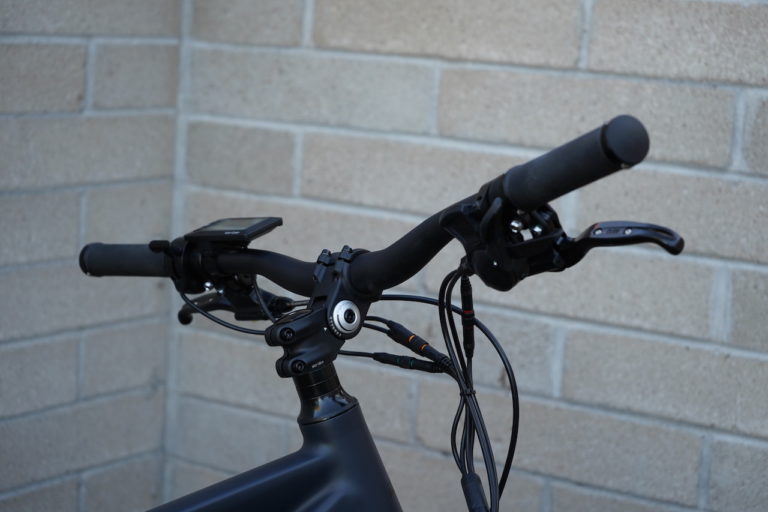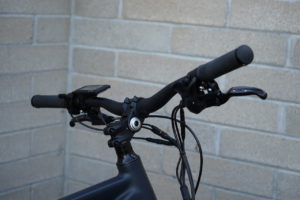 Now let's take a closer look at the ride position of the iGO eXtreme 2.0.
Generally the bike geometry promotes a performance ride position, with the rider leaning slightly forward for a more aerodynamic effect. However, the adjustable stem can make it more upright.
Wide handlebars with lock on grips give it a stable ride with the wide handlebars giving enough leverage to steer the bike well.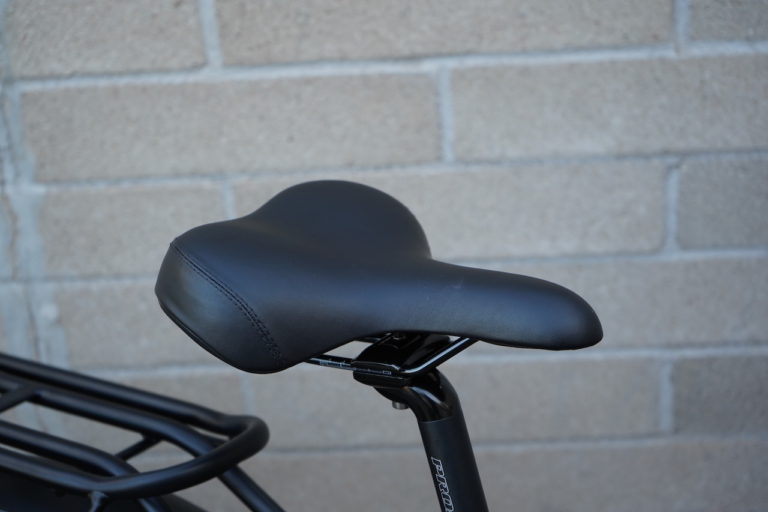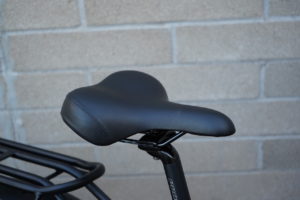 The seat is iGO branded and is a mid width style for a comfortable ride while still being relatively narrow for efficient pedaling.
The bike has a typical fat bike feel – like a monster truck; the bike feels like it can ride over almost anything.
It rides well in loose sand and the 4″ fat tires are also good for snow. They are stable and comfortable tires with built in suspension effect from the large air-volume.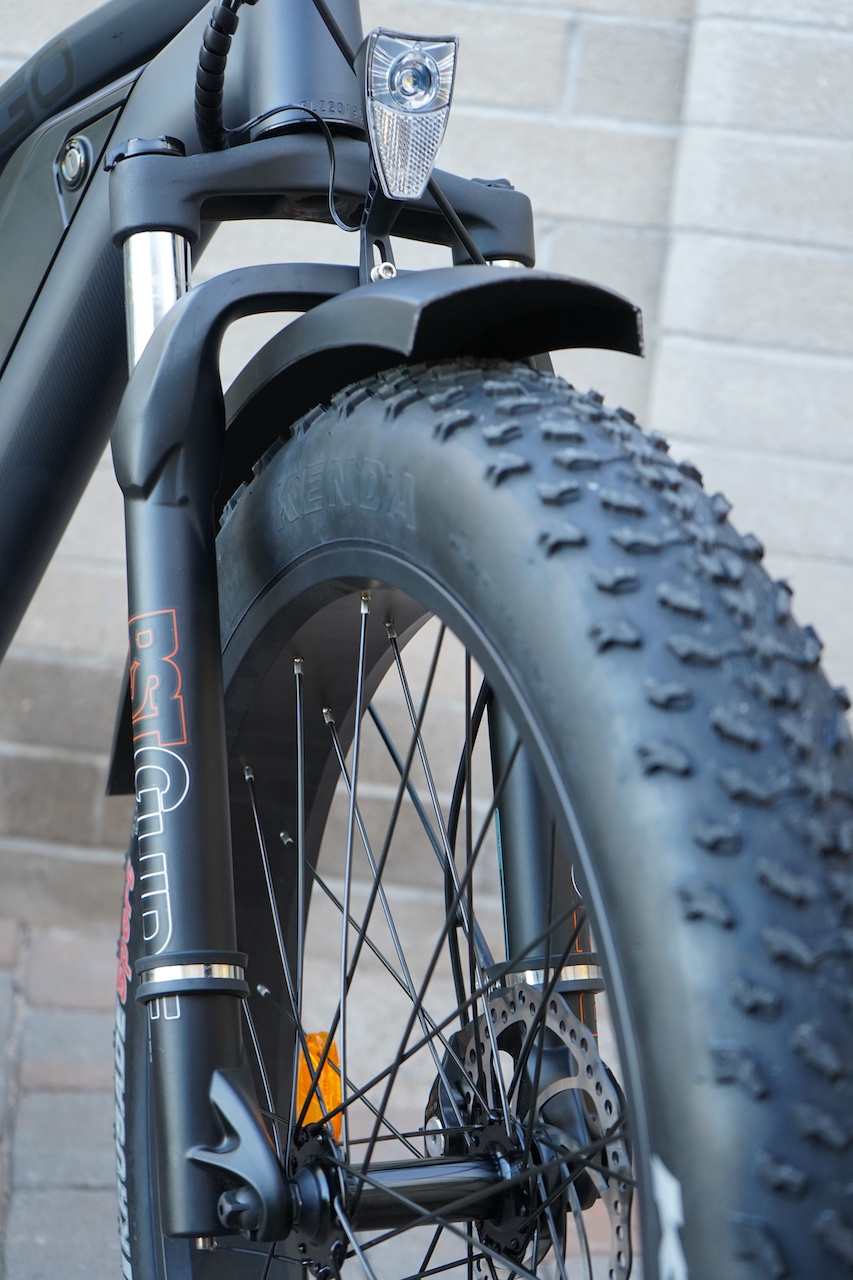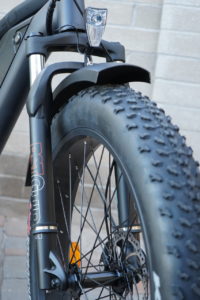 The RST Guide suspension fork does a good job of smoothing out the ride in addition to the built in suspension effect from the fat tires.
The fork has a very active feel and there is a pre load dial that adjusts the spring rate to your weight and riding style.
The lockout dial found on the top right of the suspension fork means you can make the suspension completely rigid by twisting the dial once you hit the smooth road.
This means you can ride efficiently on smoother surfaces without the front of the bike 'bobbing' up and down.
If you want additional suspension, adding a suspension seatpost is an economical way to add some rear suspension.
Overall the eXtreme 2.0 feels very solid with minimal flex and the good battery location undoubtedly helps balance the bike and makes for smooth and predictable handling.
Now let's take a look at how the drive system performs.
The 500 watt Bafang geared rear hub motor will help power you up to 20 mph with either pedal assist or throttle making this a Class 2 eBike.
There are 9 levels of pedal assist that provide assist up to certain speeds with level 9 going up to 20 mph. The cadence sensor system powers the motor up in response to the movement of the pedal cranks.
In the lower pedal assist levels the start of assist is pretty easy going. In the higher assist levels there is a lot of power once the assist kicks in after about a quarter of a revolution of the cranks.
The pedal assist continues to assist for about half a second after pedaling stops which takes a little while to get used to. The brake levers have sensors that will stop the assist as soon either brake lever is engaged, so with practice it is possible to stop any motor 'run on' by just squeezing a brake lever slightly.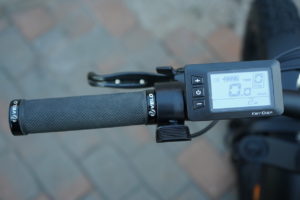 In the higher pedal assist levels or with the thumb throttle the bike has quick acceleration and climbs steeper hills well.
The lower assist levels give the bike a mellow ride, good for casual cruising the neighborhood or when riding in crowded areas.
The throttle is useful in adding a boost to the pedal assist for accelerating quickly, getting through an intersection quickly, or for help with getting over a hill.
It can also be used on its own without pedaling if you prefer.
There is also a walk assist mode that moves the bike at 3 mph for help with walking bike uphill.
Like many geared hub motors this rear hub motor makes a whirring noise – in the medium range compared to the wide spectrum of other ebikes.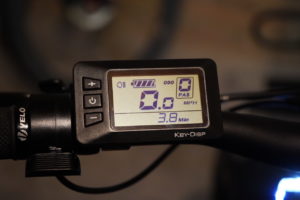 Now let's take a look at the controls of the iGO eXtreme 2.0.
The control pad and display is easy to reach on the left side of handlebar.
The display provides important info in a large font so it is easy to see at a quick glance. It provides readily accessible info on:
Current speed, average speed, max speed
Battery level
Trip distance
Trip time
Odometer
Power the motor is providing
It is interesting to watch how much power the motor provides in different levels of assist and/or throttle which you can see on the display.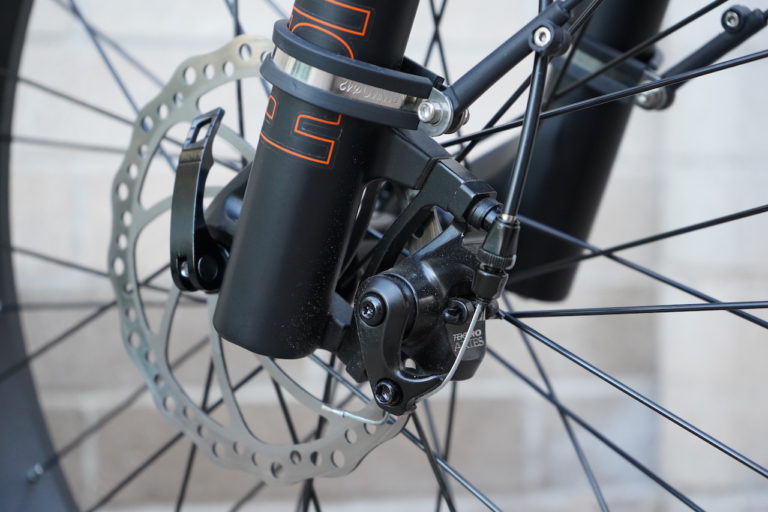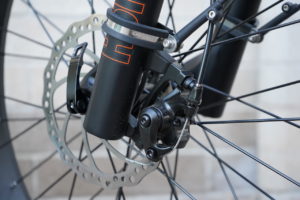 A useful feature is the display backlight that comes on when the bike lights are turned on, meaning you can see the display in low light conditions.
If there are any problems with the bike an error code will appear on the display with troubleshooting provided in the iGO service manual or by calling iGO customer support.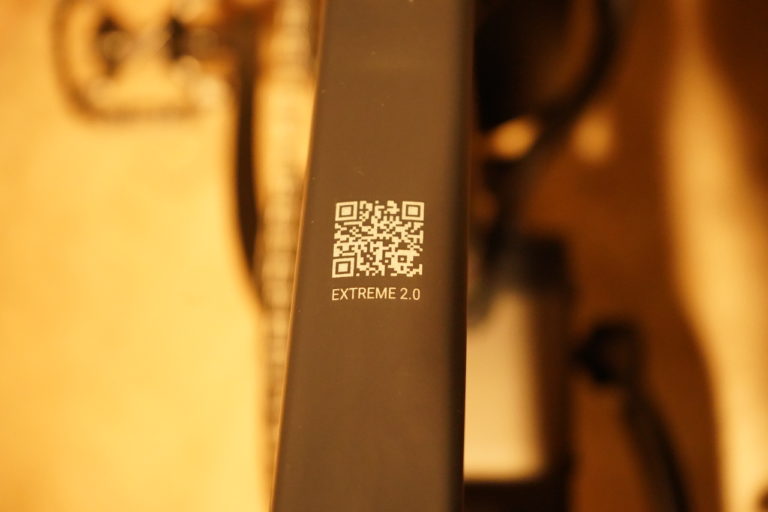 iGO also has road side assistance that they describe as "Aim the camera of your iOS or Android device onto the QR code on the bikes frame to access any quick need for information while on the go. Anything from how to change a flat tire to display functions is just a click away."
Slowing the iGO eXtreme 2.0 down is handled by the Tektro Aries mechanical disc brakes that have a solid and powerful feel.
They modulate the braking power well and 180mm rotors front and rear is a good idea for a fat bike.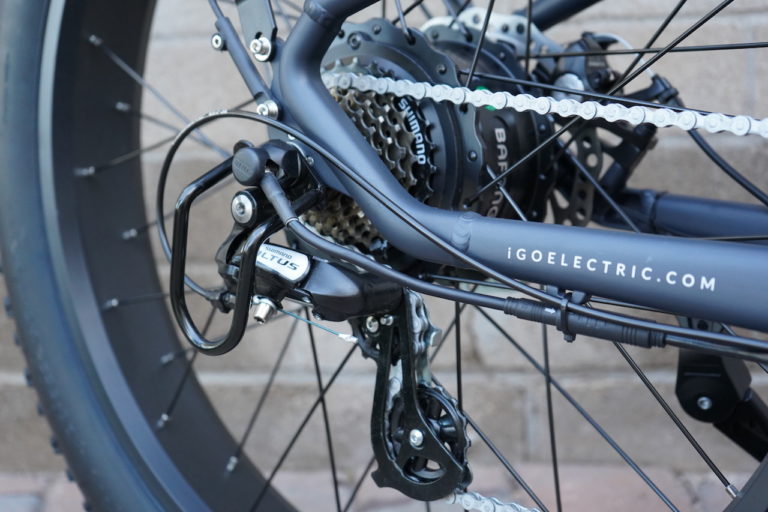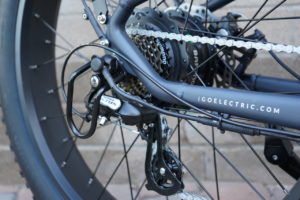 The brake levers have a rubber grip surface which is good for riding in all kinds of weather.
It would be nice to have brake lever reach adjustment for riders with smaller hands.
As described already, sensors in the brake levers stop the motor assist if either lever is engaged.
The Shimano Altus 7 speed drivetrain covers the speed range well and has low enough gearing for climbing steeper hills well.
Typical of Shimano shifting it has a light action feel that makes it easy to shift up and down the gear range using the trigger shifters by the right hand grip.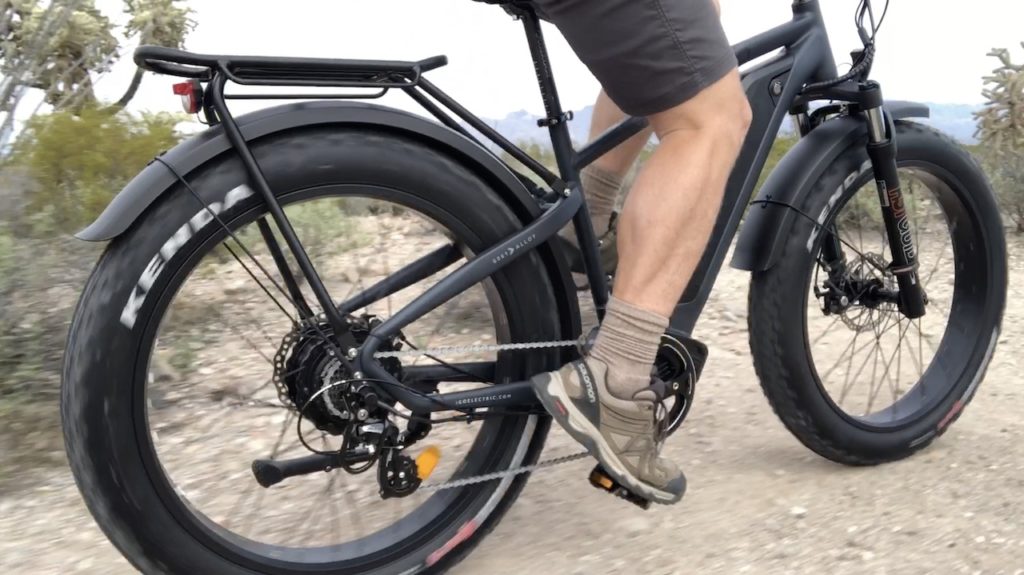 It is nice to have a full accessory assortment for commuting and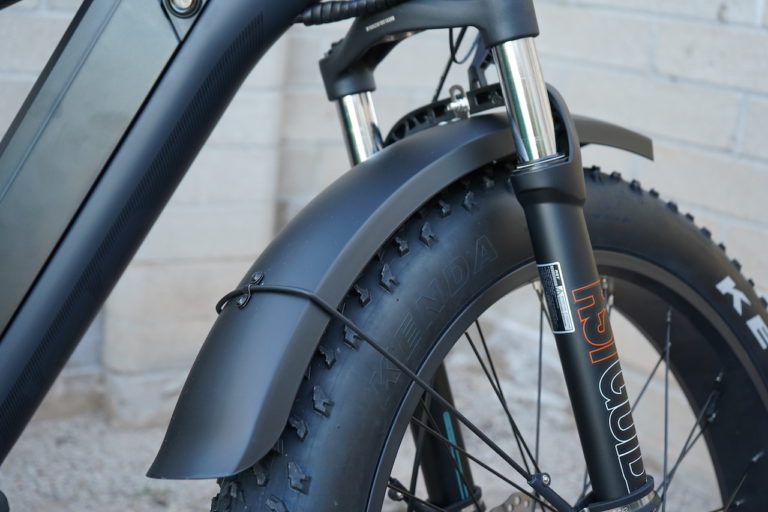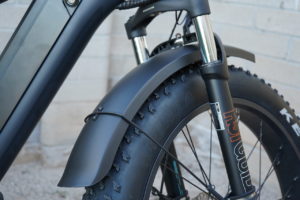 adventuring.
The plastic fenders feel sturdy and cover the wide tires well.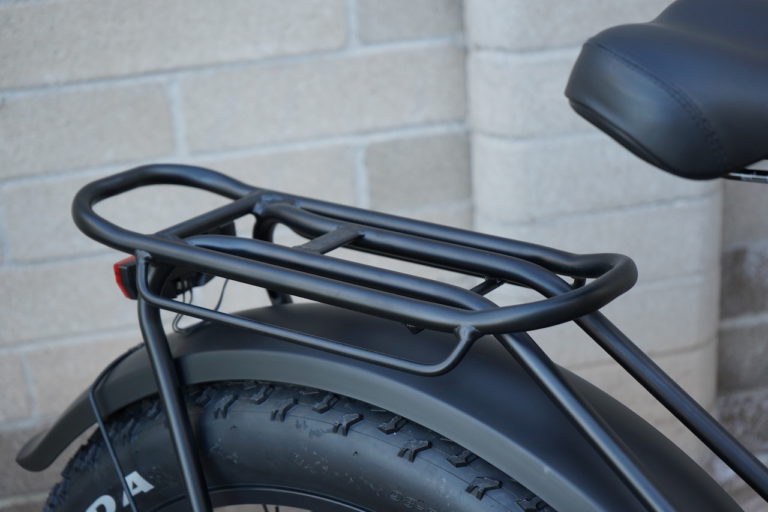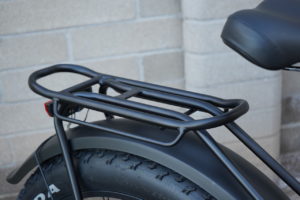 The rear rack uses large aluminium tubing for the main structure while providing a smaller rail for the attachment of bags/panniers.
The front light projects a good beam of light for seeing the road and for being seen.
The rear light is attached to the rear rack and ensures you will be seen from the rear.
Having both lights running off the eBike battery is very convenient so you don't have to worry about charging separate batteries for the lights.
iGO has focused in of serviceability for their new line up of eBikes for 2020.
The 'iGO Electronics Access Port' sounds like it makes it easy to fix the bike if a problem were to occur with the controller and indeed, iGO says all components of the system are 'plug and play' and the display features a diagnostic system which may help tell you what is wrong in the event of a fault.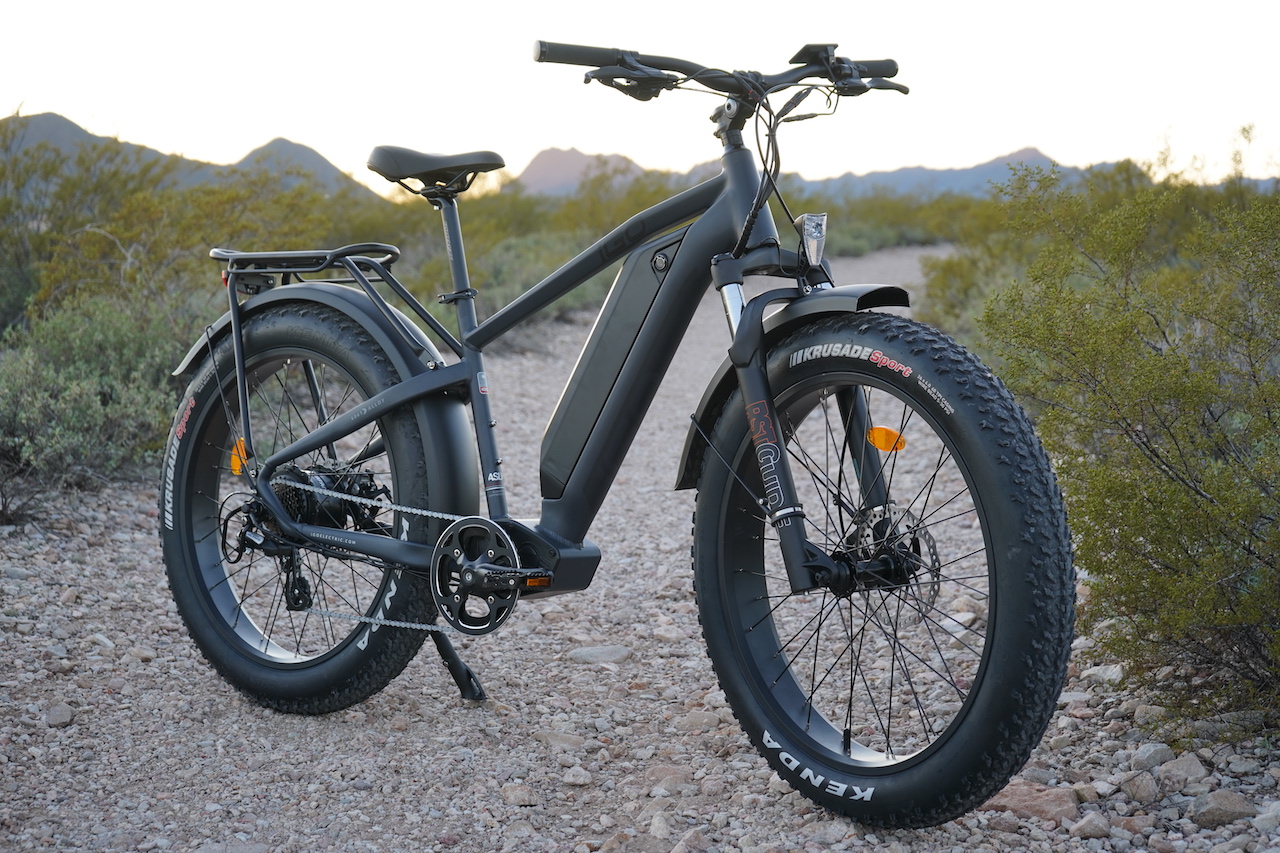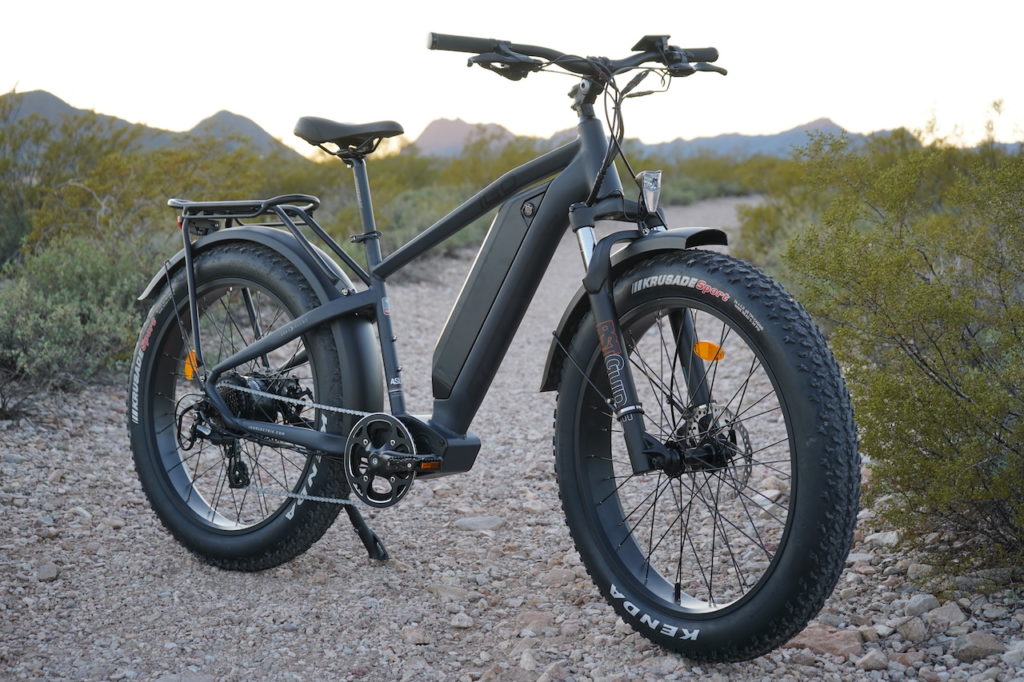 iGO eXtreme 2.0 Range Test Results:
Here is the real world information on how the iGO eXtreme 2.0 electric bike performed on a riding circuit that includes hills, flats, traffic, wind (when available) etc.
While testing these bikes I like to put them through the toughest conditions to see where their bottom line is in regards to range and speed. I tested the iGO eXtreme 2.0 in the highest pedal assist level (Level 9) with average pedaling on paved roads.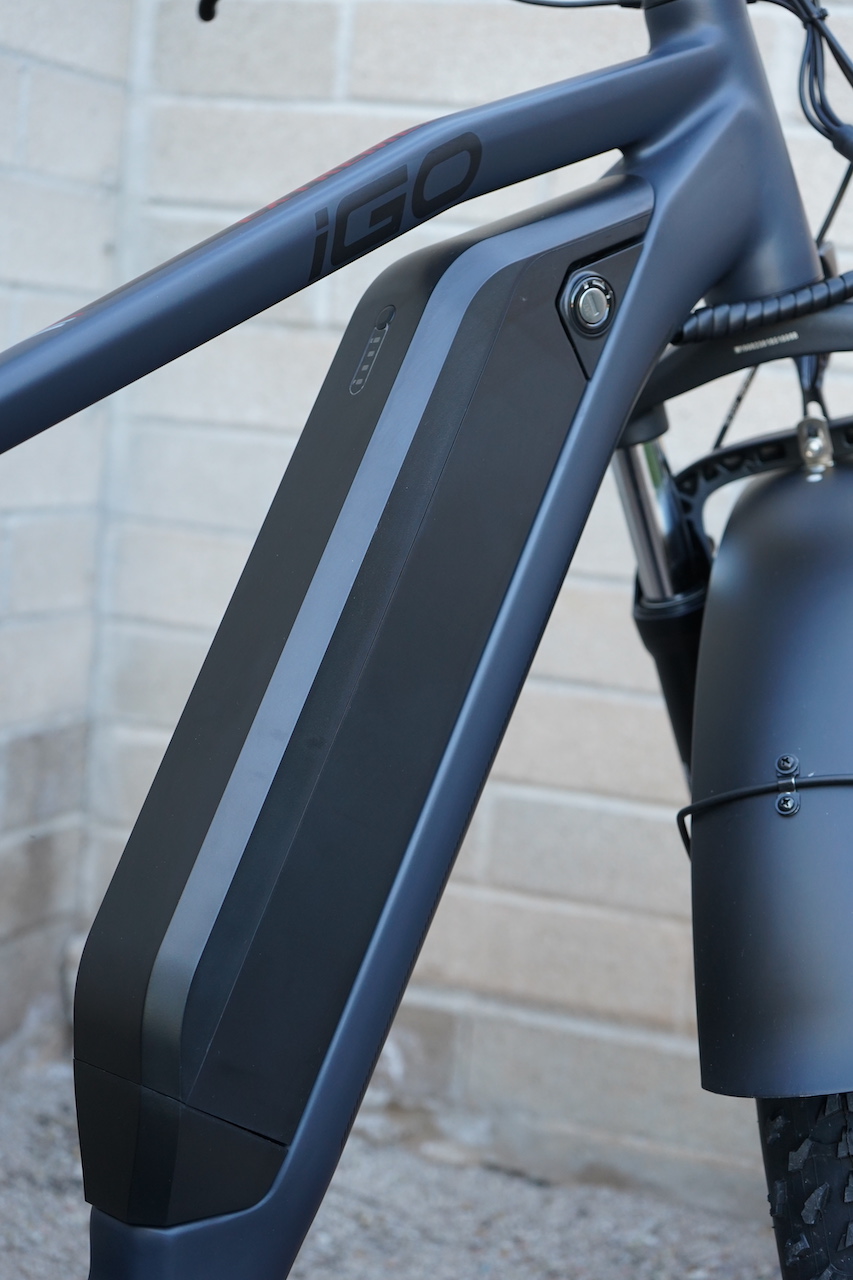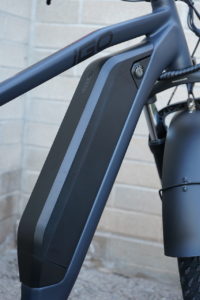 Range: As you can see from the GPS info that I recorded, the iGO eXtreme 2.0 traveled 29.9 miles and did a total elevation gain of nearly 2,400 ft. Considering that I weigh 190 lbs and I pedaled at an average pace this is pretty good range for a 48 Volt 13 ah 624 Wh battery pack with a 500 watt motor assisting up to 20 mph.
Watt hours are the total energy in a battery pack and it is based on the volts x amp hours of a pack. This is a way to compare the size of the "gas tank" of electric bikes.
Please keep in mind that if you pedal more, weigh less than me, ride slower and/or you use the bike in terrain that is not as hilly you will get more range. These results are from tough testing.
Speed: The iGO eXtreme 2.0 will assist up to 20 mph with pedal assist and/or throttle which makes this a Class 2 electric bike.
Weight: The iGO eXtreme 2.0 tips the scales at 72.3 pounds which is on the heavier side for an electric bike. Removing the 8.4 pound battery brings it down to 63.9 pounds which makes it a little easier to load onto a car rack.
The weight distribution of the iGO eXtreme 2.0 is pretty good because the battery is low and centered on the bike while the rear hub motor makes it a little back heavy.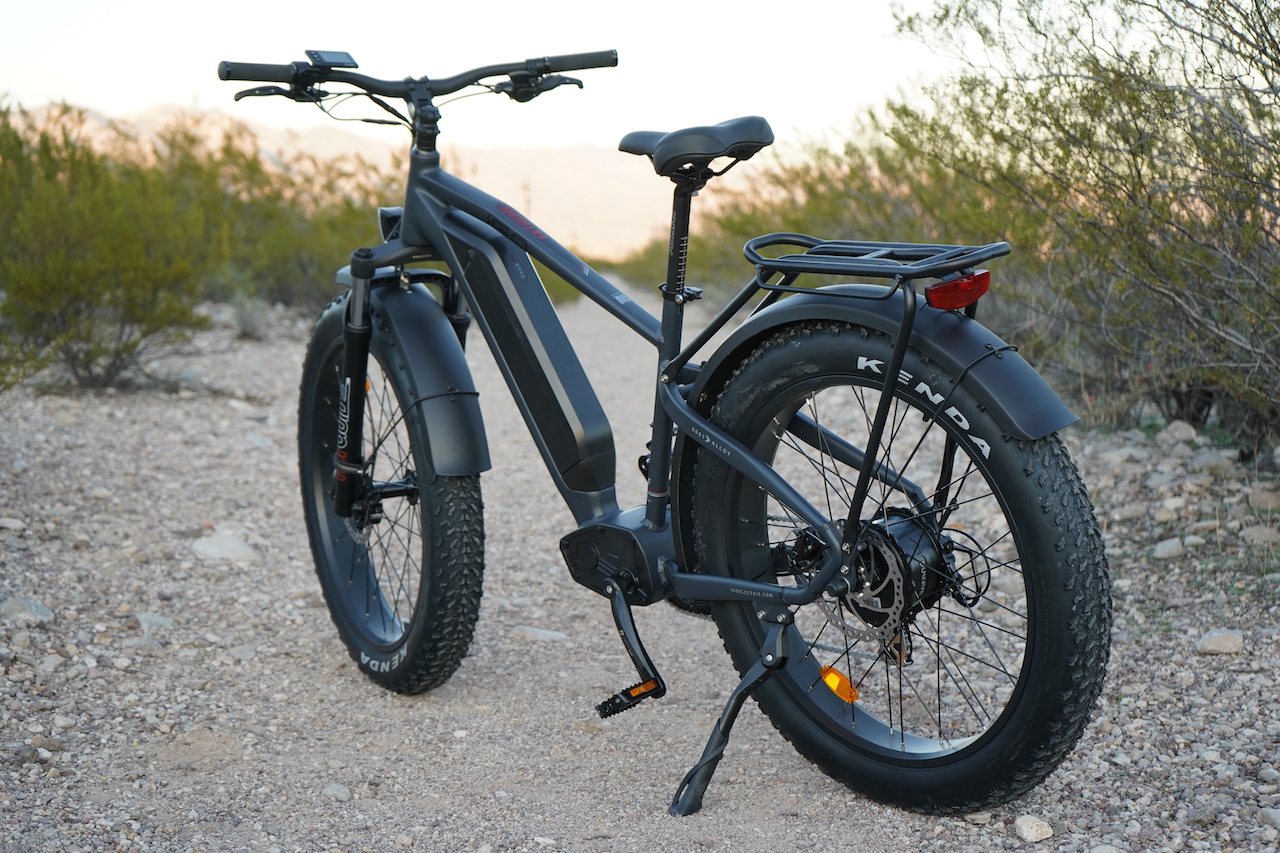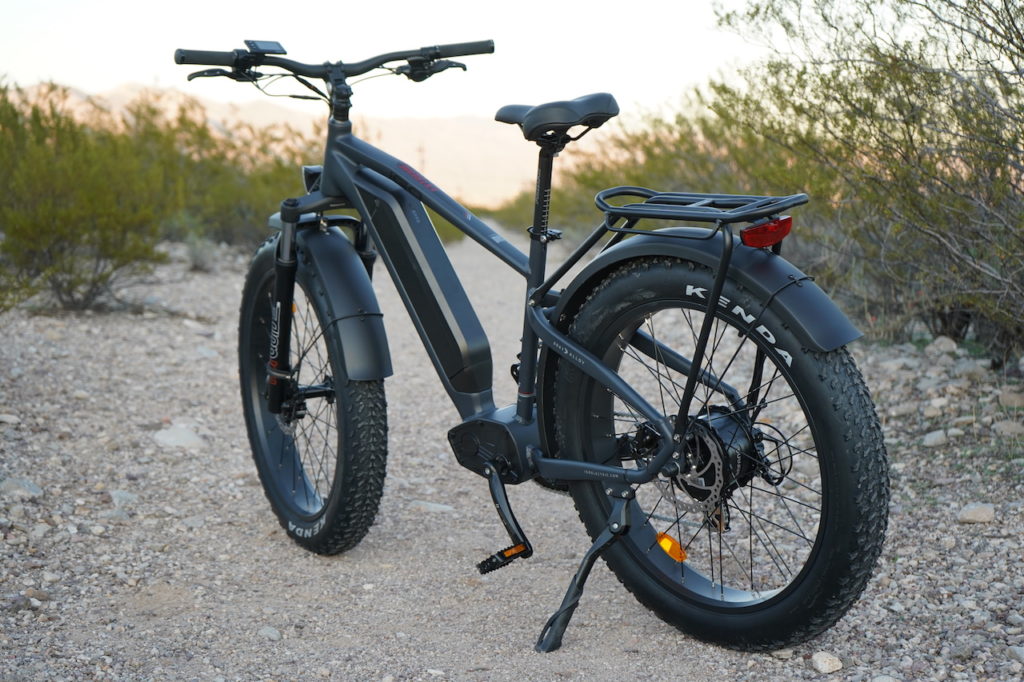 Pros:
Powerful: The 500 watt Bafang geared rear hub motor with 80Nm of torque provides some impressive "kick" in the higher assist levels and/or throttle. it is nice to have that kind of power for riding through tough terrain like sand and snow.
Impressive Range: 30 miles range with over 2,400 ft of climbing is pretty impressive for a an e-bike with true fat tires providing the maximum pedal assist. That is from fairly tough testing; you can expect to get more range using lower assist levels and/or less climbing.
Versatile: The iGO eXtreme 2.0 is built to ride almost anywhere with its fat off-road tires, powerful motor, high capacity battery, and well rounded accessory assortment. It is a good eBike for commuting and adventure riding in almost any riding conditions.
Cons:
Heavy: At just over 72.3 pounds this is quite a heavy e-bike. Removing the 8.4 pound battery brings it down to 63.9 pounds which makes it slightly easier to pick up.
Motor noise: Like many geared hub motors this rear hub motor makes a whirring noise – in the medium range compared to the wide spectrum of other ebikes.
Brake Reach: It would be nice to have brake lever reach adjustment to fit smaller hand sizes.
Conclusion: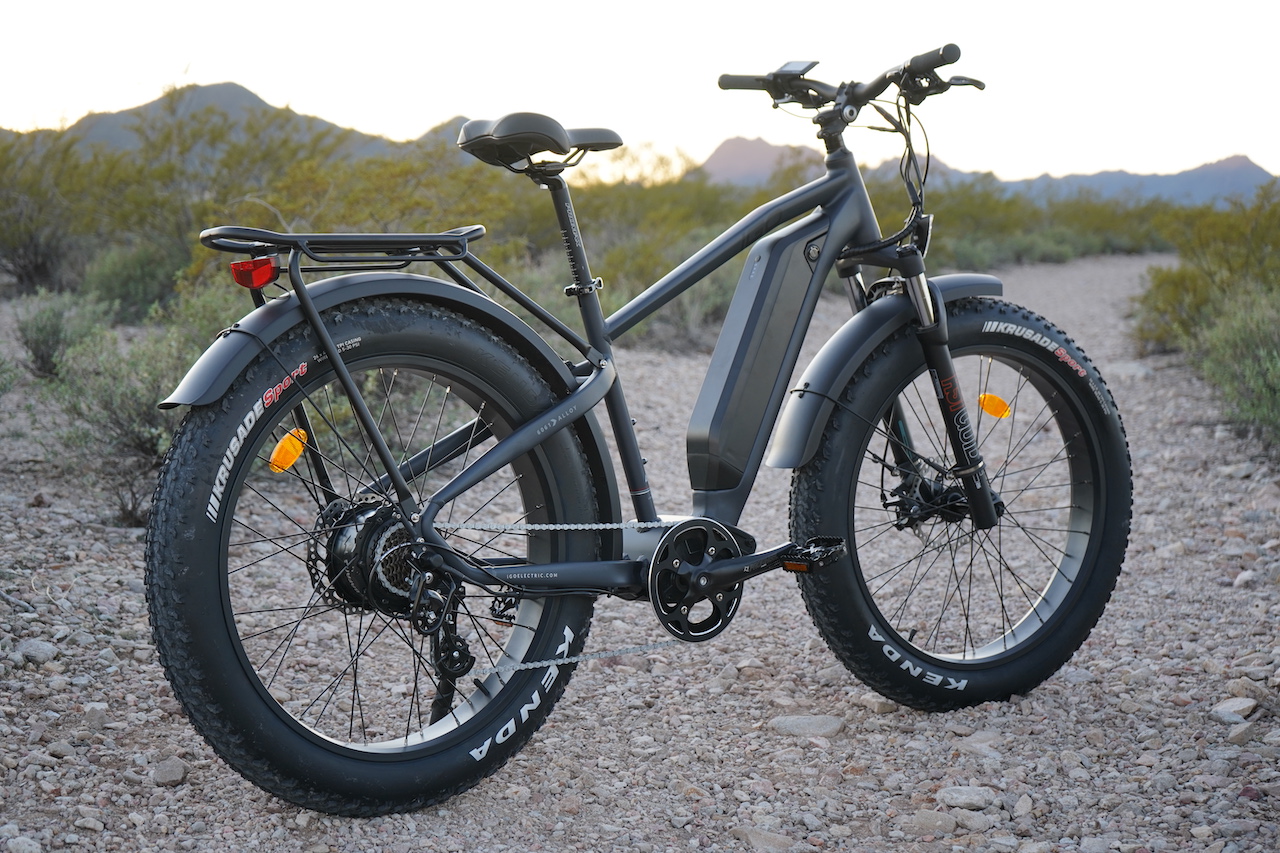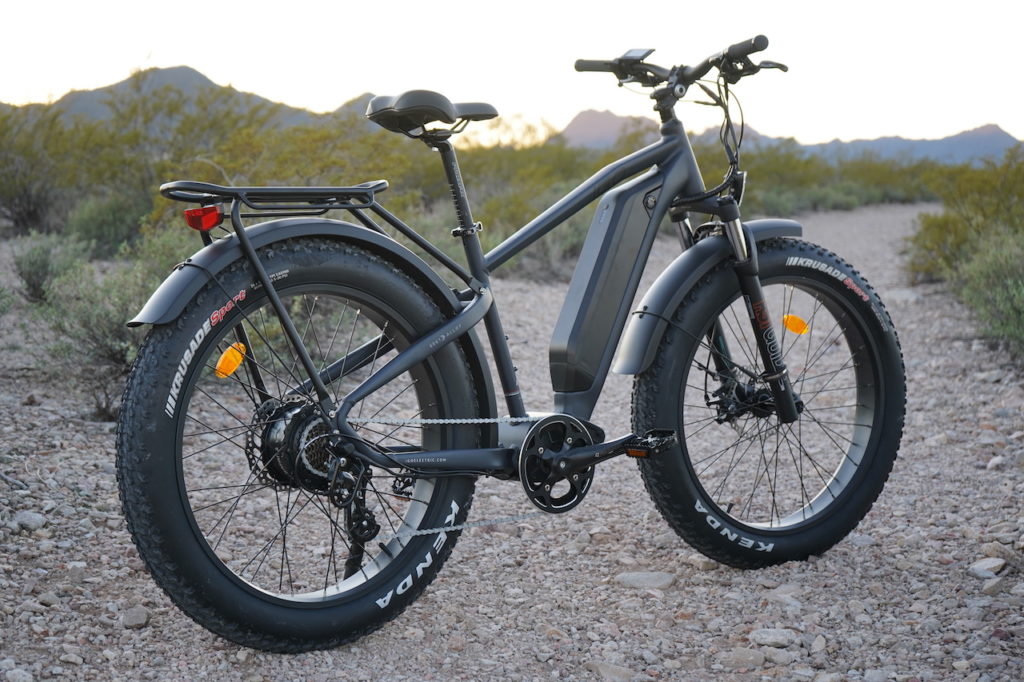 Overall the iGO eXtreme 2.0 is a fun and versatile eFat bike that is built for all kinds of riding and conditions.
The fat tires give it a comfortable and stable ride feel along with the ability to ride on all kinds of terrain. And they definitely make the eXtreme 2.0 stand out!
This is a do it all kind of eBike with impressive specs, brand name components, and a well rounded stock accessory assortment.
At $1,999 with free shipping the iGO eXtreme 2.0 is in a good price range for everything included.
Please keep in mind that this is a relatively short term test. This testing can't really give you the long term review of durability and reliability. My thoughts on the quality of this bike are from previous experiences with similar bikes. If you own this bike and have some input on the long term durability, please share your comments with the Electric Bike Report community below.
Where to buy an iGO eXtreme 2.0? Check with the iGO website.

Do you have any questions about the iGO eXtreme 2.0? Do you own a iGO eXtreme 2.0? Please share your thoughts in the comment section below.
Thanks!
-Pete
Review Note: Each company pays a fee for a review on Electric Bike Report because of the considerable amount of time that it takes to provide an in-depth review of each eBike. A lot of time is spent on the full range test with distance & elevation profile, the wide variety of detailed pictures, in-depth video, and the write up with the specifications, ride characteristics, pros, cons, and overall thoughts. The reviews on Electric Bike Report are focused on providing you with a detailed "virtual" look at each eBike to help you determine if it is the eBike for you.
P.S. Don't forget to join the Electric Bike Report community for updates from the electric bike world, plus ebike riding and maintenance tips!
Reader Interactions