iGo Discovery Rosemont LS Review, 2023
An Energy Efficient Mid-Drive Commuter e-Bike for Loooooooooong Rides and Smooth Pedal Power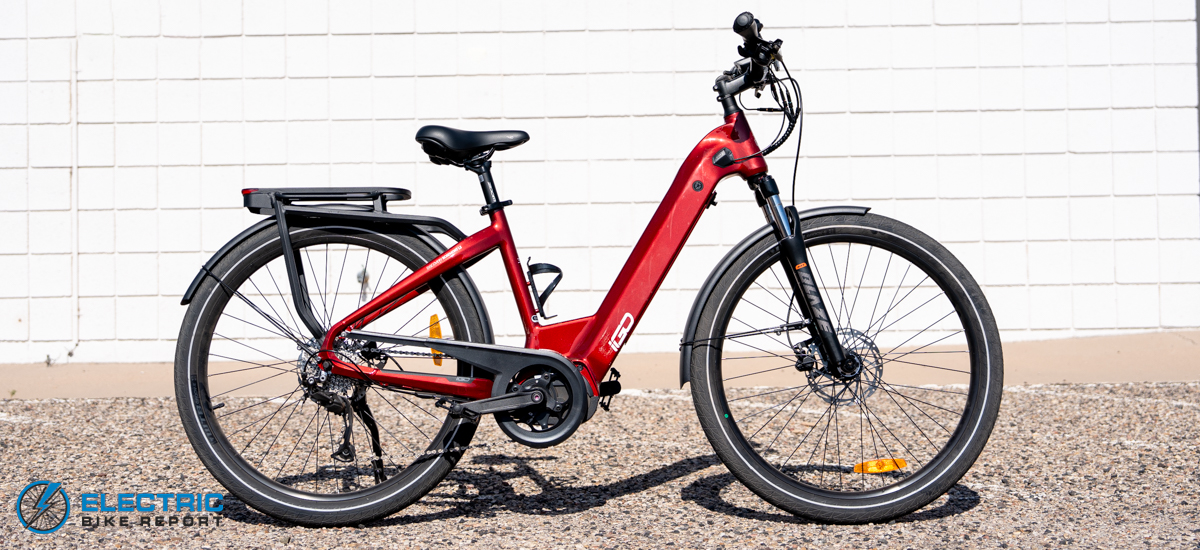 Commuter riders craving more consistent motor output and a more natural pedaling experience will like riding the iGO Discovery Rosemont LS, with its mid-drive motor delivering the right power when you need it. The review team at
Electric Bike Report
also liked how this lets the battery deliver more range, enough to take riders up to 100 miles (seriously!) between charges. We talk about how in this iGO Discovery Rosemont LS review!
Along with its stellar mid-drive motor and frame-integrated battery, the Discovery Rosemont LS also sports good looks, starting with its handcrafted alloy frame, whitewall 27.5" x 2.4" tires, sturdy suspension, hydraulic disc brakes, and hardy rear rack – this bike carries a lot of eye and spec appeal.
But does this bike really deliver on performance and overall value? In our iGO Discovery Rosemont LS review, we'll dig deep and uncover the details and what makes this bike tick, and help you figure out if this is the right bike for you.
Class 2 E-Bike:
On-demand throttle and pedal assist up to 20 mph (can be modified to class 1 or 3 via iGO's app)
iGo Rosemont LS Video Review

Pros
Natural pedal feel with the mid-drive motor and torque sensor, delivering the right amount of power when you need it.
Seriously impressive range! The 350W motor and 720 Wh battery make an efficient pair where we got a minimum of 56 miles.
Better at climbing hills, with the 100 Nm of torque the motor can produce.
Easier to get on and off this bike, thanks to the step through frame.
Enhancing your pedaling experience is the 9-speed gearing, giving you more gear options to dial into the right speed with your pedaling.
Softening the impact from bumps and ruts are the RST Blaze suspension forks.
Providing optimum lighting in the dark, and increasing your safety with other riders, are the integrated LED front and rear lights.
The LCD display uses big bright fonts for easy reading of your ride data, as well as big buttons for easy control..

Cons
While they are safe and effective, the Tektro E350s are more entry-level on a bike with a lot of better components.
ELECTRICAL SPECS & FEATURES
Class: Ships as a Class 2, can modify to make Class 1 or Class 3 via iGO Ride app
Motor: iGO Drive LS 48V, 350W mid-drive
Battery: 48V | 15Ah | 720Wh Samsung, removable with security lock
Torque: 100 Nm (peak)
Range: 56 – 106 EBR tested miles
Display: 2" HD High Brightness IPS Color LCD Display
Pedal Assist System: 5 levels, ECO/TOUR/SPORT/TURBO/BOOST color coded per PAS level
Sensor: Internal torque, cadence, speed
Controller: 20-amp
Lights: Front LED light XC-259A, rear LED Commuter Glow XE with brake light Integrated into rear rack
Accessories: LED Spanninga LED Commuter Glow XE with brake light integrated into rear rack (powered by main battery), front & rear fenders, rear cargo rack accessory ready, integrated chainring guard, water bottle bosses on seat tube, kickstand, Wellgo pedals, bell, tool kit, battery charger.
Weight & Dimensions
Weight capacity: 275 lbs
Bike weight: 63.5 lbs (including battery)
Components & Accessories
Brakes: Tektro HD E350 Hydraulic Disc, 180mm rotors
Fork: RST Blaze suspension fork, 80mm travel, lockout, quick release
Tires: 27.5" x 2.4" WTB Groov-E
Rims: 27.5", dual wall alloy, black
Frame: Hydroformed alloy step through frame, internal cable routing head tube ported
Handlebar: 640mm, 45mm rise, 31.8mm dia.
Grips: VELO, Ergonomic, 135mm
Shifter: Shimano Alivio Rapidfire Plus
Gearing: 9-speed
Cassette: Shimano 11-34T
Derailleur: Shimano Alivio
Chainring: 42T with narrow wide teeth
Chain: KMC E9-S
Saddle: Selle Royal Rio
Seat Post: 31.6mm (350mm)
Stem: 80mm with 7 degree rise
Rack: rear cargo rack w/ 55 lb max capacity
iGO Rosemont LS Review: Overview
Jumping into the e-bike scene way back in 2006, iGO has been an early innovator of mid-drive motors. This Canadian-based company values active pedaling and discovering ways to ride further without adding bigger and heavier batteries. The Discovery Rosemont's 350W mid-drive motor reflects their longtime mid-drive expertise, and we think riders will appreciate how this motor works with their pedaling. It offers almost-immediate engagement, thanks to the torque sensor, as well as more frugal energy consumption.
Weighing in at around 63.5 lbs, this Class 2 e-bike uses the 48V Samsung 15Ah battery as the sole energy source. So, how did this bike squeeze 100 miles out of a battery this size? Part of this has to do with the bike's mid-weight frame (for an e-bike), but it also has to do with the increased pedaling the mid-drive motor demands from the rider.
The Discovery Rosemont LS is part of iGO's Discovery series e-bikes, which means it's made for discovering new areas, and for giving riders new riding experiences. The bike's mid-drive uses a torque sensor for determining how much pedal assistance power the motor needs to supply. When pedaling is more active, the bike uses less energy from the battery, which helped us to ride over 100 miles on one battery charge.
The Rosemont uses a Shimano Alivio 9-speed, giving you a broad range of gears for finding your sweet spot when pedaling. Simplifying shifting is the Shimano Alivio Rapidfire Plus under-bar trigger shifter. Combining the 12-34T cassette, 42T chainring, you get an e-bike with easy-to-pedal gearing, although there is some ghost pedaling at top speeds.
Rolling atop 27.5" x 2.4" wheels, the WTB Groov-E tires have a smooth road tread that gives the bike a commuter feel without sacrificing handling and performance. Sporting a classic bicycle bell, the Discovery Rosemont embodies the look and feel of a classic commuter bike in e-bike form.
For optimum lighting in the dark, and increasing your safety around other riders, the Discovery Rosemont LS features integrated LED front and rear lights. And the LCD display uses big bright fonts for easy reading of your ride data, as well as big buttons for easy control.
At this point you might be thinking this all looks and sounds good, but how did this bike perform in our real world testing? Those details are coming up next.
iGo Rosemont LS Review: Speed Test
We run a speed test to tell us what the bike's top speed is in each pedal assist level. This establishes what we call the bike's speed profile. Having this information can also assist you when it comes to making decisions on which PAS level is best for your particular ride situation. The Discovery Rosemont uses 5 PAS levels: ECO, TOUR, SPORT, TURBO, and BOOST modes.
The torque sensor helped the motor engage on the first pedal stroke. It also clearly captured my pedal intensity, increasing the power output when I pedaled harder. The chart above lists the results from our test, and we talk more about the differences between types of sensors in our article explaining torque vs cadence sensors.
Eco gives a nice speed boost, but is a little limiting on how much it helps on hills. Tour provides enough to remove some of the challenge of hills, Sport is where it starts to just eliminate any serious effort.
Turbo and Boost provided great speed, and the bike handles well at movement for any paved surfaces you'll be riding on to use those modes confidently.
For normal everyday riding, I would use the Tour and Sport modes most of the time – they produce a constant and predictable speed that gives you the best range and enough hill climbing help to get the heart rate up without really breaking a sweat.
As a final note from the speed test, the display is actually kind of nice. It sounds like a small thing, but we appreciated the different colors on display depending on your different level of assistance.
iGO Rosemont LS Review: Range Test & Battery Performance
iGO's claim that you can ride this bike longer distances between battery charges is a big deal, and something we were compelled to confirm in our two range tests. The first test, riding the whole time in Tour mode, tells us the maximum distance this bike can go when using the best low power pedal assist setting (Eco mode was could feel a bit limiting on hills, so we upped it to Tour).
In that first test, we managed to squeeze 105.8 miles out of the battery before it went kaput. Our average speed was 14.72 mph, and a ride time of 7 hours and 5 minutes. Over 100 miles out of a 15 amp hour battery? Yep, the Discovery Rosemont did it! This attests to iGO's fine wise pairing of the 350W mid-drive motor and its 720 Wh battery. It's both a lot of battery for that size of motor's needs, but also it economizes the battery it's given too for serious mileage off a single charge.
In the second range test we rode the whole time in the highest PAS level, Boost mode. This gave us an idea on how far we could expect to ride when needing maximum power output the whole time.
I managed to ride a total of 55.38 miles (average speed of 18.3 mph, ride time just over 3 hours) before the battery died. A 55-106 miles result is astounding! Especially since we didn't even have it in the lowest PAS setting to start with.
On the max test there was a caveat. Riding the whole time in Boost mode made the battery get too hot, forcing the auto-shut off to postpone completion of my ride. I had used more than 70% of the battery at that point, and was at the 45.38 mile mark. After waiting about an hour for the battery to cool down, I was able to continue, riding an additional 10.45 miles before the battery ran out of juice. That's not a knock on the motor at all – I'm glad the electronics know not to let themselves burn out (and it had 100+ temperatures it was riding in too).
All in all, we were super impressed with this bike's performance in our range test. So if you're looking for a commuter e-bike that can take you far – very far – then you should like this aspect of the Discovery Rosemont.
iGO Rosemont LS: Hill Test
The hill test revealed a few interesting things about the Discovery Rosemont LS' programming. In the first hill test, we used the throttle only to find how much raw power the motor could dish out, without any assistance from the rider's pedaling.
The Discovery Rosemont can produce up to 100 Nm of torque, suggesting it's a good bike for climbing hills. And we discovered this to be true on the throttle-only hill climb test. This bike stormed up the hill in a 1:33 with no pedaling. iGO refers to the Discovery Rosemont's motor as being "city-tuned" and designed to tackle the demands of city riding, including hills.
In the second hill test is where the interesting part comes in. Using the Boost mode, with basic pedaling, the Discovery Rosemont turned out a time that was slower than its result in the throttle-only test, producing a time of 1:57, and an average speed of 9.3 mph. The vast majority of bikes we test on this hill go faster when they have pedaling working with the pedal assist, not when they're using the throttle only. The reason for the slower-than-typical result? Our test bike's motor has a noticeable pause when we shifted gears.
It was a little quirk of our review since we had bike sent straight to us where iGO currently operates through local dealers. The dealer eliminates this delay with a special programming tool upon setting up the bike so it's not something that should effect any Discovery Rosemont rider. We were sent the same tool to adjust our bike, and after tinkering with the programming the delay went away.
While we haven't made it back to our official test hill yet, we can attest that it doesn't delay anymore so official hill test times should improve to be in line with results closer to the throttle test.
In a more general sense, we're pretty happy with how the Rosemont Discovery performs on hills. It's raw power is in line with similar motors, and it's nice to have the throttle (not always found on mid-drives) to do the work for you if you're wanting a little rest.
iGO Rosemont LS Review: Safety and Brake Test

The Discovery Rosemont LS features the Tektro HD E350 brakes. They are possibly the most used brakes of all the e-bikes that have come through EBR's doors.
The average stopping distance for the Discovery Rosemont was 25 feet 1 inch. The Tektro HD E350s are entry level brakes so they sometimes yield a mix of brake results, and they happened to stop a bit slower on the Discovery Rosemont here. Most commuters stop within 22 – 23′.
If you watched the video review, the cones we use are spaced out at a max of 25′. That's the limit of where we'd say good stopping distance is for our simulated 'panic stop' test. 1″ beyond that doesn't meant they aren't safe, and they performed great when helping modulate speed and slow down in real-world scenarios too.
iGO Rosemont LS Review: Ride Quality
There's plenty going on here that add up to a nice ride. The RST Blaze fork soaked up the bumps pretty well, with 80mm wheel travel and control knob to adjust damping and for lockout. Since this bike is meant to be ridden on the streets there's not a lot of demand on the suspension. But when I hit those occasional speed bumps and drop offs from the bike path back onto the street, these forks kept me stable and didn't make my arms feel like they were going to detach from my shoulders.
WTB's Groove-E tires stuck to the road on the turns and straightaways. The tires kept me in control. They provide good traction on road conditions, but aren't an all-terrain tire like you find on iGO's Outland Cabot. It's commuter through and through.
The Selle Royal Rio saddle is fairly comfy, and the faux-leather grips feel soft on your hands.
The bike also has a lot of nice things for keeping you clean and dry. The fenders do their job well ads I found out while riding after some monsoon rains we had, and surprisingly, we don't see a lot of chainguards come standard on commuters, so we appreciate the Discovery Rosemont LS keeping our pants grease-free.
You also get a handy rear rack for carrying your bags, and the integrated taillight is always a welcome touch. Along with the reflective tire stripping and reflectors on the spoke, it maximizes your visibility when the sun starts going down (or before it comes up).
And last but not least, the Rosemont Discovery's display has a nice color-coded system for helping you recognize your PAS levels. Beyond that, iGO has an app for enhanced features and making adjustments easier like switching max speed to change up the standard class 2 setting. Dedicated apps aren't unheard of, but still not the norm either, so it's nice to see the extra effort and know there is extra effort going into the overall product.
iGO Rosemont LS Review: Conclusion / Where to Buy
Commuter e-bikes are meant to take you longer distances and without the burden of sweating up a storm and making you stinky. With that in mind, the folks at iGO produced a good working commuter e-bike in their Rosemont LS, that should satisfy a lot of wish lists for commuters. The Discovery Rosemont can take you dozens of miles further than other commuter e-bikes, while weighing about the same. Heavier bikes are also harder to control, and iGO spares you that plight.
Many commuter e-bikes on the market use heavier hub motors for comparable cruising speed but use battery power less efficiently than the Discovery Rosemont. iGo gives you a motor that has great power and doesn't weigh as much. This bike doesn't have an entry-level price, but it also gives you great value for your money – you'll be getting what you pay for.
We're yet to review the 'perfect e-bike' (if such a thing exists), and the motor engagement while shifting is something worth adjusting so you don't encounter any disruptions on a hill. The good news is: it's an adjustment that can be made so it make sure to note that when you go to pickup your own Discovery Rosemont LS.
With over 160 miles under our belts test reviewing the iGO Discovery Rosemont LS, we can affirm that the bikes has some great features and performed remarkably well. Paired with components that should offer good quality rides and longevity, this e-bike is sure to satisfy riders and help iGO gain more devotees.
To find out how to get your very own iGO Discovery Rosemont LS, click the button above.
Happy Riding! Make sure to let us know if you have any questions down in our comments section or if you think we left anything out in this review of the iGO Rosemont LS.
Reader Interactions