Torque Sensors vs. Cadence Sensors on Electric Bikes
In order for an e-bike motor to know when to turn on or off, it must receive a signal from the controller, and in order for the controller to know when to turn the motor on or off, it needs to know when the rider is pedaling. To do that, all e-bikes are equipped with one of two kinds of sensors, either a cadence sensor or a torque sensor.
Until fairly recently, there wasn't much need to discuss how the two types of sensors might influence a buyer's choice. That's because cadence sensors were found almost exclusively on e-bikes at the more affordable end of the market and torque sensors were only found on higher-end e-bikes. That's no longer the case; thanks to a drop in the cost of torque sensors, we now see them on some e-bikes that cost less than $2000, which makes the spec of sensor another factor to consider when choosing an e-bike.
Cadence sensors and torque sensors work in very different ways and their presence on an e-bike will determine just how the motor delivers power. That gives an e-bike one of two different personalities, which the writers at Electric Bike Report will explain in this article.
One type of sensor is not inherently better than another; they are simply different. That said, most riders find that they develop a preference for one type of sensor over the other.
Torque vs. cadence: What's the difference?
So let's take a look at how the two different sensors work. Both sensors work by detecting pedal movement, or more accurately, motion at the crankset, but they do so in two different ways. We'll start with cadence sensors, as they are simpler and easier to understand.
A cadence sensor mounts a ring of sensors (usually 12) at the part of the frame called the bottom bracket. This refers to the set of bearings that thread into the frame. A magnet is mounted to one of the crank arms and as it turns that magnet passes a sensor. Each time this happens a signal is sent to the controller to activate or sustain the motor.
A cadence sensor works on a binary principle: Are the pedals turning, or not? They have to move at a consistent speed to keep the motor activated, but above that, it doesn't matter how fast they turn. Also, all cadence sensors are different, but most require at least a quarter-turn of the cranks to engage the motor. For as long as the cadence sensor detects pedal movement, it will continue to send a signal to the controller, telling the motor to do its thing.
A torque sensor is quite a different beast. With a torque sensor, strain gauges measure how hard the rider is pedaling. These strain gauges may be mounted in the bottom bracket or they may be mounted on the frame where the rear wheel bolts into place.
When the torque sensor receives a signal, it measures how big the effort is and then sends that message to the controller. The controller then tells the motor how hard to work in proportion to the PAS level the rider has selected.
Because the two sensors deliver different signals to the controller, the controller has to work on a different principle based on the kind of signal it receives. With a cadence sensor, each PAS level is set to a fixed amount of output. PAS 1 might be 20 percent of total nominal power, while PAS 5 might be 100 percent of total nominal power.
With a torque sensor the controller works by an inverse principle. Upon receiving a signal from the torque sensor, the controller measures how big that signal is and then multiplies it by the amount determined by the PAS level the rider has selected. With a torque sensor, PAS 1 might deliver power at a 1:1 ratio; PAS 2 might be a 1:2 ratio (the motor delivering double the power the rider is producing) and PAS 4 (often called "Turbo" on many e-bikes with torque sensors) might deliver power at a 1:4 ratio. This is why the motor's output is constantly adjusting in response to the rider's effort.
Benefits of a cadence sensor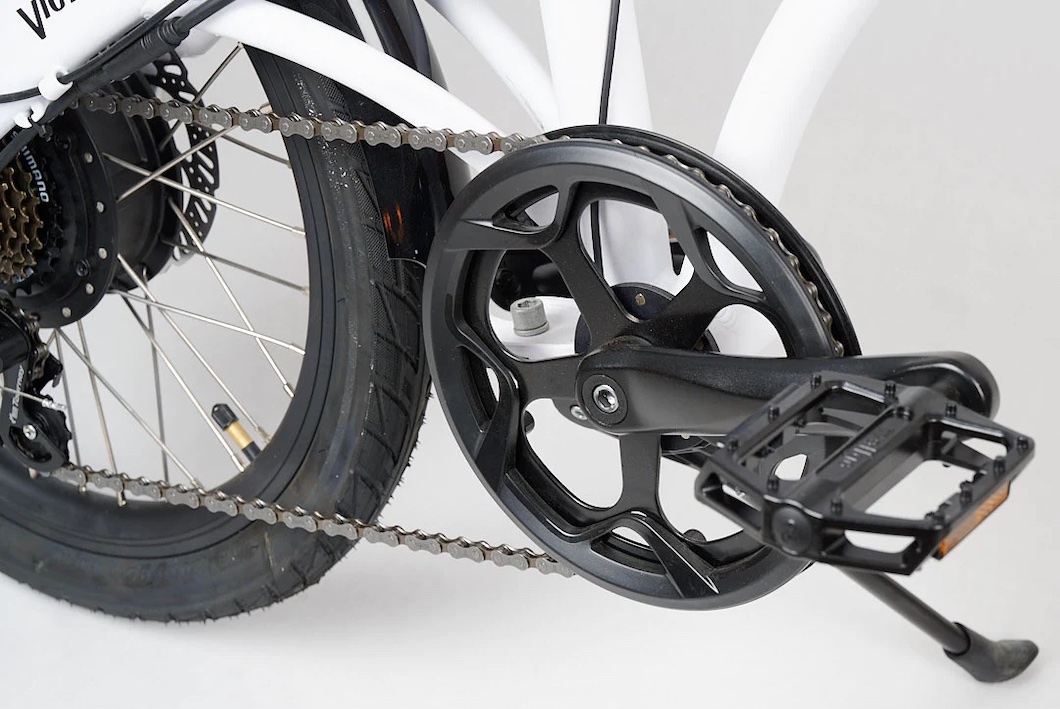 Cadence sensors offer some terrific benefits. The biggest one is likely to appeal to people who haven't ridden a bike in a while. With a cadence sensor, the rider's speed is largely determined by the PAS level the rider has selected. Again, a cadence sensor doesn't care how hard the rider is working.
An e-bike with a cadence sensor is ideal for the rider who wants/needs the e-bike to do the heavy lifting. Whether someone is recovering from an injury or working long hours, a cadence sensor means the e-bike will deliver even if the rider's legs won't. One neat little trick that's possible with e-bikes using cadence sensors is a phenomenon called ghost pedaling. As long as the pedals are turning, the cadence sensor will tell the motor to go; a rider doesn't need to pedal hard enough to feel pressure on the chain. For riders looking for some activity, but wanting to avoid anything strenuous, an e-bike with a cadence sensor is ideal.
Drawbacks of a cadence sensor
The most noticeable drawback to a cadence sensor is that motor engagement is delayed. Needing to complete half to most of a pedal stroke before the motor starts means that the rider will always be forced to start with no assistance, and starting is often one of the more strenuous parts of riding; we can't always roll from the top of a hill. That delay can be annoying. And for anyone carrying a load, that means getting going will require even more work.
Because a cadence sensor will instruct the motor to do most of the work of moving, e-bikes with cadence sensors aren't as frugal with their battery use. As a result, e-bikes with cadence sensors don't have as much range as e-bikes with torque sensors, when we compare e-bikes with the same size batteries.
Another drawback to a cadence sensor is that for the rider looking to burn calories and build fitness, the presence of a cadence sensor can cause someone to overestimate just how hard they are working. For the person with specific fitness goals, they will need another way to receive feedback on how hard they are working, like a fitness tracker or heart rate monitor.
Benefits of a torque sensor
For anyone who has ridden an e-bike with a cadence sensor and then tried one with a torque sensor, the first thing they notice is that power is available the very moment the pedals start turning. The zoom starts immediately. The second thing a rider will notice (like, a second later) is that as they begin to pedal harder, the motor adds more zoom.
We sometimes talk about the feeling of having bionic legs when riding an e-bike with a torque sensor; it's a truly remarkable sensation because we have the sense that the motor is reading our mind. When we pedal harder, the motor delivers more power and when we go easier the motor reduces its output. It's this part of the torque sensor experience that results in what many riders call a seamless experience as it becomes harder to differentiate between our output and the motor's output.
E-bikes with torque sensors are ideal for riders who already have a reasonable amount of fitness, or plan to work hard to build their fitness. These e-bikes are for people who enjoy pedaling and don't mind sweating in exertion.
Because their motor output varies and divides the work with their rider, e-bikes with torque sensors typically see greater range than those equipped with cadence sensors and the same size batteries.
Drawbacks of a torque sensor
Pedaling an e-bike with a torque sensor is work. For people returning to riding after an injury or years of sedentary work, that can curtail ride length due to a lack of endurance.
There's good news on this front, though. E-bikes with both torque sensors and hub motors usually also include a throttle (these are less common on e-bikes with mid-drive motors). Riders concerned about their legs growing fatigued can think of the throttle as an insurance plan. Even if they overestimate how much their legs can handle, the throttle will get them home (so long as there's enough juice left in the battery).
Another aspect of torque sensors that some riders might object to is that – until they have some experience pedaling at a consistent effort – each change in effort will cause the motor to surge or relax and not everyone enjoys such constant changes in pace. We're talking minor changes if someone is pedaling steadily, but the higher the PAS level selected, the more noticeable the surging with each pedal stroke will be.
Is a torque or cadence sensor best for you?
The differences between an e-bike with a cadence sensor and one with a torque sensor are both noticeable and helpful to different types of riders. Just as there is no one perfect bike for all riders, the differences between a torque sensor and a cadence sensor aren't a matter of better or worse, but a matter of which fits better for the sort of riding someone wishes to enjoy. You'll find both on the best electric bikes out there!
As with anything involving shopping for an e-bike, shoppers should spend some time thinking about what sort of riding they wish to do—where they want to go, if they will be in a hurry to get there, how hard they are willing to work and how seamless an experience they want.
Prospective e-bike owners should also get out for some test rides if possible. There's no education like feeling the difference between the two experiences, although we do our best to describe them in our e-bike reviews.
As with most things in life, we can be reassured by knowing there are choices and that those choices can lead to a better experience.